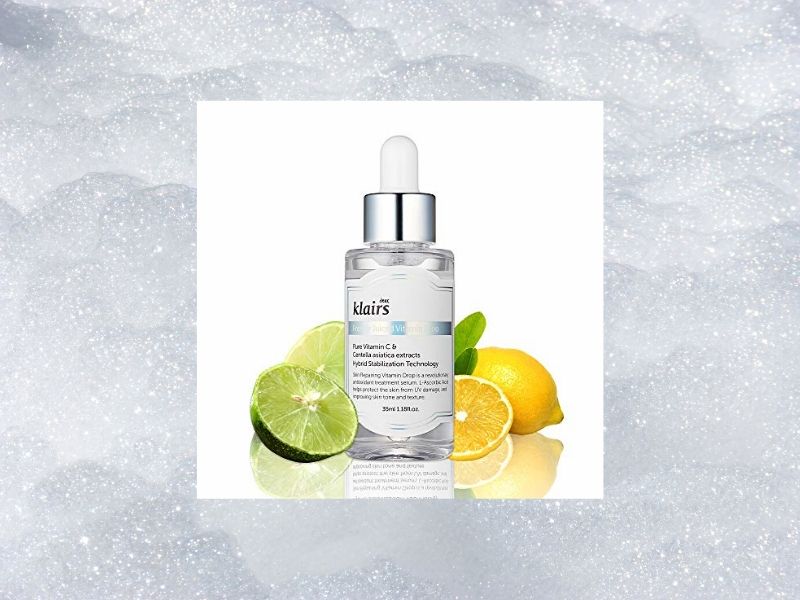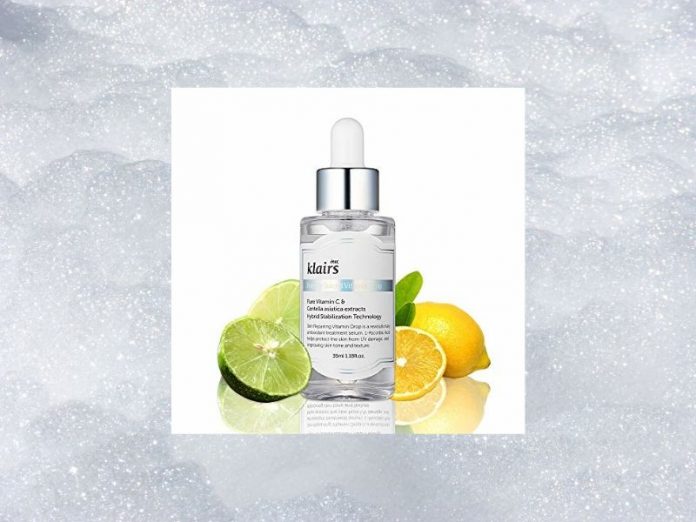 I think we can all agree that acne sucks, but having an irritating acne scar sucks even more. Because who wants to be burdened by red or brown marks that can last weeks, and if you're unlucky months?! These scars mean having to pile on more makeup and concealer *cues sad music*. Well, lucky for us all, besides the more expensive and tedious laser treatments, there are a whole bunch of acne scar removal products. Here are some recommendations for the best acne scar removal products! (P.S. Do share with us in the comments below if you have any other product recommendations!)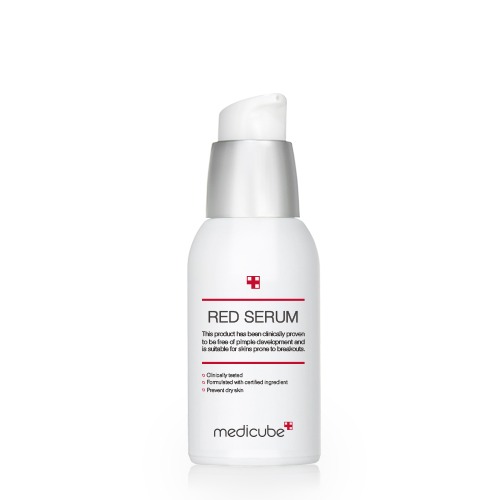 Part of Medicube's famous red line, the Red Serum is specifically made for acne-prone skin. It is said to soothe irritated and sensitive skin by controlling sebum production while giving your skin a soft and fresh feeling. To top it off, the product is also clinically tested and dermatologist-approved.
How to use:
After cleansing your face with facial cleanser, apply a suitable amount of Red Serum evenly on the skin and gently pat into your skin.
Promising Review:
This product gave me really good results so I think that it's worth trying out!" – Stella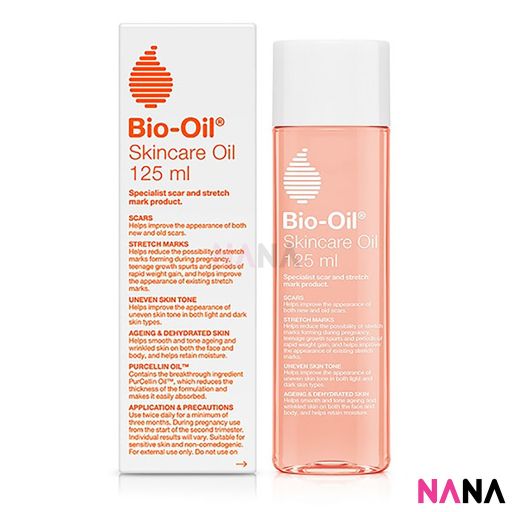 Also known as the world's leading scar and stretch mark product, Bio-Oil Skincare Oil is famed for its ability to help improve the appearance of scars, stretch marks and uneven skin tones. Besides this, this cult favourite oil product can also help with ageing and dehydrated skin. P.S. Do note that Bio-Oil cannot remove scars completely though.
How to use:
To apply, simply massage the product in a circular motion into the scar, twice daily, for a minimum of three months.
Promising review:
This oil is so hydrating that I could feel an improvement in my skin right away. It is reducing my acne scars as well." – Kellyson M.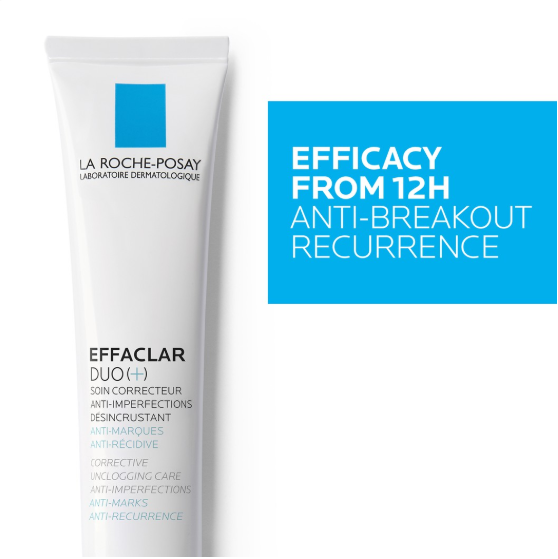 La Roche-Posay has always been known for their excellent range of products targeted at sensitive skin and acne-prone skin with the newly improved Effaclar Duo (+)  being one of the best acne scar removal products to get. Formulated to eliminate blemishes, imperfections and unclog blocked pores, this fresh gel-cream claims to be able to provide visible results from just 12 hours! Plus points for its non-sticky, non-greasy and mattifying finish, which actually makes it an awesome makeup base!
How to use:
Apply to the whole face in the morning and/or evening after cleansing your skin. Take a small amount of cream, warm the cream between fingers and gently apply to face from the inside to the outside. The cream can also double up as a makeup base.
Promising review:
"After using this product I can honestly say that is the best product for sensitive skin so far! Smooth skin and without acne after just 10 days maximum. I used three bottles till now and I will certainly buy it again." – Eleanor P.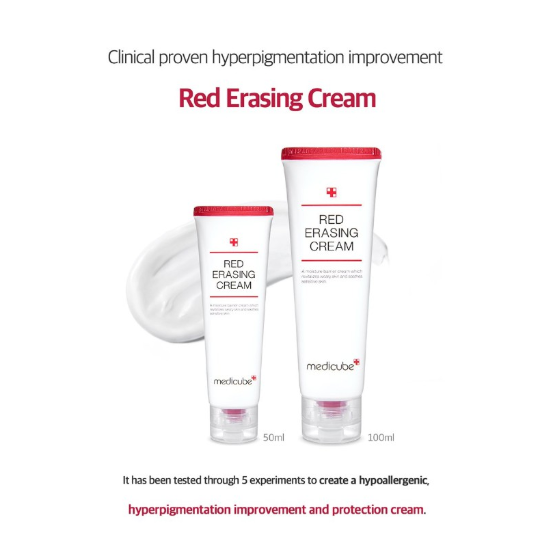 Medicube has received tons of good reviews in recent years especially when it comes to offering products which are said to be able to lighten dark spots and acne scars. Medicube's Red Erasing Cream was awarded Fan Favourites for Guardian Singapore H&B 2019. This product targets especially on one's skin hyperpigmentation and is suitable for all skin types. Thus if you have sensitive skin… fret not, this product is for you as well!
How to use:
Apply the Red Erasing Cream on the last step in your skin routine. Slowly pat the cream into your skin gently.
Promising Review:
"Hi! Even though I constantly go to a dermatologist, my skin isn't so good. I met Medicube 8 months ago and it worked! No matter what, blemishes never covered before, but now it's covered in photoshoots. it's how I look now, even though its still kinda bit red and not so good skin but I am now confident taking pictures. Red erasing cream is the best cream of my life. You will not regret it for sure." – Alexis
Want something all-natural? COSRX Centella Blemish Cream is one of the best acne scar removal products packed with natural ingredients! Made with natural ingredients to calm and reduce acne scars, COSRX Centella Blemish Cream has a magic ingredient called Centella Asiatica, which is also known as leaf water, an antibacterial herb that is traditionally used to heal damaged or burned skin and to help prevent and reduce scarring. It does not leave your skin feeling oily but it leaves your skin feeling fresh and hydrated. After prolonged usage of it, you'll find yourself waking up in the morning feeling rejuvenated and fresh. Your acne will also be almost fully healed and ready to flake away.
How to use:
Apply the cream to areas of dryness, blemishes, and/or acne-prone areas after cleansing and application of toner and serum. Spread the product out evenly to help with absorption. The product is suitable to be used both in the day and night.
Promising review:
"This is a MUST HAVE product for me. It is a pimple buster. The COSRX Centella Blemish Cream ANNIHILATES my small pimples overnight! It significantly reduces bigger pimples overnight. It also helps reduce and calm the redness I sometimes get around my nose and on my cheeks. The "Centella Asiatica" ingredient in the cream gives a minty, tingling feeling when you first apply it on your skin; but to me it's refreshing. Some may say the smell is somewhat medicinal, but I find the smell soothing and would bear with it simply because it is SO effective in getting rid of pimples." – Rosy L.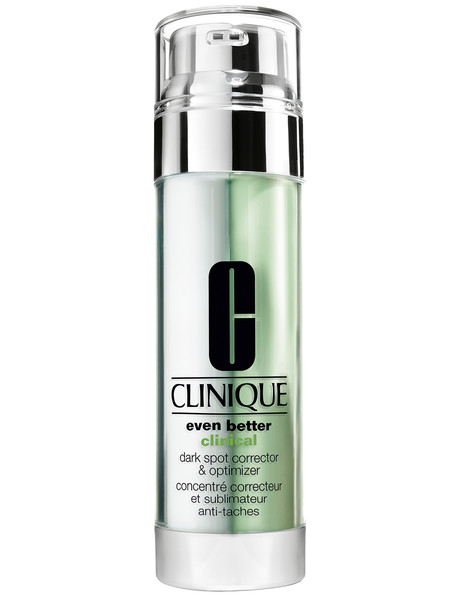 If you're all about getting the bang for your buck, you'll really love the Even Better Clinical Dark Spot Corrector & Optimiser that comes in a dual-chamber bottle that provides both a spot correction product AND a soothing optimiser product. This helps eliminate the appearance of dark spots and blemish marks and also keeps the skin calm, which will help it better combat future darkening. Psst, you won't even have to worry about the uneven application because each product will be dispensed in balanced proportions with the dual-chamber pump! If this doesn't make it one of the best acne scar removal products, we don't know what will!
How to use:
Dispense 1 – 2 pumps of product onto fingertip and gently spread the serum all over face and neck after cleansing your face. Recommended to use twice a day, both in the morning and night.
Promising review:
"Bought the smaller bottle to try it. I used it twice a day until the bottle was gone. I noticed my brown spots on my cheeks lightened. So now I am buying the bigger bottle to get rid of the rest of my spots. It also makes your skin feel soft!" – Stellina F.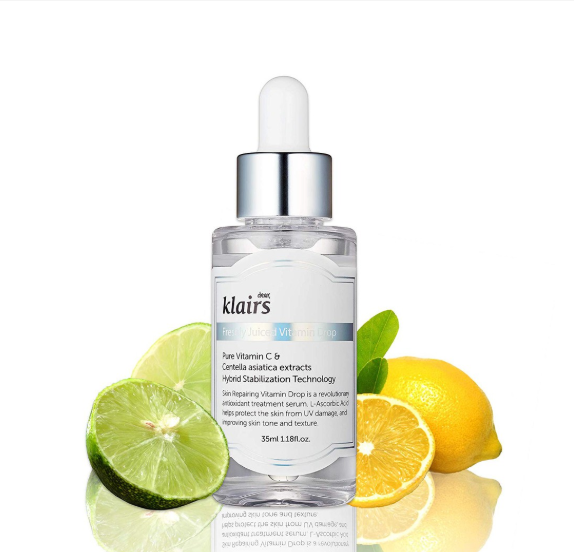 A well-known cult favourite product from Wishtrend, the Klairs Freshly Juiced Vitamin C Serum contains 5% Vitamin C but is still gentle enough for all skin types. Vitamin C is an excellent antioxidant used in skincare to provide the best anti-ageing protection and is also a great brightening ingredient. This serum is perfect for fading brown spots, protecting the skin from pigmentation, and brightening and evening out the skin tone. 
How to use:
Apply to face after cleansing and toning. The product can be used as either a spot corrector or as a serum for the entire face and neck. Recommended to finish off with a moisturiser. P.S. Product can also be mixed in with moisturiser for sensitive skin types.
Promising review:
"This is the first Vitamin C serum I've ever tried and I love it! I have acne scars and hyperpigmentation and this has readily helped with that! I also have acne-prone skin and I really feel like this is so nourishing and healing!" – Nena A.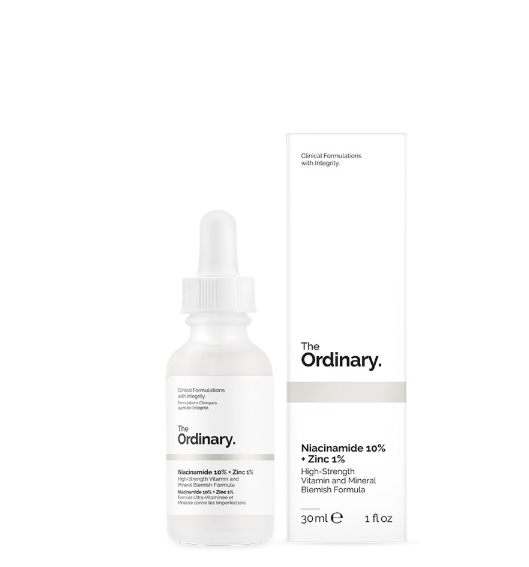 A serum to combat blemishes, congestion and also an overproduction of sebum. This serum allows the reduction of both future breakouts and blemishes. There is controlled production of sebum thus skin is calmer and with less congested pores. 
How to use:
Apply to acne and blemish areas after cleansing in the morning and evening. Apply toner with niacinamide immediately on the cleansed fade to rehydrate and replenish skin. 
Promising review:
" My face seemed a little less oily as well, but it coincided with a cool bout of weather so I can't confidently say it helped. This is one of the least expensive products in this already budget-friendly line, so if you're on the fence about this product I'd say just go for it!." – Michelle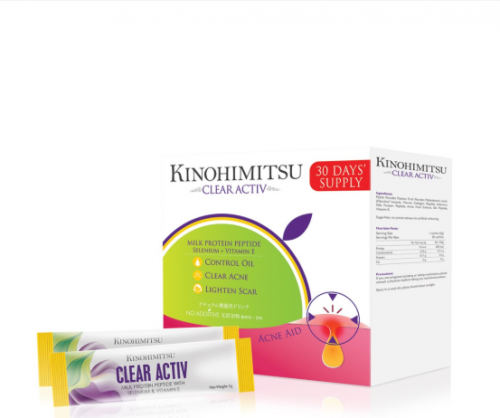 Kinohimitsu Clear Activ provides internal defence against breakout and balances the amount of oil being secreted out. This also helps not only in clearing acne but also in the lightening of scars. 
How to use:
Mix into 80 ml and consume it preferably before breakfast or bedtime. Serve it with chilled water for better taste!
Promising Review:
"Love this supplement. It does help the occurrence of my hormonal pimples. Will repurchase for skin maintenance." – Sohwah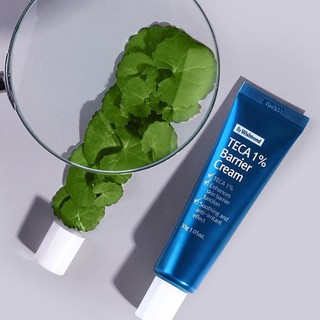 Essentially a spot cream formulated to strengthen, calm and improve your skin's overall health, this is the go-to "pimple cream" for many. With one of the prime ingredients being Centella Asiatica, it is designed to regenerate skin and restore damaged and weakened skin barrier. Besides this, it is also able to help prevent acne scars!
How to use:
Apply an adequate amount of product to problem areas as part of the last step of your skincare routine.
Promising review:
"This product really works its magic fast. Within a week, the pigmentation from my acne is gone, and it doesn't clog my pores so no more acne forms. Works extra well with the Vitamin C Drops!"  – Katharine S.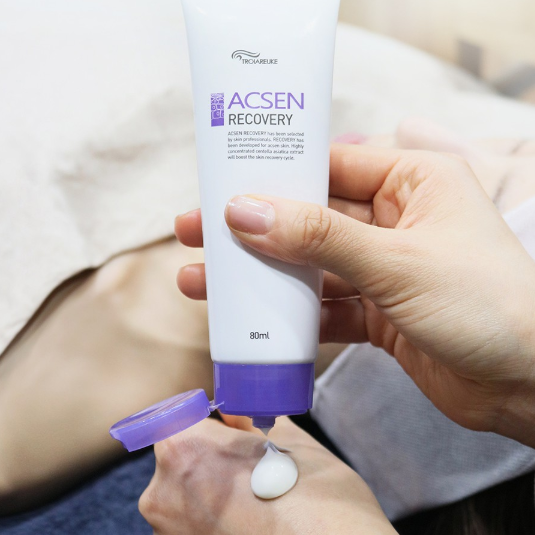 Looking for one of the best acne scar removal products for sensitive skin? ACSEN (Acne + Sensitive) is actually a special line that is designed for acne and sensitive skin and is formulated with ingredients such as Centella Asiatica, Portulaca extract, Argan oil to give targeted spot treatment on your skin's problem areas. Other than acne scars, it is also suitable to be used on surgery or injury scars to lighten its appearance.
How to use:
The product can be used as a spot cream on acne or scar areas. Apply an adequate amount as the last step of your skincare routine.
Promising Review:
"Another Korean product that is completely worth it despite the heavier price tag! If you have horrible acne scars or just scars in general, I'll totally recommend this product." – Jania G.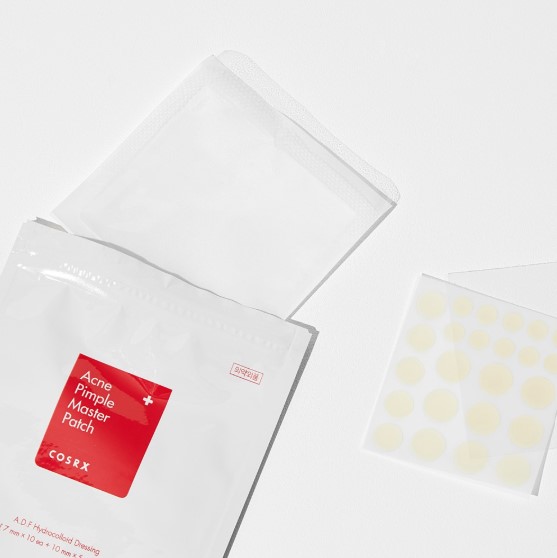 COSRX needs no introduction as the go-to brand if you're looking for a wide range of products for acne scar removal. This thin clear hydrocolloid patch adheres strongly to your skin and treats breakouts by eliminating infection and bacteria. It comes in 3 different sizes with 24 patches in a pack, so you won't have to worry about the patch being too small for your growing pimple that you anxiously want to remove off your face!
How to use:
Stick the patch directly onto the pimple/ acne that is on your face. 
Promising Review:
"These are a staple in my medicine cabinet. These are basic hydrocolloid patches that you apply to clean, broken skin overnight. They absorb secretions while you sleep and in the morning the site is smooth, flatter, and less red and irritated so you can cover it with some concealer and move on with your day." – Ketrn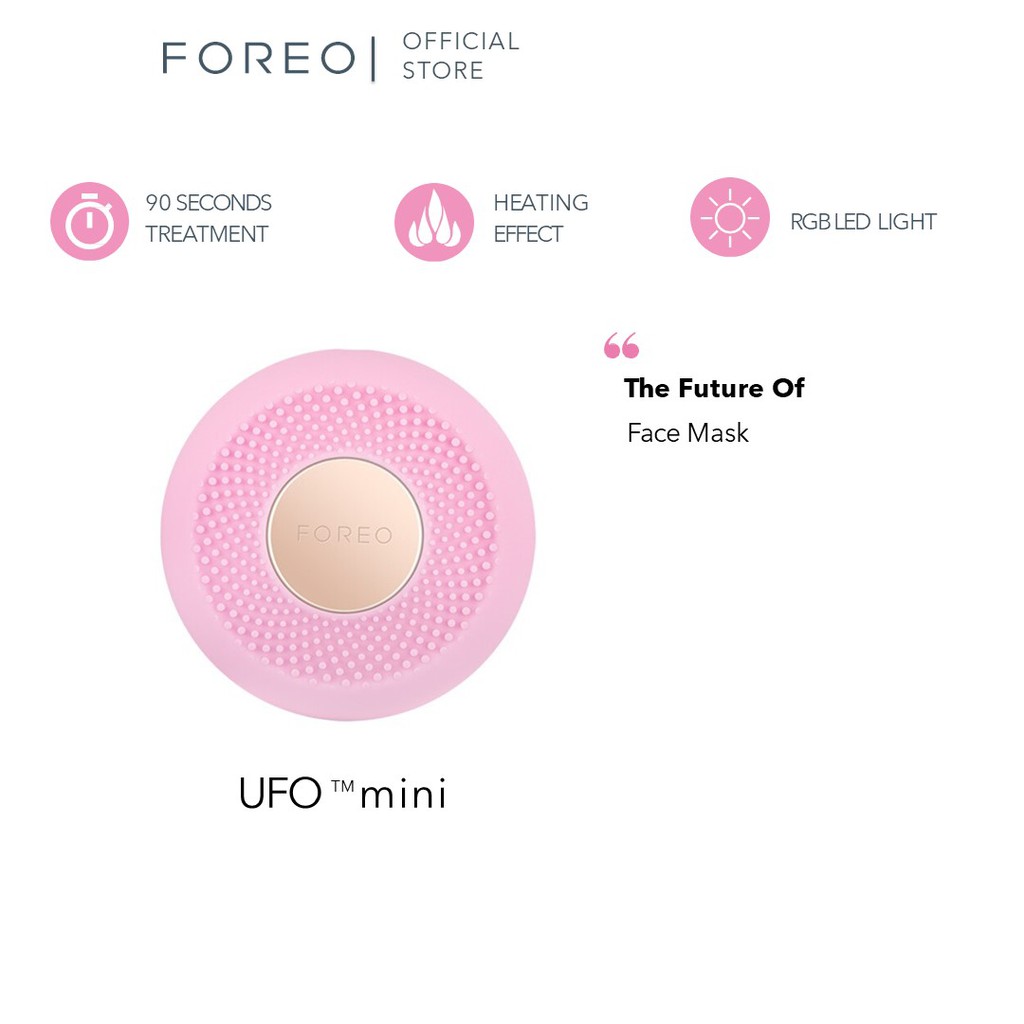 If you're a lover of face masks yet too busy at the same time to indulge in them, why not try the FOREO UFO Mini Smart Mask Treatment? With only 90 seconds of treatment required, be amazed at the healing it will bring to your skin and acne scars! Thanks to the combination of LED light technology, FOREO'S T-Sonic Pulsations and nourishing face mask, clear skin is now achievable! The red LED light helps erase signs of ageing and stimulates collagen production, the green LED light helping to brighten a dull complexion and even skin tone while the blue LED light killing acne-causing bacteria, also stimulating blood circulation that will help to boost radiance and improve skin clarity! Foreo also has a wide range of masks such as Call It A Night Mask formulated of rich olive oil and rejuvenating ginseng, ingredients that will help you with fading tough acne scars!

How to use:
Use your device alongside with your FOREO app, the app will help to configure settings to best suit the needs of your skin with clear instructions on how to put your mask sheet on!
Promising Review:
" I have used the Foreo UFO Mini 2 several times since it arrived and I love it! I have used it with the app and tried both the 'Make My Day' and 'Call It a Night' masks and they are fantastic. They make your skin feel refreshed and revitalised after just one use and this feeling lasts for days!" – Georgia
The Ezskin anti-spot treatment gel is a popular acne scar removal gel on Shopee. Ezskin is a dermatologically tested skincare brand from Taiwan and its products have been raved about by many beauty influencers. This acne treatment gel contains Magnolol, Honokiol and Totarol — all ingredients have antibacterial properties and can fight acne-causing bacteria. Totarol is also a natural plant-derived ingredient and is safe to use even for those with sensitive skin. This acne scar removal product is also non-irritational, non-comedogenic and fragrance-free!
How to use:
Apply the gel directly on the acne spots and leave it for the skin to absorb.
Promising Review:
"Well-received. First time buying. A little drying, so important to hydrate skin if using this. Helps to heal my pimples faster. Will buy again!" — s*****u
What other products have you tried before for acne scar removal? Let us know your HG-status product recommendations in the comments below!