Having a proper skincare routine is crucial to protect our skin from pollutants and to ensure that our skin will still be in tip-top condition 30 years from now. But let's be honest, skincare can be a time-consuming process and sometimes we just want to go to bed as soon as possible after a long day. If you're looking for a quick and fuss-free way to enhance your daily skincare, we highly recommend getting sleeping masks. No more waiting for 10-15 minutes before rinsing masks off, with sleeping masks, just apply and go to bed! If you're new to the whole sleeping masks craze, follow along and we'll guide you through recommendations for various skincare needs!
For Brightening: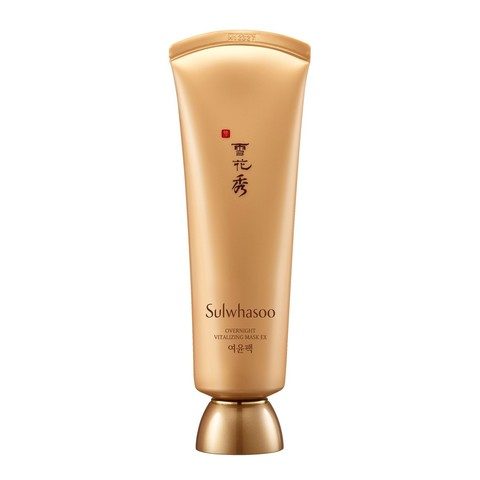 The Sulwhasoo Overnight Vitalising Mask (Available on sulwhasoosg) is a creamy-textured mask that helps to moisturise and soothe the skin. The mask contains ingredients such as Scutellaria root, walnut extract and Angelica Acutiloba that gives the skin extra nourishment while you sleep. This mask also makes use of the Organic Respiration Lay (ORL) technology, which helps to create a soft and light texture that will leave your skin hydrated, bright and supple when you wake up.
Promising Review: "The Sulwhasoo Overnight Vitalizing Mask is my favorite. The others work alright depending on the time of year, but the Sulwhasoo actually calms the redness on my face. It also makes my face feel nice and hydrated the next day. Totally recommend this mask!" – Florence.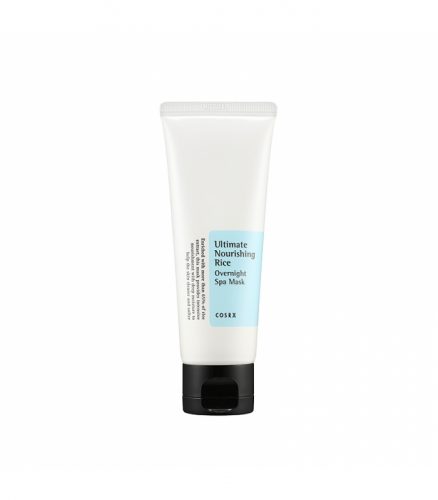 COSRX is a popular Korean skincare brand with products made from quality, safe and natural ingredients. The COSRX Ultimate Nourishing Rice Overnight Spa Mask, (Available on cosrx.sg) uses rice water which is a natural ingredient that gives your skin a smooth and brightening effect upon application. This product effectively brightens, nourishes and hydrates your skin for a glowing complexion. It's time to bid dehydrated skin goodbye!
Promising Review: "I have quite sensitive skin, so I need to be careful on which products to put on my face, and this mask hasn't given me any sort of irritation in the two months I have been using it. It is really hydrating, and I mainly use it overnight, although I occasionally use it as a moisturiser after my routine in the morning. I have noticed that my skin feels definitely softer after leaving it overnight and it does give you that subtle glow/brightening effect in the morning, which I believe is due to the rice component. Don't expect drastic changes, but I think it's definitely worth buying and incorporating it into your routine." -Michelle W.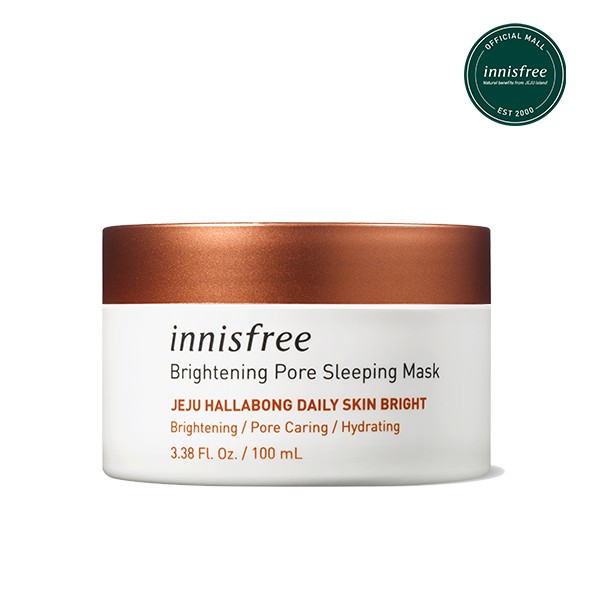 Another popular Korean skincare brand that we hear of frequently in Singapore is Innisfree. The Brightening Pore Sleeping Mask (Available on innisfreesg) contains a 10.1% concentration of three beneficial vitamins – Niacinamide, Ethyl Ascorbyl Ether and Panthenol, which works together to effectively brighten the skin. If you're a fan of Innisfree products, this is one you should definitely not miss out on!
Promising Review: "I love this sleeping mask as it hydrates my face very well overnight and leaves a subtle glow in the morning." – Nishi Y.
SOMEBYMI is also another Korean skincare brand that is known for its affordable products and endorsed by many K-pop idols. The Yuja Niacin Brightening Sleeping Mask (Available on somebymi_official_store.sg) promises to brighten your skin in 30 days. Containing Niacinamide for brightening and Yuja extract for hydration, this product is also quick absorbing hence you do not have to worry about your skin feeling sticky. Additionally, the natural fragrance from the Yuja extract will help you to get a good night sleep!
Promising Review: "Have been using this for a week now. The first impression is that it smells amazing! Very nice gel-cream texture, refreshing and moisturizing at the same time. I have super dry skin, and this moisturizes the skin really well at night. Always wake up with skin feeling supple and visibly brighter. Every time I use this before bed, I always wake up with no panda eyes. Seriously works wonders." – Caroline P.
For Hydrating: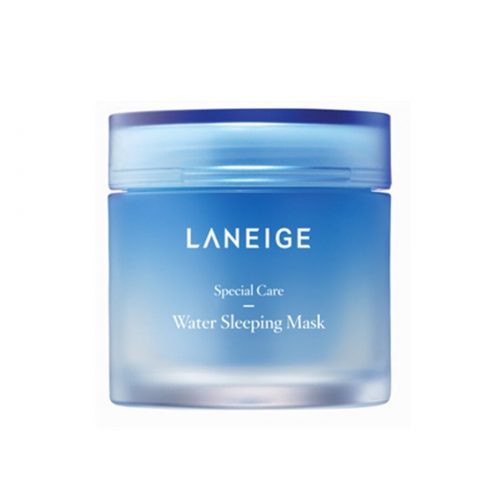 You might have heard of the highly-raved Laneige Water Sleeping Mask (Available on laneigesg). This is a great sleeping mask for those with oily skin, as the water-based formula is light yet hydrating. With the soothing aroma that keeps you relaxed throughout the night, we assure you that you will wake up feeling refreshed and of course, with smooth and moisturised skin. If you are a fan of lavender, this product is also available in lavender scent!
Promising Review: "LOVE IT. On my 3rd bottle already and I'm never disappointed with this. When I know I am gonna put on heavy make-up, I use this the night before to hydrate my skin. No sticky feeling. Very hydrating. Not oily." – Sheena J.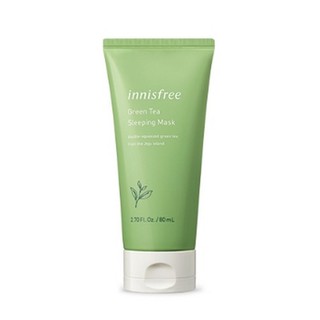 Innisfree is another Korean skincare and make-up brand popular among Singaporeans. Known for their line of green tea skincare products, their Green Tea Sleeping Mask (Available on innisfreesg) is definitely worth mentioning when talking about sleeping masks. It contains enzymes derived from green tea for enhanced hydration and to restore a healthy dewy complexion. This product is gentle on the skin and suitable for daily use. So, if you're a beginner looking for a sleeping mask to try out, this will be a great option!
Promising Review: "This green tea sleeping mask is super effective at retaining moisture in my skin until the morning and I wake up feeling hydrated and fresh! This has got to be my favourite sleeping mask and I can't wait to try more sleeping masks!" – Anonymous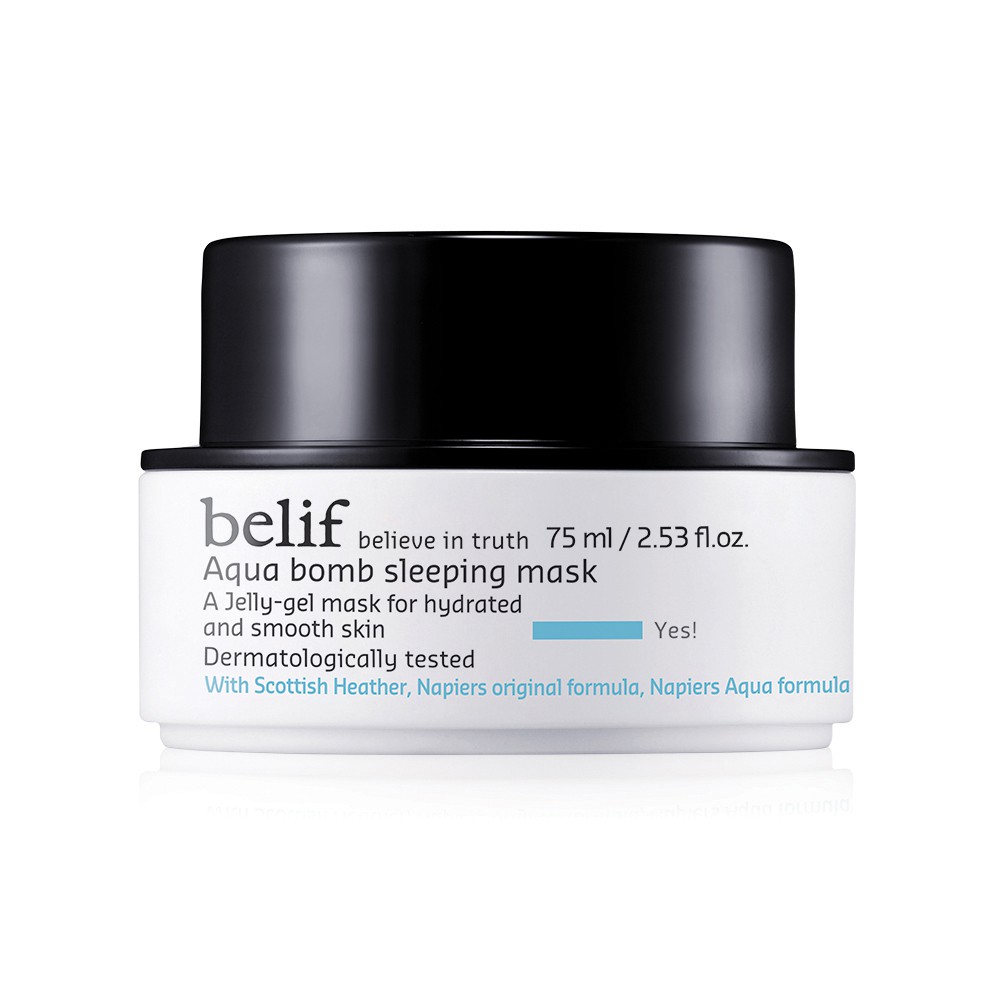 If you're someone who loves jelly or pudding textured skincare products, this sleeping mask is for you! The Belif Aqua Bomb Sleeping Mask (Available on belif_singapore) is packed with herbs such as Lady's Mantle that help to hydrate and moisturise the skin. The formula helps to regulate sebum production and restore balance for brighter and smoother skin.
Promising Review: "This overnight mask is hydrating and very lightweight. I use the mask once or twice a week when my skin feels like it needs a little extra hydration. I have oily, sensitive skin and this mask always leave my skin feeling soft, moisturized, and balanced. It does not break me out or add to my oiliness. The mask feels like an extra hydrating gel moisturizer. It has a gel/jelly-like consistency that absorbs quickly and does not leave the skin feeling sticky or oily. A little goes a long way with this mask. A pea-sized amount is all I need for my entire face. This is a great mask for anyone looking for a lightweight overnight surge of hydration, especially those with oily or sensitive skin." – Alex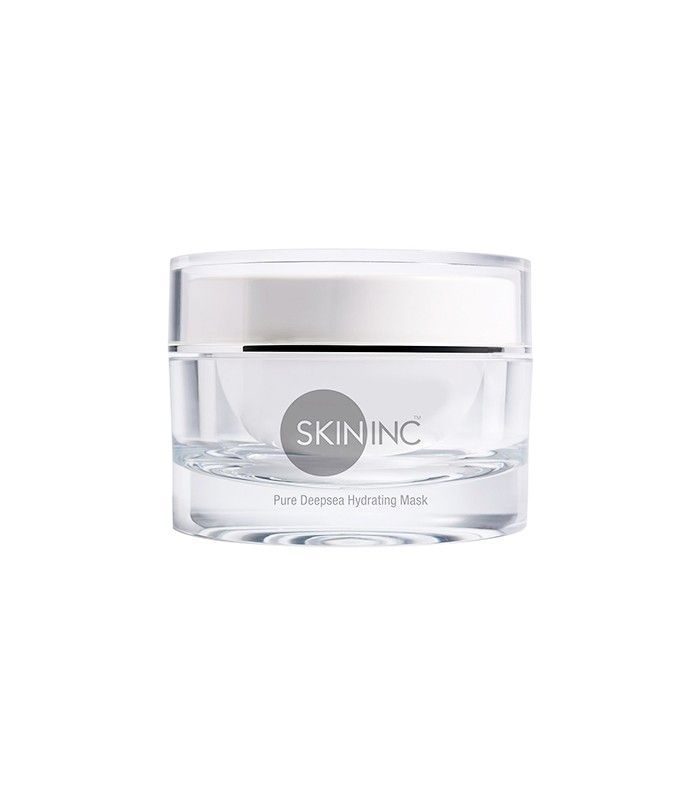 The Skin Inc Pure Deepsea Hydrating Mask (Available on skininc) is the perfect mask for all skin types. A triple treat mask that contains nutrient-rich Okinawa deep-sea water, soya bean extracts, and hyaluronic acid, it is easily absorbed and provides luxurious daily treatment for your skin. This product will help incredibly with sealing in nutrients from other skincare products. Wake up from this mask feeling hydrated and glowing with the smoothest skin.
Promising Review: "Okay this stuff is AMAZING! I have dry skin and use a powder foundation because liquid makes me break out, so you can imagine my dilemma. This mask has made a huge difference to my skin! I have slept in it for 3 nights now and it hasn't caused any breakouts which are rare for me, and it leaves me super hydrated! My makeup looks so much better the following day and the texture has also improved greatly! This mask dries down a bit so it isn't messy to sleep in if anyone was wondering. It is worth trying!!!" – Anonymous
The Dr. Jart + Water Fuse Water-Max Sleeping Mask (Available on koreastagram.sg) is light on the skin and perfect for normal, combination, sensitive and oily skin. Not only does it help hydrate and rejuvenate the skin, but it also has strengthening properties that help to improve your skin's natural defence, giving it the smooth, supple intensity that you have always wished for!
Promising Review: "I bought the mask because it came highly recommended. It is lightweight and silky when you apply it, and it absorbs almost immediately. I noticed brighter, firmer skin the next morning." – Demi M.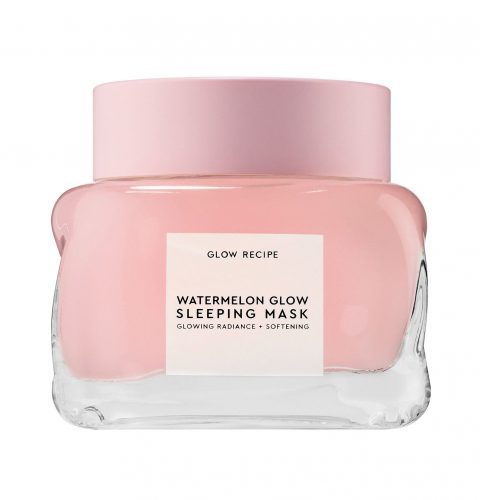 Fun fact! Do you know that many people rub watermelon peel on their skin for hydration? This is because watermelon has high water content, which is great for hydrating the skin. The Glow Recipe Watermelon Glow Sleeping Mask (Available on pinkmist02) is a less messy alternative to slicing watermelon peel and smearing it all over your face. Bouncy and breathable, this mask deeply moisturises your skin overnight. With a pillow-proof formula, the mask quickly absorbs into your skin to hydrate, soothe, gently exfoliate and clarify, providing your skin with the radiance boost it needs!
Promising Review: "I love my Watermelon Sleep Mask. It feels like getting a facial three times a week without the added cost and without having to leave my home. I just put this on at night and go to sleep. The next morning my skin looks and feels amazing!" – Anonymous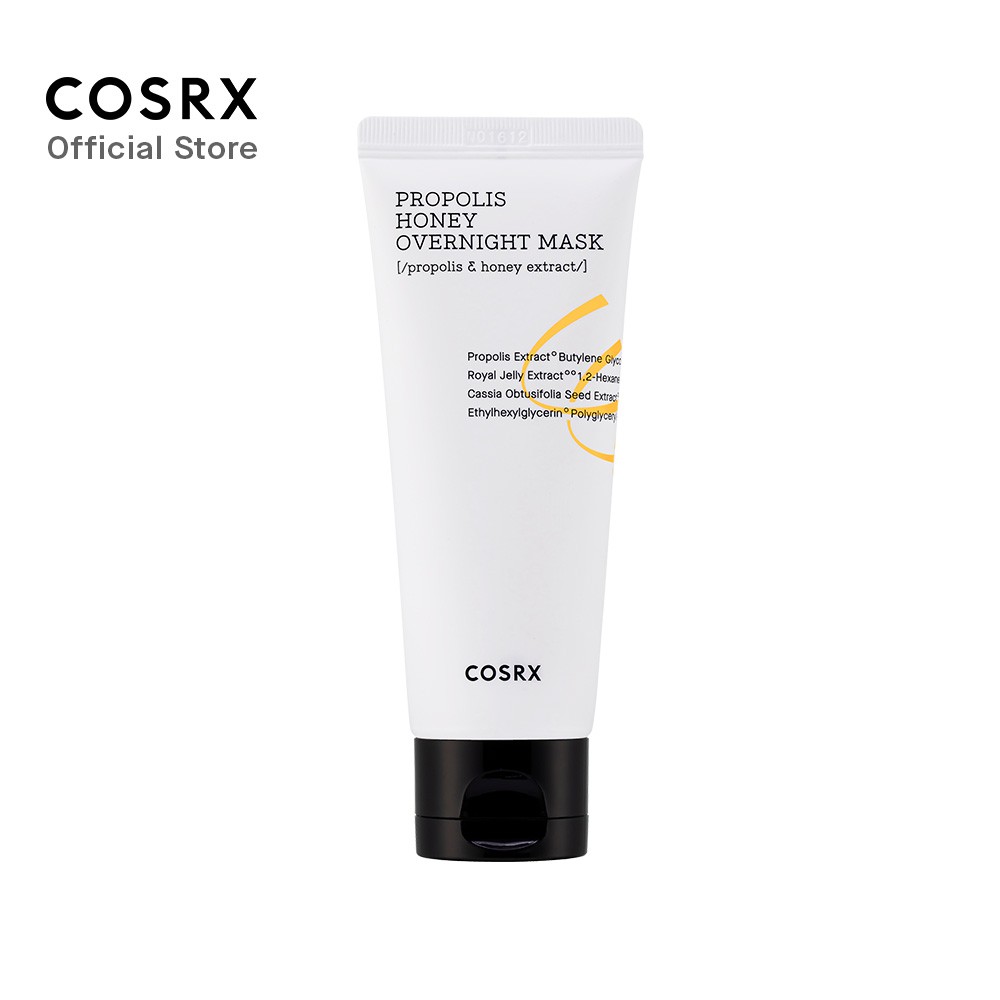 The COSRX Propolis Honey Overnight Mask (Available on cosrx.sg) is made for dry and dehydrated skin, as it contains 87% propolis extract and natural beeswax designed to soothe, calm and moisturise the skin overnight. The extract gets locked in overnight, and you will wake up with your skin feeling hydrated and plump.
Promising Review: "I use it as a sleeping pack when I need a boost for my skin and I love it! As someone with oily skin, I was initially afraid of honey creams, since they tend to cause me to break out. Fortunately, this was not the case with this wonderful lightweight cream!" -Giovanna G.
For Firming and Soothing: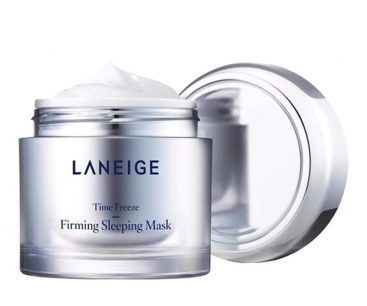 Formulated with Sleep-Tight™ technology, the Laneige Time Freeze Firming Sleeping Mask (Available on laneigesg) yields visible results. This technology fills sagging skin with elasticity factor and combines two types of polymers – shape memory and natural oat-derived – to help strengthen the skin barrier. It also contains Dynamic Collagen™ technology which helps to make the skin firmer and younger-looking. This product is perfect for tackling signs of ageing such as dryness, skin texture, wrinkles, pore elasticity and uneven skin tone.
Promising Review: "An excellent sleeping mask. The Laneige Time Freeze Sleeping Mask product has excellent firming effects on the face. Initial finish is too moist but does continue to massage into the face for better effect!" – Janet K.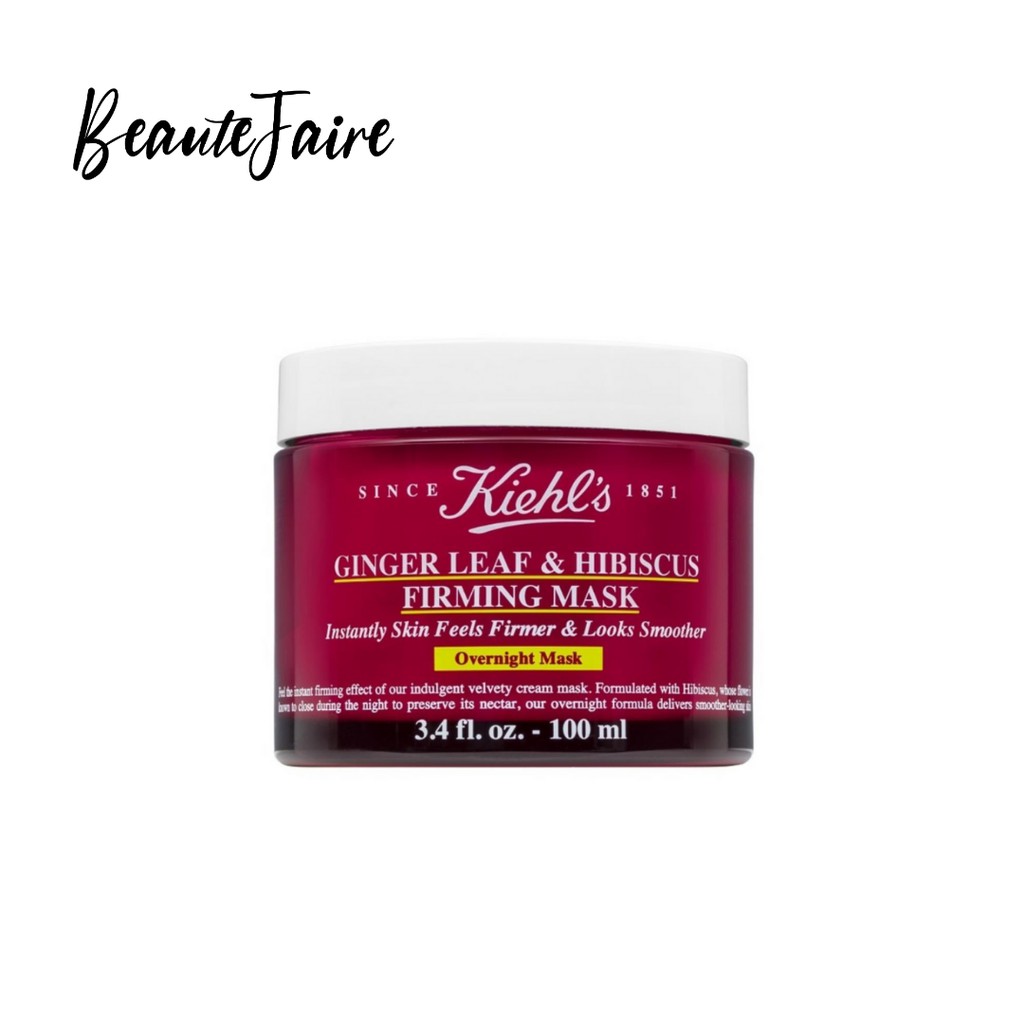 Formulated with a rich, velvety texture, you can instantly feel the firming effect once you apply the Kiehl's Ginger Leaf & Hibiscus Firming Mask (Available on beautefaire.sg). Infused with Hibiscus Seed Extract and sustainably sourced Ginger Leaf, this mask is filled with natural goodness and will help reduce the appearance of fine lines over time. Wake up to reduced wrinkles and a more youthful-looking face!
Promising Review: "I usually don't do reviews but this is seriously the best mask I've ever purchased! I've only used it for about a week and it already has improved the texture of my skin. Not just soft, I'm talking baby smooth!!! Definitely will be a staple in my skincare routine." – Amedeah L.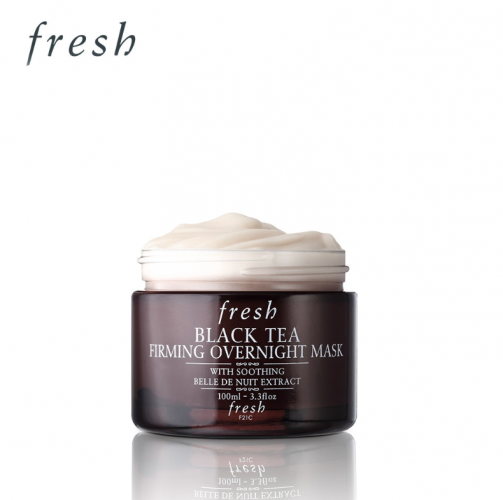 The Fresh Black Tea Firming Overnight Mask (Available on nanamall.sg) works with your skin's nighttime recovery process to restore and shape up while you sleep. The velvety mask is made up of a black tea complex consisting of kombucha, black tea extract, blackberry leaf extract, and lychee seed extract which is proven to inhibit damaging free radicals as well as improve skin elasticity. This mask also contains a special ingredient, called the Belle de Nuit extract, "Nature's Nocturnal Flower", which is supposed to help soothe and rebalance your skin. 
Promising Review: "This mask is my all-time favourite anti-ageing product. It is super gentle to the skin and makes my skin feel 10 years younger. I haven't used an anti-ageing product like it. It will always be my go-to mask when my skin is starting to look aged." – Chelsea L.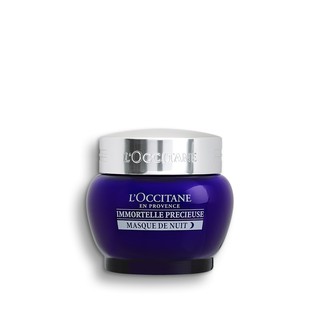 L'OCCITANE is a brand that is known for luxurious skincare products that effectively combats signs of ageing. The Immortelle Precious Overnight Mask (Available on loccitane_sg) is especially unique as it is an anti-blue light sleeping mask formulated to give your skin a digital detox after facing the screen all day. It also contains L'OCCITANE's famous Immortelle Super Extract with amazing anti-ageing properties to deliver the results you've been looking to achieve.
Promising Review: "I have been using the mask for a couple of weeks now and have already noticed an improvement in my skin, I have small patches of dry skin and sun damage which are improving immensely with this wonderful cream. The texture is luxuriously thick and the scent is so beautiful. I would recommend it to anyone, definitely my new favourite." – Anonymous 
Have you found the perfect sleeping mask for your skincare needs? Besides our recommendations, there are many other sleeping masks available on Shopee for you to choose from as well! If you would like to find out more about the different types of masks available, check out our guide on how to choose the right clay mask based on your skin type as well as Japanese face mask recommendations that you can incorporate into your daily skincare routine.
New to Shopee? Get $7 off (min. spend $15) with code*: SLEEP7MASKS
*TNC Applies. Valid for new users from 12 to 19 May only.