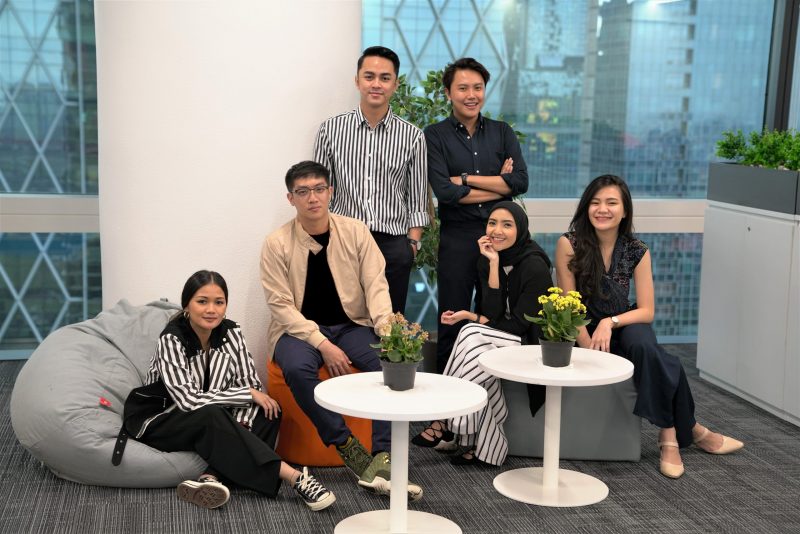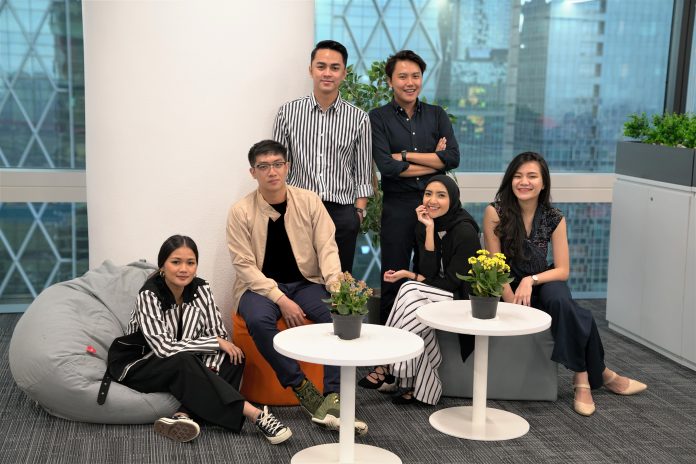 While our schools prepared us for a stuffy collared-shirt-and-dress-shoes workforce, our day-to-day at Shopee can't be more different. Don't be surprised if you come across a guy rocking Justin Bieber's longline oversized T-shirt or a boss lady slaying Blake Lively's elegant and fashion-forward look. Fashion is a form of self-expression after all!
I caught hold of a few fashionistas and asked them for some fashion advice. Here are the results of the fashion-watch!
1. Monochromatic: Malinda Hapsari, Government Relations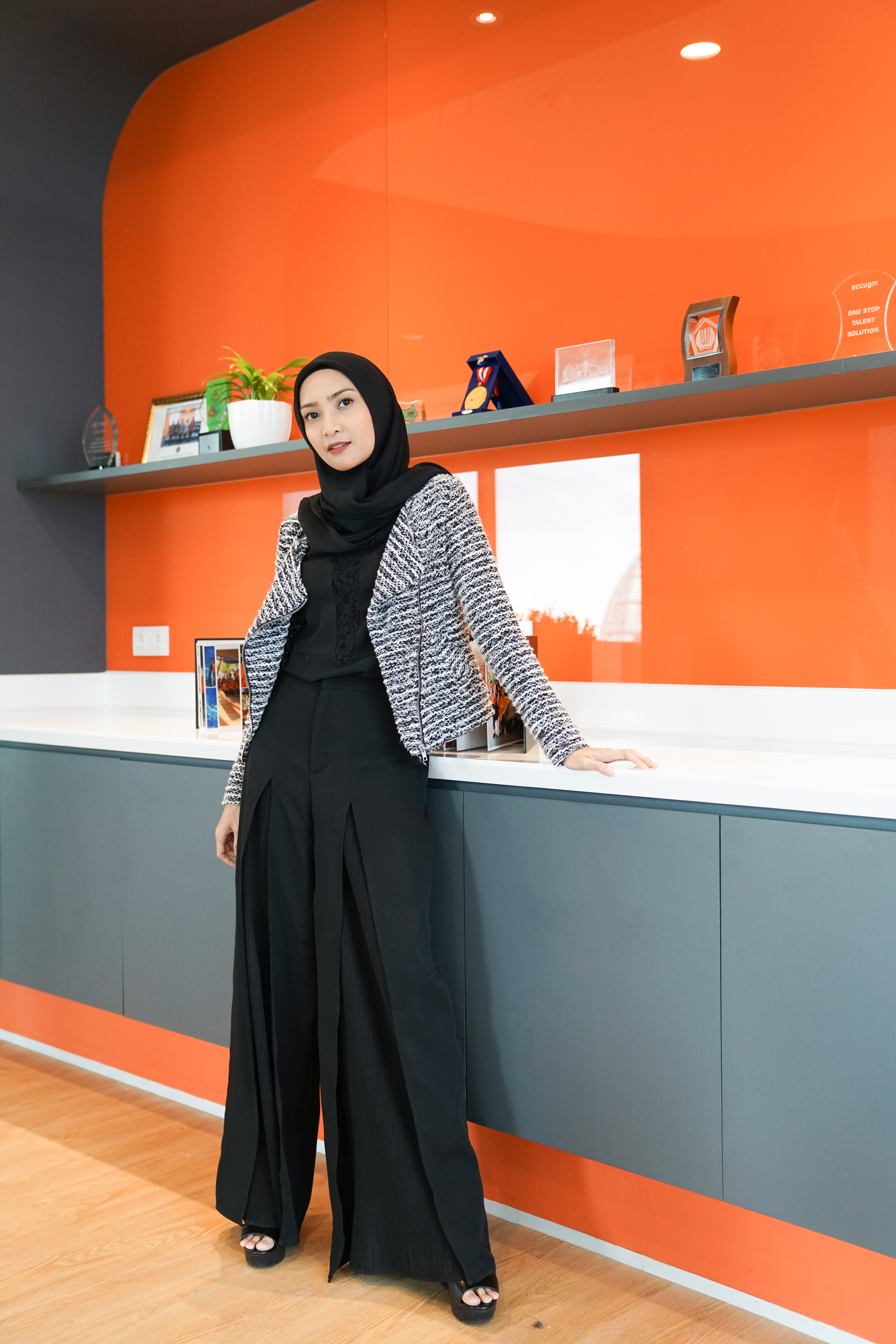 Who says an all-black outfit doesn't have a place in hijab fashion? As Malinda shows, such a getup can be highly fashionable too! Here, she's rocking a chic all-black office look.
As a true fan of the monochromatic style, she plays up her ever-so-flowy dark-coloured palazzo trousers with a casual blazer, cotton voile square scarf and translucent cherry-shade lipstick.
"I love wearing simple-yet-professional attires to the office. I tend to dress up a little more for meetings with government representatives – still, palazzo trousers and blazers always do the trick!"
2. Smart laid-back: Benjie Marshall, Marketing
Benjie is no stranger to fashion, proven by his choice of fashion icons whom he looks up to – Joo Woo Jae from Korea and Reggy Alexander from Indonesia.
Here, Benjie is channelling his inner K-Pop Star with that smart-laid back office look – white shirt tucked into his cuffed ⅞ denim, paired with Fila running shoes and black-striped socks.
"I kinda like the mix of my crisp shirt with jeans and sneakers. Besides, it's fun adjusting my style to my current physical appearance. For instance, when I dyed my hair silver, I picked out more monochromatic clothing to tone down my striking hair. It's basically about mix and match!"
3. Batik elegance: Monica Riany, Human Resources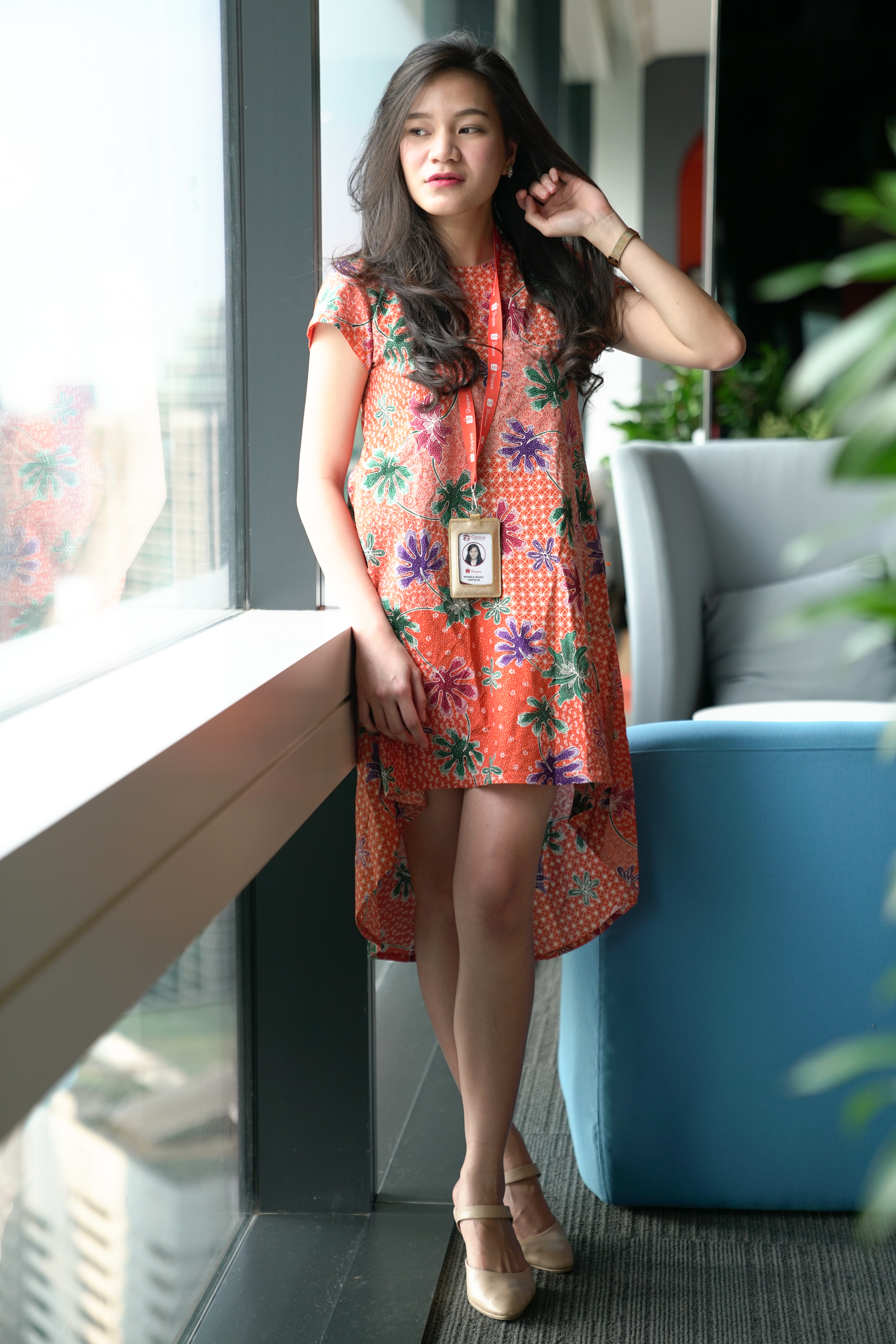 Monica's gorgeous look is proof that you can wear batik fashionably – not only to kondangan (wedding ceremony) but to the office too! This girl couldn't have rocked that beautiful orange batik dress any better. I bet Miranda Priestly would be impressed, don't you think so too?
"My style is a coalescence of elegant and casual. I like to slip on a simple white or beige dress and pair them with high heels and accessories like a watch and a necklace. I love dressing up, so it's unlike me to arrive at work with just jeans and a casual T-shirt. Plus, everyone is encouraged to wear batik for our Thursday Kamis Berbatik, so batik dresses are sort of a staple in my wardrobe either way!"
4. Comfortably stylish: Jaka Riestya Putra, Operations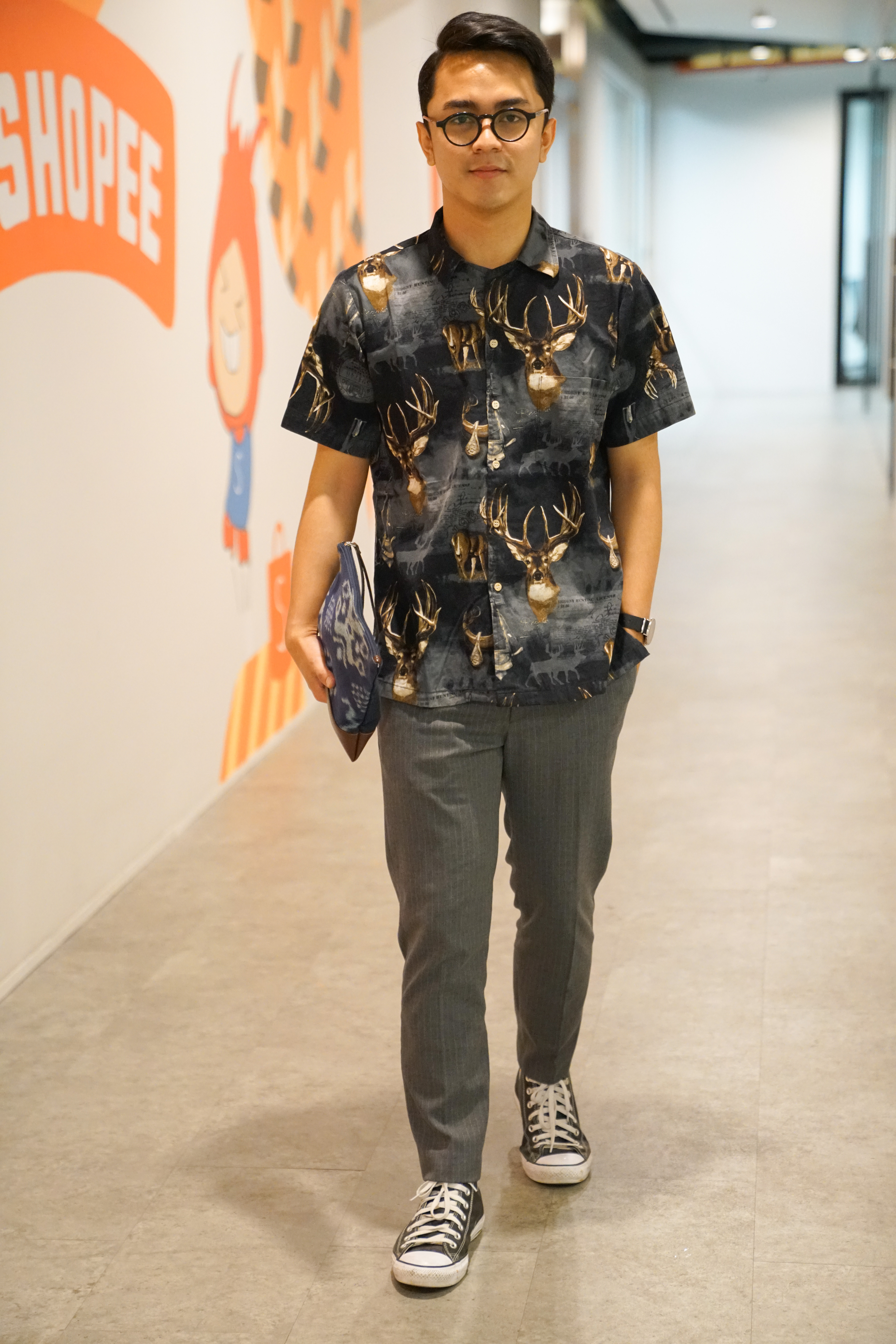 Every time I bump into Riestya, he has this put-together hairstyle that looks like he came straight out of the barbershop. He keeps his outfits neat and finishes up his looks with some accessories. A canvas bag, pouch, bracelets and a fancy watch are amongst his go-to's.
"My work outfit doesn't stray too far away from what I usually wear when I hang out with my friends. If I have to be at the office early, I'll go more for a crisp and casual look – a well-pressed shirt, linen trousers and a pair of sneakers. If I have to work later into the night, I'll opt for ripped jeans or sweatpants, a comfy T-shirt and running shoes."
5. Conspicuously dark: Gabriella Stephanie, Business Development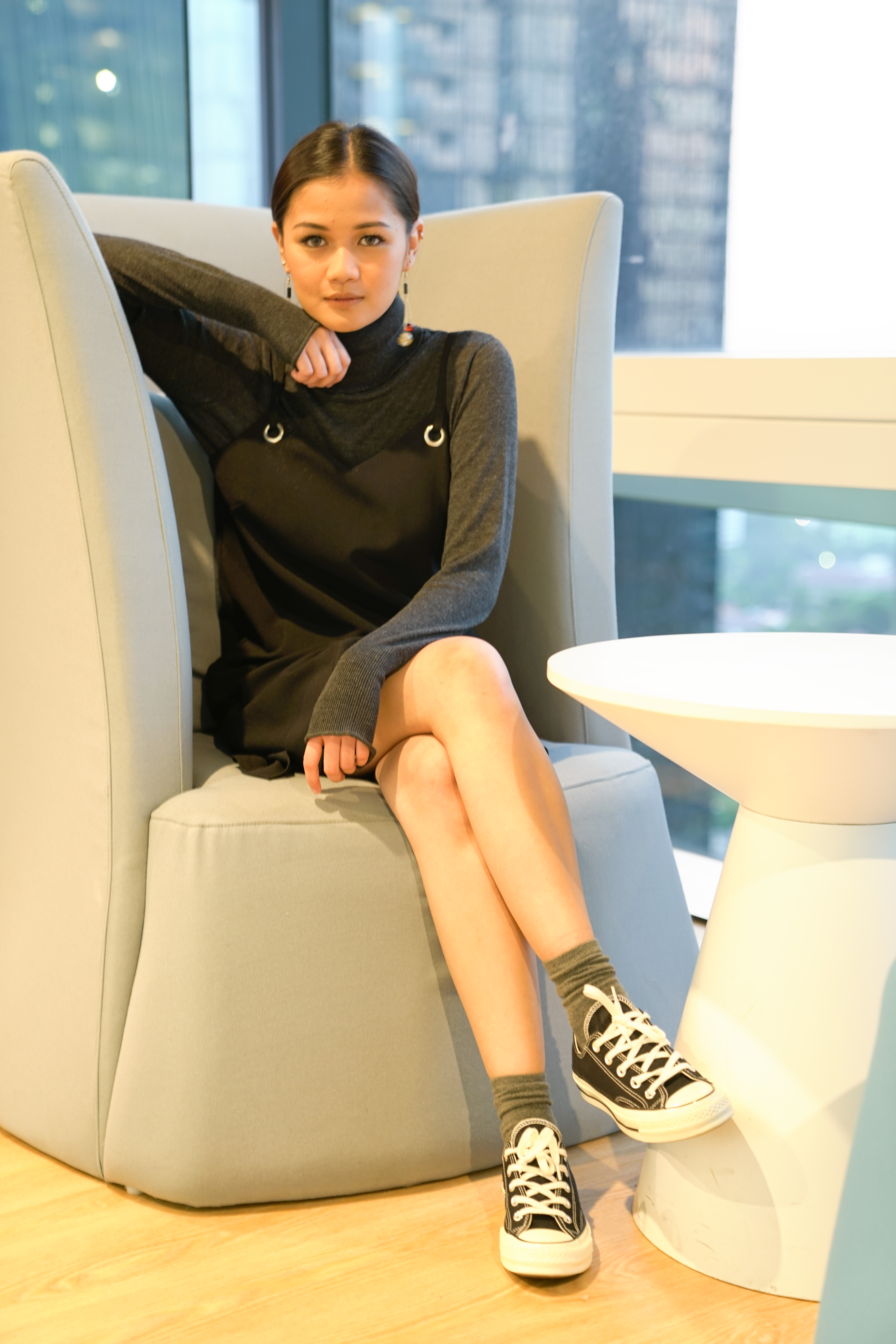 Gabriella exudes confidence and a "don't-mess-with-me" aura. She layers a thin dark grey turtleneck under a black mini dress, pairing the ensemble with sneakers and long socks. She polishes her lewk with an exquisite pair of earrings and a stunning nude makeup look. Yep, she's a knockout!
"I stay away from colourful clothing and prefer outfits that can channel my inner "dark look". My favourite combo? Long socks, sneakers and, unsurprisingly, a main piece of apparel that's mostly dark." 
6. Calm & classy: Feby Tanzil, Tech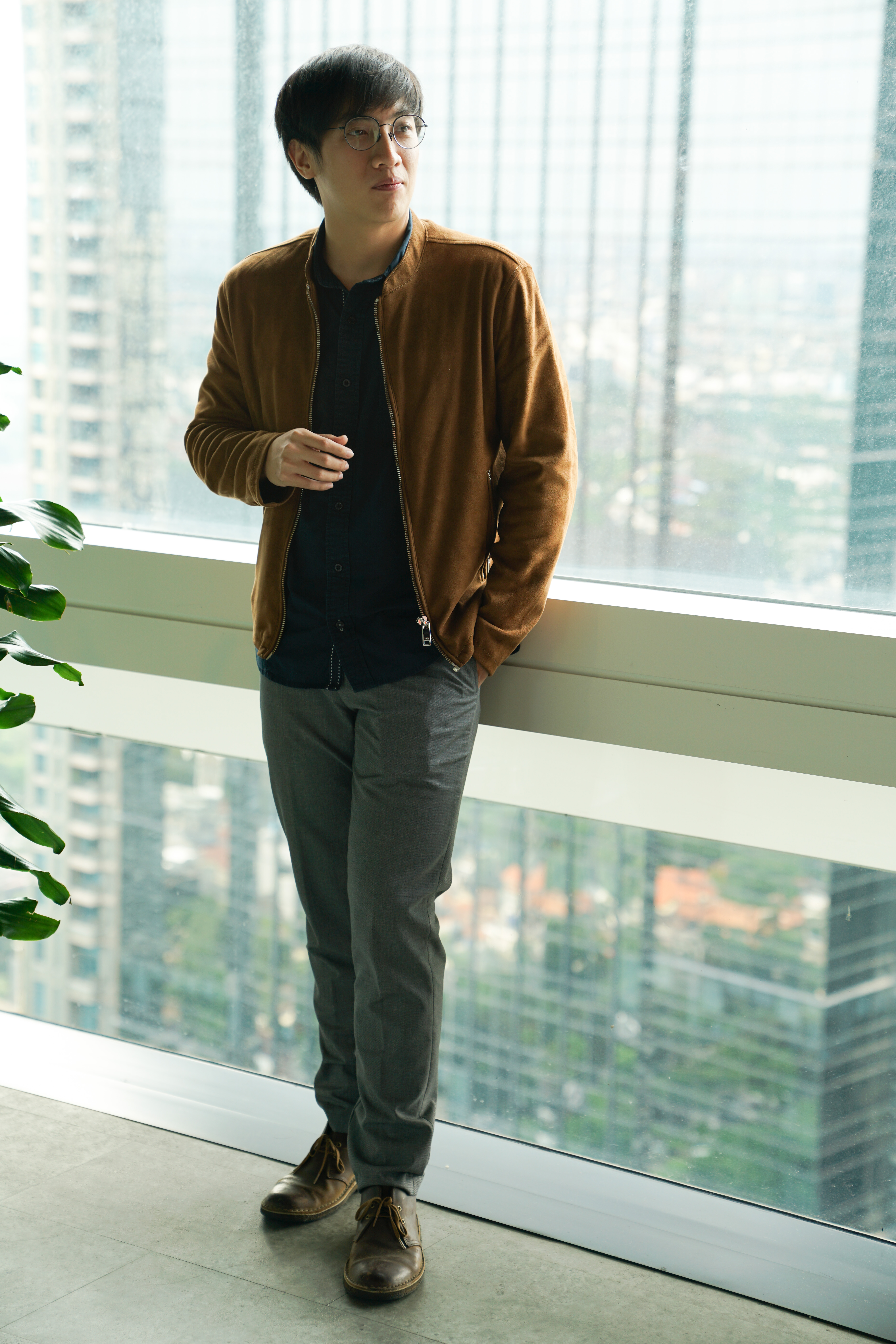 Deferring from the Mark Zuckerburg stereotype of T-shirts, hoodies and sneakers, Feby prefers suiting up.
Sporting that casual yet professional look, he is the epitome of boy-next-door meets Wall-Street-Journal. His simple pieces – a dark blue shirt, brown suede jacket and leather shoes – are tastefully thrown together.  
"I lean more towards shirts, which I own in a variety of colours and prints – dark, dip-dyed and everything in between. My typical look is complete with a bomber jacket or suede jacket, along with chinos or casual trousers. I'll then spice things up with my trusty leather shoes."
---
What's your style? Retro-chic? Casual and comfy? Or even haute couture? As long as you're comfortable, go ahead and showcase your identity! If you're dreaming of working in a creative environment that allows you to show who you really are through your fashion style, you are definitely in the right place! Click here to check out the job openings available!