The Demon Slayer anime is getting more and more exciting. With the Entertainment Arc District episodes airing now, it just goes to show that we'll be seeing more of the Hashiras in action! With a relatable plot coupled with immersive graphics, it's no wonder that Demon Slayer is one of the hottest anime right now. Show your support for your favourite Demon Slayer characters and channel your breathing style as we swoop into Demon Slayer merchandise in Singapore that you must collect! Psst, these anime merchandise are flying off the shelves, so be sure to snag them before they're gone! 
Must-own Demon Slayer merchandise in Singapore: Character figures
1. Official Banpresto Figures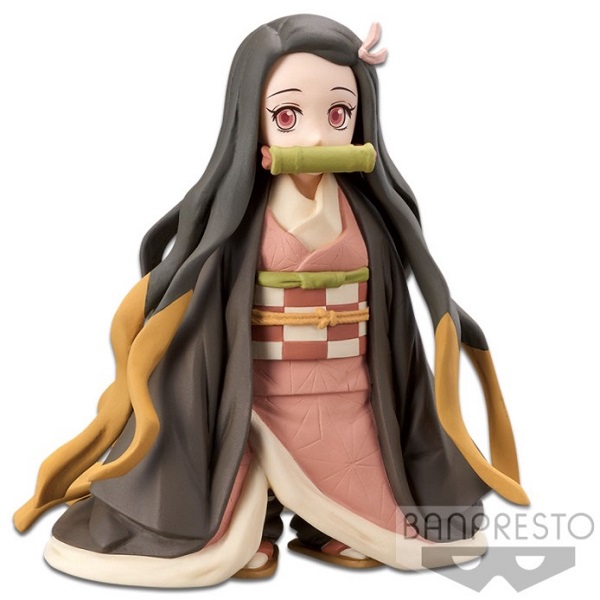 Nezuko continues to surprise the audience as she showcases new abilities with each season. Remember how she shrunk down while trying to run away from Kanao back in season 1? Now you can get a realistic-looking figure of mini Nezuko (available on Toymana Official Store) for your display! This Demon Slayer merchandise is so popular in Singapore that you can hardly find any at physical stores! Not to fret though, there are online stores where you can visit to buy Demon Slayer anime figures, just like this Vibration Stars Nezuko Figure (available on Gifts Greetings Official Store) that shows her in her favourite fight move – a powerful kick.
Still keen on having a mini Nezuko for your display? Why not go for the Banpresto WCF Nezuko Collection (available on opentrip.sg)! Each figure is only about 7cm in height and it shows Nezuko in different quirky poses that are unique to her character. There's her running from Kanao, one of her in that wooden box and another where she's in a bamboo basket – how adorable! Opentrip.sg is another great option where you can go to buy and collect anime figures. They also have the Banpresto WCF Nezuko Collection Volume 2 (available on opentrip.sg) where she is again in different adorable poses! 
2. Funko Pops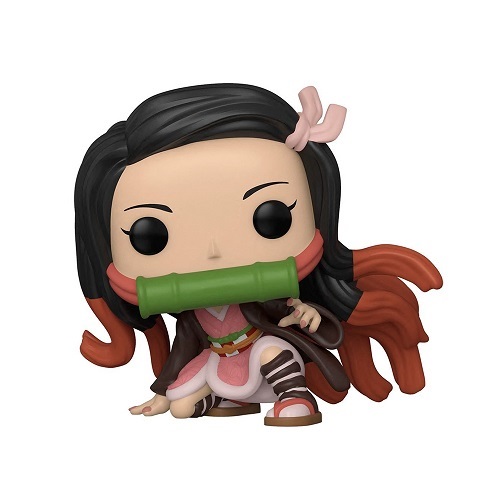 We know we're not alone in this obsession with collecting every type of Nezuko figure! Thanks to the larger-sized head, the Funko Pop version of this Demon Slayer merchandise adds to her cuteness factor! Don't look down on her though, because this Nezuko Funko Pop (available on Simply Toys Official Store) looks ready to launch an attack! 
This Nezuko Funko Pop wouldn't be complete without her brother Tanjiro and his best buddies, Inosuke and Zenitsu! The Inosuke Funko Pop is rocking his iconic jagged swords (if you know, you know) while Zenitsu (both available on TOMMO.sg) is fast asleep, but we all know how powerful he is in that mode! They all look ready to fight against another demon, but could it be the Demon King himself? That's for us to find out! We also recommend getting the Muzan Kibutsuji Funko Pop (available on TOMMO.sg) too, just to remind yourself that this is his original appearance… or is it really? 
3. Qposket Figures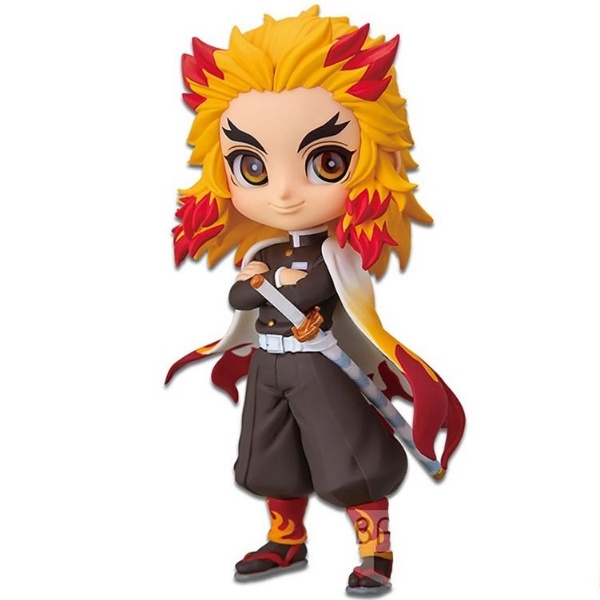 Exquisite details, vivid colours and adorable looks – that's what you get with this Rengoku Qposket Petit Figure (available on Simply Toys Official Store)! Nope, donut (oof) go there. We still can't get over how this beloved Flame Hashira is no longer with us but his legacy will always live on! Commemorating this mighty and extremely enthusiastic Demon Slayer with this Rengoku figurine merchandise in Singapore is the best way to remember him after his fight with Upper Moon Three Demon Akaza. 
Interested in getting the villainous counterpart? The Akaza Qposket Figure (available on Simply Toys Official Store) looks rather adorable too, especially with those big, round eyes and vibrant colours that highlight his body markings. But did you know that they actually symbolise something? (Highlight for spoiler: Those markings actually represent the number of crimes he committed as a human!). If you have no idea where to buy the other Demon Slayer anime character figures, check out Simply Toys! You can finally collect the Qposket figures of the sisterly pair, Kanao and Shinobu (both available on Simply Toys Official Store)! 
4. Nenderoid Figures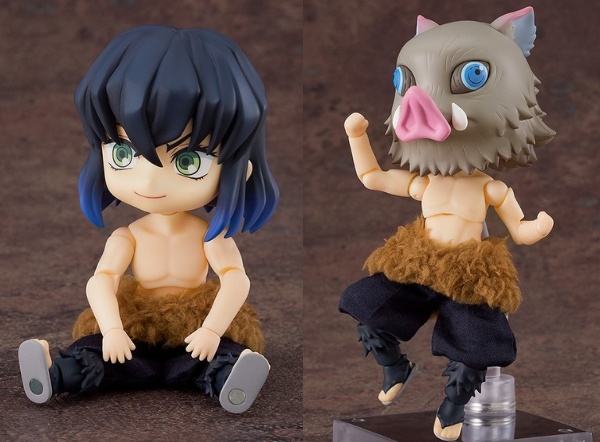 If you love Inosuke's raging personality, you'll love this Nenderoid Figure (available on Hakken! Online Official Store)! Hakken! is the place where you can go to buy exquisite anime figures that are reasonably priced, and this Demon Slayer merchandise is a definite must have because of how customisable it is. Keep that boar head on or remove it on the Inosuke figurine to reveal his feminine facial features! You can even adjust his stance so that he's pumping his fist in the air, seated, or even wielding his jagged swords! 
Must-own Demon Slayer merchandise in Singapore: School essentials
5. Demon Slayer pencil case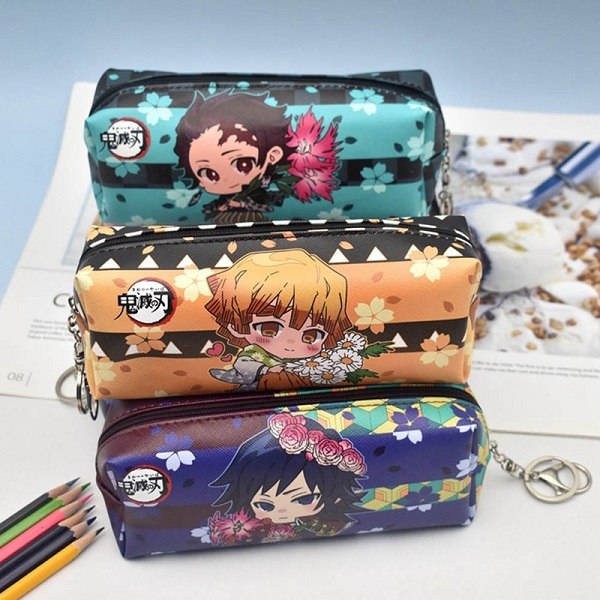 Slaying your academics with Demon Slayer merchandise in Singapore is best done with this Demon Slayer pencil case (available on facety1.sg)! They're large and spacious enough to fit all the stationery supplies you'll need to conquer those fears – also known as tests and homework. Need more supplies? Fill up your Demon Slayer pencil case with this Tanjiro Correction Tape (available on Norns Taiwan Official Store) and Inosuke Mechanical Pencil (available on 墊腳石 TCSB Official Store)! 
6. Demon Slayer school bag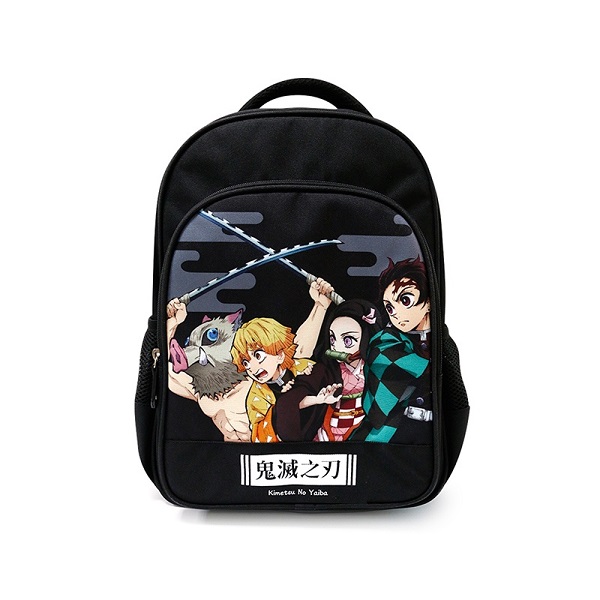 Want to get a Demon Slayer school bag but feel like you've outgrown that look? You can always live vicariously through your daughter or your nephew with this Demon Slayer backpack (available on PG Beauty Flagship Store)! Bless the lucky kid with one of two designs where one features the Kamado siblings, Tanjiro and Nezuko, and another where they are joined by Zenitsu and Inosuke! You've been warned because they may start asking you for more Demon Slayer merchandise! If that happens, you've got more reasons to accessorise the backpack with these Nezuko Funko Pop Keychain Rings (available on xinxiaorui67999.sg).
Must-own Demon Slayer merchandise in Singapore: Cosplay
7. Demon Slayer uniform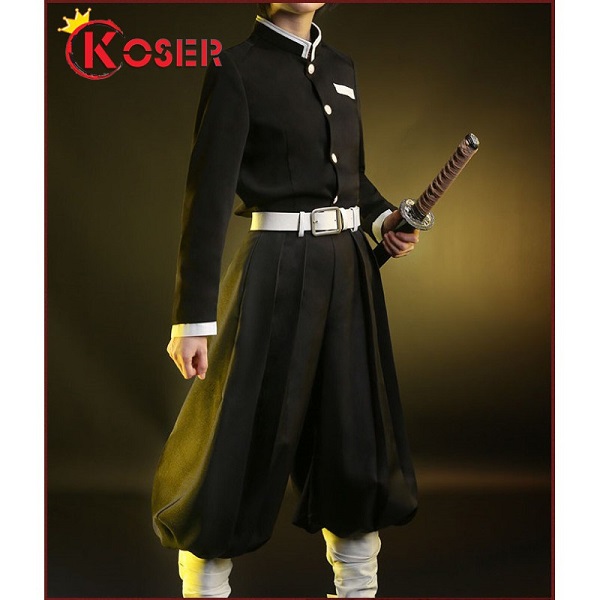 There's no better way to cosplay as your favourite characters from Demon Slayer than with this Demon Slayer uniform (available on COSERKING.sg)! The uniforms worn by the Demon Slayer Corp members are designed to be highly durable and lightweight, so they can't be damaged by minor Demons. You can now feel like you're fighting demons alongside them with this Demon Slayer costume! 
8. Demon Slayer hat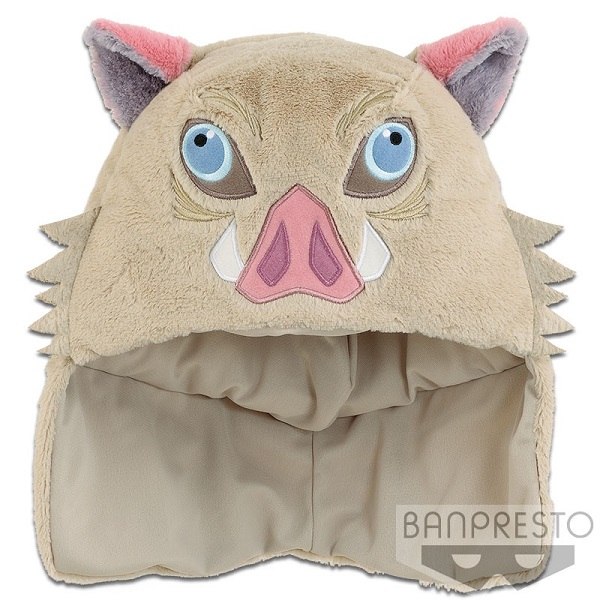 Want to cosplay as Inosuke but can't figure out how to replicate the boar head? This Demon Slayer Boar Hat (available on uncleselltoyon.sg) is perfect for that! This boar head actually belongs to his "mother" that raised him after he was orphaned as a child. The good thing about this Demon Slayer hat is that your face won't be covered and everyone can still make eye contact with you.
9. Haori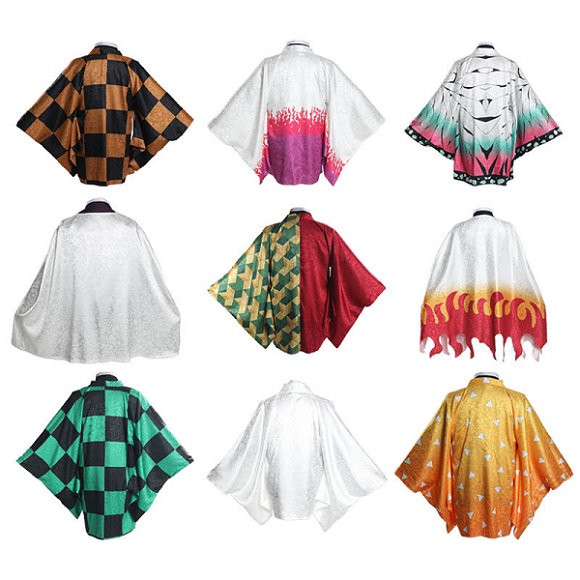 Want to cosplay as your favourite Hashira? You'll need to get their iconic Haoris (available on haicospl2.sg)! These haoris are actually traditional Japanese jackets that are usually worn over kimonos. Their length varies, ending at one's hips or thighs. Each Hashira wears a unique haori that is synonymous with the element they're representing. Flame Hashira Rengoku's haori has flame-like patterns at the edges while Insect Hashira Shinobu has a haori that resembles butterfly wings. If you're not a fan of cosplay, you can always wear the haori as an outerwear to add contrast to your outfit! 
Must-own Demon Slayer merchandise in Singapore: Fashion accessories and apparels
10. Hanafuda earrings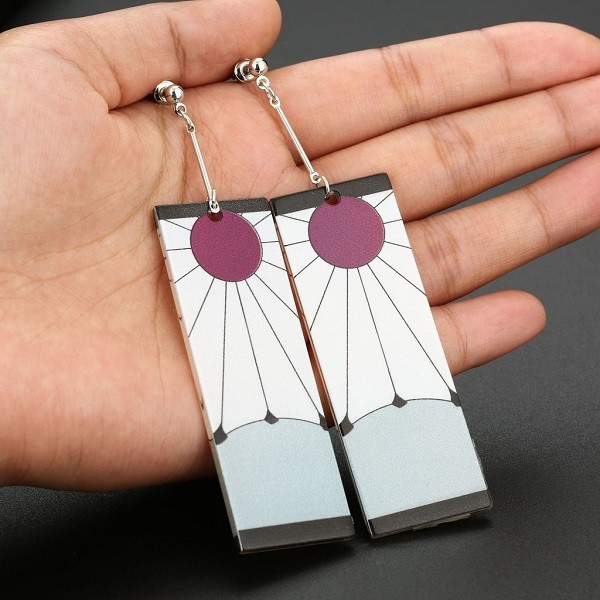 Not everyone can become a user of the Sun Breathing Style, but you can feel like one with these Hanafuda earrings (available on supproducts.sg). In the anime, these earrings represent the wearer's power, and they're a family heirloom that has been passed down through generations. They're now worn by Tanjiro, who has been referred to as a Sun Breathing Style user many times because of this iconic accessory. Even the Demon King is after Tanjiro because of these earrings, but rest assured that you'll only be looking fashionable and safe from harm when you put these on!
11. Demon Slayer Jibbitz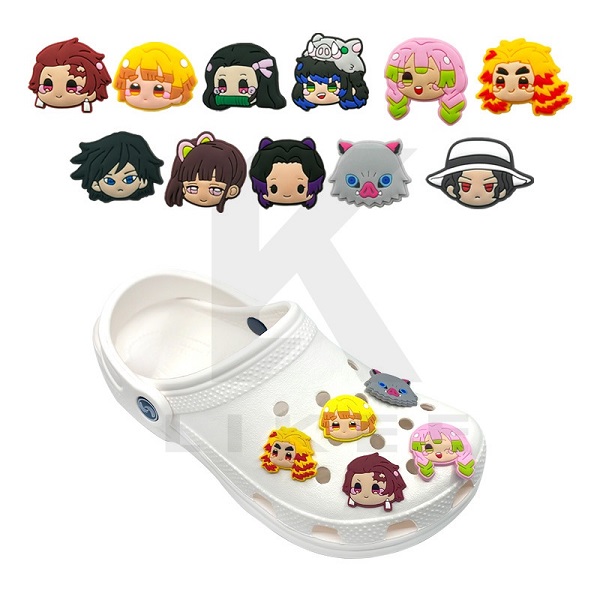 You're not perfectly slaying the Crocs look until you accessorise them with Demon Slayer Jibbitz (available on LikeeTech.sg)! These Demon Slayer characters have been animated into adorable versions that definitely deserve a place on your footwear. Stick these onto your Crocs clogs and you can literally walk in the footsteps of your favourite Demon Slayer characters!
12. Demon Slayer hoodie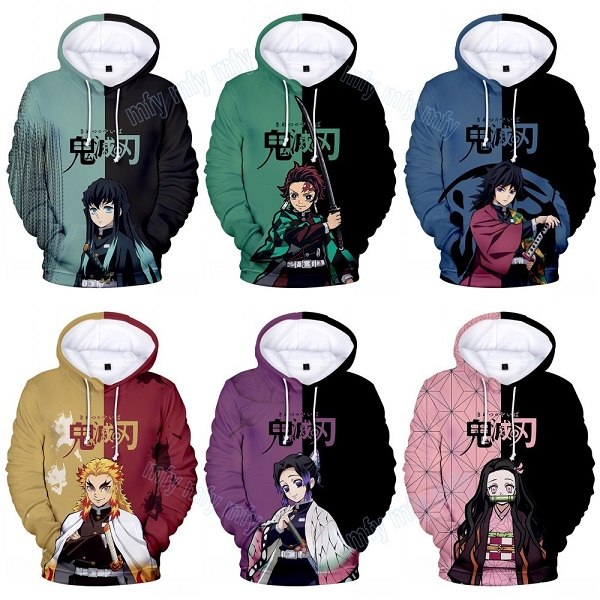 We can't wait for the next episode to be released, and we're sure you're on the edge of your seats too. In the meantime, you can express how much love you have for the anime series with this Demon Slayer hoodie (available on Animefunhub)! Made with polyester and spandex, this is one of the most lightweight and comfortable Demon Slayer hoodies you'll ever wear! 
Must-own Demon Slayer merchandise in Singapore: Beauty products
13. Demon Slayer eyeliner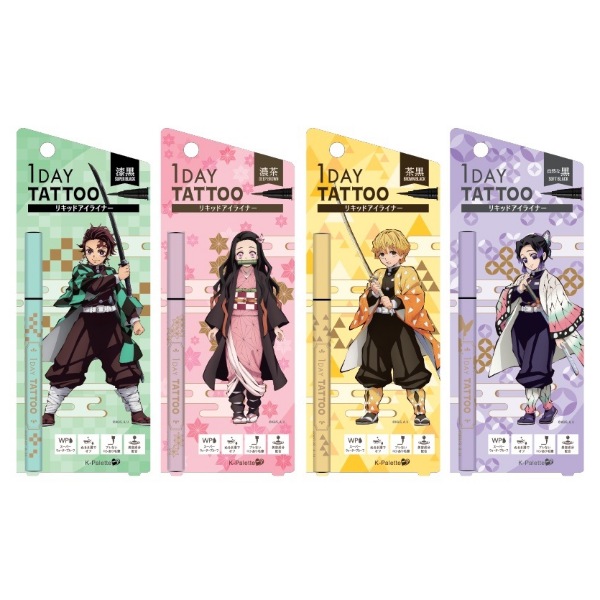 There's no better Demon Slayer merchandise in Singapore than one that is multifunctional! This Demon Slayer eyeliner (available on Japalang Official Store) by K-Palette is one of the best waterproof makeup. The extra slim tip on this eyeliner will help you get the most precise cat eye wings, while the pigmentation ensures that your look will last through the day! Interested in trying out a new makeup look? Check out these best Chinese beauty brands to revamp your style! 
14. Demon Slayer shampoo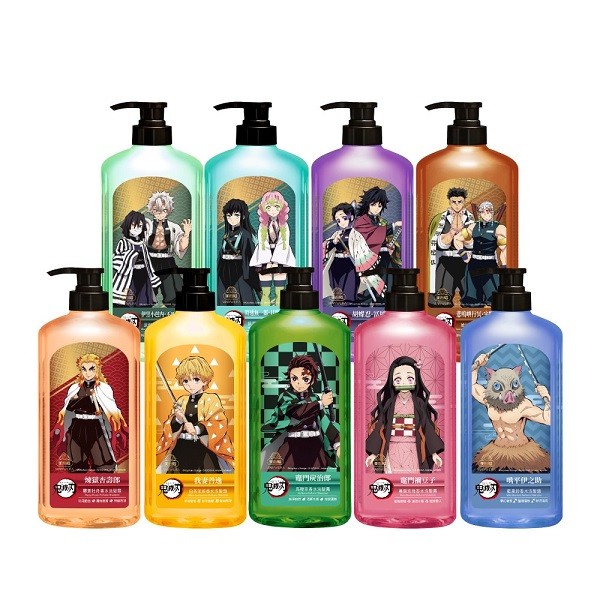 You'll have no excuse to resist these beautiful Demon Slayer shampoos (available on Maywufa Official Store)! These shampoo bottles aren't just for aesthetics. With nine options to choose from, you don't just get different designs but different fragrances, like White Tea Jasmine and Amber Sandalwood! We suggest getting one of each so you can have all these Demon Slayer characters in your bathroom. Your dream of having a Demon Slayer theme to your house is closer to fruition! 
15. Demon Slayer lip balm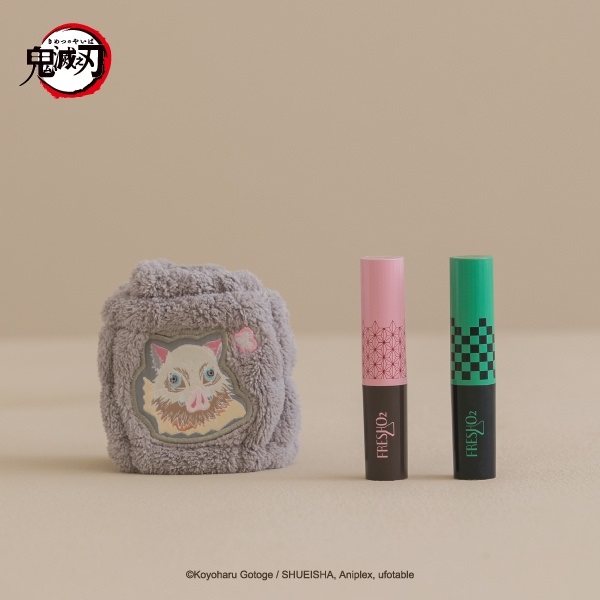 Keep your lips supple and baby smooth with these Demon Slayer lip balms (available on Fresh O2 Official Store)! Formulated to retain moisture, this lip balm is one of the best at preventing cracked and dry lips. There's also an Inosuke headband that comes with this Demon Slayer merchandise. Use the headband to keep your hair away from your face as you do your daily skincare routine, let Demon Slayer permeate every aspect of your life!
Must-own Demon Slayer merchandise in Singapore: Masks
16. Demon Slayer disposable mask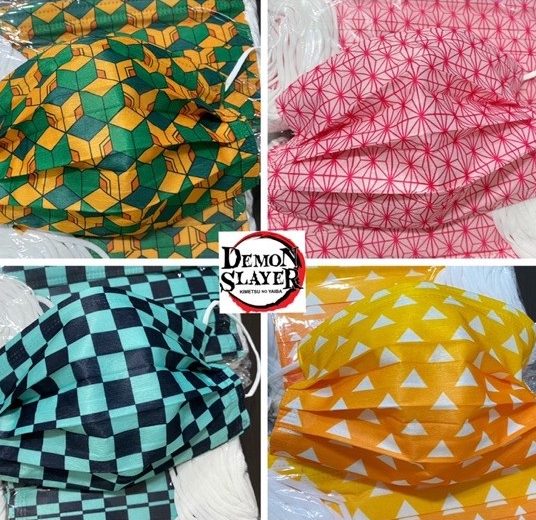 Demon Slayer masks for daily use during the pandemic? Yes, please! These Demon Slayer disposable masks (available on wenn002) are fashioned after the characters' haoris. Switch things up and change out those plain-coloured regular masks for these trendy Demon Slayer ones that look so eye-catching.! These are perfect for anime fans that love cosplaying. Wear these Demon Slayer merchandise to complete your cosplay outfit! 
17. Demon Slayer reusable mask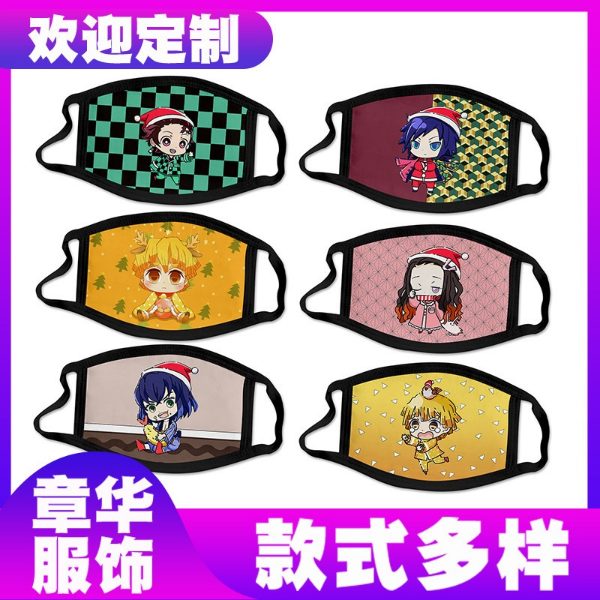 Want an eco-friendly option to disposable masks? These Demon Slayer reusable masks (available on Bestou Grocery Shop) come in designs that each feature a particular character in chibi form. Chibi is a style where characters tend to have oversized heads and short limbs – cho kawaii! They could sometimes look a little chubby, but that's why these Demon Slayer characters are so adorable on the reusable masks! 
Other cool Demon Slayer merchandise in Singapore
18. LED Keychain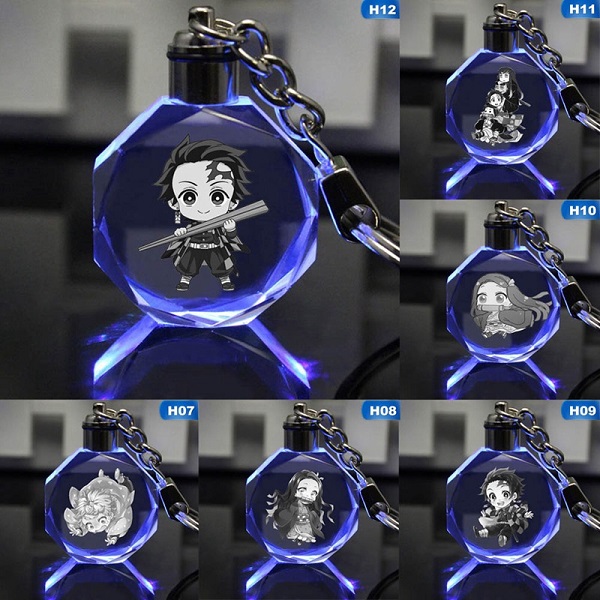 This Demon Slayer keychain merchandise sure sets itself apart from other usual keychains! If you're tired of the regular acrylic keychains, then this Demon Slayer LED Keychain (available on FancyQube) is one you should go for! In the box, the LED Keychain looks like any other acrylic one, but twist the metal cap at the top and it'll light up beautifully! This is great for when you can't find your bunch of keys in the dark. Just find that speck of light in the darkness and there you go!  
19. Nichirin Blade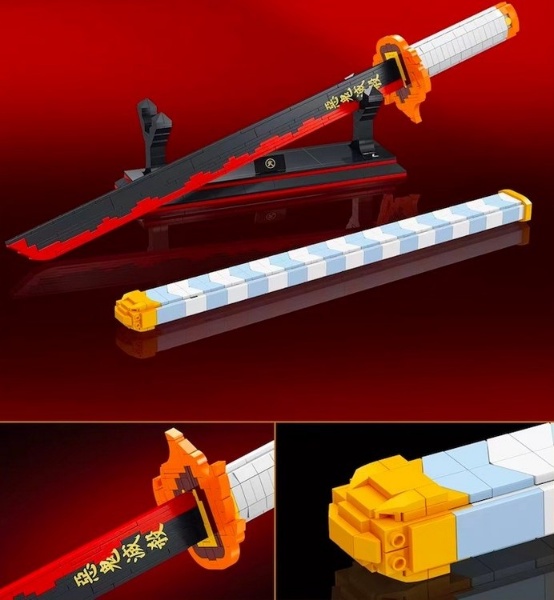 Get yourself a Nichirin Blade and you'll become a full-fledged Demon Slayer too! Though this Nichirin Blade (available on mytopshop.sg) may not change in colour when you wield it, you'll get the satisfaction of building it from scratch! Imagine completing this build and displaying it in its designated holder. Your Demon Slayer merchandise corner will have such a different vibe! 
20. Bedroom Light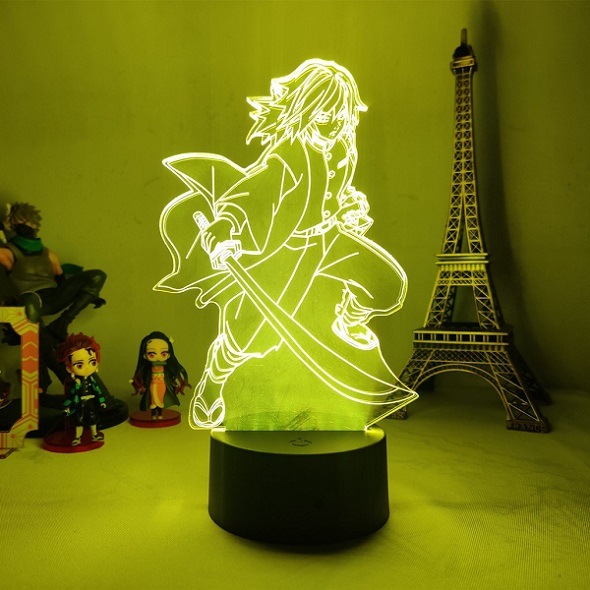 In love with the Water Hashira? This Giyuu Tomioka Bedroom Light (available on fantasylife.sg) will surely illuminate your way into the Water Breathing Style! These Demon Slayer merchandise in Singapore will give your room that extra bit of mood lighting as you binge on the anime series! They're also perfect as a night light due to its softer glow as compared to regular table lamps!
21. Artisan Keycaps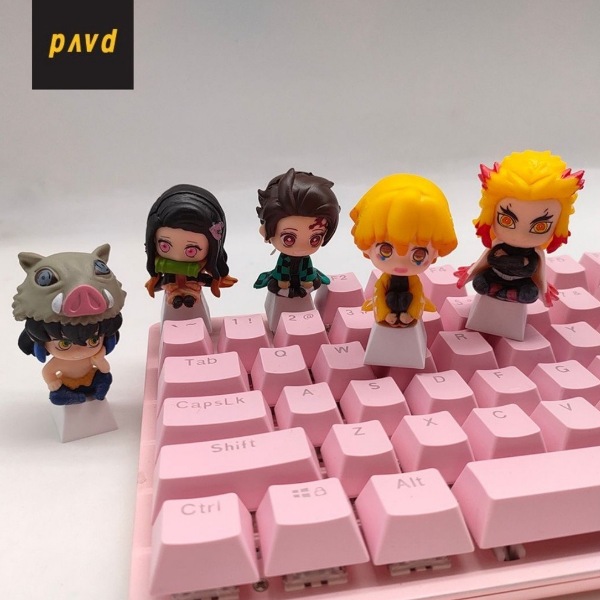 Mechanical keyboard lovers rejoice! These Demon Slayer Artisan Keycaps (available on PAVd Official Store) are a godsend if you're absolutely crazy over the anime! Instead of figurines, these Demon Slayer merchandise in Singapore sit atop your keyboard, where you can see them as you work – how cute! They may seem slightly impractical, but this type of keycaps usually replace lesser-used keys on your keyboard. You can still use those keyboard functions without worrying about these figurines falling off your keycaps! Don't forget to get a Demon Slayer Desk Mat (available on nice collection shop) to match your keyboard! 
22. (Bonus) Ichiban Kuji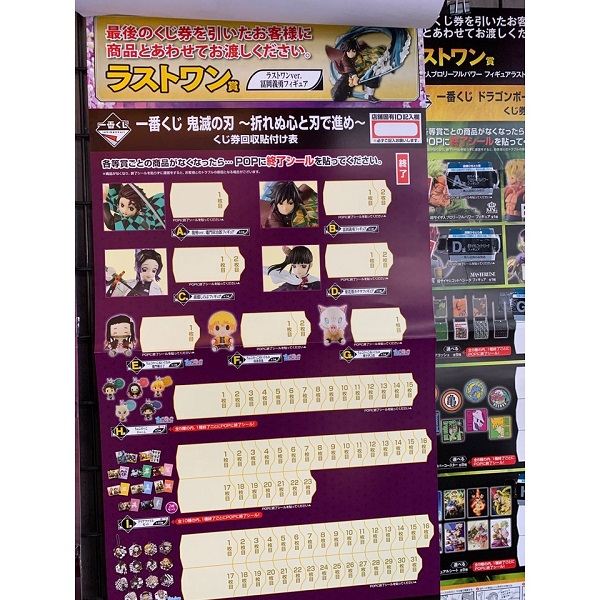 There are certain Demon Slayer merchandises in Singapore that are super rare and hard to obtain. Some of these are available through Ichiban Kuji, which means "number 1 lottery". This Kuji system is based on a lucky draw. You'll definitely win something, it's just a matter of which item. Previous Demon Slayer Kujis have featured keychains, water bottles, towels and more. People are always gunning for the rarer prizes that are the unique anime figurines that aren't as available as the regular ones. 
How to play Ichiban Kuji: Visit a Toy Or Game outlet and request to look at the Ichiban Kuji they have available. These are usually organised into a folder. Flip through the pages to look at the prizes left. There are predetermined amounts of prizes available. Each prize drawn will be marked out on the Kuji page, so you'll see what's leftover. You'll be able to see if the prize you want has been drawn, then decide whether you want to go ahead and purchase "chances" for the lucky draw. 
Where to buy Ichiban Kuji chances in Singapore: Most stores selling anime merchandise in Singapore should have these available, but we love the experience at Toy Or Game outlets where you can see the prizes up close! 
Check out their outlets here. 
Be flamboyant with these Demon Slayer merchandise

 in Singapore
From figurines to cosplay outfits, we hope you've found your favourite Demon Slayer merchandise in Singapore! If you're also a fan of Attack On Titan, you need to look at these AOT merchandise that you can't miss out on! Looking for more anime series to binge-watch? Here are some of the best anime series to catch!