Even with the travel restrictions, we have the privilege to take our taste buds on a journey within our sunny island. Yet, the fomo definitely still kicks in especially after binge-watching the entire season of Emily in Paris in one sitting. Oh, just the thought of indulging in sweet, dessert French crepes makes one drool! This is why we've sourced out some cafes with French crepes and galettes in Singapore to explore while we hold tight for season three of Emily in Paris to premiere! You can say 'Merci beaucoup' to us later.
What is the difference between French crepes and galettes?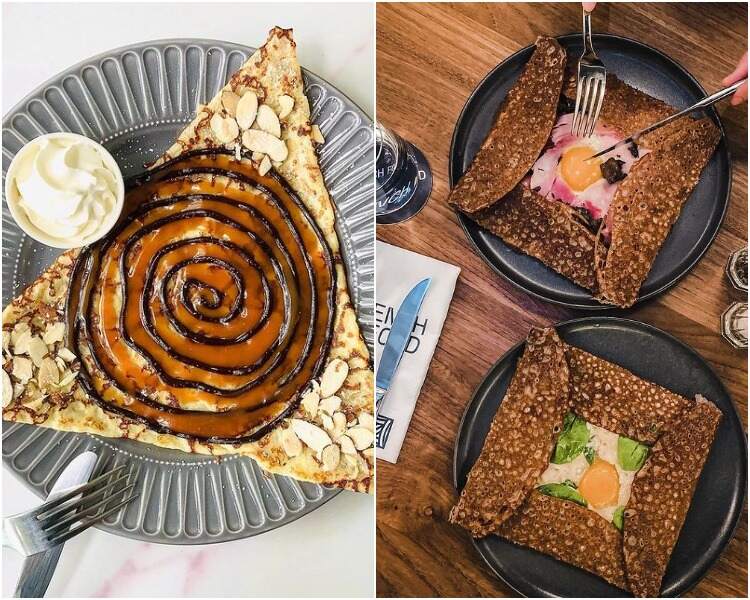 Many might be unaware of this, but there actually is a difference between crepes and galettes. In fact, the French are very particular about distinguishing the two!
Both crepes and galettes originate from Brittany in Northern France and the preparation is largely similar. The main distinction lies in the fact that crepes are made with wheat flour and are enjoyed as a dessert. Have 'em plain, stuffed with chocolate and fresh fruits or filled with ham and cheese for a savoury nibble! Galettes, on the other hand, tend to be served as savoury mains and are made with buckwheat flour. Lucky for us, there are a number of French cafes in Singapore where we can savour these!
Best French crepes and folds in Singapore
1. French Fold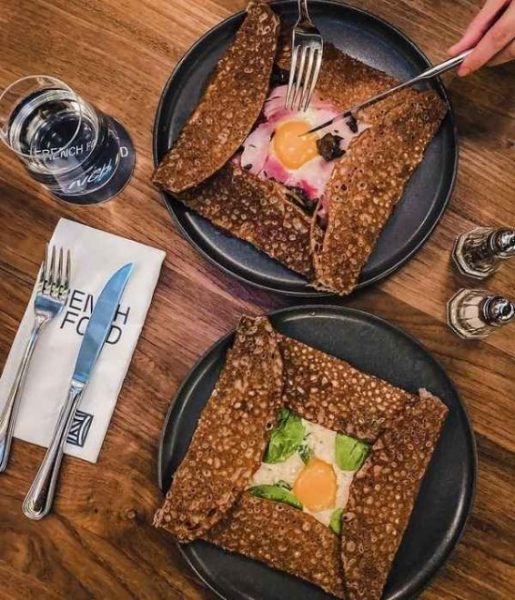 Did you know that 'French Fold' refers to the technique of folding papers into smaller quarters? Aptly named, French Fold is a dining establishment in Singapore specialising in the likes of French crepes and galettes. Their menu is kept straightforward, with savoury galettes comprising one section and sweet crepes on another.
For savouries, No.04 ($17) and No.08 ($17) come highly recommended. The former galette is one that all cheese lovers will surely appreciate. Meanwhile, the latter is a much creamier rendition that comprises pork pancetta executed carbonara-style, topped with fresh spinach, onions and an egg. End your meal with a dessert crepe, with options including the No.15 ($8) which sees the thin-pancake drizzled with homemade salted caramel and the No.18 ($10) which comes with hojicha sea salt gelato!
Address: 204 Telok Ayer Street, S(068640)
Opening Hours: Daily, 8am – 10.30pm

2. Entre-Nous Creperie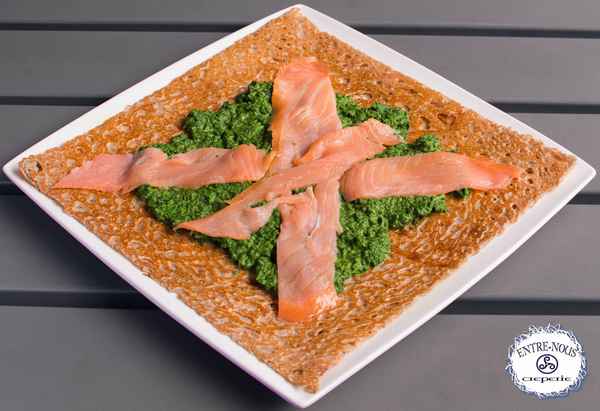 You know you're in for the real deal when the cafe prides itself as a traditional Brittany creperie. This quaint family-run restaurant is said to serve one of the best authentic French crepes and galettes in Singapore!
Their galettes are made using buckwheat flour imported from Brittany, France. Despite the premium quality, all items on the menu are kept rather affordable at below $25 each! Unsure of what to order? Surely you can't go wrong if the food item is named after the restaurant, so perhaps the chef's recommended Entre-nous Galette ($21.90) might be a good choice. This is one of the best-selling items and it comes with avocados mashed with cream and garlic, prawns and tomatoes! Diners can expect a flavour bomb with earthy, sweet, savoury and briny flavours in a single mouthful. For dessert, the Entre-nous Sweet Crepe ($9.90) is kept simple, featuring just a wheat crepe topped with homemade salted butter caramel. 
Address: 27 Seah Street #01-01, S(188383)
Opening Hours:
Tue – Fri: 12pm – 2.30pm, 6pm – 9pm
Sat: 11am – 3pm, 6pm – 9pm
Sun: 11am – 4.30pm
3. Gather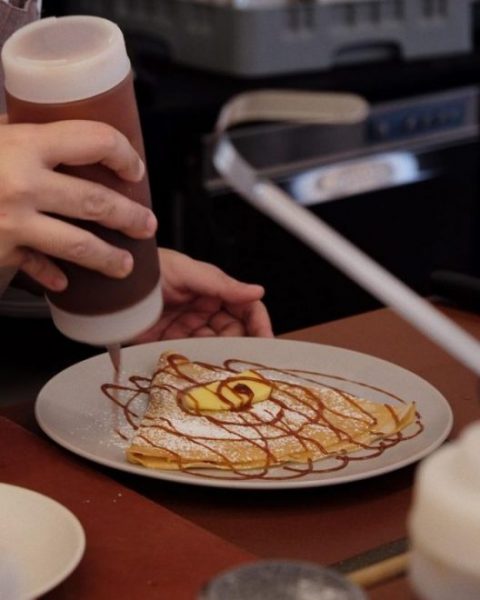 Located just a stone's throw away from Entre-nous Creperie is Gather, a minimalist French crepe cafe in Singapore that serves traditional crepe alongside hearty mains and brunch fare. Their menu for their galettes and crepes is selective but that does not mean that they don't whip up one of the best renditions around!
For first-timers looking for something filling, the Off The Bone ($18) will be your best bet for galettes in Singapore. This savoury thin-pancake is Gather's spin on the usual ham and cheese sarnies, as it comes with classic ham, gruyere cheese, cheddar and a runny egg. Pay them a visit and you might understand why they're crowned as the best few French crepe and galettes cafes in Singapore.
Address: Raffles Arcade, 328 North Bridge Road, #01-12, S(188719)
Opening Hours:
Mon – Fri: 8am – 6pm
Sat – Sun: 8am – 8pm

4. L'Angelus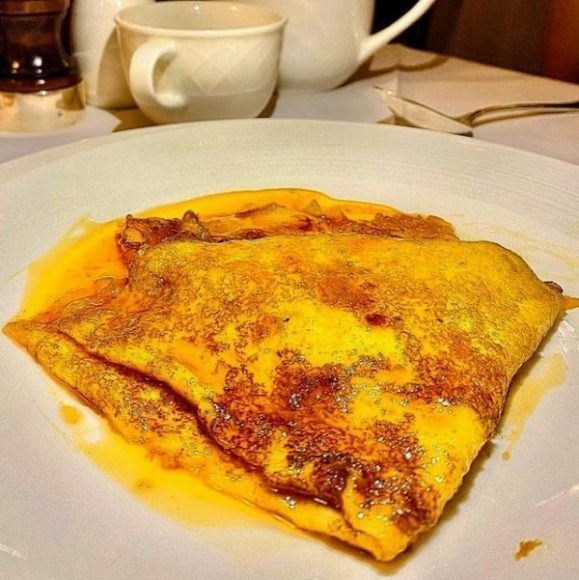 L'Angelus is the oldest single-location French restaurant in Singapore and here they whip up the best of French cuisine. The restaurant is the most traditional French restaurant you can find and you can see it from the minute you step into the inviting, warm restaurant.
Chefs here stick to the traditional French cooking techniques and they serve just about anything you'd expect a French restaurant to. Think French onion soup and burgundy escargots! But what you should be keeping your eyes peeled for would be the Lez Crepes Suzette ($26). L'Angelus' French crepe is truly one of its kind in Singapore, as it is made with orange juice and Grand Marcier liquor. They prepare this dish by the table and the stunning cooking spectacle is sure to get you excited about digging into your dessert! 
Address: 85 Club Street, S(069453)
Opening Hours:
Mon – Fri: 12pm – 2pm, 6pm – 10.30pm
Sat: 6pm – 10.30pm
5. Le Cafe Diabolo
Le Cafe Diabolo at Newton is helmed by French duo Caro and Vero. The cafe is rather unassuming and quaint and truly gives off the French cafe vibe (bonjour, Emily in Paris) which is hard to come by in Singapore. They offer plenty of traditional French fare from croissants to waffles, and of course, crepes and galettes!
Nothing beats escaping the hustle and bustle of town and simply relishing a savoury galette for brunch. The L'Espagnole ($16) sees a galette filled with ham, cheese and an egg and is a favourite amongst customers old and new. Craving something sweet? They have a selection of sweet crepes, all priced under $10! These are truly one of the best and most affordable French crepe options in Singapore!
Address: 1 Sarkies Road, S(258130)
Opening Hours:
Mon – Fri: 9am – 6pm
Sat: 8.30am – 5.30pm
6. Le Faubourg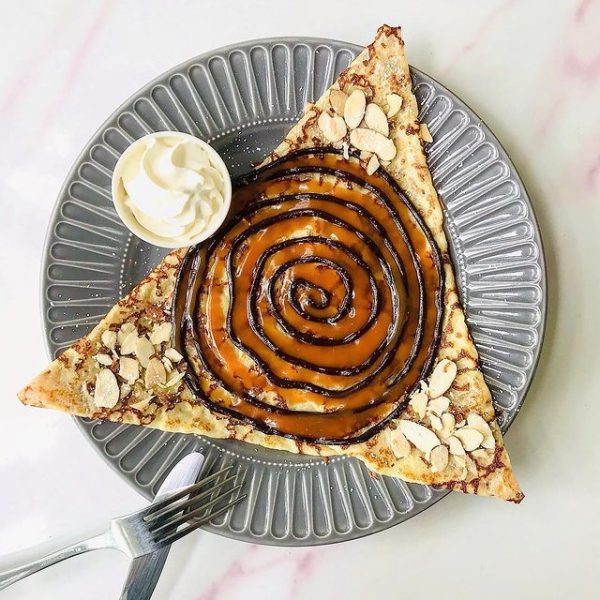 Have a beach day lined up or looking to book a staycation at Sentosa? Before taking out your sunglasses and picnic mats at the beach, head over to Le Faubourg, a French cafe that dishes out authentic French cuisine. Their French crepes are one of the prettiest in Singapore and we bet they taste as good as it looks!
Their remarkable array of galettes and crepes is set to impress, with over 10 options for each sort! One of their savoury options that resembles your typical brunch fare would be the Passy ($25), a savoury galette with smoked salmon and avocado. If you are feeling adventurous, get the Abbesses ($25) which is predominantly savoury from the Parisian ham and cheese but also slightly nutty from the artichoke tapenade! Remember to also save some stomach space for dessert crepes, which come served with whipped cream for a truly delightful and authentic French crepe experience in Singapore.
Address: Mess Hall Block 17, 2 Gunner Lane, #01-02, S(099567)
Opening Hours: Daily, 9am – 6pm
7. So France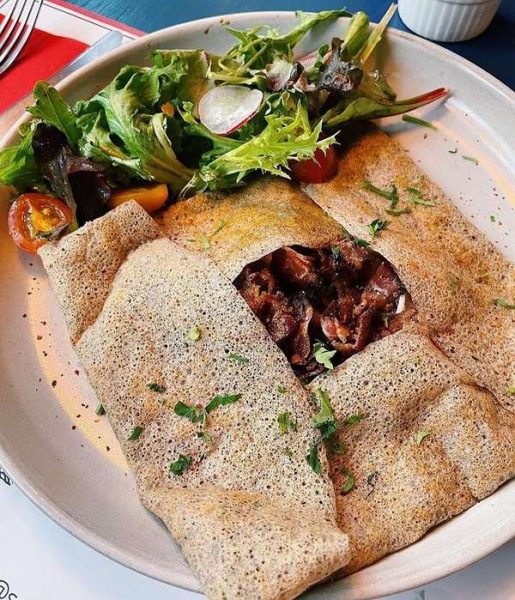 This bistro first started out as a grocer in Orchard. Its success saw the brand's expansion – including an outlet at DUO Galleria. The kitchen team at So France works very closely with artisanal producers from Southwestern France and assures that only the finest ingredients go into the making of their authentic French grub. 
If crepes are what you are hankering after, pop by one of their outlets on a weekend for brunch. Their weekend brunch menu sees an array of both sweet and savoury crepe options that will not disappoint. If your intention is to head over for dinner or during the weekdays, they may not serve crepes but you'll be pleased to find plenty of authentic French fares such as Bouillabaisse ($45) and Duck Confit ($34). This is on top of over 100 varieties of wine!
Address: Duo Galleria, 7 Fraser Street, #01-51/56, S(189536)
Opening Hours:
Mon – Fri: 8am – 10.30pm
Sat: 9am – 10.30pm
Sun: 9am – 9.30pm
Savour authentic French crepes and galettes in Singapore at these cafes
French crepes and galettes are hard to come by in Singapore, but we've sourced out the best of such for you! If you just can't get enough of French cuisine, check out the other French restaurants in Singapore where there are more types of mains and desserts. For more food recommendations, we also have curated lists for affordable Japanese omakase restaurants in Singapore and Thai food stalls that you might wish to pay a visit to!
This article was updated on 28 February 2022. Additional research done by Jamantha Lim.
New to Shopee? Get $7 (min. Spend $15) with code*: FRENCHCREPE7
*TNC applies. Valid for new users from 1 March to 8 March 2022 only.