Are you embarking on a brand new milestone with your significant one? Getting a new HDB BTO flat can be very exciting and nerve wracking at the same time. If you're not sure how to perfect your dream home, let us guide you along with some spiffy Instagram accounts to follow for beautiful home decor inspiration!
1. Modern fashionista: @elena__marisa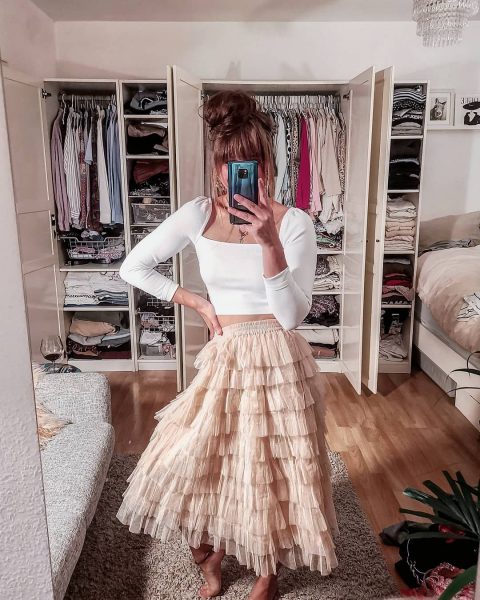 Love taking #ootds? Never worn the same outfit twice? You are a true fashionista and your home needs to reflect your style! Follow Elena, who not only inspires our outfits but also provides incredible home decor inspiration.
A HDB BTO flat that's fit for a modern fashionista absolutely needs a ceiling-to-floor mirror to capture those picture-perfect #ootd shots. Also, no fashionista's home is complete without a walk-in wardrobe. Take inspiration from Elena and have your clothes sorted by colours!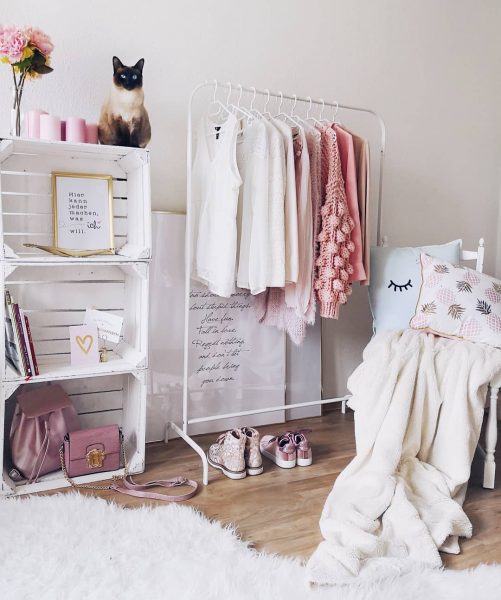 Most importantly, the rest of your HDB BTO needs to be perfectly decorated so you can take amazing outfit photos anywhere at home! Spice up your living room with a furry rug and some cushions to contrast against your couch. Get a swing chair or a hammock for a Nordic vibe!
2. Country green thumb: @my.lvngrm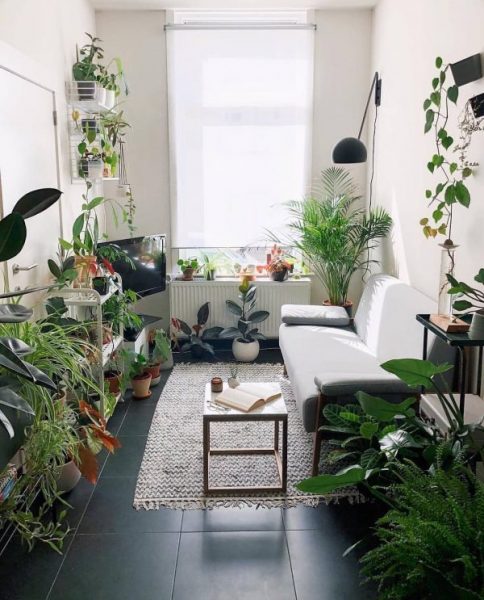 Always wanted to have your own garden but don't have enough outdoor space in your HDB BTO flat? Why not bring the greenery indoors! Follow @my.lvngrm to find out how you can transform your new home into the Garden of Eden. This Instagram account highlights easy  home decor ideas that incorporate urban greenery. Let the plants do the talking and keep your walls clean and bright! This will bring out the different hues in your house. Most importantly, let sun rays stream into your home by dressing the windows lightly.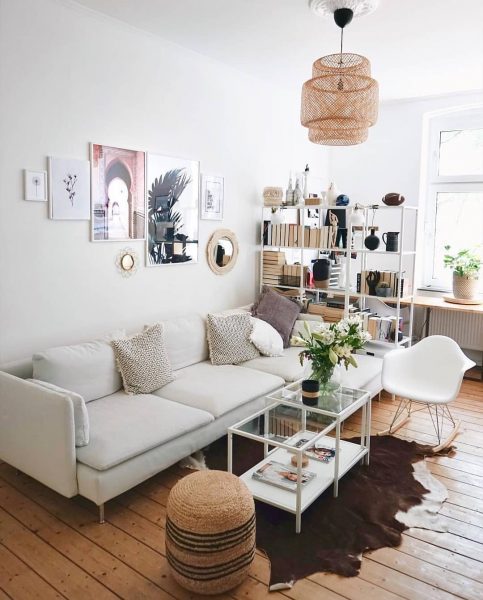 If you're not sure about lining your rooms with large plants, why not start off with a simple vase of flowers on the coffee table? Adding a plant into your cozy abode can liven up the place and create a fresh ambience! Indoor plants often require minimum care so you don't have to worry about trimming or fertilizing them. Spider plants, snake plants and peace lilies are great to have indoors as they help to purify the air and fight colds.
3. Contemporary grey: @interior_by_kati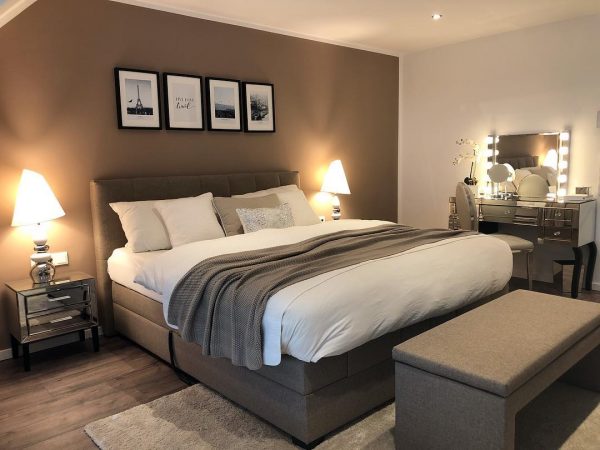 If you've not heard, grey is the new on-trend colour in the home decor world! As the colour in between white and black, grey is a neutral shade in the spectrum. This is exactly what makes grey perfect for your new home! Wondering how to incorporate this shade? Check out @interior_by_kati for her take on modern, luxurious-looking grey home decor that's bound to make you a convert! As an achromatic colour, grey is often regarded as a shade that's easy to match with other colours. Pair it with white for a simple, relaxing vibe or you can pair it with yellow for a fun pop of colour!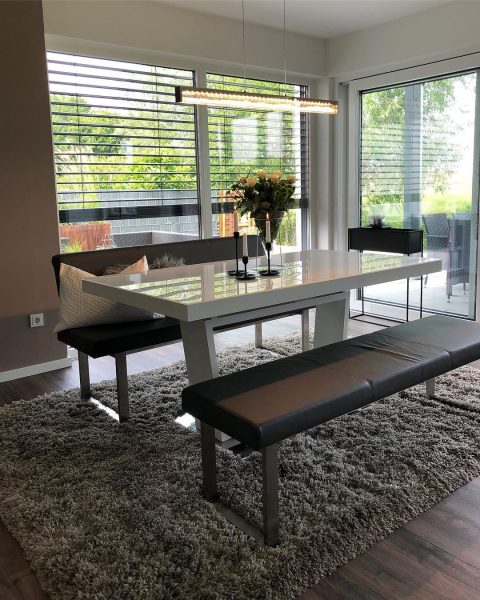 Hold on, you don't have to buy a bucket of grey paint to hop on this bandwagon! As seen on @interior_by_kati, you can add grey into your HDB BTO flats by simply laying a grey rug on the floor or decorating your couch with some grey throws or cushions! Grey home decor is perfect for creating a soothing, candid vibe!
4. Minimalist black and white: @juthamat_by_jem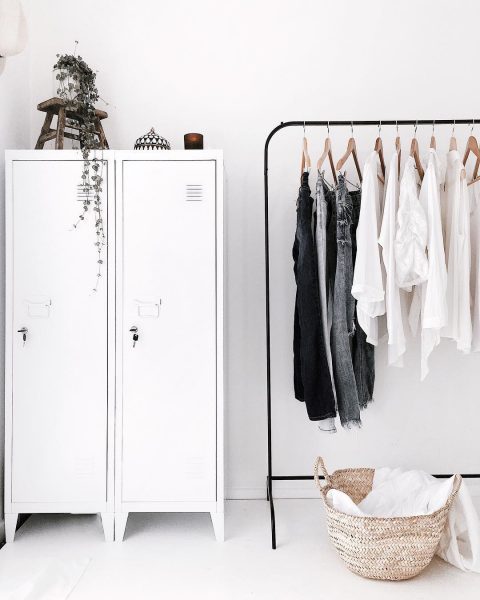 You can't go wrong with black and white for home decor! Step into Jem's clean and sophisticated world, and take a peek into how she incorporates the two basic shades in her home. Decking both her walls and floors in white, Jem's house never looks plain thanks to the black details meticulously added in every corner. If you dream of having a monochromatic minimalist home, you can easily add black details such as a black clothing rack or a black vanity table to spice up the rooms.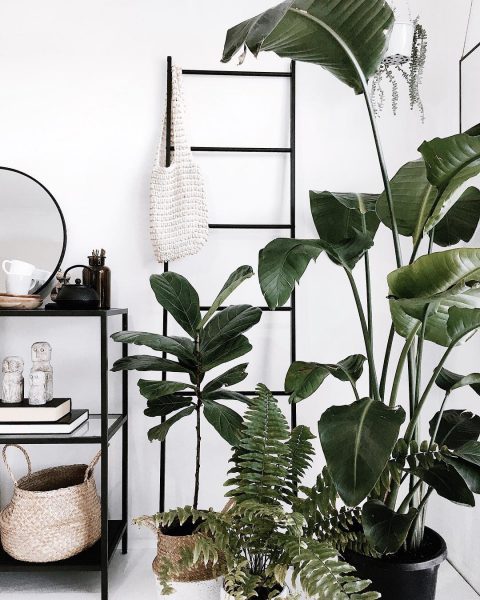 Another good idea inspired by Jem is to add a black ladder in an empty corner of the room, which can be used as a magazine rack or a convenient place to hang your bags or towels. Also, liven up your HDB BTO flat with a few pots of plants so the overall appearance of the house isn't too flat either.
5. Pastel dreamland: @cozy_nursery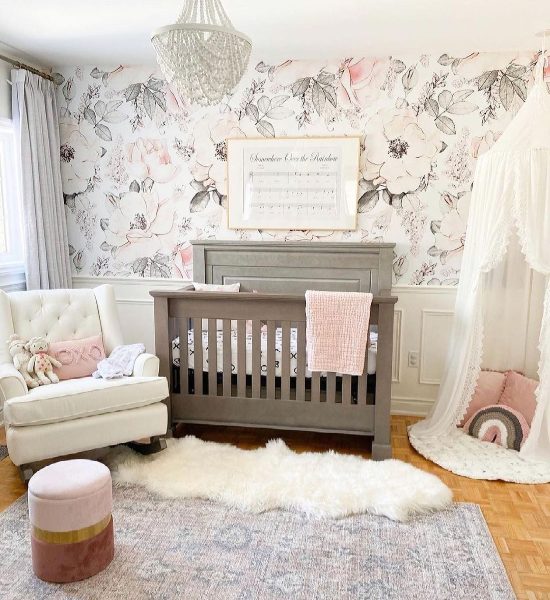 Looking for home decor inspiration to decorate a nursery in your HDB BTO flat? Look no further than @cozynursery! Be inspired by fun wallpaper and adorable decoration pieces that's bound to create the perfect environment for your little tots! Whether you like your nursery room to be cutesy, rustic-looking or just clean and simple, this Instagram account has got you covered with over 300 nursery decor photos!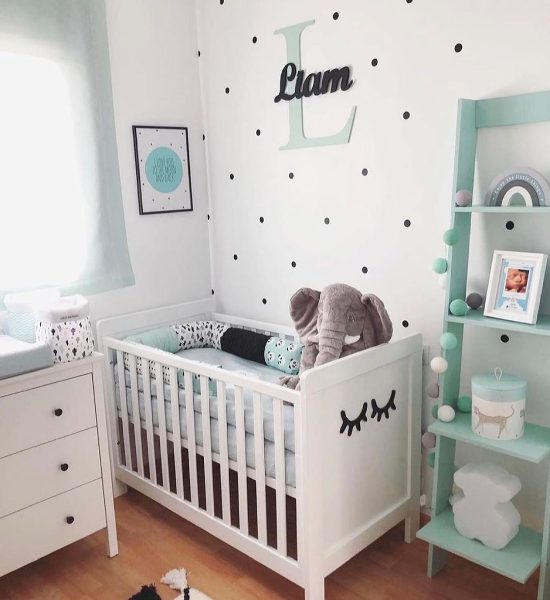 Not all nurseries have to be decorated in bright pinks or blues though. @cozynursery shows you how you can create a cozy and conducive place for your kids using grey hues and other pastel colours (Tiffany blue looks amazing too). Also, place a fun rug or floor mat on the ground to create a more playful and tactile atmosphere for the young ones!
6. White elegance: @followthelighthome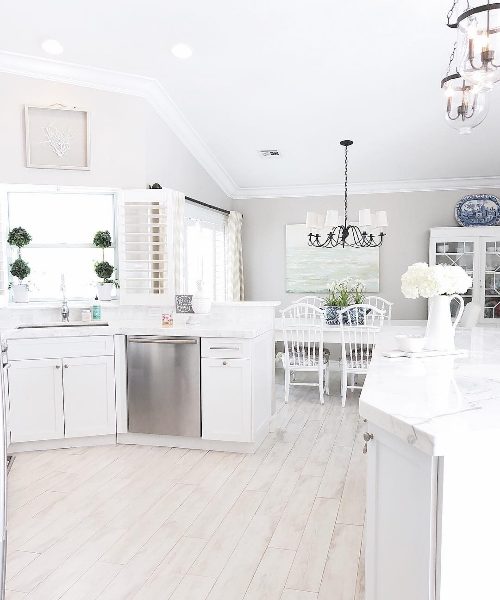 Julie from @followthelighthome knows exactly what it takes to make us feel right at home. Matching different hues of white alongside a wide variety of textures, Julie tastefully creates dimensions within her humble abode. Your HDB BTO can benefit from white home decor too! After all, adding white to your home helps to open up the space to create a bright and spacious appearance.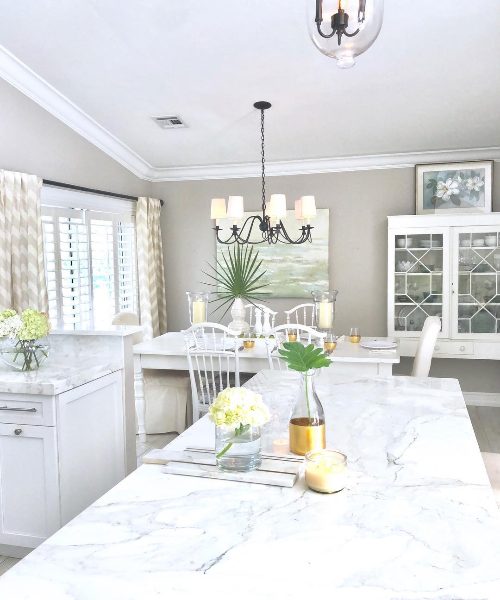 Be inspired by Julie and glam up your space with marble! Go for a marble table top which will complement your white home decor, or add a special touch of gold with a beautiful gold vase or golden utensils. Marble and gold makes everything look classy and luxurious! As shown in Julie's Instagram photos, small details like these can make all the difference in a white space.
7. Prints and patterns: @wallhubsg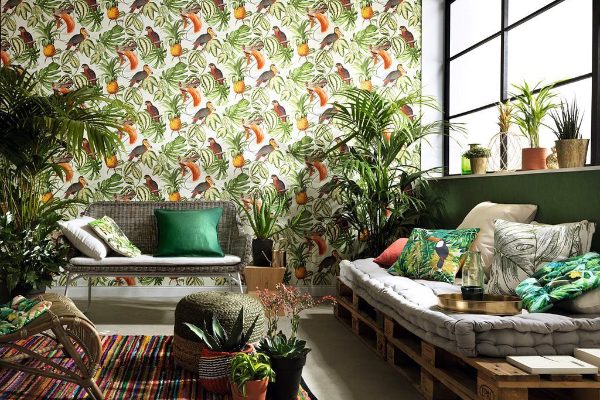 Express more with your walls! Follow @wallhubsg to gain wallpaper inspiration! As proven by @wallhubsg's photos, your walls contribute a big part to your home's overall appearance. If your HDB BTO flat has dark wooden floors, why not go for a tropical wallpaper? This adds a whimsical and stylish effect to the house. If you're not certain of committing to a wallpaper just yet, you don't have to apply it to the entire house! Choose an accent wall for the wallpaper and keep the rest of the walls simple and clean.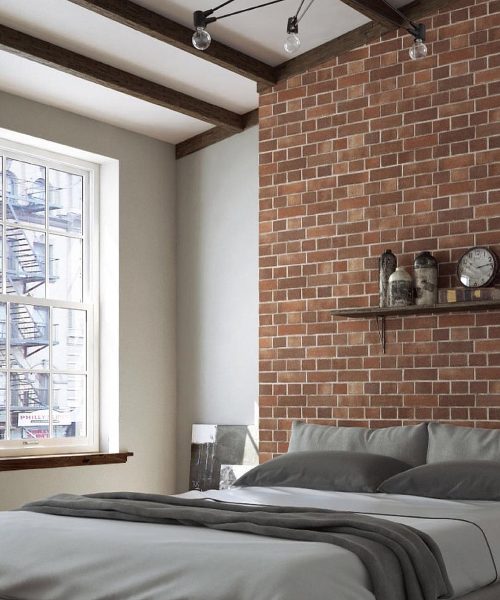 Always wanted a brick wall in your dream house? Now you can! Instead of an exposed brick wall, an easier way is to apply a brick wall wallpaper! This gives your home a unique blend of past and present. Gain inspiration from @wallhubsg, where you can see how different styles and designs of brick wall wallpapers can create a range of styles such as industrial, cottage or vintage. If wallpapers are not your thing, why not try these 3D brick walls which can be assembled effortlessly to create the illusion of dimensions in your home!
8. Scandinavian-style: @scandi_scandi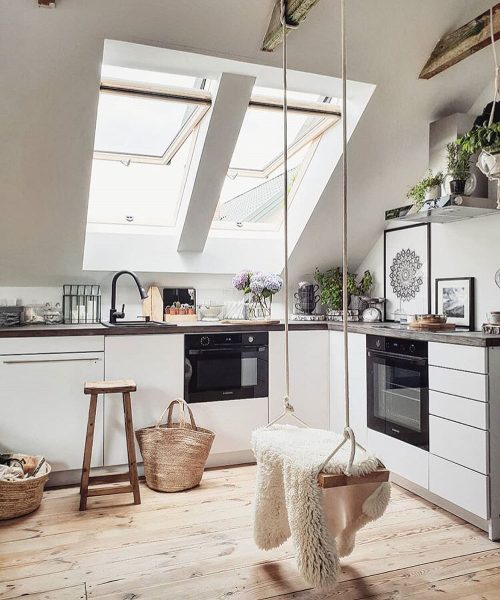 Incorporate the Scandinavian way of life in your HDB BTO home decor! Simplistic yet functional, a Scandinavian-style home is constructed using unique decor pieces and many natural elements such as wood. Embrace yourself with peace and tranquillity when you follow @scandi_scandi for home decor inspiration! Recreate what you see by attaching a swing in the house or adding a canopy to your bed for that added serenity.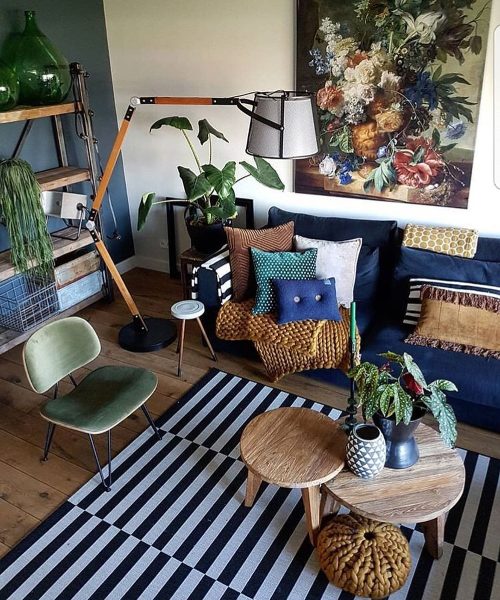 Scandinavian style doesn't have to be all about white though. This Instagram account shows us how calming colours such as grey and blue help to bring a soothing vibe to the house. Always avoid messy clutter. Instead, fill your home with natural elements such as plants, poufs and rattan pieces. Also, it is important to let natural light pour into your home. Natural light not only helps to brighten up the place but also creates a more spacious look.
9. Pop of colour: @pmqfortwo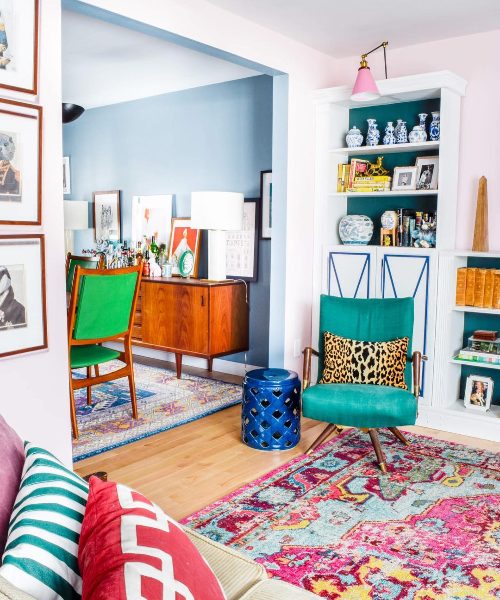 Behind @pmqfortwo, Ariel's photos of her vibrantly decorated home will definitely brighten up your day. The house is filled with creative pops of colours and quirky patterns which is exactly what we would picture when we think of a 'happy house'. Ariel's home is a great reminder for conservative Singaporeans to be more adventurous when it comes to home decor. Not everything has to match — the ones that don't are usually the highlight of the room!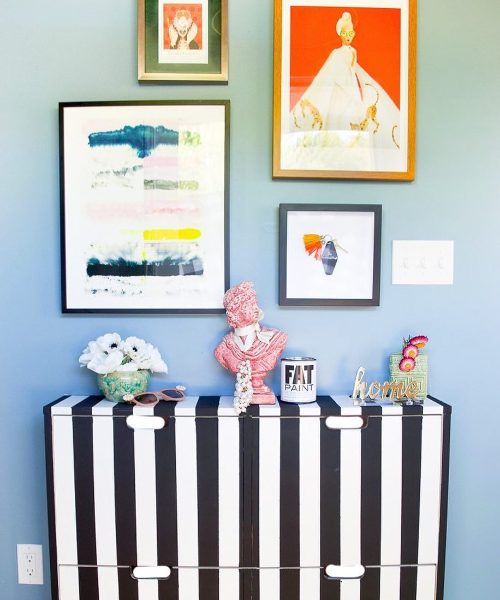 Ariel's Instagram account is also a great source of DIY home decor inspiration. She creates her own wreath, art and even gave her shoe cabinet a face-lift! Filling the home with your own artwork can be both interesting and therapeutic. It can also be a fun family activity for the weekends!
A dream house is a huge investment and commitment. Explore all options and seek inspiration from the Instagram accounts mentioned above before finalising on a design.
Often times, couples find their HDB BTO flats to be limited in space. This need not be the case. Find out how you can maximise your apartment's space! Also, if you're looking for specific styles to spruce up the rooms, check out these fun room decor ideas!
---
New to Shopee? Get $7 off (min. spend $15) with code*: HDBBTO
*TNC Applies. Valid for new users from 17 to 24 Sep only.