If you think wearing cheongsams in Singapore is outdated and too oriental to be fashionable, think again! Cheongsams have evolved beyond the typical blinding red fabrics embellished with gold flower embroidery. Instead, these traditional costumes now incorporate some modern fashion elements for a stylish and feminine silhouette. Read on to discover the perfect modern cheongsams in Singapore for a huat-tastic Chinese New Year! Psst, want to shop more? Check out our curated collection of cheongsams available in-app too. Shop now and receive them before CNY! 
1. Fairy-like Tulle Cheongsam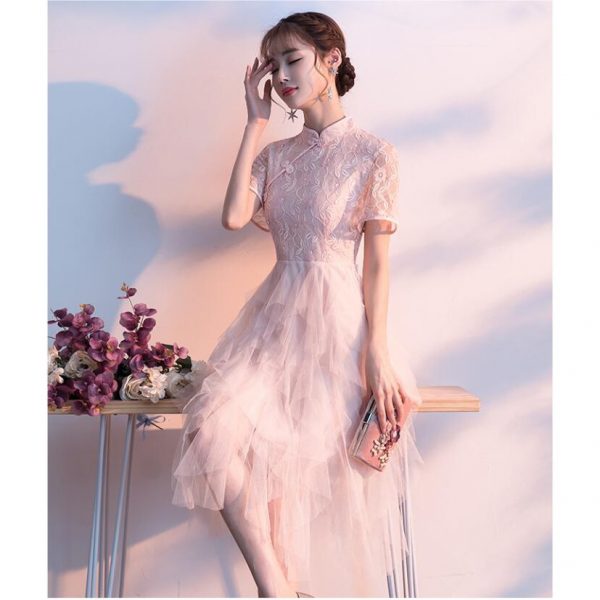 Live your fairy dreams this CNY with the Fairy-like Tulle Cheongsam (available on Happishop). The tulle at the end of the pink see-through dress layers up to create a Tinkerbell-like effect. The classic mandarin collar and intricate floral details also give off a Chinoiserie chic vibe. Style this modern cheongsam in Singapore with a Rattan Straw Handbag (available on newintown.sg) to achieve the Insta-worthy #OOTD look!
2. Nude Embroidered Cheongsam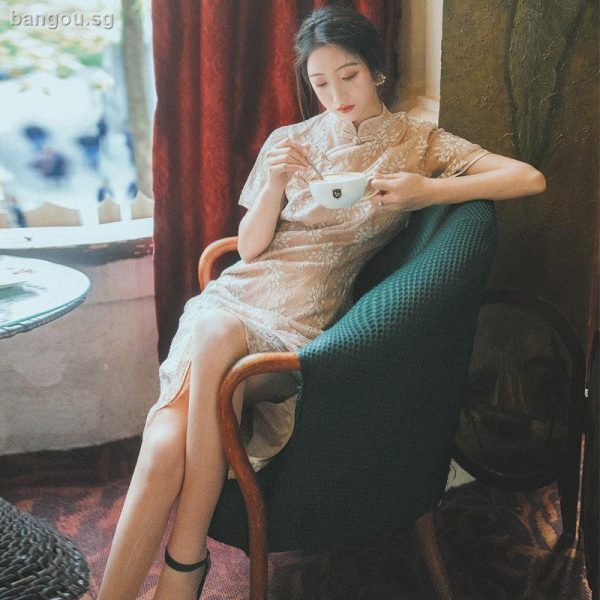 Who says you only have to wear red during Chinese New Year? Be special this new year with a Nude Embroidered Cheongsam (available on bangou.sg)! This dress incorporates a trendy monochromatic design with vintage textured floral embroidery for a contemporary vibe. Elevate your OOTD by pairing it with these MIMIPIEX Transparent Heels (available on MIMI PIE) and Pearl Crossbody Bag (available on MYTASTE) for a stylish spin to your entire look!
3. Leaf Prints Maxi Cheongsam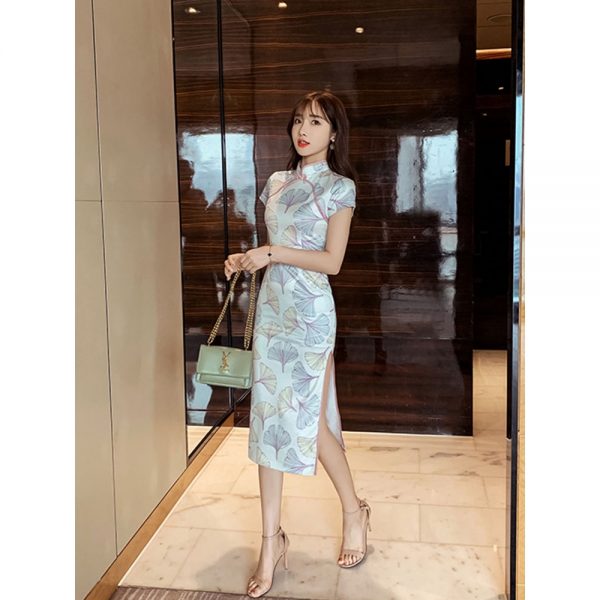 Not a fan of oriental embroideries like cranes or florals? Ditch the traditional cheongsam designs and go for this Leaf Prints Maxi Cheongsam (available on Phurya)! Peppered in fallen leaves prints, this qipao in Singapore strikes the perfect balance between vintage and sophistication. It also comes with a high slit on the side so you can show off your legs.  Dress it up with a pair of black heels and you're all set for Chinese New Year visiting!
4. Simple Plaid Cheongsam Dress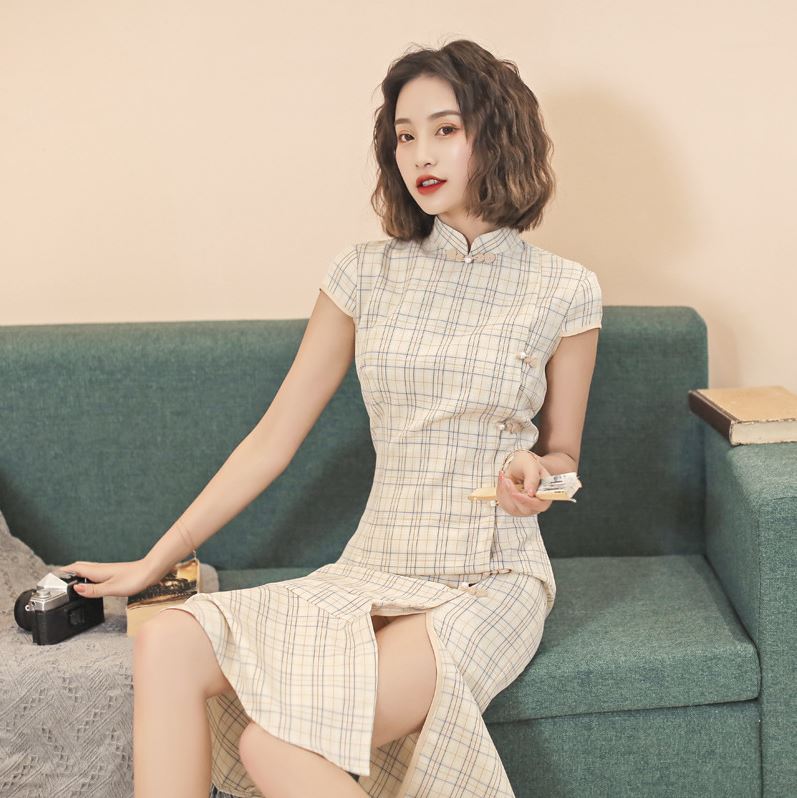 Plaid is the new chic! You won't go wrong with this Plaid Cheongsam dress ensemble (available on happygo.stoes.sg). This modern cheongsam in Singapore is not too over the top with its plain plaid design but still retains some oriental elements such as the mandarin collar and pankous. The boxy structured sleeves create an illusion of slimmer arms and wider shoulders. This in contrast makes your waist appear smaller! Wear this with a pair of sneakers for a more youthful vibe. 
5. Mira Ombre Cheongsam In Peach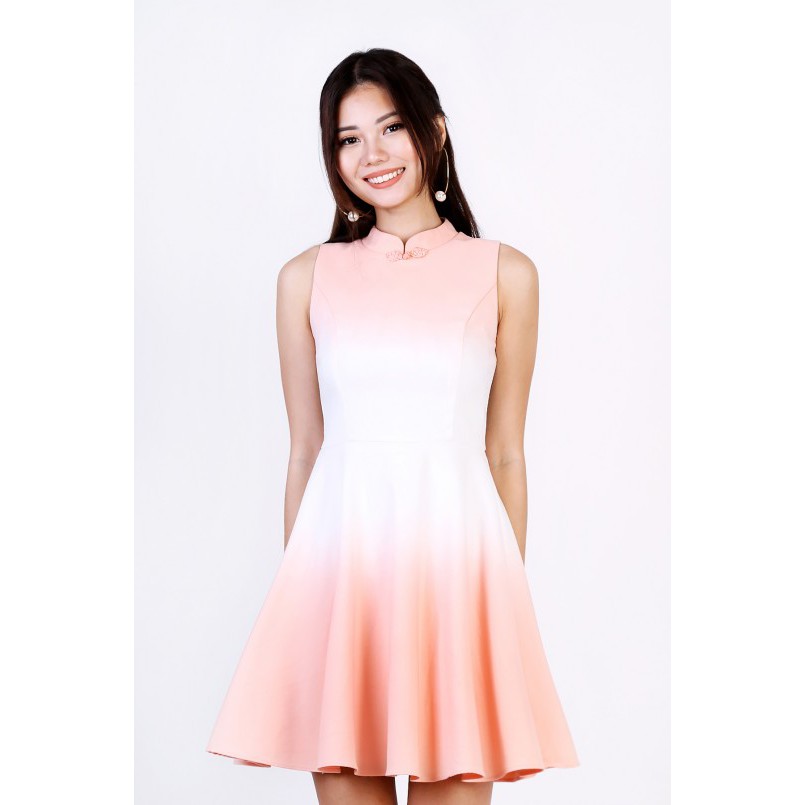 From makeup to hair colours, ombre has been all the rage! It's no surprise then that this MGP Label Mira Ombre Cheongsam In Peach (available on MGP Label Official Store) made it to this list. Thanks to its sweet hues, this pretty cheongsam gives off a youthful and cheery vibe — perfect for spring! What's more, its fit-and-flare design flatters all body shapes. Browse MGP Label's extensive collections for more modern cheongsams in Singapore.
6. Checkered Cap Sleeves Cheongsam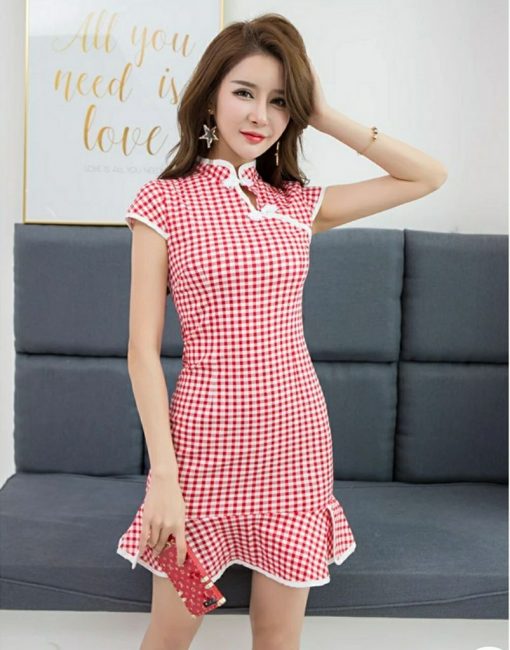 Feel confident for the occasion in this flirty Checkered Cap Sleeves Cheongsam (available on Fashion Women Clothes) this Chinese New Year! Featuring ruffled details at the ends, this dress effectively creates a slimmer silhouette by drawing attention away from the thighs. The cap sleeves also play a part in pulling the focus away from broad shoulders for a more balanced look. Additionally, the playful checkered print acts as a distraction from your food belly allowing you to feast away without worries! With all these flattering details combined, this is one of the best modern cheongsams in Singapore to add to your CNY collection.
7. Backless Halter Long Cheongsam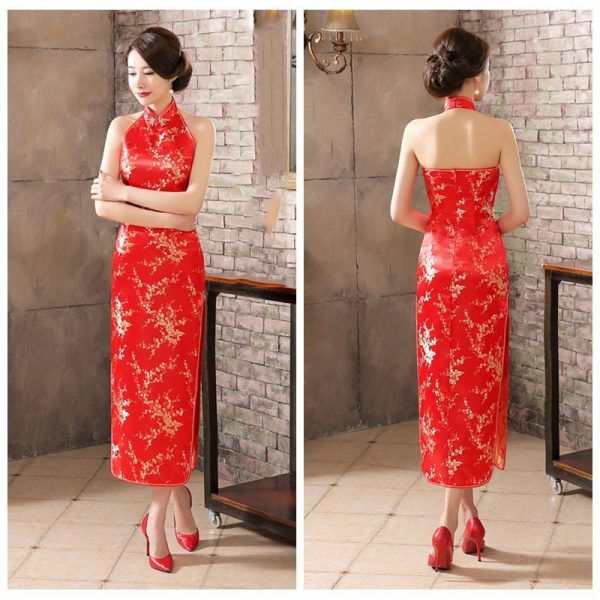 Bring sexy back with this Backless Halter Long Cheongsam (available on Garry Ladies Store)! This dress may appear to be a typical traditional qipao in Singapore but don't be fooled by the red silky fabric! The surprise awaits behind — with a sexy backless design, this attractive modern cheongsam in Singapore is bound to get you all the attention during Chinese New Year! A useful tip when wearing this dress is to pair it with an adhesive stick-on bra to prevent bra straps from peeking out of the dress.
8. Picturesque Silk Art Summer Cheongsam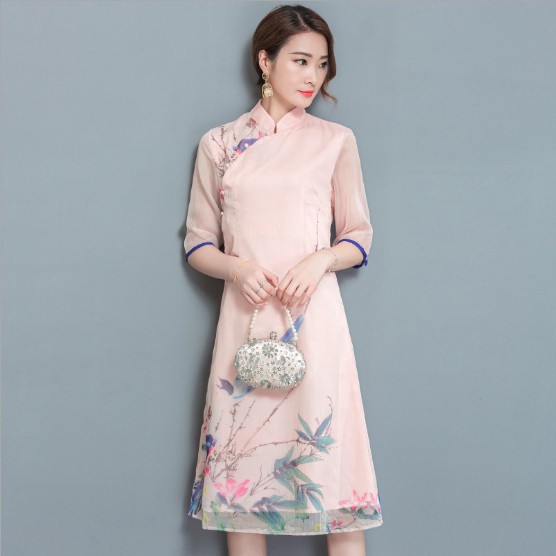 Set a good impression if you're visiting your future in-laws for the first time with this demure Picturesque Silk Art Summer Cheongsam (available on dsxrbcwxjp.sg)! With a slightly sheer and flowy fabric plus its delicate watercolour design, this is one modern cheongsam in Singapore to pick if you're going for an elegant vibe. Furthermore, it compliments all body shapes thanks to its flattering A-line cutting. Complete the look with a pair of nude heels to match the outfit's neutral shades.
9. Sexy High Slit Mini Cheongsam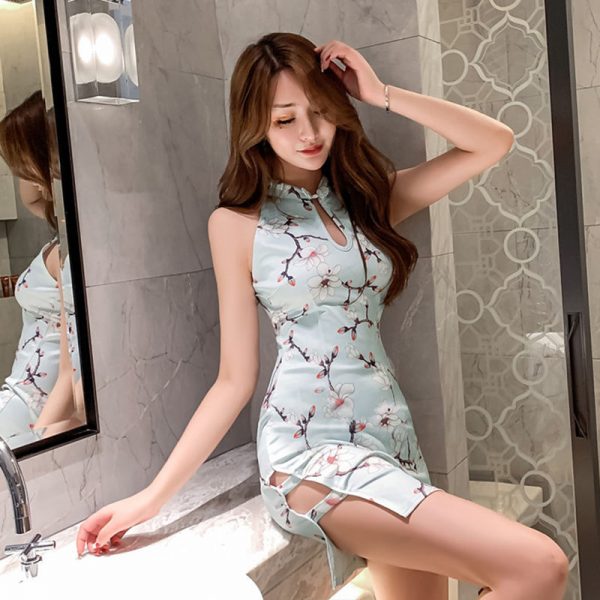 Make heads turn when you strut in with this Sexy High Slit Mini Cheongsam (available on caihuayan.sg)! Featuring an ultra-high slit and a deep keyhole neckline, this modern cheongsam in Singapore is not for the faint-hearted! Don't forget to put on a pair of safety shorts in case the dress rides up while you're seated!  
10. Elegant Mermaid Cheongsam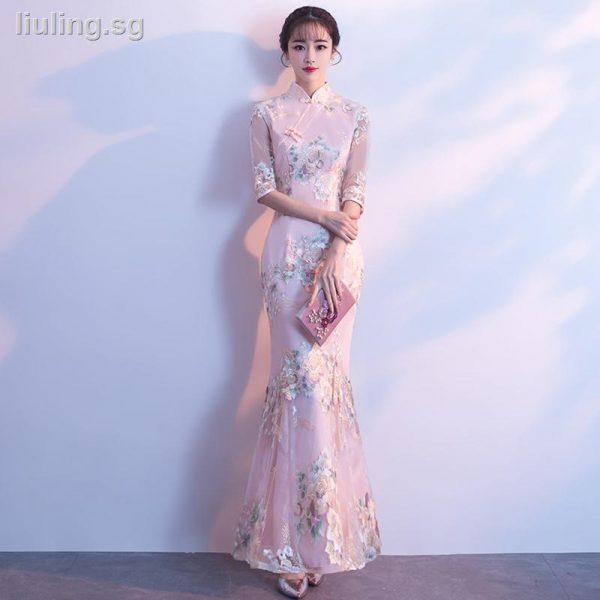 You may not be a Crazy Rich Asian but you can surely dress like one this Chinese New Year! This Elegant Mermaid Cheongsam (available on enxingmall.sg) is beyond stunning with its intricate floral embroidery which contrasts beautifully against the pastel pink fabric. But the highlight of this qipao lies in its skirt. The flowy mermaid skirt sways as you walk and creates a slender, feminine silhouette. We suggest putting on a bright red lipstick to light up your complexion against this modern cheongsam in Singapore which has more of a pale hue. 
11. Baby Blue Double Ruffled Cheongsam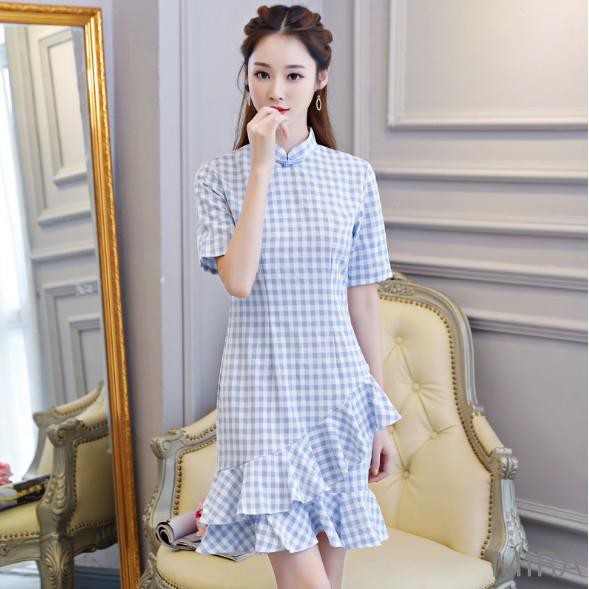 Some modern cheongsams in Singapore may add years to your age due to their matured designs. But this will not be a concern when you wear the Baby Blue Double Ruffled Cheongsam (available on Playsuits & Jumpsuits/Dresses/Beachwe)! Besides its sweet baby blue shade, the dress also boasts a flattering fit-and-flare cut to create more feminine curves. We absolutely love the double ruffle hemline design — the ruffles create an added dimension to the overall appearance, enhancing the adorability and playfulness of the dress! Throw on a pair of white sneakers for a more casual getup or flats for a dressier combination.
12. Fishtail Pink Lace Cheongsam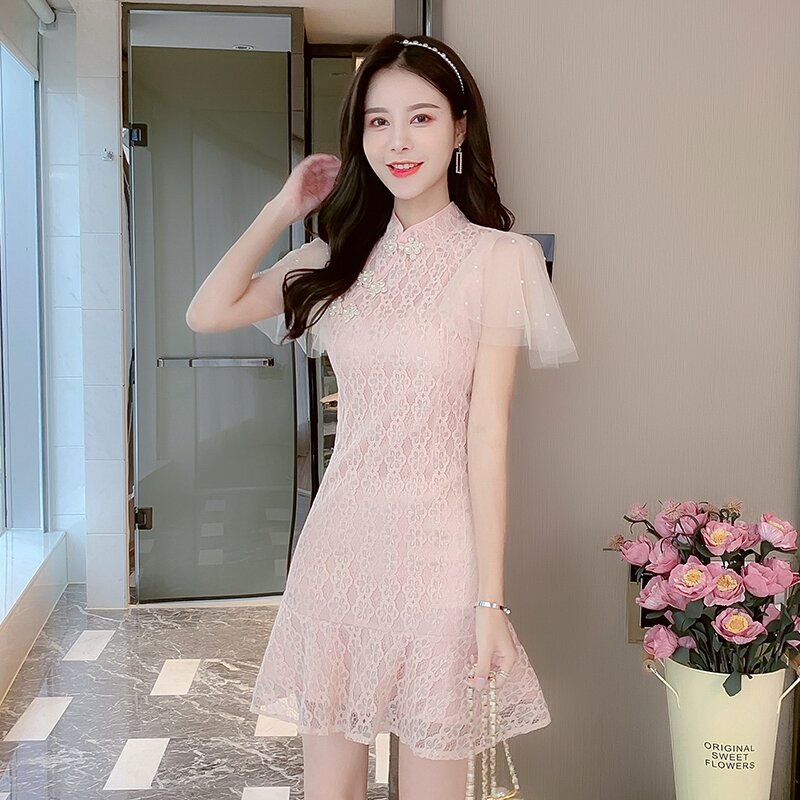 Many of us end up buying clothes we won't wear after Chinese New Year. Don't make the same mistake with your modern cheongsams in Singapore! Pick one that's appropriate for other occasions like weddings or even for work! This Fishtail Lace Cheongsam (available on chinatown.sg) which can be styled formally with a blazer for work. As for other special events, add some sparkle with a pair of diamond earrings and heels for a dressy outfit. This is a versatile qipao in Singapore that'll come into good use for more than one occasion!
13. Intricate Royal Blue Maxi Cheongsam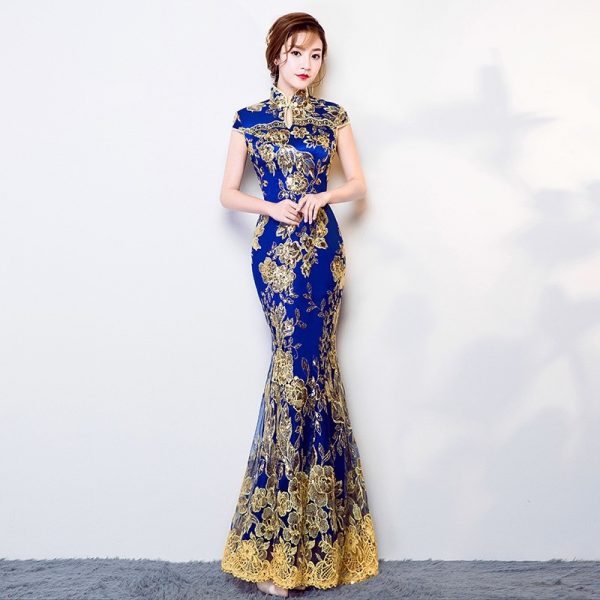 Even if your wardrobe is bursting, you've got to make way for this Intricate Royal Blue Maxi Cheongsam (available on Cool Studio) that exudes exquisiteness in every inch of its fabric! This luxe modern cheongsam in Singapore may seem a little over-the-top for everyday wear but fits in perfectly during Chinese New Year season where everyone dresses up to the nines. We can't get enough of the intricate gold embroidery that runs through the entire length of the cheongsam. In combination with the golden cap sleeves, the cheongsam instantly transforms into a refined masterpiece that's perfect even for prom night! 
14. Korean-Style Bold Prints Cheongsam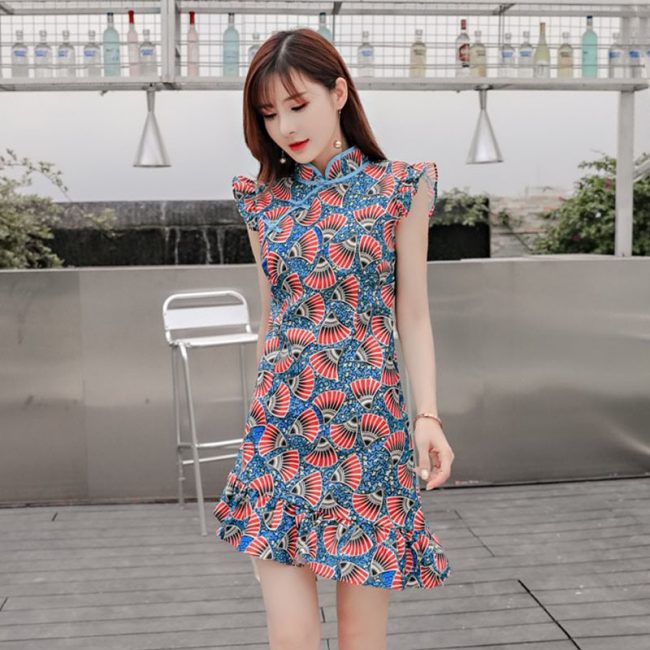 Adding a contemporary twist to traditional cheongsams in Singapore, this Korean style bold prints cheongsam (available on men t shirt) screams fashionista from every angle! Combining the mandarin collar and pankous with modern designs such as ruffled sleeves and a slanted hem, this cheongsam successfully blurs the line between old and new. The results? A refreshing and wearable cheongsam that's modern and timeless. Keep accessories simple and allow the interesting prints to make the statement this Chinese New Year.
15. Soft Blue Crane Cheongsam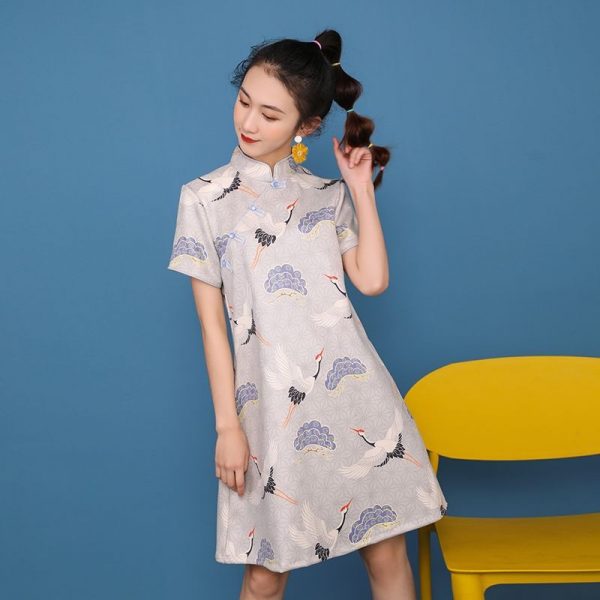 Think qipaos in Singapore are inconvenient to wear and restrictive to move in? This Soft Blue Crane Cheongsam (available on Shop Sapphire) will show you otherwise! Boasting a relaxed fit and a kimono-style crane design, this modern cheongsam in Singapore gives you a youthful girl-next-door look. You'll have absolutely no problem running or sitting on the ground in this dress as it is not tight-fitting. Another advantage about this cheongsam is its ability to conceal your food baby — so eat as many pineapple tarts as you like, no one will know!
16. See-Through Velvet Midi Cheongsam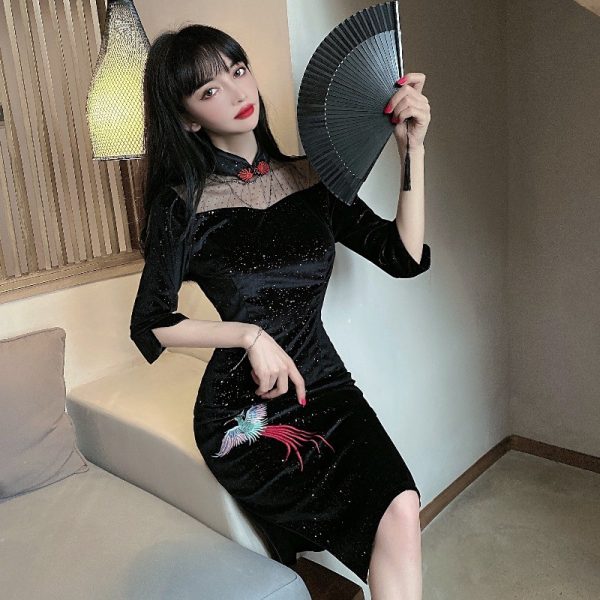 If your family is cool about wearing black for the festive season, then hesitate no more and get yours hands on this See-Through Velvet Midi Cheongsam (available on fashionhome.sg). Together with the see-through black lace details and velvet material, you're bound to be the true paragon of elegance and classiness. Finish off your look with this pair of Dangling Pearl Earrings (available on Jewelry小钱包专营店) for an extra touch of extravagance because there is no such thing as looking too glam for this festive season.
17. Puff Sleeved Mini Cheongsam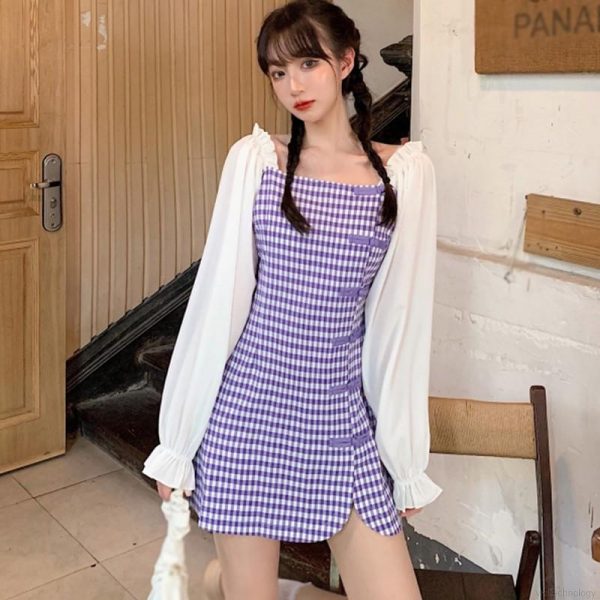 Puff sleeves have been all the rage in the local fashion scene. Incorporate this trendy element into your qipao in Singapore with the Puff Sleeved Mini Cheongsam (available on Yrd Fashion Shop)! On first look, this piece may seem like a regular mini summer dress. But the beauty lies in the details. The dress features the iconic pankous and curved hemlines as commonly seen on traditional cheongsams. Combined with the french puff sleeves, this modern cheongsam in Singapore is a unique piece that you shouldn't miss out on!
Get ready your modern cheongsams in Singapore for CNY
After stocking up on these stylish modern cheongsams in Singapore, all that's left for you to do this Chinese New Year is to sit back and receive the overflowing compliments with grace! You can thank us later. After sorting out your outfits, it's time to prepare for the exciting Chinese New Year reunion dinner. Whip out your steamboat pot and get ready to organise your hotpot gathering! Be sure to gather everyone for a few rounds of fun CNY party games after all the festive feasting. Don't forget to snag awesome deals from our 2.2 CNY Sale too!
---
This article was updated on 14 January 2021. Additional research done by Kimberley Ng.
New to Shopee? Get $7 off (min. spend $15) with code*: 15CNY
*TNC Applies. Valid for new users from 17 to 24 Jan 2021 only.