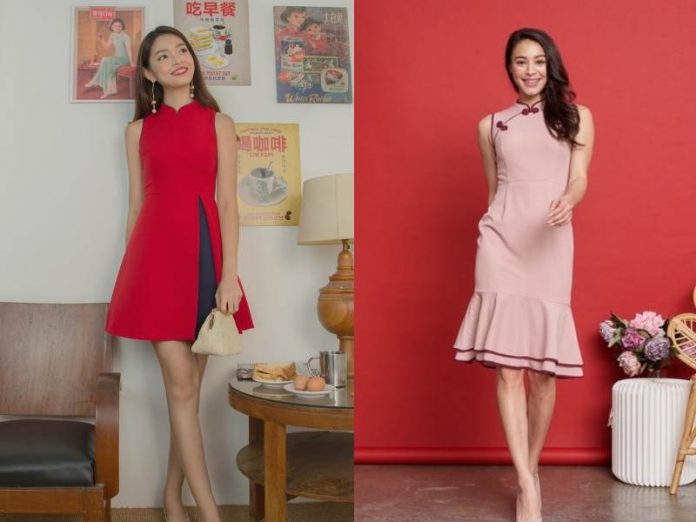 If you think wearing cheongsams and qipaos in Singapore is outdated and too oriental to be fashionable, think again! Cheongsams and qipaos have evolved beyond the typical blinding red fabrics embellished with gold flower embroidery. These traditional costumes now incorporate some modern fashion elements for a stylish and feminine silhouette. Read on to find where you can buy the best cheongsam dresses and tops in Singapore for a huat-tastic Chinese New Year! 
Cheongsam vs qipao: What's the difference?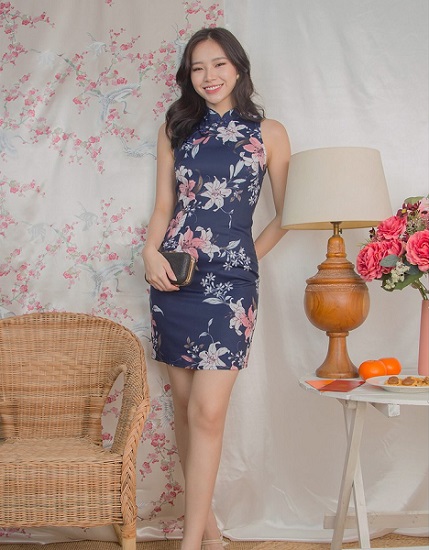 "Girl ah, have you gotten your cheongsam for Chinese New Year?"
"I got a qipao leh, is it the same?!" 
Got a qipao instead of a cheongsam? Fret not! These two Chinese New Year dresses are actually referring to the exact same thing. The reason why there are different terms for is due to their place of origin. 
The word 'cheongsam' came from the pronunciation of the Cantonese word for 'long dress'. While the cheongsam originated in southern China, the qipao came from the north. The two are essentially the same thing, just with different linguistic origins, being translated to English from different dialects. 
Types of modern cheongsam dresses you can buy in Singapore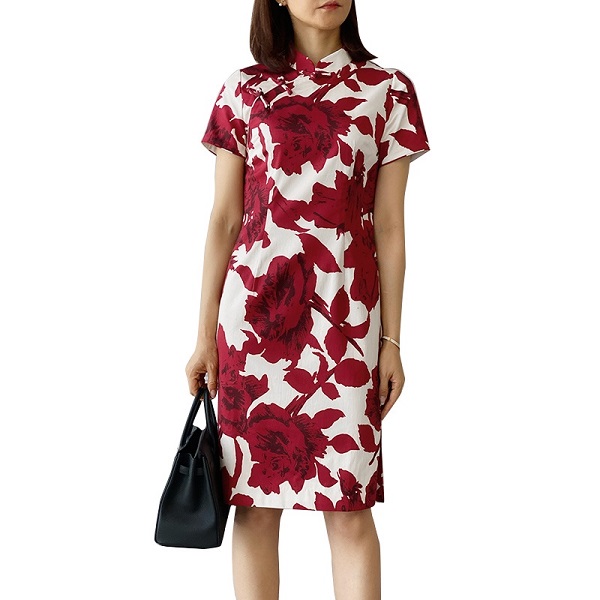 The sheath cheongsam is one of the more traditional looks in mind when you think of cheongsams. Just like sheath dresses, sheath cheongsams are usually fitted and have a straight cut. Although there isn't a waist seam, the sheath design is cinched at the area so you can still flaunt your waistline.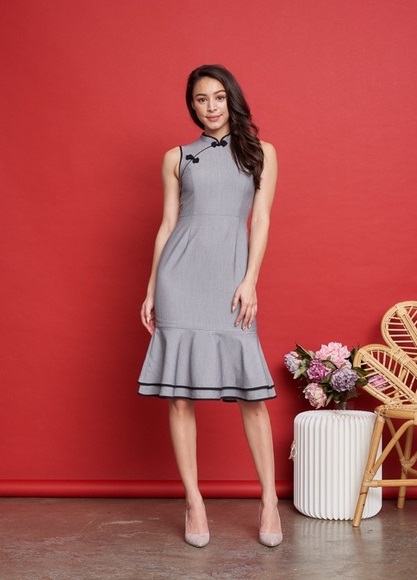 One of the best cheongsams in Singapore are those with a mermaid cut. These mermaid cheongsams are usually longer and cling to the body, flaring out at the hem with a beautiful wave.  Depending on the thickness of the material, thinner ones like silk will create a softer and more flowy ruffle. The mermaid-cut cheongsam gives off a more glamorous, dramatic look, and is a great Chinese New Year dress. You can also wear this modern cheongsam design to events like weddings and dinners. They're definitely a staple to add to your wardrobe!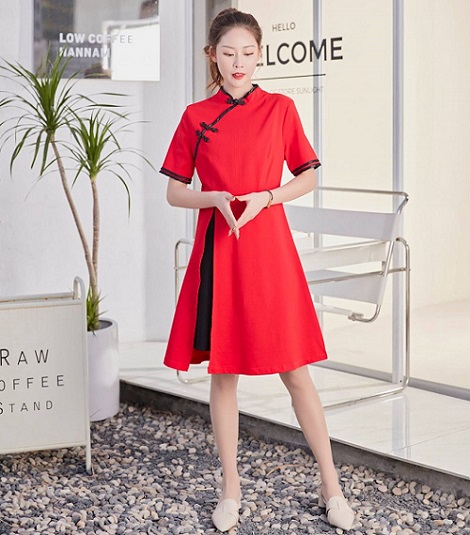 A-line cutting on a cheongsam? Yes, please! These A-line cheongsams in Singapore have put a modern twist on the traditional dresses. Unlike mermaid cheongsams which  flare out near the bottom, these modern cheongsams gradually widen downwards, thus looking like the letter 'A'! Modern cheongsams like these are great for every body type and are very comfortable. It's no wonder why everyone is asking where they can buy these cheongsams in Singapore! Haven't gotten any A-line cheongsams? Well, it's time to add one to your collection! 
Types of fabrics used for modern cheongsam dresses and tops in Singapore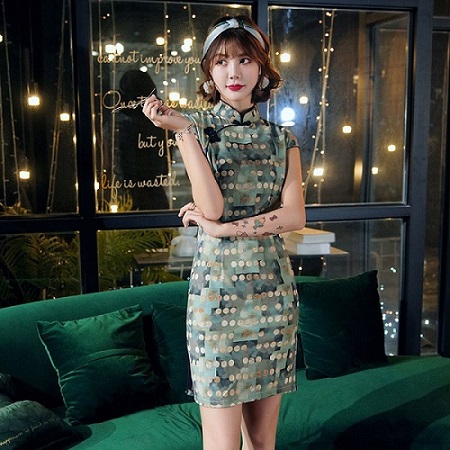 Silk cheongsams are the way to go if you're looking for that smooth and luxurious feel. This delicate material is perfect for the making of sheath and mermaid modern cheongsams in Singapore. Silk can be dyed easily and has led to the creation of many colourful modern cheongsams in Singapore! However, do note that silk is a high maintenance fabric. Hence, you're better off sending your silk cheongsam to the dry cleaner for cleaning. 
Another traditional fabric used in cheongsams is brocade — a material known to signify nobility and wealth.  Brocade is made out of a strong woven fabric and usually patterned with elaborate designs of auspicious symbols like phoenixes and dragons. The fabric is stiff and doesn't stretch much, making it perfect for sheath cheongsams! Brocade cheongsams are adorned with pankou knots, also known as frog buttons, that are decorative accessories on these classic Chinese New Year dresses.
Velvet cheongsams are the definition of luxury. Smooth and soft to the touch, the material also has a subtle shimmering gleam. These velvet dresses can be rather warm to wear in Singapore's humid weather, but they're perfect for indoor air-conditioned events! 
Perhaps you're looking for something a bit more casual? Modern cheongsams in Singapore have also started using cotton since they're so durable. Cotton cheongsams are very breathable and soft, making them a great outfit for Singapore's warm weather and perfect for visiting your relatives without breaking out into a sweat. This fabric is usually used for A-line and sheath cheongsams that can be worn every day and for casual events. 
You might see lace used as an overlay on modern cheongsams in Singapore! This delicate fabric makes lace cheongsams elegant yet feminine at the same time. 
Another commonly used material for modern cheongsams in Singapore is tulle. The sheer and lightweight fabric is strong and holds embroidered designs well. Worried about the scratchiness of such fabric? Most tulle cheongsams come with inner lining for ultimate comfort. This material looks extremely good on cheongsams with an A-line cutting, so be sure to add one to your CNY collection this 2022! 
Where to buy the best mermaid cheongsams in Singapore?
1. LVG VERONA Mermaid Cheongsam

Dress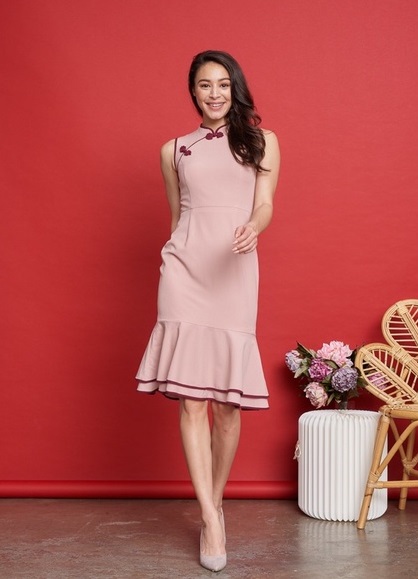 You can't go wrong with the LVG VERONA Cheongsam (available on LOVENGOLD). This modern cheongsam in Singapore comes in a trendy blush colour while still retaining the traditional oriental pankou knots. The red piping design outlines the dress with a beautiful contrast. This modern mermaid cheongsam is sleeveless, which accentuates your shoulders, while the mermaid flare at the bottom makes your waist appear smaller! 
2. Eyouth Chinese New Year Mermaid Cheongsam Dress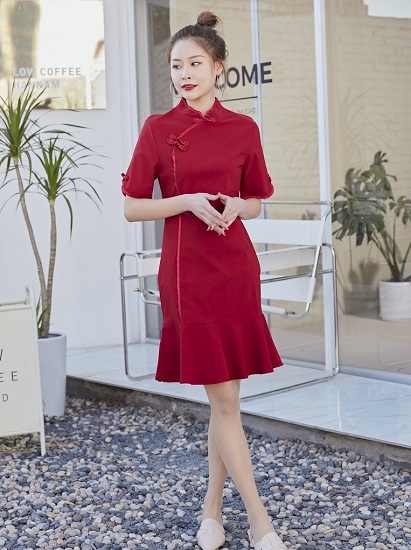 Get an extra boost of huat with the Eyouth Chinese New Year Cheongsam (available on Eyouth). This minimalistic modern cheongsam draws attention to the traditional pankou knots and the mermaid flare. The boxy structured sleeves create an illusion of slimmer arms and wider shoulders, and really accentuates your waistline! Made with cotton, this modern cheongsam is suitable for our very humid Singapore weather. The dress also comes in a blush pink and an edgy black if you'd like to be different this Chinese New Year! Head over to Eyouth where you can buy some of the best modern cheongsam dresses and tops in Singapore! 
3. MGP Label Grande Pastel Mermaid Cheongsam Dress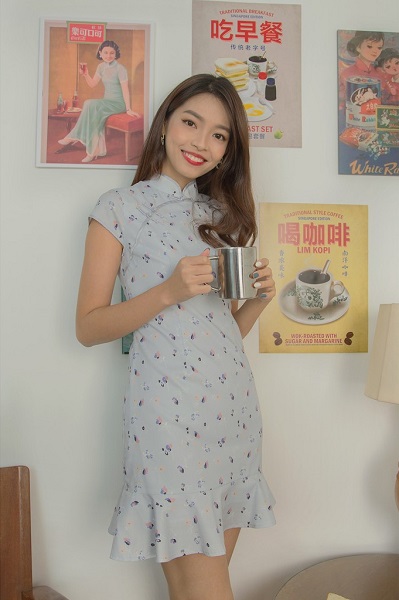 Who says you only have to wear red during Chinese New Year? Be special this new year with the MGP Label Grande Pastel Cheongsam Dress (available on MGP Label Official Store)! This dress incorporates a delicate floral design with pastel colours that give it a vintage, yet contemporary vibe. We suggest putting on a bright red lipstick to light up your complexion against this modern cheongsam in Singapore which has more of a pale hue. 
Where to buy the best A-line cheongsams in Singapore?
4. MGP Label Marbella Colourblock A-Line Cheongsam Dress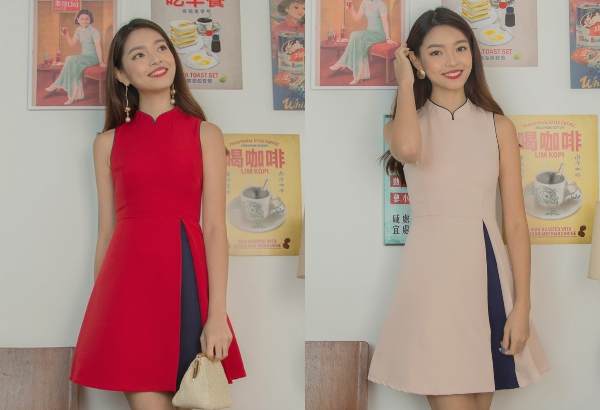 Set a good impression if you're visiting your future in-laws for the first time with this demure MGP Label Marbella Colourblock Cheongsam Dress (available on MGP Label Official Store)! With three different colour combinations and an A-line cut, this is definitely one modern cheongsam in Singapore you need to have! Furthermore, it compliments all body shapes thanks to its flattering cut. Complete the look with a pair of nude heels to complement the outfit's bold shades. Check out the MGP Label Official Store where you can explore and buy other modern cheongsams too!
5. Casual Summer Black Cheongsam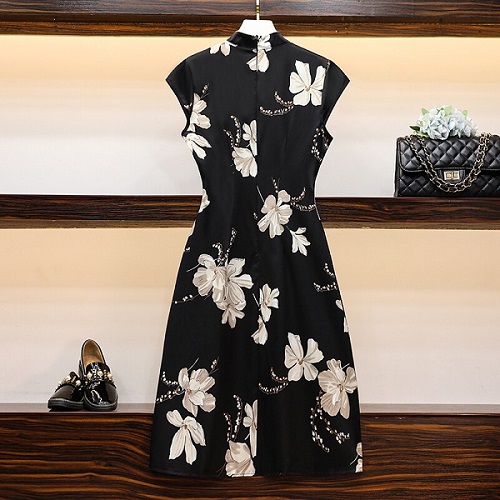 If your family is cool about wearing black for the festive season, then hesitate no more and get your hands on this Casual Summer Black Cheongsam (available on Fashion women). Champagne-coloured flowers fill this Chinese New Year dress, so it helps take the focus away from the fact that you're wearing black. This qipao is narrow and hugging at the top, clinging to your waist before flaring downwards like an 'A'. If you were to ask me, this is definitely an A+ cheongsam! 
6. Midi A-Line Vintage Cheongsam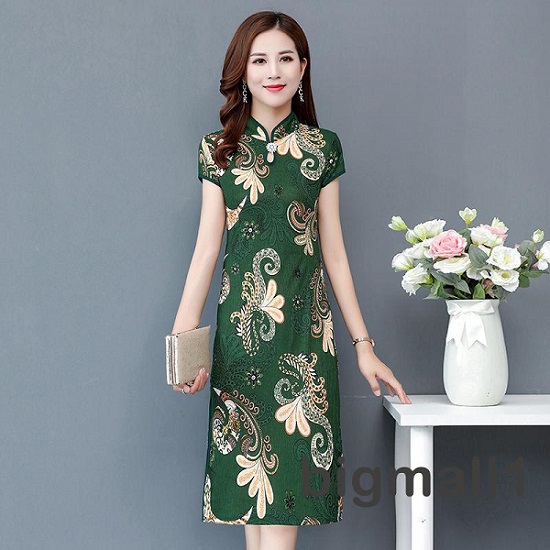 Tired of wearing red all the time? This Green Vintage Cheongsam (available on Fashion clothing) is the one for you! This A-Line cheongsam is adorned with vintage Chinese patterns that exude exquisiteness in every inch of its fabric! This modern cheongsam in Singapore may seem a little over-the-top for everyday wear but fits in perfectly during Chinese New Year season where everyone buys extravagant outfits to dress up! 
Where to buy the best sheath cheongsams in Singapore?
7. Printed Lace Long-Sleeved Sheath Cheongsam Dress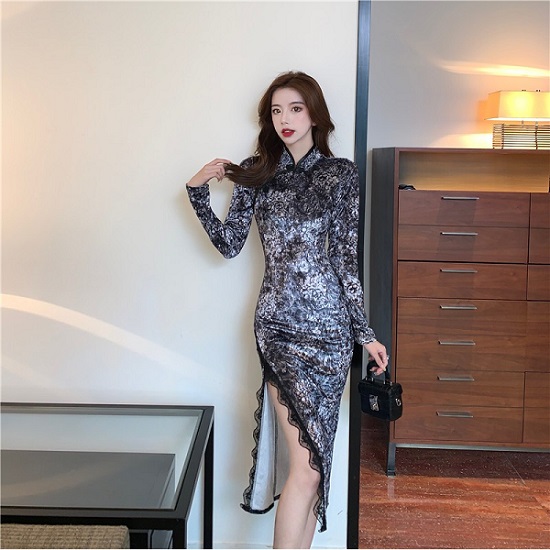 Add a hint of sexy this CNY 2022 with the Lace Long-sleeved Cheongsam Dress (available on Miss Wu's Skirt Store). Together with the velvet material, you're bound to be the true paragon of sophistication. Finish off your look with some dangling earrings for an extra touch of extravagance and strut along the streets of Singapore in this modern cheongsam. There is no such thing as looking too glam for this festive season!
8. Vintage Sheath Cheongsam Dress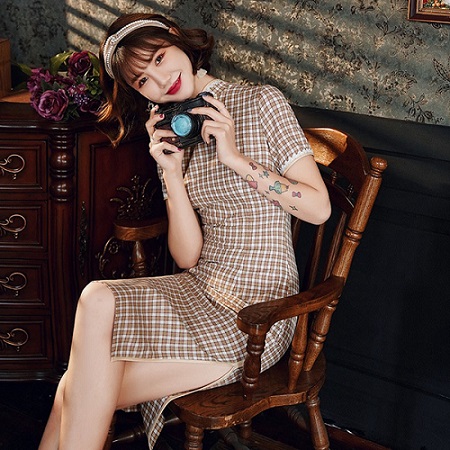 Where can you buy some chic plaid cheongsams in Singapore? MA RIC RIC, of course! You won't go wrong with this Plaid Cheongsam Dress ensemble (available on MA RIC RIC). This modern cheongsam in Singapore features a western plaid design while still retaining some oriental elements such as the mandarin collar and pankou knots. An added plus is how the plaid pattern acts as a distraction from your food belly allowing you to feast away without worries! Psst, you should buy this modern cheongsam if you're not a fan of oriental embroideries like cranes or florals. There's even one designed with Christmas trees! 
9. Bold Prints Cheongsam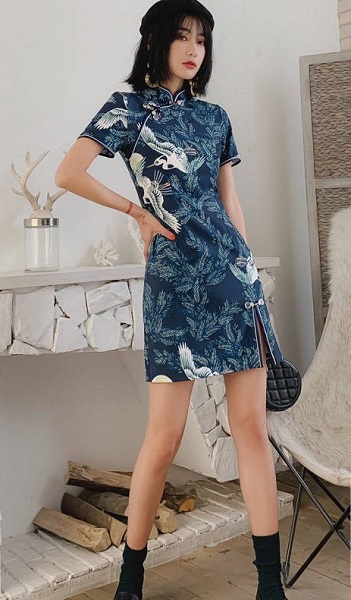 Adding a contemporary twist to traditional cheongsams, this Bold Prints Cheongsam (available on M2D Fashion Official SG) screams fashionista from every angle! Combining the mandarin collar and pankous with a modernised crane print, this cheongsam successfully blurs the line between old and new. The results? A refreshing and wearable cheongsam that's modern, timeless and bound to make heads turn as you go visit your relatives in Singapore! Add a badass flair to your outfit with a pair of black women's boots! 
Where to buy the best Cheongsam tops in Singapore?
10. Cropped Cheongsam Top With Keyhole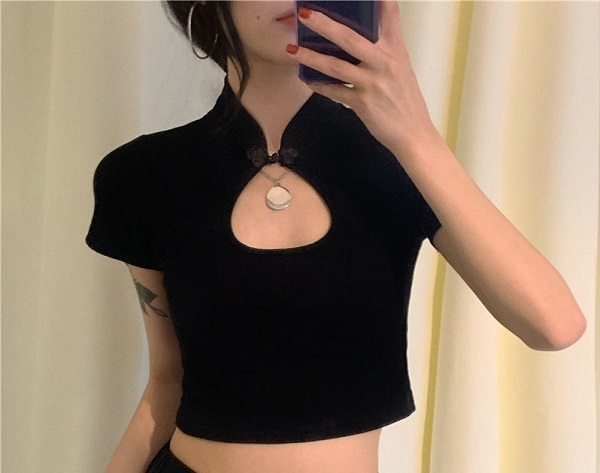 M2D Fashion Official SG features an exclusive selection of clothes where you can buy the best modern cheongsam in Singapore! Make heads turn when you walk in with this Cropped Cheongsam Top (available on M2D Fashion Official SG)! Featuring a deep keyhole neckline and a body-hugging fit, this modern cheongsam top in Singapore is not for the faint-hearted! Not sure what to wear with this cheongsam top? You can Throw on some denim jeans or a patterned skirt to round off the whole outfit for a stylish #OOTD
11. Red A-Line Modern Cheongsam Top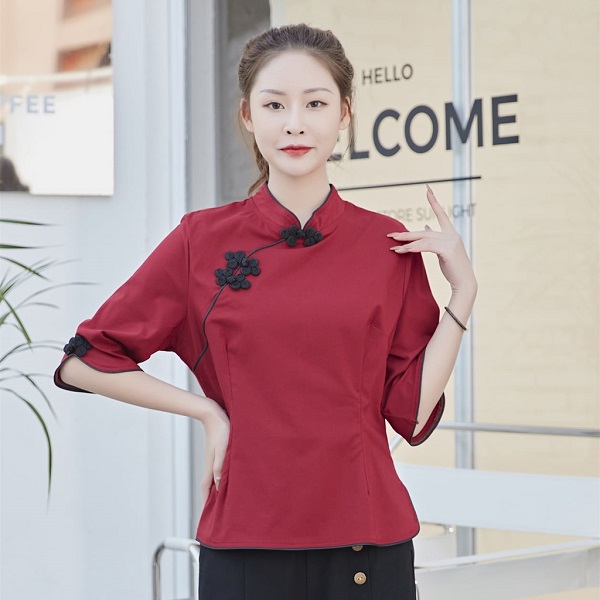 Want a modern cheongsam top but still leaning towards something more traditional? This A-Line Modern Cheongsam Top (available on Eyouth) features structured sleeves and an A-Line cut that is cinched at the waist. Although minimalistic, the black pankou knots stand out against the red top so the entire look isn't too plain. This modern cheongsam top has also been lined with a black piping to give off a very distinguished look. If you're wondering what to wear with this cheongsam top, try slipping on some black pants or a bodycon skirt and you're good to go! 
12. Long Sleeved Buckle Cheongsam Top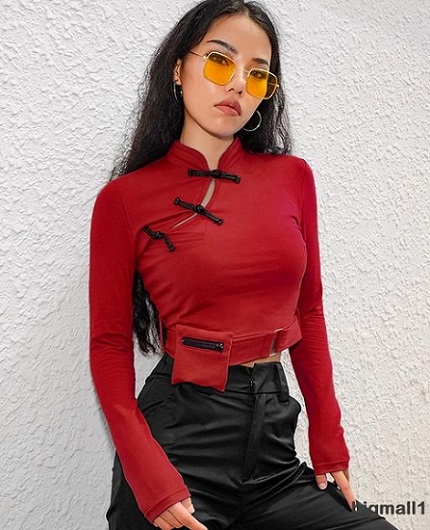 Buckle up, ladies! This Long Sleeved Buckle Cheongsam Top (available on Fashion clothing) will take you on a ride through the streets of Singapore this Chinese New Year! We love the long sleeves, the pankou knots, but most of all — the buckle at the waist that gives off an edgy vibe! Throw on a pair of cargo pants or an A-Line skirt with this modern cheongsam top for that extra edge! 
13. Long Sleeved White Keyhole Cheongsam Top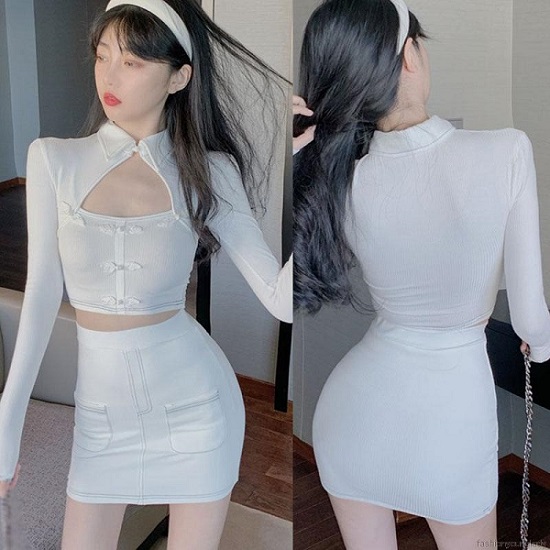 Even if your wardrobe is bursting, you've got to make way for this alluring White Keyhole Cheongsam Top (available on fashionyounglady)! The wide keyhole design is the highlight in this piece — perfect for sexy fashionistas who don't mind showing a little skin this CNY 2022! Together with flattering pankou knots and mandarin collar, we've got no doubts that this is where you can buy one of the best modern cheongsam tops in Singapore. Wanna step up your CNY OOTD game? Pick up a denim skirt or leather pants for the perfect pairing with this White Keyhole Cheongsam Top! 
Huat CNY 2022 with the best modern cheongsams in Singapore
After buying these stylish modern cheongsam dresses and tops in Singapore, all that's left for you to do this Chinese New Year is to sit back and receive the overflowing compliments with grace! You can thank us later. After sorting out your outfits, it's time to prepare for the exciting Chinese New Year reunion dinner. Whip out your steamboat pot and get ready to organise your hotpot gathering! Don't forget to impress everyone with your abalone recipes too! Dining out instead? Check out some of the best spots to have your CNY dinner! Catch fantastic promotion deals and prices at our CNY sale when you shop for your CNY essentials!
---
New to Shopee? Get $7 off (min. spend $15) with code*: CHEONGSAM7OFF
* TNC Applies. Valid for new users from 17 to 24 January 2022 only.