<![CDATA[People say that talk is cheap, and it indeed is. Although every idea involves discussions somewhere along the brainstorming process, not many dreams make it to reality because we just stop at the talking bit. Those who cross over to doing experience a whole new dimension of adrenaline and purpose each waking day. Yu Lin Au Yong, who is a final-year student at NTU and co-founder of social enterprise Intute, is one of those who are reaping the benefits of turning their talk into action. Birthed whilst Yu Lin was in NTU's social entrepreneurship club Enactus, Intute has now been transformed from a mere on-paper concept to more than 100 users today. It's growing and giving Yu Lin a lot to be excited about. A final-round competition in Silicon Valley, for instance, awaits this bite-sized personality and her pitch! Read on as we bring you more on Yu Lin's social enterprise, motivations and career exploration. Not forgetting some advice for those who'd like to start their own business! [caption id="attachment_20089" align="alignnone" width="1080"]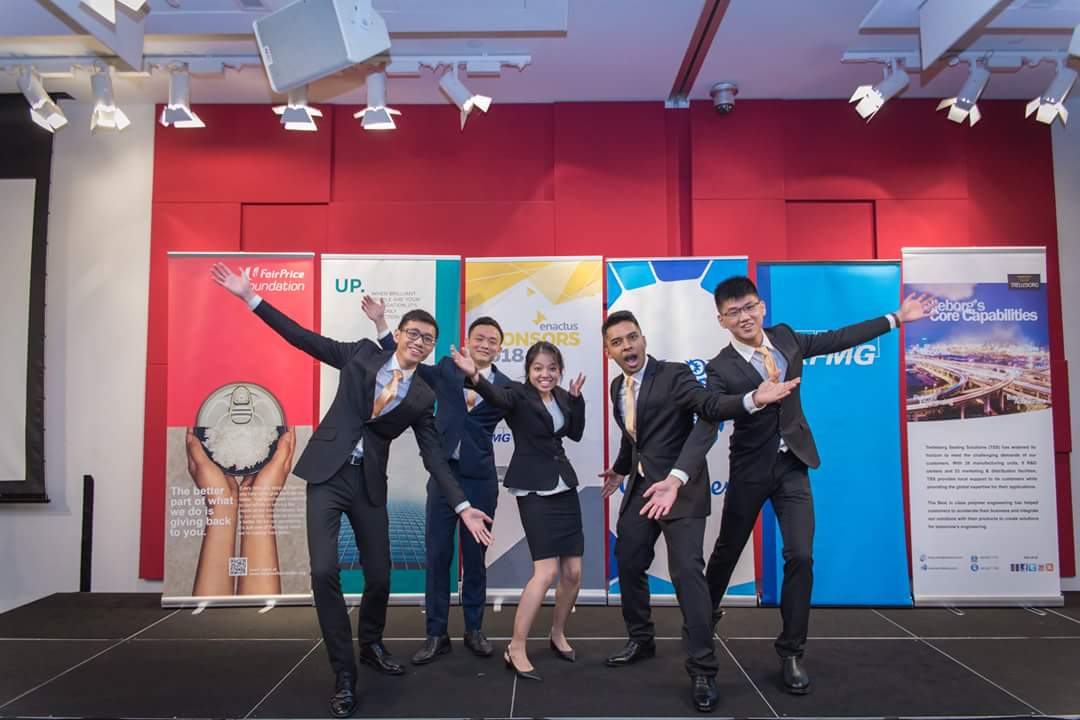 Yu Lin and her presentation team at the Enactus Singapore 2018 National Competition[/caption] Jocelyn Kaylee: Hey Yu Lin, I heard about your upcoming trip to Silicon Valley. How exciting! What's that about? Yu Lin: Haha! Good news travels fast! Yes, I'm going to the entrepreneurial dreamland this October with five other friends. We had teamed up to take part in the Enactus Singapore 2018 National Competition, which was sort of like an incubator presentation for student social entrepreneurship proposals. The judges gave our pitch their stamp of approval, which means we'll be joining champions from other participating countries at the Enactus World Cup. That's what the Silicon Valley trip is all about! I'm so excited and can't wait to be where the buzz is! [caption id="attachment_20087" align="alignnone" width="960"]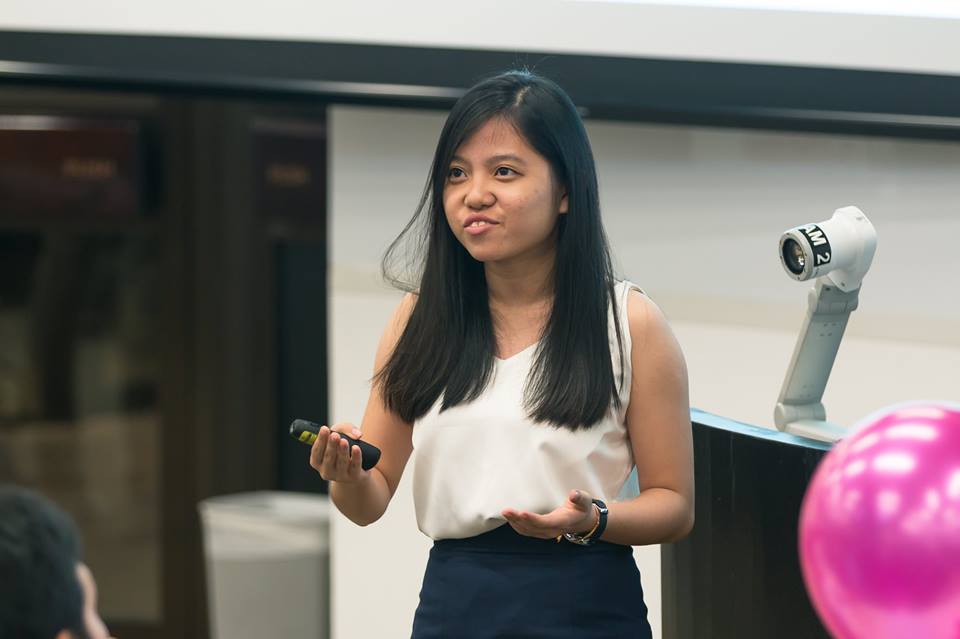 More than selling: Yu Lin, photographed mid-pitch, advocates intervention for underprivileged children and their access to education[/caption] JK: Oh, wow! This is an insane opportunity – one that can possibly change the course of your life! Pray tell; what proposal did your team take the cherry home with? Y: Our pitch was simple: sell student performance-tracking diagnostic tools to tuition centres, and direct the revenue into providing low-income families with academic help. We reach out to children from such families through a teaching software that we've developed ourselves and named Intute. We've recently begun integrating it into several neighbourhood education hubs found in Singapore's community centres. [caption id="attachment_20092" align="alignnone" width="1999"]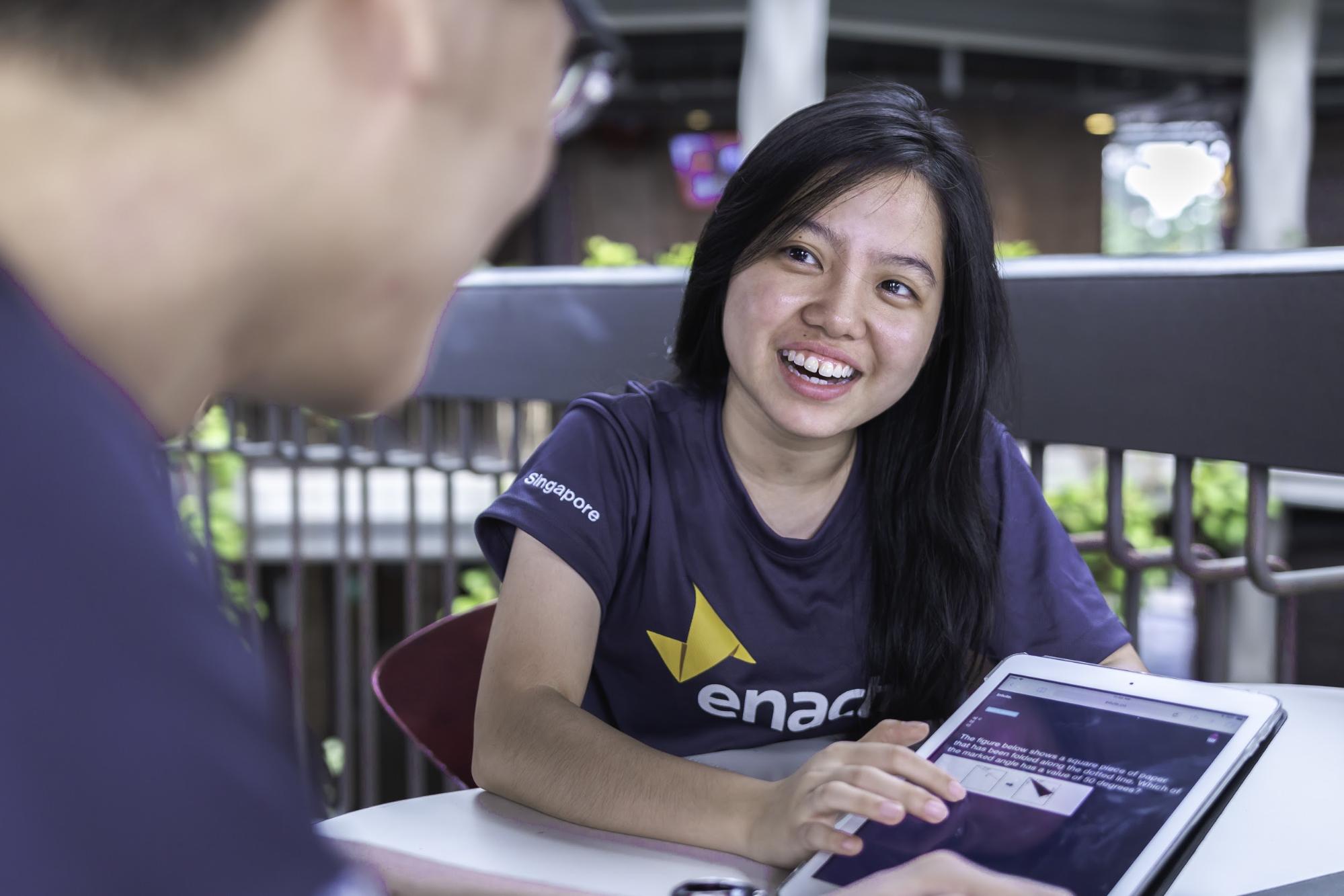 Passion project: Yu Lin explains Intute's interface to a student[/caption] JK: That's fantastic! Performance-tracking tools and teaching software, aye? Why and how do they work? Y: Both solutions are about closing education-related gaps. Whilst the teaching software increases students' accessibility to extra academic guidance, the performance-tracking tools help tuition teachers to remember and track their students' academic strengths and weaknesses in a smart and efficient way. With the data and patterns derived over time, the teachers will then be able to create customised learning plans for each child and help him/her do better at school. [caption id="attachment_20088" align="alignnone" width="852"]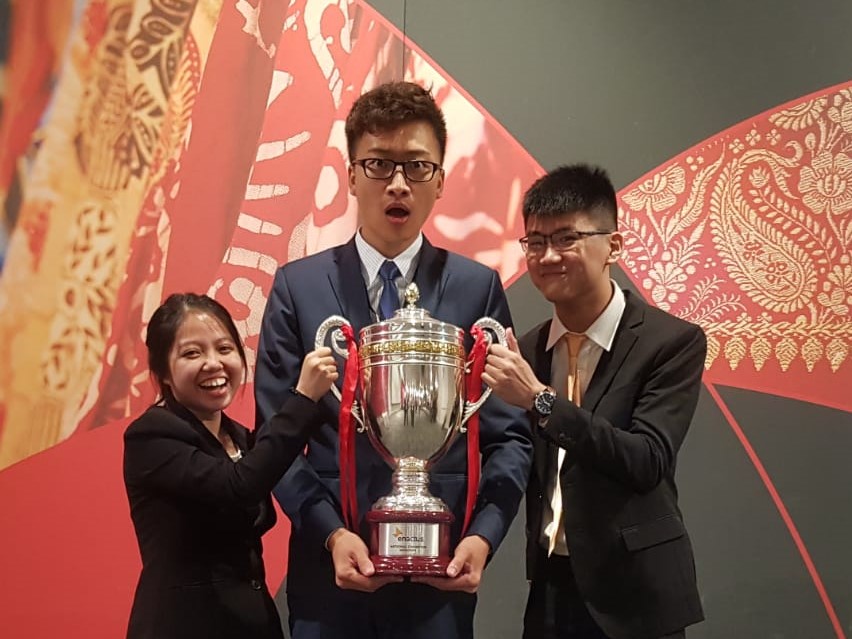 Money shot: Yu Lin and her co-founders Zong Han and LinHan basking in their quick moment of glory at the Enactus Singapore 2018 National Competition[/caption] JK: Wow. It must've taken a lot for something of this scale and sophistication to come into fruition. Let's backtrack a little… How did everything come together in the first place? Y: Well, it all started at one of NTU's CCA recruiting fairs that I had helped to organise. You see, our club has a strict selection process that involves a stand-up pitch in front of all existing members. In comes this software engineering first-year named Goh Zong Han, who shared about leveling the playing field for children from low-income families. He was compassionate and sincere about wanting to do something for the less-privileged. I was sold, and immediately went up to express my interest in his ideas. Later, we got a creative designer named Wu LinHan to join our team. Putting our heads, skills and interests together, we finally turned the talk into a walk. That's how our Intute journey began. [caption id="attachment_20083" align="alignnone" width="1745"]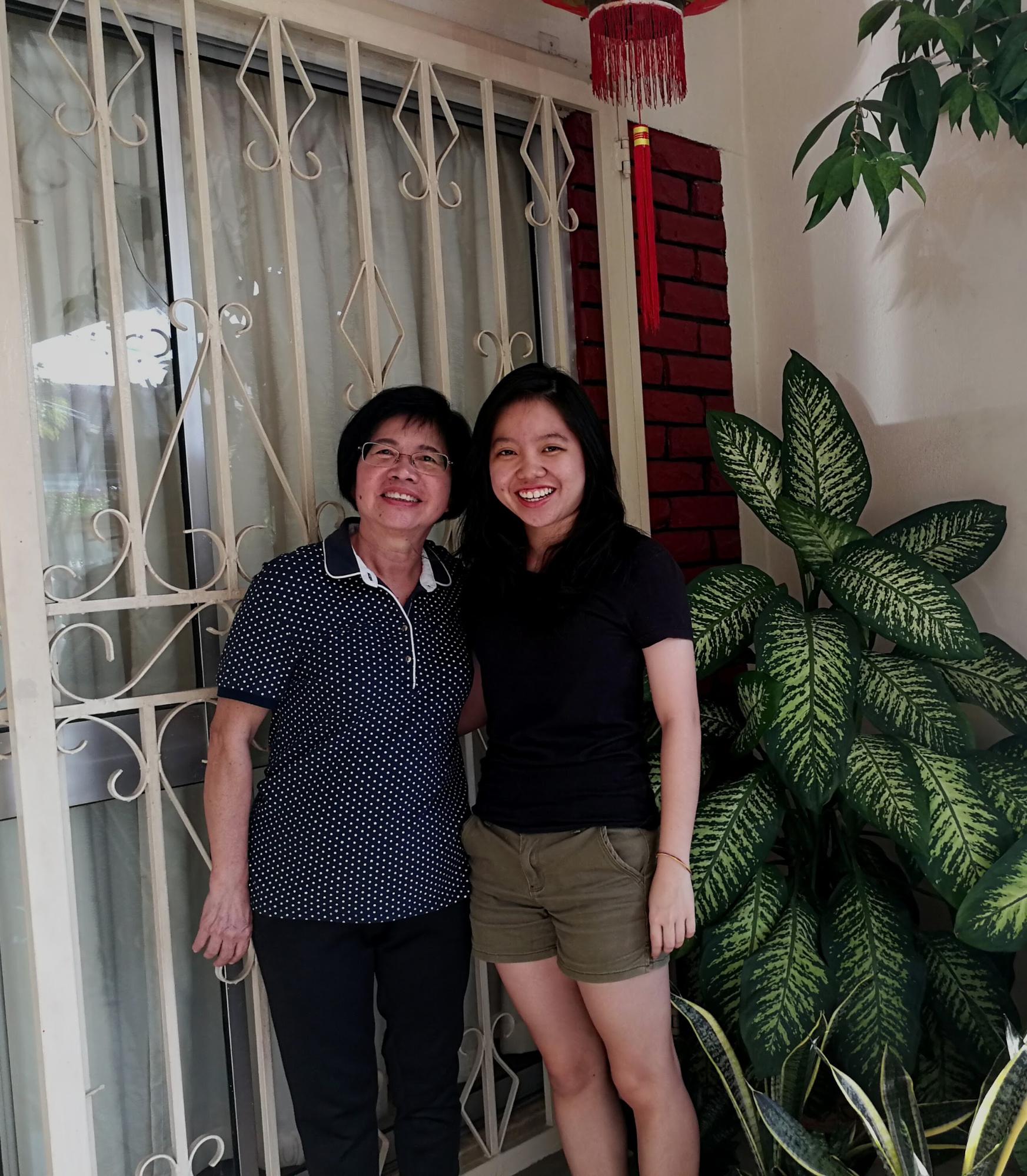 Home is where the heart is: Yu Lin, who is currently doing her final semester at NTU, took a short vacation back to Malaysia for a good retreat with her mom and family[/caption] JK: Looks like the stars really aligned to get the three of you together. Is there a personal angle to this social entrepreneurship? I imagine working on Intute must get really tough sometimes – is there a life-changing moment that anchors you and your team? Y: Haha! Zong Han and LinHan both have very fascinating stories that you simply have to listen to in person. As for myself, I grew up with stories that my mom, who's a primary school educator in Malaysia, would tell me. The story of a girl stands out in particular. She was halfway through her primary school education when her parents fell into financial crisis. Desperate to feed their family, both parents took up extra jobs and worked around the clock. As a result, no one was able to send the girl to school. My mom, who was her form teacher at the time, took it upon herself to provide her with the best education possible – in spite of her family circumstances. My mom ferried her to and from school, stayed back to tutor her in all subjects, and monitored her progress and test results very closely. This girl eventually scored straight A's at the PSLE (Primary School Leaving Examination) and went on to attend one of Malaysia's best secondary schools. Education changed the young child's life. Someone paid attention and did something about it, and that changed her life. Growing Intute's product, subscribers and user base is tough. But every time I experience the peak of exhaustion, I think about the impact my mom created. That helps me get back up on my feet and fight for children's education once more. [caption id="attachment_20090" align="alignnone" width="1600"]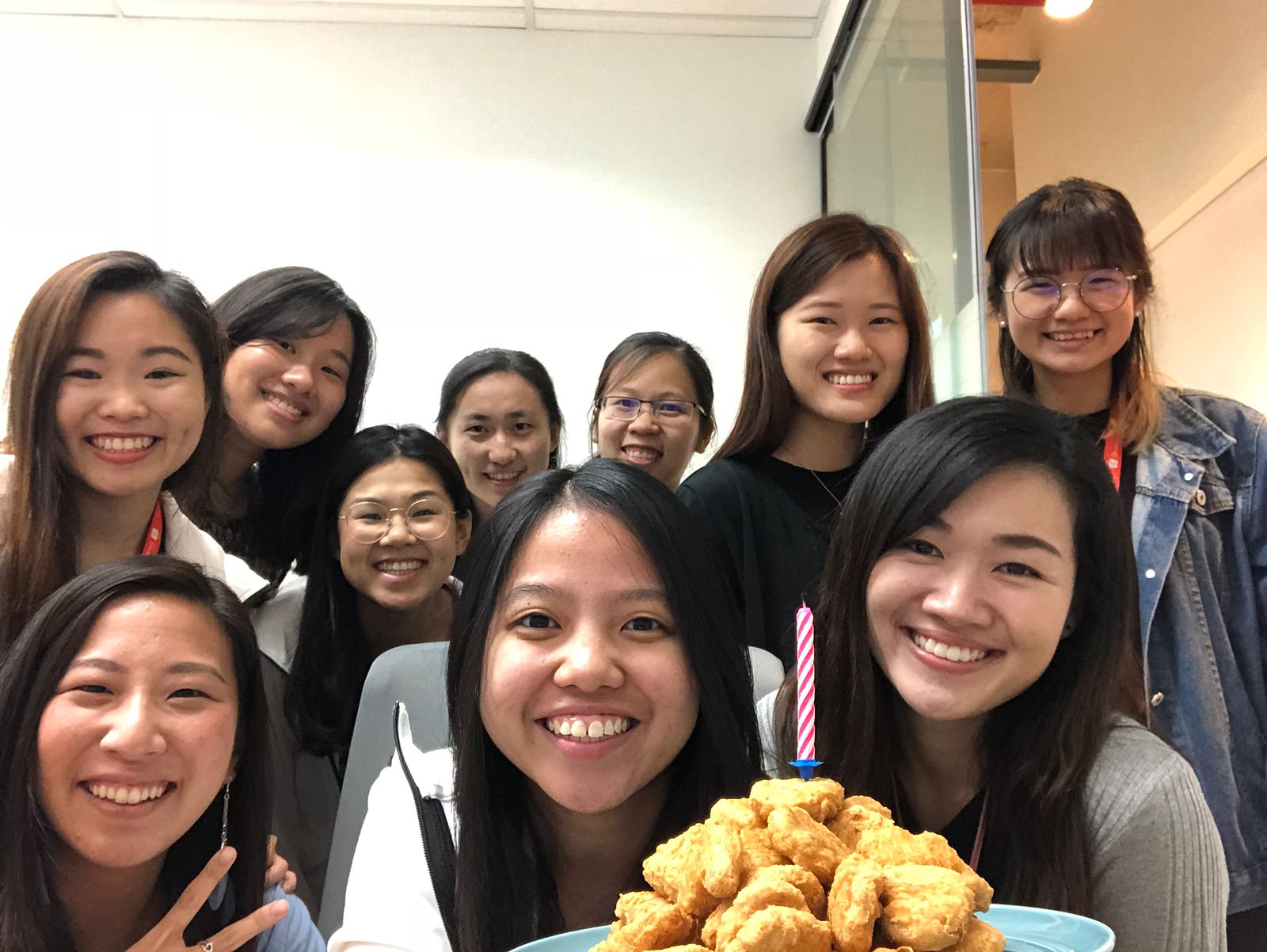 Yu Lin celebrates her birthday with a mountain of McNuggets from her HR team[/caption] JK: What a heartening tale. There's something very admirable about your fighting spirit, Yu Lin. You're small in size but definitely not lacking in will! Speaking about education, how has your own education complemented your motivations? Is there anything your courses or internships have taught you that is helping you do better with Intute? Y: Hmm… Every season of my life has certainly taught me something new, and I do make an effort to weave them into my daily life. The Communications core module at NTU, which includes a topic on negotiation, has helped me structure my ideas and sell them clearly. My previous Auditing stint at PwC gave me confidence to interact with people who are older and higher-ranking than I am. My current Employee Engagement/Human Resource internship at Shopee Singapore is a test bed for creating different streams of solutions to cater to different groups and interests. All these lessons come together to enable me further. My role at Intute, which is primarily business development, requires me to speak, negotiate and create diverse solutions. They're all tasks that I've evidently gotten help with! [caption id="attachment_20084" align="alignnone" width="1600"]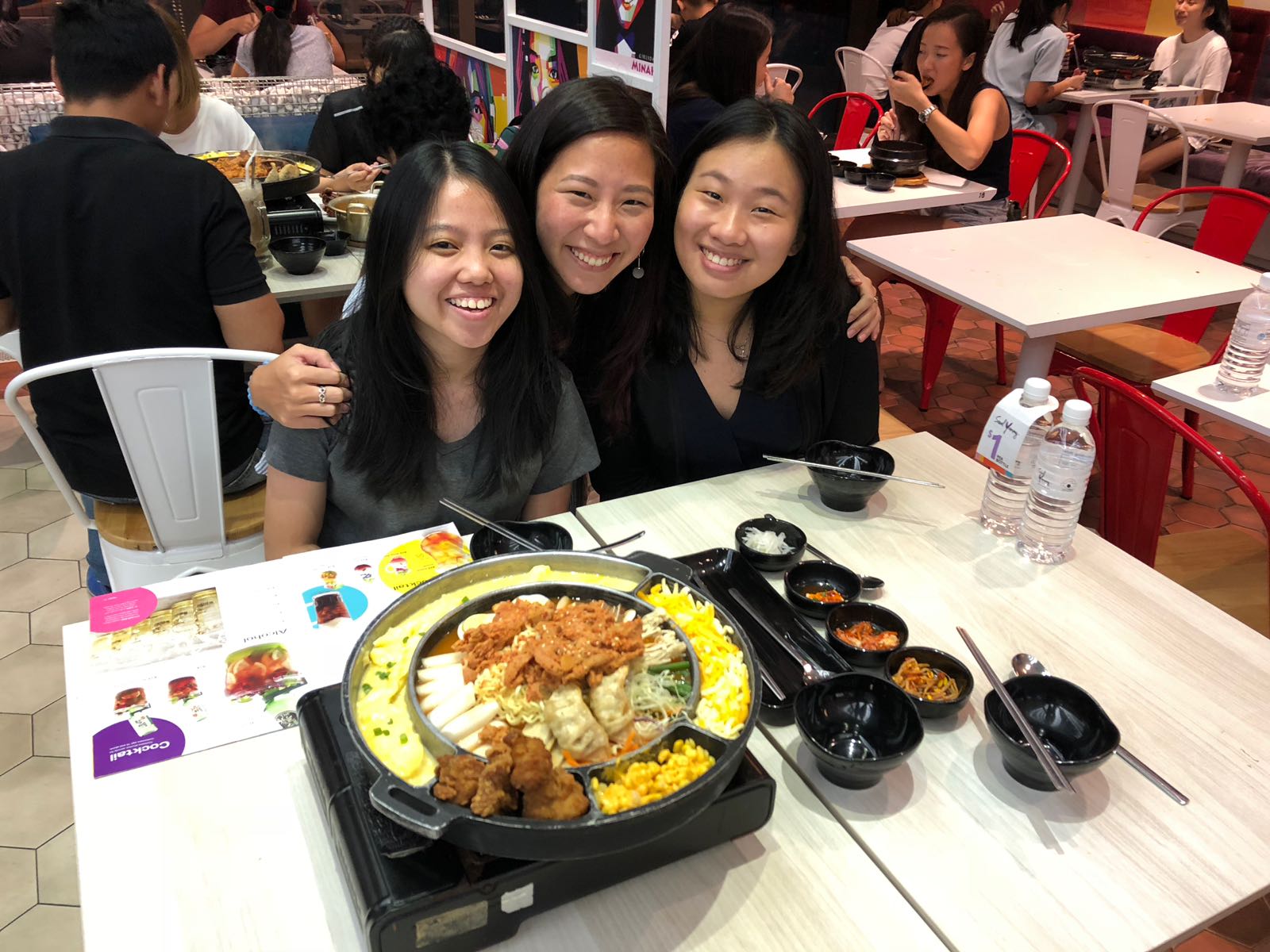 Yu Lin indulging in a hearty Korean meal with her Employee Engagement team[/caption] JK: Hang on… Auditing to HR? That's quite the leap! Y: Haha! I know! My mind was set on studying Accounting even before I entered NTU, so that'll explain the auditing bit. At the same time, I've also promised myself that I'll explore as many career paths and options as I can. Shopee's HR role fell into my lap after I got rejected by the team I first applied to. The rejection worked out well though, because now I know what people in HR do. It's more than payroll, recruiting and training like most people would think. There's also employer branding and employee engagement, both of which Shopee pays much attention to. I'm currently involved in a mix of event planning and execution, preparing anniversary gifts and brainstorming different ideas to get employees to come together. It fits my personality and it's so much fun! [caption id="attachment_20085" align="alignnone" width="1154"]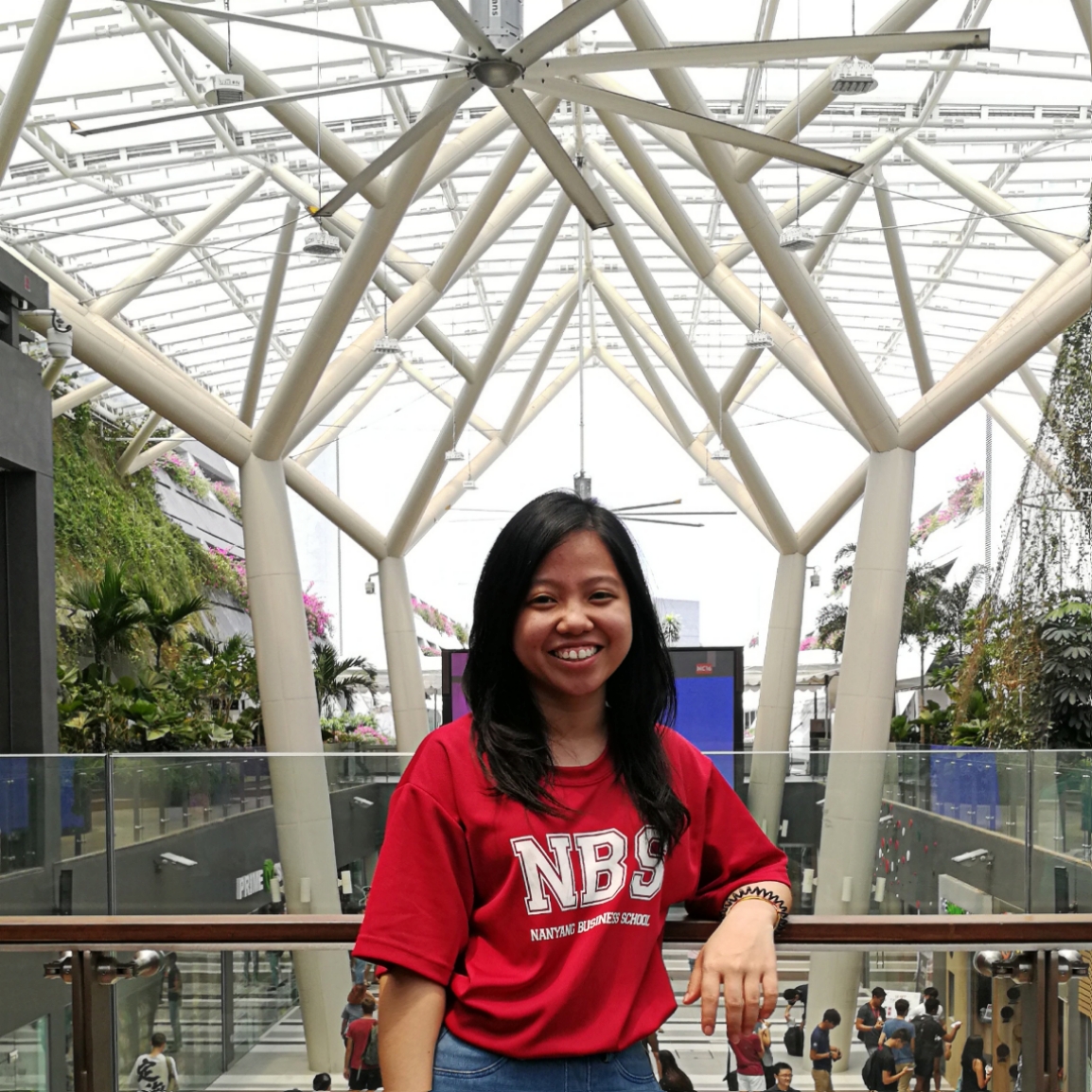 Posing against one of NTU's numerous common hallways, Yu Lin is a model representation of the Nanyang Business School dream[/caption] JK: How wonderful. A good mindset indeed never fails! Thank you for sharing, Yu Lin. Shall we conclude here? How about a few words for the incoming freshman cohort, students looking to become interns, and people hoping to start their own business? Y: Sure! To my new juniors: take your education seriously. Don't limit education to what you do within the four walls of your classroom; get out there and explore as many career paths as you can. Ask yourself what you really want, and just do it. Just because you're studying Accounting doesn't mean that's the only thing you can do – I'm proof! [caption id="attachment_20091" align="alignnone" width="1999"]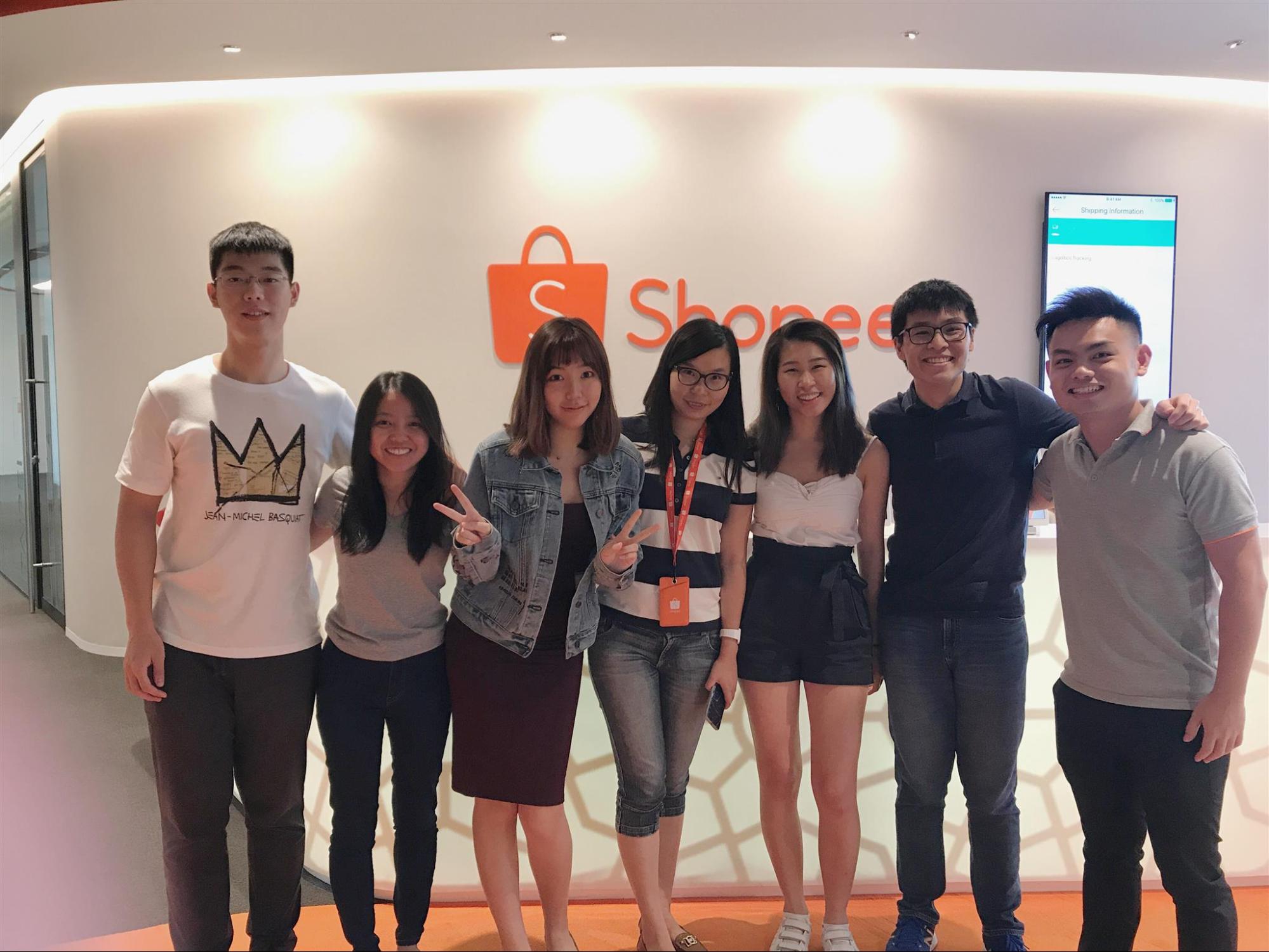 Yu Lin and her intern group collaborated with Shopee's Customer Experience team to create solutions. The Customer Experience team works on facilitating a more seamless user experience for customers using the Shopee mobile app[/caption] To interns who're preparing for your first or fifth internship: be proactive and participate in as many company-organised programs as you possibly can. Work together in cross-function/-department projects if you can, because that's how you'll get acquainted with a diverse group of people. The varying differences in perspectives and skill sets will make for full-bodied conversations! Also, check in with your reporting manager frequently and align your expectations of each other right from the beginning. If you haven't done so, it's never too late to start! Lastly, to those hoping to create your own business: be creative and also realistic. To decipher what's realistic and what's not, chart down your steps and you'll begin to have clarity. Talk to people, Google everything and tweak the unrealistic portions until you have something that's actionable. Always communicate with your target markets and understand their pain points before trying to create solutions. Also, do thorough research on resources – Singapore provides many grants, so consider those when calculating the amount of funding needed.
---
That was a good interview, Yu Lin. Thank you for serving
Shopee
and here's wishing you all the best with
Intute
. NTU must be so proud to call you one of their own!
]]>