The 'best baby skincare products'…now is there even such a thing? We think yes! With hordes of baby skincare products out on the market, we can imagine parents must feel overwhelmed. From baby wash and shampoos to diaper rash creams and even sunscreens for babies — yes your babies need sun care products too — we've included only the absolute best because that's what your child deserves!
Best baby skincare products: Wash & shampoo
1. Aveeno Baby Wash & Shampoo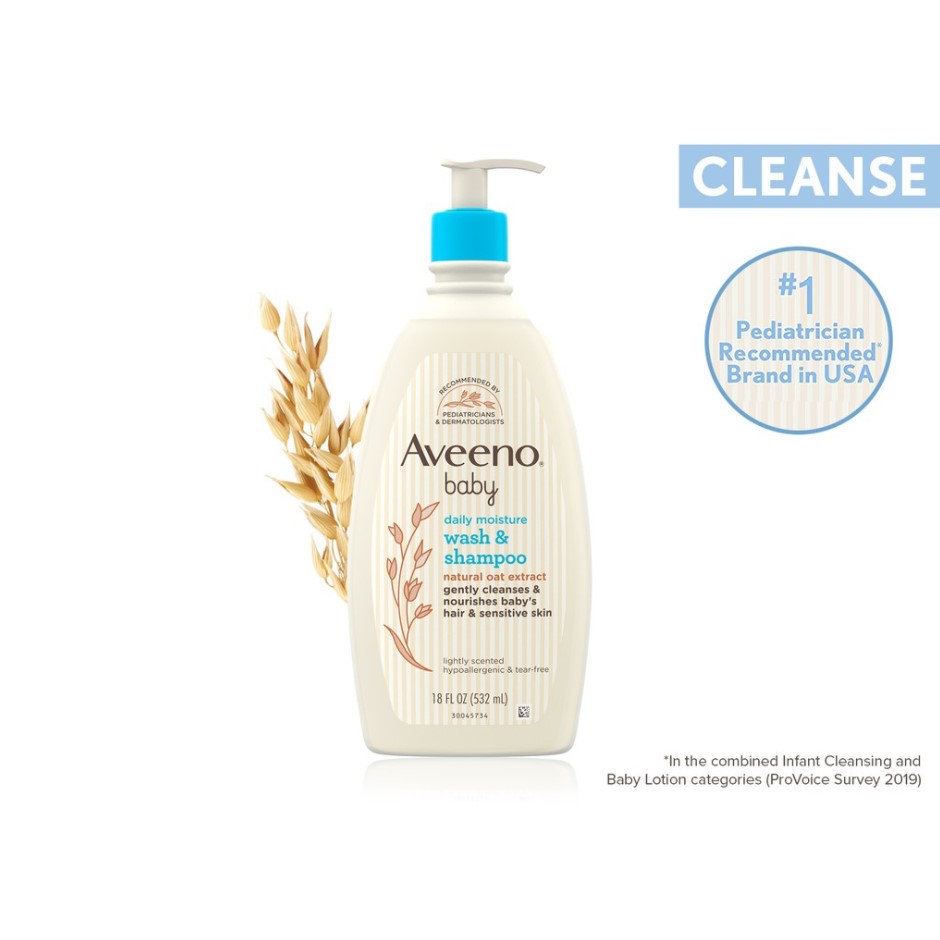 We all agree that a baby soap and a separate baby shampoo is just too much drama right after giving birth. Trust us, a two-in-one soap is all you really need! Tear, soap and paraben-free, Aveeno's Baby Wash and Shampoo (available on Shopee Supermarket) is one of the best baby skincare products that cleanses both the baby's body and hair. It's gentle enough for newborns and infants, leaving a mild, clean fragrance — thanks to the natural oat extract.
Does your baby have eczema-prone skin? Then get the Aveeno Baby Daily Soothing Moisturising Cream (available on Shopee Supermarket) to soothe their irritated and sensitive skin.
2. Mustela Gentle Cleansing Gel For Hair and Body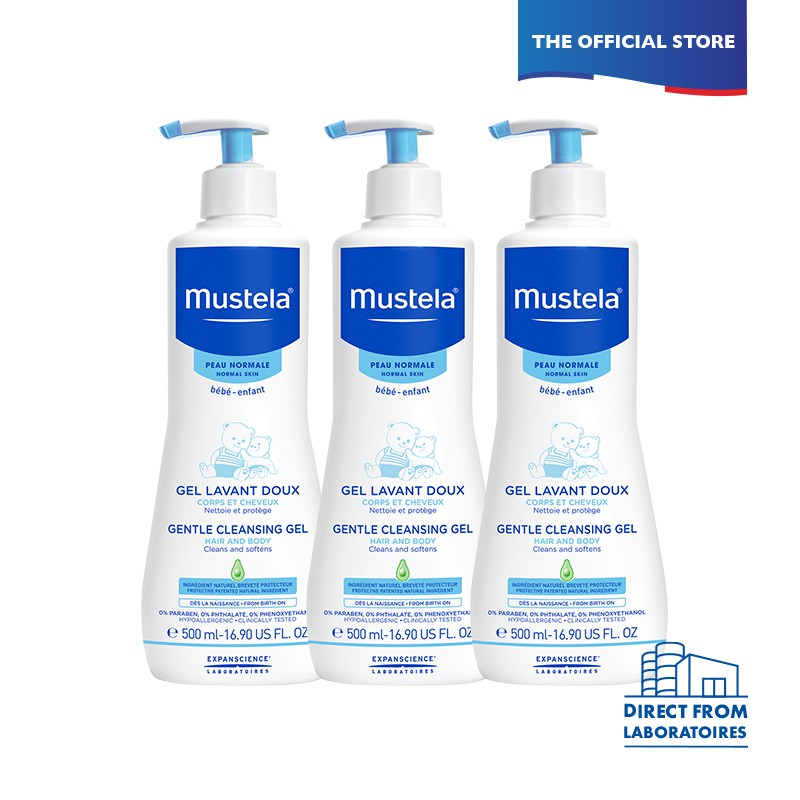 Mustela is a 60-year old French brand and with a long history as skincare experts for both mothers and babies. We have a lot of faith in good ol' French dermo brands, think La Roche Posay and Vichy, so we had good reason to believe Mustela won't disappoint.
Its baby skincare products for newborn babies till they turn two, have proven to live up to the hype. Mustela's Gentle Cleansing Gel (available on Mustela Official Store) is hypoallergenic and does not contain any paraben, phthalate, or phenoxyethanol and is one of the best baby wash for newborns in Singapore!
Mustela has also got onto the bandwagon of micellar water – creating one just for babies and older children! Do away with baby wipes and use Mustela's No-Rinse Cleansing Water (available on Mustela Official Store) instead! It's perfect for a quick clean around the face and diaper area whenever needed.
3. Cetaphil Baby Gentle Wash and Shampoo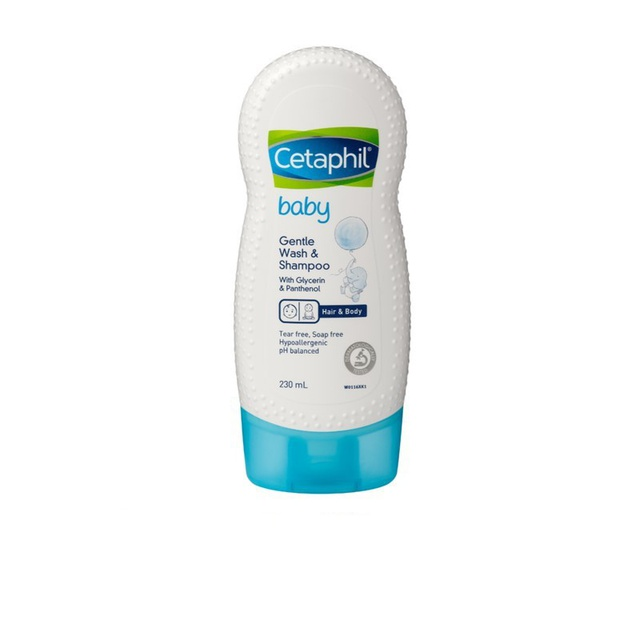 Cetaphil is a brand synonymous with providing the best care for sensitive skin. A baby's skin is all sorts of sensitive in their early days, months, and years. So you can't really go wrong with this dermatologist-tested line.
The two-in-one Cetaphil Baby Gentle Wash and Shampoo (available on cetaphil.sg) is one of the best baby wash for newborns in Singapore. It's enriched with glycerin and panthenol to nourish the skin and hair without drying it out. It's also tear-free and hypoallergenic and leaves a soft fragrance.
4. Johnson's Baby Bath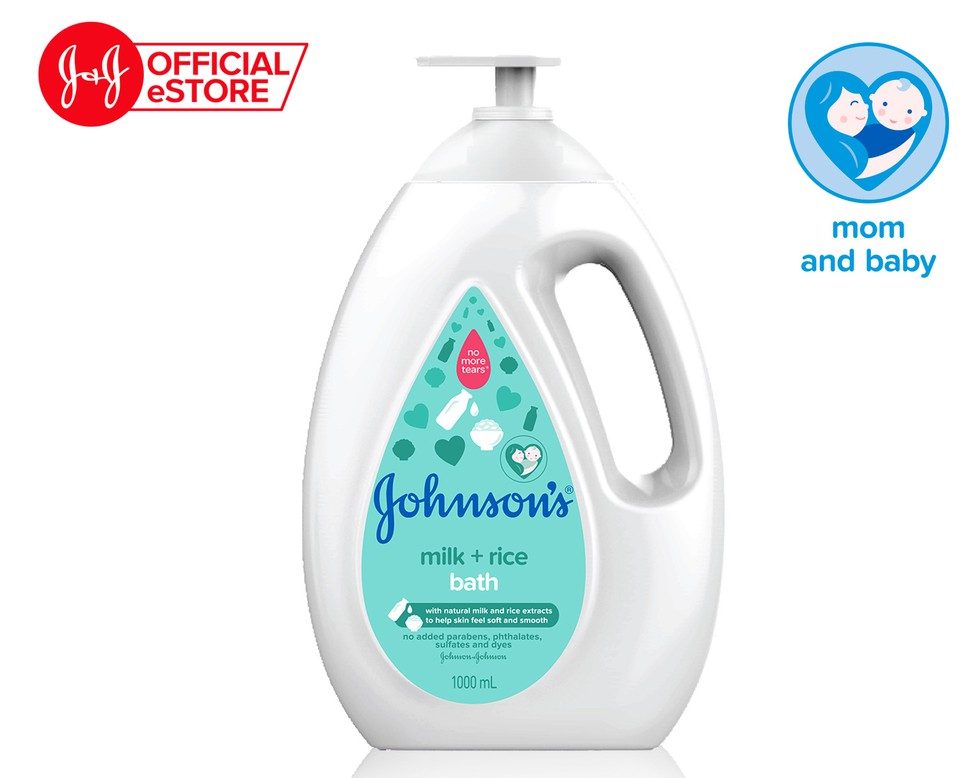 Still overwhelmed with the choices? We'd recommend going with the long-trusted Johnson's Baby Bath (available on Johnson & Johnson Official Store). It comes in four variations but the Milk and Rice bath have got us the most excited. It's formulated with a nourishing blend of milk proteins and rice nutrients. Rice milk has long been used by women for its brightening and moisturising properties and it's proven to be a popular formulation in Johnson & Johnson baby washes — one of the best baby wash for newborns in Singapore. These 1000ml bottles are also one of the best value-for-money baby skincare products to invest in!
Best baby skincare products: Sunscreens
5. Goongbe Baby Waterful Sun Lotion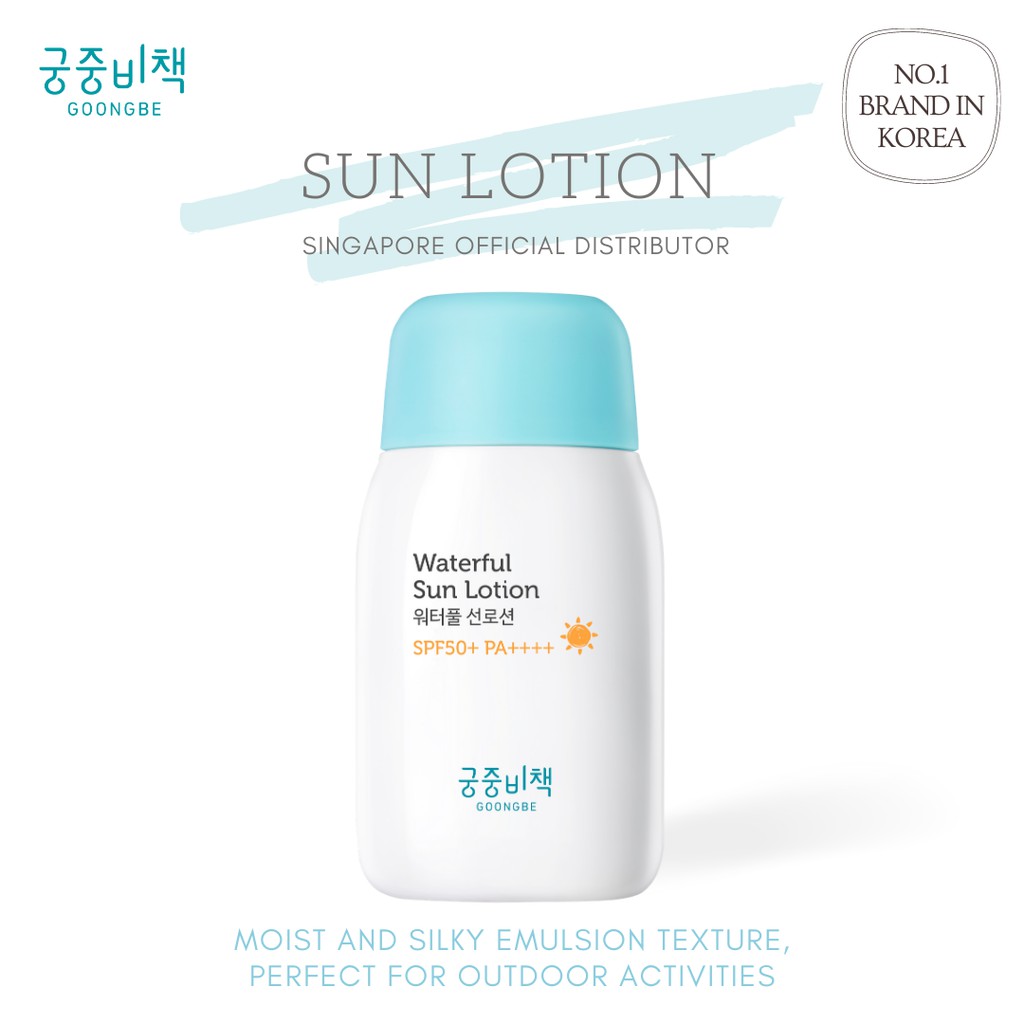 If you're a fan of Korean skincare products, then you'll love the baby skincare products from Goongbe. Their sunscreen for babies, the Goongbe Baby Waterful Sun Lotion SPF 50+ PA++++ (available on goongbe.sg) contains naturally derived ingredients to provide plenty of hydration. Plus, it also includes Centella Asiatica or tiger herb that protects the skin from strong sunlight. Lather it onto your bub and remember to re-apply it every few hours when outdoors. You'll also love that your whole family can use this too!
6. Babyganics SPF 30 Sunscreen Lotion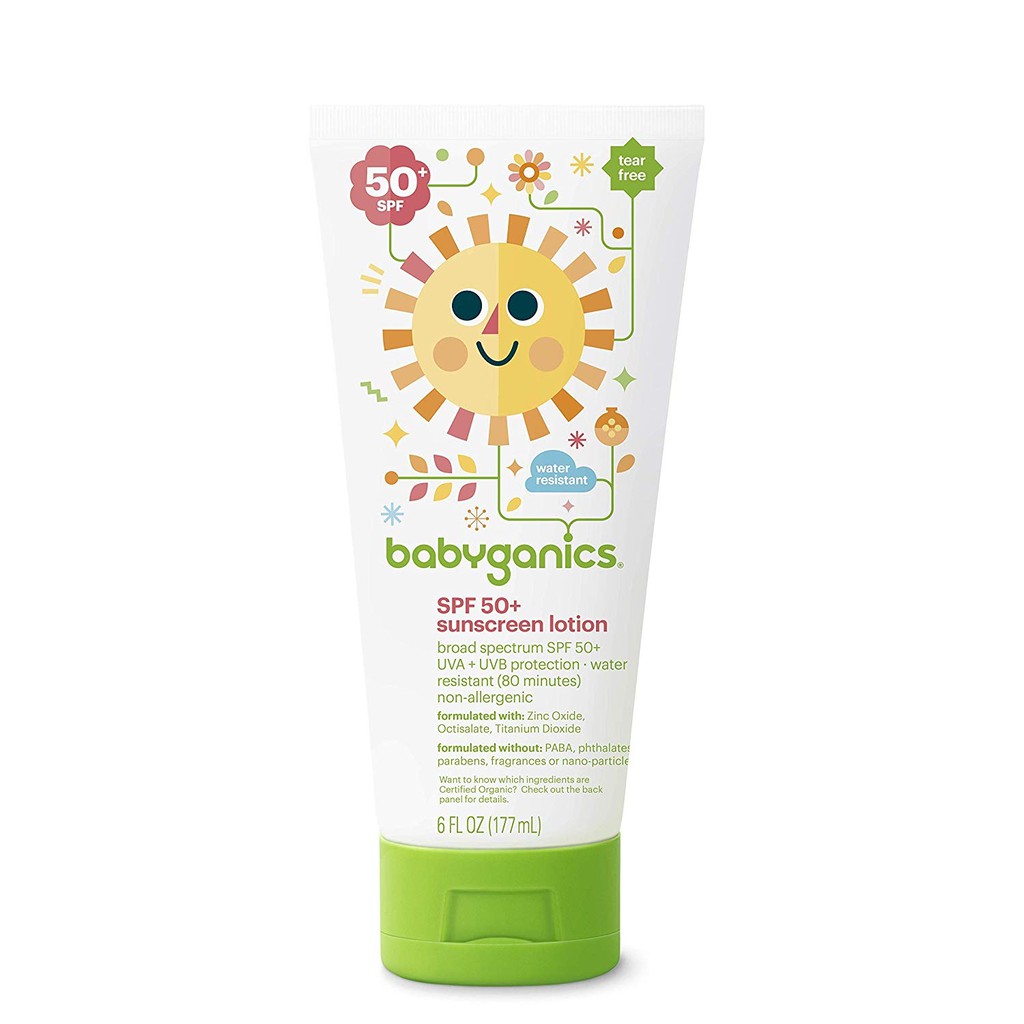 Are you sending your little one for baby swimming lessons? Then, Babyganics' SPF 50 Sunscreen (available on Pupsik SG Official Store) is one of the best sunscreens for babies to invest in! It glides on smooth, is allergy-free, and most importantly, is water-resistant! This is also a physical sunscreen blocker and is formulated with zinc oxide and titanium dioxide that actually blocks your baby's work-in-progress skin from the harmful sun rays.
BabyGanics' Alcohol-Free Foaming Hand Sanitiser (available on Pupsik SG Official Store) is another popular product in its line. This is a must-bring for outdoor adventure dates with your little ones!
7. California Baby Super Sensitive Broad Spectrum SPF 30+ Sunscreen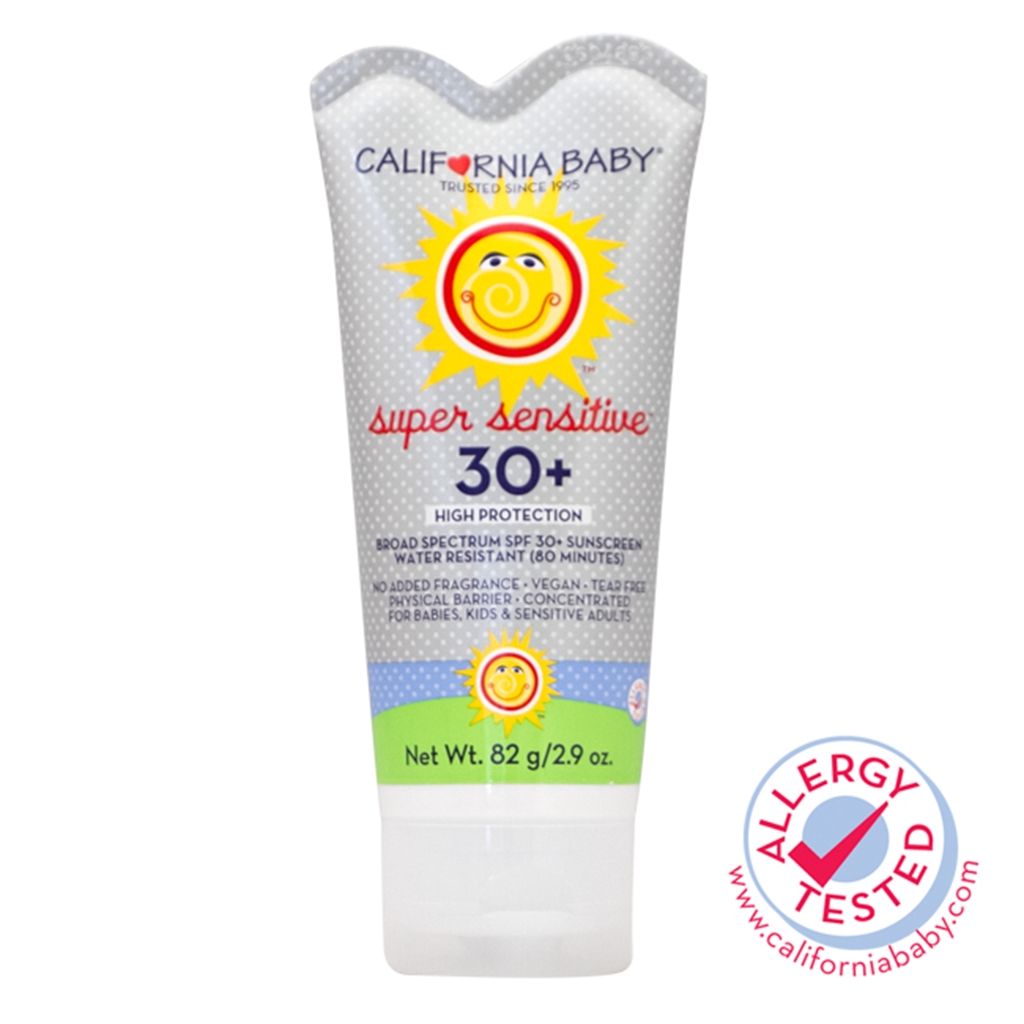 California Baby's line of plant-based products does not include the usual chemical nasties and is paraben and fragrance-free. The California Baby Super Sensitive Broad Spectrum SPF 30+ Sunscreen (available on First Few Years Official Store) is recommended for newborns and even adults with extremely sensitive skin. The brand's eco-friendly product is also formulated to not harm marine life when washed into the sea. It's also non-staining and water-resistant. Try this award-winning sunscreen for babies to see what the fuss is about yourself!
Best baby skincare products: Baby lotions and oils
8. Alobaby Milky Lotion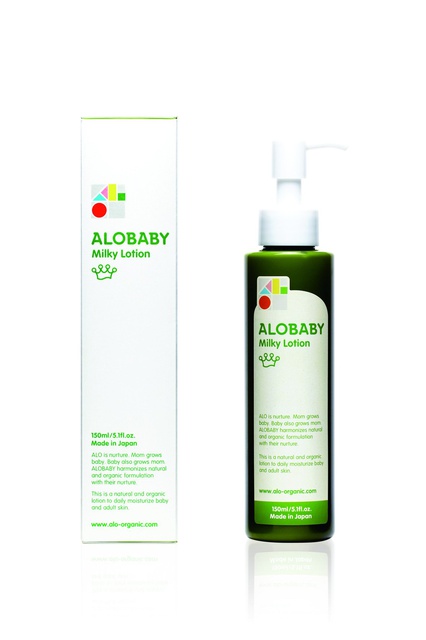 Made in Japan, Alobaby is an organic baby skincare brand with its products boasting a 99% naturally derived ingredients list. Products in this line are also additive, colouring and perfume-free.
The Alobaby Milky Lotion (available on Alobaby Official Store) is one of the best baby skincare products in the line. It promises to be the ultimate pampering treat for your little one and is especially perfect for babies with sensitive skin. Infused with Jojoba Oil and Shea Butter, rub a handful of this milky goodness all over your little one after bathtime. We promise they'll fall asleep a lot quicker!
9. Pigeon Newborn Pure Calming Oil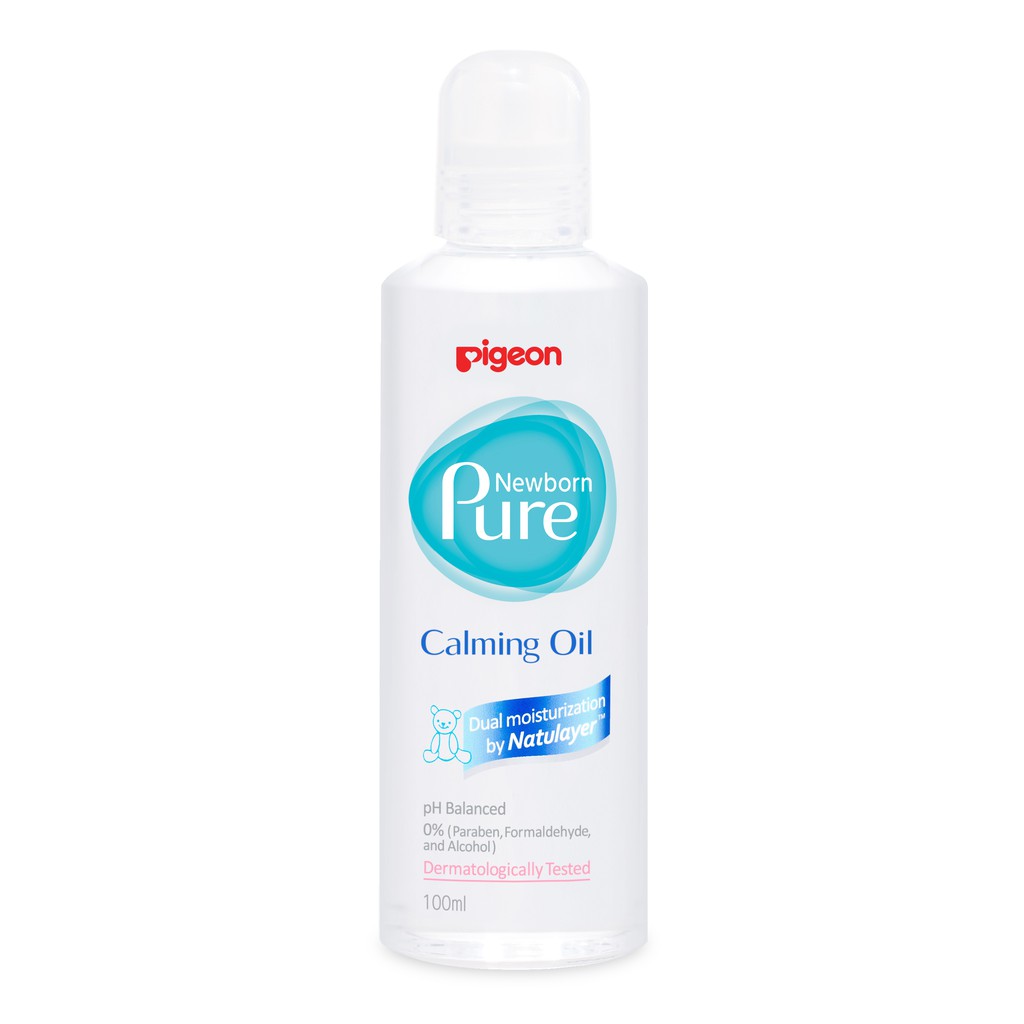 Did you know that baby massages help to reduce your newborn's fussiness and wailing? A therapeutic massage is really all they need to be relaxed and coaxed into a deep lull! Body massages for infants have also been proven to alleviate constipation and even colic — go figure!
Pigeon's Newborn Pure Calming Oil (available on Pigeon Official Store) provides a protective layer around your newborn's delicate skin, locking in moisture while providing a calming sensory experience. Pigeon is also one of the first premium skincare brands to have launched a line solely for newborns so you can be assured that your babies are getting some of the most dedicated and best baby skincare products out there. Start a bedtime routine with the Pure Calming Oil and we have a hunch, you'll enjoy connecting with your newborn through this unexpected yet simple routine!
10.  Babience BOSCP Baby Lotion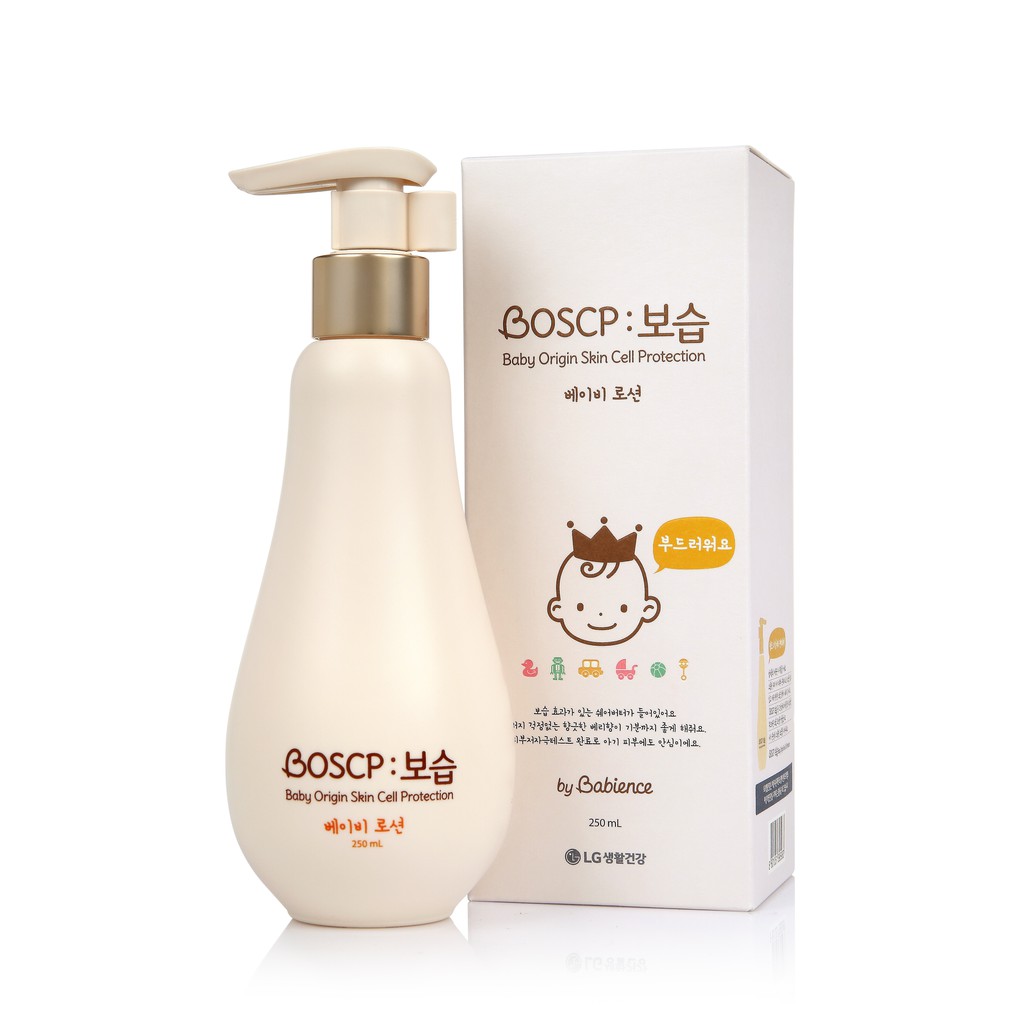 Babience boasts a whole range of baby-friendly products including baby laundry detergent and some of the best baby skincare products. Their prettily-packaged Babience BOSCP Baby Lotions (available on KLOFT Official Store) contain luxurious shea butter for moisturising and soothing effects. They have also taken steps to exclude allergens and harmful ingredients like artificial colours and parabens that may harm your baby's delicate skin.
11. Gaia Baby Massage Oil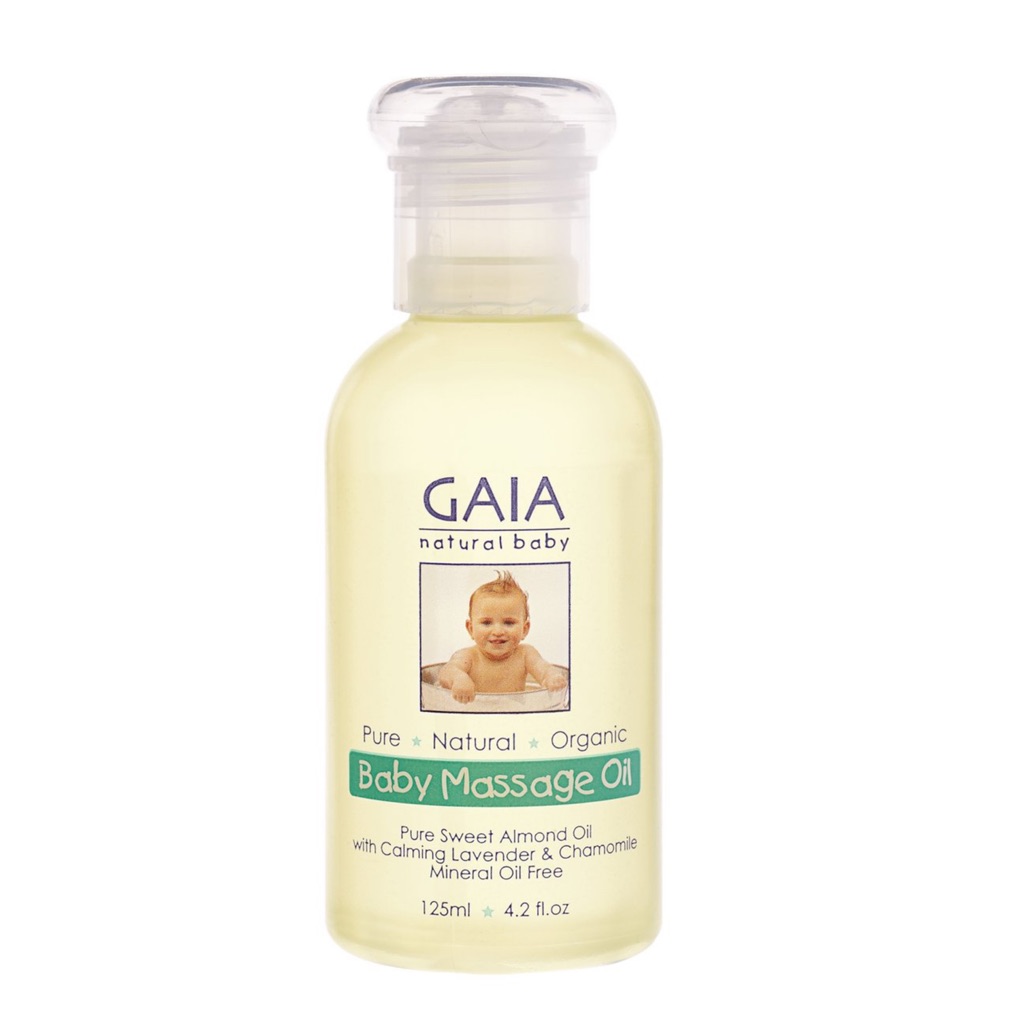 We're sure you've already heard about Gaia — the Australian made natural baby skincare brand that's also friendly on your pockets. If your baby has difficulty falling asleep, then you might want to try the Gaia Baby Massage Oil (available on GAIA Natural Skincare Singapore Official Store). It's a small but potent bottle filled with cold-pressed pure almond oil that nourishes and soothes your baby. Give your baby a light massage with this oil and pay special attention to rubbing it onto their ankles and feet for a (fingers crossed) more restful sleep.
Best baby skincare products: Baby Ointments and Moisturisers
12. Aquaphor Baby Healing Ointment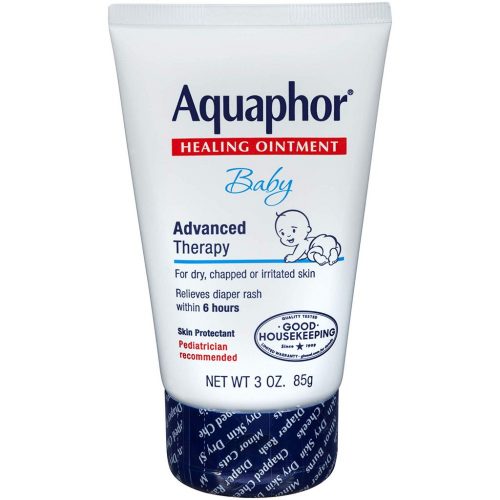 Aquaphor Healing Ointment (available on krystaline) is pretty much the small-human equivalent to all-in-one miracle repair creams like Lucas' Papaw Ointment. Is your little one suffering from diaper rash, chapped skin or even minor scrapes? Rub a bit of this miracle cream on and see it disappear in six hours — that's what it claims to do!
This ointment comes paediatrician recommended and includes panthenol and glycerin — key ingredients in protecting a baby's delicate skin. Being a multi-purpose product, we think is one of the best baby skincare products for times when you're travelling with kids and can't afford to pack a product for every single ailment!
13.California Baby Calendula Cream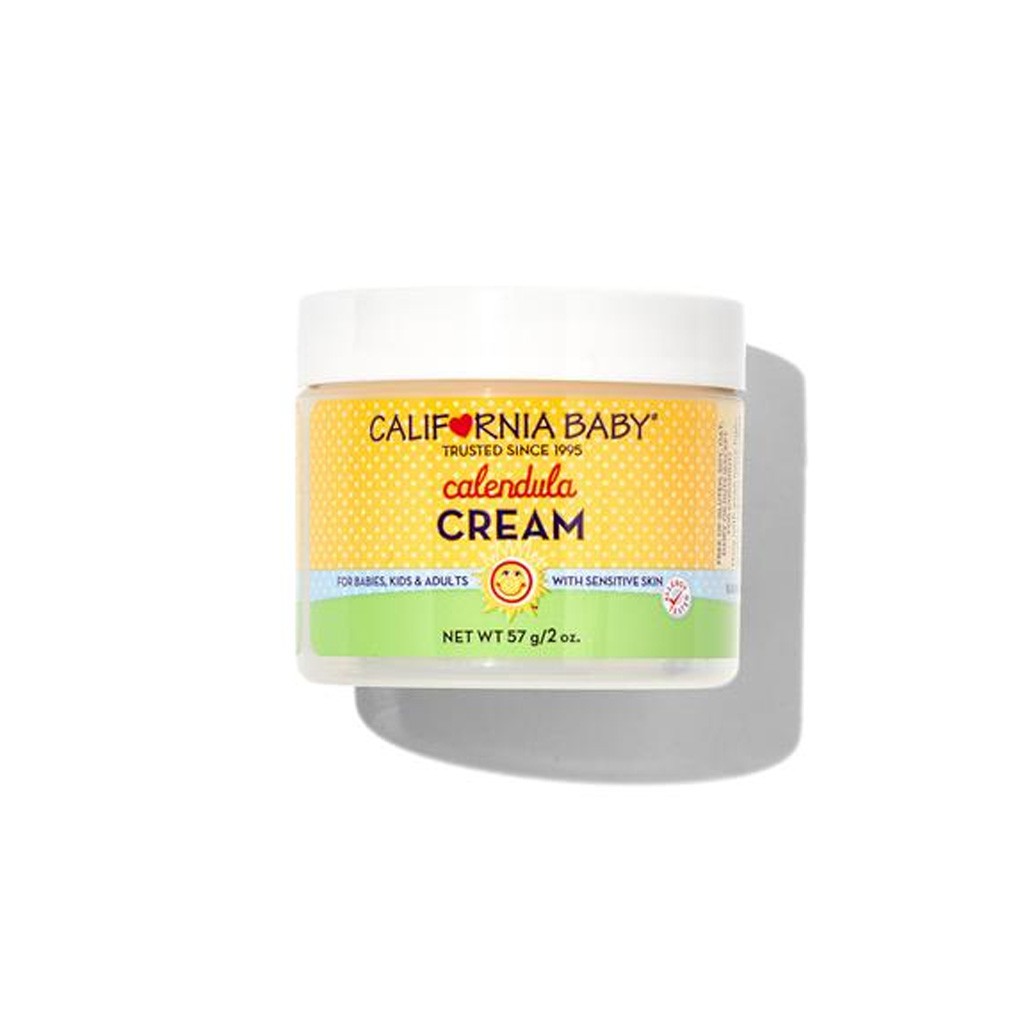 Moisturising is just as important for newborns! With thinner skin, they may lose water faster, causing their skin to dry out in the process. If using a moisturiser is not part of your baby's after-bath care routine, California Baby Calendula Creams (available on Motherswork Official Store) are one of the best baby skincare products to start with. The best thing is, you can even use this moisturiser tub for your puberty-ridden teens or even for yourselves — talk about family skincare goals!
The Calendula plant is known for its anti-inflammatory and anti-bacterial properties and is also especially beneficial for dry, sensitive and eczema-prone baby skin. If you already have this product, we hear the California Baby Calendula Shampoo and Body Wash (available on Motherswork Official Store) is another one to give a try!
14. Sebamed Baby Protective Facial Cream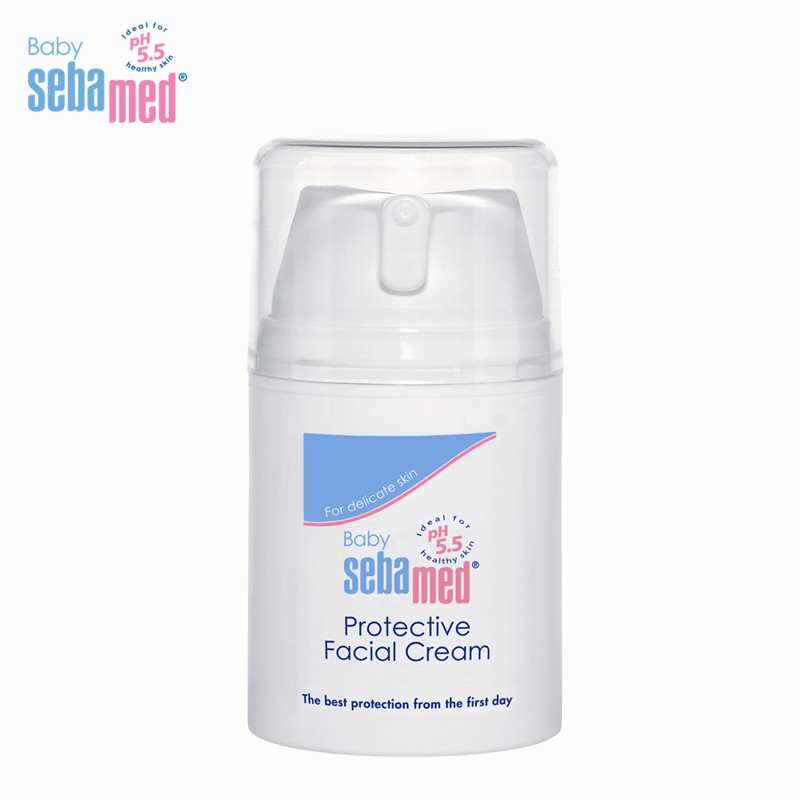 The Baby Sebamed Protective Facial Cream (available on Sebamed Singapore Official Store) has a pH value of 5.5 and is clinically proven to develop the acid mantle of a baby's skin which has a pH of about 6.5. The acid mantle is made up of natural oils and amino acids and is an important protective film to maintain around the skin. This moisturising cream is also non-occlusive and provides hydration to retain a baby's naturally smooth, supple skin.
15. Aveeno Baby Daily Moisture Lotion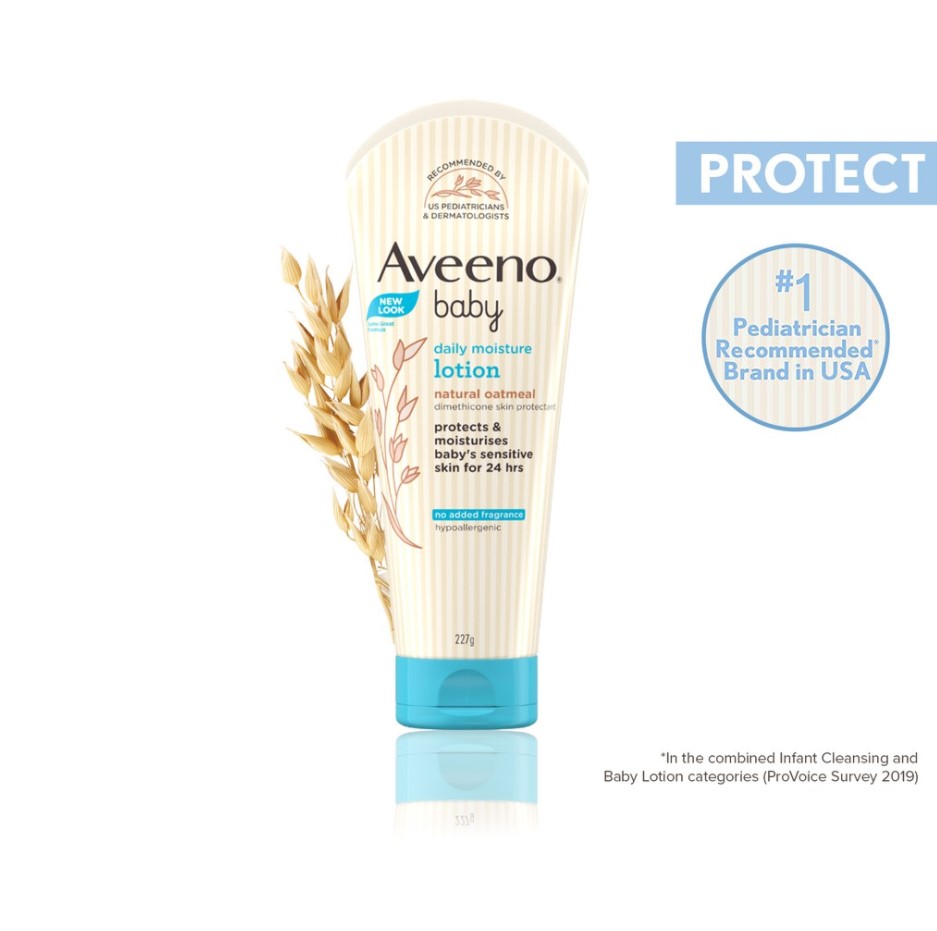 We can't get enough of Aveeno's baby skincare line. The Aveeno Baby Daily Moisture Lotion (available on Shopee Supermarket) is formulated with natural colloidal oatmeal that especially nourishes dry, chafed skin. Colloidal oatmeal has been used for a long time with many relying on it to create a protective film over the skin. This baby moisturiser is also hypoallergenic, fragrance-free, and paraben-free and is one of the best baby skincare products to use on sensitive baby skin.
Arm yourselves with the best baby skincare products, plus other baby essentials
Aside from baby skincare products, don't forget to get baby bath accessories like bathing tubs and seats for a comfortable and cry-free bathing time! Tick off other essentials on this ultimate newborn checklist in Singapore — you'll thank us for sure. If you're looking to revamp or design a nursery, these beautiful baby room designs will surely be inspirational!
Our Parenting Festival is happening from 21-23 May as well, so don't miss out on grabbing some amazing deals right here with us!
This article was updated on 19 May 2021. Additional research done by Jamantha Lim. 
---
New to Shopee? Get $7 off (min. spend $15) with code*: SKIN7CARE7
* TNC Applies. Valid for new users from 23 to 30 May 2021 only.