We get it: work is stressful. Between juggling office politics and meeting deadlines, you also have to maintain your social circle and get enough sleep. Sometimes you just need a spot to unwind and chill after a long work day.
If you're out of ideas, why not head over to a Holland Village bar? Packed with popular bars like the decade-old Wala Wala, Holland Village bars are guaranteed to deliver with remarkable food and drinks! Here are 8 of our favourite spots!
Best Holland Village Bars To Relax
1. The Pit Restaurant And Bar
The Pit is a restrobar that prides itself as the first Holland Village bar to serve Archipelago beer (alongside bars like Timbre and The Tuckshop)! With its casually designed interior and impeccable service, it's no wonder that
The Pit continually keeps fans coming back for more especially with the fan favourite Buffalo Wings. From 1-for-1 draft beers on Tuesdays to $7++ wine glasses on Saturdays, The Pit has you covered when it comes to quality drinks at affordable prices!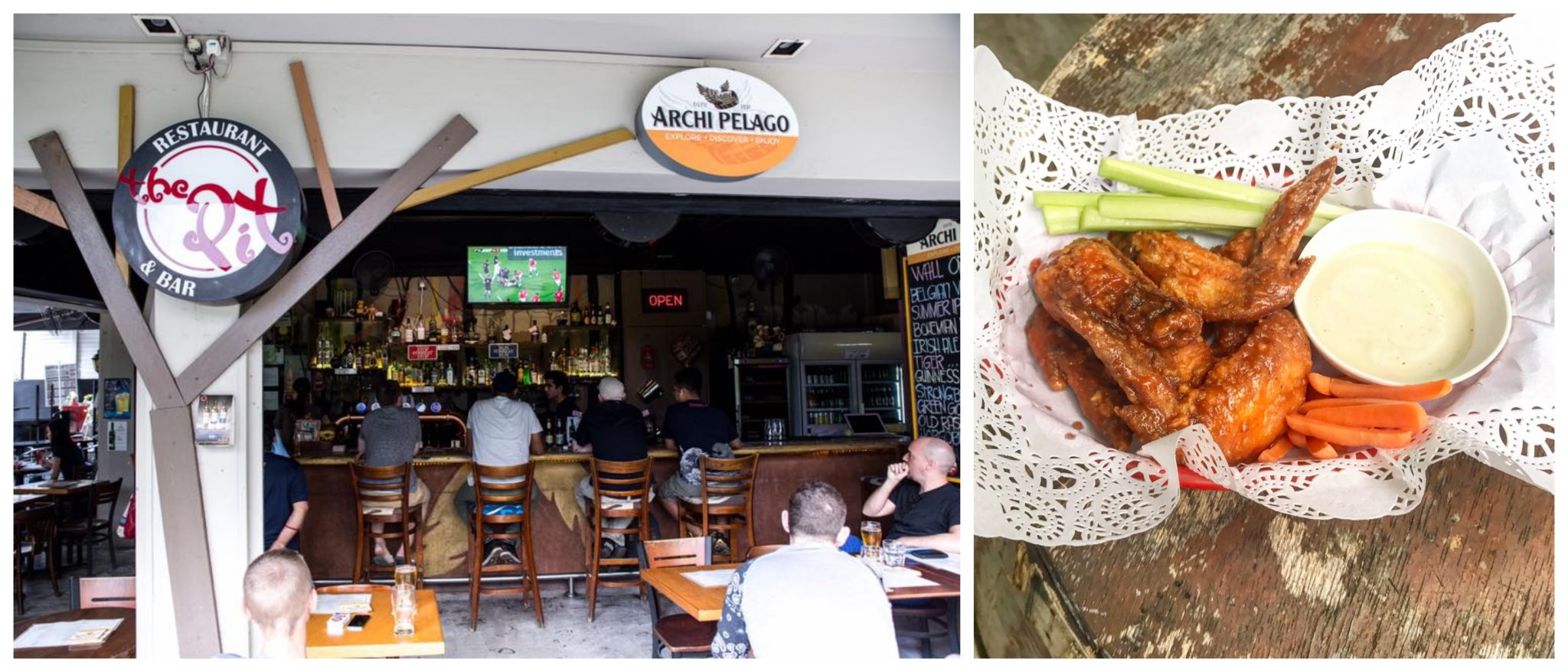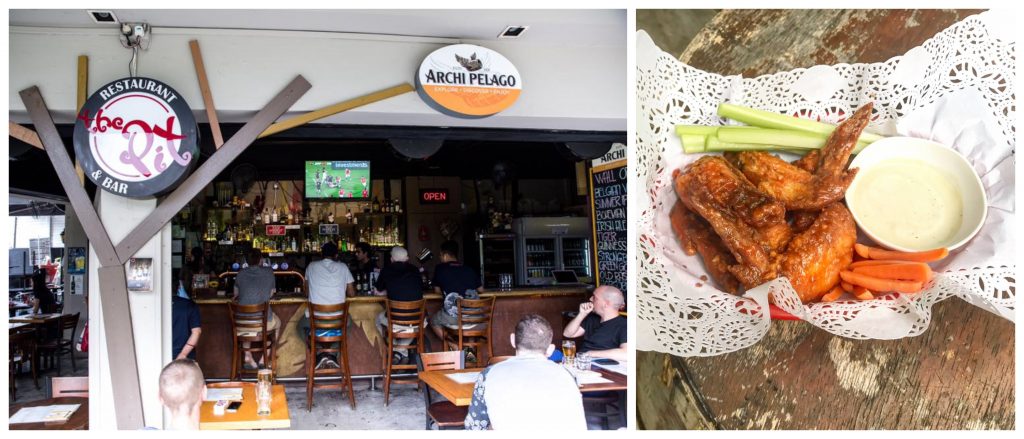 Address: 21 Lorong Liput, S(277733)
Operating Hours:
Monday – Friday: 3pm – 1am
Saturday – Sunday: 1pm – 1am
2. PARK at Holland Village
PARK is renowned for their mouthwatering cafe fare and eco-friendly design! Chic cafe by day, the container Holland Village bar transforms into a relaxing gathering spot for friends at night, with dishes like the PARK Blue Cheese Burger and Truffled Mac & Cheese stealing the limelight.
Drinks wise, PARK has daily promotions so the chill evenings don't break your bank account. We'd recommend checking out the weekend wine deals as you're offered half price for your second bottle!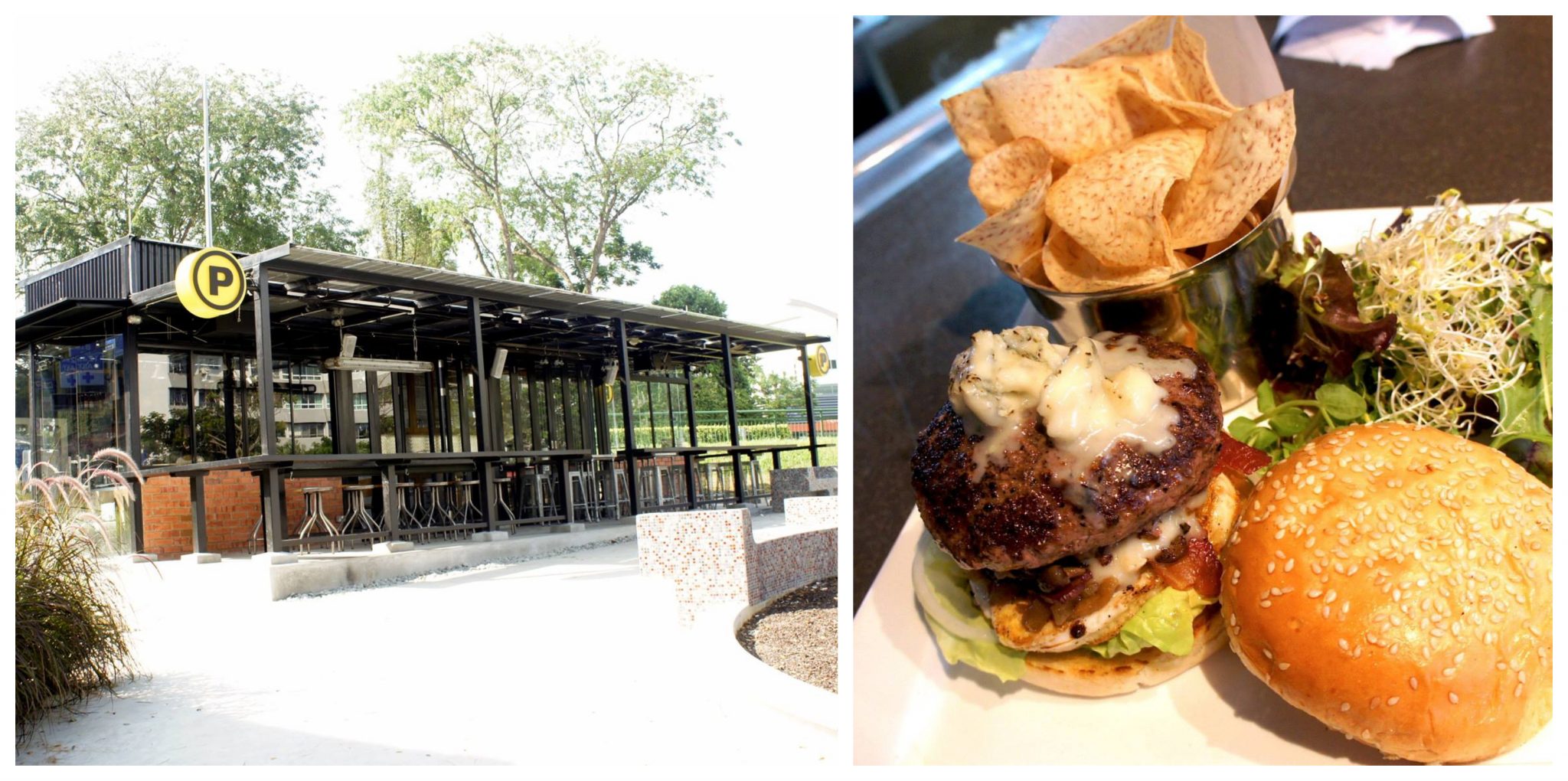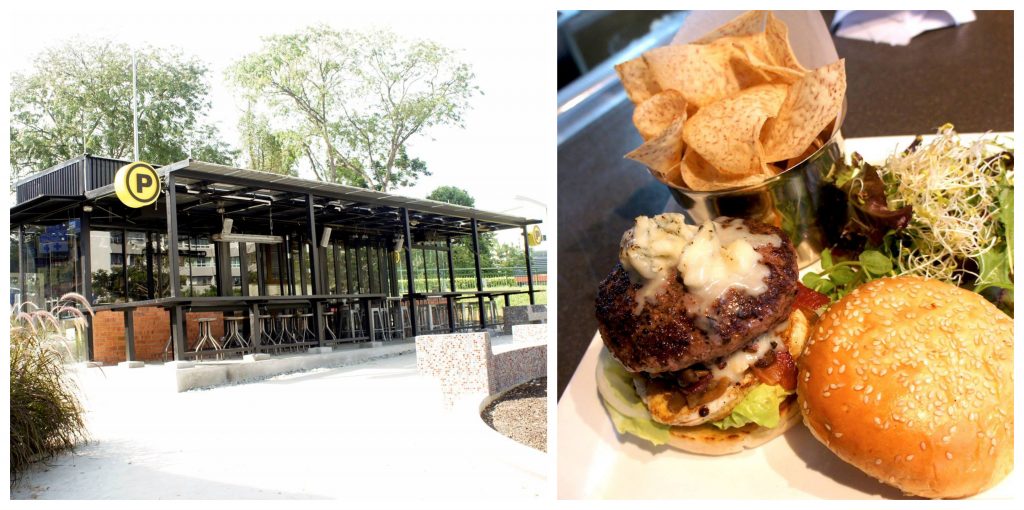 Address: 281 Holland Avenue, S(278621)
Operating Hours:
Sunday, Tuesday – Thursday: 11am – 12am
Friday – Saturday: 11am – 2am
3. 72o Bistro And The Toys
One of the more unique Holland Village bars on this list, 72o Bistro And The Toys is a must-visit bar for any Marvel fan. Nothing quite matches up to a night of drinking hero-themed shots, indulging in Western and North Indian dishes and admiring the extensive collection of Marvel memorabilia. Once you're done munching on 72o's signature Butter Chicken with Garlic Cheese Naan and Vodka Battered Calamari, pose with a life-sized Iron Man and ogle at the various glass cabinet showcases.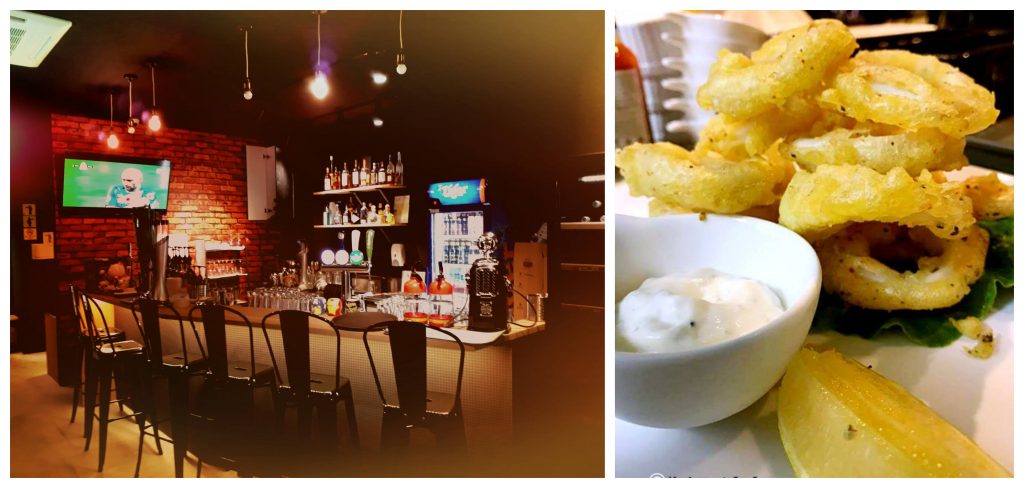 Address: 19 Lorong Liput, S(277732)
Operating Hours:
Monday – Thursday: 3pm – 11pm
Friday – Saturday: 3pm – 1am
Sunday: 12pm – 11pm
4. Wala Wala
Wala Wala is a mainstay in Singapore's nightlife and is an iconic Holland Village bar that has been around for more than two decades. Featuring regular acts from local talents like Jack & Rai, you'll definitely enjoy a chill evening at Wala Wala!
Feeling hungry? Check out Wala Wala's pizzas and side offerings! From Smoked Duck Pizza to their famous Chicken Wings, you'll be spoilt for choice when it comes to choosing mains. Their drinks menu are also packed with variety, ranging from bottled beer and rum to tequila and gin.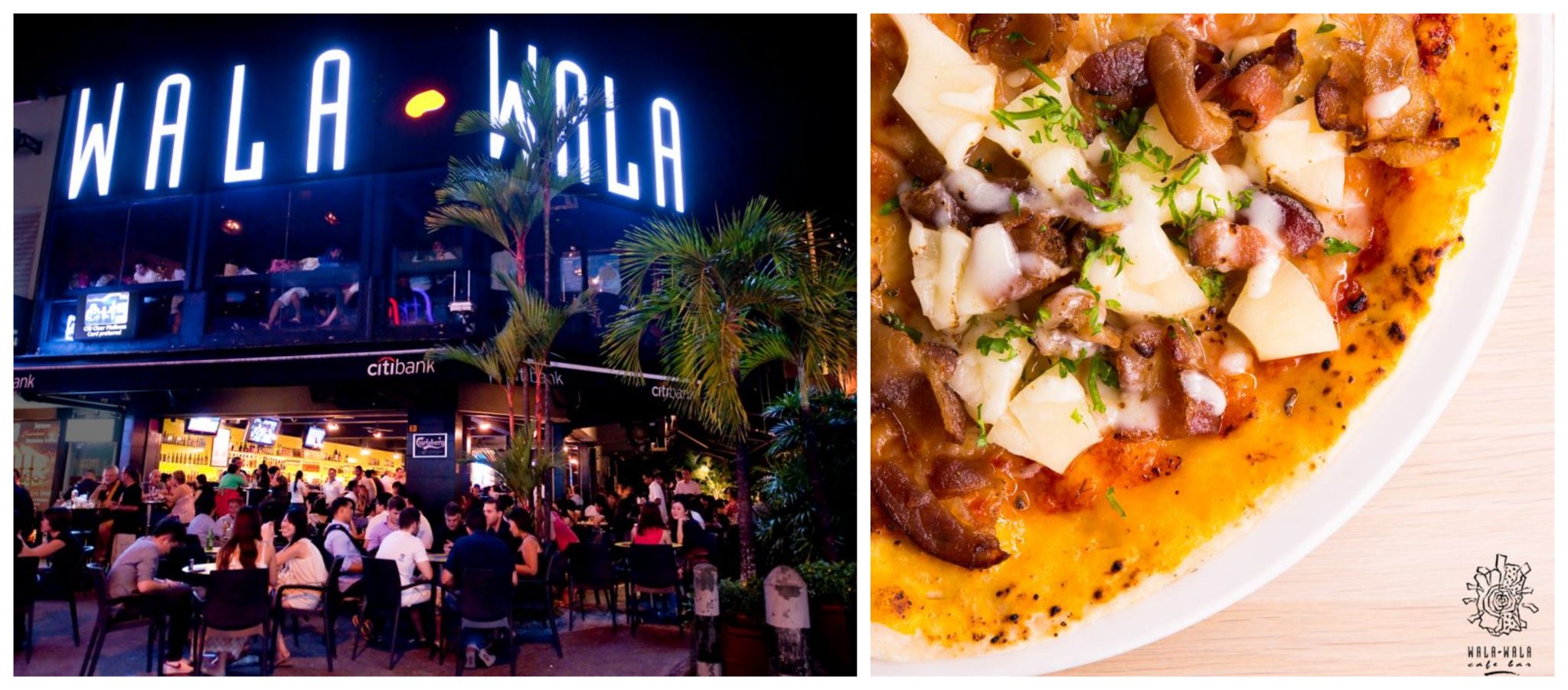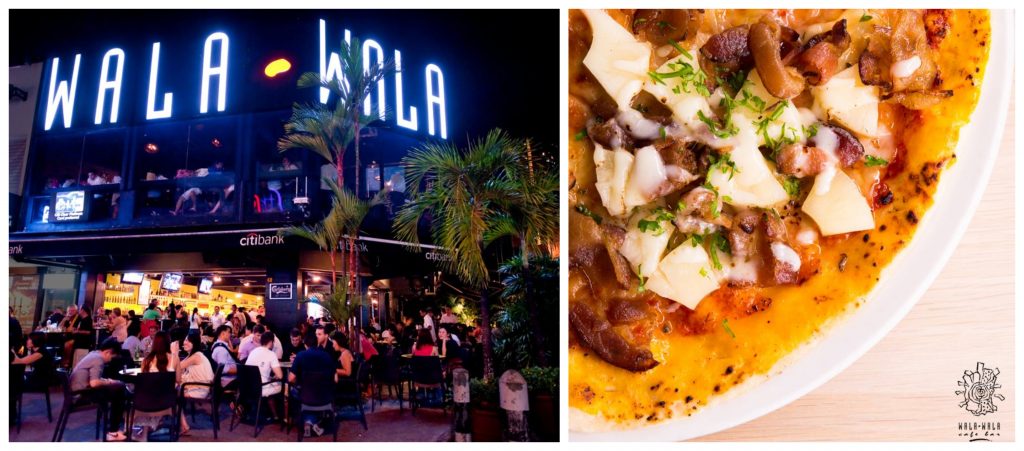 Address: 31 Lorong Mambong, S(277689)
Operating Hours:
Monday – Thursday: 4pm – 1am
Friday: 4pm – 2am
Saturday: 3pm – 2am
Sunday: 3pm – 1am
5. Harry's
With a recent focus towards improving their food menu, Harry's is often packed with football and sports fans supporting their teams while enjoying the company. Definitely consider coming here during game nights if you enjoy mingling with fellow fans and cheering when your favourite player scores.
We'd recommend starting off small with Harry's Signature wings, going big with Harry's Jazz Burger and then washing it down with some ice-cold beer. Harry's also attempts to keep things fresh by introducing seasonal guest beers that rotate every once in a while.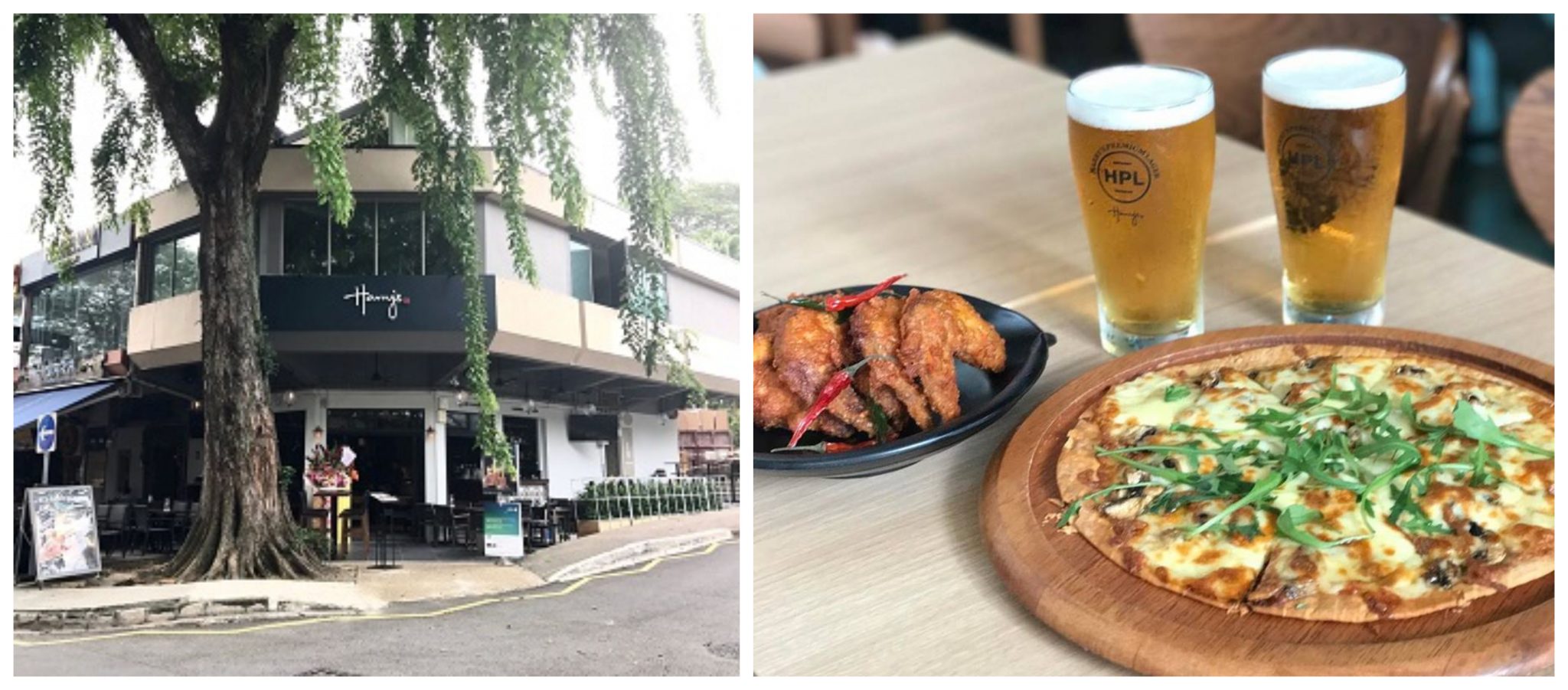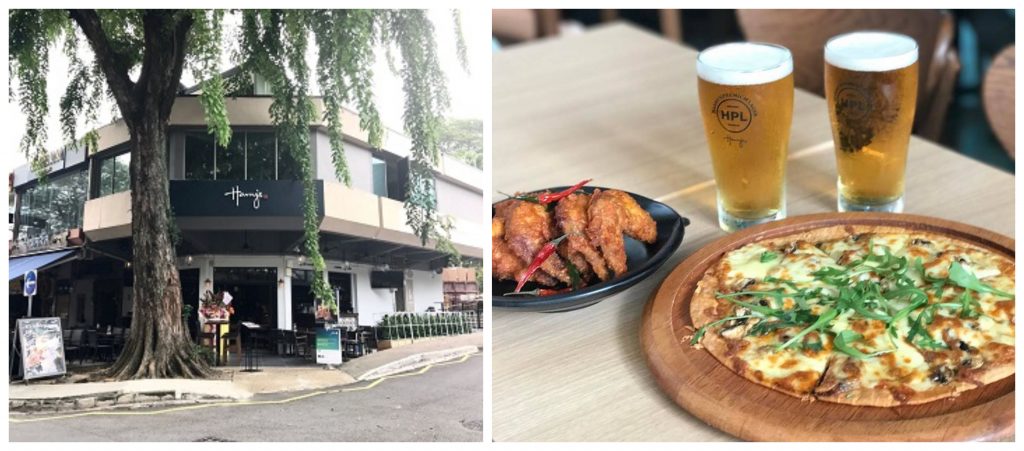 Address: 22 Lorong Mambong, S(277681)
Operating Hours: Daily, 12pm – 1am
6. Rumours Bar And Grill
Oozing with Balinese vibes, many Holland Village bar-goers prefer Rumours Bar And Grill for its terrific live music, generous sharing platters and homebrewed Rumours beer. Food wise, we'd definitely recommend the Oriental Pork Ribs platter. Serving up 1kg of meaty goodness, the ribs are seasoned with tantalising BBQ sauce with meat that falls off the bone.
Also, those who're up for it, sign up for the Liquid Buffet! For $35++, you're entitled to two hours of free-flow drinks, ranging from beer and cocktails to wines and spirits.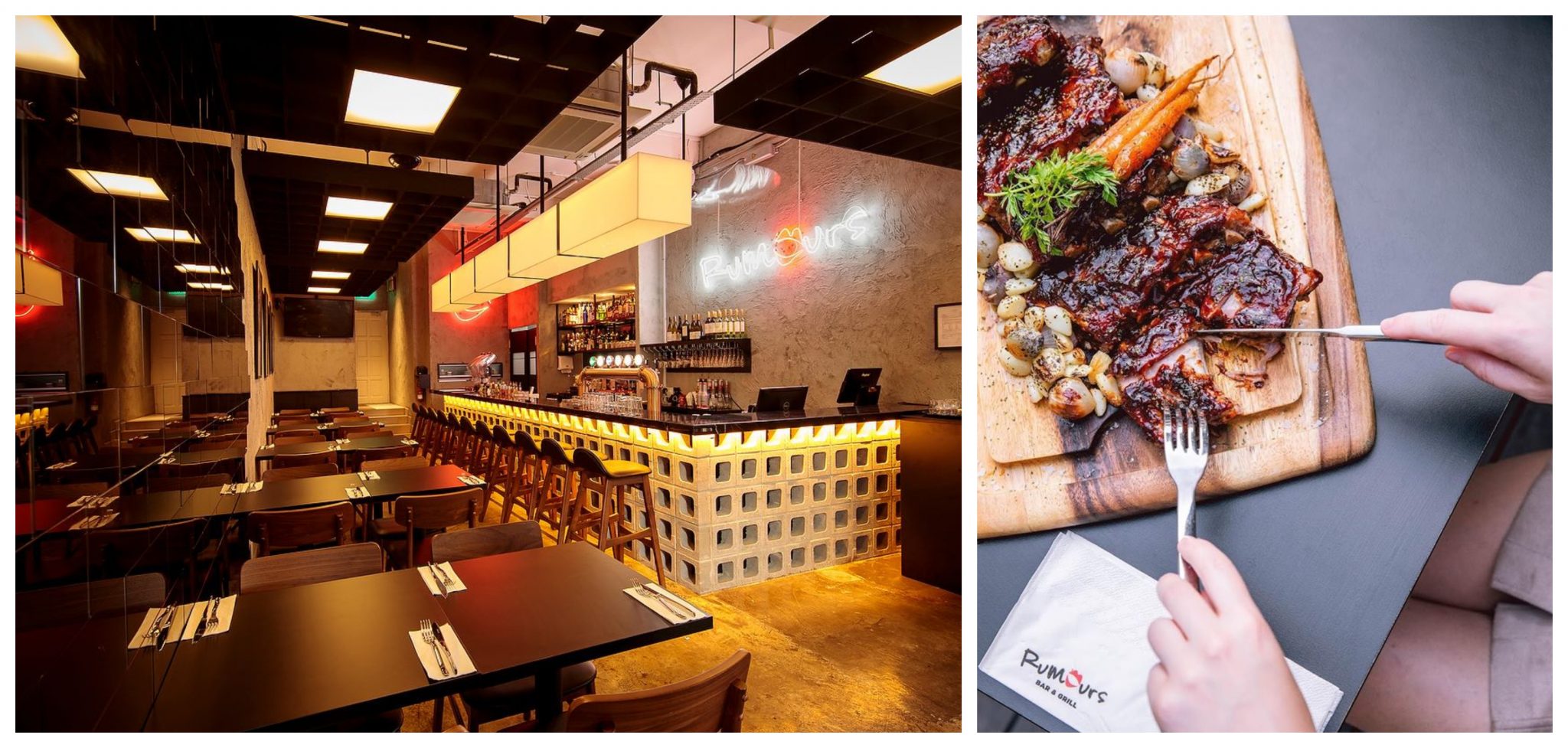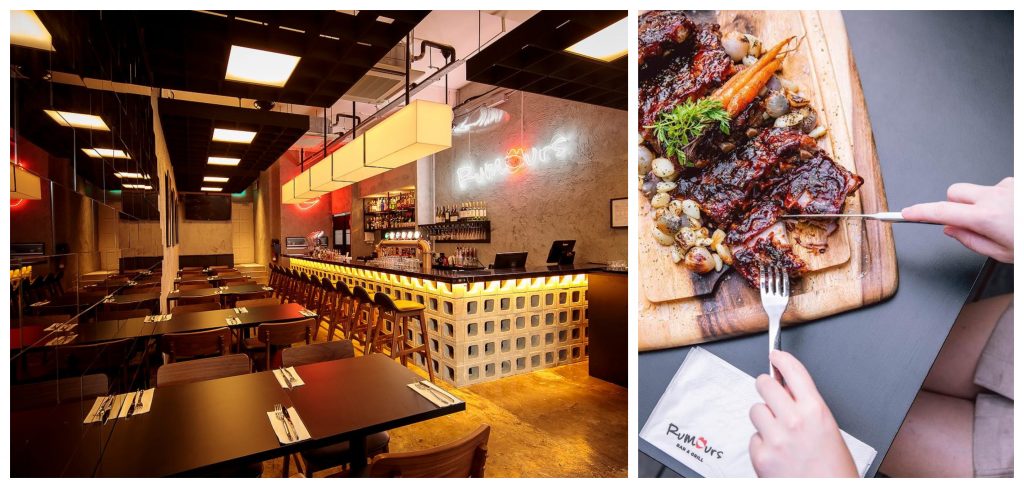 Address: 24 Lorong Mambong, S(277683)
Operating Hours: Daily, 5pm – 1am
7. Starker Signature
Looking for a European Holland Village bar? Why not check out Starker Signature! Starker believes in delivering authentic German brews for all by adhering to tradition and storing their beer in wooden barrels to preserve its freshness. With fruity brews (Lychee, Aromatic, Ale) and stronger brews (Lager, Dunkel, Charcoal), you'll definitely find one to suit your taste buds!
Ice-cold brews aside, Starker also serves lip-smacking mains! If you could only choose one, try the Traditional Pork Knuckle. Prepared with secret Starker spice, the pork knuckle is perfectly roasted and served with creamy mash and Starker beer sauce.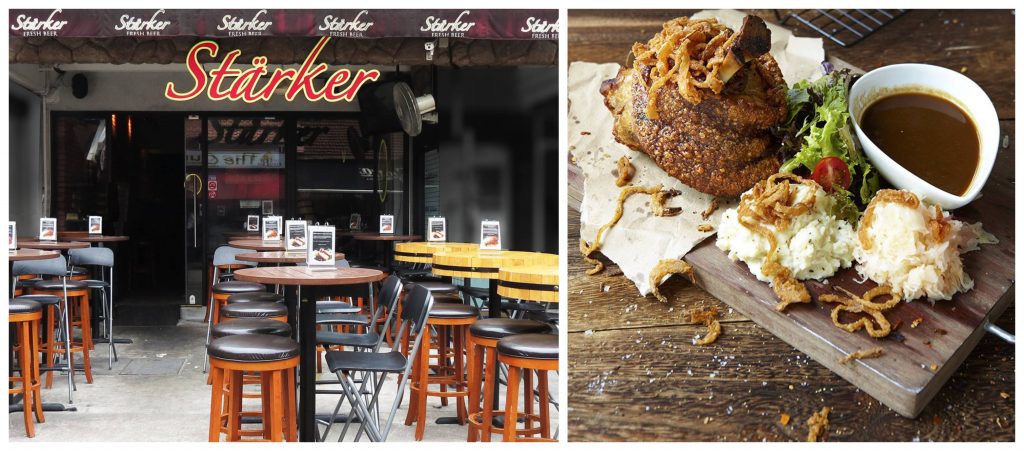 Address: 25 Lorong Mambong, S(277684)
Operating Hours:
Thursday – Friday: 3pm – 2am
Saturday – Wednesday: 3pm – 1am
8. Lucky Bar
Done with chowing down on authentic Cantonese cuisine at the Full Of Luck Restaurant? Head on upstairs to the Lucky Bar for a drink or two! With bright neon signs and punny bar bites (one ton nachos featuring nachos and wonton skins…), you'll be hard-pressed to find another rooftop Holland Village bar with such a cosy atmosphere and creative menu.
If you're a fan of cocktails, you might want to check out Golden Swallow! Combining elements of Shiso Umeshu with Elderflower and white wine, the smooth concoction impresses fans with its vibrant golden colouring and floral aftertaste.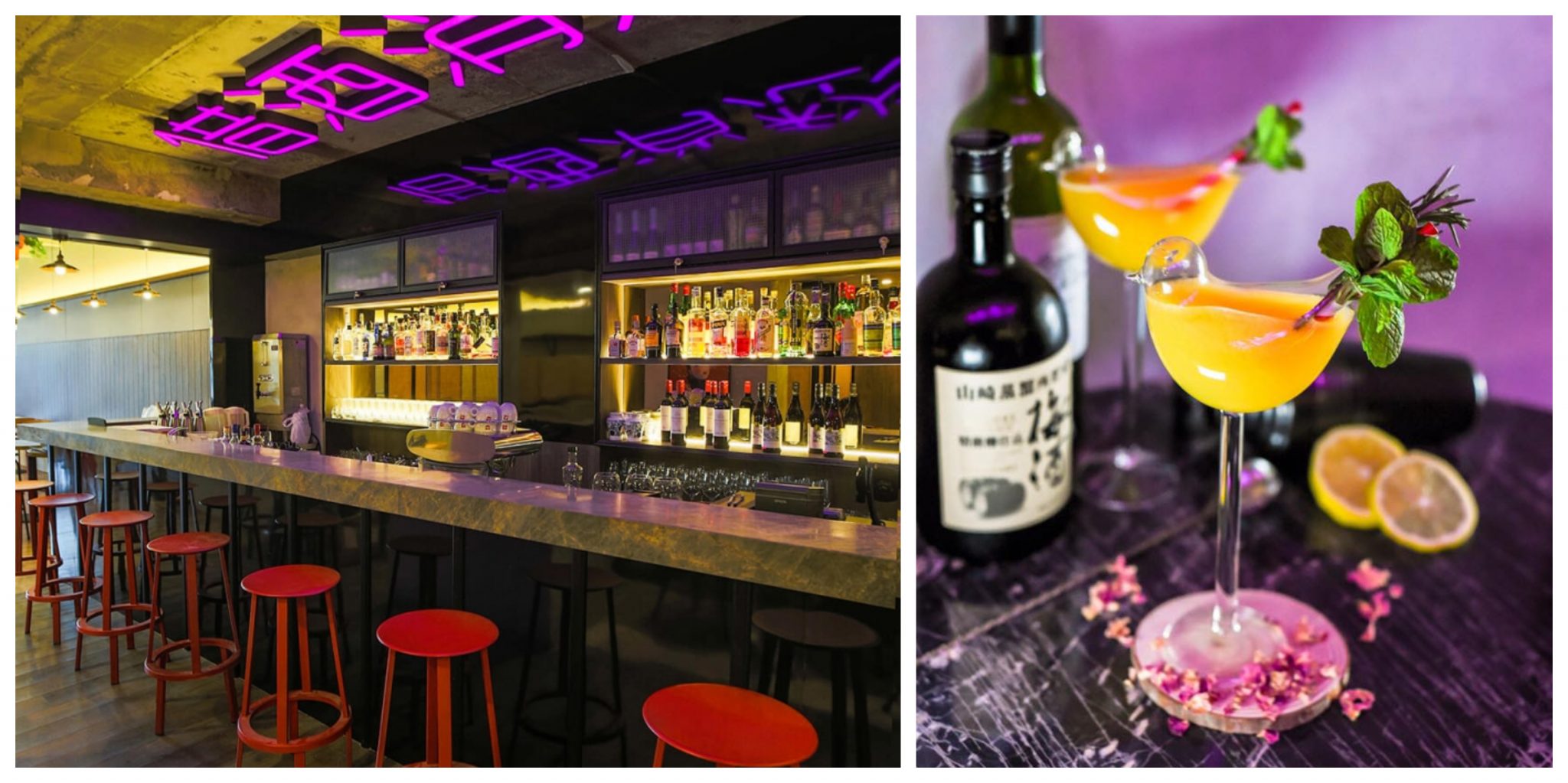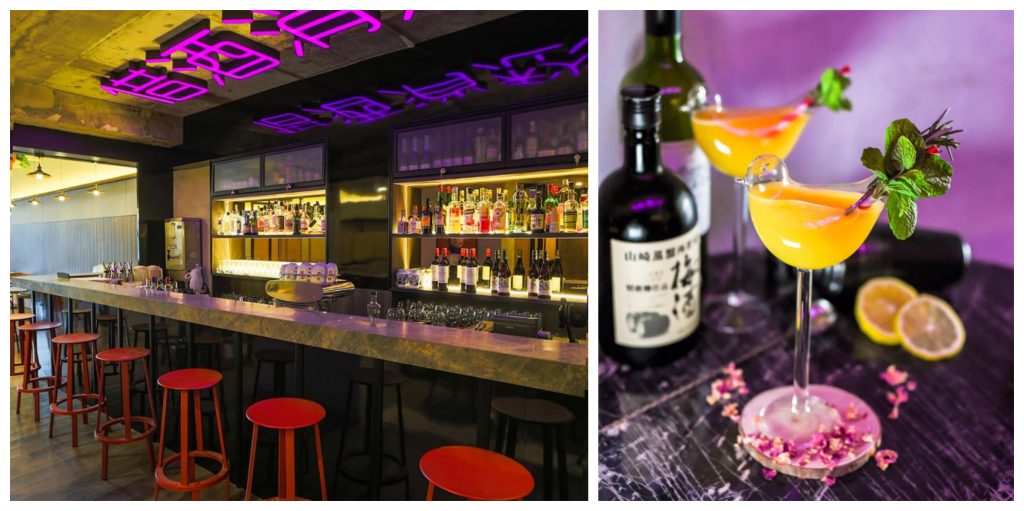 Address: 243 Holland Avenue, S(278977)
Operating Hours:
Tuesday – Thursday: 6pm – 12am
Friday – Sunday: 6pm – 1am
9. Wine Tapas Friends By IndoChine
Slyly named Wine Tapas Friends, the WTF Holland Village bar focuses on delivering an impressive array of alcohol and tasty tapas selections. Choose from premium Vietnamese, Laotian and Cambodian mains like Pho Bo and Siem Reap Grilled Squid as you enjoy the unique atmosphere.
IndoChine has specially designed the bar to look like a modern tropical garden, with potted plants and statues placed throughout the premise. For wine lovers, you're also allowed to pick your preferred wine from hundreds of options imported from France and Italy.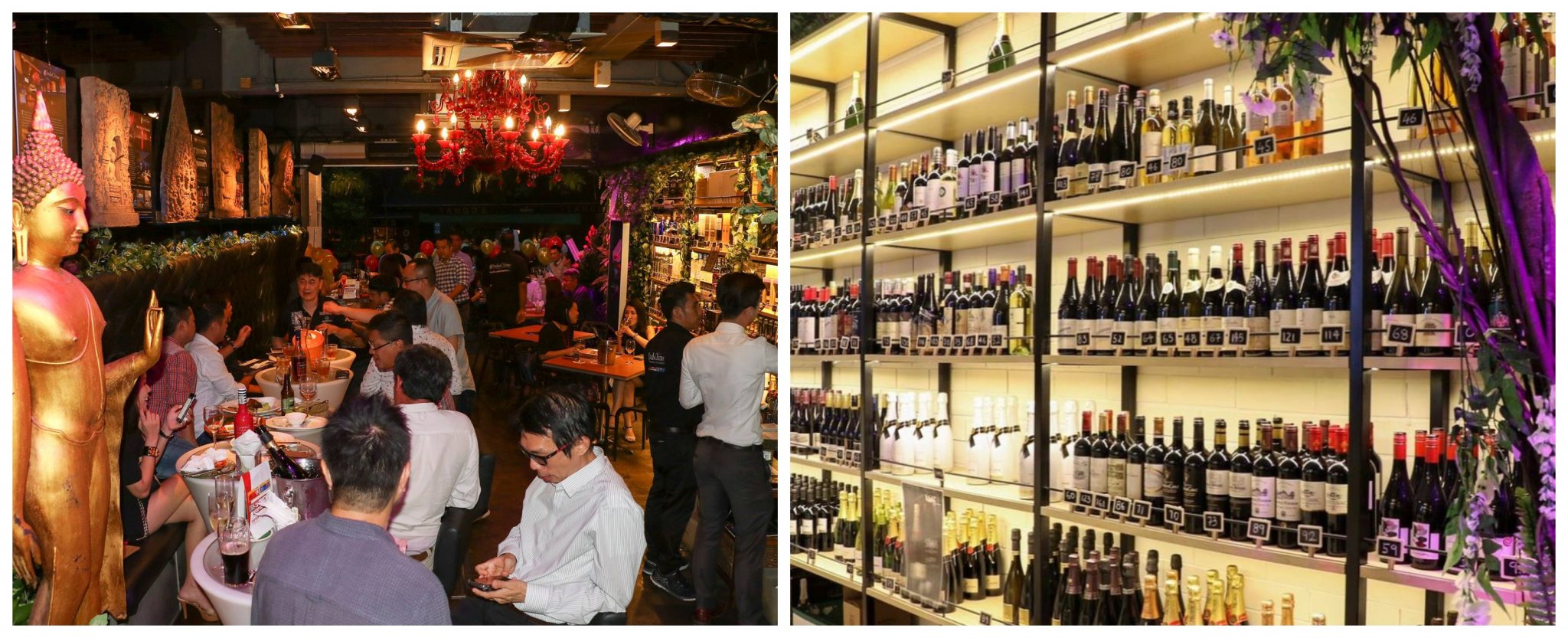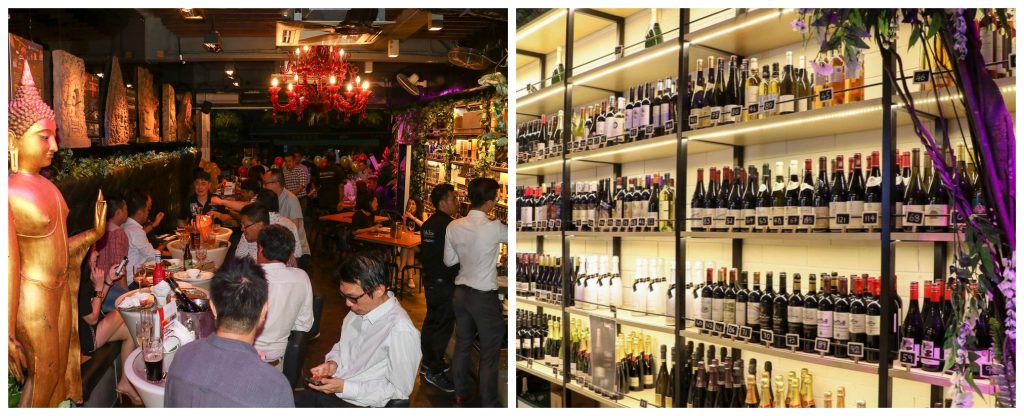 Address: 44 Lorong Mambong, S(277697)
Operating Hours: Daily, 4pm to 1am
With this guide, you're now ready to conquer Holland Village and unwind after a long day. Too tired to travel all the way down to any of the Holland Village bars? Why not check out our guide to the best rooftop bars in CBD!
Also, keep within your budget by saving money with Chope Vouchers! With Chope, you can make instant reservations and gain access to numerous restaurant and bar offers.