Aside from durians, another one of our favourite foods in Singapore is hot pot. However, preparing a hot pot feast isn't easy. Between the time spent washing and slicing the ingredients, you'll most likely be dead beat before finally sitting down for the meal. While there are many hot pot restaurants in Singapore like Haidilao, not many of them are open 24/7. Plus, a hot pot feast in a restaurant can quickly rack up a hefty bill. If you're having a sudden midnight craving for hot pot, we suggest you turn to self-heating hot pots instead! They are budget-friendly, convenient and come in an extensive range of flavours! Check out the popular Haidilao self-heating hot pot as well as Zihaiguo instant hot pot below. In addition, we've included some other self-heating food like desserts and claypot rice in case you're looking for a change. 
How does a self-heating hot pot work?
Self-heating hot pots, also known as instant hot pots, do not require an external heat source or electricity to work. Instead, they contain a packet of quicklime at the bottom of the tray which releases sufficient heat for cooking the hot pot ingredients. To activate the quicklime, all you need is to pour some room temperature water into the heating tray and voila, your instant hot pot will be ready in a few minutes! This self-heating method not only works for hot pot but also instant porridge and warm desserts. 
Are self heating hot pots and food safe? 
As with all cooking methods that involve heat, self-heating hot pots and food pose the risk of scalding if you're not careful when handling them. In addition, the heat packs in self-heating food release hydrogen, a combustible gas, when activated. Hence, it is advisable to refrain from consuming self-heating food in vehicles or small enclosed spaces. Leave your windows open when you're enjoying self-heating food at home. Always keep self-heating food away from children or pets. 
Popular self-heating hot pots to buy online in Singapore
1. Haidilao Tomato Vegetarian Self Heating Hot Pot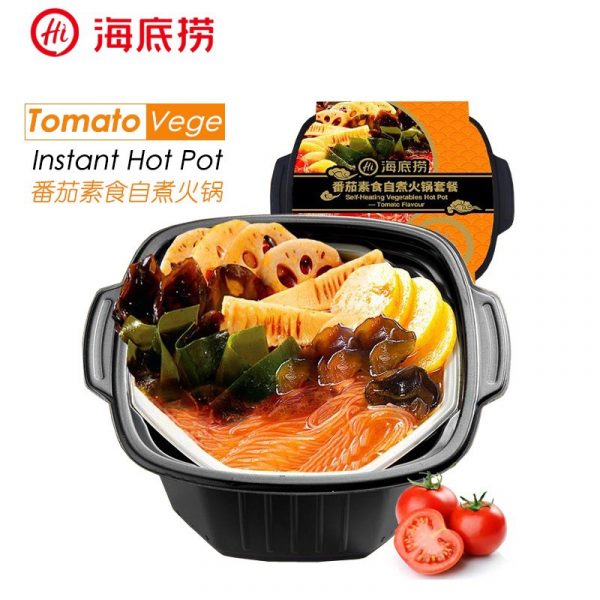 What's a Haidilao hot pot party without their signature sweet and sour tomato soup? You can now enjoy the true flavours of Haidilao in the comfort of your own home with the Haidilao Tomato Vegetarian Self Heating Hot Pot (available on Unik Mart)! Suitable for vegetarians, this instant hot pot contains a variety of ingredients including lotus roots, black fungus, potato slices and vermicelli. If you're up for spicier flavours, try the Haidilao Mala Beef Self Heating Hot Pot (available on markfans.sg) instead. Tie an apron and pour yourself some beer to complete your Haidilao home experience! 
2. Zi Hai Guo Self Heating Hot Pot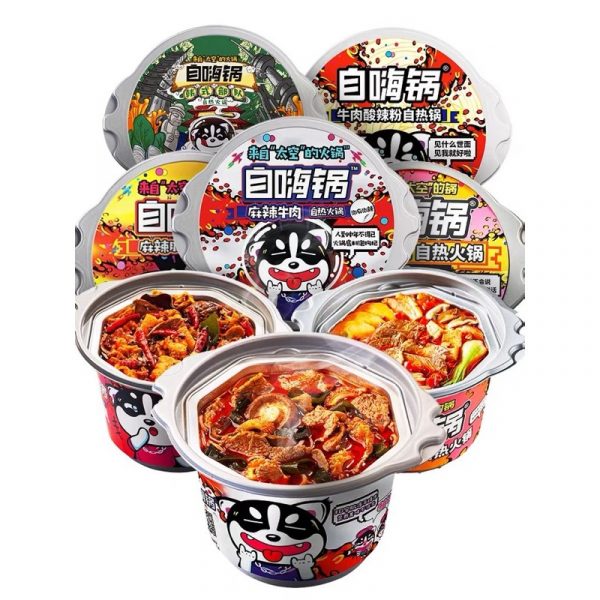 Need a quick remedy for your growling tummy? Here's where the Zi Hai Guo Self Heating Hot Pot (available on Pot A Toast) comes in handy! Rip open the pack of the Zi Hai Guo instant hot pot pack and you'll be greeted with a generous number of ingredients. This is also why so many foodies are lovers of Zi Hai Guo self-heating hot pots! Be prepared to find actual beef slices in the Mala Beef flavour, along with juicy mushrooms and soft tofu. For those who don't have a high tolerance for spice, a better option would be the Mala Beef (Less Spicy) version. 
3. Zhi Ma Guan Self-Heating Hot Pot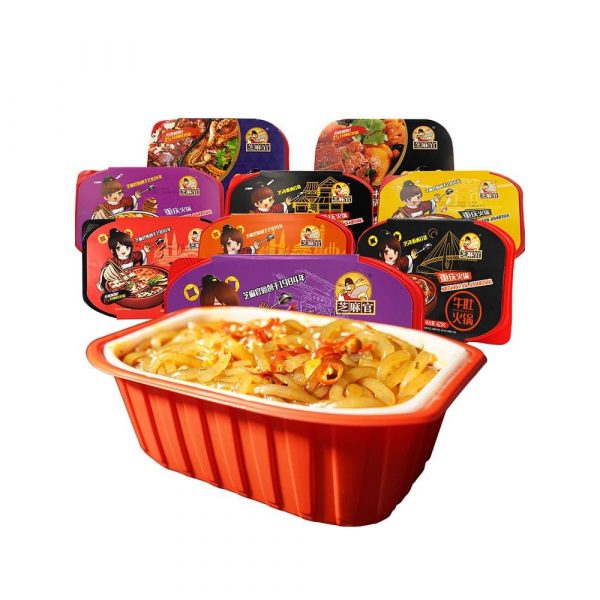 Can't get enough of the suan la fen craze last year? You can still enjoy these tantalising spicy potato noodles with the Zhi Ma Guan Self-Heating Hot Pot (available on ZESKSingapore)! The suan la fen version comes with thick potato noodles that are springy and chewy — definitely a top choice for a satisfying supper! Another flavour we highly recommend is the pickled vegetables, which taste like sauerkraut dipped into piping hot soup. It strikes the perfect balance between sour and savoury and helps to boost your appetite. Pair it with some Chinese snacks and your favourite drama to end the night on a high!
4. Kai Xiao Zao Self Heating Double Flavour Hot Pot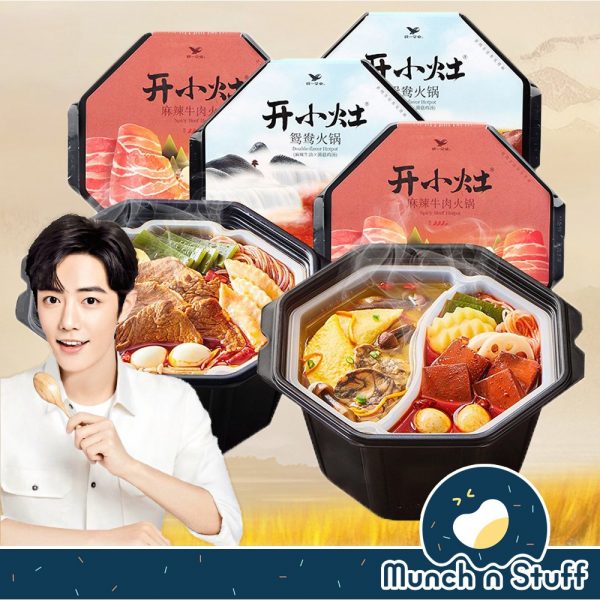 Take your instant hot pot game to the next level with the Kai Xiao Zao Self Heating Double Flavour Hot Pot (available on Munch N' Stuff). Yes, you read that right — this instant hot pot comes with a yuan yang guo (hot pot with a divider to hold two separate flavours)! On one side, you have the classic mala flavour for a spice kick while the other comes with a comforting mushroom chicken soup. Share this with your fellow hot pot lover or slurp them up all by yourself to enjoy the best of both worlds!
5. Mo Xiao Xian Self Heating Hot Pot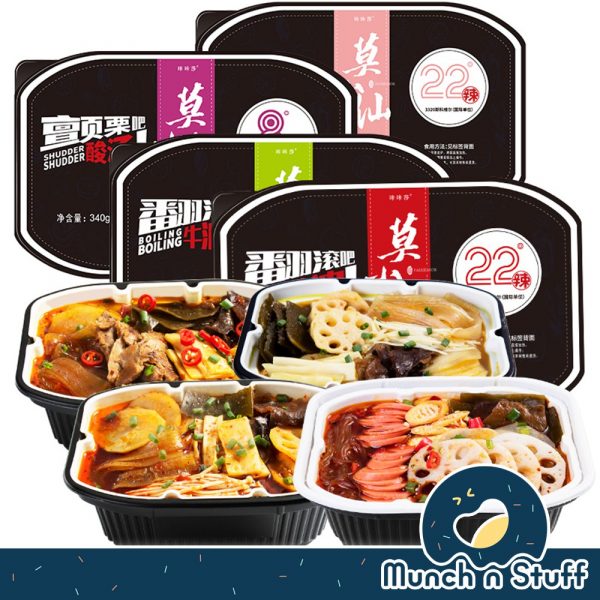 Not everyone enjoys a beef hot pot. Thankfully, the Mo Xiao Xian Self Heating Hot Pot (available on Munch N' Stuff) comes with a pepper chicken flavour for non-beef eaters. Using only lean chicken meat that's not fatty, this instant hot pot is a better option for those watching their diets. Moreover, Mo Xiao Xian self-heating hot pots tend to be less greasy compared to the others, making it a less sinful supper option. 
6. Lucky Bear Self Heating Hot Pot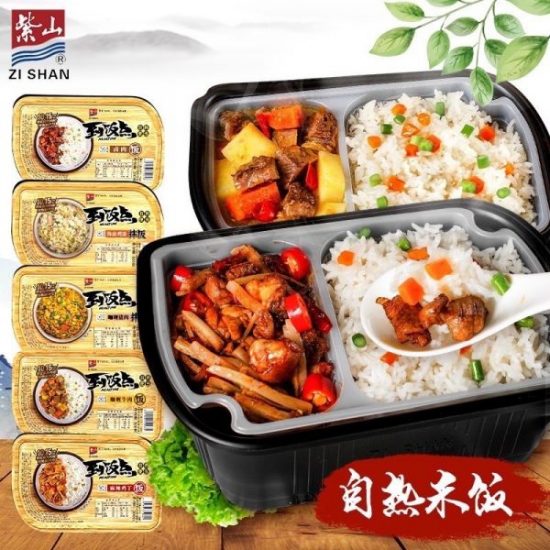 Another famous brand for instant hot pots is the Lucky Bear Self Heating Hot Pot (available on ego.foods). Coming in a set of threes, you can have a taste of all the flavours that Lucky Bear has to offer! This includes the sichuan green pepper, mala and sour vegetable flavours. With a long lasting self heating heat pack that lasts up to 20 minutes, you can slowly slurp on your noodles without worrying that your hot pot will turn cold! 
Other self-heating food products to try
7. Lucky Bear Self Heating Claypot Rice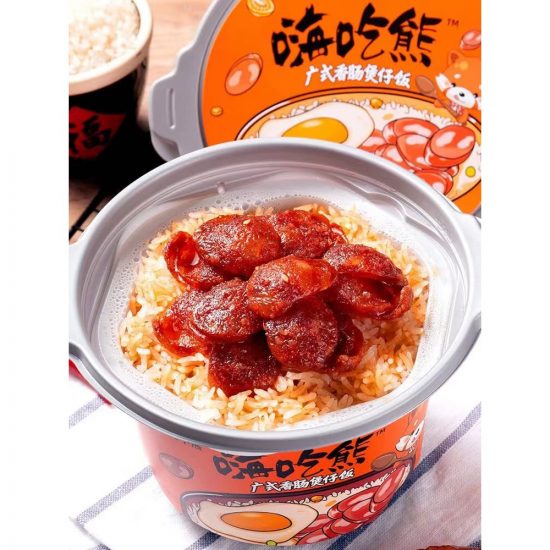 While you won't be eating this tasty meal from a clay pot, the Lucky Bear Self Heating Claypot Rice (available on ego.foods) boasts the same exact smoky flavour that you'd get from traditional claypot rice. And this can be easily achieved in just 15 minutes (a traditional claypot rice will set you back by an hour). Moreover, it comes with spicy Chinese sausages which add a delicious mix of sweet and savoury flavours to the rice. This ties the whole dish together and makes for a convenient meal that's delicious and filling! 
8. Zi Shan Self Heating Hainanese Chicken Rice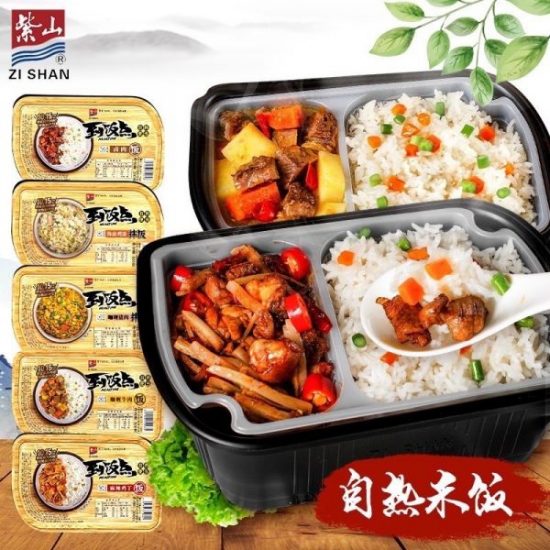 Chicken rice is another Singaporean staple food, so when we found out that there's self-heating Hainanese chicken rice, we simply couldn't resist getting it! The Zi Shan Self Heating Hainanese Chicken Rice (available on YammyRoof) is a great substitute on days when you're too lazy to make a trip down to the chicken rice stall. It contains chicken shreds, mixed vegetables and fragrant oily rice that gives the dish its signature taste. Add your own soy dipping sauce and ginger-garlic sauce to turn this into an authentic local delicacy! Other self-heating food variations offered include braised pork rice and curry beef rice. 
9. Xiang Piao Piao Self Heating Milk Tea Dessert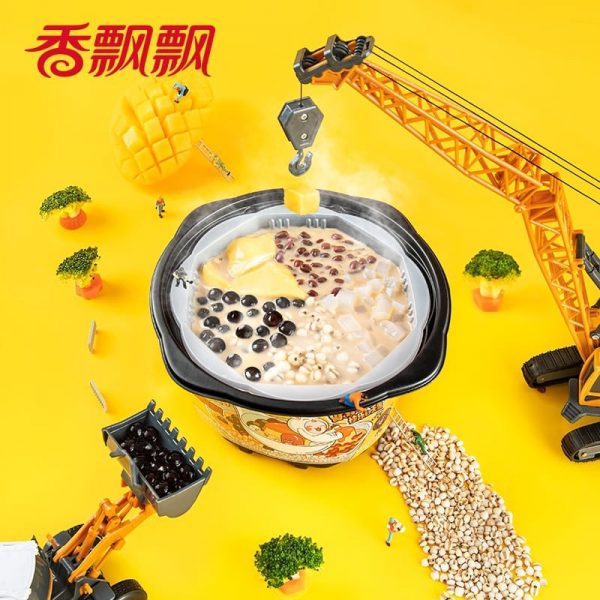 Don't call it a day just yet! You need a sweet dessert to down the spicy flavours after your hot pot meal. The Xiang Piao Piao Self Heating Milk Tea Dessert (available on 98yinshopcompx.sg) is a unique creation, combining warm desserts with self-heating capabilities. It is jam-packed with many types of dessert toppings including chewy pearls, silky mango pudding and sweetened red beans. The sweet toppings balance out the subtle bitterness of the milk tea base, creating a hearty warm dessert that will fill you with bliss! Psst, it's perfect for days where you're craving some bubble tea!
10. Zi Shan Self-heating Japanese Ramen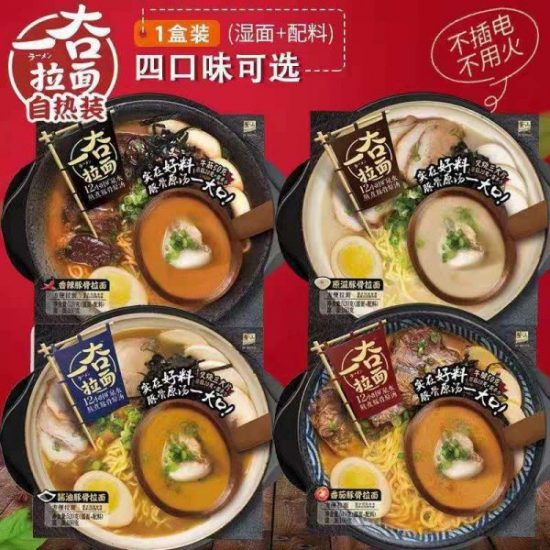 You don't need to fly to Japan for a bowl of piping hot Japanese ramen, because you can enjoy one right in the comfort of your home with the Zi Shan Self-heating Japanese Ramen (available on towerfood)! Made of thin Japanese ramen noodles, aromatic pork broth, onsen egg and chashu slices, this self heating food delivers a robust flavour that will satisfy any ramen lover. Here's a tip: if you prefer your ramen noodles to be more chewy, we suggest adjusting the self heating cook time to be around 10 minutes. The longer you wait, the soggier your noodles will get. 
11. Zi Hai Guo Self Heating Beef Bibimbap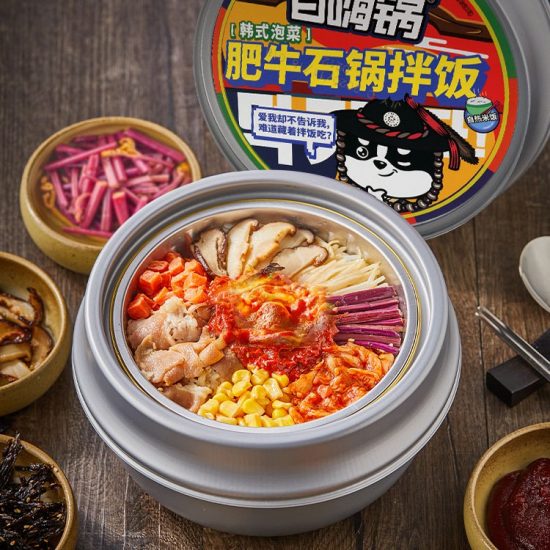 Nothing beats eating a bowl of hot bibimbap while watching your favourite K-dramas! Whip out your bowl of Zi Hai Guo Self Heating Beef Bibimbap (available on Munch N' Stuff) and start stirring all the colourful ingredients together to create your own bibimbap at home. Bibimbaps are one of the healthier self-heating food options as it contains many types of vegetables — carrot, corn, beansprout and of course, kimchi! Together with the well-marinated beef slices, every mouth is filled with fresh crunchy goodness that your tummy will appreciate!
Never skip a meal with self heating hot pots and food
With self-heating hot pots and food options that are both extremely convenient and yummy, there's honestly no reason for you to skip meal times anymore! Nonetheless, as many of these self heating hot pots are meant for individual serving, they may not be the best option if you're looking to invite a few friends over for a steamboat party. For bigger portions and less hassle, we suggest engaging one of these steamboat delivery services in Singapore instead! From fiery mala soup to thick collagen broth, these steamboat places will have your guests satisfied in no time. 
This article was updated on 22 June 2021. Additional research done by Jiaxian Lee.
---
New to Shopee? Get $7 (min. Spend $15) with code*: HOTPOTS7OFF
*TNC applies. Valid for new users from 23 Jun to 30 Jun 2021 only.