When it comes to comfort food in Chinese culture, hot pot dinners win hands down! Nothing beats sitting around the table with family, swishing pieces of meat and beancurd rolls in spicy broth. However, if you've ever gotten your hands dirty trying to prepare for a steamboat dinner, you'll understand how tedious the whole process can be. From getting all the ingredients ready to setting the table, all the hassle can take the fun out of the occasion. Why not make life easier with these steamboat delivery services in Singapore? Some deliver just the ingredients while others even provide hotpot equipment rental. But the best bit is that it's all sent to the comfort of your home. So pick the best steamboat service for your family and kick back for the night!
Steamboat delivery in Singapore to get your hot pot fix
1. Haidilao Delivery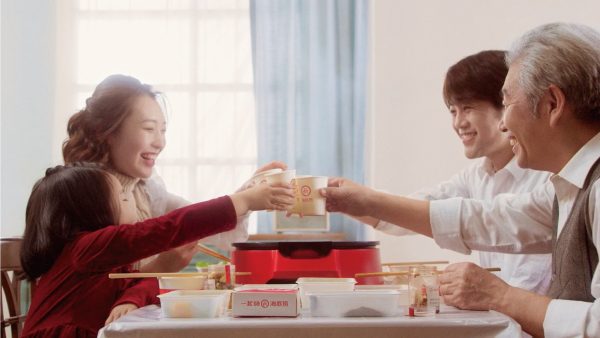 If you're a huge Haidilao fan, you can now enjoy the same great taste in the comfort of your home! Haidilao is a popular steamboat restaurant chain in Singapore that's famous for its top-notch service, fresh ingredients and broths. While you won't get to enjoy the free manicure when you engage their Haidilao delivery service in Singapore, you'll definitely be able to skip the crazy queues! Psst, you will still get to enjoy complimentary cold dishes and snacks such as popcorn even with the Haidilao delivery! Customise your own dinner menu by going a la carte or order their value-for-money set meals.
This Chinese New Year 2021, Haidilao offers three set types for their steamboat delivery in Singapore with a flat delivery fee of $20. Smaller groups with up to four pax can go for the Haidilao delivery set meal B ($168) which comes with 14 assorted ingredients, including their signature mashed shrimp and black pork. For eight pax, the Haidilao delivery set meal D ($368) is a whopping spread of 28 ingredients that includes Aussie sliced lamb shoulder and mushroom combination platter. 
Place your order here
2. Beauty In The Pot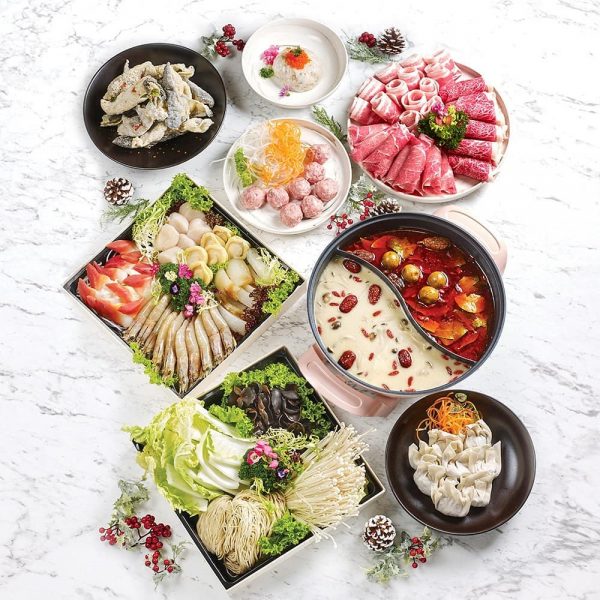 Another famous steamboat chain restaurant that many Singaporeans are familiar with is Beauty In The Pot. Famed for its rich and nourishing collagen broth, Beauty In The Pot is the go-to steamboat for soul-warming food. If your loved ones haven't had the pleasure of experiencing their signature Beauty Collagen broth, now's a great time to treat the family to Beauty In The Pot's home steamboat delivery in Singapore.
The restaurant is offering three types of CNY sets for steamboat delivery in Singapore. The CNY 4 Pax Set ($183) comes with 12 of their best-selling ingredients, including full portions of sliced pork collar, Spanish pork collar and US beef. For less than $70 more, you can get the CNY 6 Pax Set ($245) which comes with generous portions of US kurobuta pork, Nagano pork belly and even US Angus prime short rib! While placing your orders for hot pot delivery in Singapore, why not add on a Beauty In The Pot prosperity abalone yu sheng ($48.20) for your lo hei with friends and family!
Place your order here 
3. Hotpot Master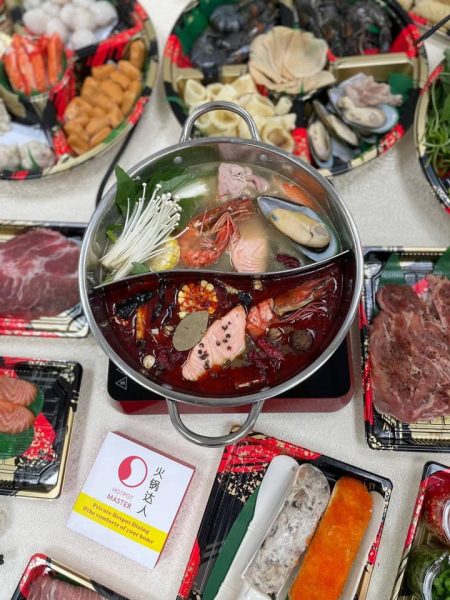 Hate cleaning up after a feast? Well, you don't have to do it if you engage HotPot Master steamboat delivery in Singapore! Apart from delivering steamboat ingredients to your doorstep, HotPot Master goes a step further by providing table setup. Think silky tablecloth and high-quality ceramic tableware! To complete the luxurious restaurant-like experience, HotPot Master even provides cleaning services before and after dining so you can just sit back and relax with the family!
The CNY Abundance Hotpot Set for six pax entitles you two soup bases from nine different flavours. We suggest going for their must-try Superior Collagen or Sweet And Spicy Chili Crab flavours. The set also includes delicacies like 10-head braised abalone, red grouper and drunken chicken! Meanwhile, bigger families can go for the CNY Fortune Hotpot Set which serves up to 10 pax. Aside from offering two soup bases, you also get to enjoy fresh salmon slices, fish maw, shabu pork collar and a plethora of other ingredients to spice up your dinner!
Place your order here
4. MR STEAMBOAT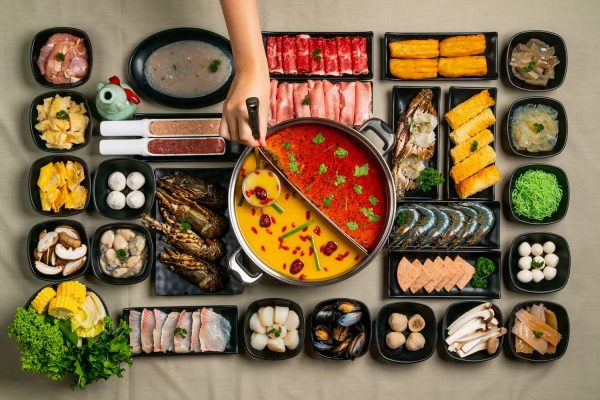 Being the first to bring steamboat delivery to Singapore, MR STEAMBOAT is one of the most trusted companies when it comes to delivering quality hotpots. It prides itself on providing flavourful soup bases with the freshest ingredients. Customise your hotpot with more than 50 choices of seafood and meat as well as five sumptuous soup bases — pork bone, chicken soup, tom yum, black chicken herbal and spicy mala!
MR STEAMBOAT has launched two special packages for Chinese New Year. Their six pax package ($208) comes with three types of premium meat, one soup base of your choice and 23 types of assorted ingredients! There's also a 10 pax prosperity package ($258) for larger reunion parties with four types of premium meat, two soup bases and assorted ingredients. Don't have the necessary hotpot equipment at home? Don't worry! Purchase equipment from MR STEAMBOAT and have them delivered to your house. 
Place your order here
5. COCA Restaurant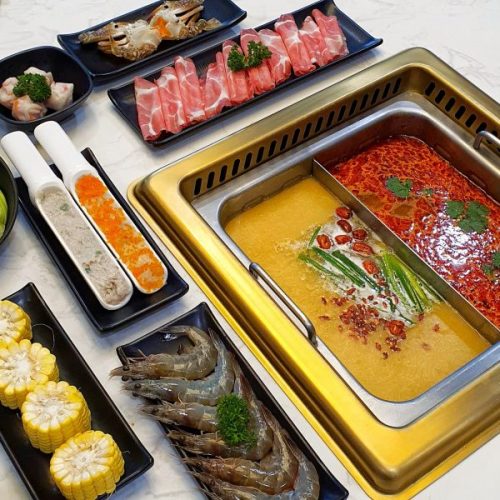 There's no need to fly to Bangkok for a taste of the popular Thai-Chinese fusion hotpot, COCA. You can now enjoy COCA Restaurant's unique taste in the comfort of your home thanks to their steamboat delivery service! While you won't find exclusive CNY steamboat sets in their menu, you can take your pick between their all-time favourite bundles Set A and Set B. Set A ($86) is perfect for four and comes with two soup bases (two litres each) of your choice. If you can't make up your mind between the seven soup options, we suggest going for the double boiled treasure chicken soup and tom yum soup for contrasting flavours. Set A also comes with 11 other ingredients including prawns, thinly sliced pork collar and shrimp wanton. 
Meanwhile, Set B ($145) is suitable for larger gatherings of up to six pax. While you also get to pick two soup bases like in Set A, more soup will be given (2.5 litres each). Additionally, you'll also receive 19 ingredients to go with your hot pot, including COCA's signature green noodles, Thai mama noodles and house special pork paste! You can also order cooked dishes such as century basil minced pork omelette and braised lobster with Cantonese egg to go with your steamboat. Spend $100 to enjoy free steamboat delivery in Singapore! 
Place your order here
6. Homely Pot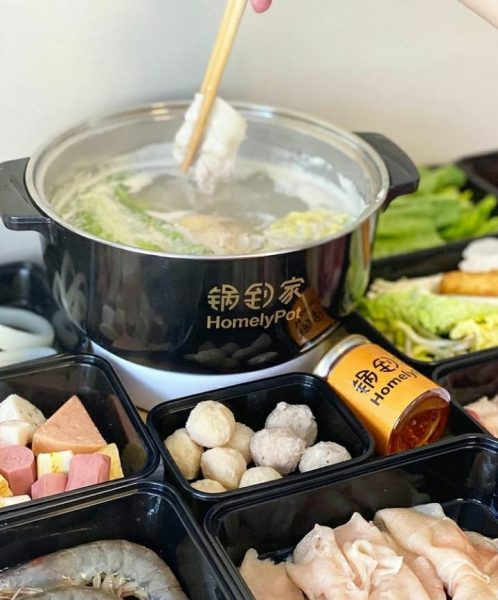 Who said reunion steamboat dinners have to be eaten from one communal pot? Enjoy the same joy of a family steamboat by getting HomelyPot's CNY Individual Set Meal! Individual pots are great for hygiene purposes and ensure everyone gets their bellies filled by the end of the night. The CNY Individual Set Meals come in a few variations, including chicken, pork, mutton, beef and vegetable. You'll receive two portions of the main meat type according to your set — for example, pork set will receive pork belly slices and pork shoulder slices. On top of that, there are a few fixed ingredients across all set meal variations, like lobster ball, cheese tofu and enoki mushroom. Each set is entitled a soup base of your choice based on their list of five options. We suggest going for the spicy mala soup if you're up for a kick! 
Don't have so many individual steamboat pots at home to cater for everyone? HomelyPot provides a free electric pot for each individual set meal ordered. And the best part is that there's no need to return the electric pot — it's yours to keep! If you prefer to use your own pot, you can opt out of the free electric pot and replace it with a meat of your choice. Keen to order this steamboat delivery in Singapore? Do note that for the Chinese New Year period between 10 to 14 February, island-wide delivery can only be scheduled from 10am to 1pm and 4pm to 7pm. 
Place your order here
Steamboat delivery — ingredients only
7. Tasty Food Affair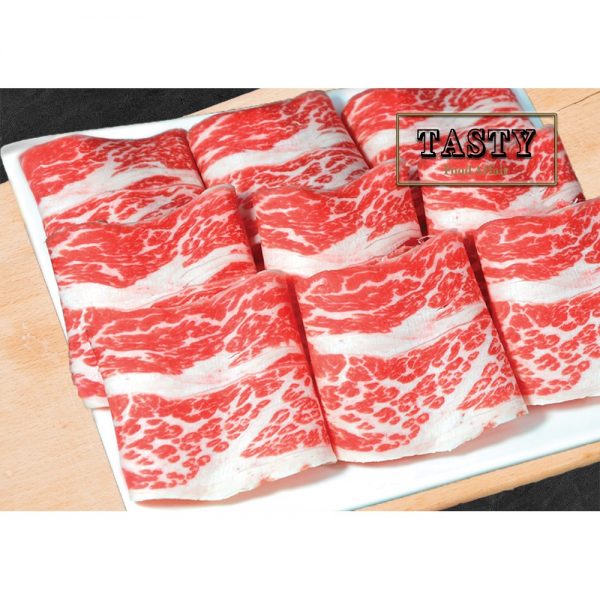 Keen on securing the freshest possible ingredients for steamboat delivery in Singapore? You won't go wrong with Tasty Food Affair, where you can shop from a wide array of quality poultry and seafood to add to your pot! Beef is the star meat at Tasty Food Affair, so be sure to get your hands on the US Beef Short Plate Shabu Shabu, US Boneless Short Ribs Shabu Shabu and US Prime Striploin Shabu Shabu (all available on Tasty Food Affair) when you engage their hot pot ingredient delivery in Singapore! Add some fresh produce from the sea to your steamboat spread with the plump New Zealand Half Shell Green Mussels and Dory Fish Cube (both available on Tasty Food Affair) to enhance the flavour of your broth! 
8. TankFully Fresh Official Store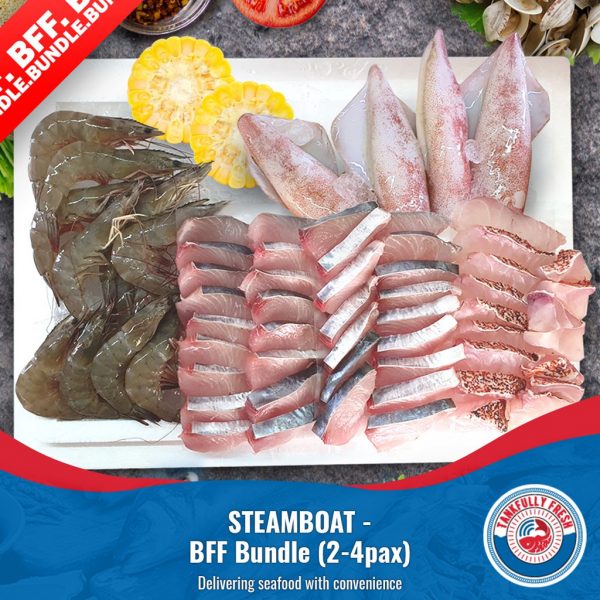 Prefer seafood over meat for your steamboat party? It's your feast so you call the shots! Load up your pot with fresh seafood from TankFully Fresh Official Store, one of the most trusted hot pot ingredient delivery stores in Singapore. They offer various bundle deals that come with an assortment of seafood types for you to choose from! Plus, if you place your orders before 10 pm, you'll be able to enjoy next day delivery. 
The Tankfully Fresh STEAMBOAT BFF Bundle (available on TankFully Fresh Official Store) is all you need for a mini festive gathering between two to four friends. It comes with 500g of South American prawns or tiger prawns, two pieces of kingfish fillet, one piece of red grouper fillet and 400 to 500g of sliced squid. Definitely, a great seafood fix to consider at less than $60! There's also a Tankfully Fresh STEAMBOAT Family Bundle (available on TankFully Fresh Official Store) at less than $130 for up to six pax — perfect for larger families! 
9. The Steamboat Specialist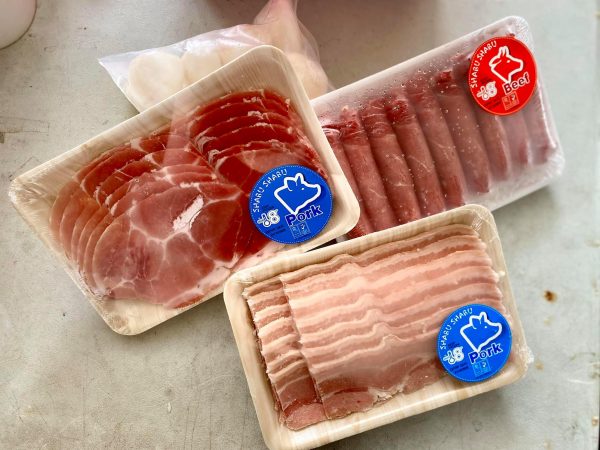 For quality steamboat ingredients, you've got to check out The Steamboat Specialist. This steamboat delivery in Singapore provides an extensive range of frozen ingredients to choose from. To make preparation convenient, the ingredients have been pre-washed and sliced so you can start cooking the moment your ingredients arrive! If you're overwhelmed with the selection, consider going for crowd favourites like shabu shabu beef, pork loin ribs and boneless chicken leg. Not much of a meat fan? Don't fret — The Steamboat Specialist also offers alternatives like yong tau foo and ngoh hiang. 
Lazy to think of what to order? Make things easier for you and your loved ones by purchasing either the five or 10 pax packages! The five pax package ($98) comes with 10 fixed ingredients. All you have to do is to select an additional one meat and three types of surimi to complete the order! On the other hand, the 10 pax package ($208) comes with 12 fixed ingredients and six meat and surimi options. The best part is that if you order over $50 worth of ingredients, you'll get to enjoy free hot pot delivery in Singapore right to your doorstep!
Place your order here
10. Zairyo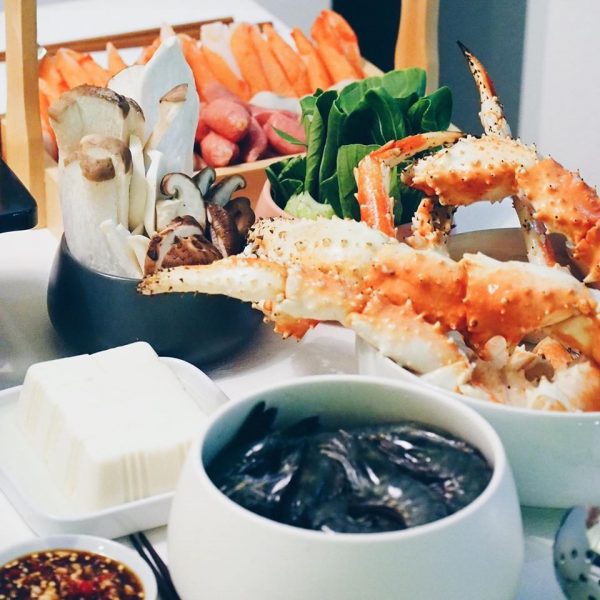 Don't limit yourself to traditional options for steamboat delivery in Singapore! Mix things up by ordering some fresh Japanese produce from Zairyo for a Japanese-themed shabu shabu party. Known for bringing in top quality seafood (have you seen their beautiful glistening uni?) and condiments from Japan, Zairyo boasts superior air-flown ingredients such as uni, shiro hamaguri clams and Alaskan king crab legs! They also offer solo steamboat soup bases if you're planning on enjoying a personal hotpot meal each.
Meanwhile, if you're looking for a hot pot delivery package in Singapore, the 2021 Large Steamboat Pack ($123.80) will fit the bill. It's perfect for families with four to six members. You'll find 12 different ingredients in the set, including tiger prawns, kurobuta pork belly slices and asari clams. Customers who order this set will also receive an exclusive cooler bag in CNY-inspired designs to hold all the delicious ingredients! Psst, spend a minimum of $100 to enjoy free delivery.
Place your order here
11. Savour Seafood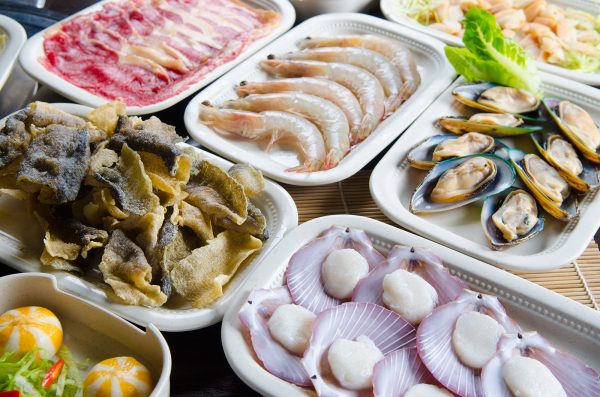 Turn your steamboat meal into a seafood party with the freshest catch from Savour Seafood! As one of the best seafood suppliers in town, Savour Seafood has access to some of the highest quality products at competitive prices. 
While there isn't a bundle package for steamboat ingredients, this also means you get to pick whatever you want in your ala-carte order. We suggest ordering the cod belly cubes, abalone and peeled jumbo tiger prawn for a seafood pot. Meat-wise, Savour Seafood also offers great bargains for beef, chicken and pork shabu shabu slices.  To add something more filling to the mix, we suggest ordering some chives and pork dumplings which the elderly will definitely appreciate. The best part about this steamboat delivery in Singapore is the ability to pay upon delivery.
Place your order here
Enjoy hassle-free steamboat delivery in Singapore this Chinese New Year 
From full-fledged steamboat delivery services such as Haidilao delivery to ones that provide staggering ingredient variety, we have you covered. Now it's just on you to pick the best steamboat pot and set a date for a hot pot family dinner! If you're keen on discovering more food and beverages related deals, make sure to visit our CNY Fortune Food Hall page. Looking to eat out for your CNY reunion dinner? Check out these Chinese restaurants with private rooms for an intimate celebration!