When it comes to reunion dinners with the extended family, dining out can ease the stress of planning a home-cooked meal. And it's even more so if you avoid the crowd by booking Chinese restaurants with private dining rooms! From restaurants that serve up the best roast meats to fine dining spots with atas vibes, treat yourselves to an intimate Chinese New Year reunion dinner in 2023!
Chinese restaurants with private dining rooms and good roast meat
1. Kai Duck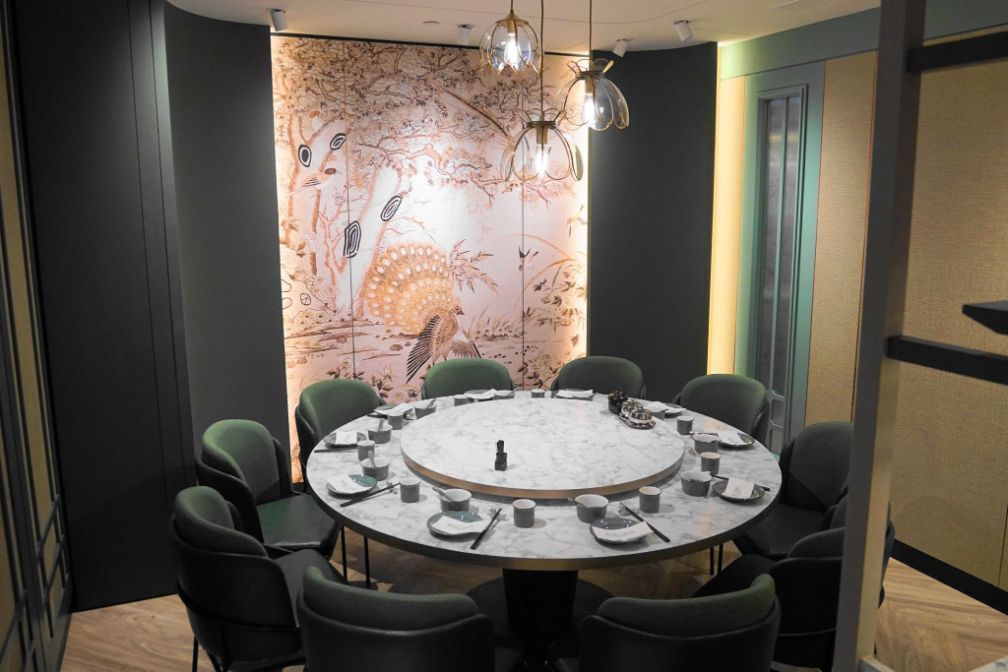 How do you entice millennials to savour traditional Canto cuisine? Kai Duck, the sister outlet of Kai Garden (Marina Square) seems to have nailed it. This restaurant specialises in modern Canto-style cuisine, complete with their succulent rendition of roast duck. But more than that, it prides itself as a restaurant for the millennials. Under the wing of Group Executive Chef Fung Chi Keung (previously from Paradise Group), you can expect innovative dishes with a contemporary twist.
Although it has positioned itself as a casual dining space, this affordable Chinese restaurant with private rooms has not lost sight of its heritage. The interiors are decadent and reminiscent of the emperor's courtyards. Go ahead and book from three of their private dining rooms for a charming and sumptuous dinner with those near and dear. 
Address: Ngee Ann City, 391 Orchard Road, #05-10/11, S(238872)
Opening Hours:
Mon – Fri: 11.30am – 3pm, 5.45pm – 9.30pm
Sat, Sun & PH: 11am – 3.30pm, 5.45pm – 9.30pm
2. Summer Pavilion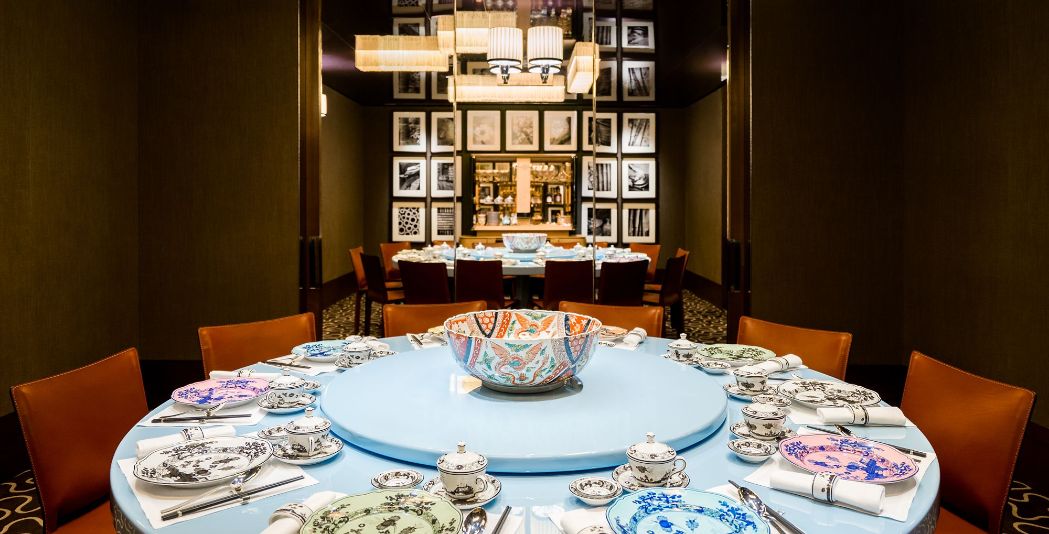 The one Michelin-starred Summer Pavilion restaurant boasts a chinois setting that older folks might enjoy. Its six elegant, sophisticated private dining rooms are named after oriental plants like Pine and Wisteria and come replete with hand-painted tableware to elevate your dining experience this 2022.
This Chinese restaurant doesn't just stop with its beautiful private dining rooms — it also serves up a pretty impressive dinner spread. From Barbecued Peking Duck to fresh Australian Lobsters, this is one private dining experience you'll never forget. So jio your loved ones to Summer Pavilion for one of the best Chinese New Year reunion dinners in 2023!
Address: The Ritz-Carlton, Millenia Singapore, 7 Raffles Avenue, S(039799)
Opening Hours: Daily, 11.30am – 2.30pm, 6.30pm – 10.30pm
Chinese restaurants with private dining rooms and free corkage
3. Jade Palace Seafood Restaurant

Jade Palace Seafood Restaurant offers free corkage — that means you can bring your own bottle of wine so long as you meet the minimum spend of $1,200 (for a room of eight). Otherwise, the restaurant's in-house wine collection is pretty stellar itself! Their wine cellar is stocked with over 3,000 bottles of wine from over 150-200 bottles of labels worldwide — a collection which they have also won awards for! This affordable Chinese restaurant with six private rooms is also known for its live seafood, dim sum, roast cuts and traditional claypot rice.
Address: Forum The Shopping Mall, 583 Orchard Road, #B1-13, S(238884)
Opening Hours: Daily, 11am – 3pm, 6pm – 11 pm 
4. Wah Lok Cantonese Restaurant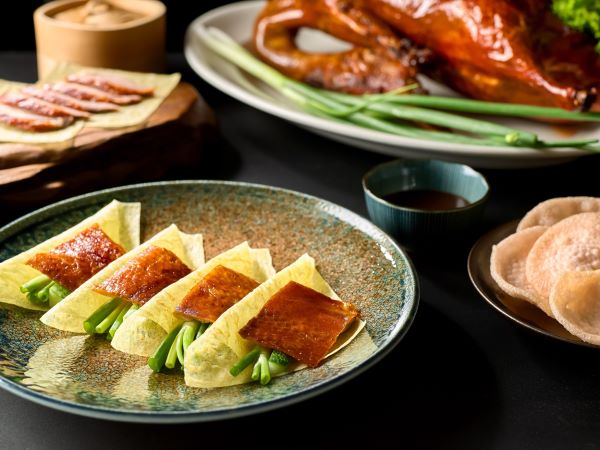 At Wah Lok Cantonese Restaurant, you'll get to enjoy free corkage on your first and second bottles of alcohol. Enjoy a tipple with your friends and fam in an intimate setting at this Chinese restaurant with 10 private dining rooms and suites to choose from! Whether you're looking for a place to celebrate a special occasion or for a business luncheon, this is definitely one of the best options in Singapore that offers great ambience and authentic Cantonese cuisine. Must-tries on their menu include the classic Baked Barbecued Pork Buns and Lobster Mee Sua!
Address: Carlton Hotel Singapore, 76 Bras Basah Road, S(189558)
Opening Hours:
Mon – Sat: 11.30am – 2.30pm, 6.30pm – 10pm
Sun: 11am – 2.30pm, 6.30pm – 10pm
Chinese steamboat restaurants with private dining rooms
5. Beauty In The Pot (KINEX)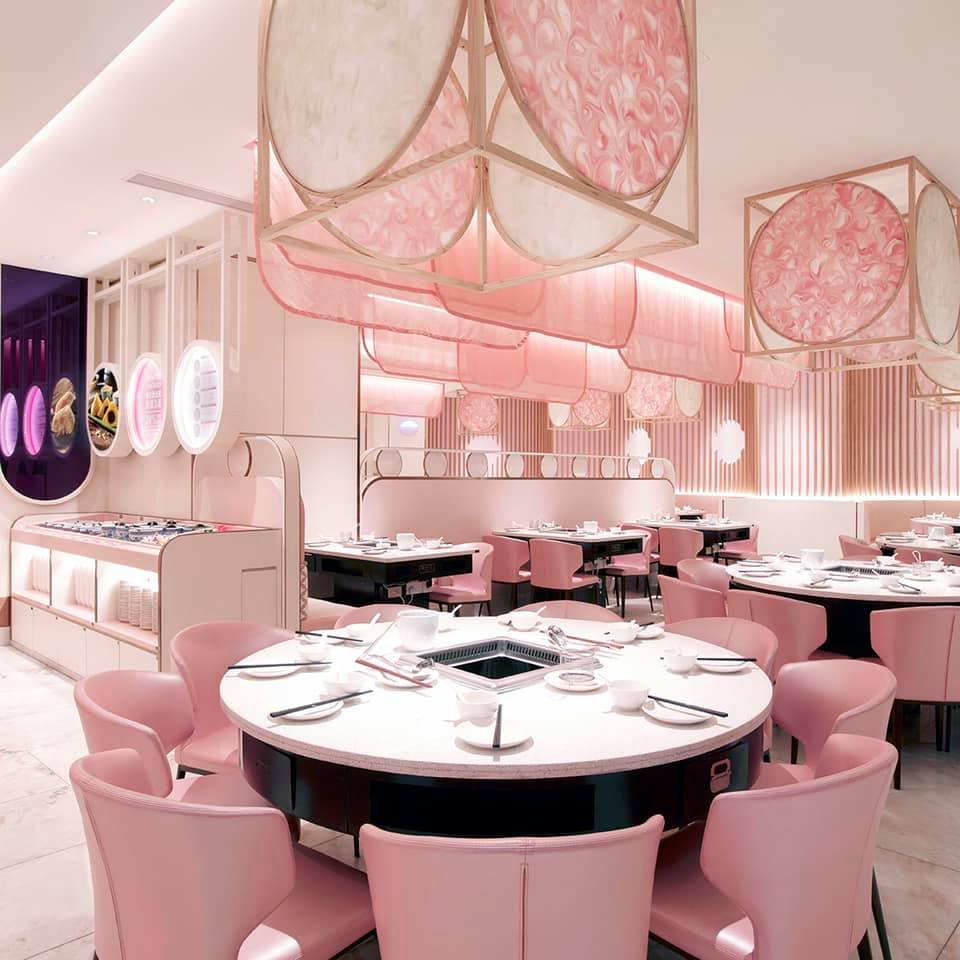 There are few things in life that can match the warmth of sitting with loved ones around steaming pots of rich soups and fresh ingredients. Beauty In The Pot may have long snaking lines every time you pass it but you don't have to queue if you manage to get dibs on their private dining rooms. We particularly adore the one at KINEX. Mainly because this Chinese restaurant is bathed in gorgeous cherry blossom pink — what's there not to love? Indulge in their nourishing soup bases like their collagen soup with their wide selection of fresh ingredients!
Pro Tip: KINEX outlet provides individual pots instead of one sharing pot. Check out The Star Vista, VivoCity, Centrepoint and NEX outlets for private dining rooms with shared steamboat pots.
Address: KINEX, 11 Tanjong Katong Road, #03-38, S(437157)
Opening Hours: Daily, 11.30am – 3am
6. Imperial Treasure Steamboat Restaurant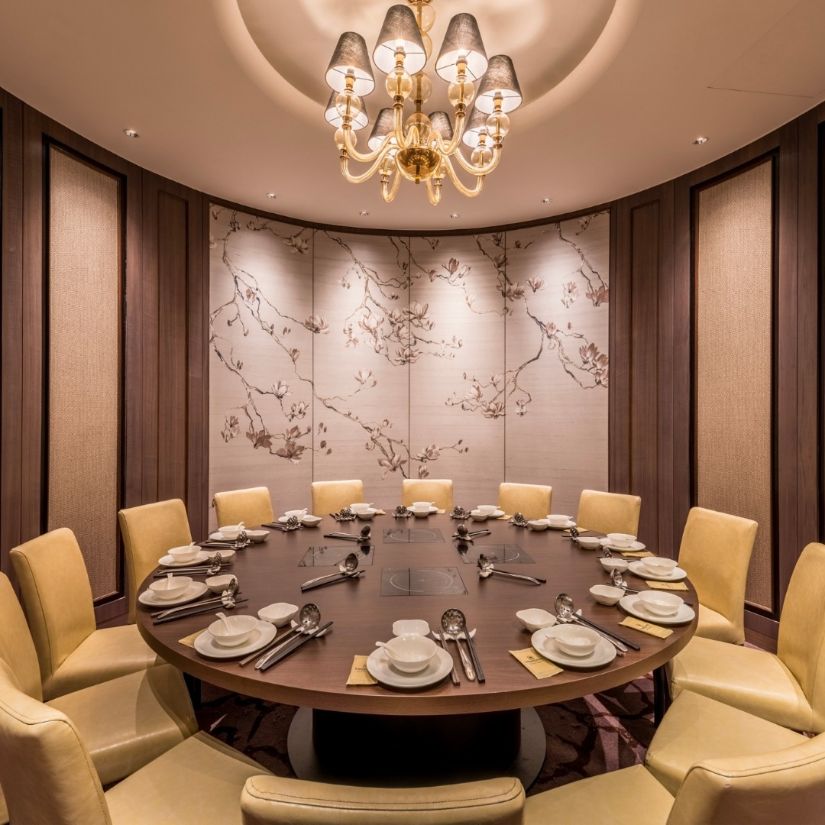 Although organising hotpot gatherings at home has become the norm this period, there is just something special about going out and enjoying it with family and friends. Imperial Treasure at ION Orchard boasts eight private rooms for your gatherings. This Chinese restaurant with private rooms comes partitioned by pretty Chinese screens and a round table — perfect for that group shot for the 'gram.
Take your pick of the soup bases — from Sichuan spicy soup to a rich Ginseng, coupled with your choice of meat and seafood and fresh vegetables. Signature items include the drunken chicken soup, a Four Treasure ball platter and live seafood. Get ready to be served a flavourful pot you won't be able to resist!
Address: ION Orchard, #04-12A, 2 Orchard Turn, S(238801)
Opening Hours: Daily, 11.30am – 3pm, 6pm – 11pm
7. Haidilao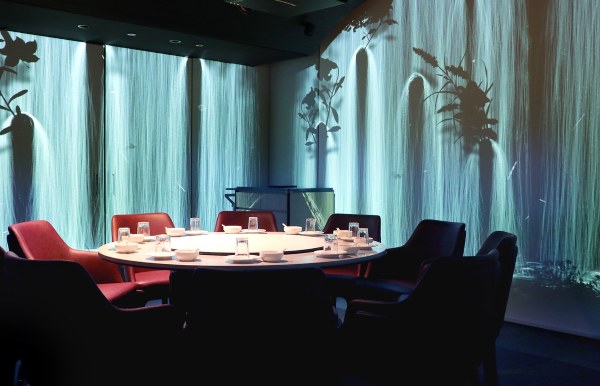 There's no better place to have your CNY reunion dinner than at Haidilao. Known for their impeccable service, the staff here will always go above and beyond to exceed your expectations. This is also why Haidilao's Marina Square outlet is a Chinese restaurant you should hit up! Each private room has its own dedicated staff, so you'll never have to wait for them to tend to other customers first. 
The private room here is where you'll get an elevated experience of Haidilao Marina Square's futuristic theme. With state-of-the-art light and sound technology, you'll have an immersive dining experience as you eat with animals running in the background. There's also a cascading waterfall that really gives you that zen vibe!
Address: Marina Square, 6 Raffles Boulevard, #01-19 to 25, S(039594)
Opening Hours: Daily, 10.30am – 3pm
Chinese dim sum restaurants with private dining rooms
8. Asia Grand Restaurant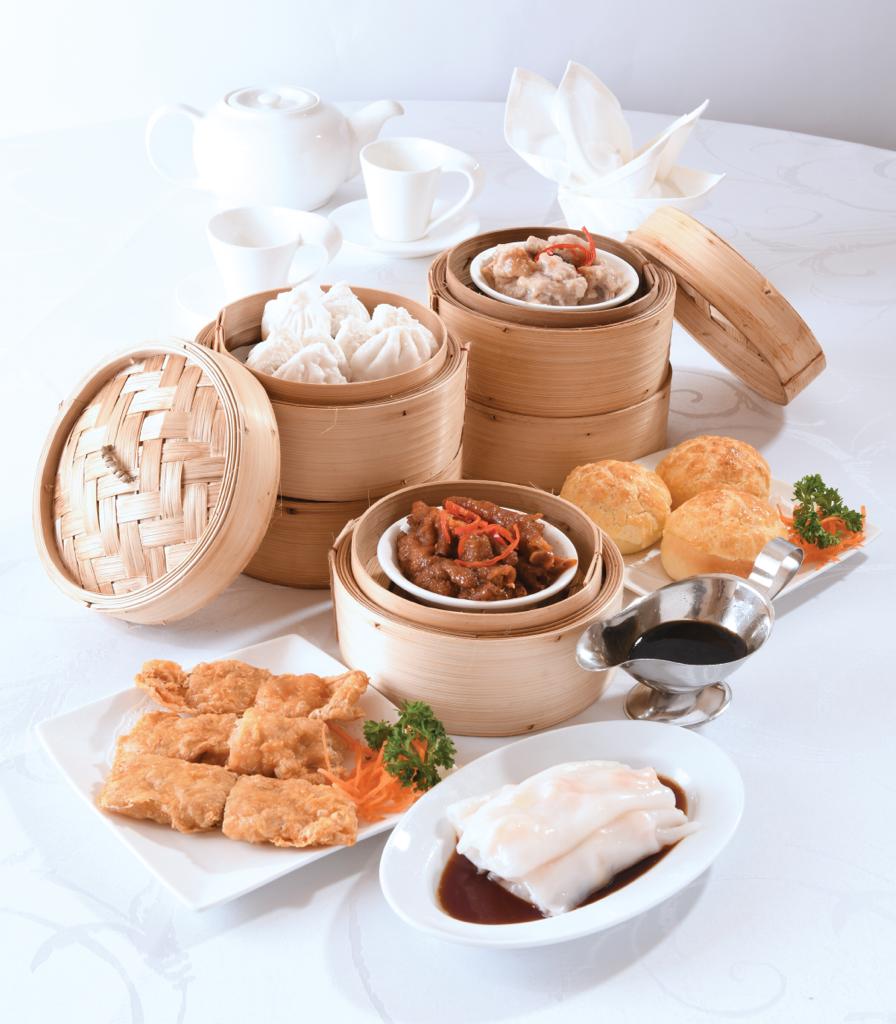 Craving some really, really good dim sum for your upcoming dinner gathering? Asia Grand Restaurant serves up quality selections that won't disappoint your crowd. From Hong Kong Dim Sum to piping hot Cantonese dishes, Peking duck and live seafood, your taste buds will be left tingling here. This Chinese restaurant is helmed by Andy Chau, Jacky Ma and Master Chef Danny Sin — all three of whom originate from Hong Kong and were the founders of Singapore's famous Tsui Hang Village in the 1980s.
Address: Odeon Towers, 331 North Bridge Road, #01-02 & #01-05/08, S(188720)
Opening Hours:
Mon – Fri: 11.30am – 3pm, 6pm – 10pm
Sat – Sun: 11am – 3pm, 6pm – 10.30pm
9. Si Chuan Dou Hua Restaurant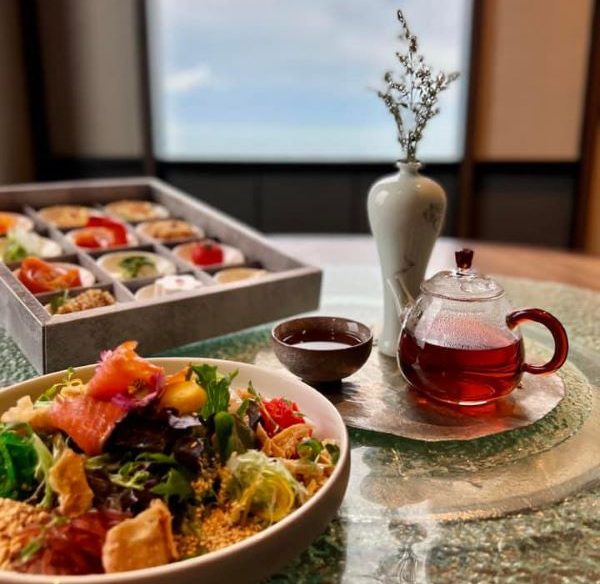 Looking for a place to celebrate a special occasion such as birthday celebrations with your loved ones? Si Chuan Dou Hua Restaurant is a Chinese restaurant with private rooms in Singapore that might just give you an unforgettable time. Psst, birthday boys and girls will get to have longevity peach buns presented to them!
Apart from an extensive dim sum selection and authentic Sichuan cuisine, the folks at Si Chuan Dou Hua Restaurant complete your dining experience with acrobatic spectacles such as pouring hot tea through a long spout by their Tea Master. Perched at the top of UOB Plaza, you'll also get to feast your eyes on picturesque views of the cityscapes while enjoying their dishes.
Address: PARKROYAL on Kitchener Road, 181 Kitchener Road, Level 3, S(208533)
Opening Hours:
Mon – Fri: 11.30am – 2.30pm, 6pm – 10pm
Sat – Sun: 11.30am – 1.15pm, 1.30pm – 3pm, 6pm – 10pm
10. Cassia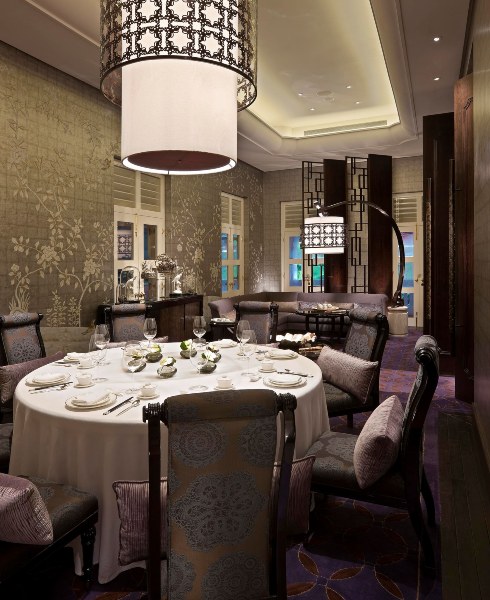 A feast consisting of bite-sized food followed by yusheng? Sounds like  a match made in heaven! Here at Cassia is where you'll get traditional Cantonese dim sum that have been made with the finest seasonal ingredients. This means that only the freshest and most top quality dishes will make it to your table. Be sure to try their nourishing Double-Boiled Chicken Soup. Made from scratch, this chicken soup for your soul is rich in flavour and sweetness. There are also tons of goodies like dried scallops and sea whelk in the soup. And if you're spoiled for choice, just opt for the Chef Chan Signature Set to taste a selection of the cook's specialities!
As one of the best Chinese restaurants with private rooms, Cassia promises an atas experience with beautifully hand-painted walls that are adorned with intricate floral patterns. And if comfort is your top priority when choosing a Chinese restaurant to bring your ah gong and ah ma, you will be pleased to know that every plush seat comes with a firm cushion for ample back support. It's also perfect for those who need help hiding their food babies after this sumptuous meal (wink)!
Address: Capella Singapore, 1 The Knolls, Sentosa Island, S(098297)
Opening Hours: Daily, 12pm – 2pm, 6.30pm – 10pm
Chinese fine dining restaurants with private dining rooms
11. Tong Le Private Dining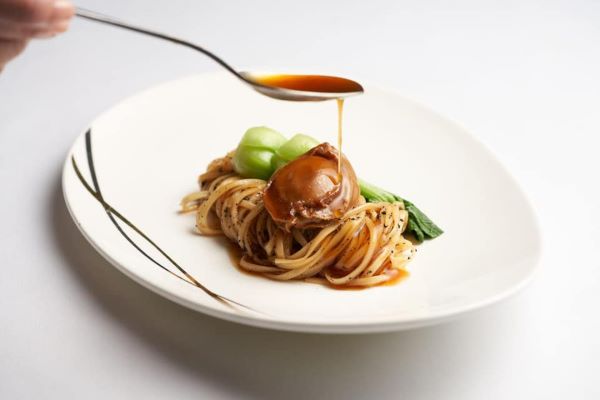 The only revolving restaurant in Singapore, Tong Le Private Dining is where you're in for a unique fine dining experience. Feast your eyes on gorgeous waterfront views as you enjoy a panoramic tour of Marina Bay. There are eight private rooms within this Chinese restaurant where you can have an elegant, classy dinner with your extended fam. 
On top of stunning views and lovely ambience, this Chinese restaurant is here to impress with their fine dining fare. Get ready to feast like a king on dishes like Chinese Scrambled Egg White with Diced Fish, Uni and Caviar, and a luxurious Crystal Prawn. Don't forget to try out their desserts too – their Double Boiled King Hashima served on a coconut shell is both IG-worthy and a refreshing treat to wrap up the dinner.
Address: OUE Tower, Level 10, 60 Collyer Quay, S(049322)
Opening Hours:
Mon – Sat: 11.30am – 3pm, 6pm – 10pm
12. Man Fu Yuan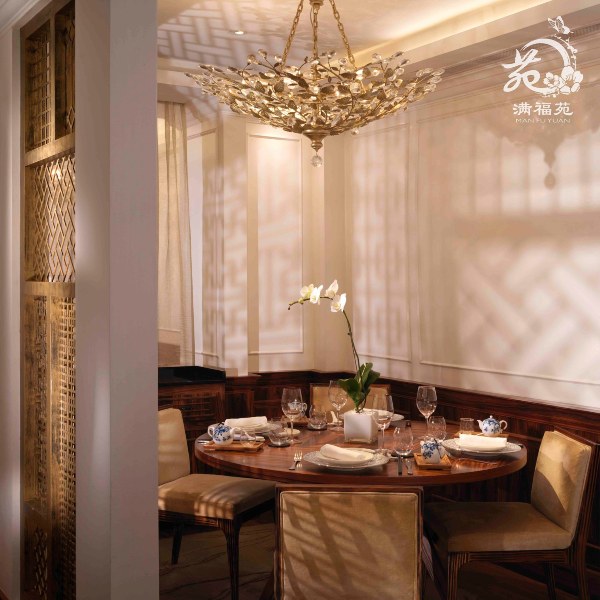 Spoil your loved ones at one of the best Chinese fine dining restaurants with private rooms! At Man Fu Yuan, your taste buds will be graced by fantastic flavours that'll have you coming back for more. Their modern take on traditional Chinese food has garnered recommendations from Singapore Tatler and even the Michelin Guide. So you definitely won't go wrong with having your reunion dinner at Man Fu Yuan! 
While set meals are always a safe choice, it's always a good idea to give an a la carte item a try. For instance, their Man Fu Yuan Roast Platter features a chicken that's been braised with soy sauce and rose dew wine. There are also honey-glazed Duroc pork belly char siew with beautifully charred ends, and a roasted Duroc  pork belly with fats that melt in your mouth! 
Address: InterContinental Singapore, 80 Middle Road Level 2, S(188966)
Opening Hours:
Mon – Fri: 12pm – 3pm, 6pm – 10pm
Sat – Sun: 11.30am – 3pm, 6pm – 10pm
13. Jade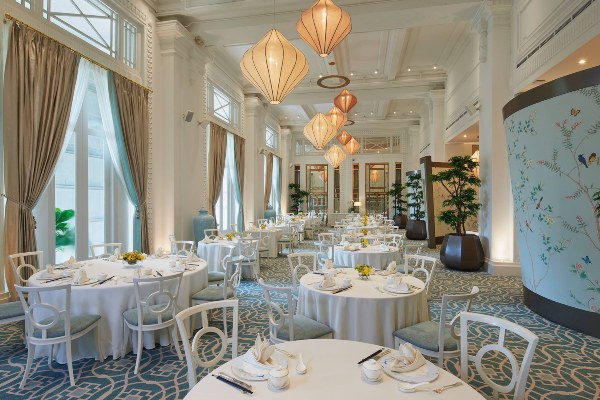 This is one Chinese restaurant with private rooms that'll impress your elderly relatives. Since jade symbolises wealth and luck, they'll love how this restaurant is full of elements that are jade green. But other than that, Jade serves up delectable delights that will leave anyone impressed as well. Their upcoming Chinese New Year menu is perfect for reunion dinners. Serving up yusheng with champagne jelly, pork dumplings with black truffle and even tiger prawns – chef's kiss! 
And if you want to return to Jade for seconds or thirds, visit them in the afternoon to yum cha! That's when you'll be in for a dim sum treat. We're talking about Abalone Siew Mai, Lobster Dumplings, Bak Kut Teh Soup Dumplings and more! So turn up hungry and get ready for the feast of your lifetime! 
Address: The Fullerton Hotel Singapore, 1 Fullerton Square, S(049178)
Opening Hours:
Mon – Fri: 11.30am – 3pm, 6.30pm – 10.30pm
Sat – Sun: 11.30am – 1pm, 1.30pm – 3pm, 6.30pm – 10.30pm
Take your dinners up a notch at these Chinese restaurants with private dining rooms
Book those rooms early and dine in style. Take the chance to dress to the nines with these best modern cheongsam when visiting these Chinese restaurants with private dining rooms in Singapore. Shop our CNY sale to enjoy amazing festive discounts! Also check out our list of the best hotpot places to warm your bellies over heartwarming conversations with relatives! Want to dine in the comforts of your home? Go for these best steamboat pots and remember to get your ingredients from these best steamboat delivery places!
This article was updated on 20 December 2022. Additional research done by Caryn Tan.