Far from bland or boring, vegetarian and vegan food could even bring about a myriad of flavours you wouldn't expect! Whipped up by creative and skilful chefs, read on to discover some of the best vegetarian and vegan restaurants in Singapore to get your next vege-licious fix!
1. Original Sin
Original Sin is the only Mediterranean vegetarian restaurant in Singapore. Tucked in the quaint food enclave of Chip Bee Gardens at Holland Village, this charming restaurant serves award-winning cuisine concocted by head chef Marisa Bertocchi.
Don't miss out on the Bosco Misto – two deep-fried patties made with feta cheese and spinach that will leave you feeling extremely satisfied. The Magic Mushroom is another all-time favourite, featuring a large portobello mushroom topped with ricotta cheese, tomato basil sauce and mozzarella.
Address: Blk 43 #01-62 Jalan Merah Saga Holland Village, Chip Bee Gardens, S(278115)
Opening Hours:
Lunch: Daily, 11:30am to 2:30pm
Dinner: Daily, 6pm to 10:30pm
2. Real Food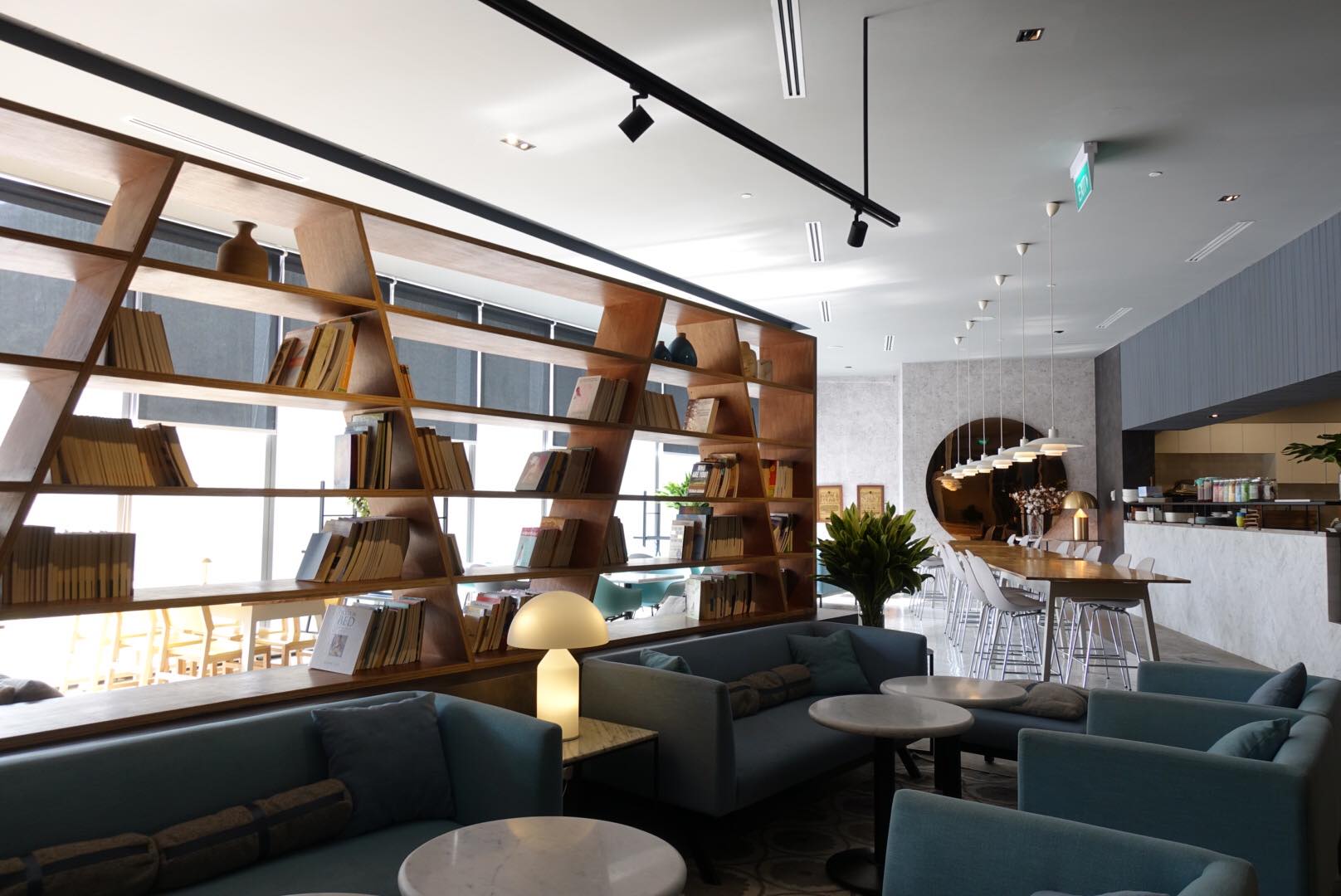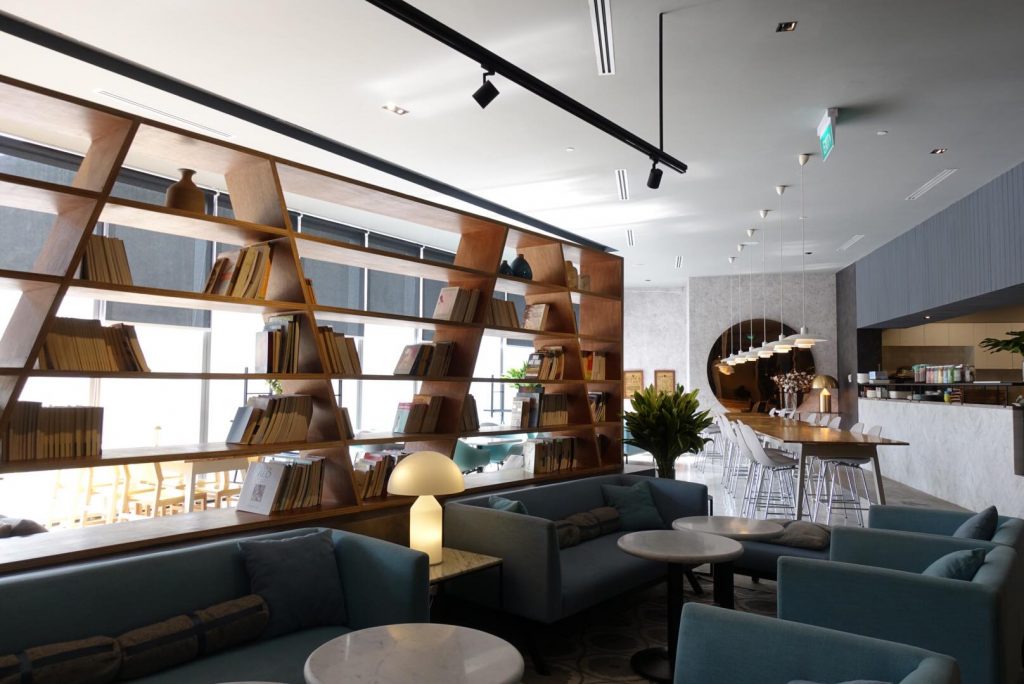 Having expanded with three outlets in Singapore and two others overseas, it's easy to see why Real Food is one of the more popular vegan food options here. Their menu consists of a variety of fresh organic food which includes burgers, pasta and Asian dishes.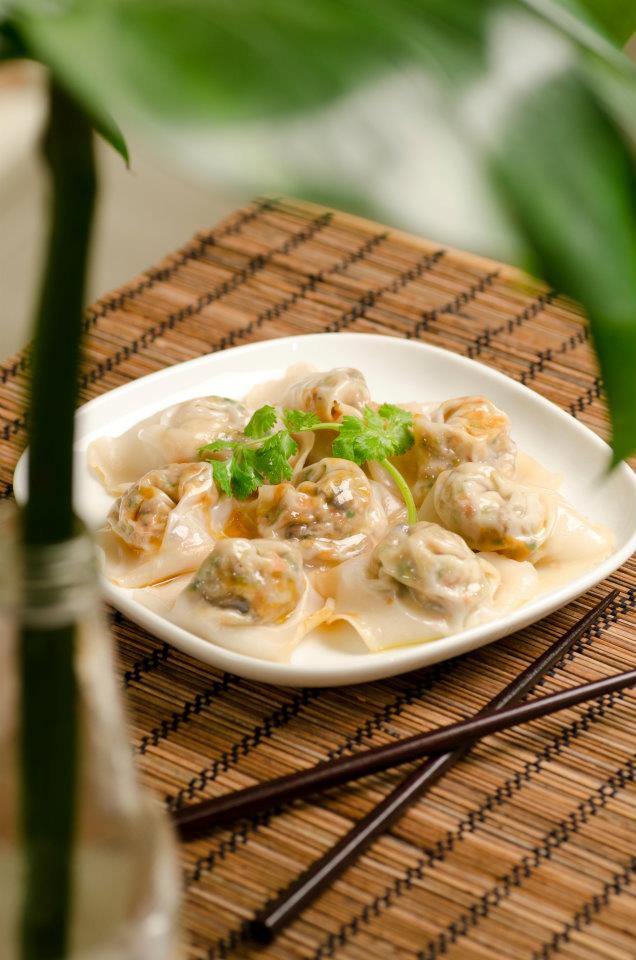 The homemade dumplings packed with carrots, mushrooms and other organic ingredients are well worth a try. We also recommend their fried rice, which is savoury and super tasty! Lastly, end off your meal with one of their gluten-free cakes.
Address: 181 Orchard Road #02-16, Orchard Central, S(238896)
Opening Hours: Daily, 10am to 8:45pm
3. Elemen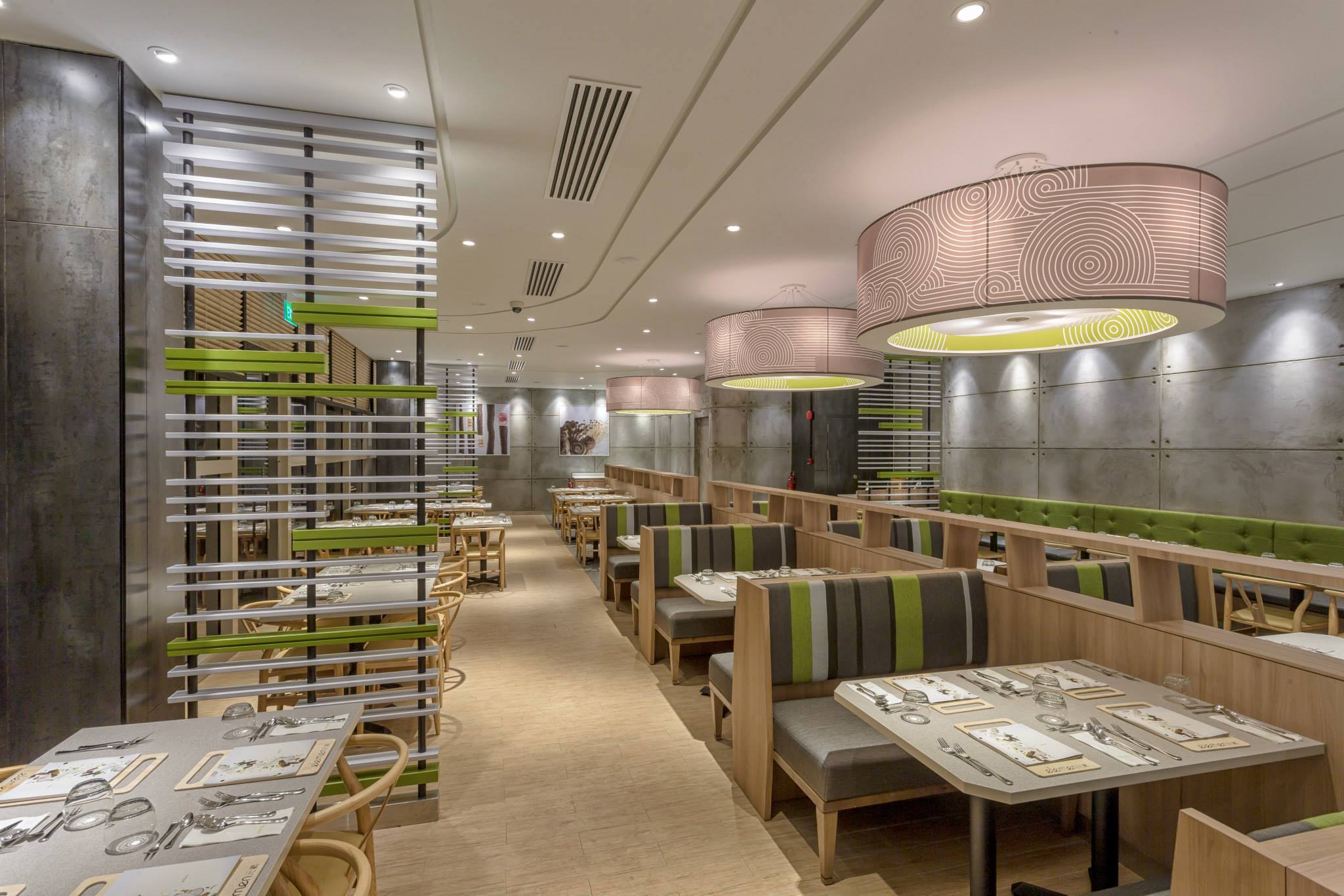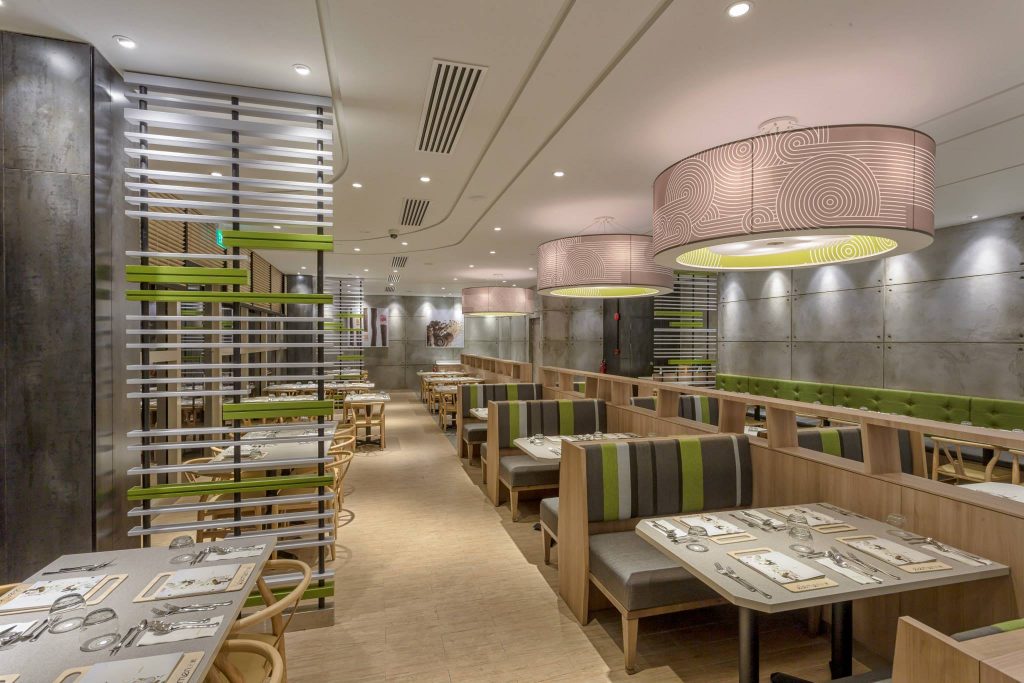 This elegant vegetarian restaurant has been praised by many. At Elemen, you may choose to order a la carte, but the set course meals offer you the best value. Pick between a five or eight-course meal, which comes with appetizers, main course, dessert and more.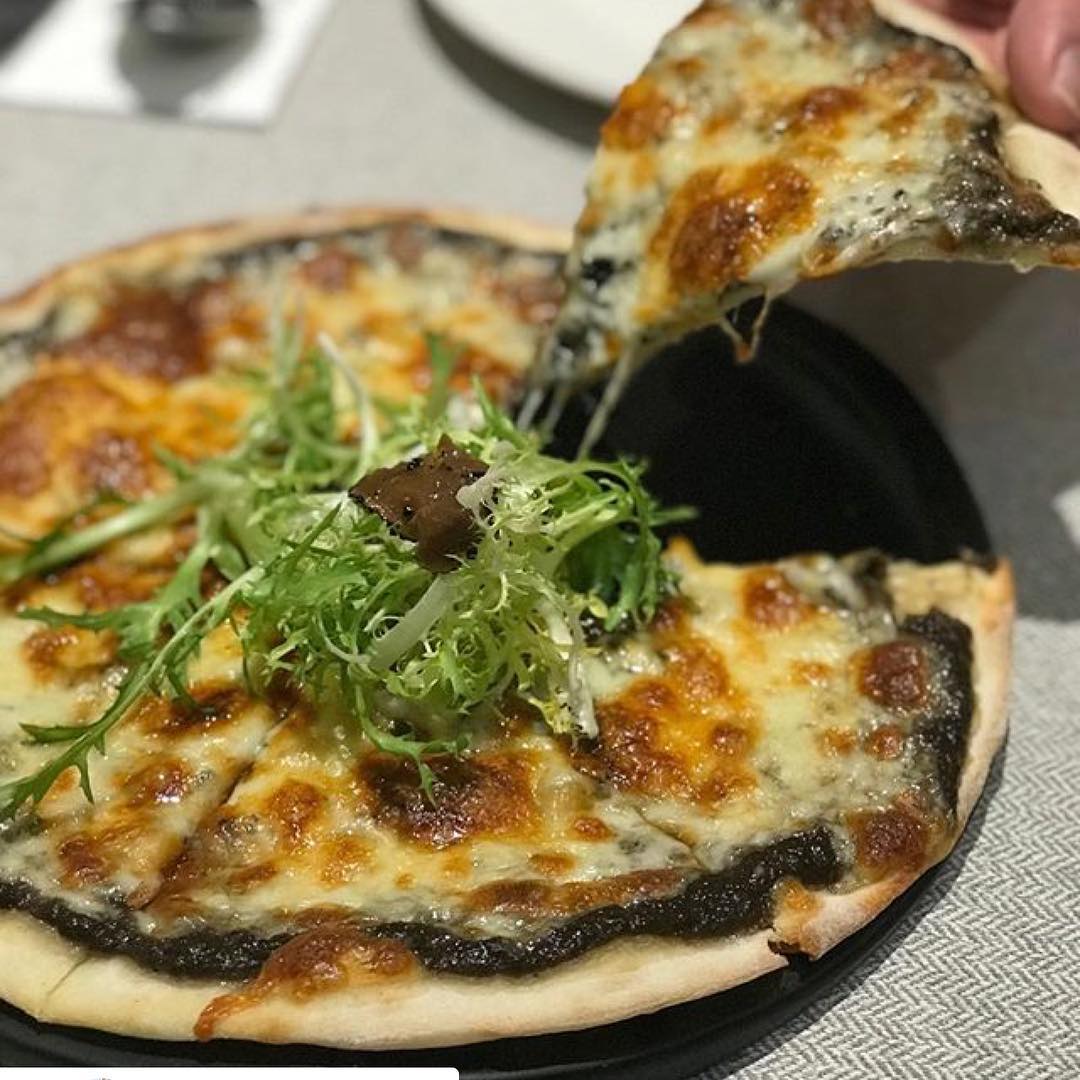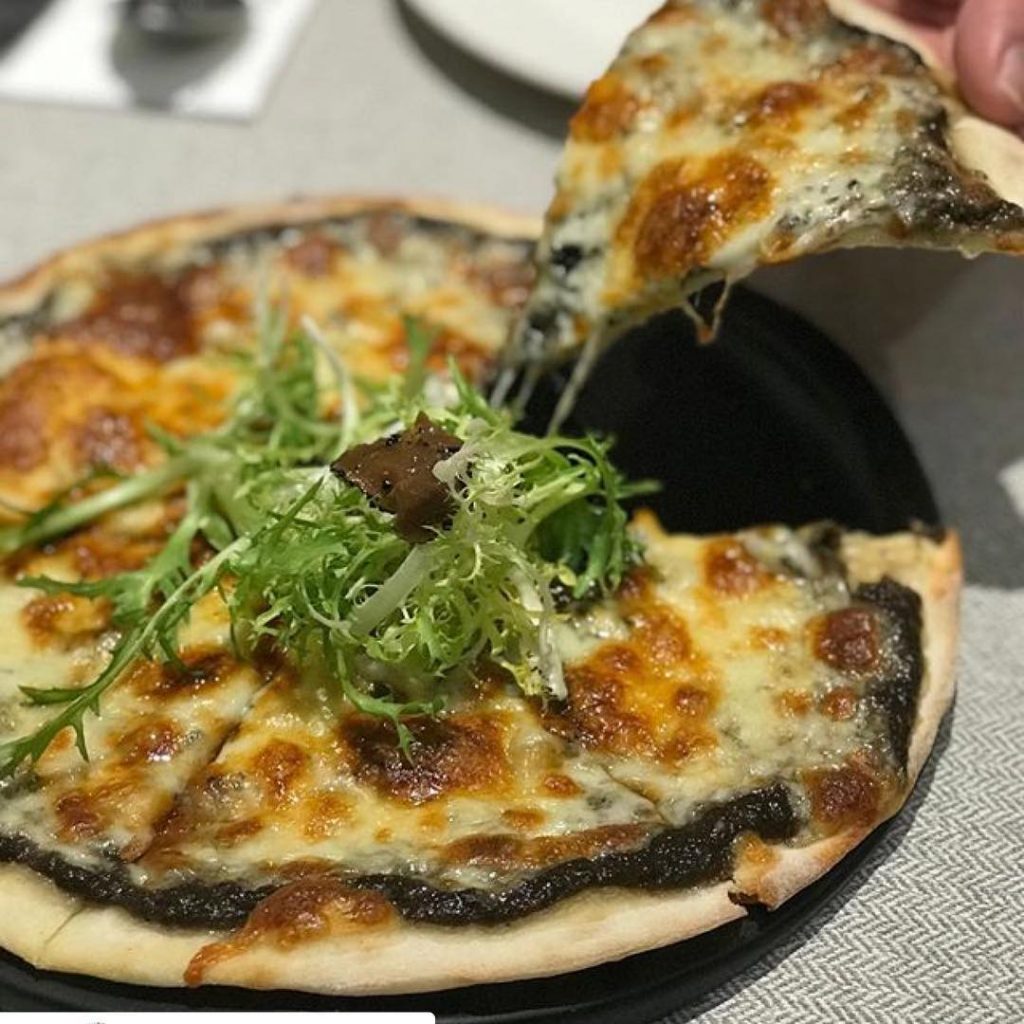 A highly-raved dish is the Wild Mushroom and White Truffle Pizza. Rich truffle cream sauce, sauteed shiitake mushrooms and wild rocket leaves on a crispy crust – this yummy dish is perfect for sharing or having it all by yourself.
Address: 9 Raffles Boulevard #01-75A/76, Millenia Walk, S(039596)
Opening Hours:
Lunch: Daily, 11:30am to 4:00pm
Dinner: Daily, 5:30pm to 10:00pm
4. Zi Zai Vegetarian Restaurant
Looking for no-frills vegetarian food that is absolutely worth your money? Zi Zai Vegetarian is your answer. They serve vegetarian dishes in classic zi char style, with classics like their cereal prawns and claypot ee mee. There's even vegetarian prata served here.
With three outlets around in Singapore, you can easily satisfy vegetarian cravings with your family and friends.
Address: 236 Yishun Ring Road, S(760236)
Opening Hours: Daily, 8am to 9.30pm
5. VeganBurg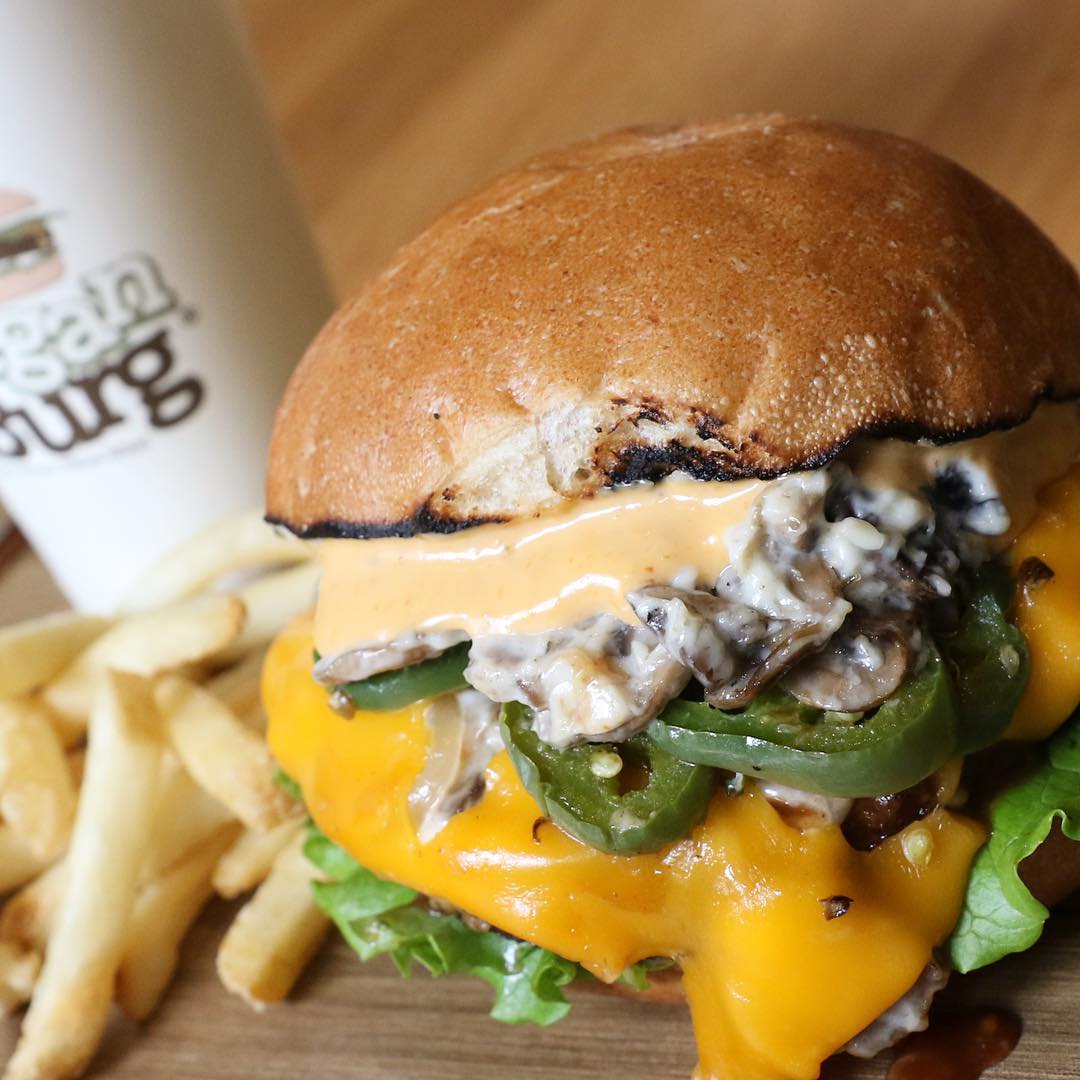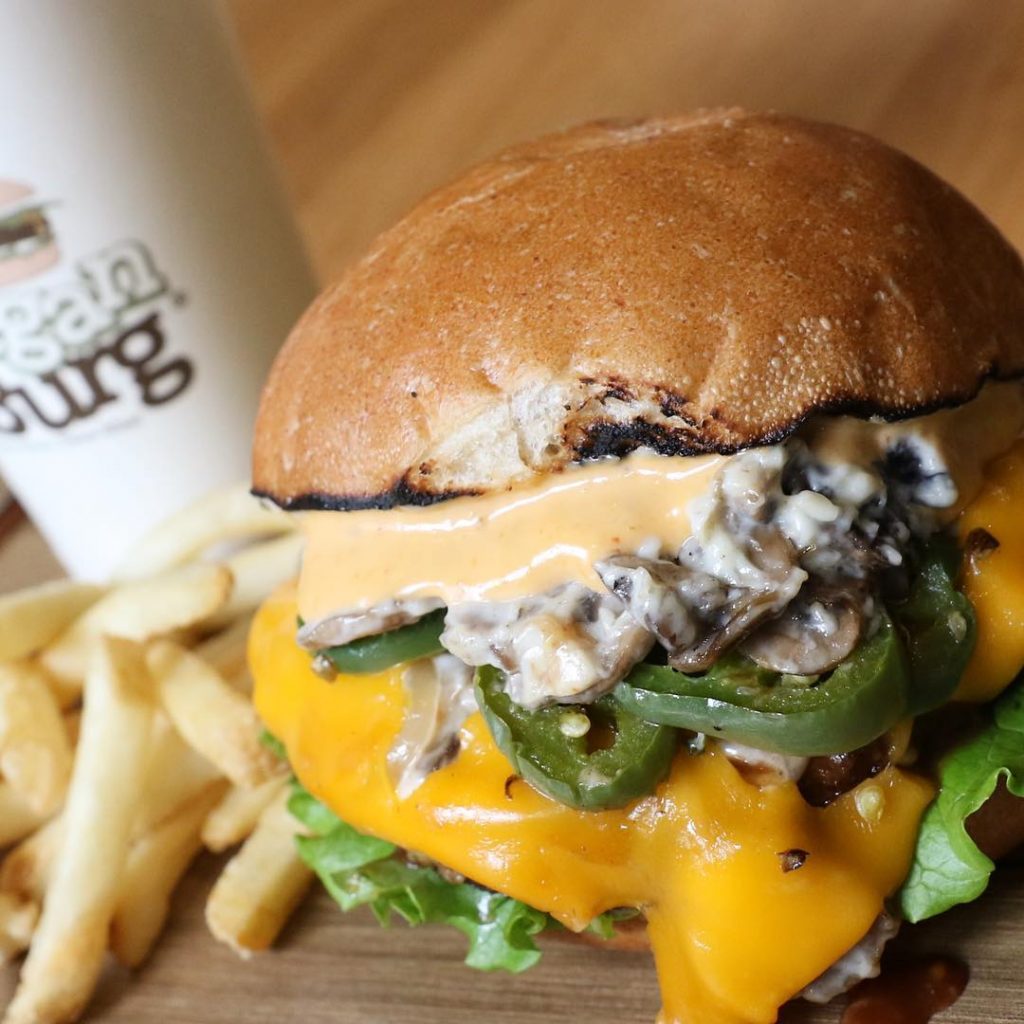 It's no surprise to see VeganBurg on this list. After all, this fast-food vegan restaurant has made a name for itself with their delicious soy patty burgers that taste as good as (or even better than) the real thing!
One of the favourites here is the Creamy Shrooms burger, but you should also check out their seasonal menu as well. Past seasonal offerings include the Chilli Krab burger and Raya Sayang burger.
Address: 44 Jalan Eunos, S(419502)
Opening Hours: Daily, 11.30am to 10.00pm
6.HRVST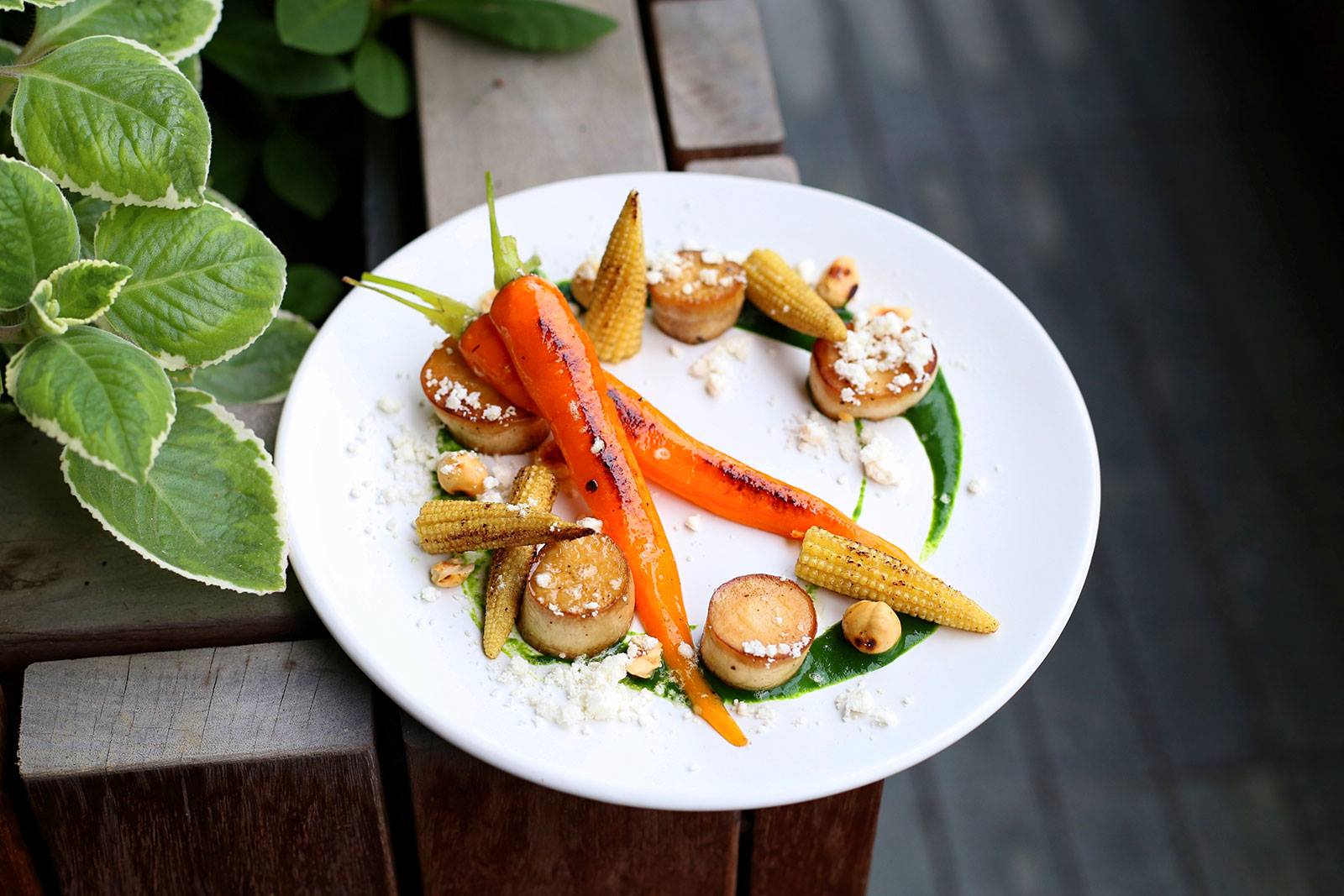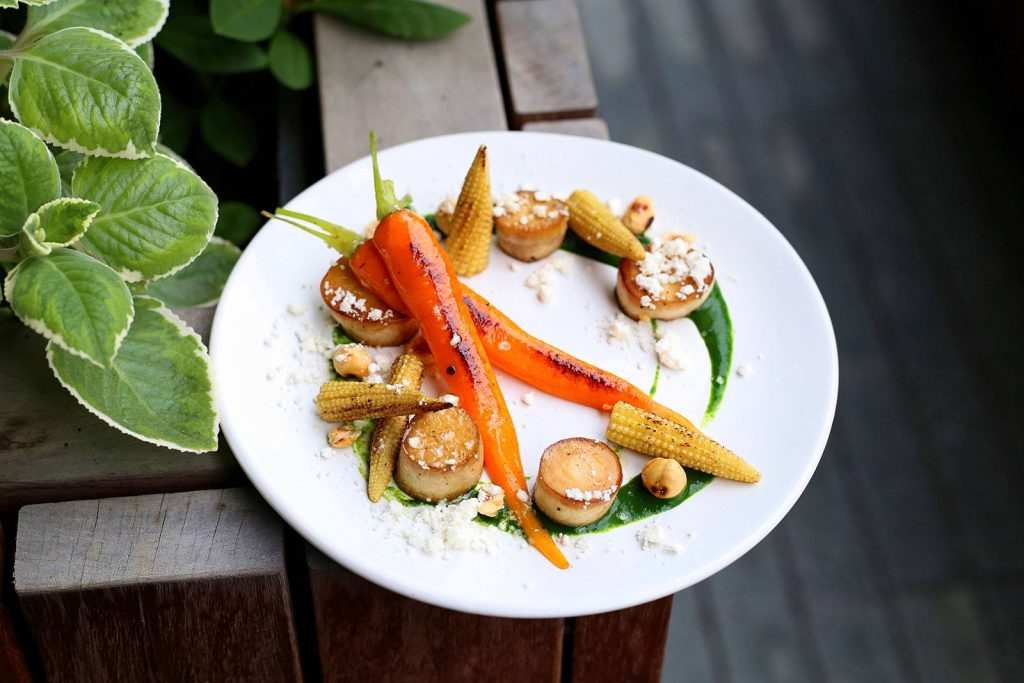 Situated at the rooftop of OUE Downtown Gallery, HRVST is a stylish vegan restaurant with an edible garden and bar. The kitchen is helmed by Chef Dylan and Chef Addis, who have 20 years of experience working for various F&B establishments. Some of the dishes even make use of ingredients from the edible garden! A good dish to try is the King Oyster Scallops, which actually uses King Mushroom as the 'scallops'.
Address: 6A Shenton Way #05-01, OUE Downtown Gallery, S(068815)
Opening Hours:
Lunch: Monday – Friday: 11:30am to 2:30pm. Saturday: 11.00am to 3.00pm
Dinner: Monday – Friday: 5:30pm to 11:30pm
7. Whole Earth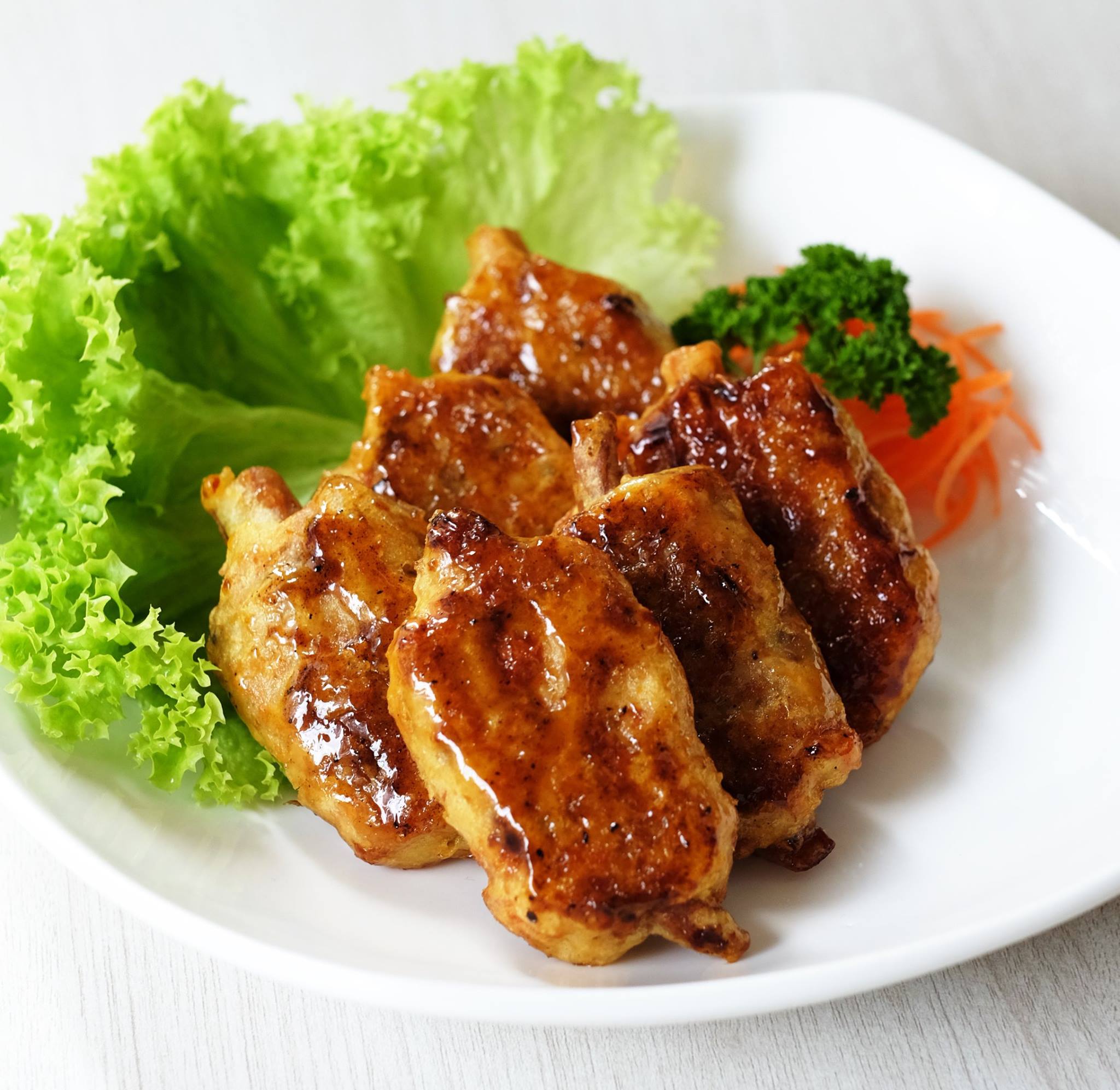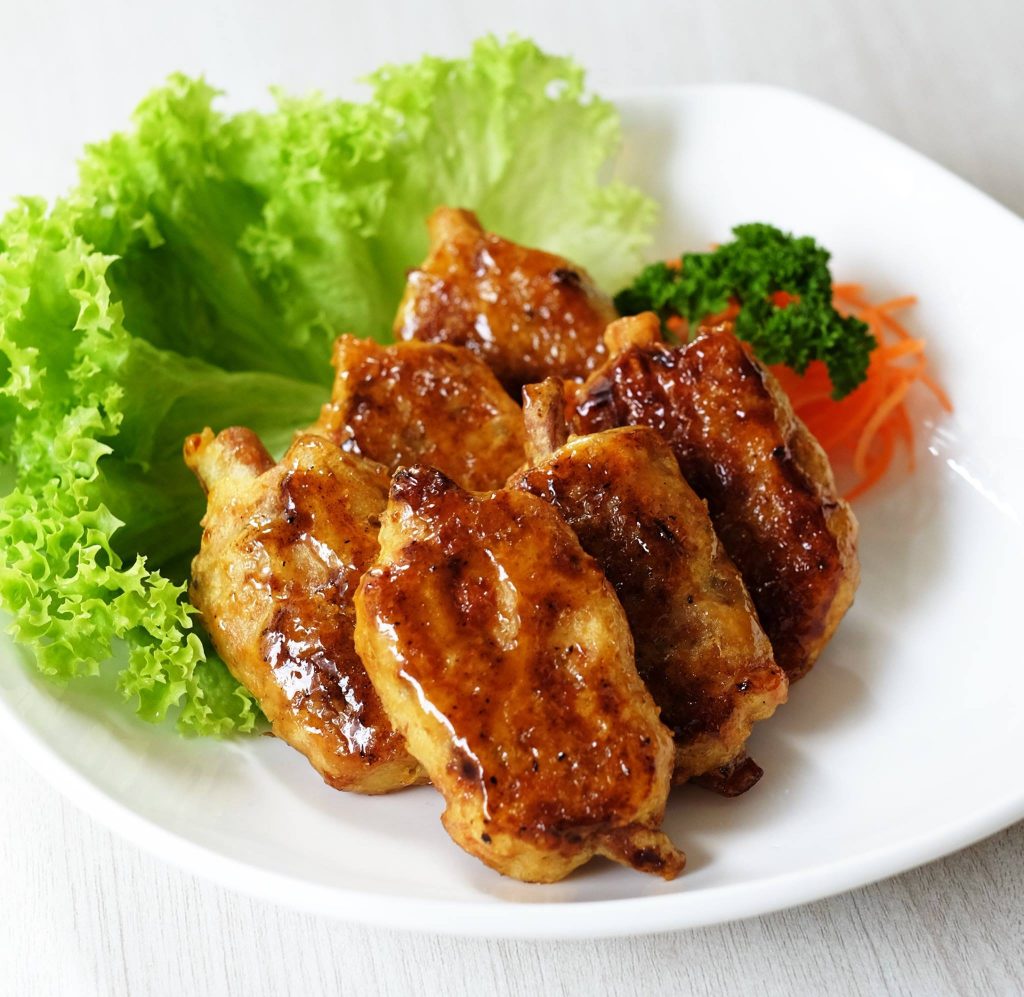 Whole Earth was the first and only vegetarian restaurant in Singapore to be awarded the Michelin Bib Gourmand in 2016. The award-winning cuisine is inspired by Thai and Peranakan flavours, and their dishes will challenge any misconceptions you have about vegetarian food. Made with Shiitake mushrooms and a mix of Peranakan herbs and spices, the Penang Redang is a must-try.
Address: 76 Peck Seah St, S(079331)
Opening Hours:
Lunch: Daily, 11:30am to 3pm. Saturday: 11.00am to 3.00pm
Dinner: Daily, 5:30pm to 10:00pm
8. Loving Hut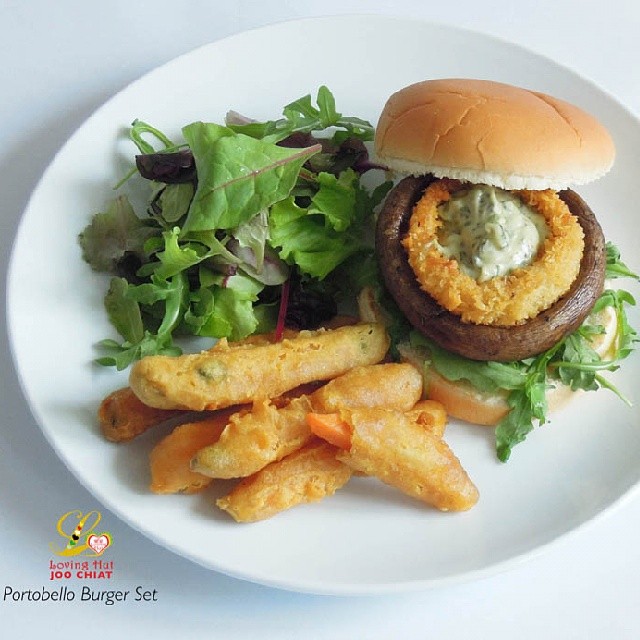 With over 200 outlets worldwide, Loving Hut is one of the largest international vegan restaurant chains. The Singapore outlet offers healthy meals made with plant-based ingredients. Their popular dishes are the Nyonya Laksa, Papa's Portobello Burger and their Aglio Olio.
Address: 229 Joo Chiat Road #01-01, S(427489)
Opening Hours:
Lunch: Monday / Wednesday – Friday: 11:30am to 3pm. Saturday – Sunday: 11.30am to 3.00pm
Dinner: Monday / Wednesday – Friday: 6pm to 9:30pm
9. Afterglow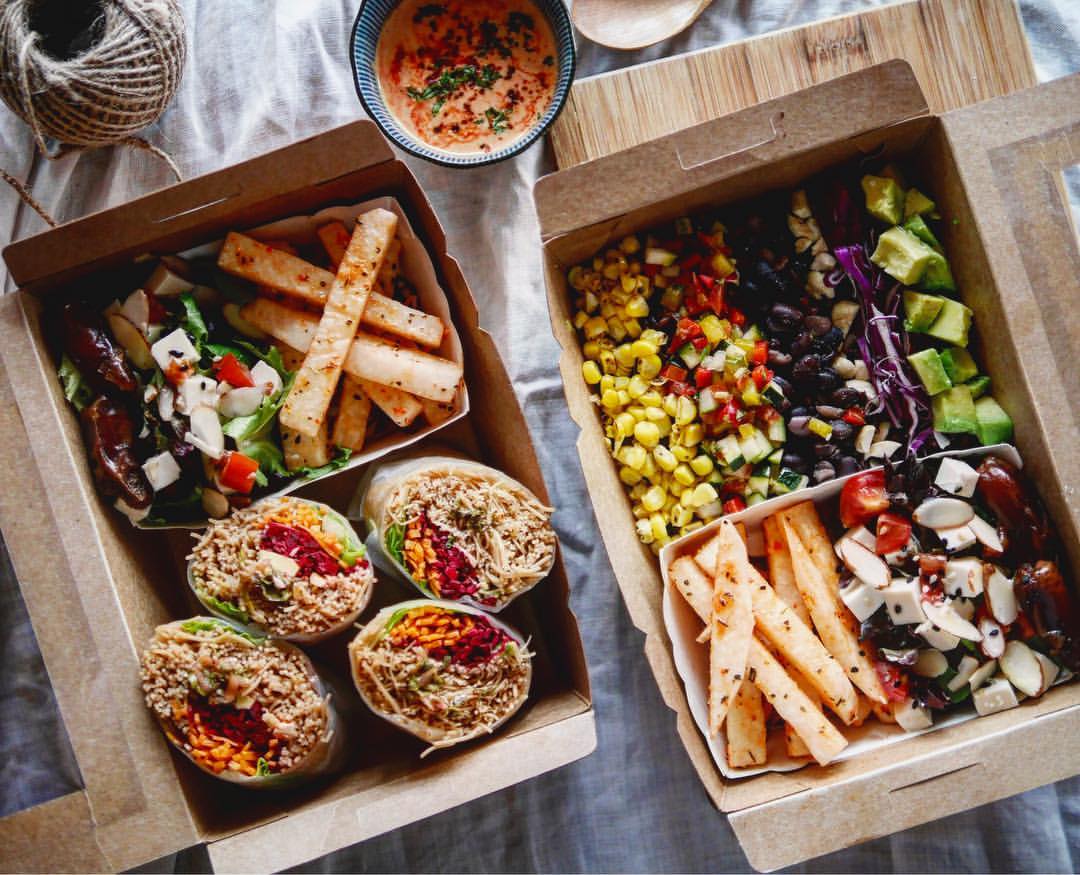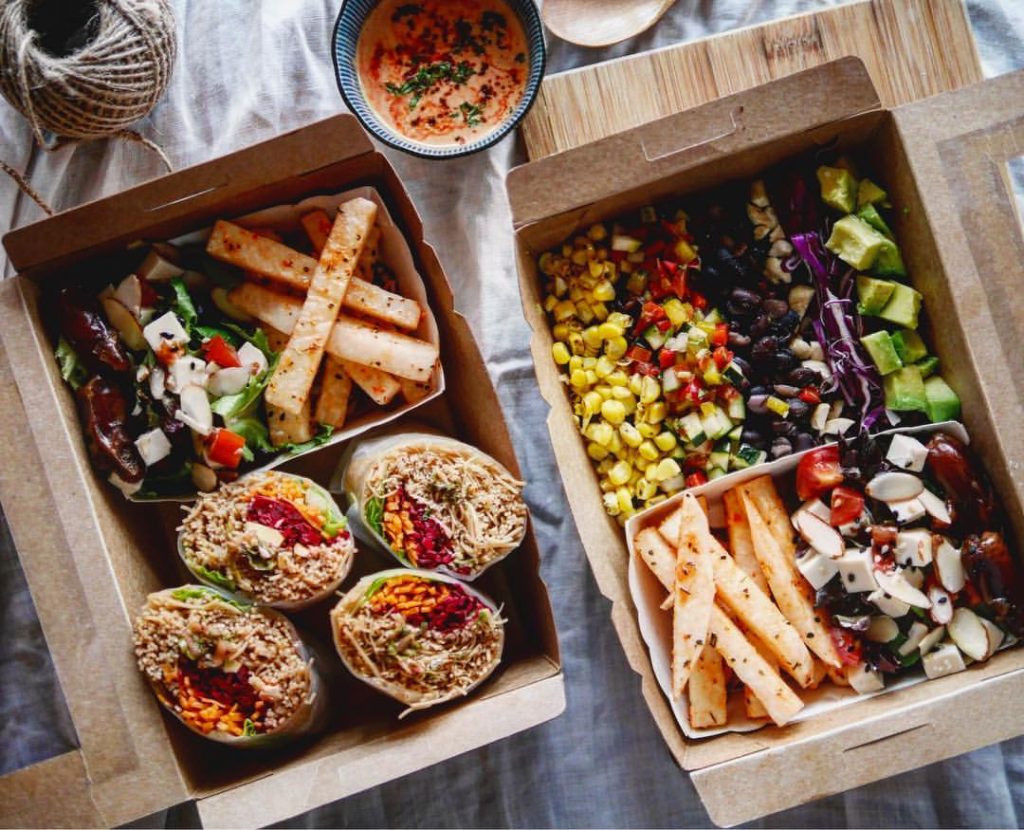 Afterglow offers a raw vegan food concept. Curious? Well, it means some of their dishes are made using ingredients that are not heated above 45 degrees Celsius. Additionally, they have a juice and meal delivery program as well as regular food workshops.
The Zucchini Linguine & Walnut 'Meat' Balls are recommended for those trying out raw food for the first time.
Address: 24 Keong Saik Road, S(089131)
Opening Hours: Monday – Saturday: 12pm to 10:30pm
10. Green Dot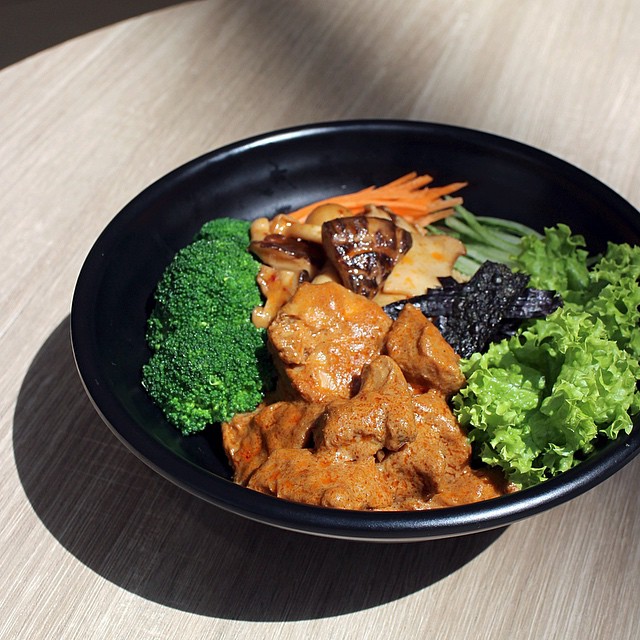 Create your very own customised bento at Green Dot vegetarian restaurant! With an impressive selection of meat-free dishes to go along with your choice of rice, you can enjoy a delicious and balanced meal. You can also try one of their signature rice bowls that are very popular. For fans of spicy food, they serve vegetarian mala to tingle your taste buds.
Address: 60 Paya Lebar Road #11-40, Paya Lebar Square, S(409051)
Opening Hours:
Lunch: Daily, 11:30am to 3pm. Saturday: 11.00am to 3.00pm
Dinner: Daily, 5:30pm to 10pm
11. Annalakshmi Restaurant

At Annalakshmi Restaurant, you enjoy an authentic South Indian vegetarian buffet spread and 'pay as you feel'. Yes, you decide how much to pay for your meal at this renowned Indian vegetarian restaurant. The food served is hearty and wholesome, and you'll enjoy the great ambience of the restaurant.
Address: 20 Havelock Road #01-04, Central Square, S(059765)
Opening Hours:
Lunch: Monday – Sunday: 11:00am to 3:00pm
Dinner: Monday – Saturday: 6:15pm to 9:30pm
Feeling hungry now? We don't blame you, because we're salivating as well! If you're looking for foodie guides, read on for our recommendations on Mexican restaurants and late-night supper joints in Singapore.