If the sweltering heat has got you dashing to your fridge for icy cold soda, hold up! Here's a fun fact — spicy food can actually do a better job at keeping you cooler! How? Imagine this: your body perspires when you eat spicy food, and when the sweat evaporates, it reduces the temperature of your body. So skip the sugary soda and get a kick from spicy instant noodles such as chilli pan mee (handmade flat noodles) and suan la fen (spicy and sour noodles) to stay cool! P.S: It's also a good excuse to indulge in spicy foods that Singaporeans are known to love.
1. Meet Mee Chilli Pan Mee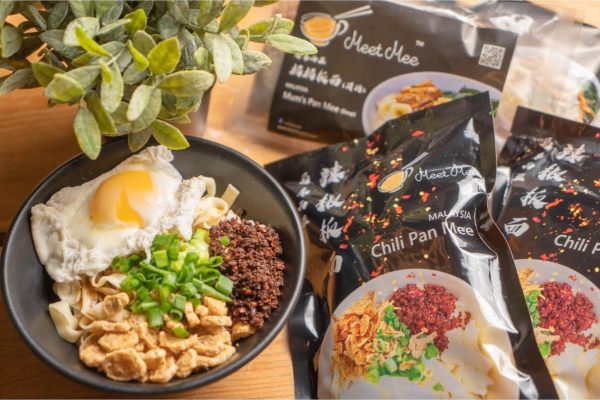 If there's one dish that Singaporeans love ordering in the hawker centres, it's got to be chilli pan mee! Also known as ban mian, chilli pan mee is a popular Chinese handmade noodle dish. The noodle strands are flat and cut into strips using a wooden block. While pan mee can be eaten with soup, most people prefer having it dry to bring out the noodles' springy texture.
If you're a diehard chilli pan mee fan, we've got great news for you. There's no need to brave the heat and queue for pan mee at the hawker centre because you can now cook your own bowl of delicious noodles with Meet Mee Chilli Pan Mee (available on Meet Mee Official). Meet Mee is the brainchild of a pan mee chain stall owner in Kuala Lumpur whose business was hit by the pandemic. In order to bring this comforting dish closer to the customers during this trying time, the stall owner found a way to turn the dish into an instant meal. All you need to do is to boil the noodles for six minutes, then toss it with the signature dried chilli, fish cakes and special seasonings included in the packet. While an egg isn't included in this spicy instant noodle, simply boil an egg for five minutes and pop it into your noodles for a hearty meal!
2. Hai Chi Jia Suan La Fen
Having a sudden craving for mala hotpot? The Hai Chi Jia suan la fen (available on pastelnponies) is your next best alternative! It's hard to miss this suan la fen, which has taken Singapore by storm after it had been highly raved about on social media channels. The tantalising spicy instant noodles pack a punch with its tongue-numbing sour spiciness — guaranteed to jolt you out of that afternoon slump! What we love about the Hai Chi Jia Suan La Fen is that it contains a generous portion of vermicelli noodles and condiment packets of peanuts, vinegar so you can adjust the taste according to your preference.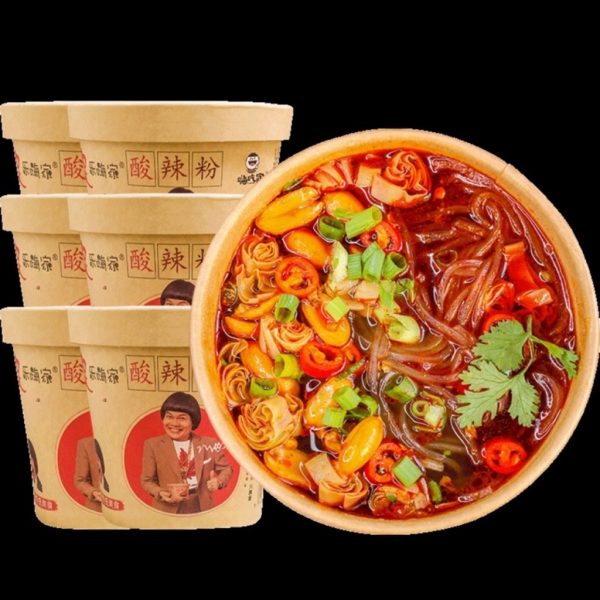 Worried about buying counterfeit goods? Here's how you can make sure your Hai Chi Jia
suan la fen
is authentic! Check that your spicy instant noodle is produced by 河南嗨吃家. It should also feature the face of their official ambassador and famous Hong Kong actor, Bobby Yip. Another method is to check its authenticity by scanning the QR code at the back of the instant noodle packaging. Other than the original Hai Chi Jia
suan la fen
, you can also get your hands on the
Hai Chia Jia mala noodles with Fuzhou fishball
as well as the
Hai Chi Jia potato noodles with clams and enoki mushrooms
(both available on
pastelnponies
) which will make for a great supper option! 
3. Hei Ren Bu Luo Mala Oden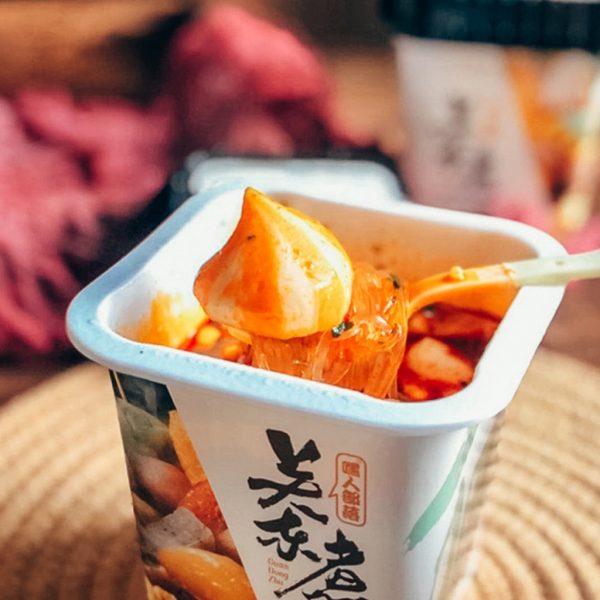 Ever tried the iconic Japanese oden found in their local convenience stores? Here's a spicy twist to it —
Hei Ren Bu Luo mala oden
(available on
Beautiful Secret Agent
)! This instant noodle is every oden fan's dream come true as it contains cellophane noodles and a generous amount of oden ingredients. Think: soft fish paste cakes, bouncy fish balls and konjac stewed in a spicy dashi broth — yum! We suggest keeping a box or two under your home workstation to tide you through OT nights. Its fiery yet homely taste will instantly warm your body and soul, giving you more energy to go about your tasks! 
4. Indomie Mee Goreng Hot & Spicy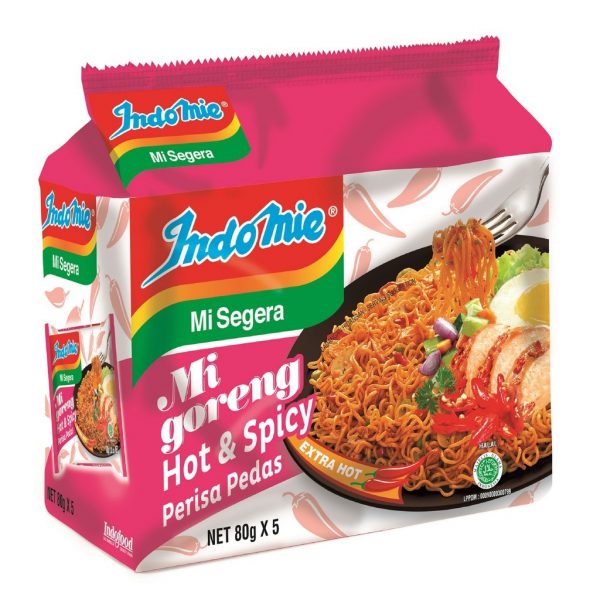 Spice lovers will love the
Indomie hot and spicy mee goreng
(available on
S-Mart by Shopee Official Store
). Satisfy your mee goreng cravings without having to make a trip to the hawker centre. Unlike regular instant noodles with broth, you'll have to drain the noodles after boiling them. Then, give your noodles a quick toss with the condiments over medium heat before tucking into your spicy and savoury meal! Wash the spices down with a
Gold Roast 3-in-1 instant teh tarik
(available on
Gold Roast Food Official
) — a must-have when you're enjoying a bowl of piping hot mee goreng! 
5. Chen Cun Chong Qing Suan La Fen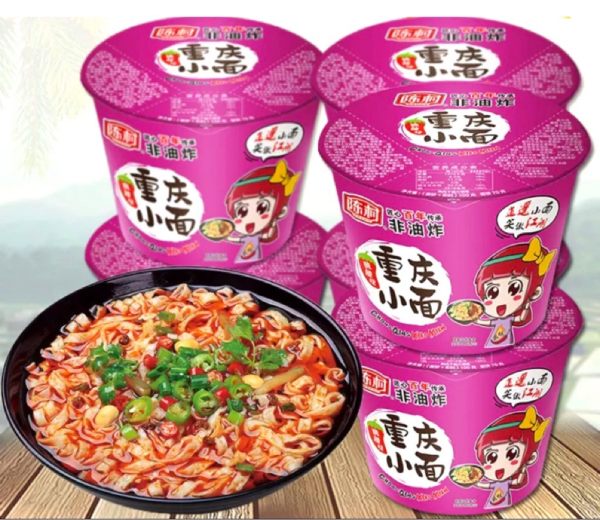 While many suan la fen spicy instant noodles use vermicelli as the main ingredient, we understand that not everyone is a fan of the thin white noodles. This is where the Chen Cun Chong Qing suan la fen (available on charishisha) comes in! Instead of vermicelli noodles, you'll find regular non-fried, chewy instant noodles. If you have a lower tolerance for spicy food, we suggest only adding about one-quarter of the spicy oil into your bowl. This should give you enough kick without bringing you to the verge of tears! 
6. Nissin Uma Kara Spicy Instant Noodles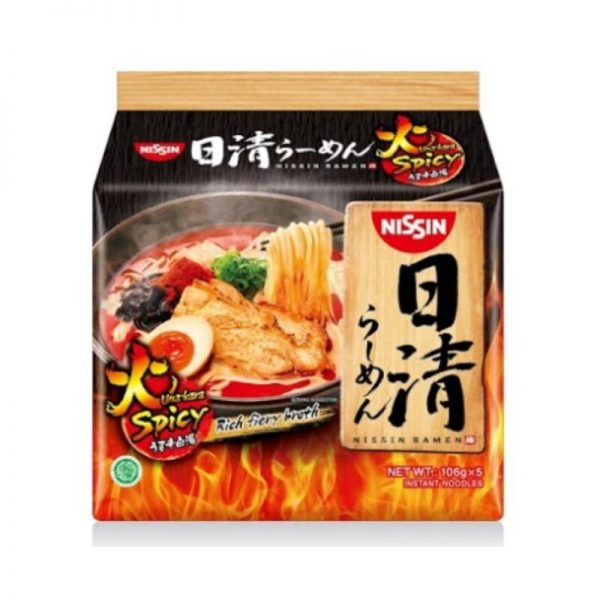 Enjoy the authentic taste of Japan with
Nissin Uma Kara spicy instant noodles
(available on
S-Mart by Shopee Official Store
)! This interesting flavour was created by Keisuke Takeda, founder of the legendary Ramen Keisuke, in collaboration with Nissin Foods. Unlike regular creamy ramen broth, the soup in Uma Kara spicy instant noodles is loaded with Sichuan pepper. The result? A robust yet peppery taste that's bound to turn up the heat in your mouth! However, like most Japanese cuisine, the level of spiciness of the noodles is relatively lower compared to
suan la fen
— perfect for those with lower spice tolerance. Upgrade the ramen instant noodles with toppings like a soft-boiled egg, chashu slices and spring onions before digging in! 
Did we also mention that the Nissin Uma Kara spicy instant noodles are halal? That's right, now our Muslim friends can join in on the spicy instant noodles craze as well! 
7. Chong Qing Spicy Hot Pot Instant Noodles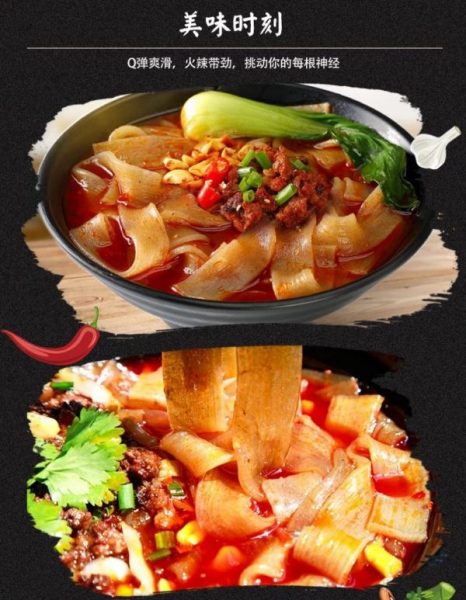 Ever witnessed the impressive noodle dance at Hai Di Lao restaurant? As much as the performance is a visual feast, we also love the texture of the hand-stretched noodles — soft but more springy than our local
mee hoon kueh
noodles. You can now enjoy hand-stretched noodles in the comfort of your own home with the
Chong Qing spicy hot pot instant noodles
(available on
Unik Beauty
)! The noodles soak up the fiery broth and deliver a mouthful of authentic Chong Qing flavour which you can never get enough of. Just be sure to have a glass of water or milk next to you to help ease the burning sensation in your mouth!
8. Samyang Hot Chicken Ramen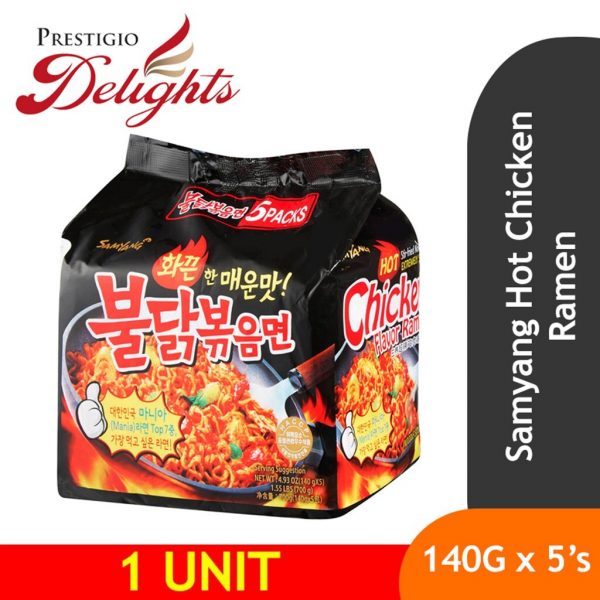 Of course, no spicy instant noodles list is complete without the ever-so-popular
Samyang hot chicken ramen
(available on
Prestigio Delights
)! After all, this was the ramen flavour that started the craze for spicy instant noodles not only in Korea but also around the world. Don't be mistaken by its name though. The Samyang hot chicken ramen is more of a stir-fried noodle than traditional ramen. This means you'll have to drain the noodles before serving. 
Wondering exactly how spicy these noodles are? A glance at the ingredients list will give you the answer. The seasoning contains chilli pepper powder, red pepper powder, red pepper seed oil, decolourised chilli extract, paprika extract, black pepper powder and curry powder — it's a list put together to set your mouth on fire! Compared to
suan la fen
, we'd say the Samyang hot chicken ramen is definitely on another level of spice!! But that hasn't stopped fans from slurping bowls of these. Up for the challenge?
9. Master Spicy Instant Noodles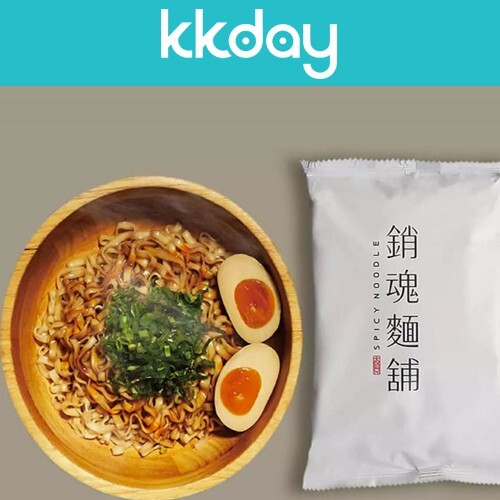 Many countries in the region have attempted their own spin on spicy instant noodles and Taiwan is no exception! The
Master spicy instant noodles
(available on
KKday Official Store
) is a popular souvenir with travellers returning from Taiwan. Created by the famous Master Spicy Noodles chain restaurant, these instant noodles feature the same yummy taste thanks to its special sauce combination. Its spicy sauce is created using more than 10 spices. This includes star anise, cinnamon and liquorice to bring out a complex spiciness lingers on your palate! The instant noodles also come in a well-packaged box, making it an ideal gift for your fellow instant noodle fanatic.
Other flavours to challenge your taste buds 
For more last-minute meal options, check out these Japanese instant noodles and easy meal prep recipes which you can whip up in a jiffy at home! Meanwhile, if you have more time to cook, you may want to try some of these interesting K-drama inspired Korean recipes featuring Saeroyi's soft tofu stew and Ji Eun Tak's Miyeok Guk!]]>