Staying on track with your health and fitness goals requires way more than a trip (or trips) to the gym. Nutrition is an important factor and plays a key role as well! We all know how eating clean is a tad tough at times, especially on days when all you are craving is that sugar glazed donut staring at you from the glass window, almost shouting at you to devour it. But all is not lost yet, because we are here to tell you that you can have your cake, and eat it too (literally and figuratively)! 
The protein powder that you mix with water and lug to the gym is way more versatile than it looks. On top of the usual protein shakes, you can actually use them to make pancakes, donuts and even guacamole bowls! Here are some healthy and yummy recipes that you can try out as a post-workout fuel, or the next time a craving hits, without sabotaging that quest to a healthier and fitter you. 
1. Almond Butter Pancakes
Who can say no to a fluffy stack of mouth-watering goodness in the morning? You get your protein boost for the day, and still 'cheat' in the process!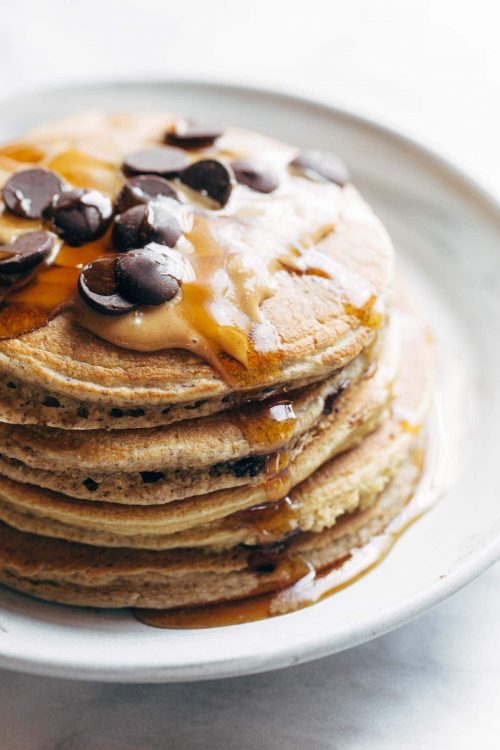 Ingredients
Directions
1. Mix ingredients in a bowl. Add water as and when needed.
2. Oil the pan and cook over medium heat.
3. When it is done, transfer it onto a plate and spread 1 tbsp almond butter on top of the pancakes.
4. Sprinkle Stevia and drizzle maple syrup, add chocolate chips on top as desired!
Total Time (7 Min)
Prep: 5 Min
Cook: 2 Min
Serves: 1 Serving
2. Smoothie Bowl
Mmmm, craving for something lighter and fruitier? How does a superfood smoothie bowl sound? The consistency will be like greek yoghurt, but we promise it will be many times more flavourful because of all the fruits added in. The best part of this breakfast recipe is that it is very simple to make, all you need is to spare just 5 minutes of your time!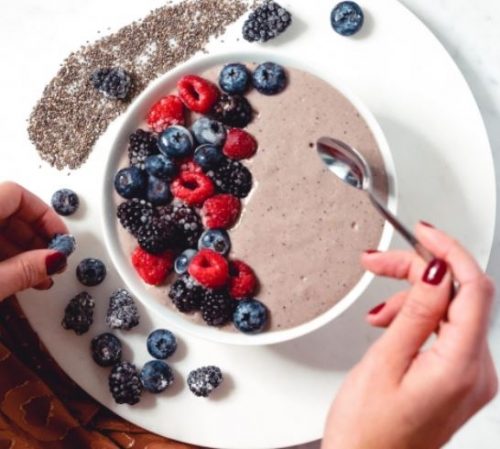 Ingredients
Directions
1. Blend all the ingredients together and enjoy!
Total Time (5 Min)
Prep: 3 Min
Cook: 2 Min
Serves: 1 Serving
3. Caramel and Coffee Cream Pie
If the name already sounds so appetizing, can you even begin to imagine how it will taste like? If you are a coffee lover, you will definitely fall head over heels for this dessert. This cream pie might be a little too heavy for breakfast, but we'd think it would be perfect for a midday post-workout treat!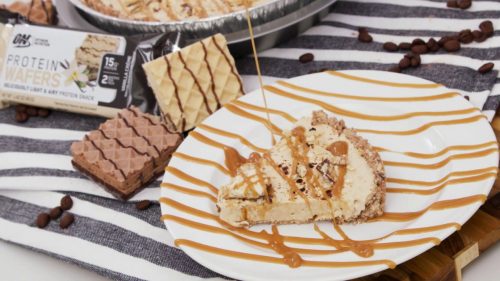 Ingredients
5

Optimum Nutrition Protein Wafers

(Vanilla)

120g Plain Greek Yoghurt

175g Lite Whipped Cream

8g Instant Coffee 

10g Sugar Free Vanilla Pudding Mix

38g Sugar Free Caramel Syrup
Directions
1. Crush protein wafers until they are crumbs and spread out in a pie pan evenly. Add a bit of butter to hold the base together.
2. Place in the freezer for 5 minutes until the crust firms up.
3. Mix together greek yoghurt, whipped cream, instant coffee and pudding mix in a bowl until creamy consistency.
4. Remove the pie crust from the freezer and pour the mixture on top.
5. Place the pie back into the freezer for about 5 – 10 minutes.
6. Remove the pie from the freezer and drizzle over sugar free caramel syrup.
Total Time (15 Min)
Prep: 10 Min
Cook: 5 Min
Serves: 1 Serving
4. Matcha Ice Cream
Make your own ice cream at home? And on top of that, a healthy version? Sounds incredulous, but we kid you not! All you need is about 15 minutes of your time and you will get instant ice cream in the comfort of your own home. Once you have mastered this recipe that we are about to share, go on and try your hands on experimenting new flavours. Let your creativity run wild!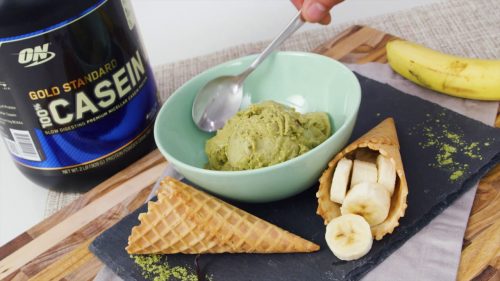 Ingredients
Directions
1. Blend frozen banana and vanilla extract well in a food processor.
2. Add xantham gum, stevia, matcha powder, casein to food processor and mix well until combined.
3. Place in the freezer for about 8 – 10 minutes and you are done!
Total Time (15 Min)
Prep: 10 Min
Cook: 5 Min
Serves: 1 Serving
5. Vanilla Donut
Want to have your donut without feeling the guilt? This vanilla donut will do the trick! 1 donut has a whopping 10g of protein and only 4g of carbs! Psstt…you will be happy to know that it only contains 70 calories. We know it sounds too good to be true but you've got to know that we do-nut joke about food. Maybe not.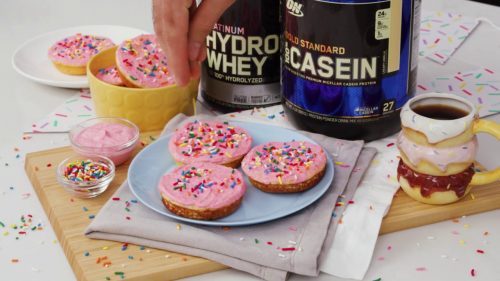 Ingredients
Donuts Ingredients
Frosting Ingredients
80g Plain Greek Yogurt

½ Tsp Sugar Free Strawberry Jell-O Mix

2-4g Stevia
Directions
1. Mix together Hydrowhey, Casein, Applesauce, Greek Yoghurt, Baking Powder, Liquid Egg Whites, Stevia and Egg in a bowl until you get a smooth consistency.
2. Pour the mixture into a donut mould and bake at 175 degree celsius for 10 minutes.
3. Meanwhile, mix all the ingredients for the frosting together until creamy.
4. Remove donuts from the oven and let it cool for about 5 minutes.
5. After it has cooled down, spread the frosting over the donuts and enjoy!
Total Time (20 Min)
Prep: 10 Min
Cook: 10 Min
Serves: 1 Donut
6. Guacamole Bowl
If sweet stuff ain't your kind of thing, don't worry because we have a savoury treat right here for you. This easy to make guacamole bowl packs a punch with its tangy taste coupled with a tinge of sourness. This will be a perfect complement to your salad bowl, as a spread for your club sandwich, and even a dip for your tacos when you are feeling peckish in the late afternoon.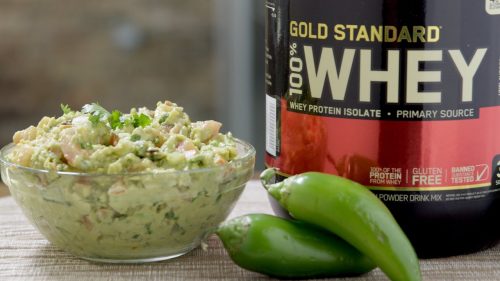 Ingredients
1 Scoop

Optimum Nutrition Gold Standard 100% Whey Protein

(Unflavoured)

2 Whole Avocado (Ripe)

¾ Cup White Onion, Diced

½ Cup Fresh Cilantro – Chopped

2 Key Limes

1 Whole Tomato, Minced

2 Whole Cloves Garlic, Minced

5 Strips Of Bacon, Cooked Till Crispy

Salt and Pepper To Taste
Directions
1. Cook your bacon until crispy, set aside.
2. In a bowl, add in your onion, cilantro, tomato and garlic. Cut the lime in half and squeeze in as much juice as you will personally like.
3. In a separate bowl, mash your avocado and add in the protein powder. Mix well until blended.
4. Cut the bacon into bits, then all the ingredients together. Mix well and season it with salt and pepper. Add more lime juice if needed until you get the desired taste!
Total Time (20 Min)
Prep: 10 Min
Cook: 10 Min
Serves: 1 Donut
7. Chocolate Chip Cookies
How about some old school crowd favourites? Well, you can never go wrong with Chocolate Chip Cookies. Each serving (6 – 8 cookies) contains only approximately 160 calories, so you are in for a treat sans all the guilt! Dip them in milk and voila, you are on your way to cookie heaven~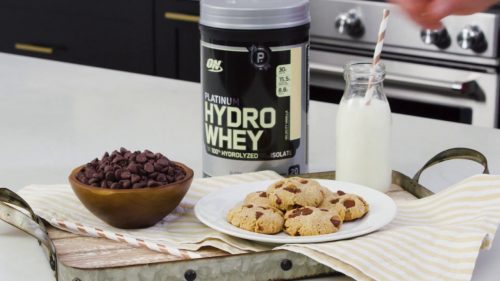 Ingredients
20g Hydrowhey (Vanilla)

76g Blanched Almond Flour

3-4 Tbsp Chocolate Chips

2 – 3 Tsp Stevia

⅛ Tsp Baking Soda

¼ Tsp Salt

25g Coconut Oil

1.5 Tbsp Oat Milk

1 Tsp Vanilla Extract
Directions
1. Mix together almond flour, chocolate chips, hydrowhey, stevia, baking soda, salt in a bowl.
2. Add in coconut oil, oat milk, vanilla extract and combine.
3. When it has become a doughy-like texture, form them into balls.
4. Bake at 160 Degree Celsius for 8 – 10 minutes and enjoy!
Total Time (15 Min)
Prep: 5 Min
Cook: 10 Min
Serves: 6 – 8 Cookies
8. Vanilla Nut Butter Energy Bar
If you have a hectic work schedule and simply don't have the luxury of time to sit down and enjoy a fresh, warm meal, how about giving these energy bars a try? These bars may look deceivingly plain, but you will be surprised at its amazing taste. These bars may be small in size, but trust us they are enough to fill you up all the way till lunch!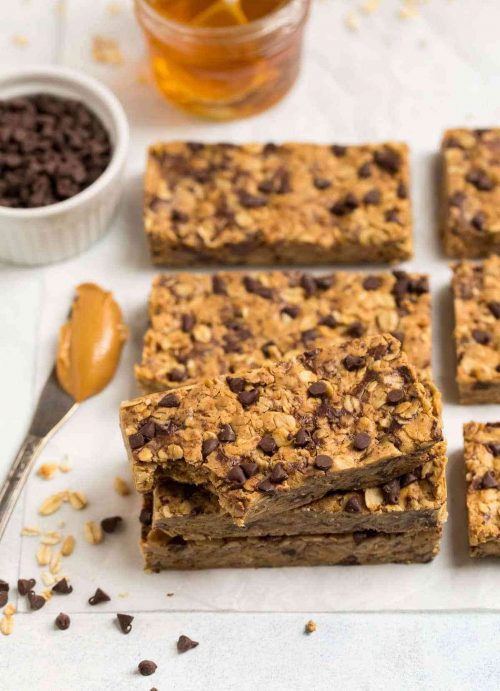 Ingredients
1.5 Cups Raw Oats

½ Cup Unsweetened Almond Milk

½ Cup Natural Peanut Butter

3 Scoops Optimum Nutrition Gold Standard Whey (Vanilla)
Directions
1. Combine the ingredients in a bowl and pour the mixture into a small lined tray.
2. Pop the tray into the fridge or freezer to set for about half an hour, and then chop it up into slices after.
*Pro Tip: Add in some nuts for that extra crunch!
**Pro Tip 2: Change up the taste by trying other types of nut butters
Total Time (65 Min)
Prep: 5 Min
Cook: 60 Min
Serves: 9 Servings
9. Cookie Dough Bowl
You know how at 3 – 4 pm in the afternoon, your tummy suddenly starts rumbling, and you are itching to grab any snack that you can find around the house? This Chocolate Chip Cookie Dough Bowl is here to save the day! It is not only easy to make, but it's also probably one of the snacks that you can grab to gobble down mindlessly as you Netflix and chill. That being said, everything in moderation so don't go overboard!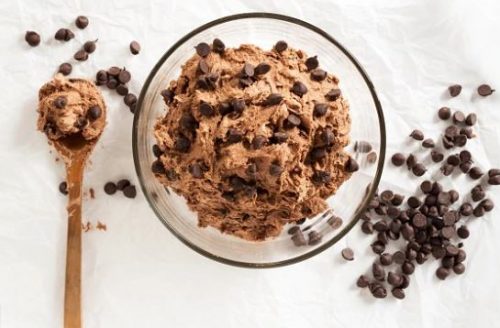 Ingredients
1 Can Chickpeas, drained

4 Tbsp Almond/Peanut Butter

3 Tbsp Sugar Free Maple Syrup

2 Tbsp Cacao Powder

1 Scoop Optimum Nutrition Gold Standard Whey Protein (Vanilla)

1 – 1.5 Tsp Vanilla Extract

¾ Cup Almond/Soy Milk
Directions
1. In a food processor, blend drained chickpeas, vanilla extract and ½ cup of milk.
2. Add protein powder, nut butter, maple syrup and additional splash of milk. Blend until creamy. Add more maple syrup if desired.
3. Add cacao powder and additional splash of milk if necessary.
4. Once thoroughly combined, spoon into a bowl and top with sugar free chocolate chips and serve!
Total Time (25 Min)
Prep: 15 Min
Cook: 10 Min
Serves: 2 Servings
There you have it, enough healthy recipes to last you at least a month so you have no excuses about snacking on store-bought chips and ice cream. We are feeling ravenous just writing this article. Which recipes are you planning to try out? Let us know in the comments section below!