No matter your choice of surface materials, stay on top of your bathroom maintenance and keep your private sanctuary sparkling with these cleaning tips.
1. Glass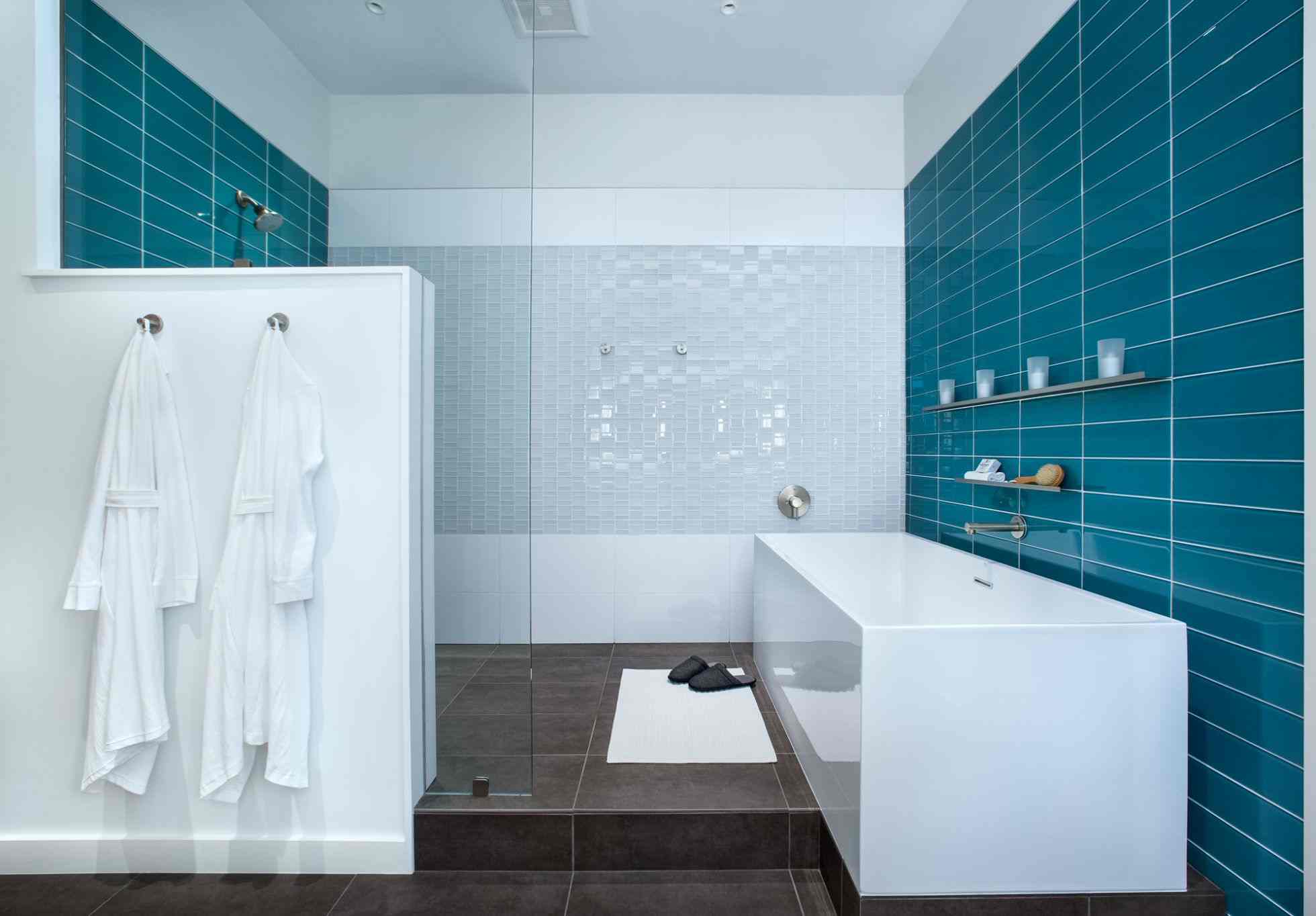 As non-porous as materials come, glass tiles are highly resistant to staining, bacteria, mildew and mould. However, their shiny surfaces make them prone to showing fingerprints, soap scum and water stains more easily.
Cleaning tips: Wipe down glass surfaces with a regular window cleaner to keep them looking shiny. In the case of problem stains, pour vinegar and sprinkle baking soda over the problem areas, wait for bubbles to form, then wash and wipe dry.
Special care instructions: Before cleaning, you should always sweep the surface down as mopping with debris can cause scratches on glass tiles.
2. Laminates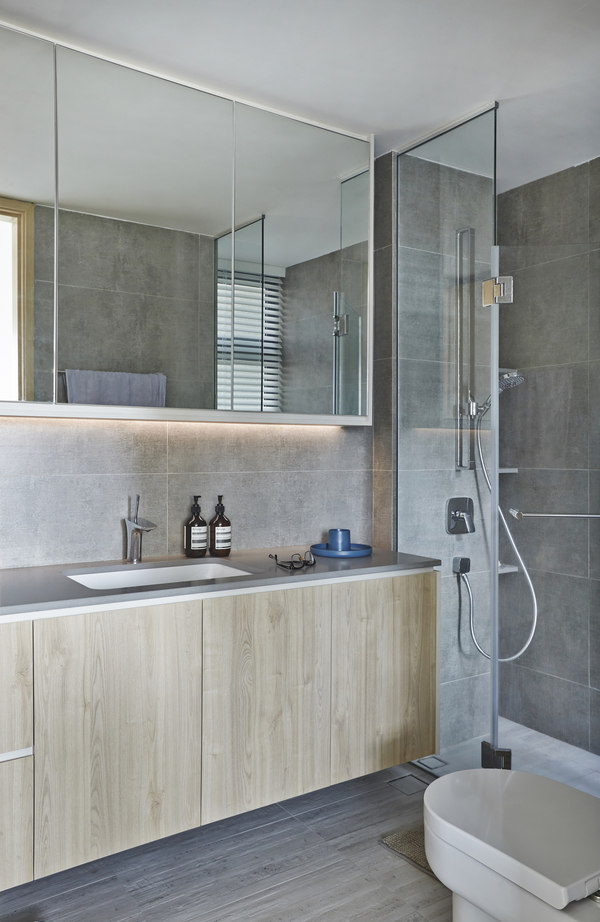 Composed of a thin plastic surface that's pressure bonded to a plywood base, laminates are easy to care for and come not only in realistic stone- and wood-like finishes, but in a variety of solid and graphic patterns as well.
Cleaning tips: With a wet two-sided scrubbing pad, utilise the abrasive fiber side to loosen dirt and grime, and then use the sponge side to wipe the surface clean. For persistent stains, sprinkle baking soda on the spot, scrub gently and rinse.
Special care instructions: As prolonged contact with water may warp and damage laminates, it is important to wipe down and dry these surfaces regularly and thoroughly.
3. Marble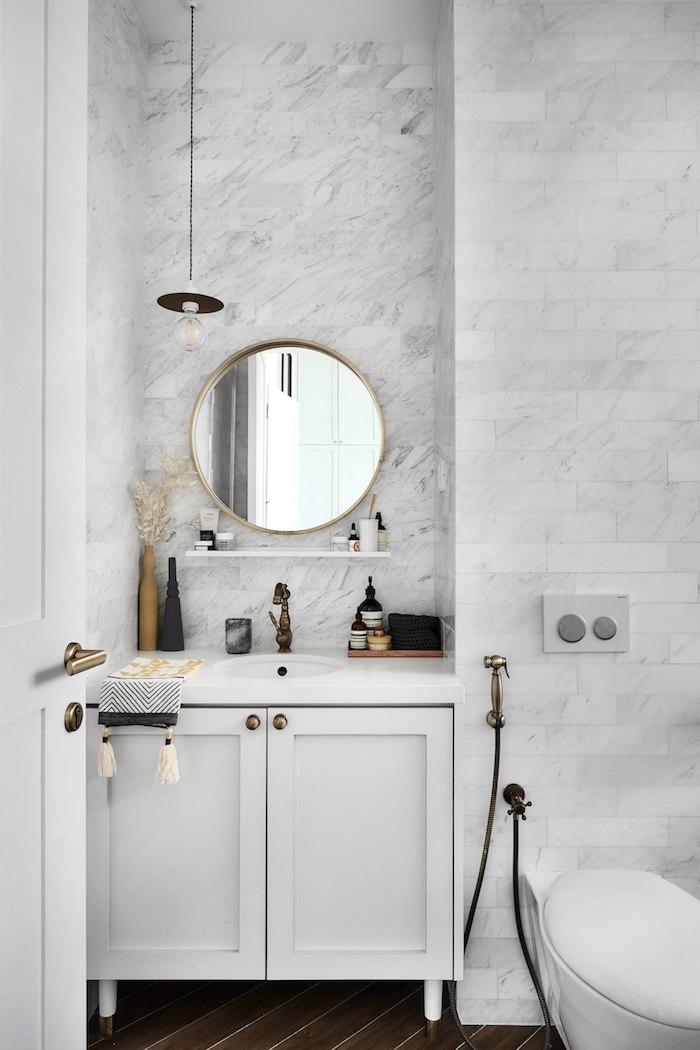 One of the most beautiful materials available in the market, marble is a heavily veined metamorphic stone with an almost infinite variety of colours and patterns, and is resistant to heat and most hard knocks. However, due to its porous nature, marble requires periodic sealing to maintain its look.
Cleaning tips: A non-abrasive dishwashing liquid with a neutral pH mixed with warm water is the best option for cleaning such surfaces. Apply just enough of the solution to make the tiles damp and then mop it up – you should never allow puddles of water to sit as staining may occur.
Special care instructions: Exercise precaution when using acidic substances like vinegar and lemon juice over marbled surfaces, for they can cause etching – permanent markings that look like dull spots and rings – to occur. Be sure to clean up any spills and splatters with a clean towel immediately.
4. Wallpaper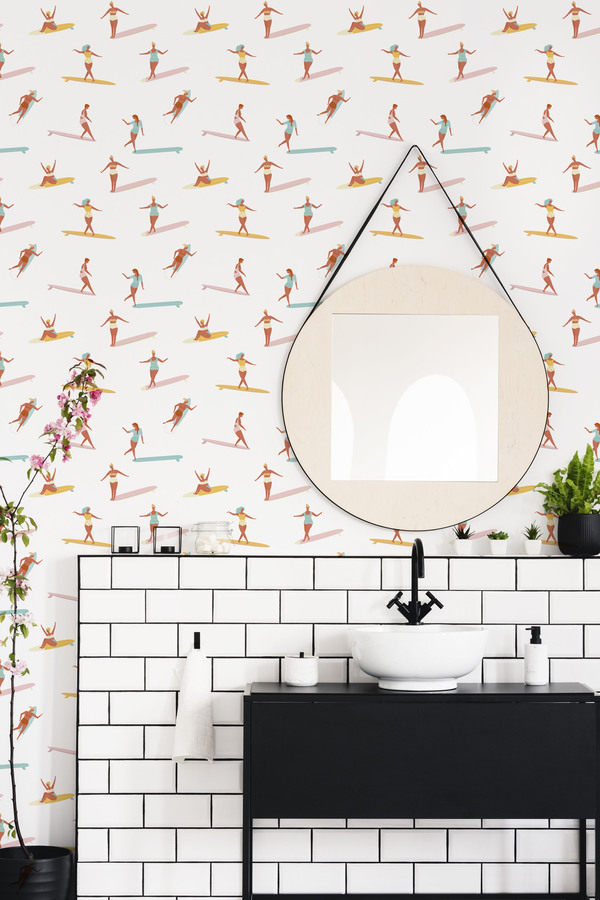 Contrary to popular belief, wallpaper can actually be used in the bathroom – you just need to be careful about where you place them. While not suitable for splash zones, wallpapers are great alternatives for bathroom entrances and the vanity area. As an extra precaution, opt for wallpaper with non-woven backings, which are made out of natural and synthetic fibres that makes it breathable and more resistant to mould and mildew.
Cleaning tips: With a soft cloth and a gentle detergent, wipe down your wallpaper with long and smooth strokes to prevent dirt from collecting in the seams. Ensure that you avoid exerting excessive force as it may cause tearing or wrinkles on the surface.
Special care instructions: Ventilation is key when caring for wallpapered surfaces. As such, installing an exhausting fan in the bathroom, leaving a small window gap open during showers, and airing out the bathroom when not in use will help.
5. Engineered quartz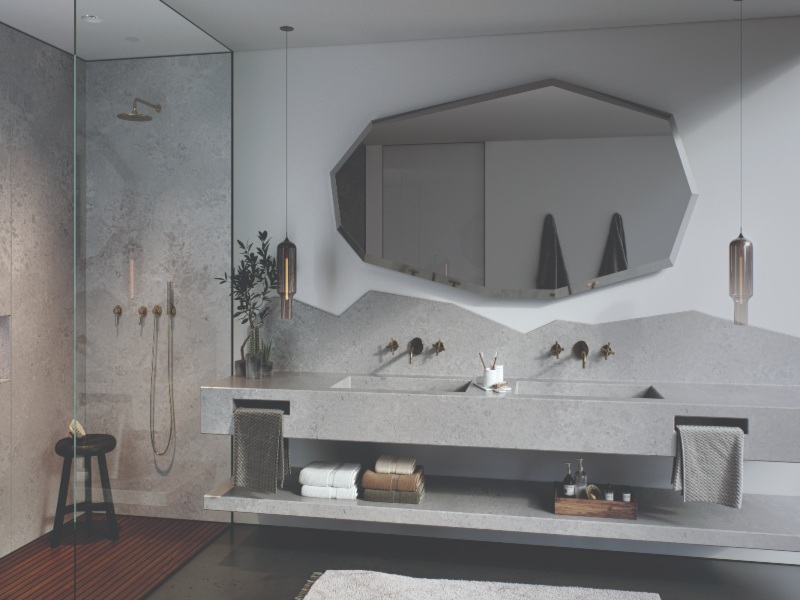 An engineered stone product made from about 90 per cent ground-up quartz blended with resins and pigments, quartz is one of the hardiest materials around. Fully non-porous, they also do not require any sealing, and is naturally resistant to moisture, stains and bacteria.
Cleaning tips: One of the easiest materials to maintain, all you really need to keep quartz surfaces clean is to wipe it down with soft cloth doused in a mixture of a mild cleaner and warm water. If stubborn stains appear, soak the spot with the cleaning solution for ten minutes and then scrub it away with a non-abrasive scrub pad.
Special care instructions: Engineered quartz surfaces in both honed and textured finishes will show fingerprints and smudges quite visibly, so frequent wipe-downs may be necessary.
6. Ceramic and porcelain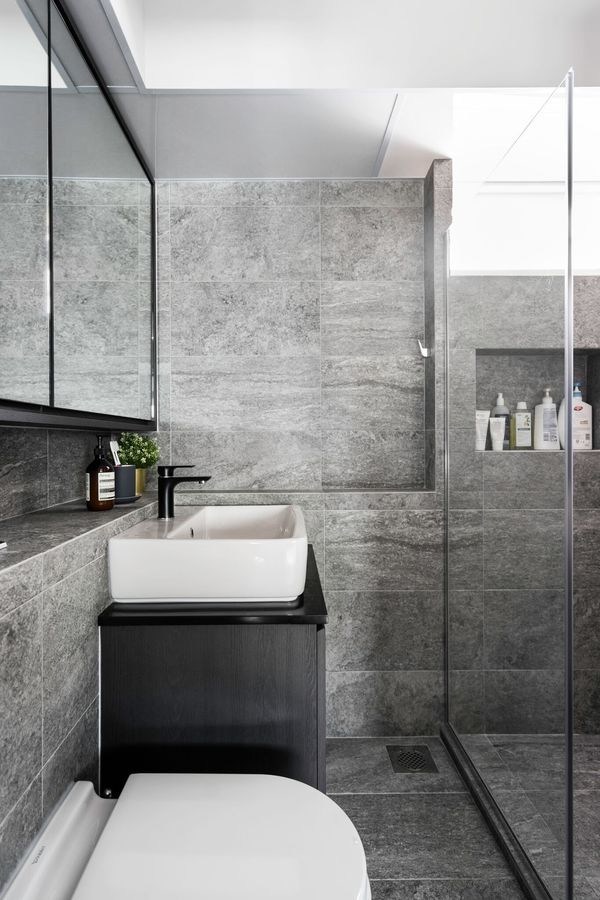 One of the most popular surface materials among homeowners today, ceramic and porcelain tiles are available in a variety of colours, patterns and finishes. As they typically come glazed, there is a protective sheen over them, transforming them into a material that requires relatively little maintenance. They are also resistant to heat, stains, scratches and moisture.
Cleaning tips: A quick sweep followed by mopping with a soft cloth that's soaked in a mix of mild detergent and warm water is sufficient to keep tiles from getting dull. However, if your current surfaces have already become murky due to irregular cleaning in the past, vinegar or fresh lemon juice mixed with warm water is a great cleaning agent to use.
Special care instructions: As grout is what seals tiles together, maintaining these surfaces would not be complete without cleaning the grout as well. Depending on how quickly it gets dirty, cleaning can range from scrubbing gently with a toothbrush dipped in soapy water; or applying a paste of baking soda and water over the more encrusted stains and scrubbing it with a nylon brush.
7. Concrete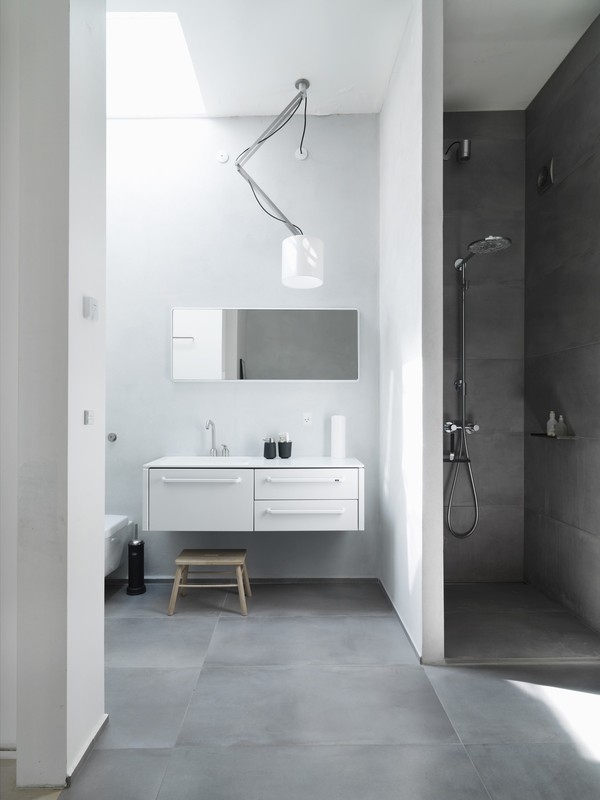 While they may not be for everyone, concrete surfaces in the bathroom have been growing in popularity lately. With the ability to be customised into an endless array of colours, textures and decorative inlays, the organic material inject a vibe into your bathroom that ranges from rustic to edgy. However, concrete is another naturally porous material, and needs to be waxed and sealed regularly.
Cleaning tips: Although effectively maintenance-free if properly sealed, concrete surfaces do benefit from the occasional clean. Simply apply a solution of warm water and a mild detergent to the surface with a wet cloth, and then wipe it down with a new cloth dipped in clean water.
Special care instructions: Steer clear from ammonia, bleach and any other highly acidic substances on concrete floors as they may react chemically with the material and cause discolouration.
Other tips
 For cleaning and practicality, opt for large-format tiles that will significantly reduce the number of grout lines in your bathroom.
Make sure to seal your grout to ensure that it will hold its look for longer. If your budget allows, you can even consider using an epoxy grout sealant, which has stronger resistance to discolouration and stains as it can't be penetrated by water.
Vanities and countertops can quickly become mottled with water drips and soap residue. Instead of waiting until a deep clean is necessary, wipe them down with a glass cleaner and a damp cloth once a week to keep them looking their best.
Although white is a highly adaptable colour, it is also one of the easiest hues to stain. Take the safer bet and go with earthy shades like grey and brown that can help to tone down any stains or dirt so that they are not so in-your-face.
Glazed surfaces are a dream to clean because of their smooth finish, but they tend to be slippery when wet, which would not make them a good choice for floors. On the other hand, matte tiles are have a better grip but may be a hassle to clean due to their textured surface.
This article was produced by SquareRooms.