New mums need all the support they can get — especially in the chest area! Your trusty regular bras are not going to feel as comfortable during pregnancy or post-delivery. Instead, switch them out for some of the best nursing bras in Singapore! Not only are they supportive  but many are also designed to allow for an easier breastfeeding and pumping session.
Tips on choosing the best nursing bra in Singapore
1. To buy or not to buy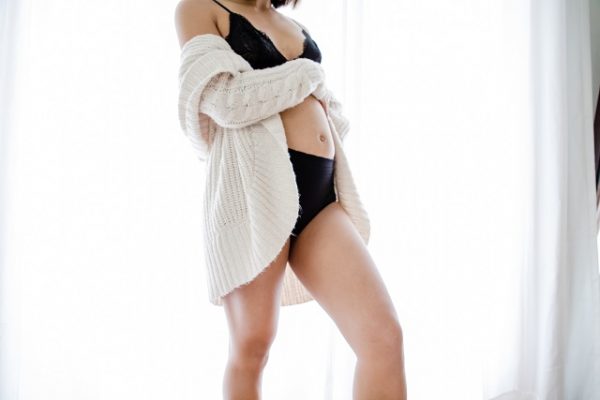 If you're wondering whether you need a new bra during pregnancy, the answer is most likely yes. When you're pregnant, your body experiences hormonal shifts that not only affect your weight but also your breasts. While you can rely on maternity bras in the first trimester, you'll eventually have to switch to nursing bras with  clasps or panels for easy access during breastfeeding or breast pumping. 
2. When to buy your nursing bras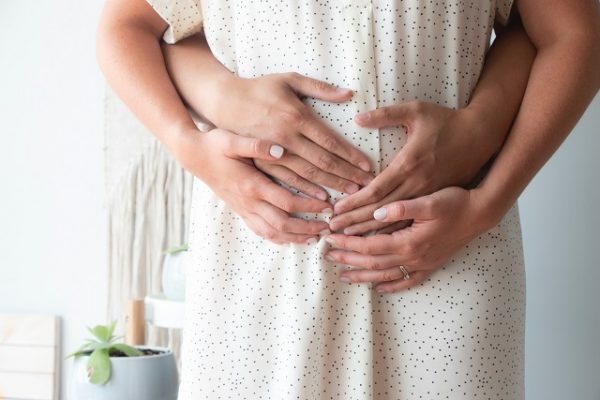 Buying nursing bras too early into your pregnancy will probably mean that you won't get to wear them when your baby arrives. This is because your breasts will most likely increase by two to three cup sizes and outgrow any nursing bras you bought early into the term. 
Instead, start shopping for your nursing bra in Singapore at around eight months of pregnancy. Your breast size would be closer to what it would be post-delivery, after your body has learnt to regulate its milk supply. 
3. Determining the right bra size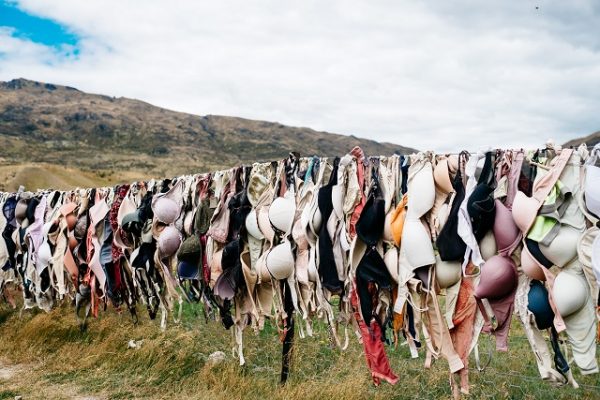 Avoid sizing up your nursing bra as the extra room in the cup will not provide your breasts with much support. Instead, look for a nursing bra in Singapore that's made of stretchy fabric to keep your breasts in shape regardless of their size. Additionally, at eight months of pregnancy, your nursing bra should fit comfortably at the loosest hook and eye. This allows you to tighten the band when your rib cage contracts after delivery.
4. It should match your lifestyle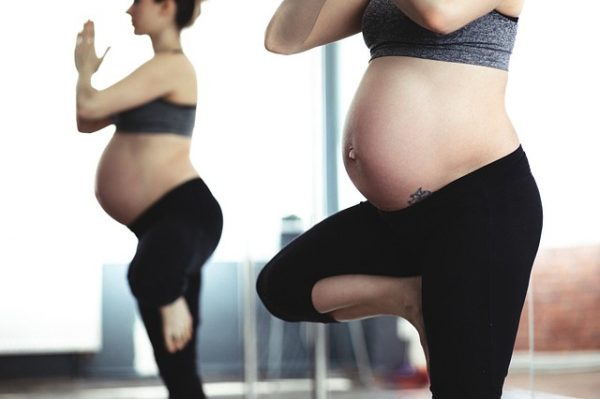 From front clasps to side buttons, there are many types of nursing bras in Singapore to choose from. Each type of breastfeeding bra has its own pros and cons, so evaluate your lifestyle to determine the one that's most ideal for you!  
Consider your dressing style, activity levels as well as daily schedule when buying a nursing bra in Singapore. New mums who want to breastfeed on-the-go will prefer nursing bras that provide easy access, such as ones with a buckle on the strap. Meanwhile, busy mums may prefer hands-free nursing bras to easily pump while attending to other tasks. Explore your options and find one that best suits you — you can thank us later!
Best nursing bras in Singapore
1. Nursing bras with strap buckles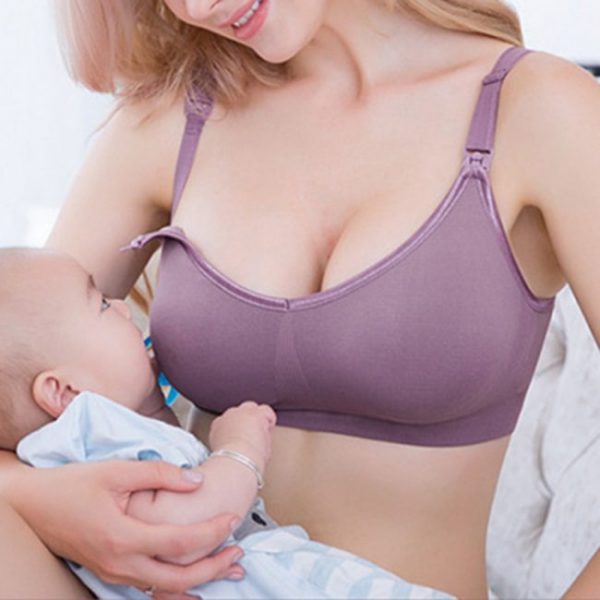 Nursing bras with buckles are widely popular among breastfeeding mums in Singapore. They're comfortable and convenient as the buckle allows you to lower the cup for breastfeeding. However, choosing the right size for your nursing bra is very important. A bra that's too tight may cause the buckle to press against your skin, resulting in discomfort. Also, as the cups cannot be lowered entirely, the lower part of your chest may still be constrained. This can sometimes cause a delay in milk flow during breastfeeding.
Bravado body silk seamless nursing bra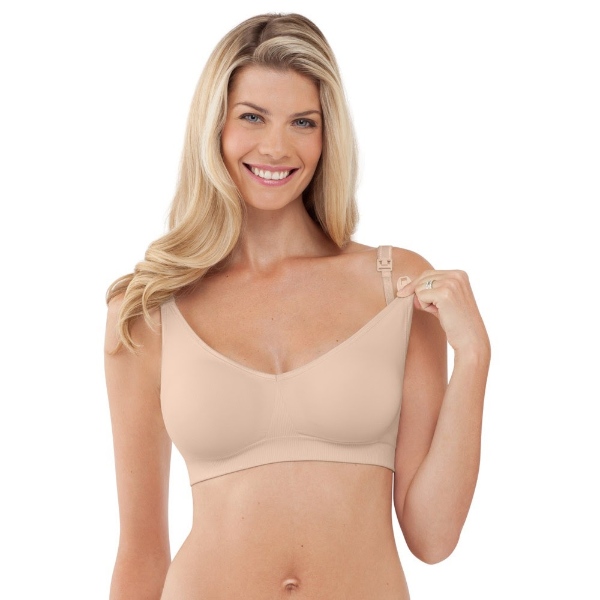 The Bravado body silk seamless nursing bra (available on Pupsik SG Official Store) is one of the best nursing bras in terms of comfort and support. Its four-way stretch fabric allows for ultimate support and grows with your body as your girls change shape and size throughout nursing. Additionally, the silk-like soft fabric provides better breathability, perfect for our tropical weather! 
Furthermore, the breastfeeding bra comes with removable foam cups which can be switched out according to your preference and comfort. Despite being wire-free, the cups are ergonomically designed to provide additional support and prevent the breasts from sagging. Breastfeeding is also a breeze with this nursing bra in Singapore thanks to its buckle feature. For mums who prefer not to wear nursing pads and don't mind some leakage, this nursing bra is a good choice. Milk stains can easily be wiped away from the inner spandex-nylon blend fabric in a breeze! 
Pure cotton floral nursing bra with front support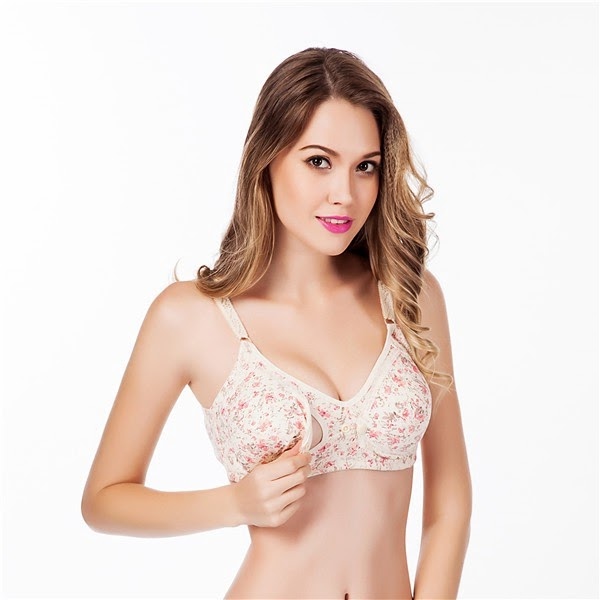 The last thing you need is for your bra to slide around while you're breastfeeding. Which is why picking a nursing bra with front support is important. One of the best nursing bras in Singapore is the Pure cotton floral nursing bra with front support (available on master1.sg). The front hook of the cups can be unbuckled  for easy access during breastfeeding. Moreover, with the three hooks at the back, you can be sure that your breasts are well supported at all times!
2. Vest-like nursing bras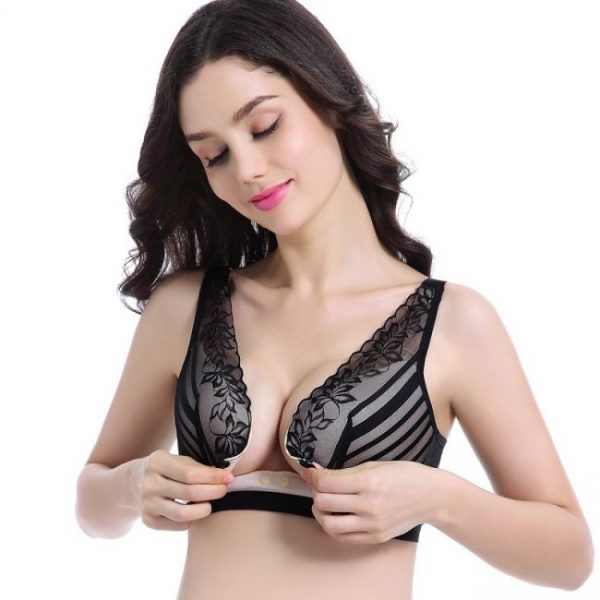 Mums who prefer to breastfeed at home will love vest-like nursing bras in Singapore. These nursing bras can be fully unbuckled at the front, allowing your child to latch on to your breasts easily. Additionally, vest-like nursing bras will not obstruct your milk flow as they don't constrain your chest as much. 
Despite many advantages, vest-like nursing bras are not the best choice for mums who breastfeed in public as they can completely expose the breasts when unclasped. To counter this issue, you can use a nursing cover for more privacy.
Seamless demi cup front clasp nursing bra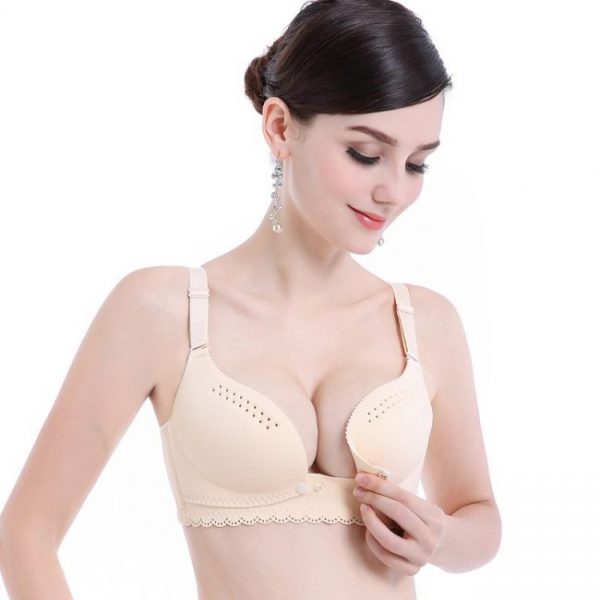 Full cup or demi cup bras are perfect for giving your girls the lift they need! The Seamless demi cup front clasp nursing bra (available on Lady Beauty Shop) features special contour cups to shape your breasts comfortably. Moreover, this nursing bra in Singapore is made of breathable and highly absorbent material that keeps you cool throughout the day! The front buckles can be unclasped single-handedly so you can soothe your little one while preparing to breastfeed.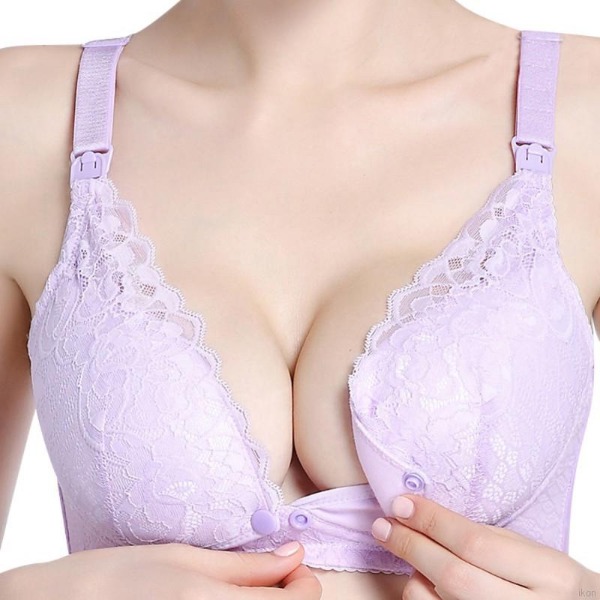 We understand that many new mums may feel insecure with pregnancy weight gain and other body changes. Regain your confidence with some sexy lingerie, like this stunning Lace two-way nursing bra (available on ikon(bra lingerie panties skirt)) which comes in a wide variety of alluring shades! 
This nursing bra in Singapore complements your beautiful curves and is extra convenient with its two-way opening. Choose to unbuckle by the strap when you're breastfeeding in public or unclasp fully from the front when you're nursing in the comfort of your own home.
3. Overnight nursing bras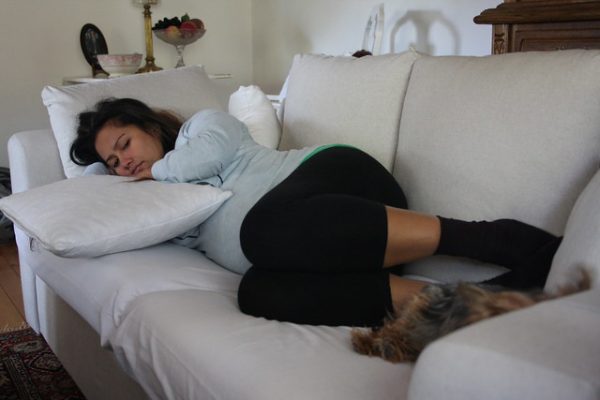 Wearing a nursing bra in Singapore to sleep is completely optional. It depends on the size of your breasts and how much you're leaking. Those who are well endowed may need support from an overnight nursing bra. Meanwhile, new mums with smaller chests can wear a breastfeeding bra to sleep just for the first month after your baby is born. This is the period where your breasts feel tender as your body is adjusting to the milk production. So the additional protection and support can make a huge difference in your sleep quality! It's common  for leakages to occur while you sleep. As such, if you notice frequent leakage during bedtime, it's advisable that you wear a nursing bra and nursing pads to sleep. 
Front wrap cotton overnight nursing bra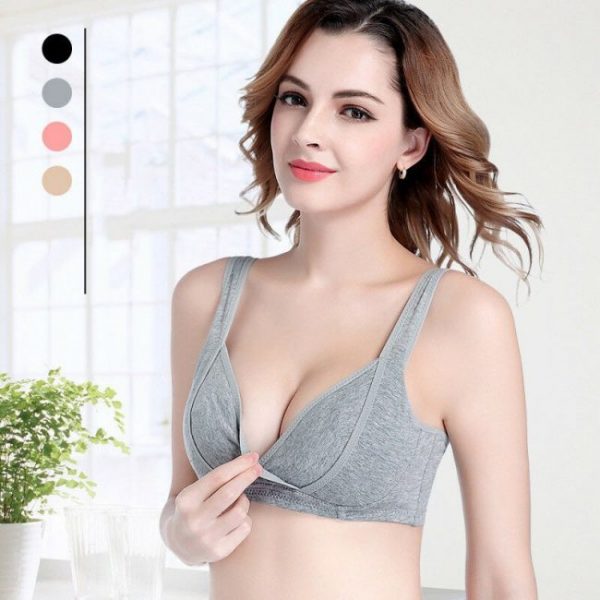 Think it's a waste to spend on nursing bras in Singapore that can only be used at night? The truth is that there are many overnight nursing bras that are suitable to be used even when you're out and about! 
The Front wrap cotton overnight nursing bra (available on txtx02.sg) is a multipurpose nursing bra in Singapore that can be worn to sleep, breastfeed and even as a regular maternity bra. It provides sufficient support for your breasts and can be tugged easily to nurse your baby. Additionally, its cotton material feels soft against the skin and is comfortable even for warmer  nights!
Keyhole overnight nursing bra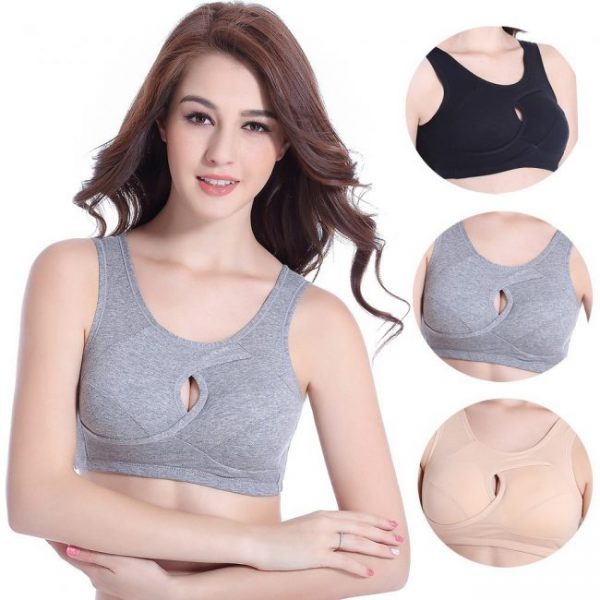 New mums with bigger busts will adore the Keyhole overnight nursing bra (available on Latopee). Thanks to its interlace design, this overnight nursing bra in Singapore provides good breast support while also holding your nursing pads in place. 
Post-delivery, your breasts may feel extremely painful due to engorgement. This soreness can spread to your arms and make it hard for you to buckle your nursing bras from the back. The Keyhole overnight nursing bra's slip-on design makes it easy for you to wear it without any discomfort. Most importantly, you won't feel any hooks and eyes pressing against your back while you sleep!
3. Hands-free nursing bras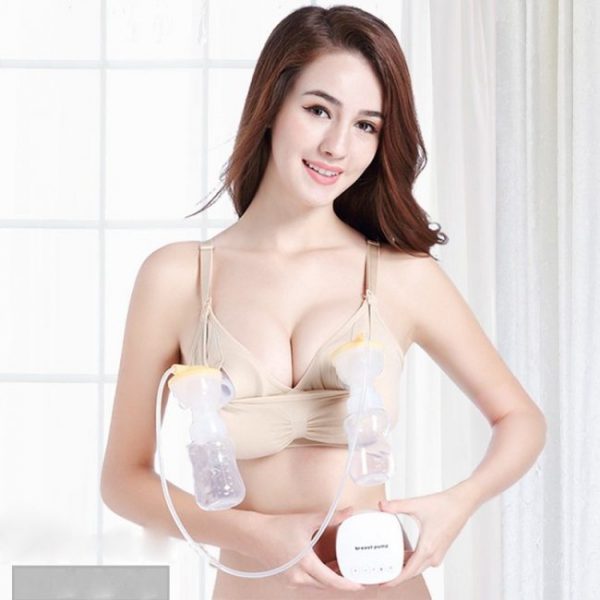 Breast pumping can seem time-consuming for new mothers as you may need to halt all activities and hold onto the breast pumps for a long time. This is where hands-free nursing bras come into play — a godsend for busy breastfeeding mothers! These types of bras have a small slit in the cups for you to attach the pump to your breasts. The bra wraps securely around the flange of your pump to hold it in place. We suggest using battery-powered breast pumps, like the Medela swing maxi double electric breast pumps (available on Medela Singapore Official Store), with your hands-free nursing bras so you can go about doing other tasks! Check out our guide to the best breast pumps to ensure you make a worthy investment in your new parenting journey!
Cross back hands-free nursing bra with zipper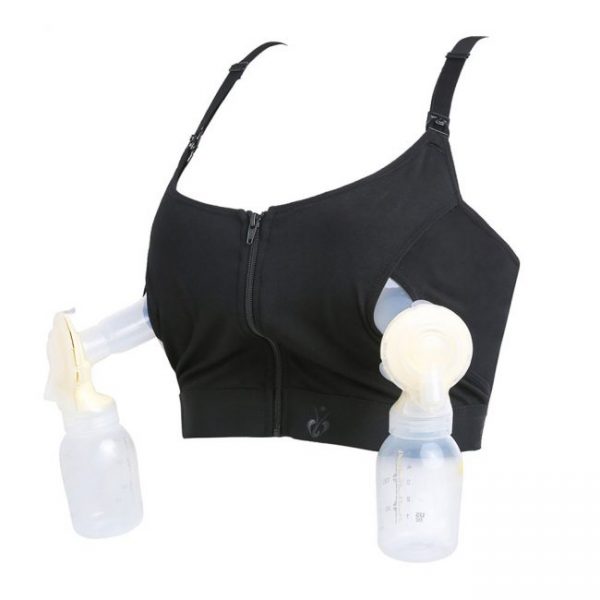 Sit back and relax while you pump with the Cross back hands-free nursing bra with zipper (available on smilebaby888.sg)! Simply align your breast pumps to the slits on the nursing bra and attach the flange to your breasts. Designed to maintain a tight seal around the pumps while protecting your modesty, this is undoubtedly one of the best nursing bras for new mums! When it's time to breastfeed, simply unzip the bra from the front for easy access. 
Hands-free nursing bra camisole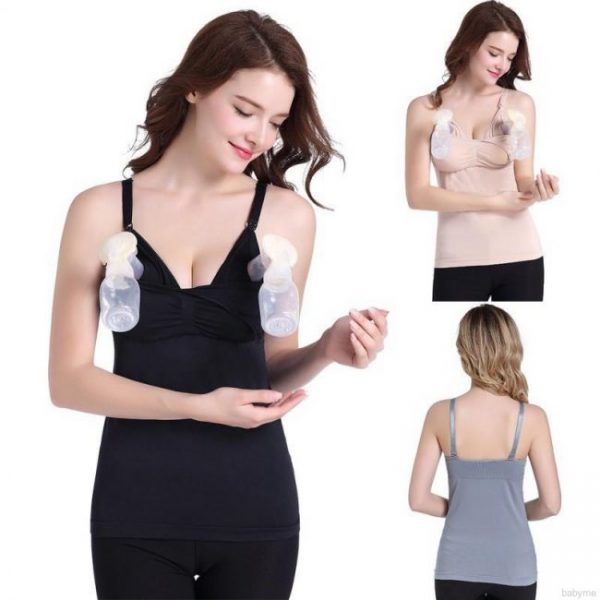 Designed with breastfeeding mums in mind, the Hands-free nursing bra camisole (available on boys shorts) allows you to attach the pumps through the fabric to pump on-the-go. It's compatible with all electric and manual breast pumps and is designed with absolutely no underwire for extra comfort! 
The camisole can be worn as a top itself or as an undershirt. We wouldn't mind living in this versatile and soft nursing camisole thanks to its breathable cotton material. Remember to adjust the shoulder straps to find the best fit for you and your pumps. 
Feel secure and sexy in the best breastfeeding bras
We hope this guide has come in useful when you need to choose the best nursing bras in Singapore! There are many other things you need to prepare when you have a new family member in the house. Check out this ultimate newborn baby checklist to ensure you're equipped with everything you need. We've also shortlisted some of the best baby carriers  and best baby bottle sterilisers so there's one (or two) less things to worry about! Join us on Shopee Mum's Club for exclusive discounts and deals on baby products!