Korean perms. Soft rebonding. Experimenting with different hair styles gives you a whole new look, but it also takes a toll on your tresses. To counter that, we've trawled the island for some of the best hair treatments in Singapore! Whether it's frizzy strands or a dull, limp mane, these salon hair treatments will pamper your precious locks and have them looking healthy and shiny again. Check out the following hair treatments targeted for different hair concerns! 
1. Mucota hair treatment for frizzy hair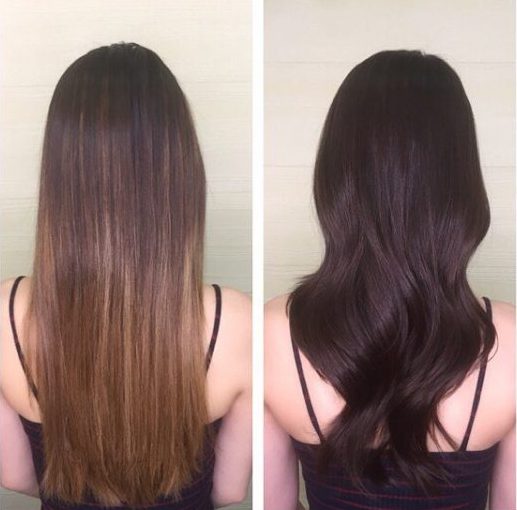 Tired of trying to tame your frizzy hair? You're not alone! There are many contributing factors for hair frizz. One of the most common is hair styling using hot tools. Some hair curlers and straightening irons can strip your hair of its natural moisture and cause your tresses to become damaged. Over-processing your hair during dyeing or perming can also lead to a frizzy mess. Luckily, the Mucota hair treatment can help to minimise hair frizz and get you one step closer to silky locks!
As one of the best hair treatments in Singapore, the Mucota hair treatment uses argan oil as its primary ingredient. Known as liquid gold, argan oil is super moisturising and works magic to soften frizzy manes. The Mucota hair treatment also does not involve harsh chemical such as formaldehyde, whichmakes it suitable for pregnant ladies.who would like to keep their hair in tip-top condition. The eight-step treatment can be customised according to your hair concerns. For frizzy hair, opt for the Mucota DYNA CAT first type treatment. The effects last for four to six weeks, making your money's worth!
Where to get it done: Apgujeong Hair Studio is one of the most famous Korean hair salons in Singapore. Leave your hair in the hands of the professionals here! The Mucota hair treatment costs $185 to $210 depending on your hair length and is a great add-on treatment with your regular hair dye appointment!
Address: Tampines 1 Shopping Mall, 10 Tampines Central, #04-27, S(529536)
Opening Hours: Daily, 10.30am – 9pm
Check out their other outlets here
2. Fukugen hair treatment for rebonded hair
Rebonding is one of the most damaging chemical hair processes. That is because it involves harsh chemicals that can permanently weaken the bonds in your hair. Additionally, the process involves heat application which may cause your hair to be 'fried' and dry. However, many of us find it hard to give up on rebonding services because it's a fuss-free method to achieve straight and glossy hair. In this case, we suggest minimising the damage of rebonding by pampering your hair with the Fukugen hair treatment!
When it comes to salon hair treatments, the Japanese do it best! Take the Fukugen hair treatment for example. This Japanese hair treatment uses zero chemicals but is able to restore your hair's vitality from inside out, even after rebonding. The treatment involves the use of ionised alkaline water to help temporarily open up the cuticles. Amino acids are then deposited and allowed to penetrate deeply into each hair strand before the cuticles are closed. Amino acid is extra beneficial for your tresses as it helps to moisturise and strengthen the hair. Additionally, it also repairs any hair surface damage caused by rebonding. 
While many types of salon hair treatment can do good for damaged, rebonded hair, what truly sets Fukugen apart is its ability to double as a rebonding root touch up. If your roots start to curl two to three months after rebonding, the Fukugen treatment can straighten them  so there are no unsightly bumps in your mane! 
Where to get it done: Rubik hair salon is the best and only place to get the Fukugen hair treatment done in Singapore. This authentic Japanese hair salon will make you feel right at home with their top-notch service and excellent product quality. Priced at $250 to $300 for different hair lengths, the Fukugen hair treatment is worth splurging on for glossy, enviable tresses! 
Address: 10 Bukit Pasoh Road, S(089824)
Opening Hours:
Mon: 10am – 8pm
Thurs – Sat: 10am – 8pm
Sun: 10am – 6pm
3. Brazilian blowout hair treatment for dull, lifeless hair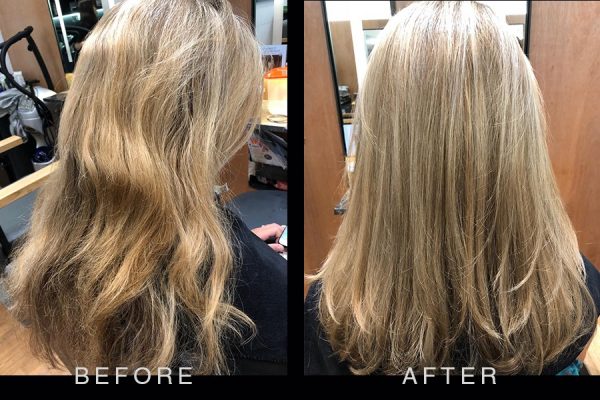 Limp hair isn't sexy — no one wants their mane to look flat and lifeless. Breathe some life back into your tresses with one of the Brazilian blowout hair treatment — the best salon hair treatment in Singapore for dull hair! 
Not only does the Brazilian blowout hair treatment enhance your hair's moisture level but it also brings out the shine in your locks! That's because a protein layer is created around the hair shaft during the treatment to smooth the cuticles for an overall silkier effect. Plus, those with natural curls or permed hair need not worry about losing volume (a frequent issue with regular keratin hair treatments). Brazilian blowout hair treatment doesn't use silicone that will weigh down your hair. In fact, it keeps your tresses tamed and bouncy, so you'll also be able to cut down time spent blow-drying your hair daily! With proper aftercare (such as washing your hair less frequently), the effects of a Brazilian blowout treatment can last up to 12 weeks!
Where to get it done: Head down to The Bund hair salon at Aramsa Spa for a rejuvenating experience amidst the lush greenery of Bishan park! A Brazilian blowout treatment at this luxury garden hair salon costs $280 for short hair and $320 for longer hair. 
Address: Bishan Park 2, 1384 Ang Mo Kio Avenue 1, S(569932)
Opening hours:
Mon – Thurs: 10am – 10pm
Fri – Sun: 10am – 10.30pm
4. Tokio Inkarami hair treatment for brittle hair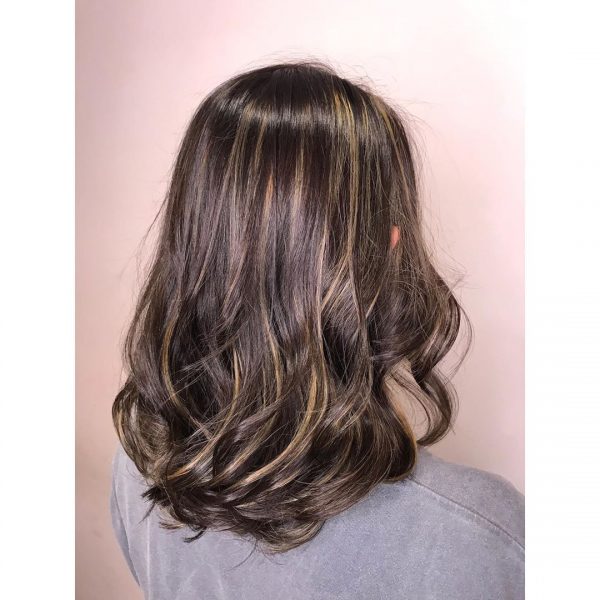 Seeing quite a bit of hair on the floor after combing can be a common sight for many ladies, especially those with longer hair. In general, it's normal to lose about 100 to 200 strands of head hair a day. However, if you start noticing shorter strands of hair on the floor, you may be experiencing hair breakage which is a common sign of brittle hair. Brittle hair is caused by a combination of factors, including dryness, frizziness, split ends and an imbalanced diet. 
While the Tokio Inkarami hair treatment is one of the best hair treatments in Singapore for all hair types, it's especially beneficial for those experiencing hair breakage. Hair breakage happens when the overlapping scales of the hair cuticles fall apart. By relying on the chemical reaction between Waterfowl Keratin and amino acids, this treatment kicks off an interlocking process known as aggregation bonding deep within the hair to hold the scales in place. With the addition of another four types of keratin and an oil spa bath for your tresses, you'll leave the salon with hair that's stronger and healthier than before! 
Where to get it done: Get your hair treatment done at Covo, another Japanese hair salon. Choose the treatment in a semi-private room so you can fully indulge in some me-time! The Tokio Inakarami treatment costs $200 or $180 when you combine it with other services!
Address: 43 Keong Saik Road, S(089147)
Opening Hours:
Mon – Fri: 9am – 8pm
Sat – Sun: 10am – 7pm
Check out their other outlets here
5. Olaplex hair treatment for bleached hair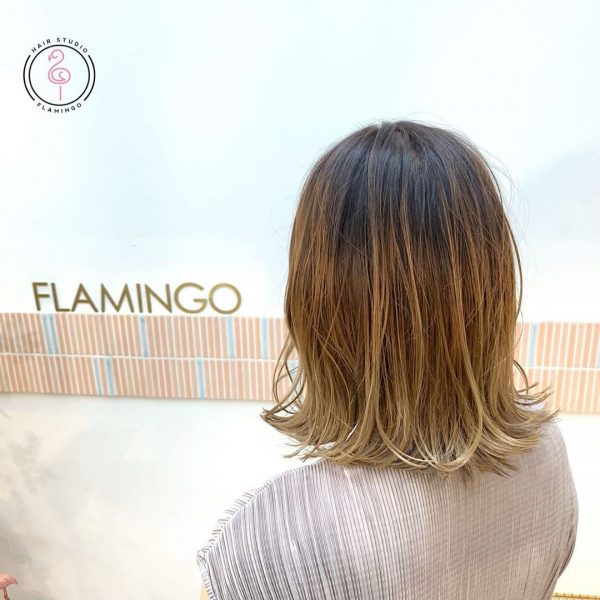 Planning for your next hair makeover and excited to try out some of these best hair colours for Asian skin tones? Funky hues like silver blonde and mint hair colours may appear gorgeous but the dyeing process to get the shade you desire often involves bleaching. Bleaching has earned itself a nasty reputation in the hair industry, but not without a reason. Hair bleaching involves breaking your hair's bonds and changing the structure of your hair. It can completely strip your tresses of moisture if not done properly. 
Which is why the next time you go for a bleaching session, do your hair a favour and pay for an Olaplex treatment! The Olaplex treatment is highly raved among hair junkies for its miraculous effects on bleached hair. It's a three-step process which works at a molecular level to restore the hair's broken bonds caused by harsh chemical treatments. Not only does Olaplex treatment repair damaged hair, it also prevents further damages when bleaching. 
What's special about this salon hair treatment is that the first two steps are done in the salon while the last step is a take-home treatment for aftercare. Before dyeing or bleaching your hair, your stylist will mix Olaplex No.1 into the mixture for damage prevention. For the second step, Olaplex No.2 is applied throughout the hair post-bleaching but before shampooing to ensure every strand is coated and protected. Once you're done at the salon, head home with your Olaplex No.3 and use it dutifully once every week to maintain your beautiful, healthy blonde mane! 
Where to get it done: Nothing beats the cosy vibes at The Hair Studio Flamingo, a Japanese hair salon in Singapore. Add on the Olaplex treatment for $120 and allow the Japanese stylists to work their magic for gorgeous, manageable hair!

Address: 55 Tiong Bahru Road, #01-55, S(160055)
Opening Hours:
Tues – Sun: 9.30am – 8.30pm
Check out their other outlet here
6. Kérastase Fusio-Thermie hair treatment for dry hair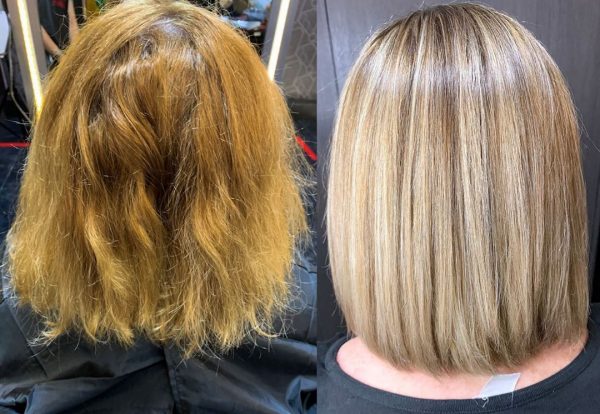 Run your fingers through your hair. What does it feel like? If your hair has a rough and coarse texture with no elasticity, your mane is in urgent need of moisture! While there are many hair treatments in Singapore that claim to replenish moisture loss in your locks, nothing works as well as the Kérastase Fusio-Thermie hair treatment. That's because this salon hair treatment can be fully customised to target and tackle your dry hair with maximum effectiveness! The treatment is made up of Fusio-Dose concentrates and boosters which can be used in combination to create up to 20 possible pairings for the best results. 
To enjoy this bespoke hair service, you'll need to find a trustable stylist with in-depth knowledge of the Kérastase Fusio-Thermie hair treatment so you can get the most optimal concoction for your tresses. For a dry hair specific target treatment, opt for the Concentre Oleo-Fusion, a potent concentrate that intensely nourishes your hair without weighing it down. Then, pick from one of the five booster types to address any secondary hair concerns. Choose the reconstruction booster if you experience hair breakage or the nourishment booster for triple the amount of nutrients to thoroughly eliminate any signs of dryness! 
Where to get it done: The stylists at Hera Hair Beauty salon take your hair concerns seriously. They are trained to perform a professional hair diagnosis prior to the treatment so as to customise the best combination of the Kérastase Fusio-Thermie hair treatment according to your hair needs. The Kérastase Fusio-Thermie hair treatment will only set you back at $68, but the final results is priceless! 
Address: Tanglin Mall, 163 Tanglin Road, #03-08A, S(247833)
Opening Hours: Daily, 10am – 7pm
Maintenance is key even with the best salon hair treatments in Singapore
Just like your skin, your hair needs some tender loving care too. Aside from paying for some of the best hair salon treatments in Singapore, you can also save a few bucks by using the best hair mask for your hair type at home! Or follow this ultimate hair care routine guide to ensure your luscious locks are taken care of in our hot and humid weather! Guys, don't feel left out on this hair care journey. Learn how you can maintain your Korean perm for men at home with these few easy tips.