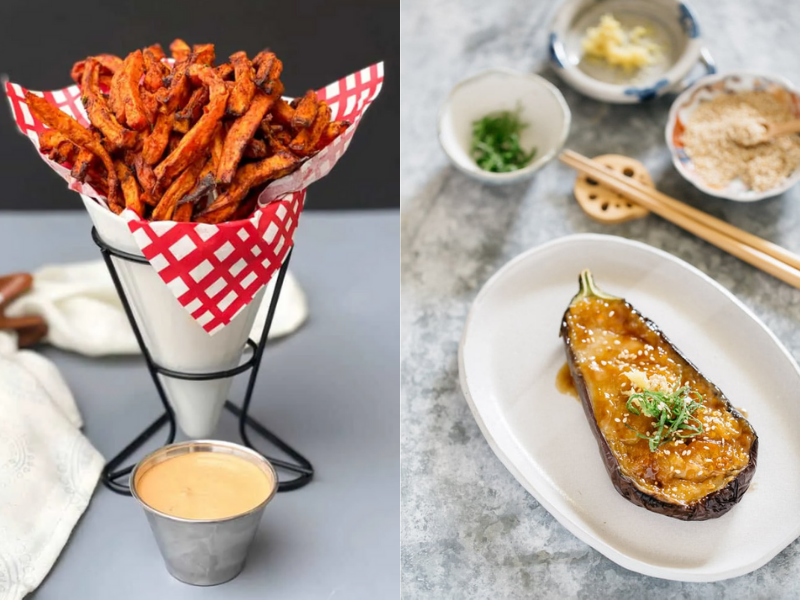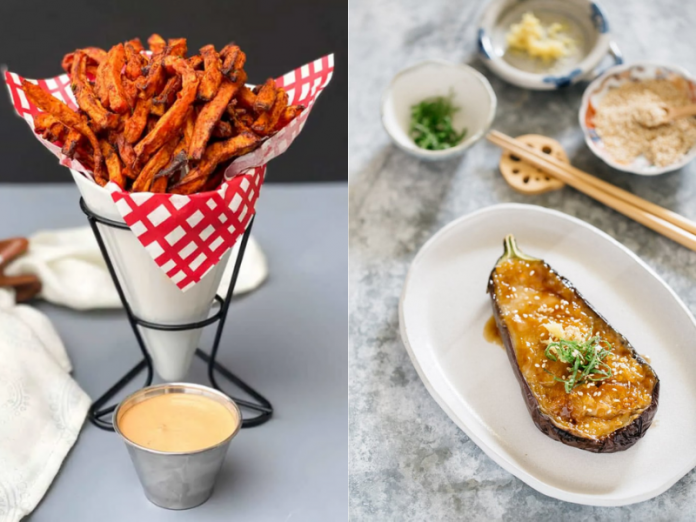 It's the new year and you've committed to healthy eating and to cook more at home…again. We know how hard it can be to stick to your healthy eating goals especially when you're just eating bland boiled broccoli.
However, healthy eating can be tasty when you know how to the right recipes. Here are 7 tasty and healthy eating recipes that will actually make you eat your vegetables and enjoy it too. 
Breakfast Recipes
1. Perfect Green Smoothie
Vegetables in the morning? You're probably thinking "no way". Before you scroll past, hear us out. Eating a healthy nutritious breakfast will set you up for success and keep your energy levels balanced throughout the day.
A green smoothie is the best way to get your veggies in early on in the day. Although this recipe uses spinach, mango, pineapple, and bananas, you can mix and match different fruits and vegetables to find your favorite combination. New year, new you.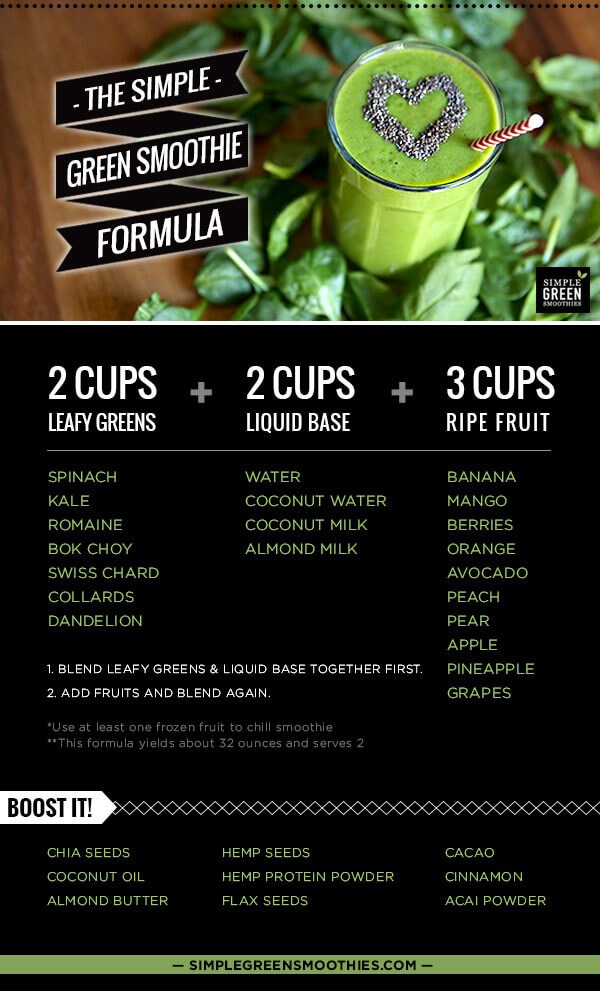 Prep time: 5 mins
Servings: 2
Recipe Ingredients
2 cups spinach 

2 cups water

1 cup mango

1 cup pineapple 

2 bananas
Recipe Instructions: 
Tightly pack 2 cups of leafy greens in a measuring cup and then toss into a blender. We recommend this

Odette Blender

. Next, a

dd water and blend together until all the leafy chunks are gone. Then

, add mango, pineapple, and bananas and blend again until smooth. 

Lastly, pour into a

mason jar

(or a cute cup of your choice). 
Lunchtime Recipes
2. Roasted Cauliflower with Turmeric 
Cauliflower made a comeback last year, even being dubbed the 'Vegetable of 2020'. In this recipe, the cauliflower is roasted whole, before being tossed in a creamy yogurt turmeric spiced sauce.
You can serve it whole with herbs and pine nuts or break it apart into smaller florets to help spice up your salad for lunch. Serve it in this Bamboo Salad bowl.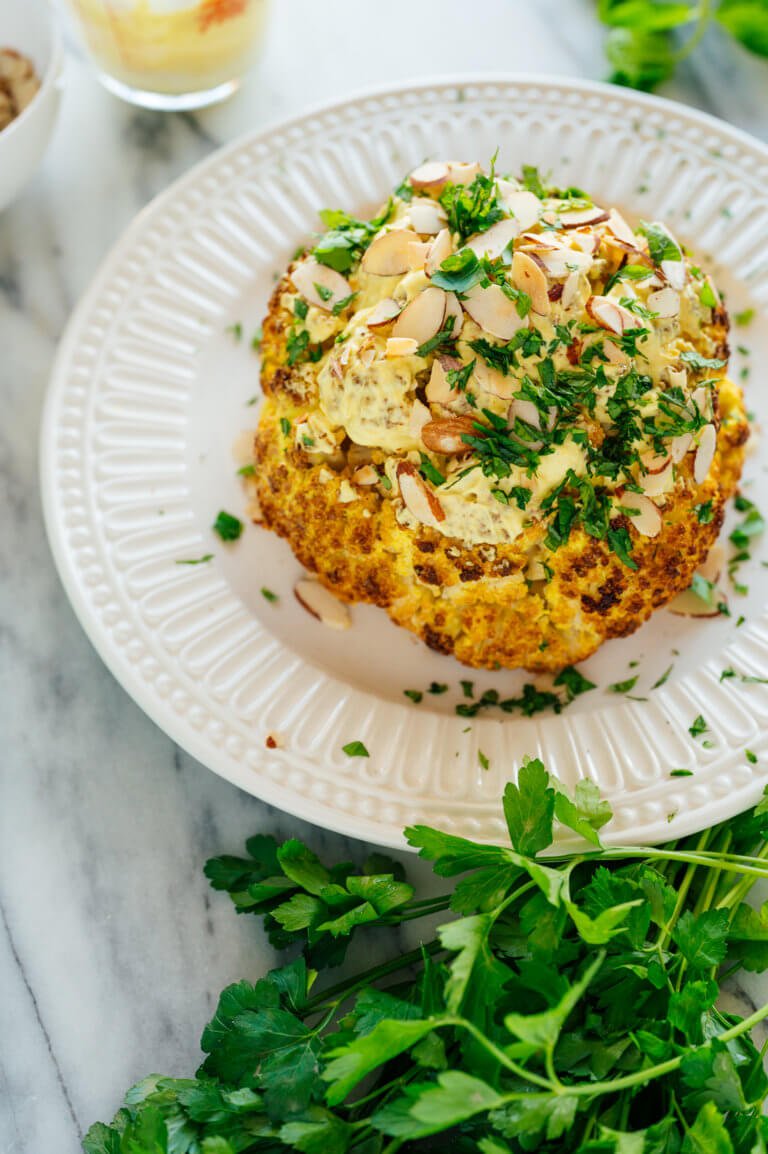 Prep time: 20 mins
Cook time: 1 hr 20 mins
Servings: 4
Recipe Ingredients: 
1 medium cauliflower (2 pounds)

3 tbsp extra-virgin olive oil, divided, plus more for drizzling

2 tbsp fresh lemon juice, plus more to taste

4 cups mixed spring greens

½ cup chopped mixed fresh herbs (any combination of cilantro, mint and/or parsley)

¼ cup toasted pine nuts or slivered almonds

Fine sea salt and freshly ground black pepper
Spiced Turmeric Sauce:
½ cup whole milk Greek yogurt

2 tbsp extra-virgin olive oil

2 tbsp fresh lemon juice

1 garlic clove, minced

¼ tsp ground cumin

½ tsp fine sea salt

¼ tsp ground coriander

Pinch of cayenne pepper

¼ tsp turmeric

¼ tsp maple syrup or honey
Recipe Instructions
First, preheat the oven to 400 degrees Fahrenheit and loosely line a baking sheet with aluminum foil.

Next, slice the bottom of the core off the cauliflower so that it sits evenly on the baking sheet. Drizzle 1½ tablespoons of the olive oil over the cauliflower and use your hands to coat it evenly. Sprinkle it with salt and pepper and roast for 45 minutes.

To make the sauce:

In a small bowl, combine the yogurt, olive oil, lemon juice, garlic, cumin, coriander, turmeric, maple syrup, salt, and cayenne.

Subsequently, remove the cauliflower from the oven and use a fork to gently start to pull apart the crevices of the cauliflower.

Next, pour another 1½ tablespoons of olive oil and the lemon juice over the cauliflower, especially into the crevices. Then, return the cauliflower to the oven and roast for another 15 minutes.

Spread ¼ of the yogurt sauce all over the cauliflower. Then, roast for another 15 minutes.

In a large bowl, toss the spring greens with a drizzle of olive oil, a squeeze of lemon, and a pinch of salt. Set aside for now.

Lastly, take the cauliflower out from the oven. It should be tender outside and fork-tender inside. Top the cauliflower with more sauce and sprinkle with the herbs and toasted pine nuts. Slice into quarters and serve with the salad and the remaining sauce on the side.
3. Gado Gado 
A well known Indonesian dish, Gado-Gado is a salad of boiled vegetables, hard-boiled eggs, fried tofu or tempeh, lontong served with a peanut dressing. These ingredients can be prepped the night before and mixed with the peanut sauce just before eating for a healthy well-balanced lunch. Why spend your money on expensive and bland salads when you can whip this up to eat healthy!
Pro tip: you can use chunky or smooth peanut butter and blend it with coconut milk for a quick gado gado sauce instead of grinding the peanuts from scratch. This 6 Blades Blender is bound to come in handy.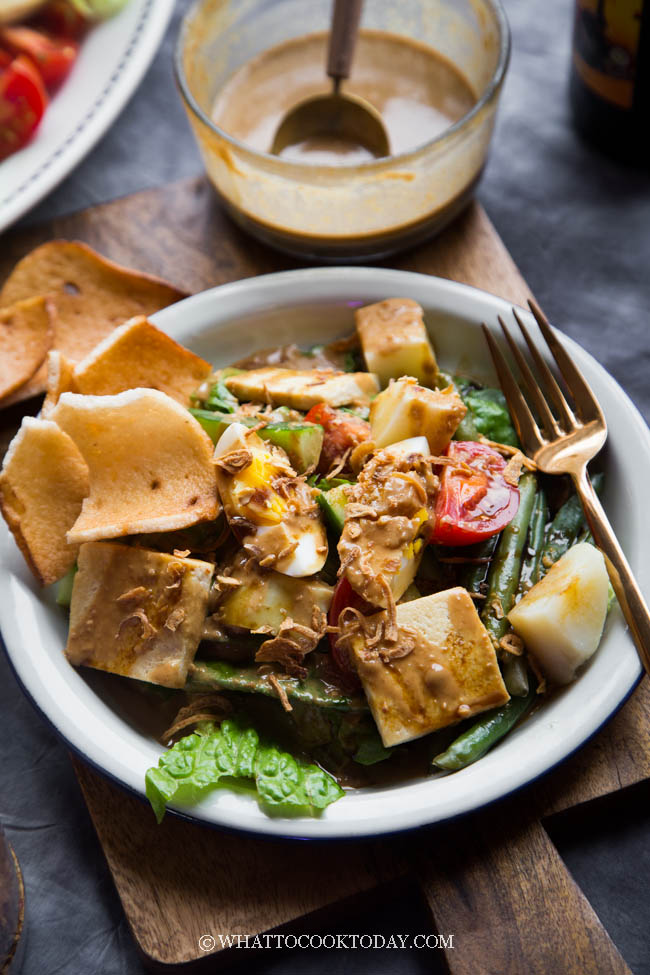 Prep time: 25 mins
Cook time: 25 mins
Servings: 6
Recipe Ingredients:
450g extra firm tofu – cubed

2 medium size potatoes

2 hard-boiled eggs – peeled and quartered

100g cabbage – sliced and blanched, sliced

125g bean sprouts – blanched

125g green beans – cut into 2-inch length and blanched

1 large tomato – quartered

Red chilis – optional

4 shallots – peeled

3 cloves garlic

3

bay leaves

4

Kaffir lime leaves

– tear the edges to release flavor
Gado gado sauce:
100g raw roasted unsalted peanuts – ground or chopped

3 tbsp Indonesian sweet soy sauce – kecap manis or more to taste

80g

coconut sugar

– or more to taste

1/2 tsp salt

50ml water – or more if you like the sauce a bit thinner

300ml

coconut milk
Serve with:
Fried shallots crisp – bawang goreng

Prawn crackers

Emping crackers

Juice of fresh lime – optional
Recipe Instructions:
To prepare the night before:
Boil the potatoes until fork tender. Peel the skin and cut into bite-size pieces. C. Place the eggs in a water and bring to a boil. Turn off the heat and cover and let it sit for 10 minutes. Peel the eggs after cooled.

Next, while potatoes are cooking, preheat about 1 Tbsp of oil in a large non-stick skillet. Add in the cubed tofu and pan-fried until golden brown on all sides. Set aside.
Preparing gado gado sauce:
3. First, place the aromatics in a food processor and finely chopped them. Preheat about 1 Tbsp of cooking oil in a saucepan. Next, stir fry the ground aromatics for about 5 minutes or until fragrant. Add all the gado gado sauce ingredients and the herbs
4. Then, bring to a gentle simmer. Do not boil or the coconut milk will turn frothy and break. It should be more at the sweet side. Add more palm sugar/coconut sugar if needed. 
On the day of serving:
5. Arrange the cabbage/lettuce on a large serving platter. Topped with bean sprouts, green beans, tomatoes, potato cubes, tofu cubes, and slices of hard-boiled eggs. Pour the dressing on top of the salad right before serving. Garnish with fried shallots crisp and some crackers if you want to
Snack Time Recipes
4. Air Fryer Crispy Sweet Potato Fries 
Who doesn't love french fries? These air fried sweet potato fries are your healthy eating alternative to Mcdonalds. To get it crispy, you'll need to soak the sweet potatoes in cold water for an hour – but trust us, it's worth it. You'll get crunchy yummy sweet potato fries without the additional health risk and calories that comes from deep-fried food. Pair it with a protein of your choice or eat it alone as a midday snack. 
To make your life easier, you can consider using a fry cutter like this Stainless Steel Vegetable Cutter or if you don't have an air fryer yet, you can consider getting this Mayer MMAF88 Air Fryer.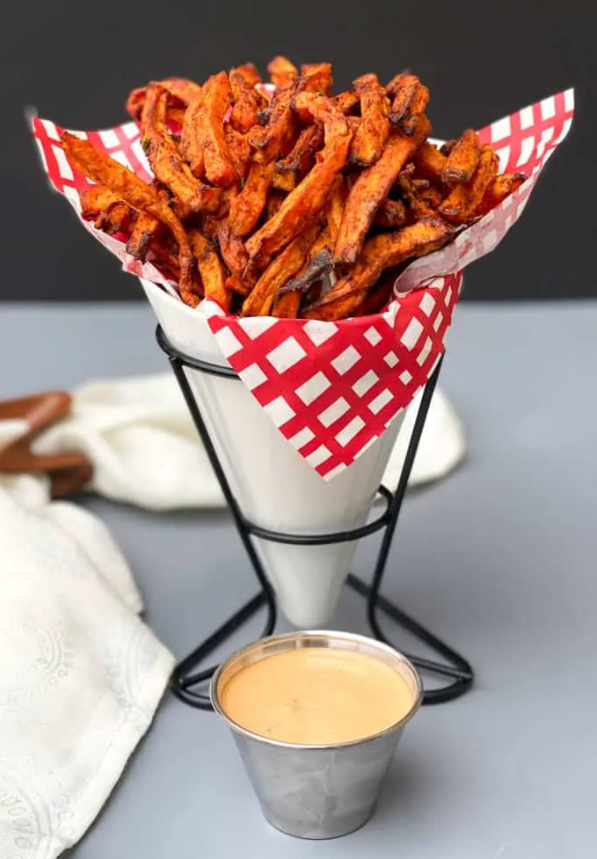 Prep time: 5 mins
Cook time: 20 mins
Servings: 6
Recipe Ingredients: 
2 large sweet potatoes peeled and cut lengthwise

1 ½ tbsp cornstarch

2 tsp paprika

2 tsp garlic powder

Salt and pepper to taste

1 tbsp olive oil 
Recipe Instructions: 
Soak the sliced sweet potatoes in a large bowl with cold water for an hour. 

Next, remove the sweet potatoes from water and dry completely before sprinkling the cornstarch throughout.

Sprinkle in the paprika, garlic powder, salt and pepper.

Place the fries in the air fryer basket and spray with olive oil. Do not overcrowd the basket. Cook in batches if necessary. If you see white spots of cornstarch on the fries, spray the area with olive oil.

Adjust the temperature to 380 degrees and cook for 23-25 minutes. Set a timer for 10 minutes and stop and shake the basket at the 10-minute mark (once). Use your judgment. If you like crispy fries, cook them longer and be sure to check on them.

Last but not lease, Cool before serving.
Notes: 
Fry cutter:

I used a fry cutter to slice the sweet potatoes. This helped provide more evenly shaped fries which helps with even cook time.

If you use a fry cutter, you will need to soften the potatoes first. The instructions on the cutter I used, said to microwave for 1 minute. I had to microwave them for 3-4 minutes to get them soft enough.

Every air fryer will cook at different speeds. Monitor your fries often. 

If you have trouble getting the fries to crisp, spray more oil.

If you want crispy fries, do not slice the fries too thick. Thick potatoes will not crisp. 
Dinner Recipes
5. Blistered Green Beans with Garlic 
Inspired by Sichuan Dry Fried Green Beans (gan bian si ji dou), these green beans are shallow fried until charred and shrivelled before tossed with garlic and red pepper flakes. Pair this with a bowl of rice and a fried egg (soya sauce optional) for an easy yet comforting weekday dinner.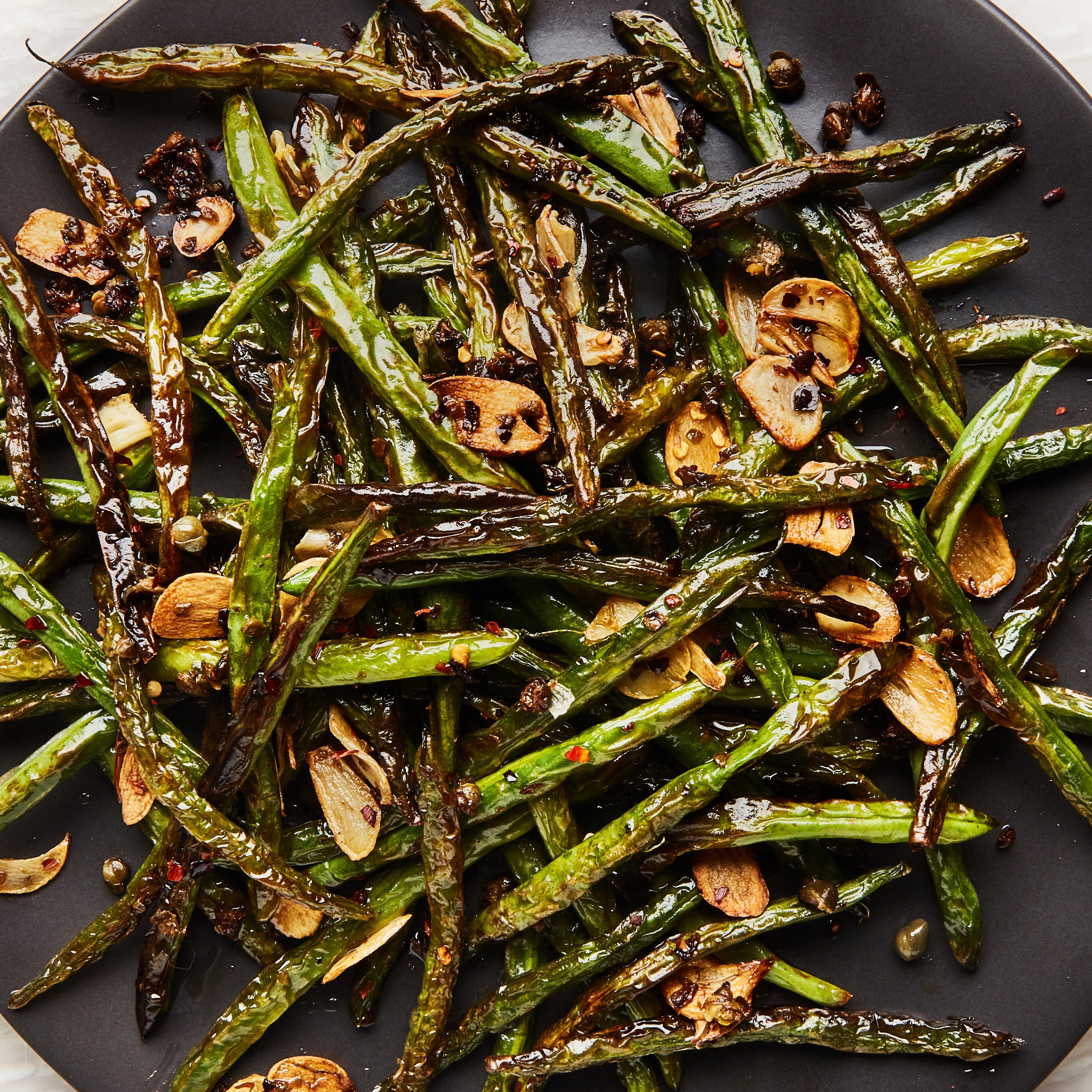 Prep time: 5 mins
Cook time: 10 mins
Servings: 4
Recipe Ingredients: 
⅓ cup extra virgin olive oil 

1 lb. green beans, trimmed, patted dry of any surface moisture or condensation 

Salt

6 garlic cloves, slices 

1 tbsp capers, drained, chopped

1 tsp crushed red pepper flakes 
Recipe Instructions: 
Heat oil in a large skillet over high until shimmering. Then, add green beans (the dryer they are, the less they will spatter when they hit the oil) and cook for 3 minutes until browned.

Next, turn beans with tongs and redistribute so they brown evenly (don't toss them since hot oil can easily slosh out of skillet if you try to show off).

Next, season with salt. Add garlic, capers, and red pepper flakes. Cook, tossing occasionally, just until garlic turns golden, about 1 minute.

Lastly, transfer beans to a platter. Spoon caper-garlic mixture over and pour some oil over too; season with salt.
6. Miso Eggplant (Nasu Dengaku) 
Like all things with cooking, it's all about the flavour! Nasu Dengaku, otherwise known as Miso Eggplant is a popular dish that can be found at most Japanese restaurants. Miso adds a level of umami goodness and being fermented, it provides additional health benefits to your gut and digestion.
Why not try making this dish at home? All you need to do is whip up the miso glaze and grill it on a non-stick frying pan for 3-4 mins. Tasty, healthy to eat and quick. Sounds like a win-win.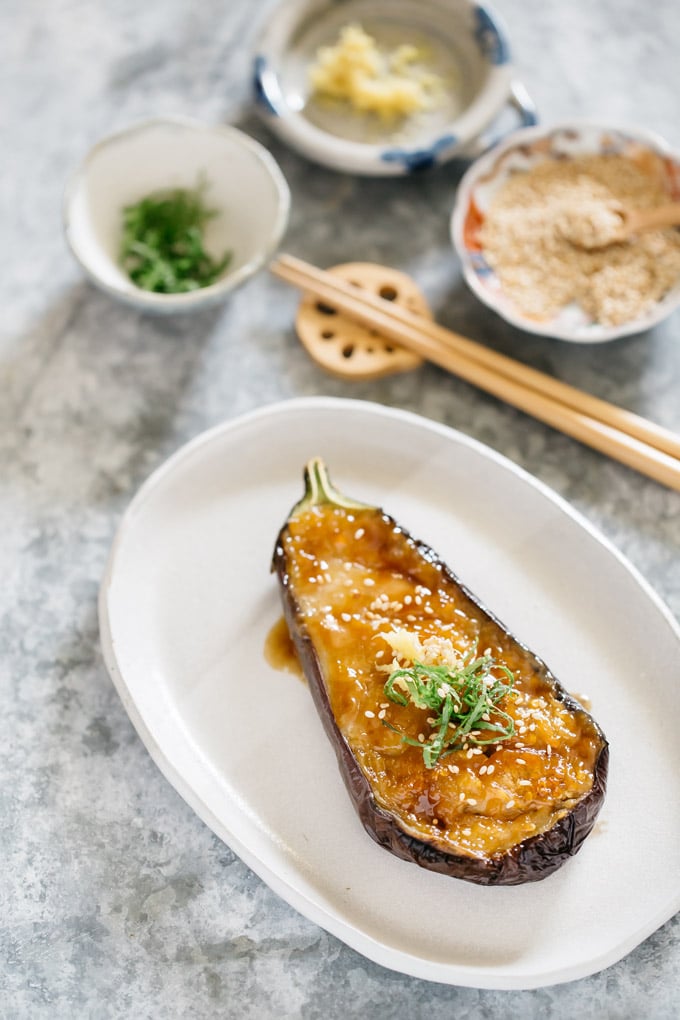 Prep Time: 5 mins 
Cook Time: 15 mins 
Servings: 2 
Recipe Ingredients:
1 ½  tbsp miso paste

1 ½  tbsp sugar

½ tsp

dashi powder *4

1 ½  tbsp Sake

1 tbsp

olive oil

An Eggplant

1 ½  tbsp Mirin

Grated ginger, Sesame seeds and chopped Shiso leaves to garnish
Recipe Instructions: 
Sweet miso paste for glazing:
For the miso paste, put all the miso glaze ingredients in a small sauce pan and simmer for a couple minutes over low heat. Subsequently, when the sugar has dissolved and become a shiny glaze, r

emove from heat and set aside.

Cut the eggplant in half lengthwise. 

Score around the eggplant and diagonally. 

Soak the eggplant in water in a large bowl for about 5 minutes to take off the bitter taste.

Take the eggplant out of the water and wipe off the excess water with a paper towel.

Gently wrap the eggplant with cling wrap microwave for 5 min.

Start to preheat the oven on the grill setting.

Add olive oil in a frying pan. Then, cook the eggplant until the cut side becomes brown. Turn the heat off. 

Glaze the eggplant surface with about 1 tbs of miso mixture each.

Put the frying pan in the preheated oven and grill for 3-5 minutes.

Serve it on a plate and top with grated ginger, garnish with shiso and sprinkle sesame seeds over.
7. Maple Roasted Brussel Sprouts (with Bacon) 
Christmas might be over, however this Brussel sprouts recipe is here to stay. Roasted with maple syrup and bacon, the sweet-salty flavors are guaranteed to make you have a second (or third) serving. Crispy on the outside with slightly charred and caramelized edges, if you're only going to try one dish, this is it. Healthy eating has never been easier.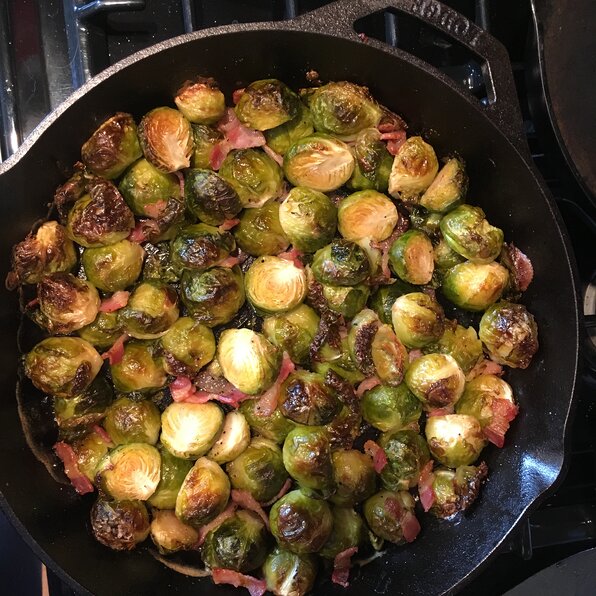 Prep Time: 10 mins
Cook Time: 45 mins
Servings: 6
Recipe Ingredients
1 pound Brussels sprouts, trimmed

¼ cup extra-virgin olive oil

3 tablespoons pure maple syrup

4 slices bacon, cut into 1/2-inch pieces

½ teaspoon salt

¼ teaspoon freshly ground black pepper
Recipe Instructions
Preheat oven to 400 degrees F (200 degrees C).

Arrange Brussels sprouts in a single layer in a baking dish. Drizzle with olive oil and maple syrup; toss to coat. Sprinkle with bacon; season with salt and black pepper.

Roast the bacon as well as the Brussels sprouts for 45 minutes in the preheated oven until crispy and caramelized. Remember to stir it halfway through.
As you can see, healthy eating doesn't have to be bland and boring. Increase your vegetable intake by enhancing vegetable recipes with spices and fresh herbs and add different textures with crunchy nuts or by charring the vegetables. Make an effort to commit to it and soon, you'll be telling your vegetarian friends how to eat their vegetables. 
Which recipe sounds the yummiest to you? Let us know in the comments below! 
---
New to Shopee? Get $7 off (min. spend $15) with code*: 7OFFVEGGIES
* TNC Applies. Valid for new users from 15 to 22 Jan 2021 only.