Need a new culinary experience? Then try some Mexican food! There are have several restaurants in Singapore that serve dishes inspired by traditional food from the streets of Mexico. But don't forget the booze! Some of these restaurants serve up an amazing concoction of margaritas coupled with a selection of tequila shots. Sounds like a good time? Then check out our list of the best Mexican food places in Singapore!
Baja Fresh Mexican Grill Singapore
Baja Fresh is a great Mexican restaurant to get your first taste of authentic Mexican food. Its menu is simple and features the basic choices of traditional Mexican food. You can try their range of Baja Fresh classics like burritos, tacos and salads for a start. Do consider complementing your Baja Fresh classic with a set of nachos. The tortilla chips dipped with a good dose of guacamole and sour cream will tingle your taste buds and leave you wanting more!
Address:  9 Bras Basah Road, #01-03, S(189559) (Rendezvous Gallery Branch)
Opening Hours:
Sunday – Tuesday: 7:30am to 11:00pm
Wednesday – Saturday: 7:30am to 4:00am
Guzman Y Gomez
Guzman Y Gomez, or GYG, is another quick dining Mexican restaurant in Singapore that lets you have a personal spin on their traditional Mexican dishes. Choose between white or brown rice and even the type of meat you prefer. At Guzman Y Gomez, you get to enjoy your Mexican food the way you like it. Do try out their churros too! It comes served with their special Dulce de Leche dipping sauce that builds upon the churros' cinnamon flavouring Churros.
Address: 1 Vista Exchange Green, #01-32, The Star Vista S(138617) (The Star Vista Branch)
Opening Hours: Monday – Sundays: 10:30am to 9:30pm
Margarita's Dempsey Hill
Take your Mexican food experience up a notch at Margarita's Dempsey Hill. This restaurant even has its own spin of Mexican dishes beyond traditional choices. You can try out their Jalapeno Rellenos if you're looking for something spicy. Or perhaps their Beef Enchiladas if you like your food in a savoury roll. If you're in the mood for a good drink, consider their selection of Margaritas.
Address: Block 11 Dempsey Hill Road, #01-09, S(249673)
Opening Hours: Monday – Sunday: 11:30am to 11:00pm
Lucha Loco
Sometimes the best foods from a culture come from the streets. That's why the founders of Lucha Loco have whipped up a menu based on their travels around Mexico. This is a Mexican restaurant in Singapore that allows you to broaden your exposure to authentic Mexican food. Try unique dishes inspired by the country's street food like Carne Asada and De Barbacoa. If you're going with friends we recommend getting the Chef's Selections like the El Loco and Head Honcho. Do try their shooters as well! Because nothing completes a good Mexican dish better than a good dose of tequila.
Address: 15 Duxton Hill, S(089598)
Opening Hours:
Monday – Thursday: 12pm to 4pm & 5pm to 12am
Friday: 12pm to 4pm & 5pm to 1am
Saturday: 6pm to 1am
Comida Mexicana
If you're looking for Mexican restaurants that are away from central Singapore, then consider Comida Mexicana. Its location along East Coast Road is a relief for Mexican food lovers living around neighbourhoods like Tampines. A popular dish choice would be their Beef Burrito with Chipotle Cream Sauce. Or if you want something that's closer to Mexican food traditions, then try out their Fajitas. It's a dish served with succulent grilled meat together with tortillas.
Address: 404 East Coast Road, S(428998)
Opening Hours: Tuesday – Sunday: 11:30am to 3pm & 6pm to 10pm
Vatos Urban Tacos
How about some Mexican food fusion? Vatos Urban Tacos is a Mexican restaurant that serves up a skillful blend of Korean and Mexican food. Jinjja!? That's right! You can find fusion dishes at this restaurant featuring the best ingredients from both food cultures. Try their specials like the Kimchi Carnitas Fries or perhaps some Quesadillas with Kimchi Pork! You can even try their unique array of cocktails like the Jeju Sunshine and Makgeolitas.
Address: 36 Beach Road S(189766)
Opening Hours:
Tuesday – Thursday & Sunday: 12pm to 11pm
Friday – Saturday: 12pm to 12am
Monday: 5:30pm to 11pm
Cafe Iguana
If you're in the mood for some grilled Mexican food, then try out Cafe Iguana. Their Tequila Grills are a must-try for Mexican food lovers. They even serve up uncommon Mexican dishes like Chimichangas – a familiar dish if you're a fan of Deadpool. [Woo!]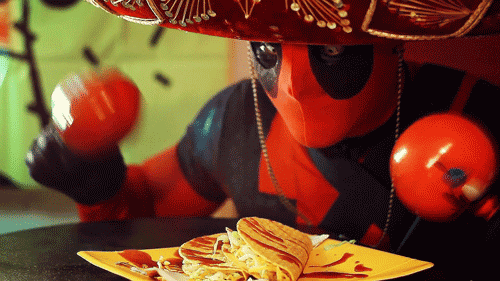 Cafe Iguana is also a Mexican restaurant for alcohol connoisseurs. They have their own signature draft beer handcrafted by Brewerkz. Savour on their golden ale, wheat beer and India pale ale for a refreshing taste.
Address: 30 Merchant Road, #01-03, Riverside Point, S(058282)
Opening Hours:
Monday – Thursday: 4pm to 12am
Friday: 4pm to 1am
Saturday: 12pm to 1am
Sunday: 12pm to 12am
Señor Taco
Do pay a visit to Señor Taco if you're around the Clarke Quay area. This is one of the oldest Mexican restaurants in Singapore and one that prides itself for staying true to Mexican street culture. The restaurant keeps their decor simple while focusing on the quality of their food.
You must try their signature dishes like the Taco Al Pastor and the Carnitas. And as with any Mexican dish, you HAVE to down it with a glass of Señor Taco's Margaritas or their unique Corona-Rita!
Address: 3A River Valley Road, #01-07A, S(179020)
Opening Hours:
Sunday – Tuesday: 6pm to 1:30am
Wednesday – Saturday: 4pm to 3:30am
El Patio Mexican Restaurant & Wine Bar
Now this is a place for a good drink. The El Patio serves diners with a wide range of alcohol. Their selection of tequila mixes will leave you spoiled for choice! But if you're in a lighter mood you can try their special cocktail mixes as well. We recommend the El Patio's Margarita. A signature mix of the El Patio is a flavour you'll never find anywhere else! But of course, do complement the flavours of your drinks with a good selection of sides. If you're not sure where to begin, try out the Ranchero Wings! You'll never go wrong with a good serving of wings – trust us on this.
Address: 34 Lorong Mambong, S(277691)
Opening Hours:
Monday – Thursday: 1pm to 11pm
Friday: 1pm to 12am
Saturday: 12pm to 12am
Sunday: 12pm to 11pm
El Mero Mero
Need somewhere more convenient to get your Mexican food? Then try El Mero Mero! The Mexican restaurant is located in CHIJMES just next to Raffles City. It's also a convenient place if you're looking for a quick serving of Mexican dishes for lunch. Their lunch sets will guide you through the best flavours of Mexican food.
But if you're looking for the real Mexican dining experience, then you HAVE to make a trip down for dinner. The dinner menu features an impressive selection of tacos, enchiladas and specialty grills. It's also a cool place to chill out with some drinks and maybe even catch up with some old friends.
Address: 30 Victoria Street, #01-20, Chijmes, S(187996)
Opening Hours:
Sunday – Wednesday: 12pm to 3pm & 5pm to 11pm
Thursday – Saturday: 12pm to 3pm & 5pm to 1am
Need more places to wine and dine in Singapore?
If you're done with Mexican food you can consider trying some of the best rooftop bars in Singapore. Each bar has its unique spin on drinks and dishes from various food cultures! Or if you're looking for places to chill after a good night of drinks you can consider some of these supper places in Singapore for late night munchies!