We all know how bubble tea is all the rage nowadays, with stores sprouting up across the island, and long snaking queues to try the latest flavours. But sometimes life happens and you get busy with work, school, or you are just too lazy to get out of the house for a drink. This is when packaged milk tea comes to the rescue! It is not only a cheap alternative when our milk tea cravings hit, it is our saviour when there are no bubble tea shops in sight, or when we just don't feel like shelling out $5 for a cup of guilt. Get your favourite guilty pleasure fix without even stepping out of the house with these recommendations: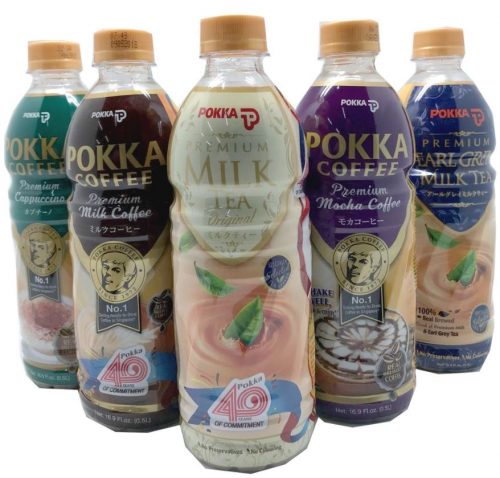 Pokka is an all too familiar brand that you see in almost every supermarket or convenience store. Known for their rich tea flavour in their popular tea series (green tea and ice lemon tea), you know they can't go too wrong when they released the milk tea series. 
The Premium milk tea is said to be 100% real brewed from premium Ceylon tea leaves and high-quality milk, to give a creamy taste and rich aroma. It certainly did not disappoint as the taste of the tea was prominent with every sip of the drink, similar to the milk tea that you can get at bubble tea shops. For a cheaper price and the convenience (you can get it on Shopee!), there's nothing much to complain about. It is available in the original as well as the earl grey milk flavour.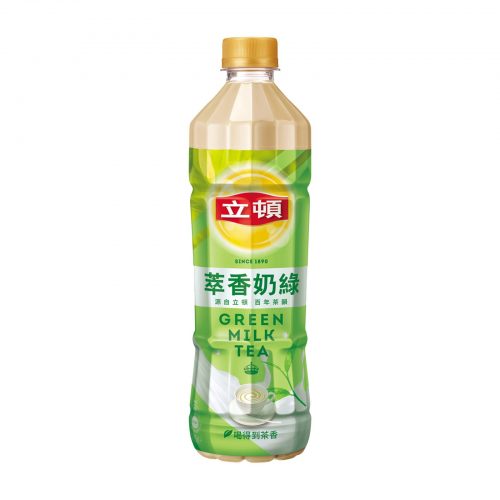 Ahhh, a brand we grew up drinking~ I remember the early mornings before school when I would grab a tea bag or two, throw them into a cup of hot, boiling water and enjoy it together with my toast. Imagine my excitement when I heard that their milk tea comes in bottles too! 
There are a variety of flavours available including the British milk tea and the Green milk tea. Our personal favourite is the green milk tea, which has a smooth texture and just a slight tinge of green tea taste without being overpowering at all.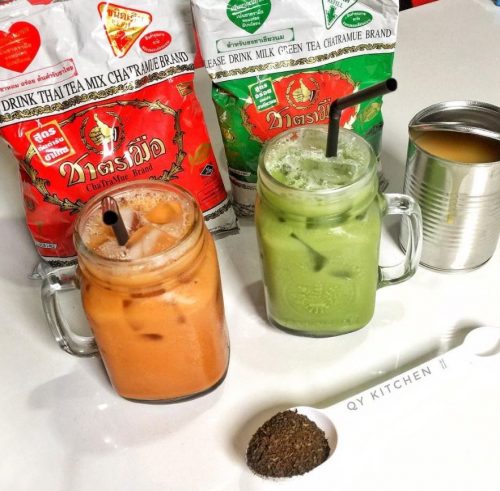 Some of you may have recalled the great hype when this famous Thai brand reached our shores in 2013, and hordes of people queued under the hot sun just to get their hands on a cup of sweet goodness. Now available in ready pack mixes, you get to enjoy them in the comfort of your air-conditioned room!

Thai milk teas are known to be sweeter than the traditional milk tea, and while the tea flavour is very distinct, it was a tad too sweet for me. But I guess it is understandable, coming from a person who drinks 0% sugar koi milk tea! Fans of this brand of Thai milk tea, you know where to get your fix now.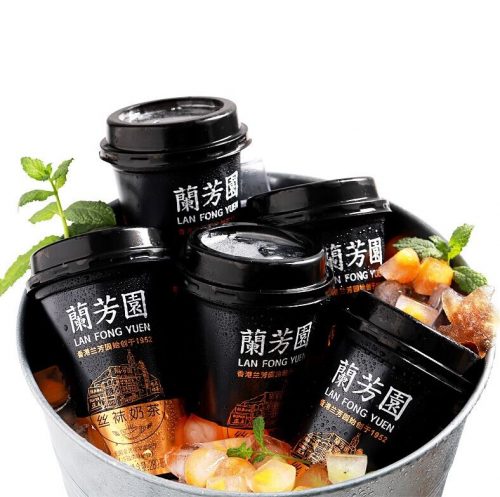 If you are a fan of Hong Kong's Cha Chaan Teng, you would be familiar with popular store Lan Fong Yuen. They have been around since 1952, and are well known for their pork chop bun and milk tea. This year, packaged takeaway cups of their famous milk tea was brought in to our sunny shores, and they undoubtedly sold like hot cakes. 
The milk tea had an intense, heavy and fragrant tea flavour. Every sip of it is creamy and rich and leaves you wanting for more. This milk tea remains one of our favourite brands of all times, but a word of caution: Avoid drinking this at night as it contains more than 5g of black tea (caffeine) per cup. Don't blame us if insomnia hits you hard at night!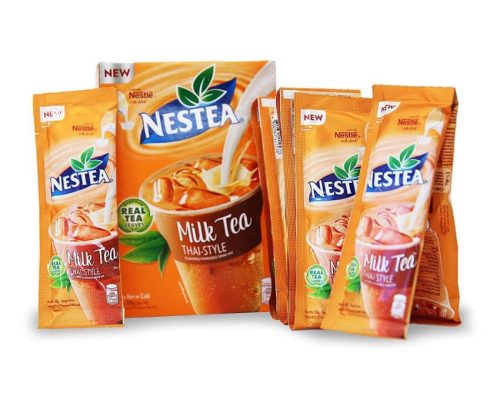 If you are looking for a cheaper milk tea alternative, try Nestea's instant milk tea. The brand of iced tea and cold beverages is owned by Nestlé', the creators of the legendary Milo drink. They nailed it in terms of the strong tea aroma, but taste wise it is slightly diluted for me. Pro tip for all you readers: Add less water than what is indicated if you want a more concentrated milk tea. However, I guess for its affordable price, I will be back for more of it.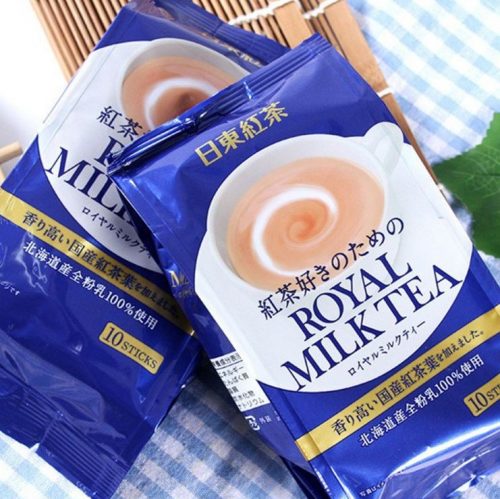 The Nitto Kocha Royal Milk Tea originates from Japan, and is made from Japan-grown kocha black tea and milk powder produced in Hokkaido. The black tea flavour comes out strongly, and is perfect for all black tea lovers. The milk tea is also a healthier version as it is less sweet than normal milk teas, resulting in an overall light yet aromatic taste. Indulge in your favourite drink with half the guilt now!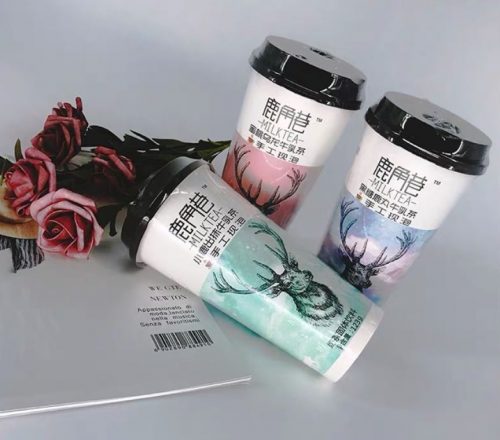 The logo of the Lu Jiao Xiang brand milk tea looks suspiciously similar to the famous "The Alley" brand, though we cannot confirm if they indeed belong to the same brand. However, putting aside this, we tried the Peach Oolong milk tea flavour and we are hugely amazed by its taste! The oolong tea flavour is pronounced with every sip, and the creaminess of the milk tea complements it perfectly. There is a slight tinge of peach flavour as well, adding that extra punch to the overall taste of the milk tea. 10/10 will be back for more because I am keen to try the other flavours, such as the brown sugar and matcha milk tea.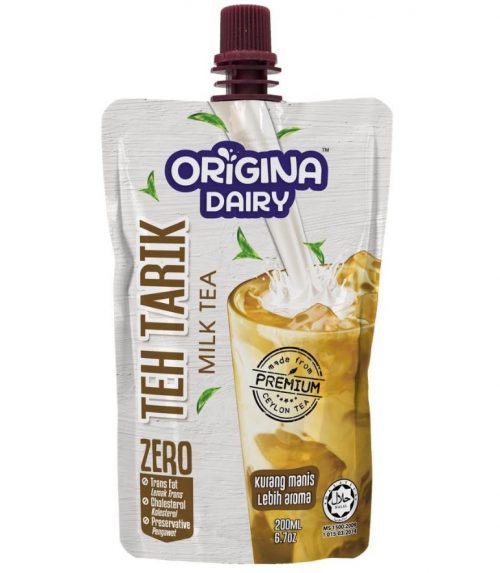 This milk tea reigns from Malaysia, and is manufactured by local eco-friendly plastics company, L'Earth. It comes in a pocket pouch, and it's compact size makes it easy to drink it anytime, anywhere. Although the product name is stated as "Teh Tarik", it is nothing like the Teh Tarik that we get at coffee shops. It tastes lighter, less sweet and has a bitter aftertaste. This is not exactly our favourite, but plus points to its portability and convenience.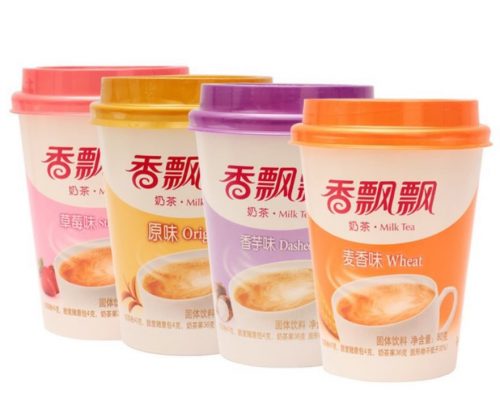 This famous milk tea brand hailing from China offers a variety of flavours such as the original, wheat, strawberry and dasheen (aka Yam) in coffee cup packagings. The wheat milk tea had a creamy, malt aftertaste that lingers in your mouth, and reminds me of the oat milk that I drink almost every morning for breakfast. At just $2 a cup, you get a decent milk tea fix in the comfort of your home. Go figure! 
*BONUS*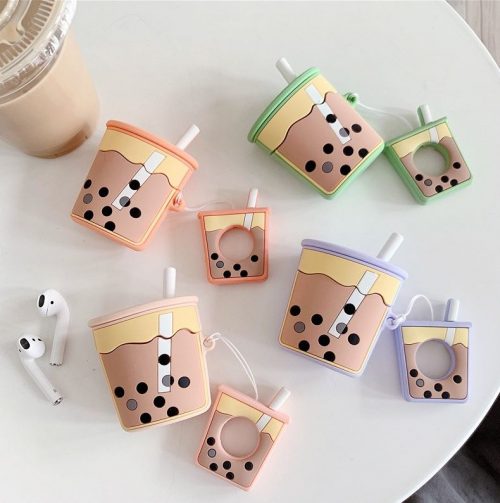 If you are a fan of the bubble milk tea drink, chances are, you will like all things related to it. Cart out these cute bubble tea airpods cover while you are purchasing your milk tea drinks, because why not? No one should ever refuse some me-time shopping therapy. Now you can proudly show off to your friends that you are a true milk tea fan!
Which are your favourite packaged milk tea brands? Tell us in the comments below!  
_______________________________________________________________________
New to Shopee? Get $7 off (min. spend $15) with code*: MILKTEA
* TNC Applies. Valid for new users from 3 to 9 Sep only.