Turn 4 long weekends into 9 using this cheatsheet for 2018
Out of the 11 public holidays in 2018, only 4 falls on a Friday or Monday *boo*. Be prepared to scrape off any ideas of having multiple getaway plans during the weekend off your calendar, and have random public holidays pop up in the middle of the week that'll disrupt your working momentum.
Here's the (short) list of official long weekends in Singapore next year:
New Year's Day


30 Dec 2017 to 1 Jan 2018 (Sat – Mon)

Chinese New Year


16 Feb – 18 Feb 2018 (Fri – Sun)

Good Friday


30 Mar – 1 Apr 2018 (Fri – Sun)

Hari Raya Puasa
15 Jun to 17 Jun (Fri – Sun)
And that's all, folks.
But fret not, with our help, you can double the number of long weekends you can take with our Cheatsheet Calendar! There are 4 other public holidays that fall on a Tuesday: Labour Day (1 May), Vesak Day (29 May), Deepavali (6 Nov) and Christmas Day (25 Dec). Simply take 1 day's leave on the Monday to enjoy another long weekend!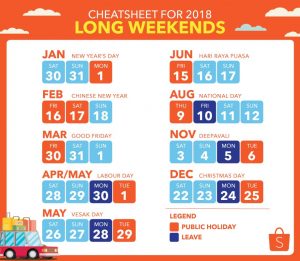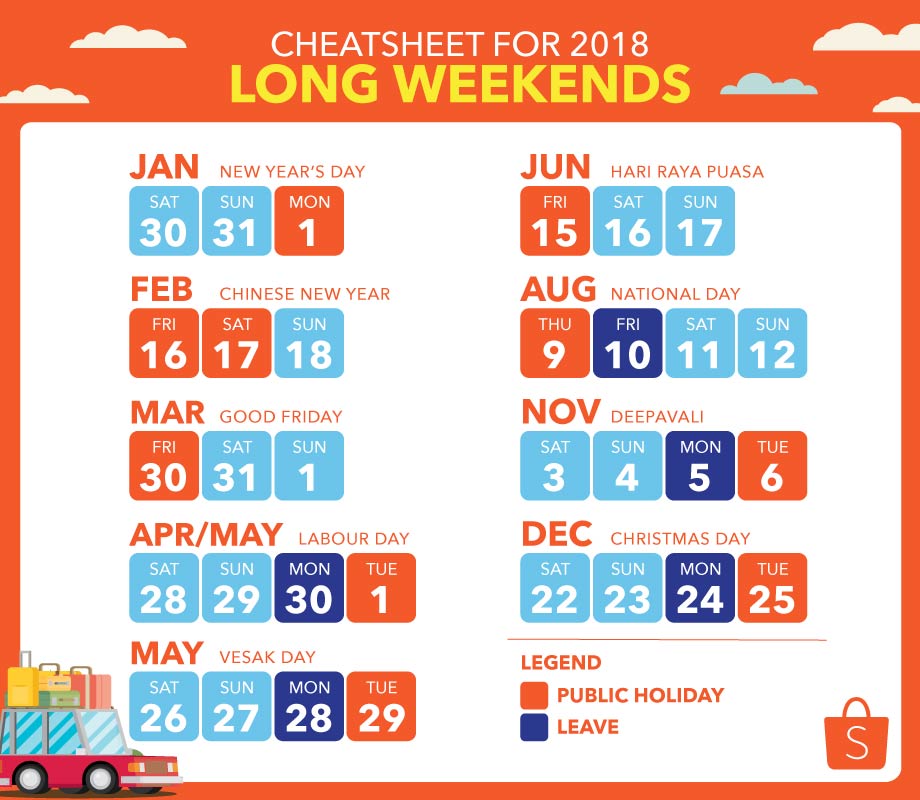 Share and tell all your friends about how to beat the system. Just ensure that you got all your leaves booked before your colleagues do.
Not sure where to go? Let us decide by playing this game.
–
Get all your travel essentials with us and get $7 off (min. spend $15) if you're a new user with code*: CHEATLEAVE
*TNC Applies. Valid for new users from 28 Dec to 4 Jan only.