Rice bowls have taken the Singapore food scene by storm. What's not to love about them anyway? They're comforting, delicious and are usually more nutritious than your standard plate of chicken rice or char kway teow. From $7 wagyu beef rice bowls to customisable protein grain bowls, here are some of the most affordable and delicious rice bowls in Singapore that will bowl you over.
1. Maneko Japanese Restaurant
https://www.facebook.com/manekosg/photos/a.425076081302076/425804794562538/?type=3&theater
A welcoming and cosy 30-seater eatery along Upper Thomson Road, Maneko prides itself on its appetising and affordable rice bowls and sushi. Give their Aburi Mentaiyaki Salmon Don or Truffle Yakiniku Steak Don a try. These rice bowls consist of impeccably seared meat atop a bed of sweet Japanese rice. The rice to sauce ratio is also perfectly balanced, as all rice bowls should be. Psst, there's no GST and service charge here meaning you can indulge guilt-free!
Address: 227 Upper Thomson Road, S(574359)
Opening Hours: Daily, 11am – 10pm
Price: From $11.90
2. Omote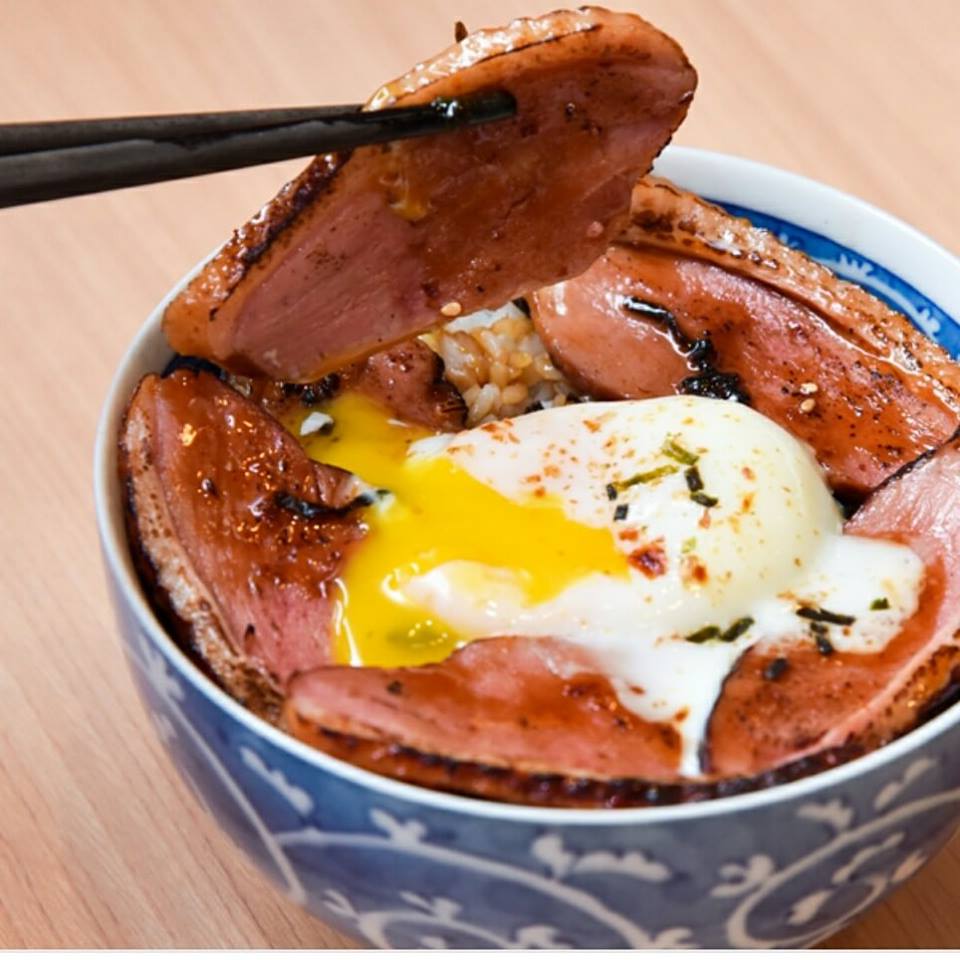 Previously known as Sushiro, Omote's Bara Chirashi Don is renowned for being one of the most affordable sashimi rice bowls in Singapore. For as low as $12.80, you can get a hearty bowl of rice laden with fresh chunks of sashimi. Not a fan of raw fish? Try their Kyoto Glazed Duck Don, topped with slabs of meaty glazed duck and a delightfully runny egg. Be sure to wash your meal down with one of their specially-concocted cocktails — our favourite's the Shirley Temple of Bears!
Address: Thomson Plaza, 301 Upper Thomson Road, #03-24A, S(574408)
Opening Hours:
Mon, Wed – Sun: 11.45am – 2.15pm (Lunch), 5.45pm – 9.15pm (Dinner)
Price: From $12.80
3. Sora Boru
https://www.facebook.com/SoraBoruSingapore/photos/a.1332522623553511/1358235277648912/?type=3&theater
A fuss-free and wallet-friendly establishment, Sora Boru boasts an extensive selection of rice bowls and side dishes. The mains even come in two sizes — mini and regular — perfect if you're watching your waistline.
Beef lovers should definitely order the Volcano Beef Don, which consists of a mountain — sorry, volcano — of beef slices with lava streams of spicy sauce running down its sides. Can't take the heat? Their Snow Beef Don, featuring succulent beef slices capped with a smattering of grated cheese and sweet white sauce, will be the perfect subdued option for you.
Address: 313@Somerset, 313 Orchard Road, #B3-19/20, S(238895)
Opening Hours:
Sun – Thurs: 11am – 10pm
Fri – Sat: 11am – 11pm
Price: From $5
4. Salmon Samurai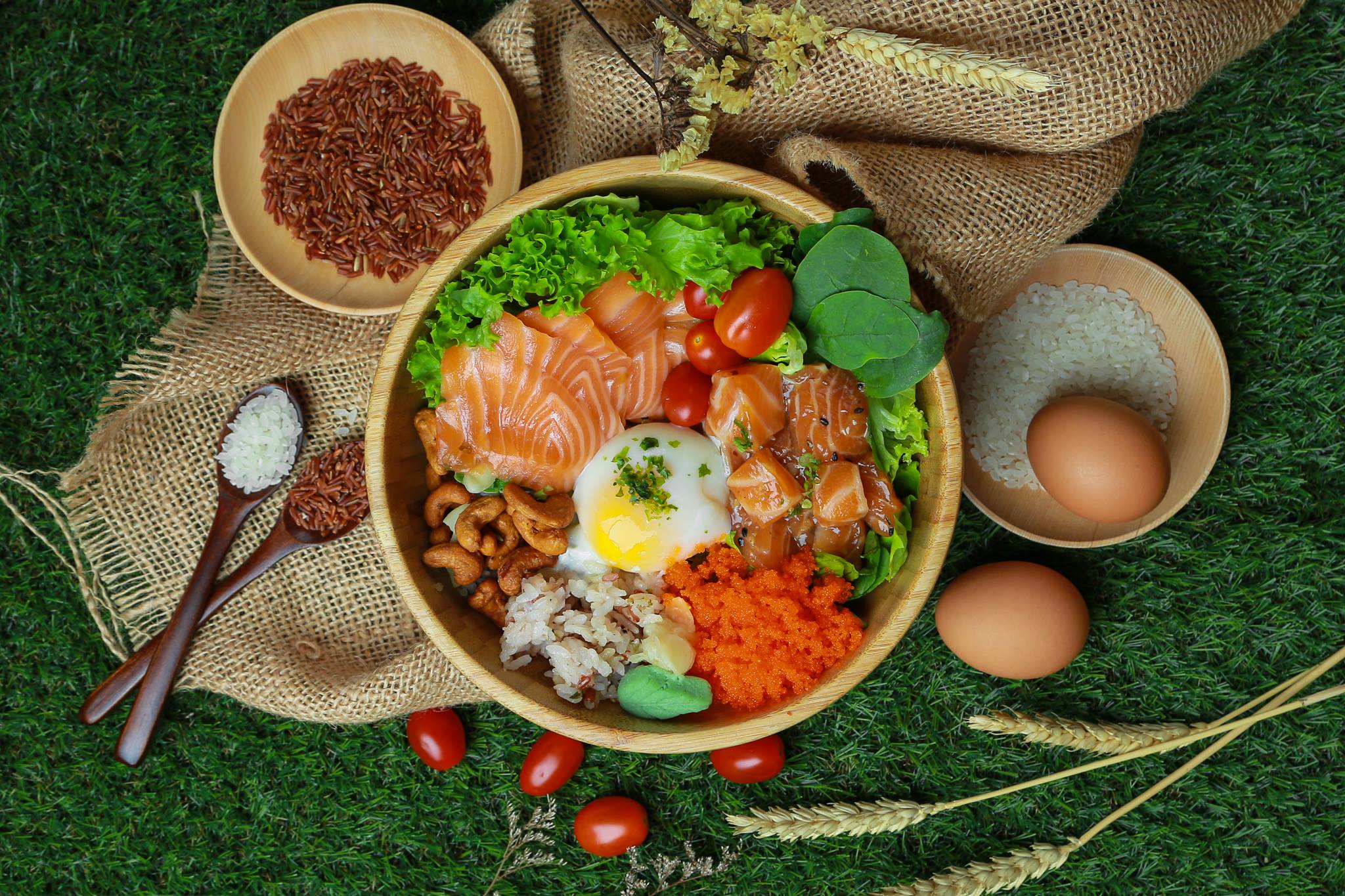 Sashimi lovers, get a fix of your favourite dish at Salmon Samurai without breaking the bank! Founded by the same folks behind Standing Sushi Bar and Tanuki Raw, Salmon Samurai serves affordable and healthy salmon-based rice bowls in the heart of Singapore's CBD. Choose from five different salmon rice bowls or even customise your own. Fans of mentaiko will definitely dig their mentaiko salmon rice bowl, which comes with a dollop of creamy mentaiko sauce atop a generous portion of salmon.
Address: 100AM Mall, 100 Tras Street, #01-11, S(079027)
Check out their other location here
Opening Hours: Daily, 11am – 10.30pm
Price: From $9.90
5. Tasty Street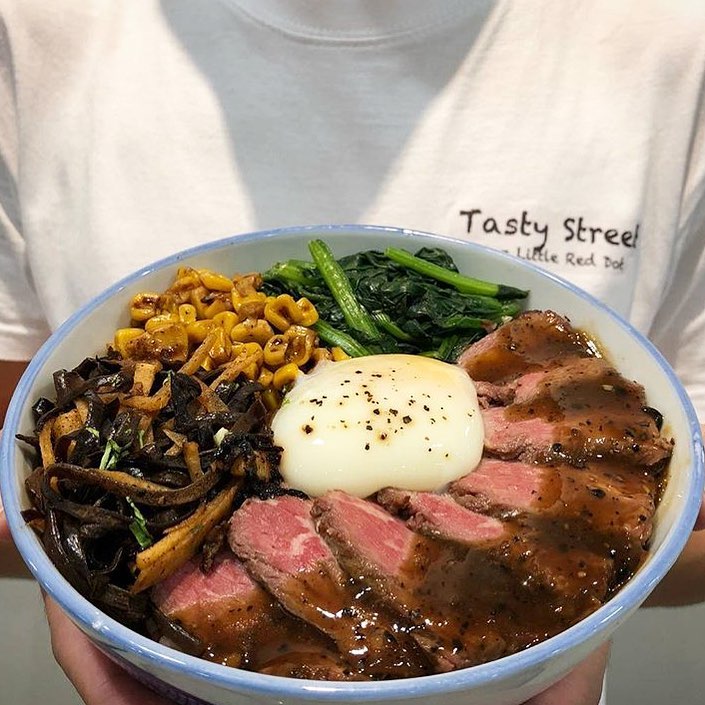 Here's something for the easties: the newly relocated Tasty Street serves up premium rice bowls in Singapore's hipster hawker centre of the East. Their freshly prepared rice bowls include a protein, rice base, vegetable of the day as well as a quivery onsen egg. If none of their prepared rice bowls strike your fancy, you can even DIY your own bowl!
Dig into their Iberico Lor Bak Bowl for a dose of tender pork belly doused in homemade braised sauce — this dish is sure to delight anyone who loves a good Taiwanese braised pork rice!
Address: Pasir Ris Central Hawker Centre, 110 Pasir Ris Central, #02-16, S(519641)
Opening Hours:
Tues – Sun: 11.30am – 9pm
Price: From $5.50
6. Aburi-En
https://www.facebook.com/aburiensg/photos/a.2210251732319541/2523224811022230/?type=3&theater
Have a taste of premium Japanese Miyazaki Wagyu beef at Aburi-En! This sleek Japanese joint boasts flavourful aburi-style rice bowls at reasonable prices. With two convenient locations (at Harbourfront and CBD), it's a good place to unwind over wagyu beef rice bowls in Singapore.
Need a little pick-me-up? Try Aburi-En's rendition of the Stamina Don, a rice bowl dish that's known for boosting energy in Japan. It consists of marinated wagyu beef, topped with a runny onsen egg that's sure to keep you productive till the end of the work day.
Address: VivoCity, 1 Harbourfront Walk, #01-159/160, S(098585)
Check out their other location here
Opening Hours: Daily, 11am – 10pm
Price: From $10
7. The Salted Plum
https://www.facebook.com/TheSaltedPlumSG/photos/a.331729727323168/567938333702305/?type=3&theater
The spiritual successor to the now defunct eatery Five Ten, The Salted Plum serves Taiwanese-inspired rice bowls to hungry Singaporean bellies. Prices of their yummy rice bowl remain highly affordable, just like Five Ten with every dish on the menu costing either $5, $10 or $15. Pop by during lunch hour to take advantage of their $10 speciality braised pork rice bowls laden with a generous serving of rice and meat — a real steal!
Address: 10 Circular Road, S(049366)
Opening Hours:
Mon – Sat: 11.30am – 2.30pm, 6pm- 9.30pm
Price: From $5
8. Superfudo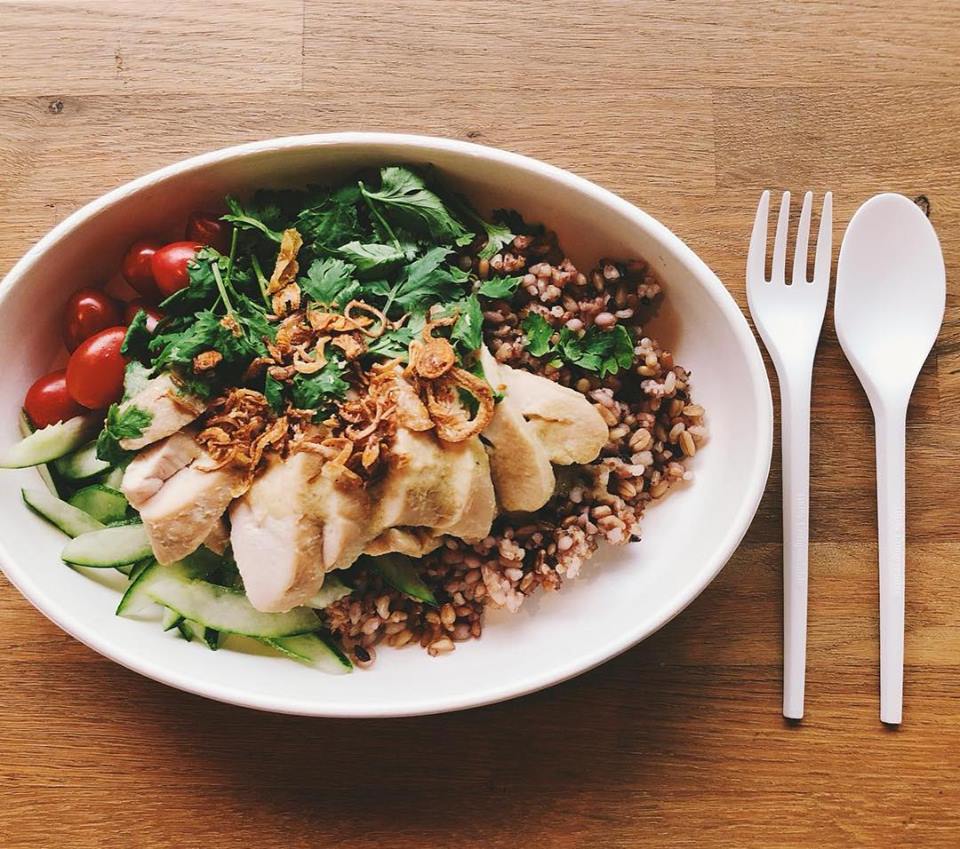 Everyone loves cai png (economy rice), Singapore's very own rice bowl dish. Indulge in premium, healthy economic rice-style grain bowls at Superfudo! Just like your neighbourhood cai png stall, customisation here is key with more than 20 different meats, bases and toppings to choose from. True to our Asian palates, there's even an extensive selection of hot sauces to drizzle over your bowl!
Can't decide what to get? You won't go wrong with their house special rice bowl, the Superfudo Chicken Rice — a healthy rendition of the classic Singaporean dish!
Address: 15 Lorong Liput, S(277730)
Opening Hours: Daily, 10am – 10pm
Price: From $11
9. Chalong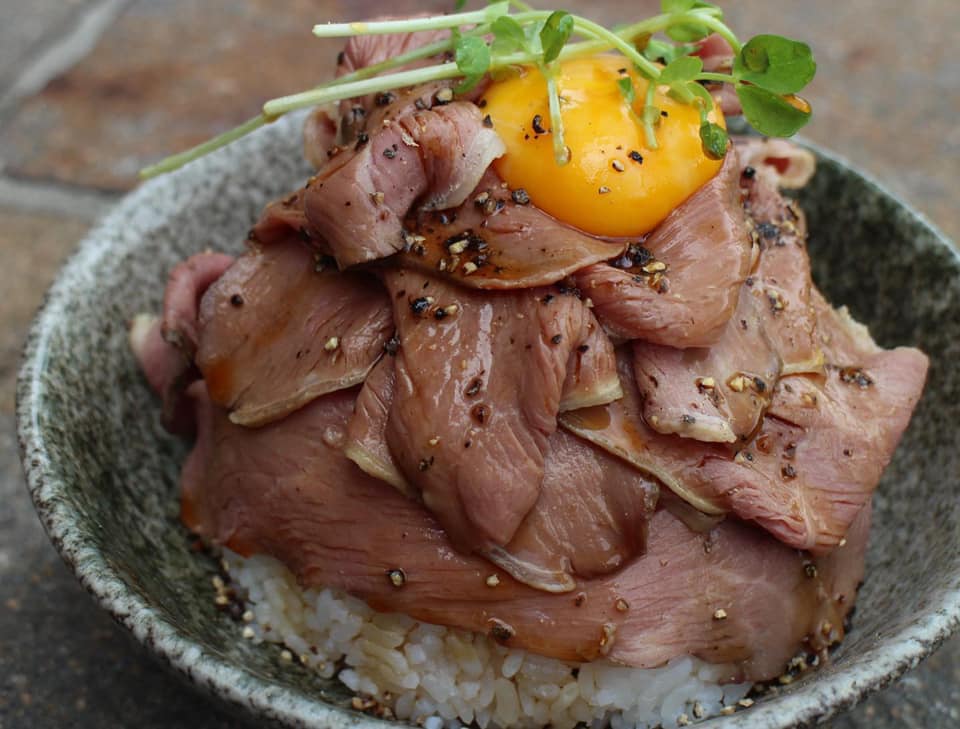 Chalong is a simple, no-frills food kiosk in the basement of Tanjong Pagar Centre and a great lunchtime rice bowl option in Singapore's CBD area. Inspired by the charcoal-grilled pork in Phuket, chef-owner Elin Boh incorporates the delicious meat into rice bowls for a more wholesome meal.

Meat here is charcoal-grilled to perfection in a Josper oven, bringing out the flavour and smokiness in the rice bowl. Their signature dish is the Iberico Jowl Bowl, which is made from gourmet Iberico pork jowl and seasoned with umami sauce — yum!
Address: Tanjong Pagar Centre, 7 Wallich Street, #B2-21, S(078884)
Opening Hours:
Mon – Fri: 11:30am – 2pm, 5:30pm – 7:30pm
Sat: 11:30am – 3pm
Price: From $9
10. Tanuki Raw
https://www.instagram.com/p/Bv9KNr-BROh/
Renowned for their happy hour promotions and rice bowls, Tanuki Raw has been a mainstay in Singapore's Japanese food scene since 2012. And not without good reason! It serves innovative and flavourful rice bowls at highly affordable prices, such as their signature Truffle Yakiniku Donburi and Chirashi Don.
Swing by during lunch hours to enjoy their famous bowls from just $12 — we've been inclined to agree why they've been touting themselves as one of the most value-for-money lunch rice bowls in Singapore!
Address: Orchard Central, 181 Orchard Road, #04-01, S(238896)
Check out their other locations here
Opening Hours: Daily, 11.30am – 10pm
Price: From $12 (Lunch), from $16 (Dinner)
11. Dosirak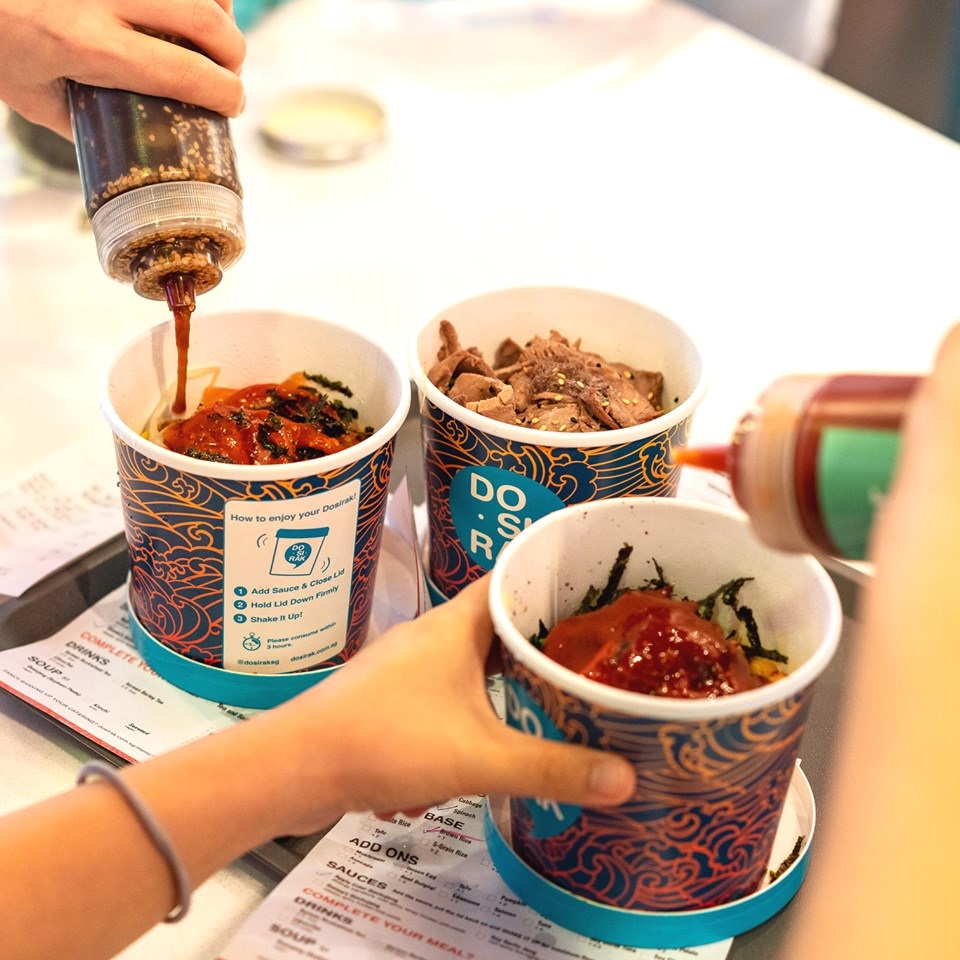 Dosirak puts a fun spin (or should we say, shake) on your traditional Korean bibimbap. Launched by a pair of Korean-Singaporean brothers, you can be assured that their rice bowls fit the local palate. Choose a main, a base and five sides and drizzle your choice of sauce over your bibimbap before literally shaking it up! Health nuts will also be pleased to know that all combo bowls at this halal-friendly joint have less than 500 calories.
Address: OUE Downtown Gallery, 6A Shenton Way, #01-44, S(068815)
Check out their other location here
Opening Hours:
Mon – Fri: 11am – 8pm
Sat: 11am – 2.30pm
Price: From $7.90
Keep your wallets and tummies full with these value-for-money rice bowls in Singapore
Who said rice bowls in Singapore can't be cheap and healthy? Now you can have your rice bowl and eat it too! Meanwhile, if you're looking for some post-dinner entertainment, hit up these quirky bars with games or enjoy chill tunes at these jazz bars in Singapore!
---
New to Shopee? Get $7 off (min. spend $15) with code*: RICEBOWLS
* TNC Applies. Valid for new users from 13 to 20 Aug only.]]>