It can be tough to search for affordable and healthy food in Orchard. You need to top up $2 for brown rice, avocados are an extra $5 and organic vegetables are double the price. Before you know it, your lunch bill comes up to around $20 and that's considered average! As the cost of healthy living skyrockets, it seems impossible to eat well. Fret not! Read on for some of our top picks for healthy food in Orchard — all under just $12! 
1. Toss & Turn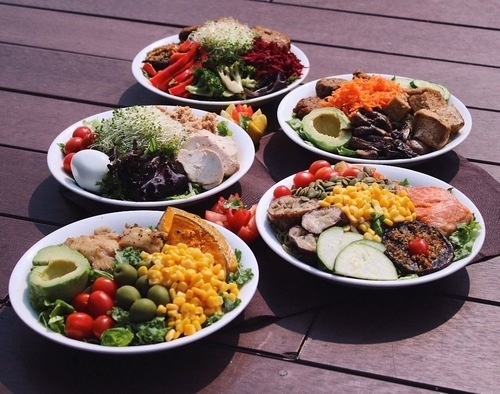 Must-try: Bulgogi Beef with Broccoli and Soba Noodles ($10.90)

This is a healthy food spot in Orchard that you definitely should not miss out on. Toss & Turn focuses on turning yummy greens into satisfied grins! You can create your very own delicious salad with a wide range of healthy ingredients like baked thyme chicken, quinoa lentils and green tea soba. Our personal favourite is the bulgogi beef with broccoli and soba noodles. The bulgogi beef is marinated to perfection with the chewy soba noodles really complementing the dish. Toss & Turn even boasts thoughtfully created menus for those with dietary restrictions. So whether you're a vegetarian or on a gluten-free diet, let Toss & Turn fix you a meal you'll love! 
Address: Ion Orchard, 2 Orchard Turn, #B4-55, S(238801)
Check out their other locations here 
Opening Hours: Daily, 11am – 10pm
2. Yonehachi
Must-try: Salmon Okowa Set Meal ($7.80)
Since its establishment in 1976 and with over 140 outlets in Japan, Yonehachi has attained recognition for its delectable Japanese glutinous rice mixed with various in-house ingredients. Head down to Orchard for a light and healthy way to satiate your Japanese food cravings! We recommend the Salmon Okowa Set Meal which includes okowa rice, grilled salmon and miso soup, one of their flagship store's best-sellers. The okowa rice is infused with chestnut and red bean, making this a simple yet nutritious dish. 
Address: Ngee Ann City, 391 Orchard Road, #B204-½ (Food Hall), S(238873)
Opening Hours: Daily, 10am – 9pm
3. Real Food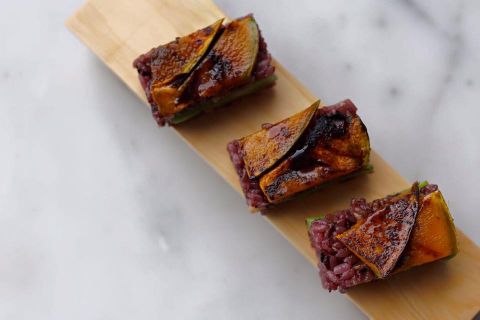 Must-try: Mushroom Noodles Dry ($8.50)

If you are looking to dine at a healthy food outlet that has large group seatings of up to 16 people, look no further – Real Food has your back. Hailed as one of the best vegetarian restaurants in Orchard, going meat-free has never been this easy! A vast array of salads and luscious meat-free burgers sit on the menu for the health-conscious. The Mushroom Noodles Dry is made with organic noodles and packed with loads of veggies, guaranteed to make eating clean satisfying yet enjoyable. This is definitely a go-to if you are looking for affordable and healthy food in Orchard! 
Address: Orchard Central, 181 Orchard Road, #02-16, S(238896)
Opening Hours: Daily, 10am – 8.45pm
4. Wheat Baumkuchen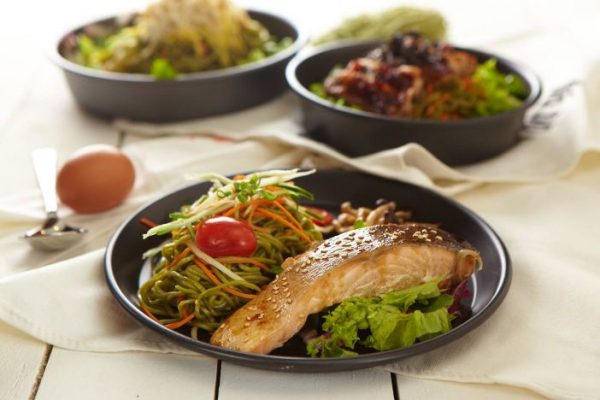 Must-try: Bull Run Soba ($10)

When it comes to serving affordable and healthy food in Orchard, Wheat Baumkuchen remains a top favourite for many lunch crowd go-ers. It provides quick Japanese-inspired meals for working adults on the go and is best known for its high quality green soba, shirataki and ramen noodles. They also have a wide variety of Japanese inspired sauces like yuzu, sesame and teriyaki sauce which you can drizzle on your dishes with As for meal recommendations, we love their Bull Run Soba, which includes stringy green soba and succulent teriyaki chicken, nestled on a bed of crunchy veggies.
Address: 313@Somerset, 313 Orchard Road, #B3-46, S(238895)
Opening Hours:
Mon – Fri: 10.30am – 9pm
Sat – Sun: 11am – 3.30pm
5. Tonkin Vietnamese Noodle And Coffee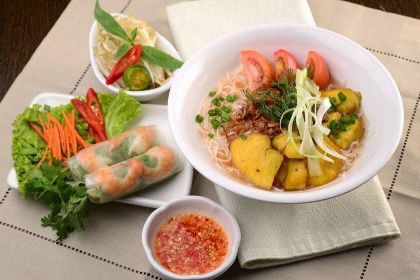 Must-try: Hanoi Beef Noodle Soup ($9.90)

Searching for a piping bowl of pho or delectable bahn mi amid the clutter of western options at Orchard Road? Tonkin Vietnamese Noodle Bar is right up your alley! Located at the basement of Orchard Central, this eatery serves up authentic Vietnamese cuisine, all in an effort to satiate your appetite with numerous healthy food selections. We recommend the flavourful Hanoi Beef Noodle Soup that's guaranteed to soothe your soul!
Address: Orchard Central, 181 Orchard Road, #B1-02, S(238896)
Opening hours: Daily, 11am – 9.30pm
6. Dosirak
Must-try: Beef Bulgogi ($9.90)

A Korean food joint serving up 'shakeable' and wholesome lunch boxes is what all of us need in the hectic, fast-paced energy of Orchard Road! Dosirak boasts a variety of natural and healthy food selections that you can mix and match to your heart's desire. One of the joint's bestsellers, their classic Beef Bulgogi, is marinated in Dosirak's in-house special sauce. It is also recommended for all to top your lunch boxes with the eatery's homemade kimchi. Hop on by if you are ready to 'shake' your meal up with Dosirak!
Address: 313@Somerset, 313 Orchard Road, #B2-15, S(238895)
Opening Hours:
Mon – Fri: 10am – 10pm
Sat – Sun: 11.30am – 10pm
7. Saladstop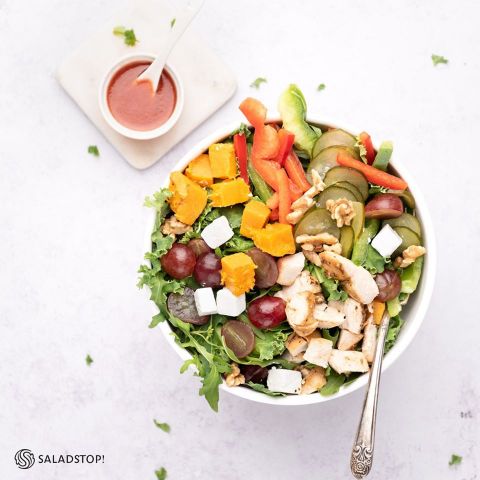 Must-try: Jai Ho! ($12.20)
SaladStop has 19 outlets all over Singapore and it prides itself in serving fresh salads and wraps loved by all Singaporeans. It is not just a food chain but a movement that fuses clean eating with fast food. With more than 35 free toppings and 18 homemade dressings, SaladStop has a salad to match any picky taste buds, each from $9.90 onwards! For an Indian-infused twist, go for Jai Ho!, which includes the classic tandoori chicken, mixed greens and Indian spiced yogurt dressing, guaranteed to make you come back for more.
Address: Tang Plaza, 310 Orchard Road, S(238864)
Check out their other locations here
Opening Hours:
Mon – Fri: 8am – 9.30pm
Sat – Sun: 9am – 9.30pm
8. The Ship Restaurant and Bar
https://www.instagram.com/p/B99W_i1H-j4/?igshid=s3n418k4jn2c
Must-try: Special Sliced Fish Noodles ($12.90)
The Ship Restaurant and Bar is one of the best affordable restaurants to go to on the conquest for healthy food in Orchard. Prepare to be wowed by the restaurant's bestseller – a tasty and addictive soup as well as the acute combination of generous fish slices. If you are in need to warm your body with a piping bowl of fish soup, this is the place to visit! 
Address: Shaw Centre, 1 Scotts Road, #03-16, S(228208)
Opening Hours:
Mon – Thu: 11am – 9.30pm
Fri – Sun: 11am – 10pm
With all these cheap and healthy food options in Orchard, you no longer have to break the bank to eat healthily. Complement your healthy eating habits by keeping fit and head to these free zumba classes for a fun way to stay active! Otherwise, these easy home workout routines will do the trick for those staying in.