Resolving to get fitter in the new year? Why not have a go at some of the best kickboxing classes in Singapore to get you in shape? Kickboxing is a popular self-defence martial art that involves coordination of both kicks and punches with some classes even incorporating aerobics and other Mixed Martial Arts (MMA) like Muay Thai. Afraid of combat sports? Fret not, we've included non-combat alternatives below as well for those not fans of sparring!
1. Evolve MMA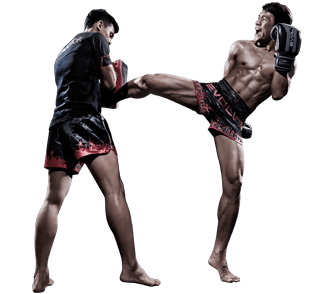 Kickboxing at Evolve MMA is based on both the disciplines of Muay Thai and K-1 Dutch-style kickboxing. Muay Thai is a combat sport that allows for stand-up striking and clinching techniques while K1-Dutch style kickboxing relies heavily on foot-kicking techniques. Together, you can expect the kickboxing classes here to get intense, fierce but oh so very fulfilling.
With the most number of authentic World Champions available under one roof on the island, there's a reason why the kickboxing classes here are touted to be one of the best in Singapore. Ready for a glute-tightening, core-strengthening time? Sign up for a free trial class before committing to their packages.
We couldn't resist including one of their many inspiring testimonial videos! This one is of an 18-year-old MMA fighter and it will surely get you off your butt and moving!
Address: Check out their various locations here
2. Active Red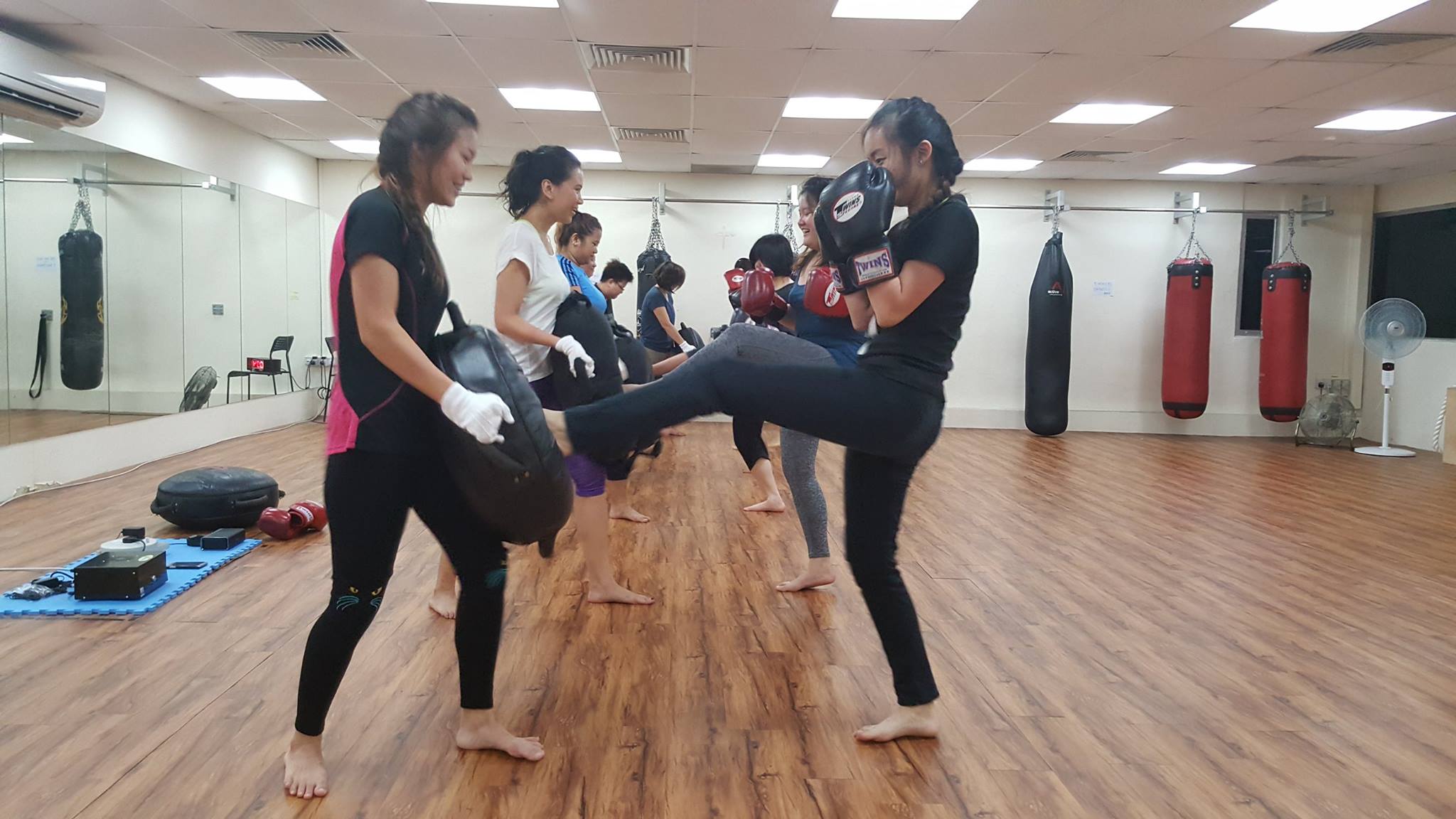 Girl power for the win! Feel more comfortable in an all-female environment? Punch and kick to your heart's content at Active Red's 99% female-centric studio. Their warm and fun environment will surely win your heart! A newbie with no prior experience to kickboxing? Fret not! It's mandatory to undertake Active Red's introductory course, to start off with the best foundation for you to master the next moves.
Hesitant about going alone? Why not, gather your girl gang and check out one of the best all-female kickboxing classes in Singapore!
Address: Far East Shopping Centre, 545 Orchard Road, #16-10, S(238882)
3. WAKO Kickboxing Singapore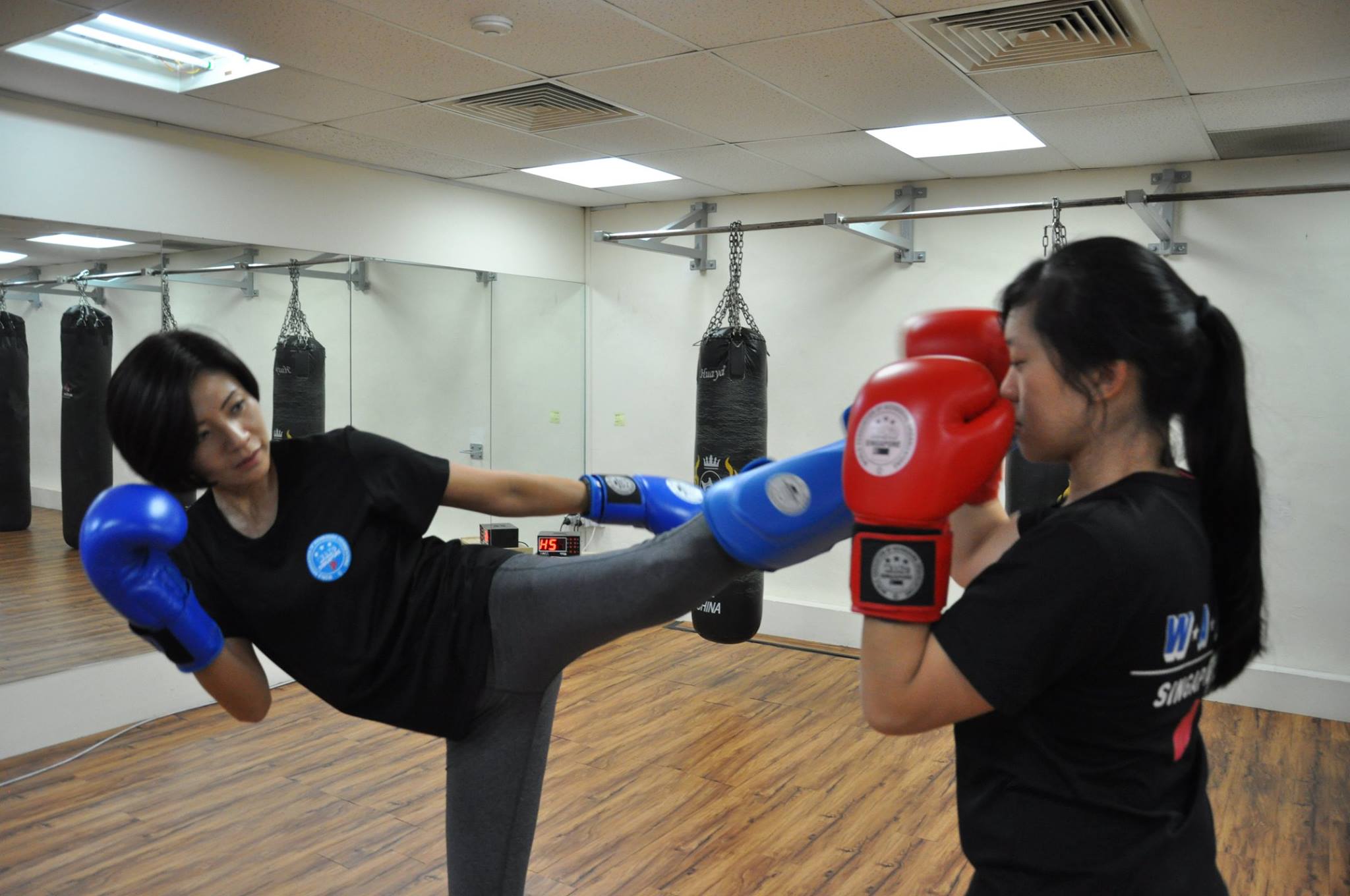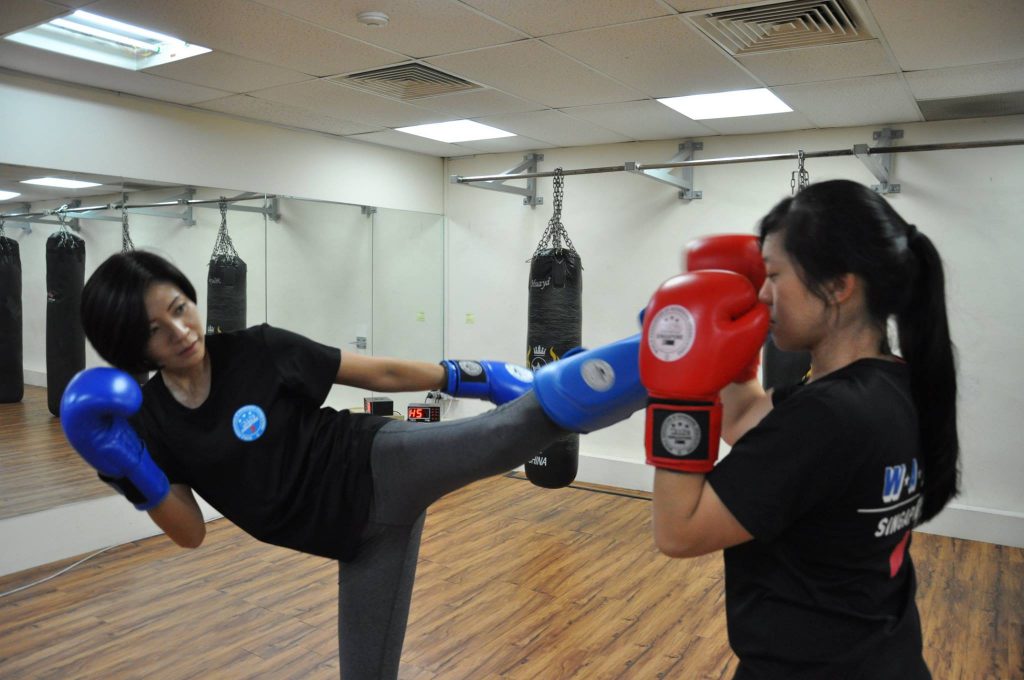 Besides being part of the international organisation of kickboxing, WAKO (World Association of Kickboxing Organisation) Singapore also conducts home-based personal training, personal training at the studio and group classes (women only). The Active Kickboxing classes for women promises a total body workout, resulting in more core control, hand-eye coordination and serves as a cathartic release from the stresses of everyday life. If you're too busy to join a group class in a kickboxing studio, then WAKO Singapore offers one of the best and most comprehensive personal kickboxing classes in Singapore.
WAKO Singapore is also the place you need to go if you want to pass on your pro kickboxing skills to newbies. Sign up for their Kickboxing Instructor Certification! We hear funding is available too!
Address: Far East Shopping Centre, 545 Orchard Road, #16-10 / #17-01, S(238882)
4. True Fitness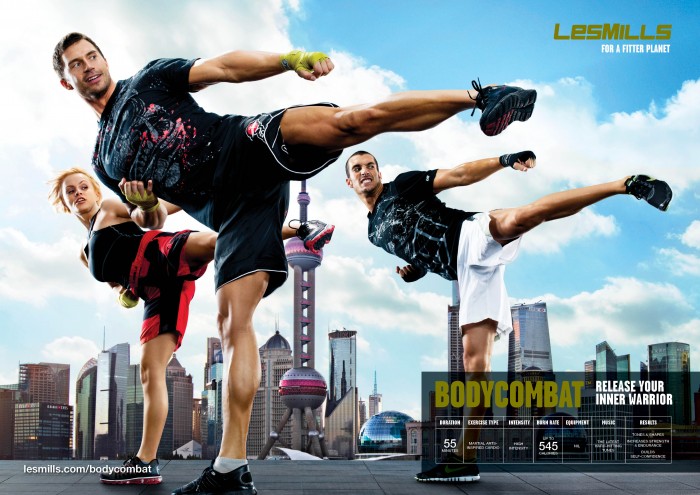 True Fitness is a name synonymous with fitness clubs in Singapore and offers a plethora of fitness classes to choose from, from yoga and pilates to spinning and other high-intensity workouts. True Fitness' BODYCOMBAT– an empowering cardio class — bears a resemblance to kickboxing we can't help but ignore. It includes the signature punches and kicks with even some kata (karate) moves thrown in! But what's different here is that you'll do all this with heart-thumping, adrenaline pumping music! Yup, you heard us! Burn those calories while busting your boxing gloves to a choreographed routine.
BODYCOMBAT follows the legendary Les Mills programs where you can look forward to challenging yourself to a new choreographed routine every three months. Ready to develop the coordination and agility of a mixed martial arts warrior? BODYCOMBAT might be just one of the best kickboxing classes in Singapore for you then!
Address: Check out their various locations here
5. Kickbox Fusion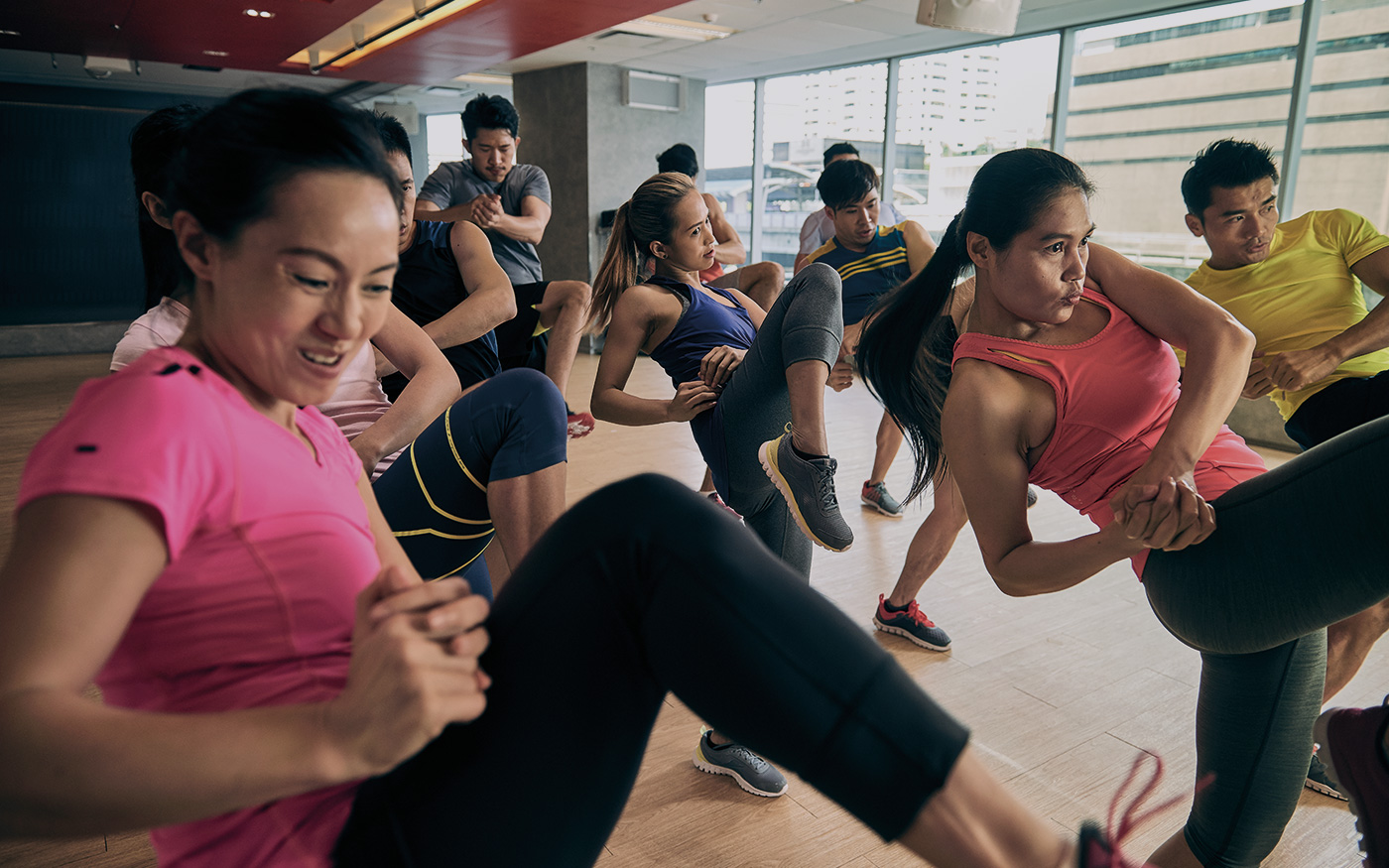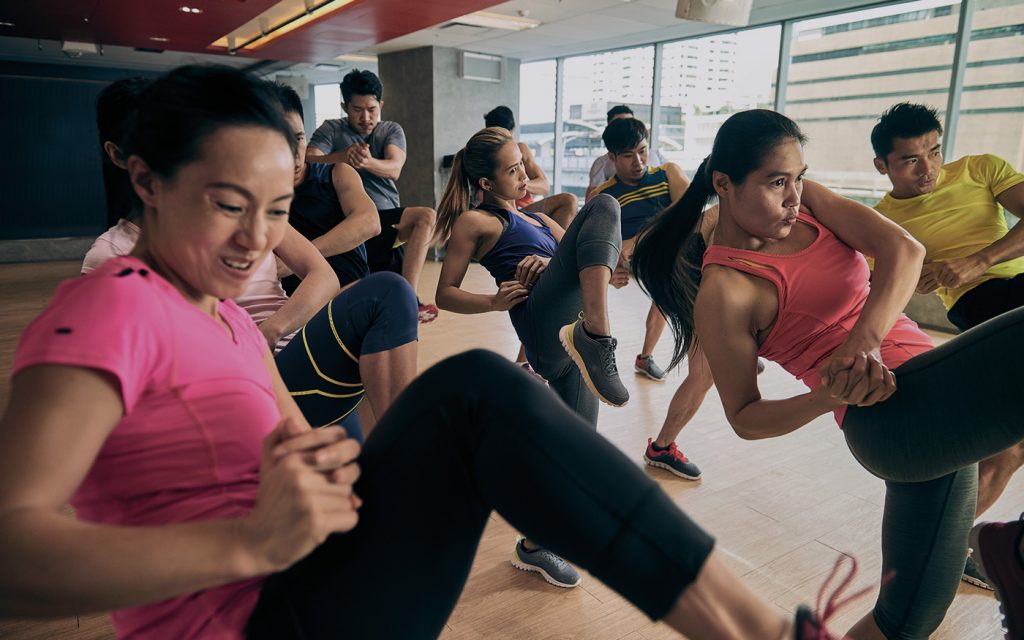 Fitness First is another popular fitness gym in Singapore. Their fusion kickboxing class incorporates both aerobic moves and martial arts moves to give you full upper-body conditioning. Though it may seem 'easier' or less intense than the classes which fully concentrate on honing the martial side of kickboxing, be warned that you can't afford to slack in these classes! We promise that you'll still leave class drenched in sweat and having worked muscles you're weren't sure even existed!
This is one of the best kickboxing classes in Singapore if you want to enjoy the benefits of both aerobics and kickboxing but without the heavy training of the martial arts segment. With many Fitness First outlets scattered islandwide, make it a new year's resolution to get that knockout body you've always dreamed of in a fun and unintimidating environment!
Address: Check out Fitness First various locations here
6. Savate Club
Savate or French kickboxing is a martial art that involves dishing out the signature kickboxing punches and kicks but this time with footwear on! Savate — which means 'Old Shoe' in French — was a street fighting technique, used by sailors for self-defence from the early 19th century in France.
Expect to incorporate light sparring into your kickboxing classes at Savate. For advanced practitioners, you can up your game with hard contact sparring! With dedicated trainers and a small-size class that meets at the PESEB stadium, Savate is one of the best kickboxing classes to join if you're looking for a more unique contact sport.
Address: PESEB Stadium, 21 Evans Road, S(259366)
7. Juggernaut Studio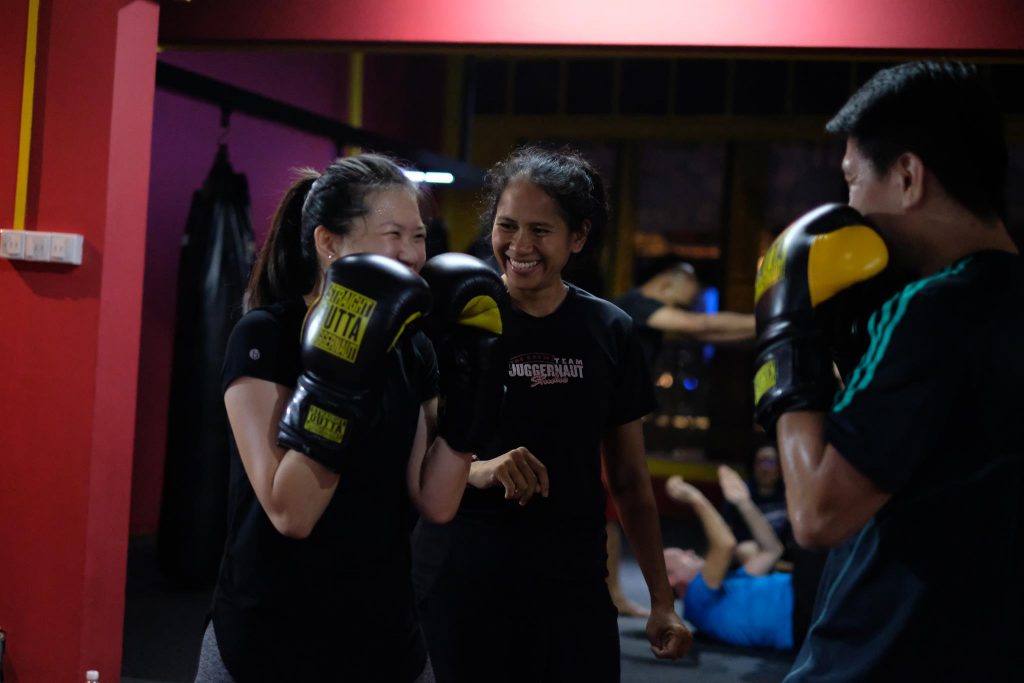 Though smaller and newer than sister studio, Juggernaut Fight Club, this studio packs just as much of a punch — pun intended. Train under Singapore's first professional female boxer, Nurshahidah 'The Sniper' Roslie at Juggernaut Studio — we promise, she doesn't bite! With functional fitness incorporated into their kickboxing classes, expect to sweat it out to a mix of Circuit Training and High-Intensity Interval Training (HIIT) sessions on top of your kickboxing classes. These will leave you stronger, conditioned and ready to take on your combaters in style!

Want to get fit with your girlfriends? Juggernaut Studio offers specially tailored Ladies' Classes too! If you're looking for a more focused training, sign up for their personalised and custom 1-on-1 or 2-on-1 kickboxing classes in Singapore to help you hit your specific fitness goals.

Address: 57B Boat Quay, S(049846)
Want to focus on just one type of martial arts? We'd suggest giving dedicated Muay Thai gyms a chance. Prefer to do a home workout routine? The check out the best fitness apps to get some short workouts done straight from the comfort of your home. Don't forget to amp up your fashion style with these affordable and fashionable athleisure outfits too!