Drawing inspiration from the prestigious Jakarta Palembang Asian Games 2018, Shopee took on the insurmountable task of orchestrating one ourselves. Shopee Indonesia Play Day 2019 was a day brimming with rippling excitement and a roaring crowd. Nothing could dampen our esprit de corps, and we wish you were there with us.
Play all day and dance all night. Here are 12 things you missed!
1. Famous venues that hosted iKON and Pentatonix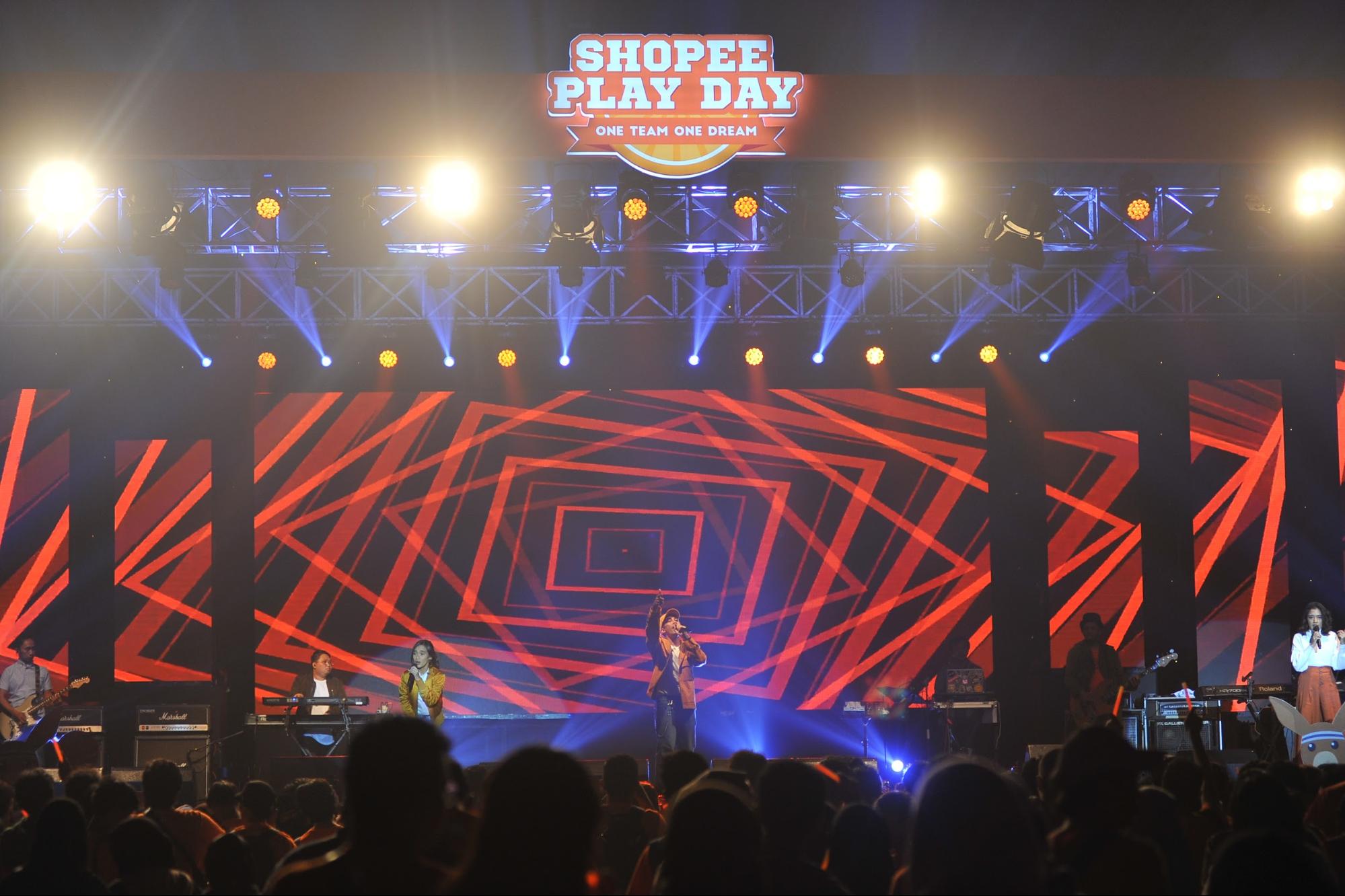 Does Tennis Indoor Senayan sound familiar? That's because it's the chosen concert venue for the likes of international artistes such as iKON (Korea) and Pentatonix (USA).
Shopee Indonesia held its activities over three of such major locations:
Stadion Madya: Fun games, "Shopee's Got Talent" talent show
GBK Arena: Sport competitions
Tennis Indoor Senayan: Party, closing ceremony
Let me take you through each exciting segment below!
2. The Sorting Hat that sorted everyone into a rainbow of houses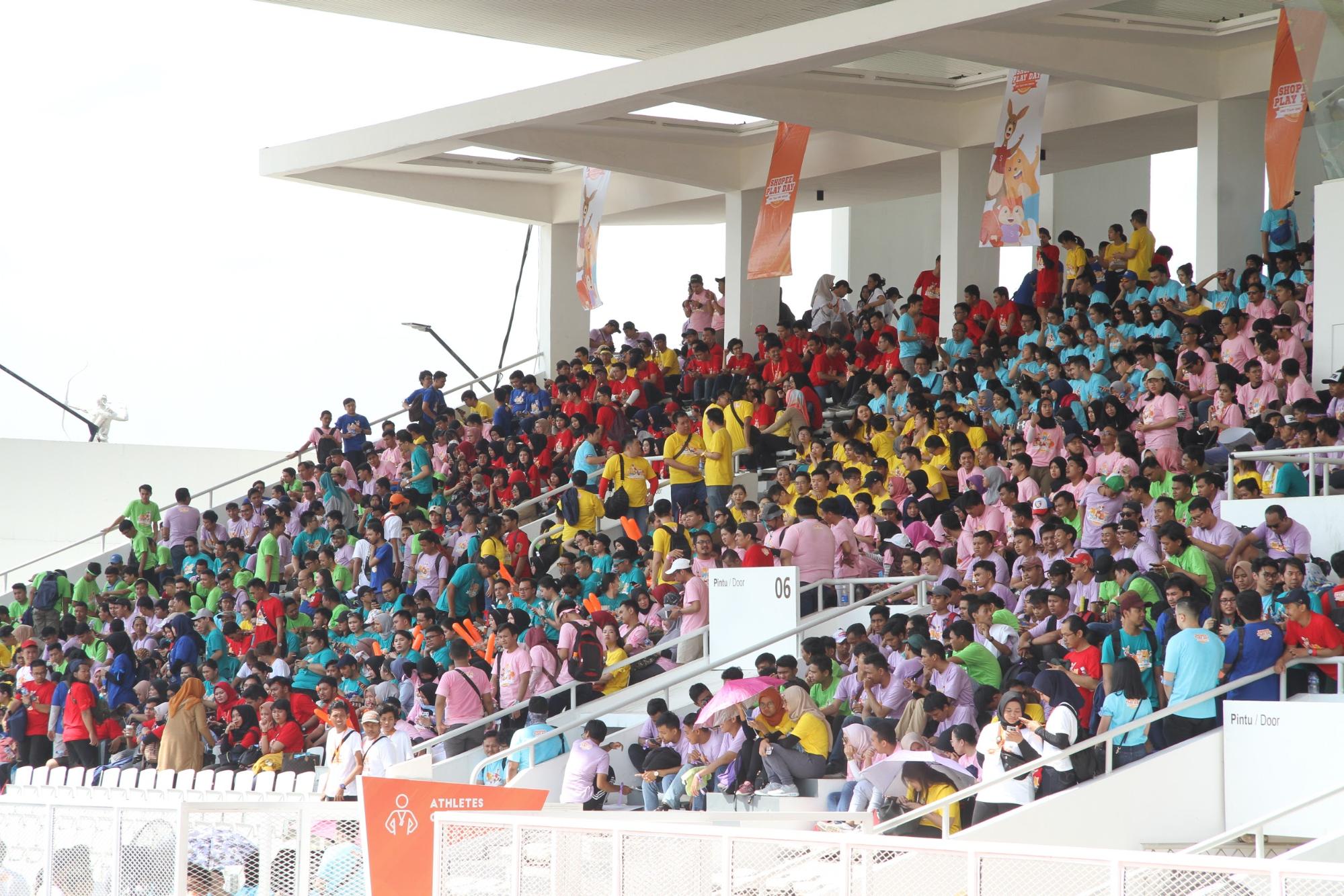 Starting out at Stadion Madya, our magical and also non-existent Sorting Hat divided the gang into eight houses. Each individual was then given a role – athlete, performer or cheerleader. Hogwarts will have a tough time catching up with us, that's for sure!
3. Theatrics by an Alice in Wonderland-esque marching band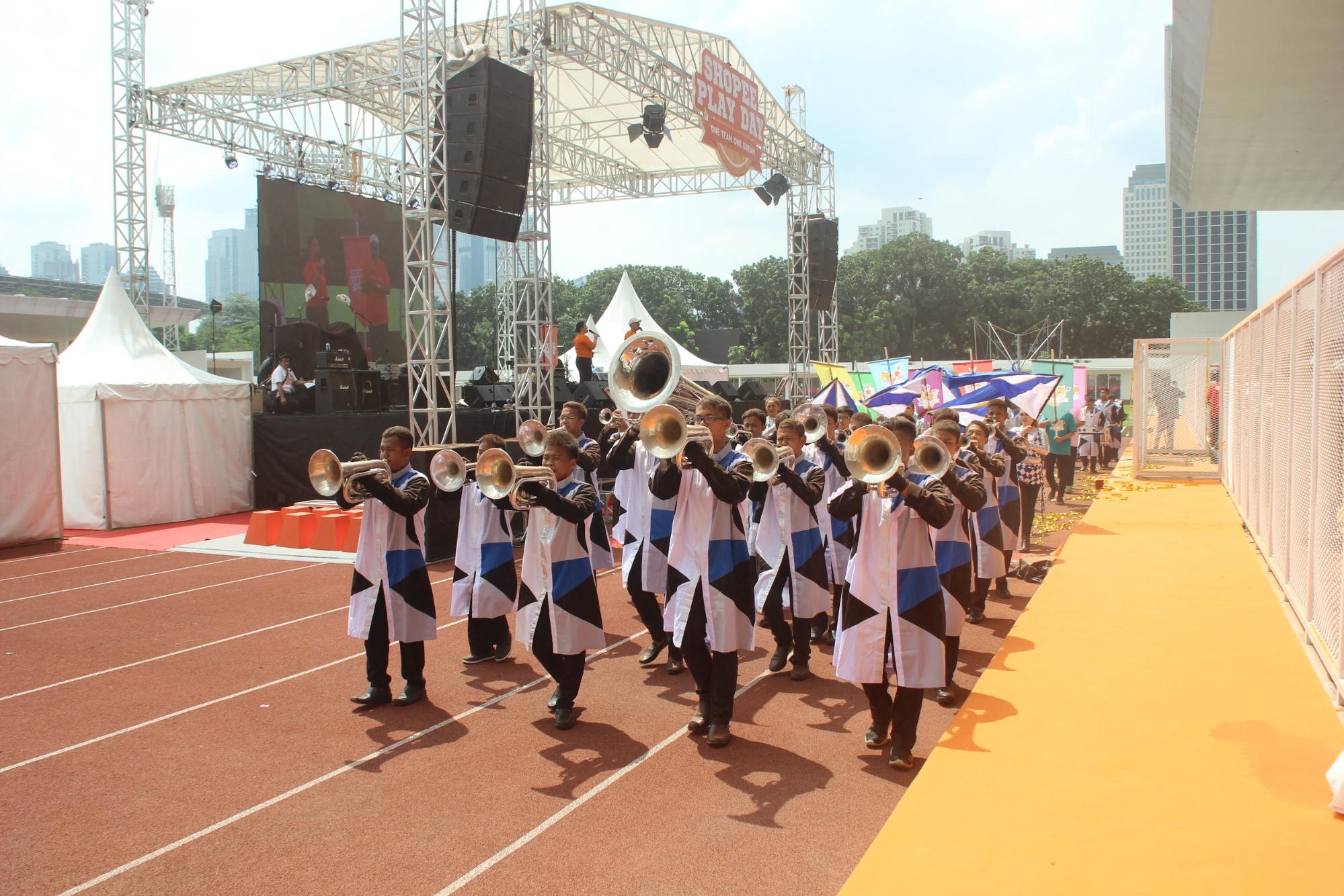 Looking like a handsome pack of solitaire cards, our student-based marching band kicked us off to a great start. This was a segment inspired by the actual Asian Games 2018. What better way to set the tone for Shopee Indonesia's inaugural Play Day 2019 mega-scale team-building event!
4. The most keren flag bearers ever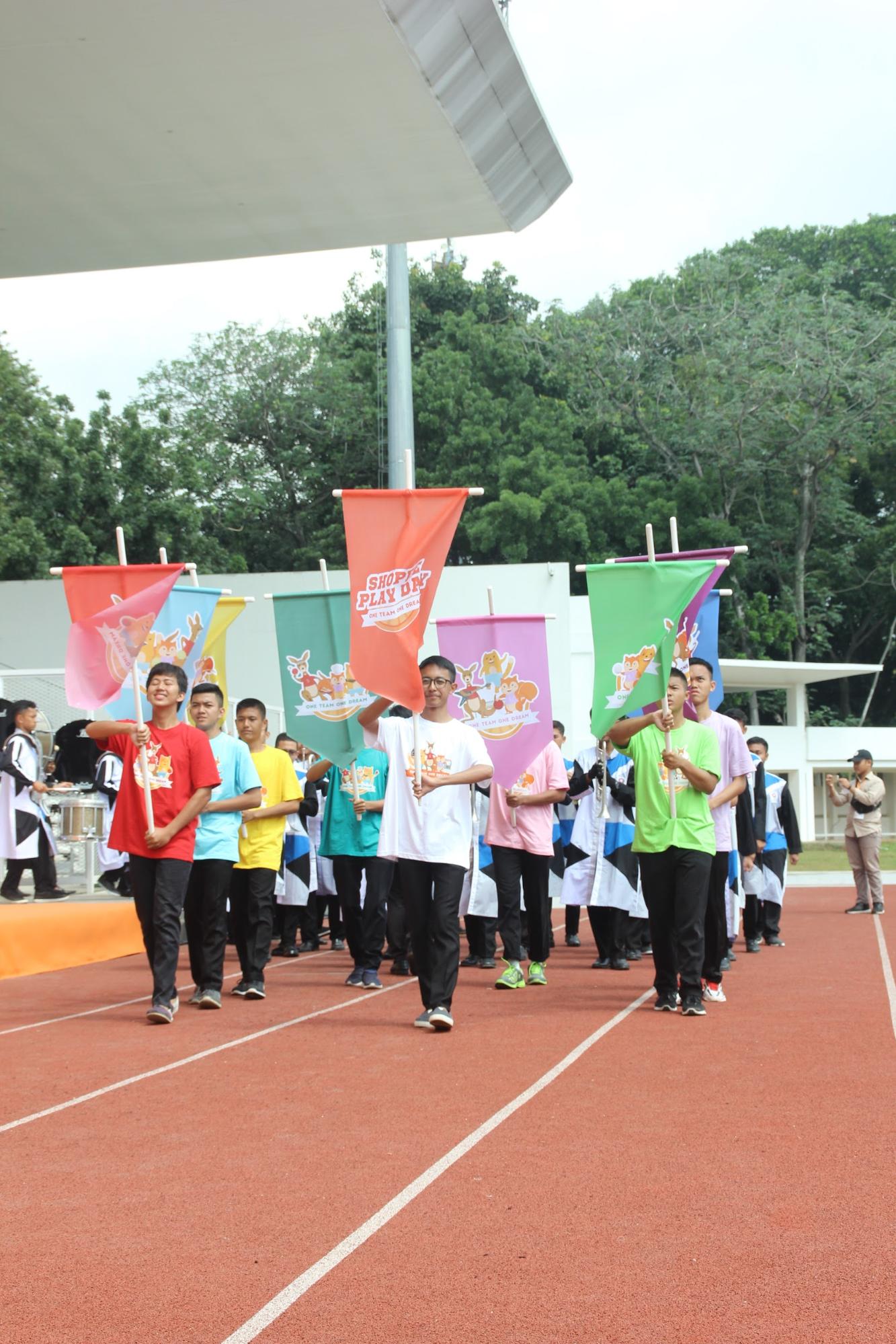 Some students from the marching band even doubled up as flag bearers for each of the eight houses – look how keren (cool) they looked! Talk about #housepride!
5. On-court teamwork that would've made Stephen Curry proud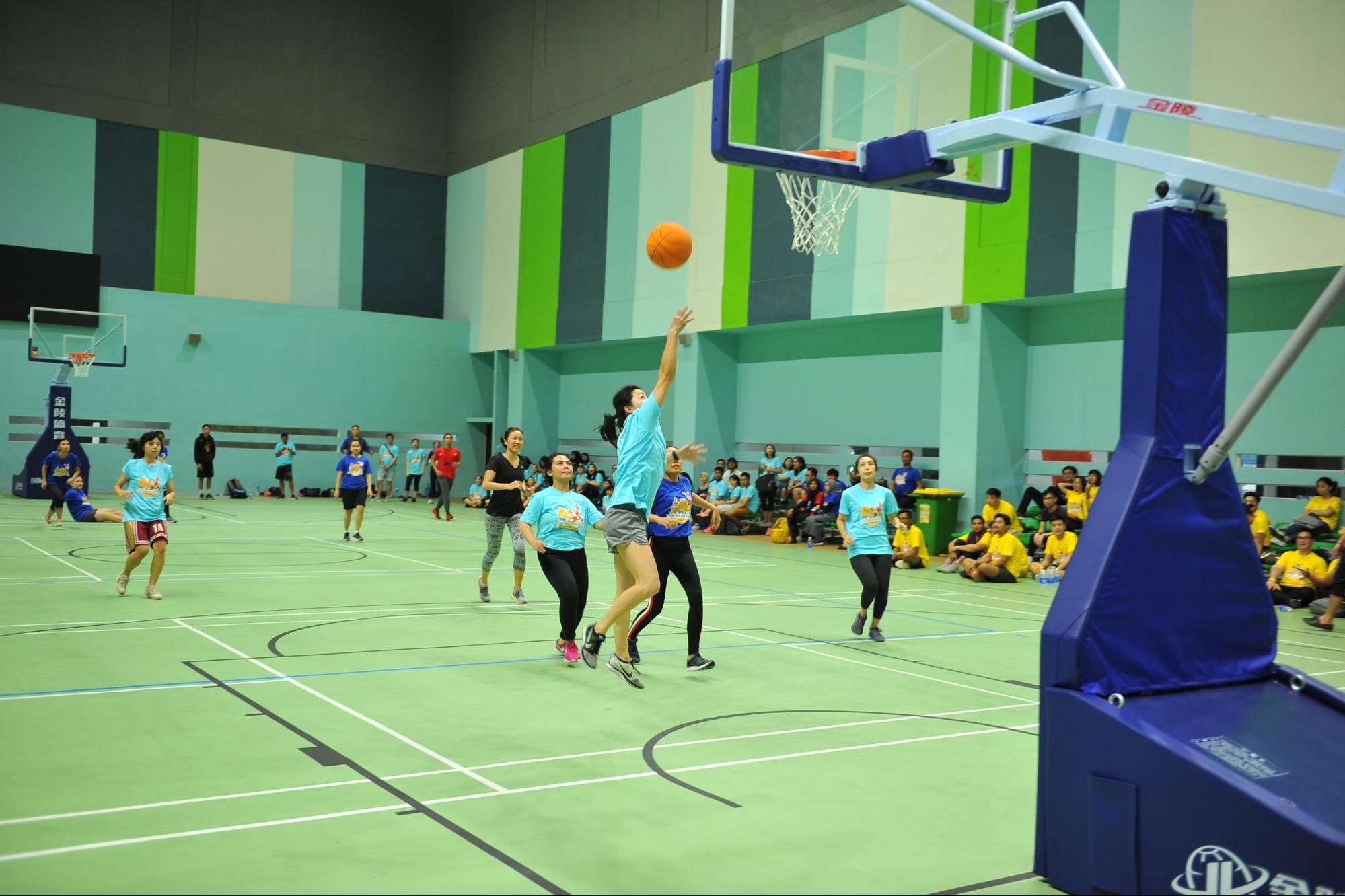 With a mix of 'real' sports (table tennis, badminton, futsal, basketball) and 'fun' sports (dodgeball, archery clash, bubble soccer, obstacle run, 100-metre run, tug-of-war), exhilarating doesn't even begin to cut it. Plus, everyone cheering their team members on certainly added to the atmosphere. Play Day FTW!
6. The tug-of-war that's reflective of the eCommerce rivalry (oops)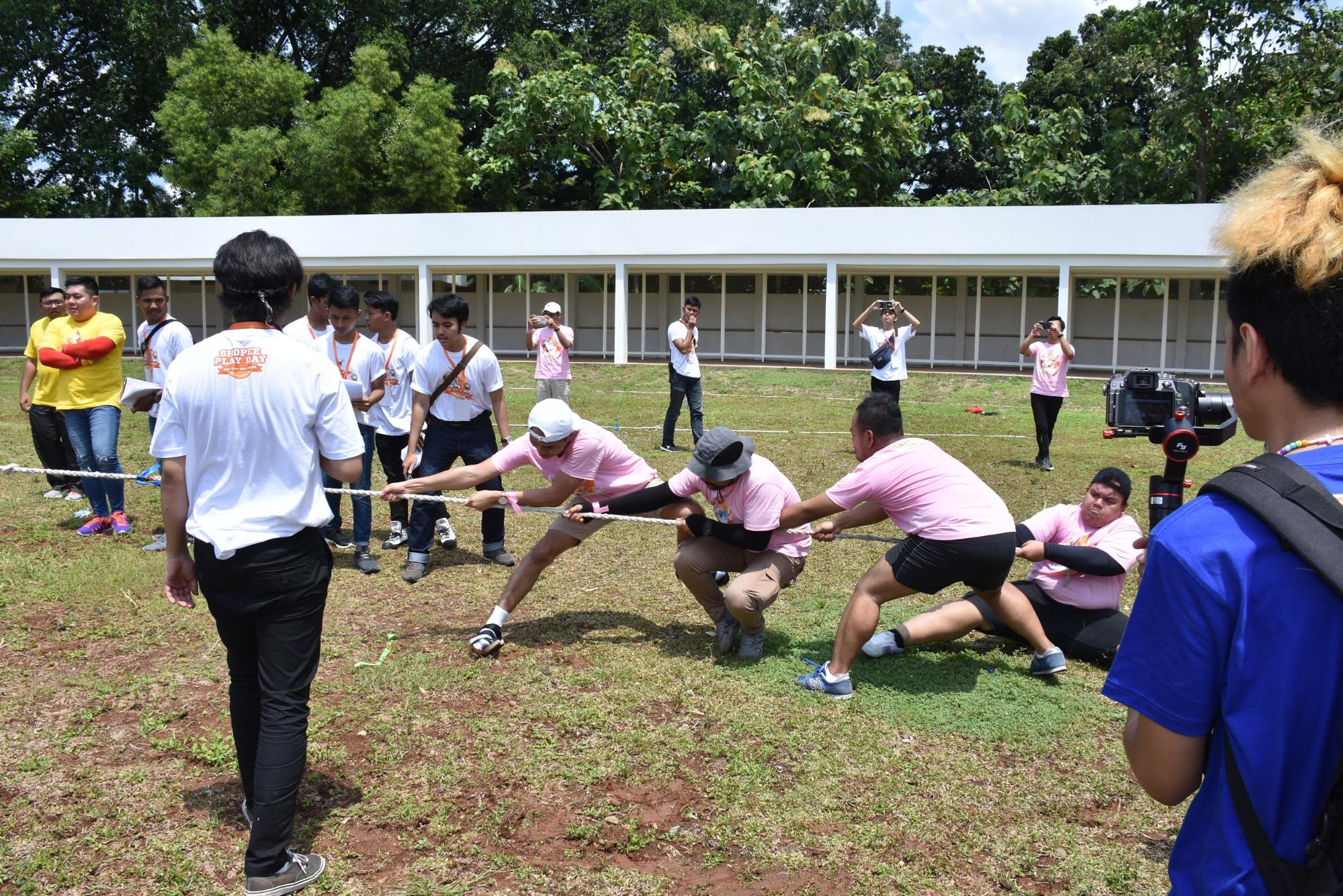 Speaking of tug-of-war, doesn't it remind you of the constant tussle for a larger user base? Shopee is only successful as its people, so we'd like to take this time to thank our colleagues everything they do. Kemajuan (progress)!
7. Indonesia's answer to Italy's Andrea Bocelli
From singing, dancing and poetry-writing to beat-boxing and magic tricks, the gifted "Shopee's Got Talent" performers definitely blew us away. Perhaps Simon Cowell would be interested in guest-judging at our next event!
8. A Coachella festival on the tongue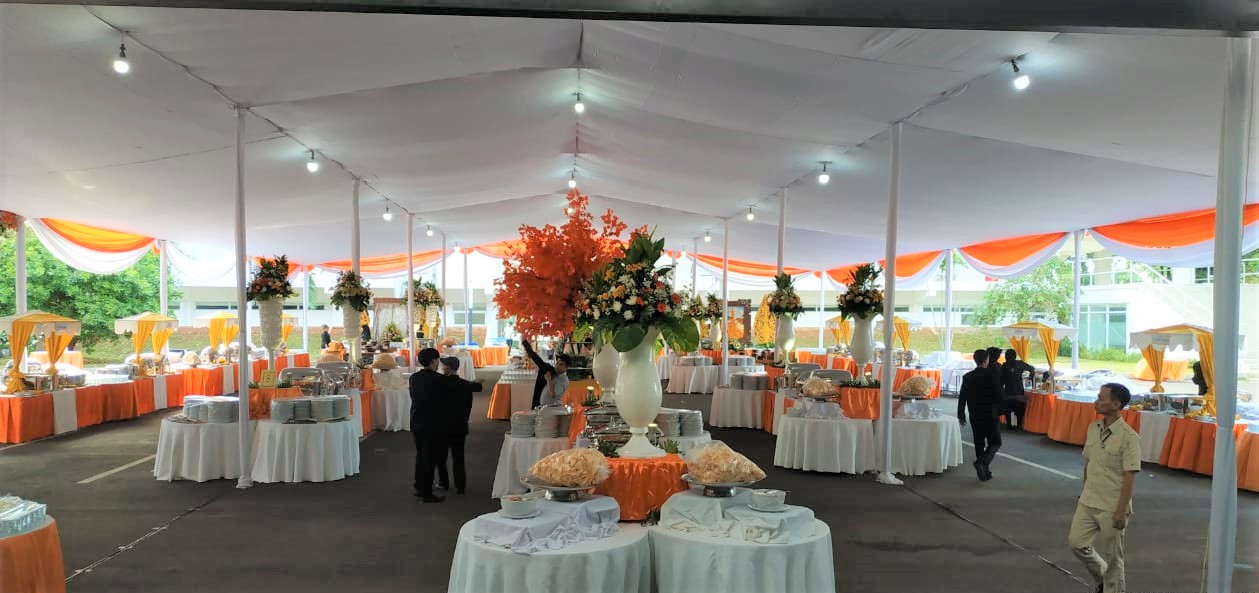 Our premium lunches, special dinner buffet and food bazaar sure replenished our rumbling stomachs after a long, energy-draining day. It was like attending a food festiva – especially with the companionship of good friends!
9. Insta-worthy backdrops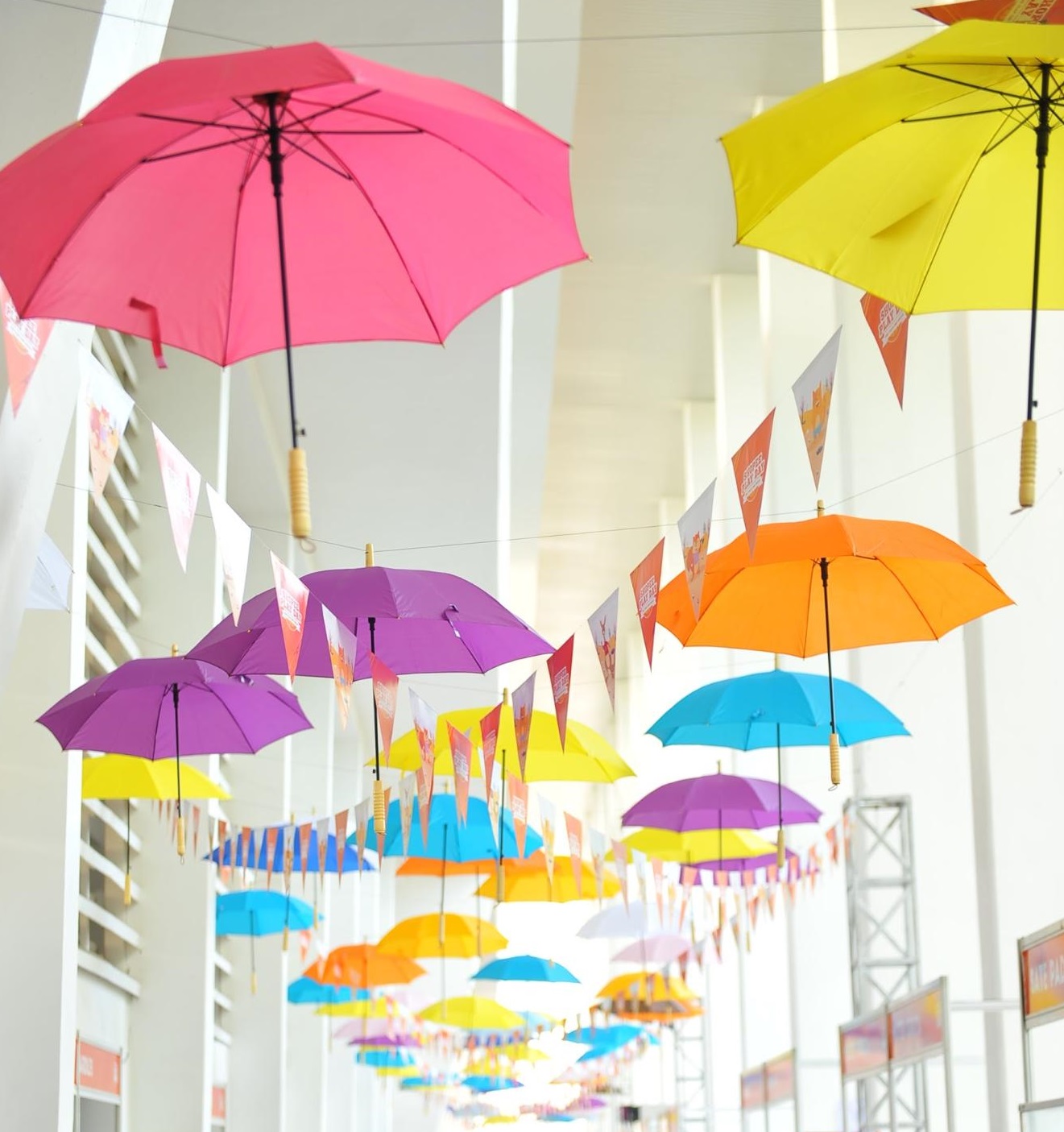 In this age where Instagram is king, of course we would have candy-coloured brollies lining the food bazaar (and inevitably, Instagram). Bonus: Mie Goreng and boba (bubble tea)!
10. The ridiculous top prize of a motorcycle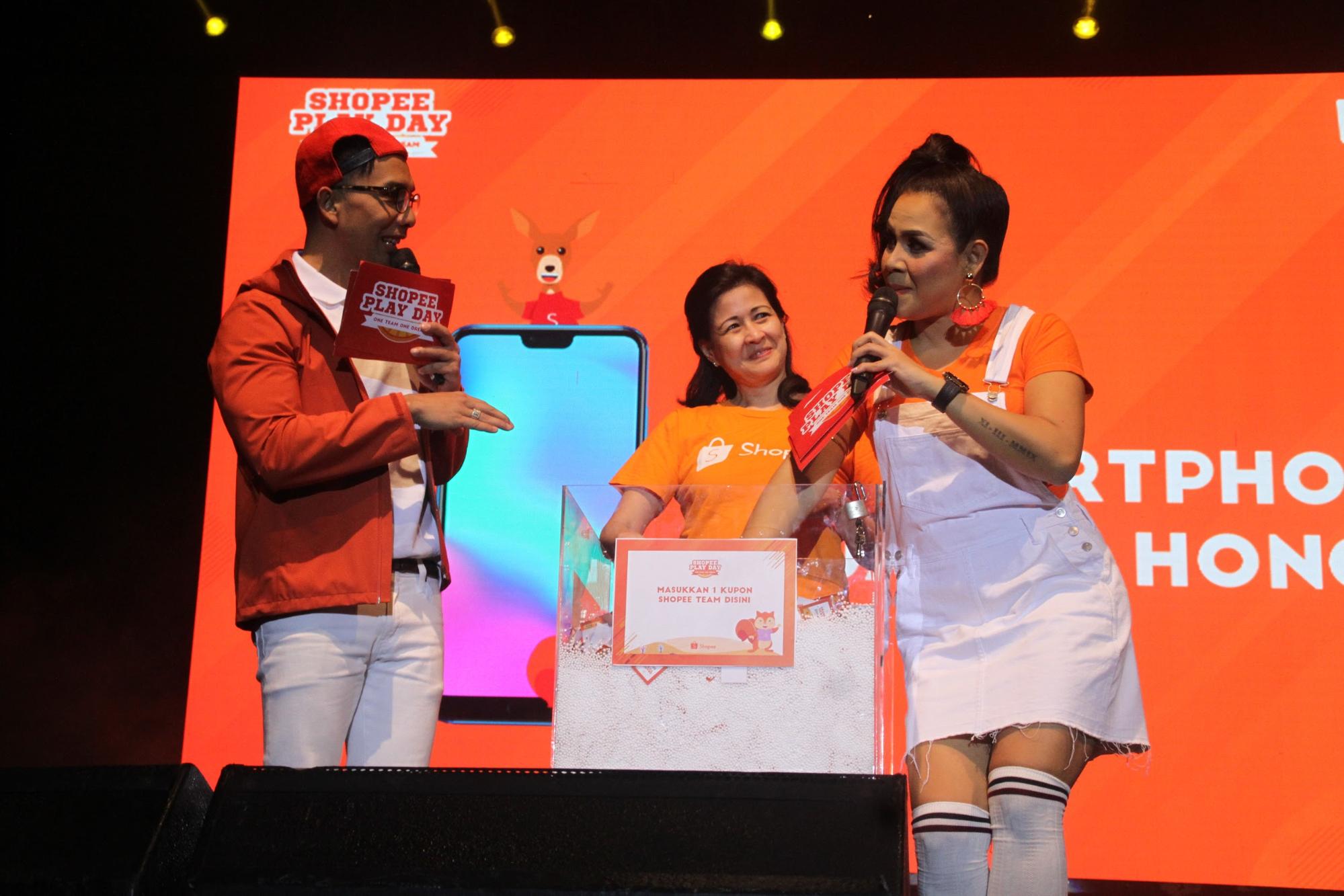 Yes, someone actually won a brand new motorcycle! Other jaw-dropping lucky draw prizes included Bluetooth speakers, smartphones, cameras and laptops. Winning these ultimate prizes – definitely the orange icing on the Shopee cake!
11. A prelude to Ultra Music Festival 2019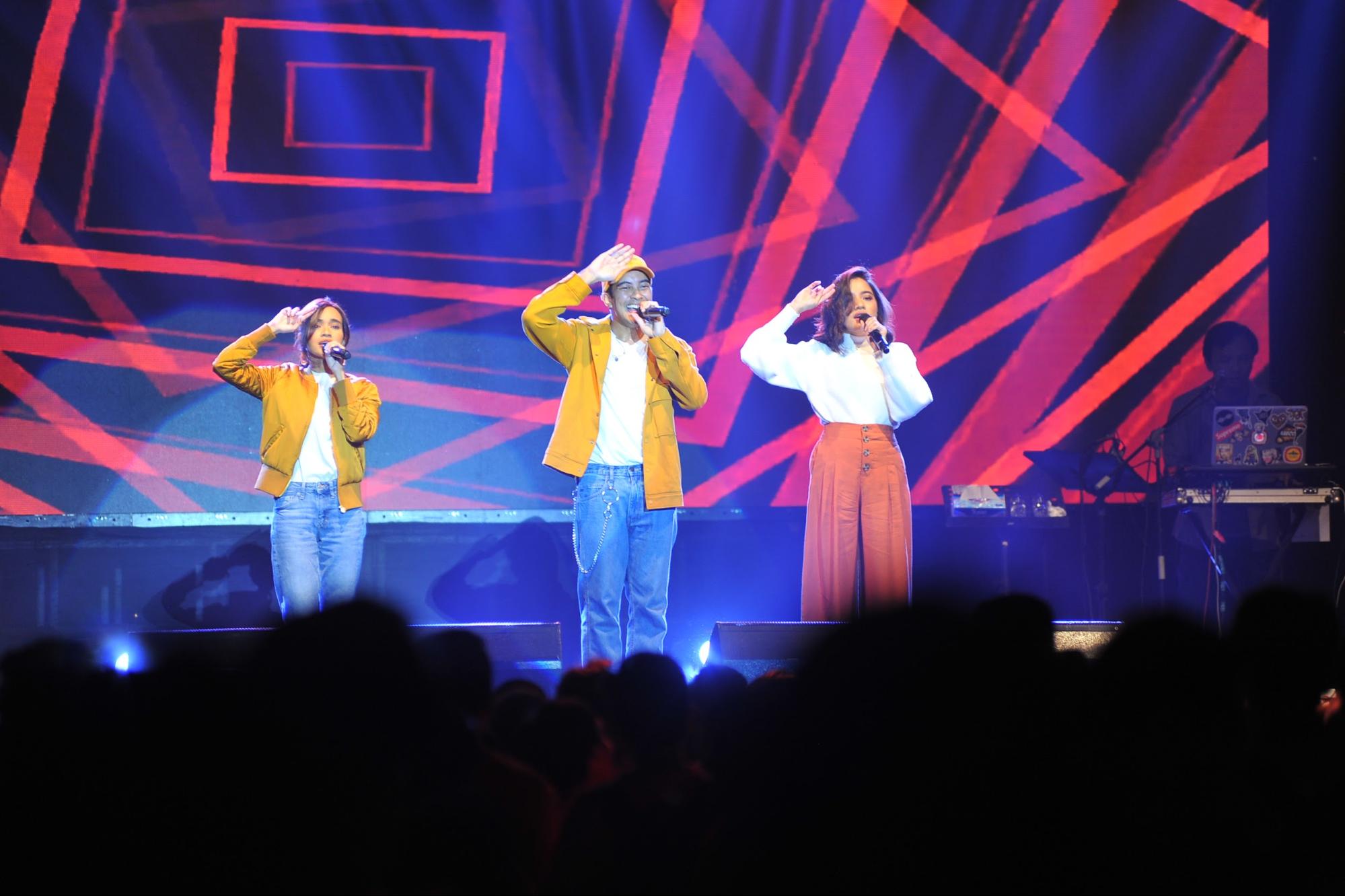 How else would you paint the town red with our signature orange?! Adrenaline was at an all-time high with an awesome programme. Kudos to all performers for entertaining us!
12. Celebrity appearances (DJ Yasmin!!)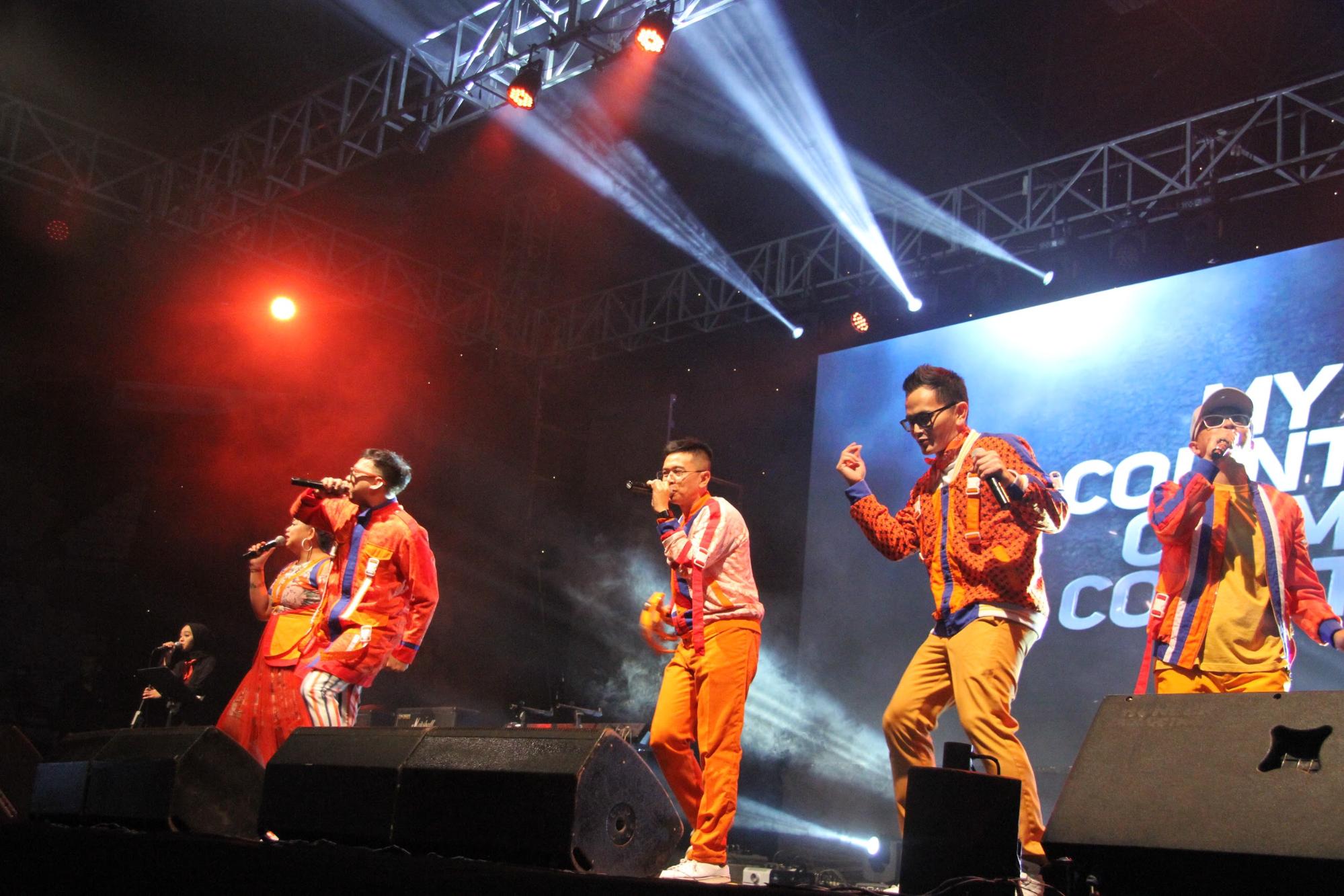 Dazzling stage lightings, latex giant balloons and glow-in-the-dark party sticks. As if these weren't enough to hype up the mood, the night was also star-studded with major Indonesian celebrities. GAC, Project Pop and DJ Yasmin came to join us, and their presence nudged our event over to a full-on party mode!
---
Our Shopee fam-bam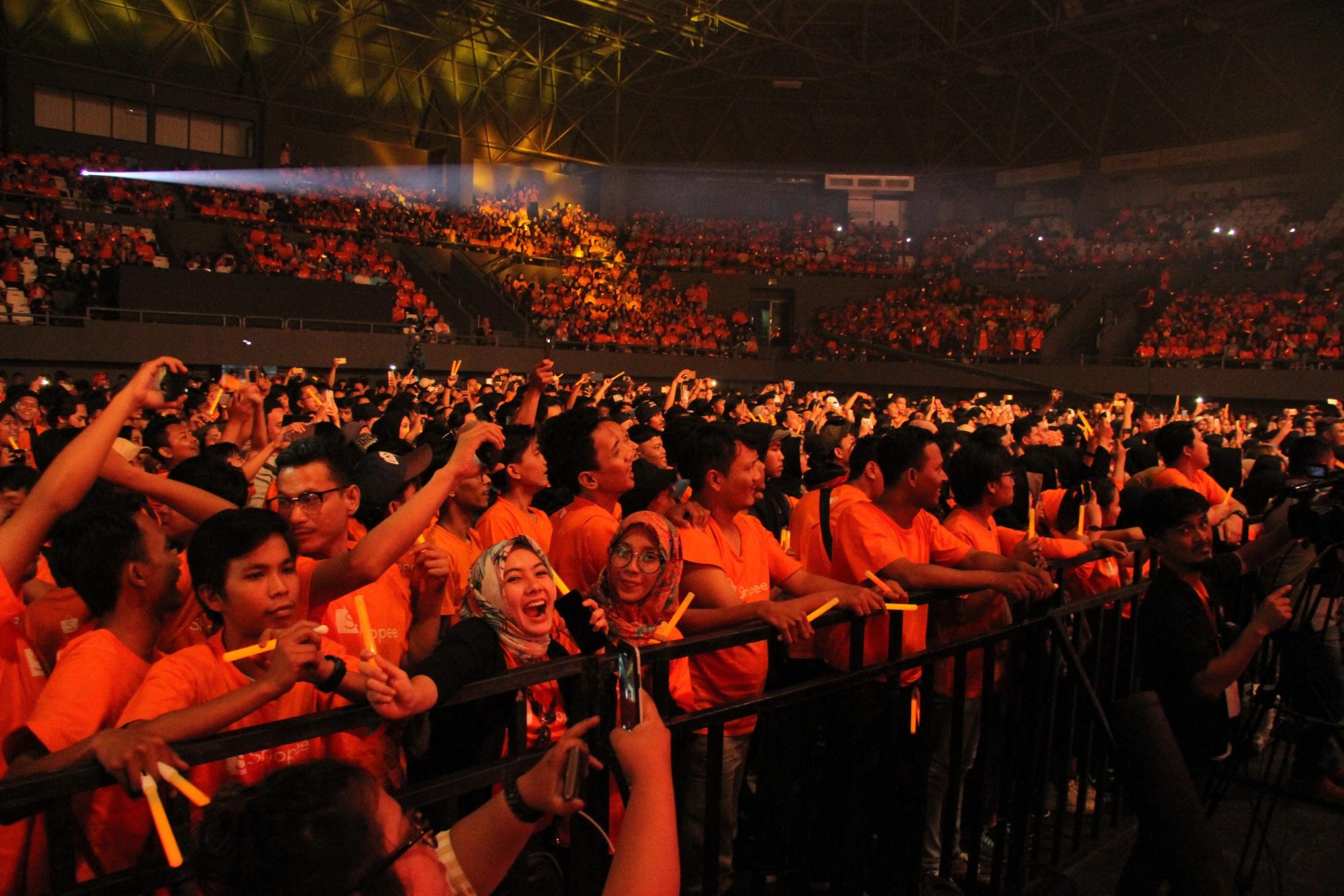 Over the course of a few hours, we became more unified. The fun and games familiarised us with one another; our camaraderie led us to burst into spontaneous song and dance in unison with the beat of pulse-pounding music. What a day/night!
Shopee Indonesia Play Day 2019 truly was a joy to behold. Proper shoutout to the epic collaboration amongst the various Shopee organisers and teams who made this event so marvelous. What a great way to start the new year!

---
Come be a part of events worth remembering. Wait no more, join our team now!