Ramadan is just around the corner, and if you are fasting or have friends who are doing so, you will be looking out for plenty of halal food options to break your fast. With the recent pandemic outbreak that has everyone staying at home, we have curated a list of several food delivery options for you to satisfy your food cravings! If you are in the mood for whipping up a feast for your family, read on as we have some easy halal recipes for you to try out too~
Pro-Tip! You can get more discounts by purchasing Food Delivery vouchers on Shopee. Vouchers include GrabFood, FoodPanda, WhyQ and more.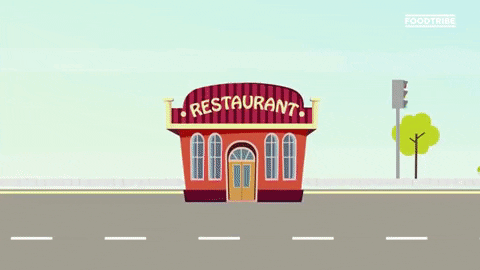 For The Fast Food Lovers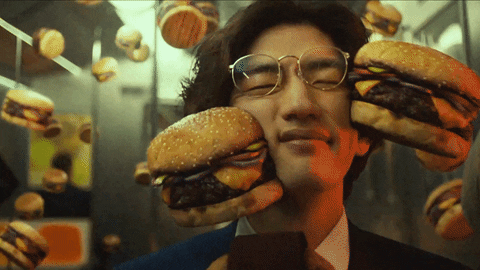 If you are craving for something oily, sinful and quick as a reward and pat on your back for lasting through the day without food and water, fast food is the way to go. These are our top three go-to halal fast food options that are also available on delivery, but if you would prefer more variety, simply filter by "halal fast food" on your preferred delivery app to browse more options!
1. 4Fingers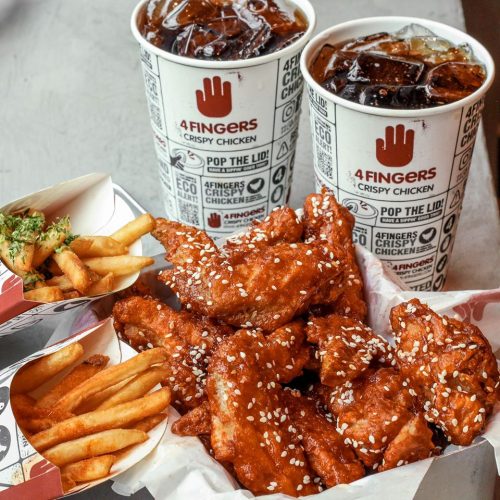 Calling all Korean fried chicken lovers! Fancy some yang nyeom or soy garlic chicken with a side of kimchi or seaweed fries? The signature set meal comes with a choice of 6, 12 or 18 pieces drumettes/wingettes and your choice of drink and fries. If you are feeling famished, go for the rice box or the burgers and sandwiches option instead. You can purchase vouchers to get up to 20% off selected food options.
Average price of main dishes: SGD10
Delivery available on: FoodPanda
2. McDonald's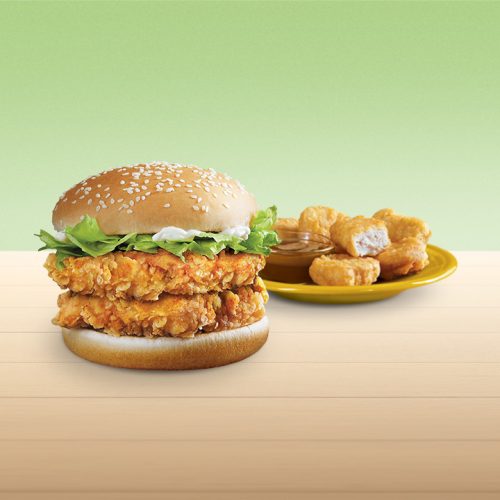 We dare say it's one of the first few fast food restaurants that comes to mind for the majority of Singaporeans. The menu needs no further introduction. Grab a double Mcspicy meal for that extra spice and kick, or the Fillet-O-Fish if you are feeling a little guilty for eating fast food, but still want to feel like you made a healthier choice. Of course, there's always the trusty Mcnuggets to fall back on if you can't make up your mind on what to order!
Average price of main dishes: SGD9 for a meal
Delivery available on: Website, GrabFood
3. KFC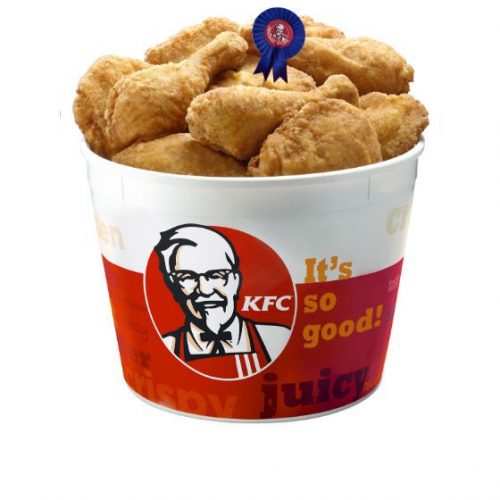 Craving for some finger-lickin' good chicken? KFC is the safe and trusty chicken option that we usually fall back on when we are craving some fried goodness. Make your 2 piece chicken meal even more satisfying by adding on a side of their famous cheese fries, or grab the Zinger box if you cannot decide whether you are feeling a burger or a fried chicken.
KFC regularly rolls out limited edition menus from time to time so do remember to check these deals. For the current period, their ever famous Chipotle Meltz is back on the menu, so make sure you grab them before it is gone again!
Average price of main dishes: SGD10.50 for a meal
Delivery available on: Website, Deliveroo, FoodPanda, GrabFood
For The Health Conscious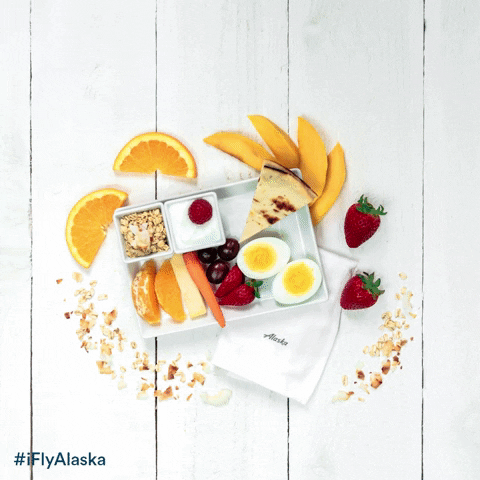 If you are determined not to go overboard and binge eat when you break your fast, there's a lot of healthier options for you to consider as well. These eateries not only serve up delicious, filling food, they offer delivery all the way to your doorstep. Keep healthy while staying safe at home!
4. Grain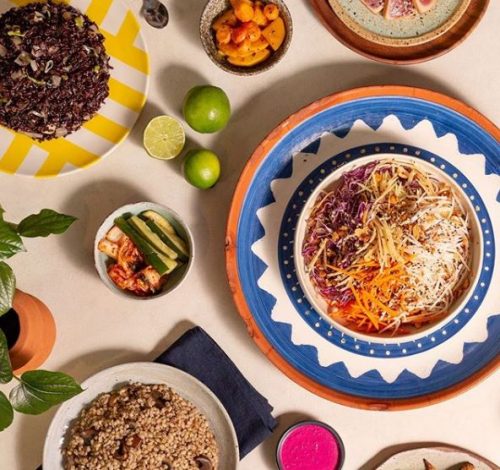 Grain Singapore prides itself in delivering wholesome food experiences with the use of fresh and healthy ingredients. Check out their meal bundles boxes if you are ordering for your family, or their hot chick buns which feature popular favourites like the Hot Ass-am and My One Aioli burger. They also do customised meal boxes, where you can choose from a wide range of fresh produce and protein to fill your hungry tummies. 
Average price of main dishes: SGD12 
Delivery available on: Website
5. Lean Bento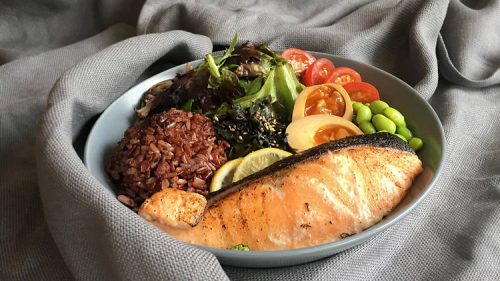 Lean Bento offers a large selection of choices ranging from multigrain rice, gluten-free noodles to vegan boxes, and we are pretty sure you can find one that satisfies your taste buds. Be spoilt for choice as you choose from different proteins such as the herb crust or honey chicken, the miso or sambal salmon, and top it up with side accompaniments such as roasted pumpkin, soft egg, cherry tomatoes, edamame, corn kernels and so much more!
Average price of main dishes: SGD12.50 
Delivery available on: Website, GrabFood
For The Hungry Carb Lovers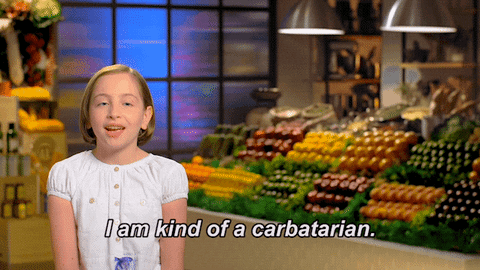 Carbs is life, period. Without a doubt, this is especially so when you are feeling so ravenous after a whole day of not consuming any food. Well, good news because we have you and your tummies covered.
6. Swensen's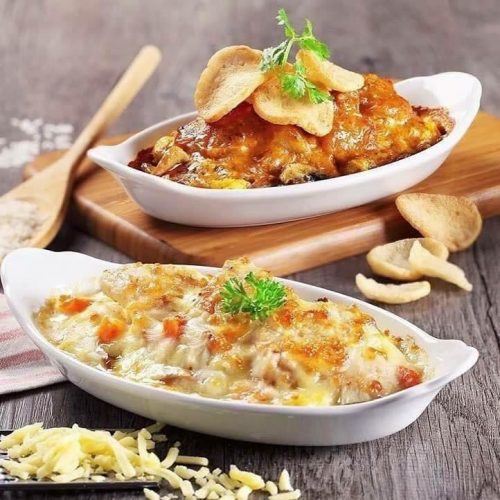 Swensen's has been our go-to comfort food ever since we were primary school kids (20 years ago). We are pretty sure it is a favourite amongst many Singaporeans as well, both young and old. Their extensive menu of delectable dishes will often leave you spoilt for choice. One of the must-haves when you head to Swensen's is their baked rice. You can also choose from their selection of sandwiches, burgers, main courses, or even asian delights to fill your stomachs. 
Average price of main dishes: SGD16
Delivery available on:  Deliveroo, FoodPanda, GrabFood
7. Tang Tea House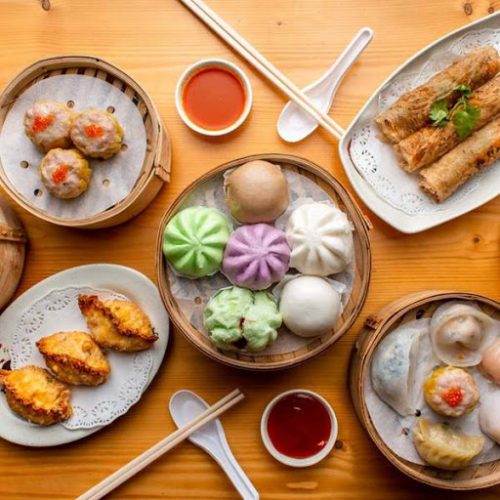 How about some siew mai, har gow and egg tarts to break your fast? Yes please, all day every day! Get your favourite halal dim sum delivered right to your doorstep and enjoy a scrumptious meal with your family in the comfort of your home. Apart from dim sum, you can also choose to get their beef brisket noodles or chicken rice and your meal for the day is settled~
Average price of main dishes: SGD5 for Dim Sum, SGD7 for Main Courses
Delivery available on:  Website, Bungkus SG, Deliveroo, GrabFood
8. Yi Zun Noodle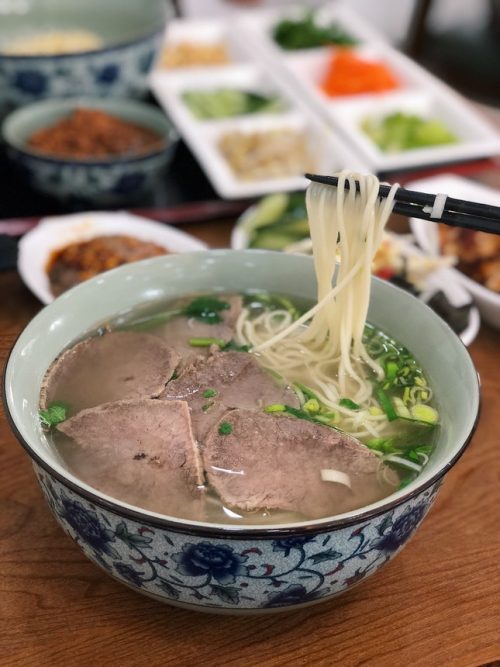 Craving for a soupy bowl of goodness on a rainy, stay home day? Yi Zun Beef Noodle will hit the perfect spot for sure. They are the first halal hand-pulled Chinese noodle stall in Singapore, and they are famous for, well of course their signature hand pulled noodles that come with large chunks of beef in generous amounts. Top it off with other delicious treats like xiao long bao (steamed soup dumplings) and Xinjiang mutton skewers, yumz. 
Average price of main dishes: SGD8-SGD10 (noodles), from SGD12 (other main dishes)
Delivery available on:  Website, Bungkus SG, Deliveroo, FoodPanda, GrabFood
9. Ayam Penyet Ria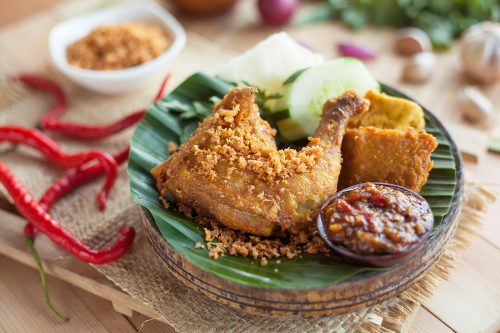 You can never go wrong with some good ol' smashed fried chicken and tahu-tempe from Ayam Penyet Ria. On top of that, they also offer other options like Bebek Penyet (Smashed Duck) or Ayam Bakar (Grilled Chicken) rice sets. Additionally, these sets come with the boneless option so you can have a good meal minus the hassle! Add on the tahu-telur, just because –  It is that good that we assure you you are missing out if you don't eat it!
Average price of main dishes: SGD10
Delivery available on:  Website, Deliveroo, FoodPanda, GrabFood
10. Zam Zam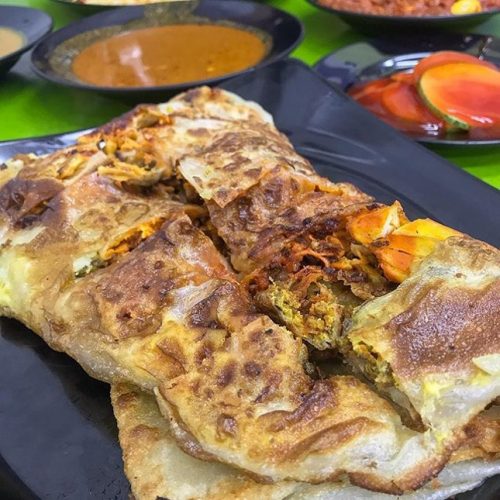 You know you can always count on Zam Zam to settle your murtabak fix. These household names are well known even beyond the Muslim community for their beef and chicken murtabak, or other dishes like mee goreng and nasi bryani. Can't decide which one to get? Just grab both flavours and gather your family for a well-deserved feast in the comfort of your home!
Average price of main dishes: SGD7
Delivery available on:  Bungkus SG
For The Aspiring Kitchen MasterChefs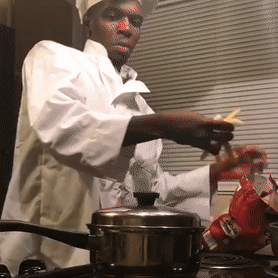 We don't blame you if you have a sudden urge to whip up a feast after binge-watching on all ten seasons of MasterChef US. To get you prepared for the kitchen, here are five simple halal recipes that you can try making at home!
 
11. Nasi Briyani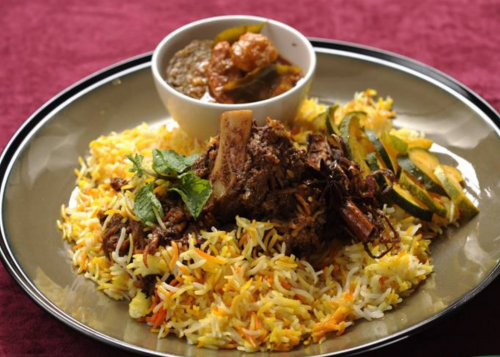 If rice and protein is a must for you for every meal, then this Nasi Bryani recipe will be perfect for you to try out.
Ingredients 
Steps:
1. In a medium sized pot, heat vegetable oil. Add sliced shallots. Fry until golden brown. Remove and drain on paper towels. Discard or reserve oil for flavouring other dishes.
2. In the same pot, melt butter. Add cinnamon sticks, star anise, cardamom pods and cloves. Fry for 1 to 2 minutes until fragrant. 
3. Add rice and stir to combine. Then add golden raisins. Pour in 2.5 cups (600ml) of water. Bring it to a boil. Season with salt. Cover, reduce heat to medium and allow it to cook for 8 to 10 minutes until all water is absorbed. Reduce heat to the lowest setting and let it cook for another 5 minutes. Turn off heat.
4. Mix ground turmeric with 1 tablespoon hot water in a small dish. In another dish, mix rose essence water with 1 tablespoon water. Sprinkle both mixtures onto rice. Fluff rice gently with spatula.
5. Cover and allow rice to sit for 10 minutes. Garnish with fried onions and cashew nuts before serving. Alternatively, nasi briyani can be served with your favourite meat curries.
12. Indian Butter Chicken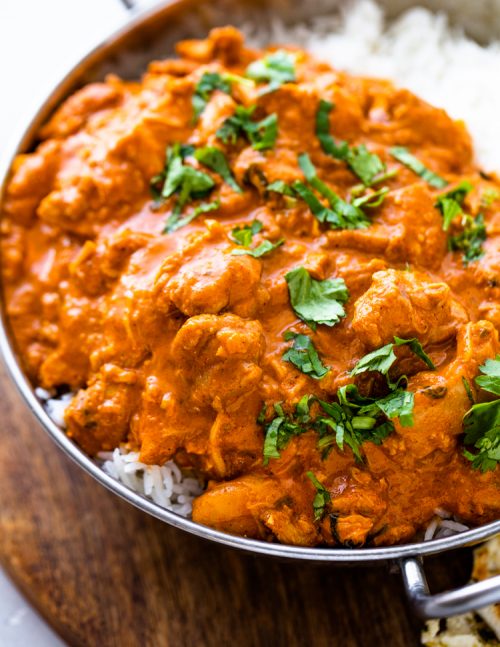 How about some butter chicken curry for the soul? Pair it with a bowl of piping hot white rice to complete the meal!
Ingredients:
600g chicken breasts

, boneless, skinless and diced

3 tablespoons

ghee

, unsalted

1 onions, finely chopped

¼ teaspoon ground cinnamon

2 teaspoon ginger root, grated

1 clove garlic, crushed

3 cardamom pods

1 teaspoon turmeric

½ dried chili peppers, minced

1 tablespoon

tomato paste

¼ cup

flaked almonds

, finely ground

½ cup

canned tomatoes

, diced

¼ cup cream

3 tablespoons fresh cilantro (optional)

Ground pepper to taste (optional)
Steps: 
1. Cut the chicken breasts into cubes then set aside.
2. In a large pan, heat the ghee (clarified butter) over medium-high heat. Sauté the finely chopped onion and cinnamon 3 to 4 minutes then add the grated ginger, crushed garlic, cardamom pods, turmeric and minced chili pepper.
3. Cook for 1 minute with constant stirring. Add the chicken pieces and sauté until they lose their pink colour. Add the tomato paste, ground almonds and diced tomatoes. Stir, cover, lower the heat and simmer for about 25 minutes.
4. In the meantime, mix the yogurt and cream in a small bowl. Add the mixture to the pan at the very end and cook for an additional 1 to 2 minutes without letting it boil. Add salt and pepper to taste and remove the cardamom pods. Garnish with fresh cilantro leaves then serve.
13. Banana, Peanut Butter and Chocolate Overnight Oats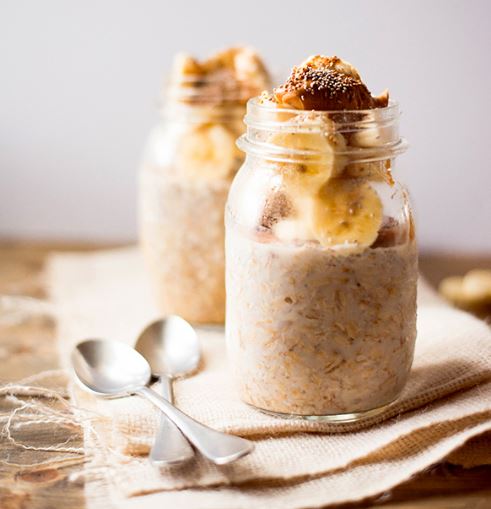 If you have no time in the morning to cook a whole meal, this overnight oats recipe should be sufficient to tide you over and keep you satisfied. And in case oats ain't your kind of thing, check out other similar recipes here. 
Ingredients:
Steps:
1. Place oats, cinnamon, chocolate chips and chia seeds into a mason jar.
2. Combine milk and vanilla extract. Pour into the jar on top of the oat mixture. Add peanut butter and honey to the jar.
3. Cover with lid and refrigerate for at least 6 hours or overnight.
4. Top with sliced bananas and enjoy!
14. Ranch Zucchini Chips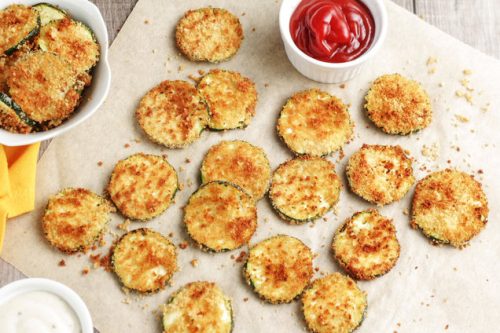 Try making a healthier alternative to potato chips with zucchini to satisfy the constant urge to snack on something. This easy recipe takes only about 10 minutes of your day! There's no excuse now not to eat healthy even at home! Take a look at some other recipes that you can try out with the air fryer here.
Ingredients:
2 zucchini, thinly sliced

1/4 cup

all-purpose flour

1/8 teaspoon salt

1 pinch ground black pepper

1/2 cup ranch dressing

1/2 cup whole wheat bread crumbs

1/4 cup grated Parmesan cheese

1/4 teaspoon garlic powder

Cooking spray
Steps:
1. Preheat an air fryer to 200 degrees celsius.
2. Combine flour, salt, and pepper in a bowl. 
3. Pour ranch dressing into a bowl. 
4. Combine bread crumbs, Parmesan cheese, and garlic powder in a third bowl. 
5. Dredge each piece of zucchini in flour mixture and then dip into ranch dressing. Coat both sides and shake off excess dressing.  Dip into the bread crumb mixture next, pressing the breading lightly onto each zucchini chip.
6. Spray the air fryer basket with cooking spray. Place the breaded zucchini chips in the basket in a single layer.  Cook until browned, 5 to 6 minutes. Repeat with remaining zucchini chips.
15. Chicken And Vegetable Soup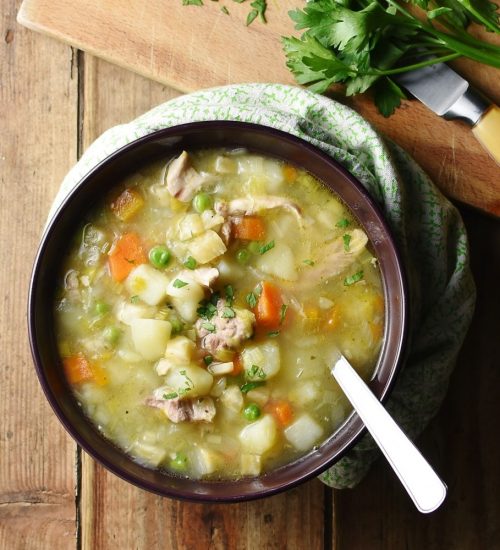 Start your day off well with a bowl of chicken and vegetable soup to warm your tummies. This delicious chicken and vegetable soup only takes about 20 minutes to cook! It is also light on the stomach, perfect for breaking fast. 
Ingredients:
½ tablespoon

canola oil

½ shallots, finely chopped

1 clove garlic, minced

½ tablespoon ginger root, grated

½ dried chili peppers, minced

2 cups

chicken broth

1 cup water

1 tablespoon

fish sauce

Ground pepper to taste (optional)

160g

chicken

80g

vermicelli 

1 carrot, grated

1 green onions/scallions, thinly sliced

4 button mushrooms, thinly sliced

1 ½ cup soybean sprouts
Steps:
1. Heat the oil in a saucepan over medium-low heat. Add the shallots, then sauté for 2 to 3 minutes. Add the garlic, ginger and chili pepper. Sauté for 3 minutes by stirring. Pour in the broth and water.
2. Add the fish sauce and a little salt and pepper. Bring to a boil. Lower the heat and simmer for a few minutes. Adjust the seasoning. Add the chicken slices and warm up the broth for 1 minute. Take the saucepan off the heat.
3. Meanwhile, cook the rice noodles for about 4 minutes in a large pot of salted boiling water. Drain in a colander, then rinse and drain again. Set aside.
4. Prepare the vegetables: Grate the carrots, then thinly slice the green onions and mushrooms. Portion out the vegetables into individual serving bowls. Add the soybean sprouts and cooked rice noodles. Pour in the hot broth and serve.
So are you planning to chill and order food in, or will you be hanging out in the kitchen this Ramadan? Let us know in the comments section below or share with us your favourite tried-and-tested recipes! 
Psstt.. our Raya Style by Shopee is happening from 14-16 April. Even if you're staying at home and ordering in, there's no reason not to dress up! Purchase now to receieve your items before Hari Raya Puasa.
---
New to Shopee? Get $7 off (min. spend $15) with code*: GSB7OFF 
* TNC Applies. Valid for new users from 15 Apr to 22 Apr 2021 only.