French Onion Soup is a renowned dish that has a rich history and continues to be loved by food enthusiasts around the world. This hearty soup boasts layers of caramelised onions, rich beef broth, gooey melted cheese, and creating a symphony of flavours that is undeniably comforting and indulgent. Grab your apron and let's get cooking with this simple french onion soup recipe. 
How did french onion soup come about?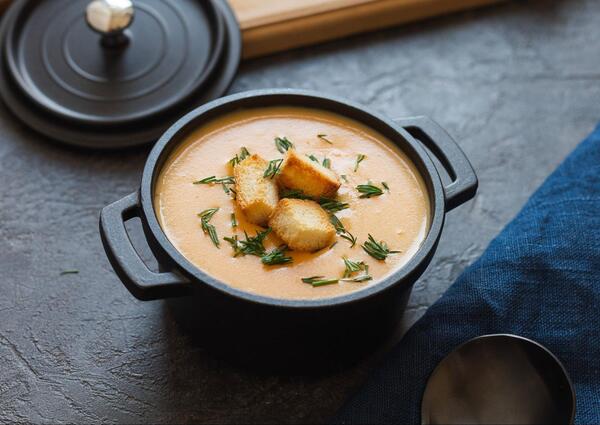 French onion soup has a fascinating history that dates back centuries. The origins of this beloved dish can be traced back to ancient Rome, where onions were often used in cooking due to their abundance and long shelf life. However, it was not until the 18th century in France that the modern version of French onion soup, as we know it today, emerged. Onions were cooked slowly in butter until caramelised, then thereafter combined with beef broth and served with bread and cheese.
What onions are best for a French onion soup recipe?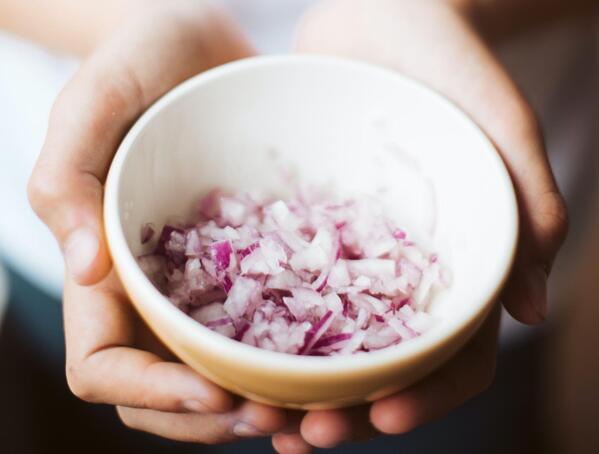 A combination of yellow, red, and white onions can certainly add depth and complexity to the soup. Yellow onions are commonly used for their mild, slightly sweet flavour when caramelised, while red onions add a touch of sweetness and colour to the soup. White onions, on the other hand, have a milder flavour and help balance out the sweetness of the other onions. They hence undeniably create a balanced flavour that both the young and old enjoy. 
Perfect remedy for sick days: French onion soup recipe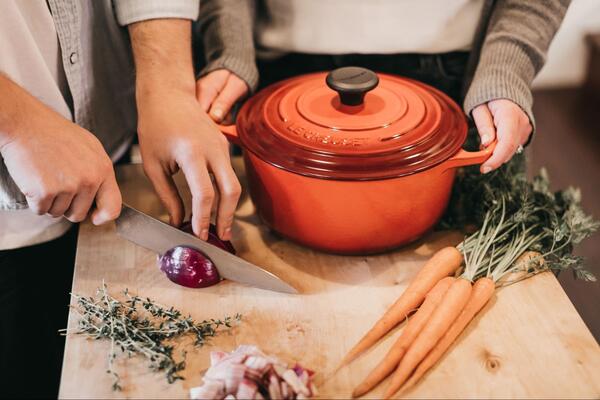 From caramelising the onions to simmering the broth, assembling the bread and cheese topping, and baking it all to perfection, each step in this French onion soup recipe is simple yet crucial in recreating this timeless classic.
Prep Time: 15 minutes
Cook Time: 1 hour 30 minutes
Servings: 4-6 servings
Ingredients:
6 large onions, thinly sliced

1/2 cup unsalted butter

2 tbsp all-purpose flour

8 cups beef broth

1 cup red wine (optional)

2 tbsp Worcestershire sauce

1 tbsp balsamic vinegar

1 tsp dried thyme

Salt and black pepper to taste

1 baguette or French bread, sliced

2 cups Gruyere or Swiss cheese, shredded

Fresh thyme leaves for garnish (optional)
Cutlery Required:
Cutting board

Chef's knife

Large soup pot or Dutch oven

Wooden spoon or spatula

Soup bowls or ramekins

Baking sheet

Oven mitts

Ladle

Soup spoons
How to prepare this French onion soup recipe: 
Heat a large

Dutch oven

over medium heat and add the

butter

.

 Once the butter has melted, add the sliced onions and cook slowly, stirring occasionally, for about 30 – 40 minutes, or until the onions are deep golden brown and caramelised. Afterwards, add a pinch of salt to help the onions release their moisture and cook evenly.
If the onions start to stick to the bottom of the pot, you can deglaze with a splash of water or red wine (optional) and continue cooking until caramelised.
After the onions are caramelised, sprinkle the flour over them and stir well to coat the onions evenly.
Subsequently pour in the beef broth, red wine (if using), Worcestershire sauce (available on Hosen Group Official Store), and balsamic vinegar, stirring constantly to incorporate the flour and create a smooth soup base.
Next, add the dried thyme, salt, and black pepper to taste, and bring the mixture to a boil. Subsequently reduce the heat to low and let the soup simmer uncovered for about 30-40 minutes, stirring occasionally to prevent the bottom from sticking.
While the soup is simmering, preheat your oven to 180°C (350°F) and line a baking sheet with parchment paper. Afterwards, arrange the sliced baguette or French bread on the baking sheet and toast them in the preheated oven for about 10 minutes, or until they are crispy and lightly golden brown.
In a separate bowl, toss the shredded Gruyere or Swiss cheese with a little salt and pepper to taste.
Once the soup base has simmered and the flavours have melded together, it's time to assemble the French Onion Soup. Ladle the hot soup into oven-safe soup bowls or ramekins.
Following that, place a few slices of the toasted bread on top of the soup, arranging them to cover the surface of the soup. Generously sprinkle the shredded cheese over the bread, making sure to cover it completely.
Afterwards, repeat the layering process with another layer of bread and cheese.
Lastly, place the assembled soup bowls or ramekins on the lined baking sheet and transfer them to the preheated oven. Bake the French Onion Soup for about 15 – 20 minutes.
Garnish with fresh Thyme Leaves (available on Pantry Selects Portuguese Foods Official Store), before serving, for an extra touch of flavour and aroma.
Delight your taste buds and warm your heart with this French onion soup recipe
With its rich flavours and gooey cheese-topped goodness, this French onion soup recipe will certainly whip up true comfort food for any occasion. As you take that first spoonful of the piping hot soup, topped with melty cheese and crusty bread, you'll be transported to a cosy French bistro in an instant! Alternatively, check out these Indian curry recipes for a spicy kick and cool down that fire with the best lassi recipes.