Being a working parent is no small feat — be it managing a team or multiple projects at work, or balancing the responsibilities of taking care of a family. 
We met up with Shopee working parents, Allan and Mardhiyyah, who shared about their parenting experiences, and how they found support through initiatives and their community at work.
---
Tell us about yourself and your family.
Allan (A): Hello, I'm Allan and I'm a father of two children. I have a boy aged six who is very active, he loves playing basketball and swimming. He'll be starting the next important phase of his life next year as a Primary 1 student. I also have a daughter aged four who's a very curious child and she asks a 'thousand' questions a day. From the day she was born, everyone mentions how she resembles me the most — I hope that's a good thing! 
At work, I lead the Resource Management team for our logistics. I'm in my 5th year in Shopee, and I'm thankful for my supportive family who's always had my back, even during this hybrid working period. 
Mardhiyyah (M): Hi, I'm Mardhiyyah. I'm currently expecting my second child in March, and my firstborn is now two years old. In many ways, my son is like me — determined, cheerful, and enjoys running. In other ways, he's cool and calm like his father. Right now, he's really into dinosaurs, and is heavily invested in his pet caterpillar and fishes. 
At work, I lead the HR Business Partner function for Singapore teams. This month marks my 3rd year anniversary with Shopee!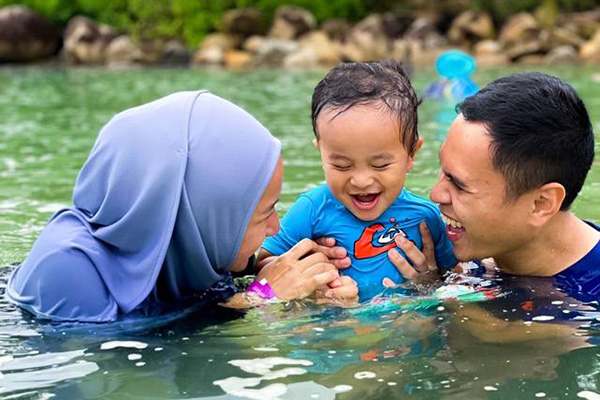 What is it like to be a working parent?
A: Being a working parent means that I have to take on more responsibilities and commitments to make sure I do the best for my kids. However, it's an extremely rewarding experience to be there every step of the way as they grow up. 
The pandemic has meant that instead of going to the office, I've been working at home with my kids. They're always curious about what I'm doing on my laptop, and want to be part of my Zoom meetings! I see this as an opportunity to explain what my job is about, and the responsibilities of being a manager. This WFH period has also allowed me and my kids to forge a stronger relationship, since I can spend more time with them, and less time commuting to the office. My family also understands that there are times where I'm busy, and need my space for work.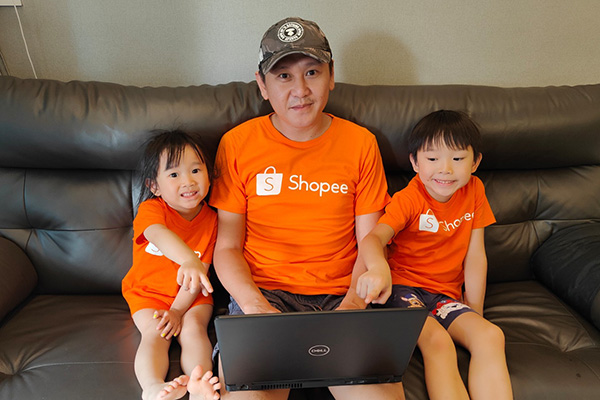 M: For myself, the role of a working parent means being present and selfless for your kids. It also means having a never-ending to-do list in my head, which has driven me to be more efficient in my day-to-day tasks. I make sure to focus while at work, and finish up my day before my son returns home from school. This allows me to spend the rest of the day having quality time with the family. 
Being a working mum used to feel daunting to me and I struggled to find a balance as a new mum. Now, I've realised that I'm able to enjoy my role at work just as much as that of being a parent. Sometimes I think, if I can be a working mum, I might actually be able to do just about anything!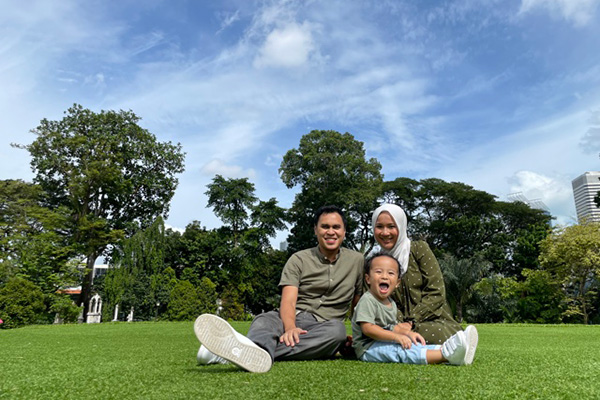 How has your journey as a working parent been so far?
A: Well, it's great that I have colleagues who have children as well, including my reporting manager. They have been very supportive of my role as a parent, having to balance work and family. I've learnt that it's also important to be intentional about spending time with my kids. After work ends, I will make it a point to have dinner with my family, play with the kids, and go through their homework with them every night. 
Leaning on company initiatives for parents has helped a lot too – for example, I can take time off to care for my children through our Shared Medical Leave programme. It allows me to use my medical leave entitlement in addition to the childcare leave entitlement to care for them when they are sick. I also make use of the flexible working hours programme for parents, which gives me more opportunities to be present for my kids.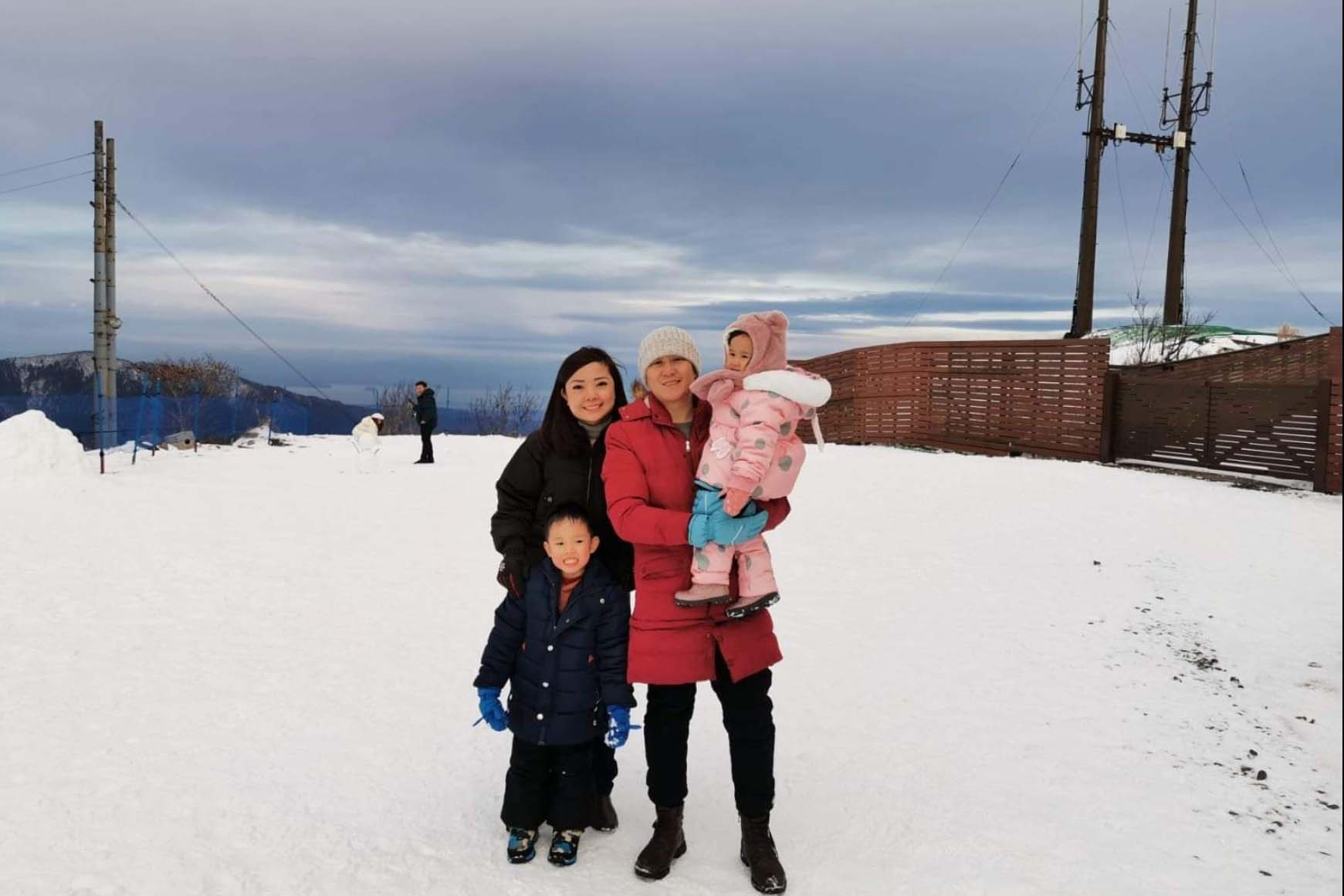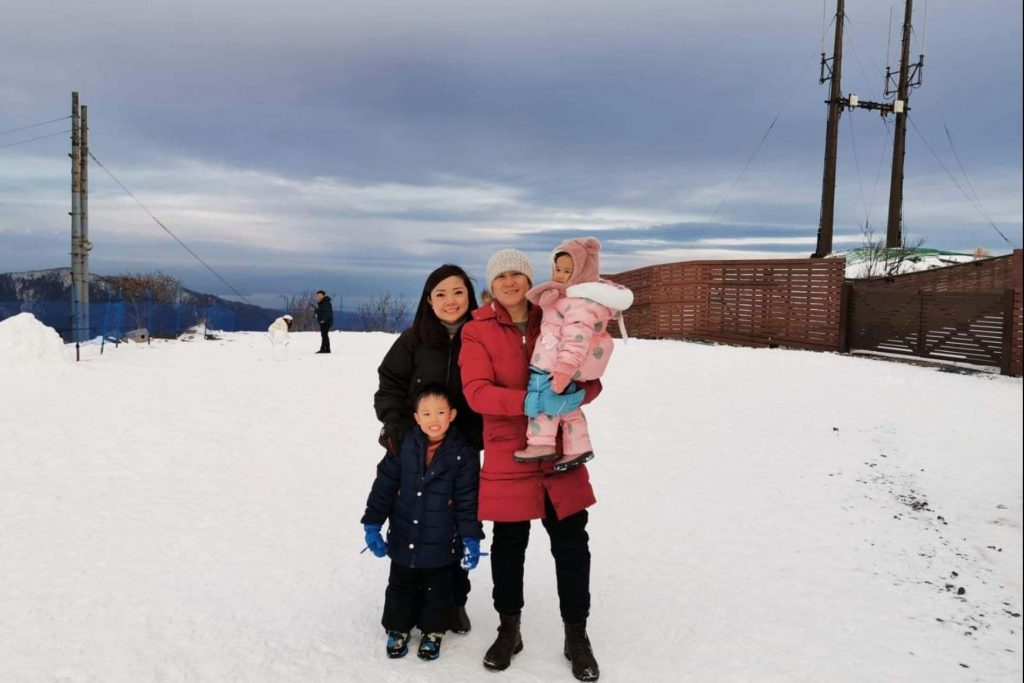 The Shopee Working Parent's chat group has also been very helpful, where fellow parents share articles or workshops that can benefit our children. It serves as a support group for parents who may need a listening ear or advice from others, and we regularly share great deals on Shopee as well!
Over the past years, the pandemic has taken a toll on working parents everywhere. Having flexible working arrangements has allowed us to be closer to our children during the uncertainties of the pandemic. It's heartening to see organizations starting to implement dedicated working arrangements for working parents, which allow them to manage their schedules with their managers, and reduce the need to be in the office if needed.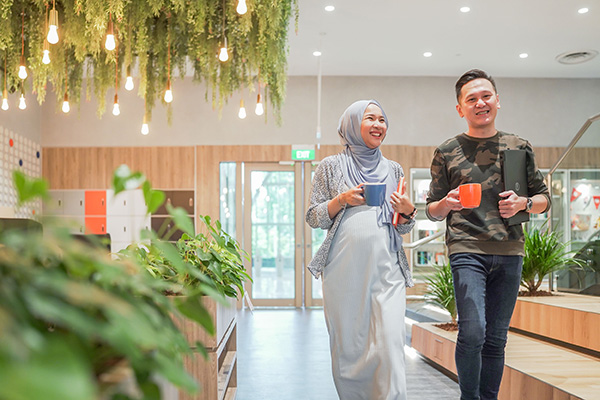 M: As a parent balancing work and family, Shopee's child-friendly initiatives have helped me to engage my kids too. For example, I recently attended the Fun with the Wild Tour of the zoo, which was held in collaboration with the Singapore Wildlife Reserves. A gift pack was also given to the kids, and my son was overjoyed to receive the goodies which included an animal bag, crayons, a colouring book, and snacks. He was also really happy to finally be a part of the virtual session, after being 'excluded' from my regular Zoom meetings!
On the whole, nothing beats the supportive environment created by understanding managers and colleagues. When I returned to work as a new mum, I was trying to regain my momentum while facing 'mum guilt' of not being there for my newborn. However, my managers and colleagues were generous with their encouragement, and kept giving me the assurance that I was doing okay. Their support definitely spurred me on when I was getting back to work.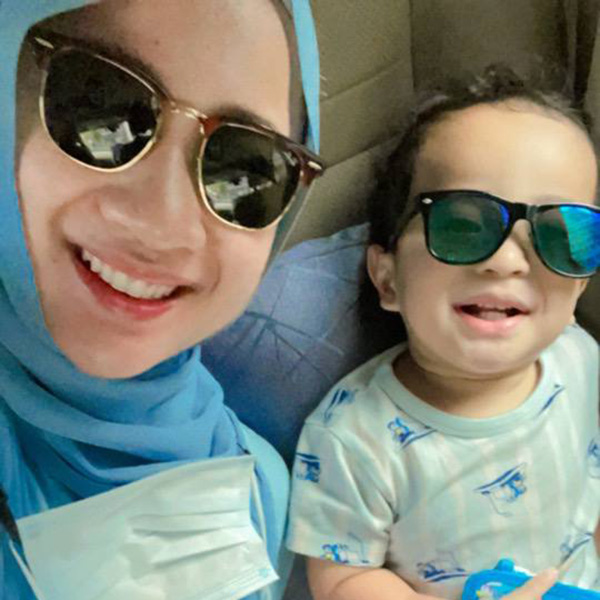 To me, it's important for organisations to support the changing needs of working parents, because one constant thing about being a parent is — it's unpredictable. Your child can fall sick anytime as their immunity is still building up, and when they are feeling weak, they need you more than ever. It's great to see companies allocating more resources and providing support for employees to spend quality time with family, and care for our children as they grow. I think that's what we need to build a holistic space where experienced personnel can grow both professionally and personally.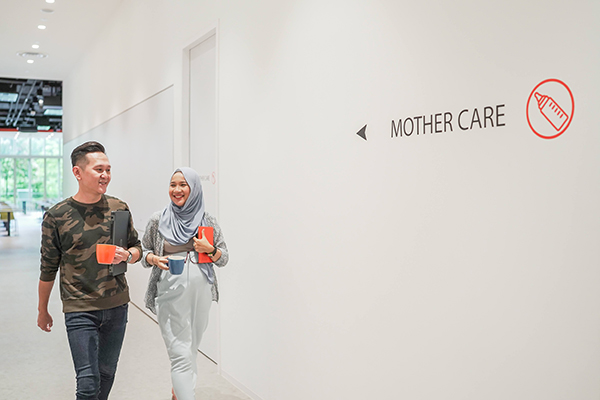 What advice would you give to new working parents?
A: Having a schedule is important when juggling work and family. I consistently refer to my calendar to keep track of the week's events. Something that works for me is blocking out dates where I have activities planned with my children in advance, so I can give them my full attention on those days. Also, be proactive in reaching out to your manager if you need someone to talk to regarding work commitments, especially when your child is younger and requires more attention. 
M: Go easy on yourself, you're human too! I've learnt that a lot of my initial doubts about being a good parent were self-imposed. Being a parent means having a big set of responsibilities on top of work, so it's important to set boundaries between the two, while maintaining flexibility for your mental health. Your family (both at work and at home) are more understanding and supportive than you think, and it's important to be able to communicate the support you need for responsibilities at home, so that your team is aware. Reach out to your community whenever you need, and don't be shy to ask for help.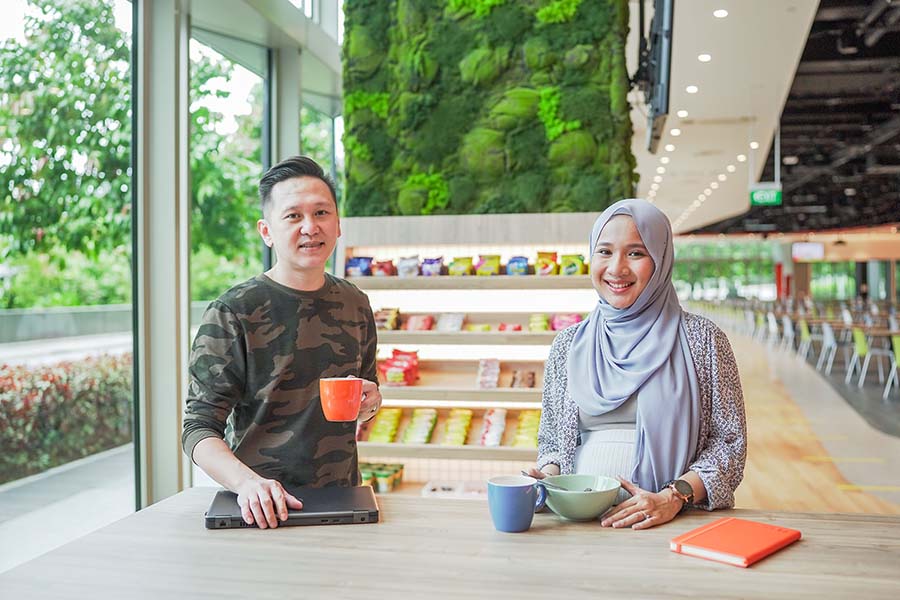 ---
Inspired by Allan and Mardhiyyah's experience as working parents at Shopee? Explore a career with us as a working parent here.
More from Life at Shopee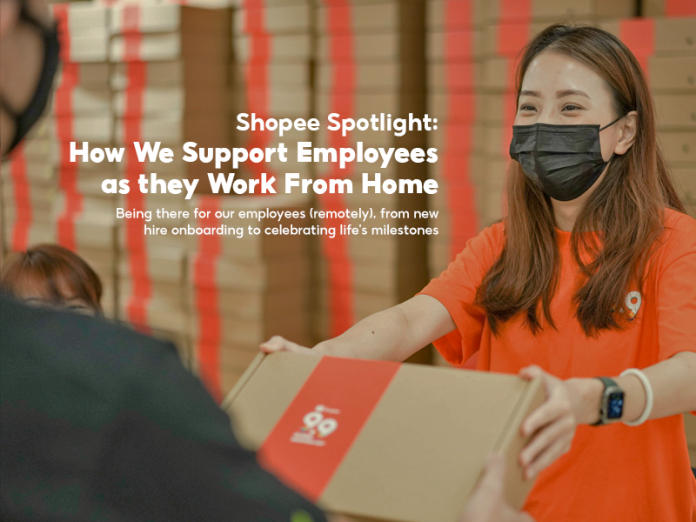 How We Support Employees as they Work From Home
The pandemic has changed the way we work. Read here to find out about how we have adapted to the new normal and support our employees through remote working, from new hire onboarding to celebrating life's milestones together.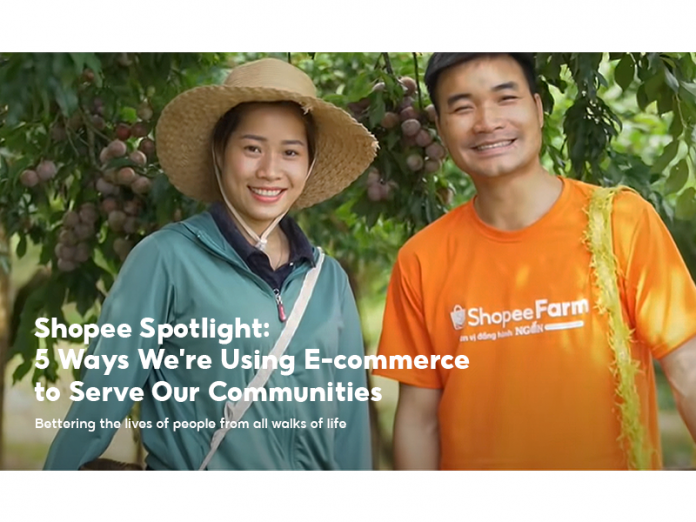 5 Ways We're Using E-commerce to Serve Our Communities
Since day one, we've believed in harnessing the power of e-commerce to bring value to our users and communities. Read here to discover some of the many ways we're using e-commerce to serve our local communities — such as introducing intelligent chatbots and uplifting those who need it most.
*Photos were taken in compliance with local Covid-19 safety measures or before the Covid-19 pandemic.