<![CDATA[It's that time of the year again as premium football simulation games Pro Evolution Soccer (PES) and FIFA lock horns. Played and bought by thousands of Singaporean football fans every year, it begs the age-old question: PES Vs FIFA, which is better? We've had the pleasure of playing both games and decided to write an in-depth review to help you make the most informed purchasing decision!
1. PES Vs FIFA game modes comparison
PES 2019
https://www.instagram.com/p/BnYlKQVH9ao/?hl=en&tagged=myclub
The bulk of this year's efforts have gone towards fleshing out myClub mode! Being in direct competition with FIFA's Ultimate Team mode, myClub introduces various mechanics to differentiate itself like levelling up player cards and manager cards to dictate the overall strength of the team. Coaches and scouts also play a bigger part as the former imparts crucial skills to your players and the latter allows you to recruit more skilled players. The fan favourite Master League career mode also makes its return with realistic tweaks to transfer pricing so your club can't rise through the ranks by just splashing the cash.
FIFA 19
https://www.instagram.com/p/BpFLRHOhWvV/?hl=en&taken-by=fifa19.offical
The hugely popular card collecting Ultimate Team mode is back with numerous improvements! Division Rivals mode is a new weekly system that doles out rewards based on your skill level. Higher ranks grant you more coins and packs to unlock even more players! The FUT Champions Weekend League has also been revamped, allowing players to qualify through Division Rivals matches. As for offline modes, FIFA 19 introduces the exciting new House Rules mode! These modes are perfect for casual play and range from Survival (a random player from your team gets eliminated every time you score) to No Rules (tackles and offsides are fair game).
2. PES Vs FIFA presentation comparison
PES 2019
[embed]https://www.youtube.com/watch?v=xHDomqnvGb4[/embed]
Everything from the menus to the commentary feels recycled and archaic as you trudge through the messy interface and hear the same few lines. While these issues have barely changed in the past few years, it's appalling how Konami has failed to address this. Moreover, you'll spend most of your matches playing Man Red (Manchester United) against Man Blue (Manchester City) or MD White (Real Madrid) against PM Black White (Juventus) because of licensing issues.
Thankfully, this can be resolved with a downloadable patch made by passionate PES 2019 fans! Check out the video below for full instructions.
https://www.youtube.com/watch?v=4d-badFou00
FIFA 19
[embed]https://www.youtube.com/watch?v=b8-K_qC-L3E[/embed]
Featuring slick menus, official licensing rights and commentary that won't feel grating after five matches, FIFA 19 blows the competition out of the water here with its superior presentation. Every match feels real as FIFA mimics its real-life counterpart with constant touchline updates and realistic broadcast overlays. Snagging the Champions League license from PES 2019, the game proudly plasters this triumph everywhere, from a dedicated Champions League mode to Ultimate Team player cards with a Champions League variation.
3. PES Vs FIFA graphics comparison
PES 2019
[caption id="attachment_20800" align="aligncenter" width="640"]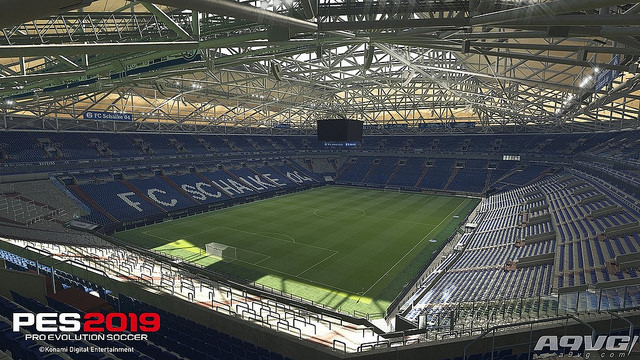 (Credit:
steamXO
/ Flickr)[/caption]
Utilising the powerful Fox engine, player likeness can be incredible, especially for licensed figures like David Beckham and Lionel Messi. Konami has taken the time to specially render these players, ensuring their mannerisms and expressions are realistic enough to satisfy football purists. The game also leverages upon the engine's capabilities to provide real-time global illumination, creating realistic lighting and shadow effects. Yet, don't be surprised that unlicensed players like Cristiano Ronaldo and Alexis Sanchez have stiff and uncharacteristic faces that may dampen the overall realism of each game.
[caption id="attachment_20794" align="aligncenter" width="640"]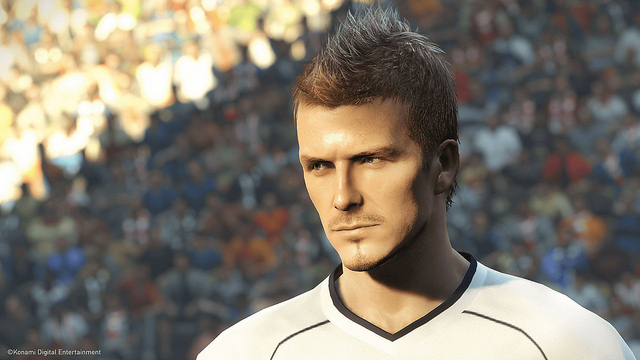 (Credit:
steamXO
/ Flickr)[/caption]
Venue-wise, PES 2019 does a fantastic job of recreating the chilling atmosphere of officially-licensed stadiums and teams. From the intricate metal bars hanging above Veltins Arena to the deafening chants of Barca at Camp Nou, the walkout cutscenes at these iconic stadiums are incredibly atmospheric, making you feel like you're actually there. Also, with the new dynamic weather system, pitch conditions can suddenly change with a sudden downpour or light snowfall. Similarly, the same attention to detail falters when it comes to other unlicensed teams.
FIFA 19
https://www.instagram.com/p/Bnq67KuBk03/?hl=en&taken-by=fifa19.offical
Having the advantage of official licensing, FIFA 19 is much more consistent in terms of their graphical quality, ensuring that majority of players are displayed in stunning detail! Under the Frostbite engine, the level of player realism here has drastically improved, allowing developers to render more realistic face scans and improve overall player animation. However, as you zoom in to admire the minute details, you'll realise that most of these faces still possess lifeless eyes and strange facial animations that fail to do justice to each player.
[caption id="attachment_20799" align="aligncenter" width="673"]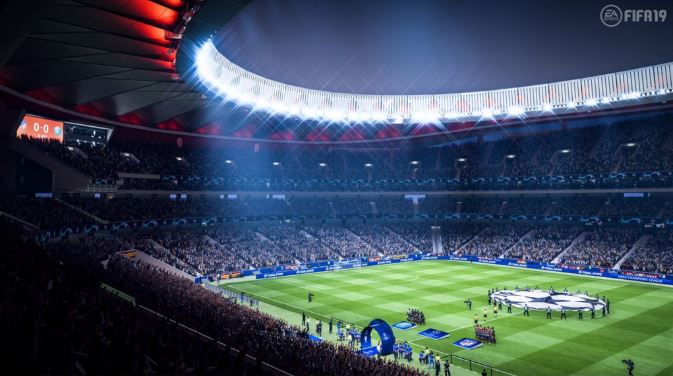 (Credit:
play_e
)[/caption]
Unfortunately, this also transitions to crowd animation as many of them still appear lifeless and robotic. To compensate for the washed out faces in the crowd, vibrant banners and booming fan chants help to boost the authenticity of match day atmosphere. The official UEFA licensing also helps, allowing you to recreate past cup finals with stunning accuracy.
4. PES Vs FIFA gameplay comparison
PES 2019
[caption id="attachment_20795" align="aligncenter" width="677"]
(Credit:
gamescrazydeals
)[/caption]
There's something special about PES 2019's gameplay as Konami has placed tremendous focus on simulating what it's like to play on the pitch. Ball physics are refined to a tee here — the ball glides realistically across the grass and shots cause the ball to emphatically smash the back netting. Scoring a goal here instills in you a sense of accomplishment as the build-up in PES is intentionally slow. You're forced to work for your goal as you plan every pass and exploit every opening to create golden opportunities for your team. Also, it doesn't hurt that the animations here are top quality as players maneuver across the turf with deft touches and subtle ball flicks.
FIFA 19
[caption id="attachment_20797" align="aligncenter" width="674"]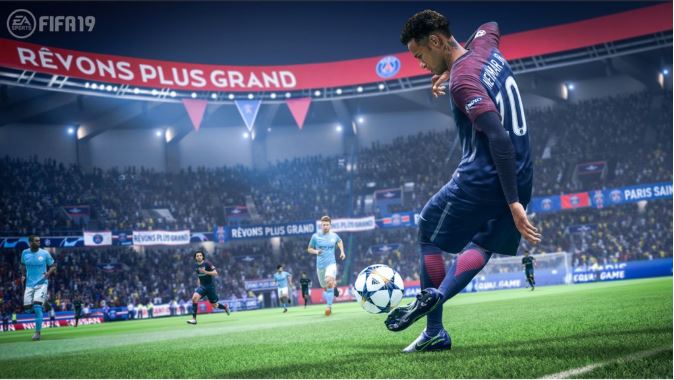 (Credit:
play_e
)[/caption]
FIFA 19's beginner-friendly gameplay has always been its highlight feature. Matches demand your fullest attention and remain extremely fast-paced as the ball is whipped around like in pinball. Improvements like Active Touch and Timed Finishing make the gameplay more dynamic while rubber-banding — that annoying situation when the defender miraculously catches up to you despite being slower paced — has been kept in check. Electronic Arts have also refined the previously infamous laser-like ball physics, allowing for much more realistic ball play that keeps attackers on their toes. While issues like shoddy AI defending and baffling player switching still exist, it's the FIFA  gameplay that diehard fans know and love!
PES Vs FIFA conclusion: Which is better?
In our humble opinion (and we hope this isn't a cop out), that both games have their own merits and it's down to personal preference!
PES 2019 prides itself with the football simulation side of things — with its hyper realistic gameplay and believable player animations. Yet, its lack of polish when it comes to menus and game modes leaves much to be desired. It appeals to the niche market of football purists and fans who love playing as their favourite team in the less popular Scottish Premier League or Jupiler Pro League.
Without question, FIFA 19 is the football game to beat. While it still has minor issues, there's a reason why almost all your mates own FIFA 19. The appeal of licensing for popular leagues like the English Premier League and La Liga combined with the addictive Ultimate Team mode makes the game a must-own for any football fan — just don't flip out if your goalkeeper trips over himself while attempting to dish out the ball!
https://www.youtube.com/watch?v=MhqAynwtVyU
Looking to get yourself a copy? Check out our deals for
PES 2019
and
FIFA 19
today! For more footballing goodness, why not treat yourself to a scintillating compilation of
Cristiano Ronaldo goals
! Want to introduce your date to video games? We've curated a list of
couple games
, including both video and board games, to play together!
---
New to Shopee? Get $11 off (min. spend $20) with code*:
PESFIFA
TNC Applies. Valid for new users from
15 to 22 Nov
only.]]>