Here's something for all fashionistas out there~ Your favourite category is taking over Shopee from 16 to 29 Oct. Get your favourite brands such as Longchamp, Swarovski, Under Armour, Adidas and more at great discounted rates!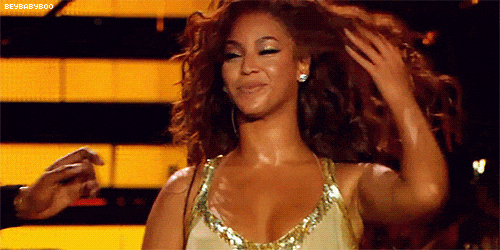 To get you in the mood, we've rounded up a few of our favourite fashion pieces into 3 exclusive Fashion Grab Bags – Style Muse, Menswear Basics and Runway Kids!
So, what's in the bag?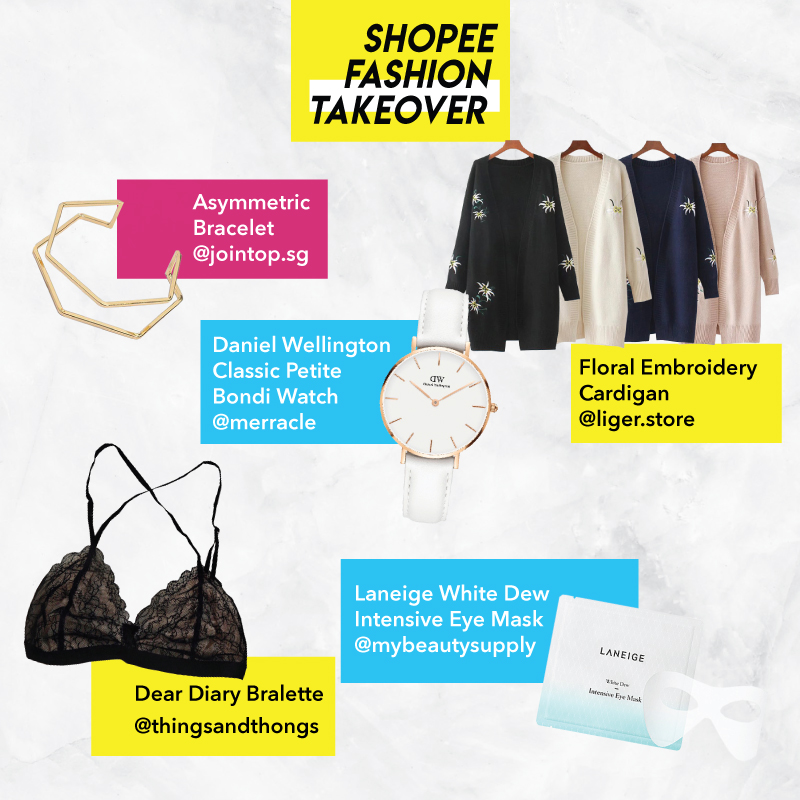 Style Muse at $89.90 (Worth $219.10; 59% OFF)
Floral Embroidery Cardigan

Put an on-trend spin to your knitwear wardrobe with this Floral Embroidery Cardigan! Add a feminine touch to your weekend jeans and sneakers, or give your glamorous look a cosy finish by throwing this on.

Available Colours: Black, Navy, Pink, Cream
Size: Free
Shoulder 59cm
Bust 106cm
Length 81cm
Sleeve length 49cm
(Please allow 1-4cm variation)

Dear Diary Bralette
Join IT Girls like Gigi Hadid and Kendall Jenner with the hottest trend of 2017: lace bralettes as tops! Try one over a tee, under a blazer, or on its own – if you dare – with a pair of wide-leg pants or high-waist skirt.

Size: Free (Elastic)
Fits 75A – 80C

Daniel Wellington Classic Petite Bondi Watch
The accessory must-have of this season is, of course, a pretty round watch. With its fresh white leather strap and an eggshell white dial, the Classic Petite Bondi signals classy and modern minimalism.

Asymmetric Bracelet
Move over, charmed bracelets. It's all about asymmetry this season! Asymmetrical looks convey individuality and evoke a sense of intrigue. Up your arm candy game with an Asymmetric Bracelet.
Freebie: Laneige White Dew Intensive Eye Mask
Don't just look good. Feel good by pampering your skin with the Laneige White Dew Intensive Eye Mask that comes as a little token when you purchase the Style Muse Grab Bag!

Menswear Basics at $39.90 (Worth $91.10; 56% OFF)
Casio Classic Army Watch
For all the times you stood by me~ Think of all the times this handy Casio Classic Army Watch has stood by you through NS days. Popular for its simplicity, reliability and unpretentious clean design, reminisce the past with a new pair!

Herschel Supply Hank Wallet
Classic design meets convenience with the Hank Wallet. The highly utilitarian bi-fold Hank wallet features multiple storage options and a mesh identification window!

Bomber Jacket
Those who said Bomber Jackets are only for ladies, zip up! A former military piece has become a menswear staple. The bomber jacket has evolved into numerous varieties due to its high level of versatility. But like a little black dress, you can't go wrong with a black Bomber Jacket! For a casual look, wear it with a pair of chinos or casual trousers and you're good to go!

Chest: 115m
Length Down: 71cm
Shoulder: 48cm
Sleeve: 63.5cm
(Please allow 1-4cm variation)

Two Tone Basic Socks
Crazily patterned socks are so yesterday! It was fun while it lasted, but argyle and striped socks are officially over. Style-conscious men are making a shift to low-key motifs and solid-colour socks!
Freebie: Ubersuave Pomade
Don't just look good. Feel good by styling your hair with the Ubersuave Pomade that comes as a little token when you purchase the Menswear Basics Grab Bag!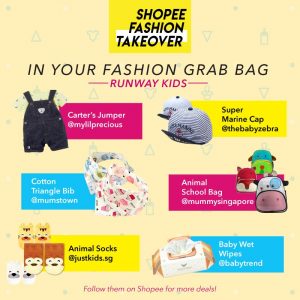 Runway Kids at $29.90 (Worth $69.76; 57% OFF)
*Suitable for children under 2 years old
Carter's Jumper
Denim overalls are making a comeback, even in children's fashion! Dress your little one in this adorable yet comfortable jumper. Even they can be as fashionable as you!

Animal School Bag
Every day can be bring-your-pet-to-school day for your precious one with this adorable Animal School Bag!

Variation: Assorted Designs (Cow, Fox, Dog)
Dimensions: 30 x 25 x 10 cm

Cotton Triangle Bib
This one's for all the messy eaters out there and for parents who contemplate tucking a napkin into the top of their child's shirt! Protect their outfits and keep messes to a minimum with this stylish bib!

Super Marine Cap
Perfect for keeping the sun off the skin, masquerading any bad hair days and also a great selfie prop, the cap is essentially the perfect all-year-round accessory, even if it's for your little one.

Animal Socks
You'll love these adorable motifs on your cute chubby legged kids! These socks are the perfect accessory that adds a special touch to any outfit. Now, they can be cute from their heads to their toes.

Variation: Assorted designs
Freebie: Hug & Smile Premium Baby Wet Wipes
Wipe your children squeaky clean with the Hug & Smile Premium Baby Wet Wipes that comes as a little token when you purchase the Runway Kids Grab Bag!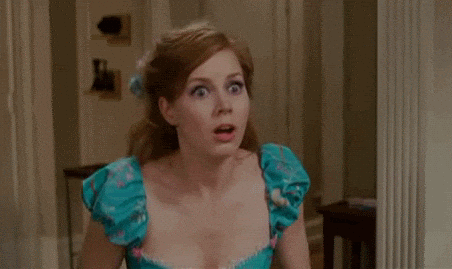 All three bags can be yours! Get them on our Official Account at 12 midnight on 16 Oct. While stocks last!
–
New to Shopee? Get $7 off (min. spend $15) with code*: GRABBAG
*TNC Applies. Valid for new users from 13 Oct to 20 Oct only.