Do you have furkids at home whom you love endlessly and treat as your own babies? They are always by your side to support you and keep you company. It is no wonder that pet owners want nothing but the best for their cute little companions – from the food they eat to the toys they play with. Well, here are 9 pur-fectly cute pet products from $0.72 that you can get to pamper your furry little ones!
1. Grooming Brush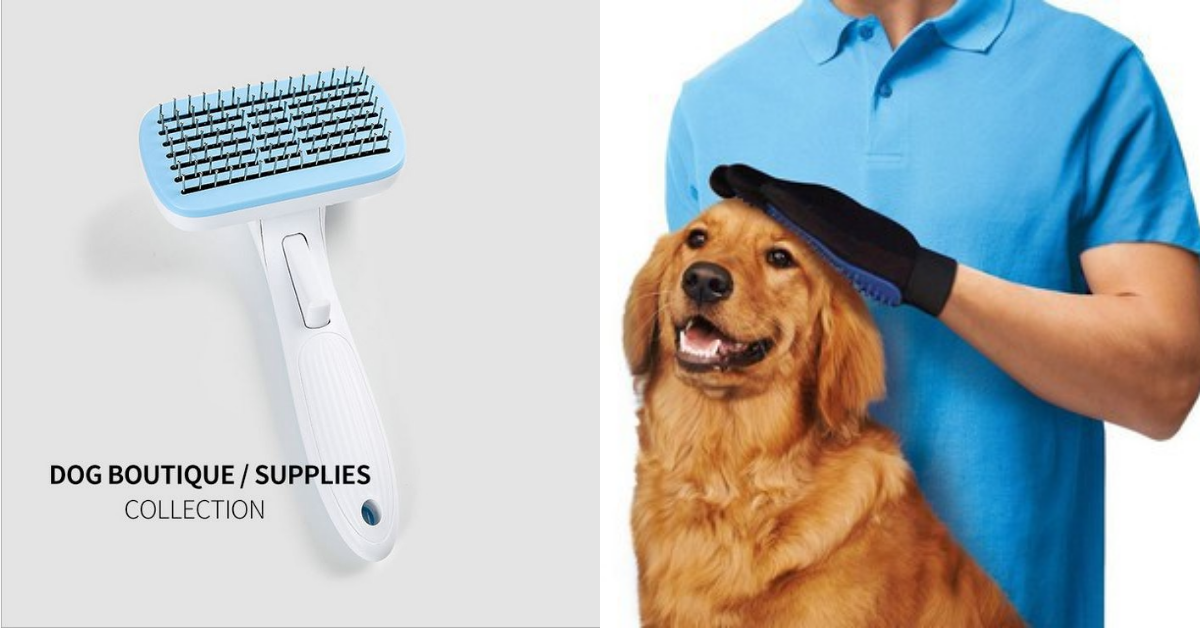 Our little companions are called furballs for a reason – they just have so much fur! It is important to brush their hair regularly to reduce shedding and remove dead hair which may sometimes lead to mats. Regular brushing will also help your furkids to stay comfortable and look their best! While you cannot afford to bring them for grooming sessions all the time, you can get yourself one of these pet grooming brushes ($8.90) (available on MillionParcel). Not only does it remove dead hair, but it also acts as a massage brush to give your furkids a good time! The best part? This brush has a self-cleaning function, so you don't have to constantly try to pull out the pet hair trapped by yourself!
If you like something that feels more intimate, you can get a pair of pet grooming gloves ($1.72) (available on Petmall – Pet Shop) that will feel just as if you are patting your furball and still get the job done! No better way to pamper than a good grooming and massage session that can be done right at home!
2. Chew Toy & Scratch Boards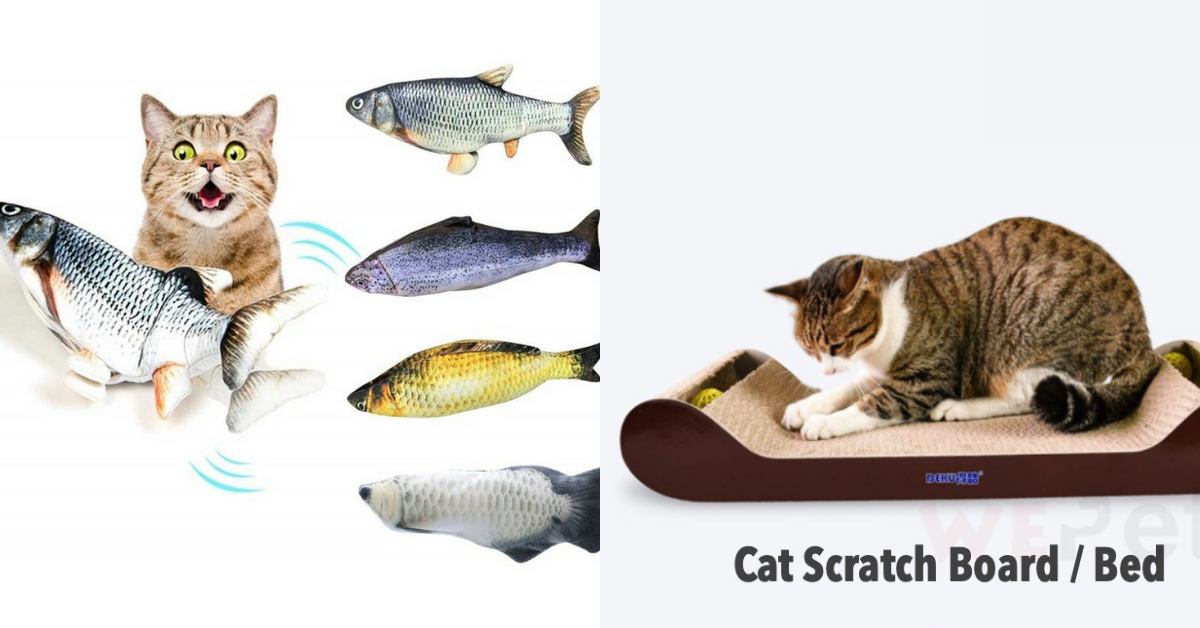 If you have been a fur-parent long enough, you know very well what your furkids can do to toys or sometimes, your furniture. However, we can't blame them for wanting to have some fun and following their instincts to chew and scratch! Speaking from experience, toys are one of the most important pet products you'll need. So, why not pamper them by getting them the cutest squeaky chew toys ($0.72) (available on Creative 3C Digital) so they can chew to their hearts' desires.
Bored with normal-looking chew toys? How about getting them some realistic-looking chew toys ($1.52 – $1.92) (available on Petmall – Pet Shop) that resemble real food? There are also bouncing fish toys ($7.59 – $7.89) (available on hyb11.sg) for the more active little ones to have a good exercise.
This scratchboard ($18.90) (available on WePets) may also be useful if you have a little lion king/queen at home, destroying all your furniture with their mighty paws.
3. Shoes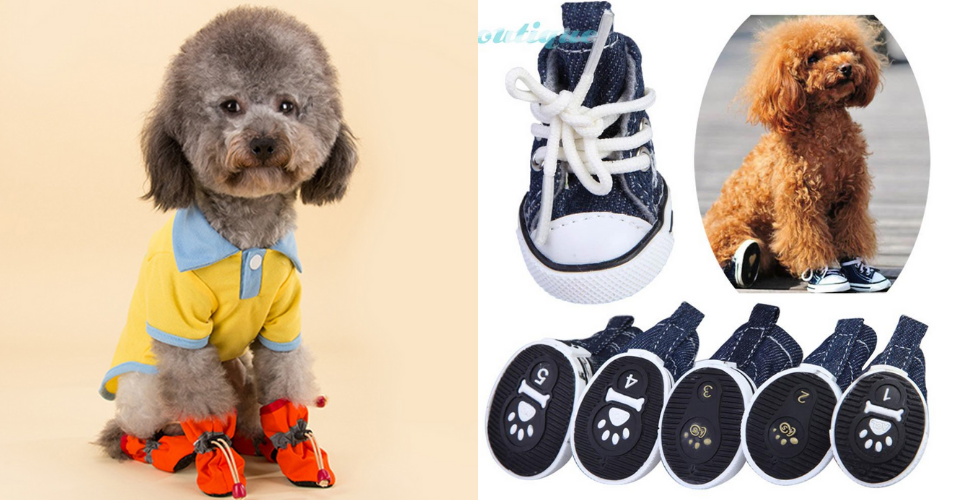 Do your furkids get super excited when you bring them out for a walk? It's a time you get to bond with them and nature at the same time! However, we know that it can be such a pain when you must use wipes after wipes just to get their feet clean again after the walk. How about getting them a pair of protective waterproof shoes ($2.50- $2.56) (available on hotbrand.sg) that's not only cute but comfortable? Now you don't have to worry about them running into a puddle when you bring them out after a rainy day!
Prefer to have your furkids stay in style? Consider these sporty cloth canvas shoes ($5.40 – $6.01) (available on boutique520.sg) that look just like mini sneakers. You can even wear your sneakers to match with your furkids. How cute is that?
4. Clothes
We obviously had to include clothes as one of the must-have pet products. Choose your favourite cartoon pattern pet clothes ($1.46) (available on Petmall – Pet Shop) and watch your little one walk around the house in these cute little singlets.
Once again, we've got the stylish version for the more fashionable fur-parents! These pet fashion clothes ($7.90) (available on MillionParcel) that come in different styles will make your furkids look like they are on a fashion runway no matter where they go!  
You may also check out this list of adorable costumes for under $10 list of adorable costumes we have put together for your pets.
5. Travel Carrier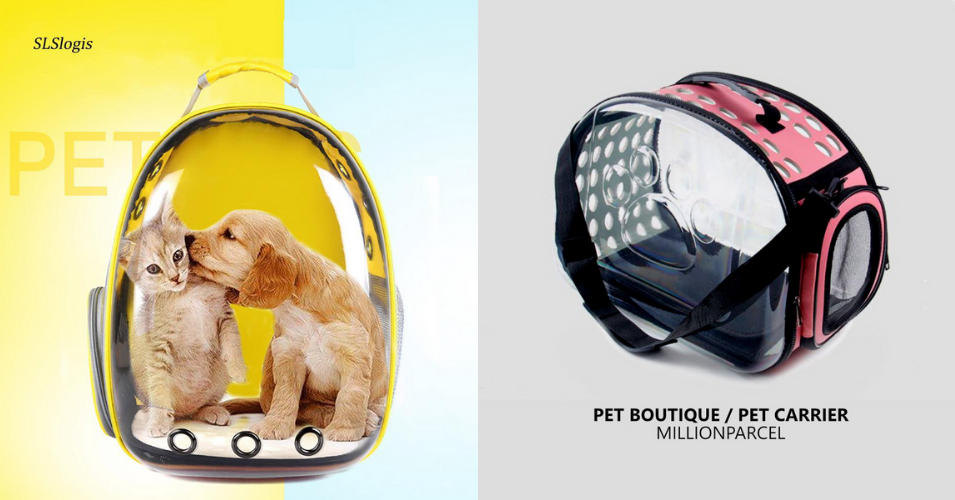 We know some worried fur-parents may be scared to let their furkids wander around on their own. But if you still want to show them the beauty of the outside world or bring them to these pet-friendly cafes, you can carry your furkid in this transparent pet capsule bag ($31.70 – $35.80) (available on SLSlogis.sg). Simply strap it on and carry them on your back and let them enjoy the view effortlessly – this is the epitome of pampering!
Even if you don't carry your furkids out for walks, there are times when you need to bring them to the vet for checkups! That's when these sling bag options ($23.90) (available on MillionParcel) with transparent sides come in handy. With this pe, you can always keep an eye on how your furkids are doing and they won't be panicking from not being able to see you!
6. Food and Water Bowl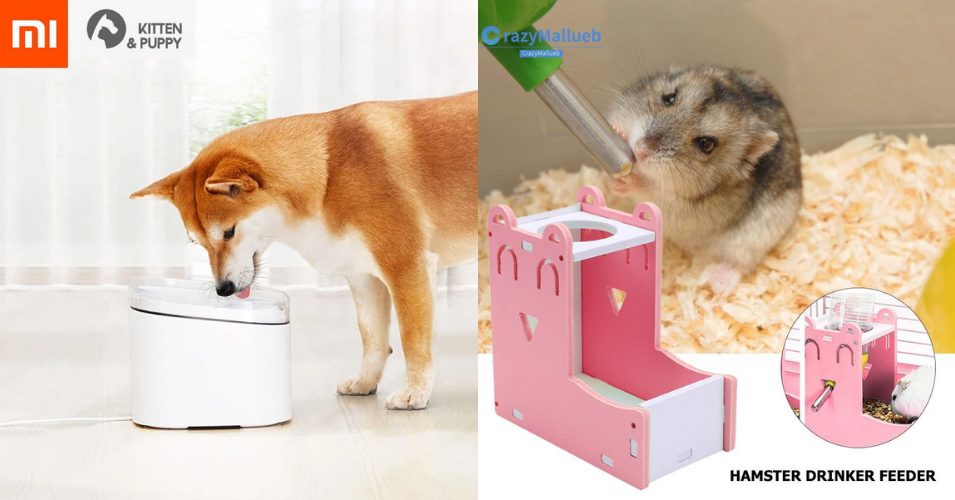 A question for all the cat owners! Have you caught your little furkid drinking from your cup or dripping faucets instead of the nice bowl of water you've set aside for them? You are not alone! Research has found that cats tend to prefer running water as they tend to be fresher than stagnant water. This may be true even for some dogs. It doesn't seem strange if you think about it,l because who doesn't prefer freshwater?
This pet water dispenser ($15.90 – $45.90) (available on realwe) might be your solution to the problem. This water dispenser allows water to flow constantly to ensure that the water stays fresh for your furkids to drink! Now they won't be fighting for water with you from your cup anymore.
Now that the water is fresh, how about getting this automatic pet feeder with an automatic voice message ($49.50) (available on good home product) to top off their mealtimes? This automatic feeder will dispense food 3 times a day so your furkids will never go hungry even if you're not home to feed them! The best part? You get to record your voice to call your furkids when it's their mealtime!
Fur-parents with tiny little furkids, we didn't forget you! This food feeder & bottle playing cage for hamsters and rabbits ($3.64) (available on crazymallueb.sg) will be a perfect addition to your little ones' home.
7. Name Collar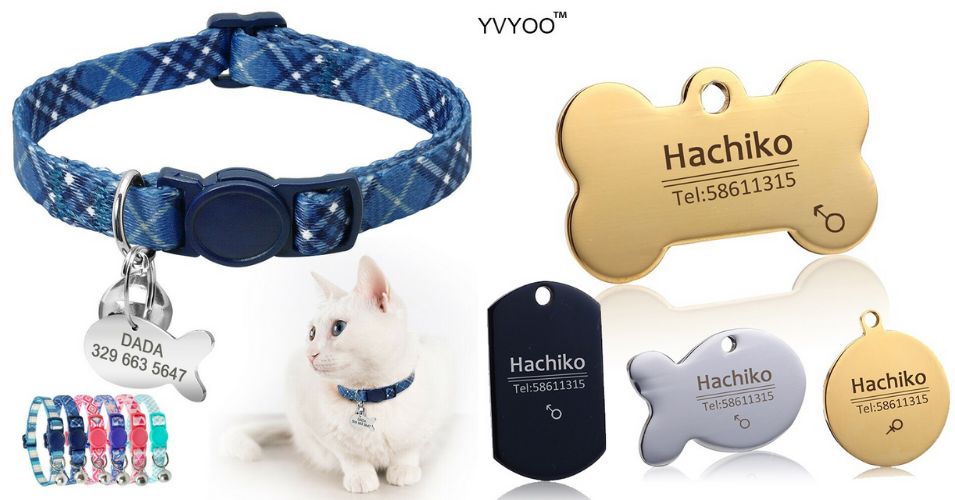 A cute name collar is not only a great accessory, but it also helps people to identify your furkids if they ever get lost (but let's hope that never happens). Instead of getting any cheap plastic name tags, pamper them with these customisable stainless-steel name tags ($3.79) (available on hyb11.sg). You can choose from your favourite pattern and colour and even have their beautiful names engraved. We'll say this is also one of the best gifts to get for your furkids' BFFs!
If you would like to get a tag together with a bell and a collar, consider this breakaway collar with a name tag ($3.99) (available on didog_pet_word.sg). The collars have quick release buckles that are easy to wear and remove. Not to mention they come in different colours and are super cute too!
8. Recovery Collar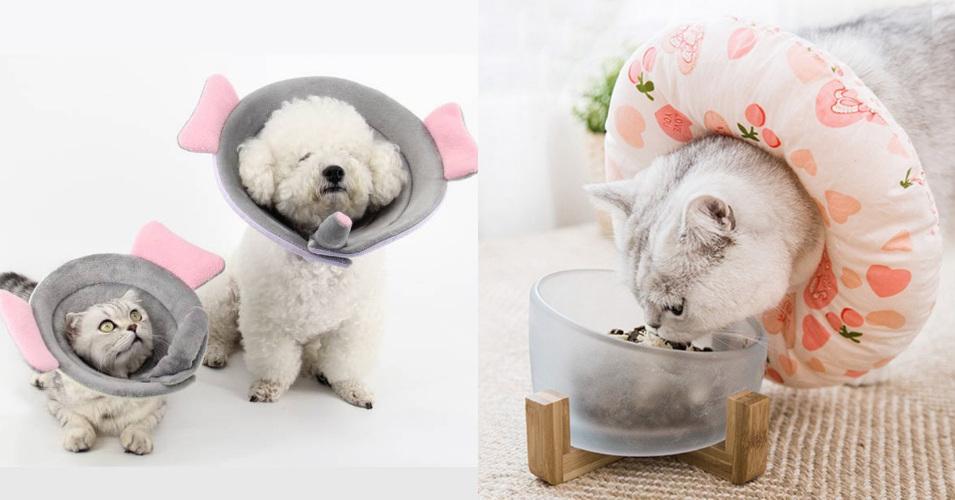 The traditional cone of shame can be so uncomfortable, and it doesn't look good at all! However, a recovery collar is one of the most necessary pet products to prevent your furkids from licking their wounds or removing their stitches so that they can have a safe and speedy recovery. What if you can find something cute, comfortable, and help them recover effectively at the same time? This anti-biting ring collar ($9.35 – $14.35) (available on led520.sg) is that all-in-one pet product that'll do all that for you! It is even made of a soft plush to provide the greatest comfort for your little furball.
We also have some cute pillow-like recovery collars ($6.77) (available on Panda Pets Shop) which are super comfortable to wear so your little companion won't be having such a difficult time recovering.
9. Bed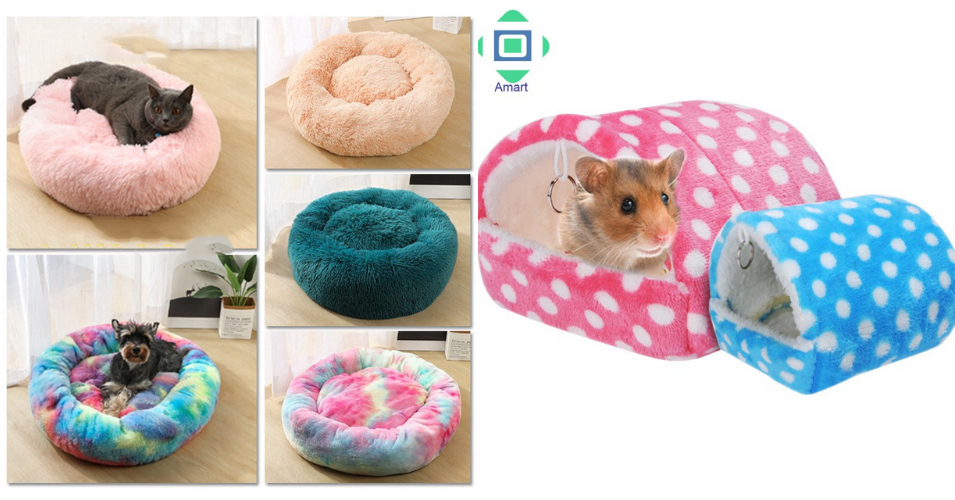 We all want our furry little ones to get a good rest after a long day, and this calming bed ($12.50 – $20.90) (available on Children's World & Kids Toys) is perfect! They are not only super breathable, but durable as well. Bonus point: they are also really aesthetic so you can rely on them to add a nice pop to your house!
A more functional option is this double-sided cushion mattress ($17.90) (available on MillionParcel) that is suitable for both hot and cold days. Simply flip the cushion to suit the weather and let your furball take an enjoyable nap.
Fur-parents with even tinier pets, we've got you covered with this cute little sleeping bed ($2.54 – $4.24) (available on amart.sg). You'll surely fall in love with your pet all over again when you see them burying themselves comfortably inside like a cosy burrito and having a good rest.
Now that you know some cute pet products you can get for your furkids, you can also consider pampering them by bringing them to some of the best places for pet grooming or a pet-friendly café where they can enjoy a relaxing afternoon with you. If you want to make sure you give your furballs a safe environment, you can also check out our pet-friendly home décor ideas! 
Which pet products are you going to get for your furkids? Let us know in the comments below! Or drop us a message if you have any other pet products recommendation!
---
New to Shopee? Get $7 off (min. spend $15) with code*: FURRYZ
*TNC Applies. Valid for new users from 26 June to 3 July 2020 only.