Milo. A drink that resonates strongly with all Singaporeans, young and old. Other than being the holy grail morning drink, this delightful brown powder can also be used to create yummy desserts and cakes for instance! Here are some easy to follow milo recipes for you to try out: Psst, even if you're not a baker, we have included no-bake recipes!
Easy to follow no-bake Milo recipes
Don't have an oven at home but craving for desserts? Here are some easy to follow no-bake milo recipes to settle those cravings!
1. Milo Truffle Balls
Ingredients:
250g plain biscuits (e.g. Marie, Digestive)
1 can (395g) of sweetened condensed milk
1 cup (100g) desiccated coconut
⅓ cup (45g) Milo powder
Extra coconut (to coat)
Recipe Instructions:
Firstly, crush the biscuits until they resemble fine crumbs. Then place into a large bowl.
Next, add the condensed milk, coconut and Milo powder into the large bowl and ensure you mix all the ingredients well.
After that, roll them into heaped teaspoon-sized balls
(Optional) Subsequently, coat the balls in the extra coconut.
Lastly, store in the fridge in an airtight container for up to 5 days (or freeze).
2. Milo French Toast
Ingredients:
4 eggs
½ cup milk
½ cup Milo powder
1 baguette, sliced diagonally 2cm thick
2 tablespoon of olive oil or cooking spray
Sufficient icing sugar (for dusting)
Recipe Instructions:
For a start, whisk eggs in a large bowl.
Secondly, add milk and Milo powder into the large bowl and whisk until combined.
Next, dip bread slices into the mixture.
Then, heat the oil in a large nonstick frying pan.
Subsequently, cook dipped bread slices over low heat for 3 minutes on each side.
Finally, serve French toast with your favourite fruits and sprinkle with icing sugar if desired.
3. DIY No Churn Milo Ice Cream
Ingredients:
2 cups of heavy whipping cream or chilled all-purpose cream
14 ounces sweetened condensed milk
¾ cup Milo powder
Pinch of spoon salt
½ tablespoon of Vanilla extract
Recipe Instructions:
Firstly, whip the heavy cream with a hand mixer until creamy and airy. (P.S. It will take approximately 3 minutes)
Next, add the sweetened condensed milk, Milo powder, Vanilla extract and a pinch of salt to the whipped cream.
Then, gently fold (not mix!) in all these ingredients (P.S. Please be gentle while folding so as not to deflate the whipped cream).
Subsequently, pour the mixture into an airtight container because preventing air from entering your ice cream mixture while freezing will help maintain its creaminess and avoid turning it into ice crystal texture as a result.
Lastly, allow it to freeze for at least 6 hours before serving.
4. Milo Pancakes
Ingredients:
¾ cup plain flour
½ cup milk
2 tablespoon of sugar
2 eggs
½ teaspoon of baking powder
4 tablespoon of Milo powder
Recipe Instructions:
First, add all ingredients together in a large bowl and whisk.
Next, spoon portions of mixed batter into a non-stick pan over a medium heat.
Lastly, cook until bubbles appear across the surface as a result, and then flip pancake carefully.
5. No-Bake Milo Cheesecake
Ingredients:
150g plain and not-too-sweet biscuits (e.g. digestives)
80g butter (low salt or unsalted)
300g cream cheese
1 can (395g) sweetened condensed milk
300ml double cream
5 tablespoon of Milo powder
(Optional) Vanilla extract
Recipe Instructions:
Firstly, crush the biscuits until crumbly.
Then, melt butter in a saucepan over low heat.
Thirdly, add crushed biscuit crumbs and stir until they are all coated in butter.
Following which, pour the biscuit mixture into a springform or loose based cake tin and then press down with the back of a spoon to form a firm, even base. Afterwards, place the mixture in the fridge.
Meanwhile, put the cream cheese in a large mixing bowl, and then soften the cream cheese with an electric mixer or wooden spoon.
At the same time, mix 3 tablespoons of Milo powder with a splash or two of cold water to form a paste (P.S. make sure the Milo is nicely dissolved).
Then, mix the Milo paste, condensed milk, followed by a few drops of vanilla extract (if using) and cream cheese together until there are no lumps.
Subsequently, whisk the double cream using an electric mixer or hand whisk until soft.
Then, gently fold the cream into the cream cheese mixture.
Afterwards, gently pour the mixture on top of the chilled base and put the tin back in the fridge.
Finally, leave the cake to set for at least 3 to 4 hours or preferably overnight. As soon as the cheesecake has set, remove it from the tin and sprinkle Milo powder on top.
6. DIY Milo Nuggets
Ingredients:
1 cup Milo powder
2 teaspoons of milk
1 bar milk chocolate, melted
Recipe Instructions:
Start by mixing Milo powder and milk in a bowl and you should get a brown liquid as a result.
Next, compact the mix into an ice cube tray.
Then, dip the Milo blocks into the melted chocolate. (P.S. Make sure they are evenly coated)
Lastly, refrigerate until the chocolate sets.
However, if you're too hungry, simply pop it into your mouth!
Easy to follow microwave Milo recipes
Did you know that you can make cakes using a microwave too? Take a look at these easy to follow microwave milo recipes!
7. Milo Mug Cake
Ingredients:
4 tablespoon of self-raising flour
1 tablespoon of vegetable oil
4 tablespoon of white sugar
3 tablespoon of fresh milk
4 tablespoon of Milo powder
1 egg, beaten
4 tablespoon of vegetable oil
Recipe Instructions:
Firstly, brush a microwave-safe bowl with vegetable oil.
Next, combine all the ingredients in the bowl and mix well.
Then, heat the mixture in a microwave oven for three minutes at medium-high setting.
(Optional) Finally, add a scoop of vanilla ice cream and serve the cake within 30 minutes.
Easy to follow oven Milo recipes
Here are some easy to follow oven recipes for you to try out too!
8. Milo Chocolate Brittle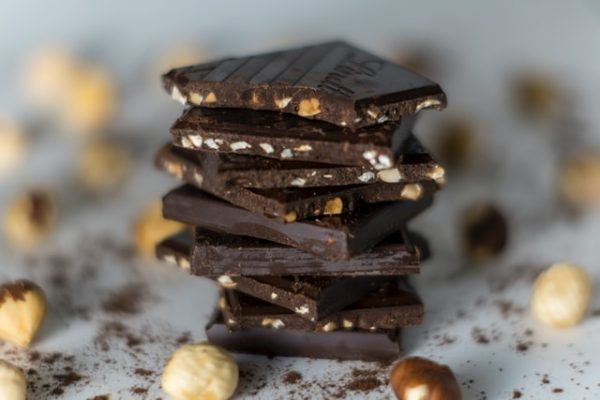 Ingredients:
½ cup all-purpose flour
1 tablespoon cocoa powder
1 cup Milo powder
¾ teaspoon baking soda
¼ teaspoon salt
½ cup butter
1 teaspoon vanilla extract
1 large egg white
½ cup semi-sweet chocolate chips
Recipe Instructions:
Preheat oven to 350°F or 180°C.
Start by placing parchment paper on a baking tray and set aside.
Following which, add flour, cocoa powder, Milo powder, baking soda and salt in a bowl, and whisk together.
Meanwhile, melt butter in a large microwaveable bowl on high mode for 30 seconds.
After it cools down, stir in vanilla extract and egg white.
Next, dump flour mixture into the egg white mixture, and after that, stir until just combined.
Afterwards, serve about 2 tablespoons chocolate chips before stirring the rest of the chocolate chips into the batter. The mixture should then look like brownie batter.
Then, pour batter onto the parchment paper, following which spread the batter until it is just as thick as the chocolate chips.
At the same time, sprinkle chocolate chips on top.
Then, bake in the oven for about 25 minutes or until firm all over and crispy on the edges.
Finally, set aside to cool completely on a cooling rack. Break into pieces once cool and serve.
9. Milo Brownies
Ingredients:
200g milk chocolate, chopped
125g butter, chopped
3 eggs
220g (1 cup) caster sugar
70g (½ cup) Milo powder, plus extra, to dust
75g (½ cup) plain flour
Recipe Instructions:
Firstly, preheat oven to 160°C.
Next, grease a square 20cm (base measurement) cake pan and line the base and sides with baking paper.
Following which, place the chocolate and butter in a heatproof bowl and melt over a saucepan of simmering water.
Then, stir mixture until the chocolate is melted, following which, ensure that the mixture is well combined. Set aside to cool slightly.
Meanwhile, add the eggs and sugar in a large bowl and whisk until mixed.
Afterwards, add in the chocolate mixture. Then, gently fold in the Milo and flour.
Pour mixture into prepared cake pan and bake for 40 minutes.
Lastly, set aside to cool in the pan.
Whip up these easy to follow Milo recipes in a jiffy
From DIY milo nuggets to no-bake milo cheesecakes, we hope you will have fun trying out these easy to follow Milo recipes. For other recipes ideas, you can try out these Ricotta toast recipes to share on TikTok as well as these Korean recipes inspired by K-dramas like Squid Game. If you're still hungry, check out our list of best Taiwanese snacks and best Chinese snacks that you can get from Scarlett Supermarket!
This article was updated on 10-11-2021. Additional research done by Gabriel Choo.