If you've ever visited Hawaii, you'll know that the endless blue skies, soft sandy beaches and crystal clear waters are truly a sight to behold. Why not grab a taste of Hawaii here with poke bowls in Singapore! Poke (pronounced poh-kay) means 'to cut' in Hawaiian and refers to the slicing of raw marinated fish. These fresh fish chunks are usually paired with other ingredients like rice and seaweed, allowing each poke bowl to deliver sublime flavour and nutrition.
With so many outlets specialising in poke bowls in Singapore, here are our choices for the best poke bowl places to get your poke fix!
Best Outlets For Poke Bowls In Singapore
1. A Poke Theory
With a heavy emphasis on well-being, A Poke Theory focuses on dishing out customisable servings of poke bowls in Singapore with a healthy flair. The interior is minimalistic and casual, creating the perfect backdrop for instagrammable photos of the delectable poke bowls. While other poke bowls in Singapore offer the standard fare, A Poke Theory goes the extra mile of providing their unique Superfood Smoothie Bowls. Coming in at $6 and perfect for post-workout recovery, each smoothie bowl includes nutrient-rich ingredients like blueberries and quinoa to give you that extra boost.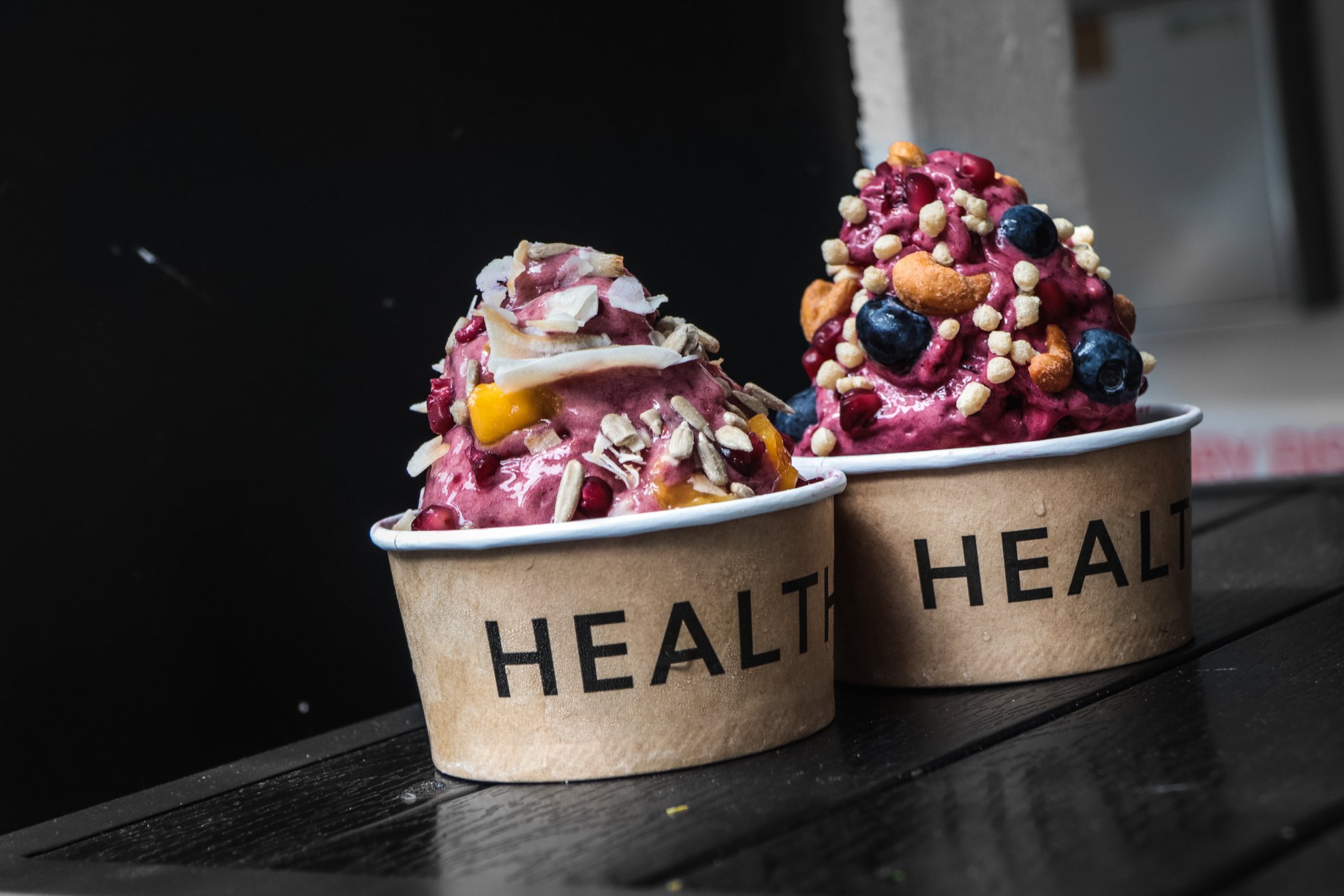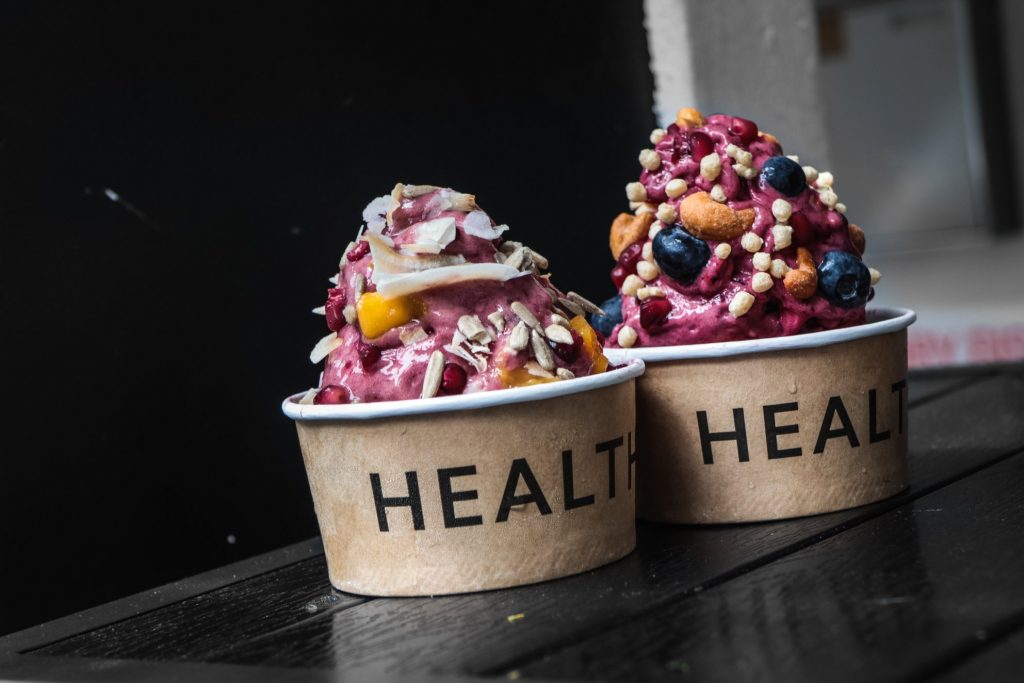 Address: 27 Boon Tat Street, S(069623)
Operating Hours:
Monday – Friday: 11am – 8pm
Saturday: 11am – 4pm
2. Katto
Priding themselves as local versions of traditional poke bowls in Singapore, Katto offers exciting local flavours like Chicken Rice Chilli Salmon and Sambal Tuna. Drenched in a generous amount of marinade, the fish cubes pack a fiery punch and are complemented by yummy vegetable sides like miso butter corn or leafy spinach. Costing $7.90 for miniature servings, Katto strives to extend its unique poke bowls to all; including those with tight budgets.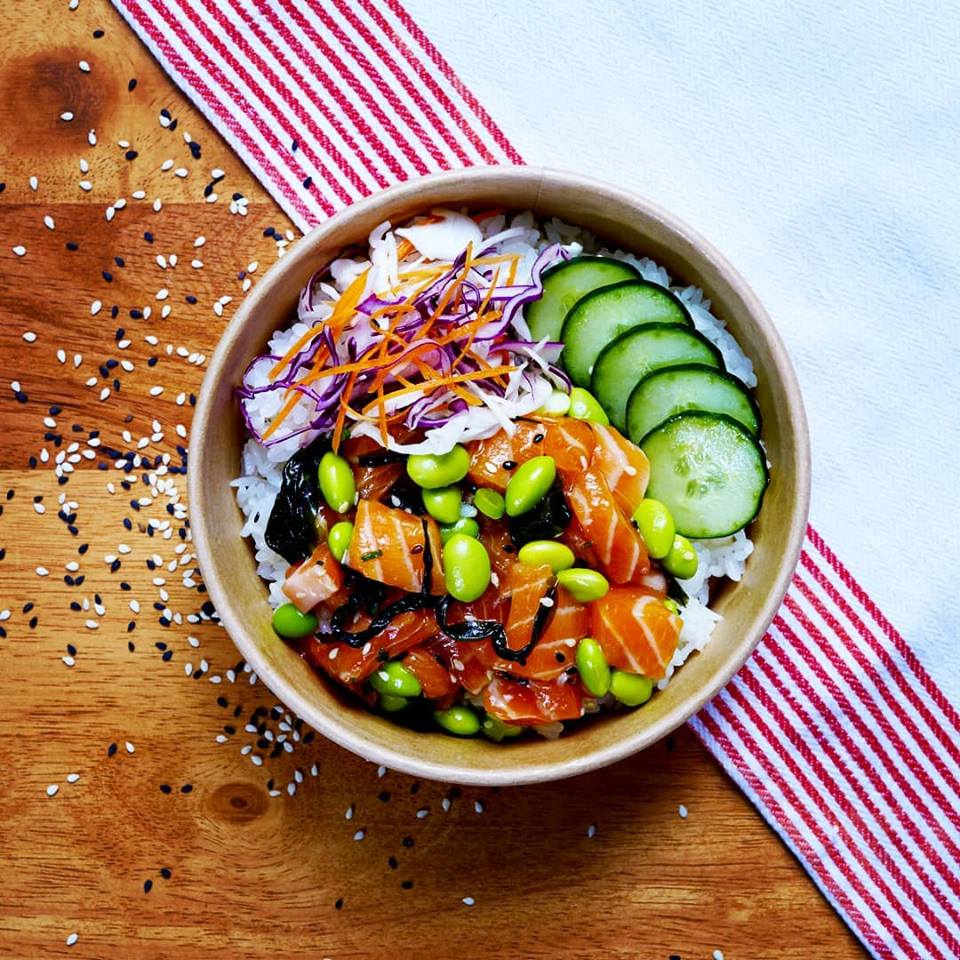 Address: Galaxis Building, #01-21, 1 Fusionopolis Place, S(138522)
Operating Hours:
Monday – Friday: 11am – 8pm
Saturday: 11am – 2pm
3. Loloku Poke Bar And Deli
Loloku's ambience and interior reflects its fun, non-traditional approach to poke bowls as you're greeted by pink flamingos upon entering the place. Looking to shake up the scene for poke bowls in Singapore, Loloku features The Koa ($16/$18): a wagyu beef based poke bowl that comes with kumbu rice, mixed veggies and slow-cooked egg. Want something more poke-ish but sick of the usual salmon and tuna? Try out their Ono Hamachi poke bowl ($16/$18), which adds ponzu and wasabi sauces to add some zing to your meal.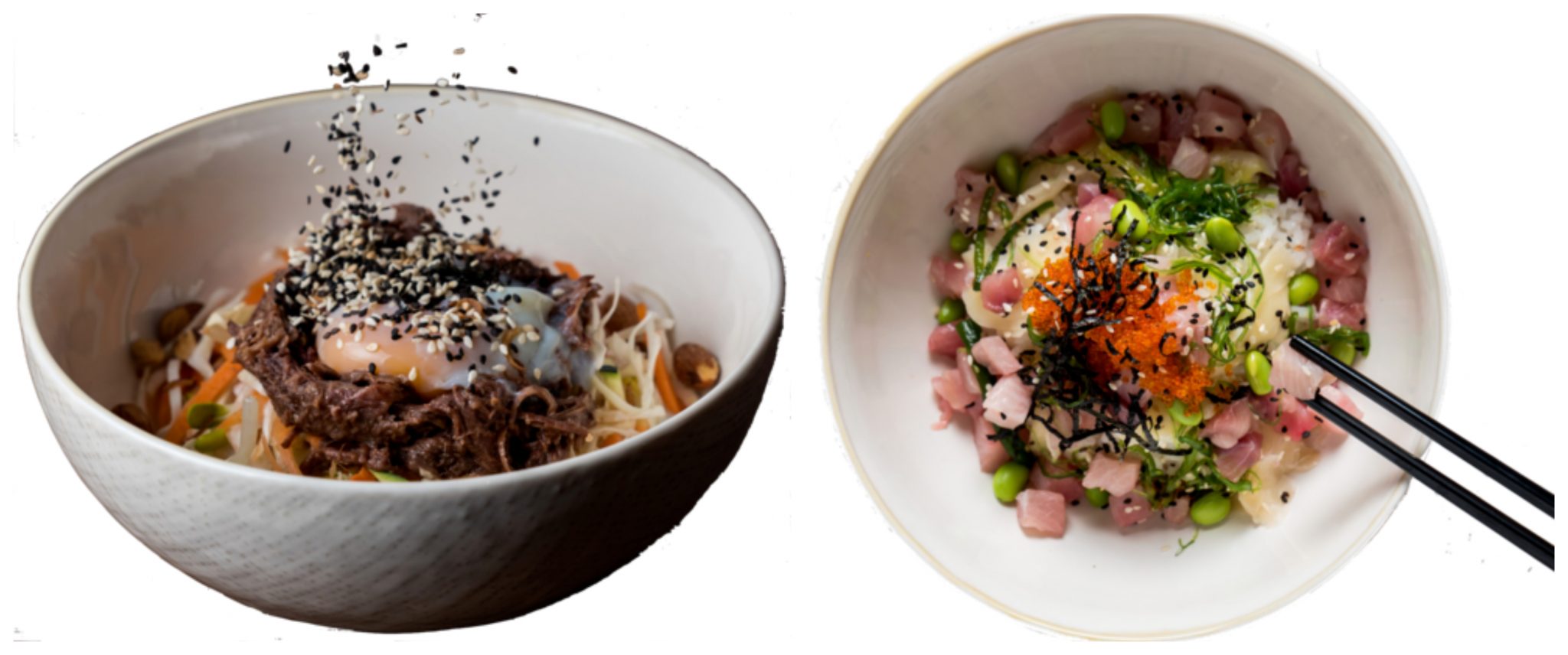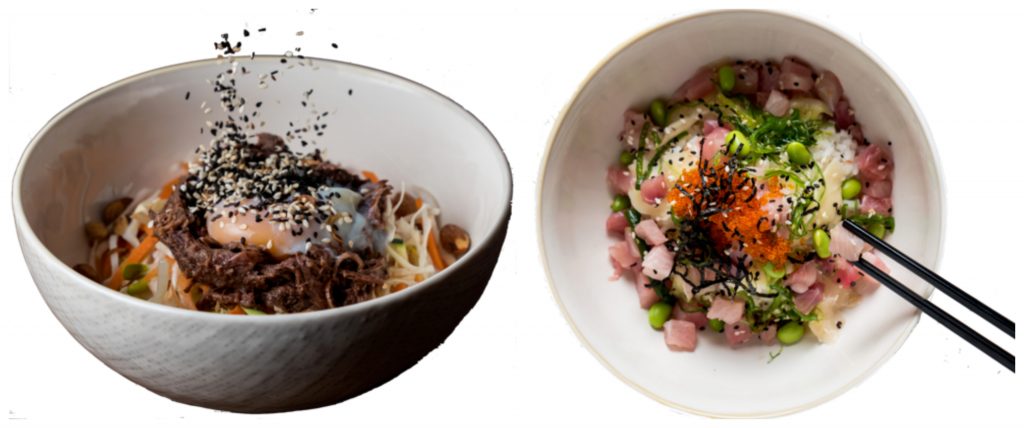 Address: The Working Capitol Building, #01-05, 1 Keong Saik Road, S(089109)
Opening Hours:
Monday – Friday: 11:30am – 2:30pm, 5pm – 9pm
4. Poke Lulu
From its 16 unique add-ons (Flying Fish Roe, Avocado) and a free sauce bar that allows you to spruce up  poke bowl with 6 different sauces (Wafu, Olive Oil), Poke Lulu gives fans of poke bowls in Singapore a wealth of options! There's even an option to supersize your poke servings, allowing you to have 225 grams of poke goodness for $19.90. However, if you're overwhelmed by the superfood and wasabi mayo options, choose the do-it-for-me option, where servers will help you to craft the perfect poke bowl!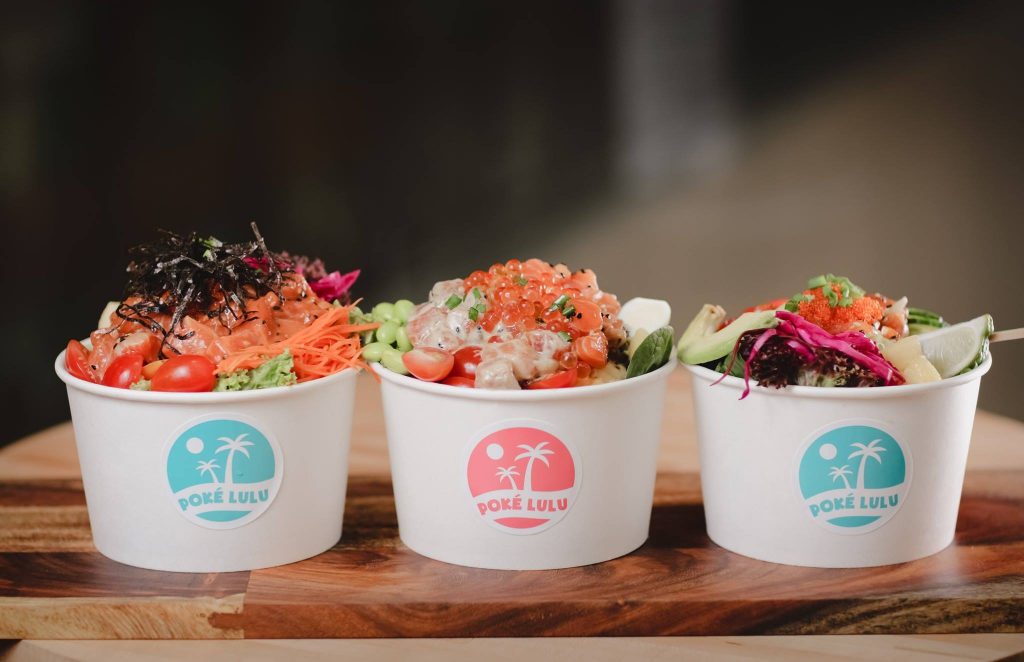 Address: United Square, #01-K13, 101 Thomson Road, S(307591)
Opening Hours: Daily, 11:30am – 8:30pm
5. Sweetfish Poke
Contrary to the multitude of options every poke bowl place offers, Sweetfish simplifies the complicated process with only five signature poke bowls to choose from. As one of the only places to offer octopus for poke bowls in Singapore, Sweetfish changes things up with their Kimchi poke bowl ($9/$14): a combination of sour kimchi with fresh octopus and tuna poke. Additionally, the poke at Sweetfish are marinated fresh-to-order, sealing an unmatched degree of freshness within each poke bowl.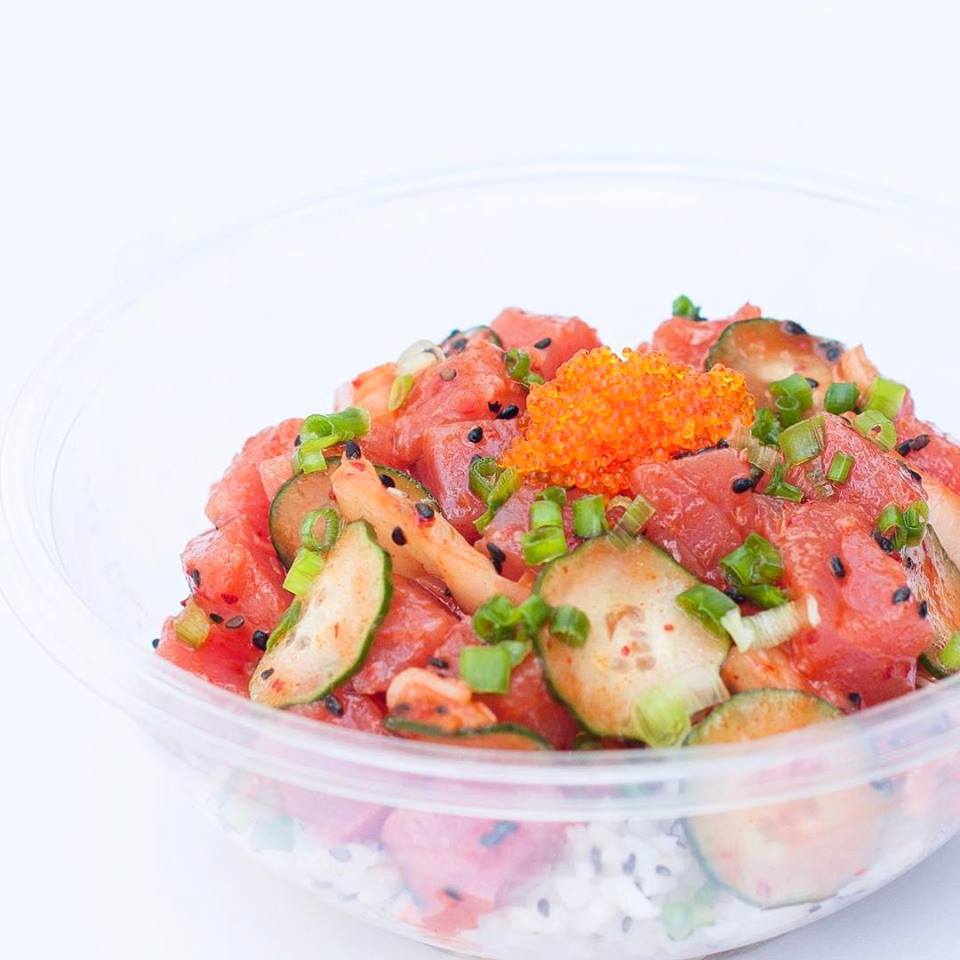 Address: 13 Stamford Road, #B2-30, S(178905)
Opening Hours: Daily, 11:30am – 8pm
6. Poke Doke
Pronounced po-kay do-kay, Poke Doke adopts a relaxed attitude when selling poke bowls in Singapore. With the slogan Life's A Beach, Poke Doke allows fans to ride the waves by indulging in the freshest cuts of Norwegian Salmon and Ahi Tuna while relaxing in a casual beach cafe setting. From $12.50, Poke Doke simplifies the customisation aspect down to unique poke bowls like Powerfood Tuna and Surfer's Up Beef. If you're feeling fancy, you can even try out a range of premium add-ons like crispy fish skin and onsen egg!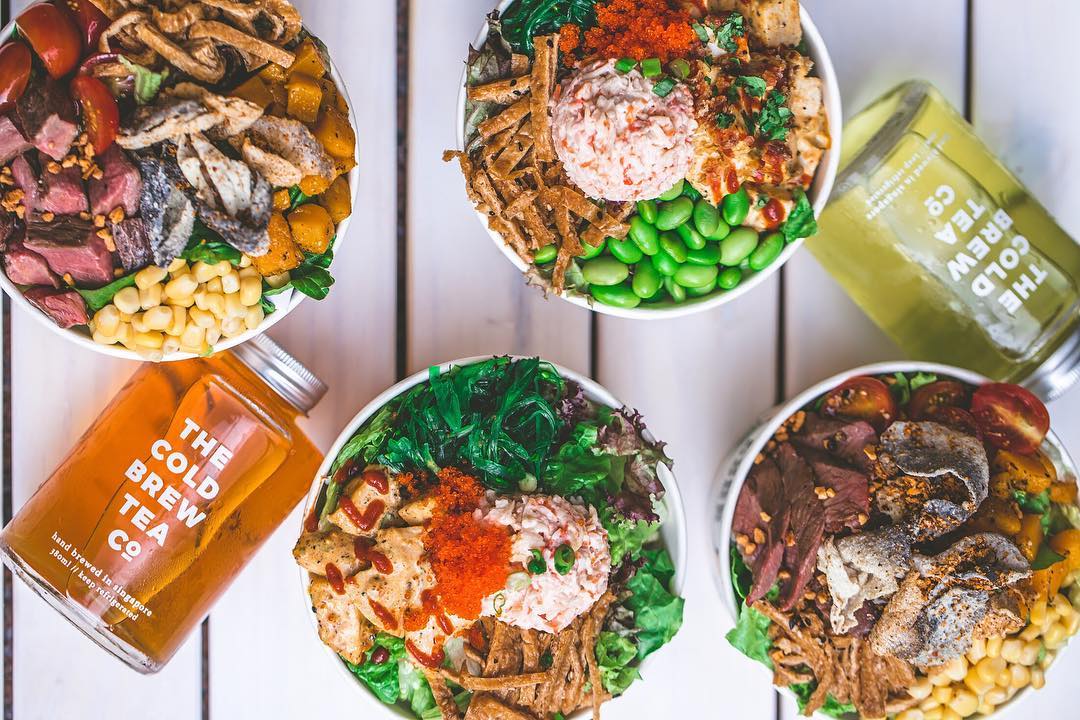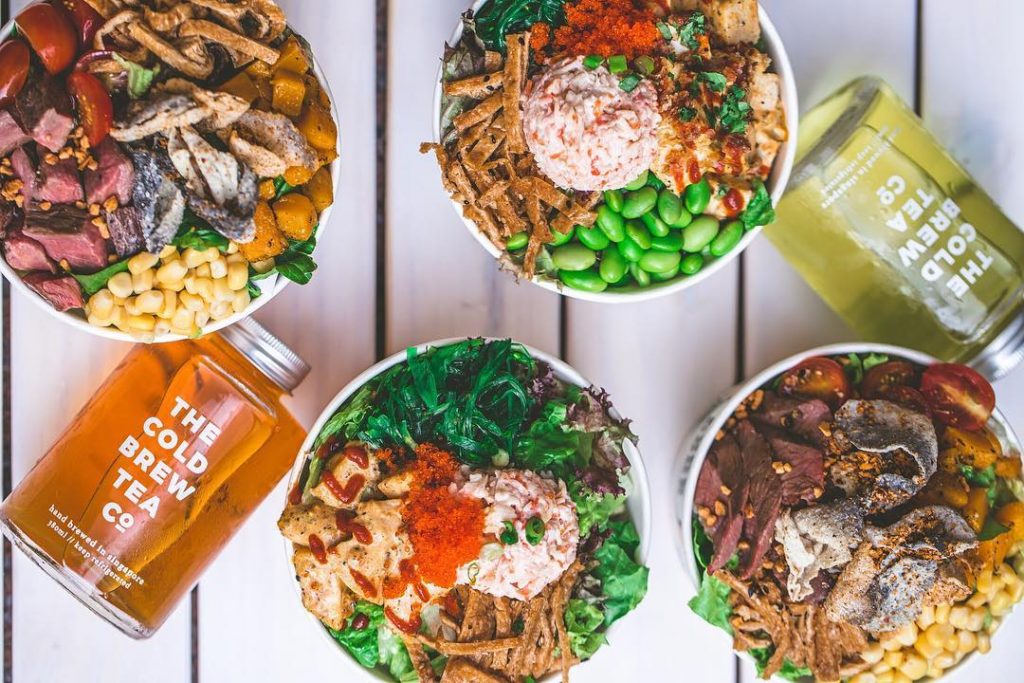 Address: Millenia Walk, #01-95, 9 Raffles Boulevard, S(039596)
Opening Hours: Daily, 11:30am – 8:30pm
7. Rollie Olie
A californian-styled Asian outlet,  Rollie Olie is known for their colourful made-to-order maki rolls. As a fusion restaurant selling poke bowls in Singapore, Rollie Olie can definitely whip up a mean poke bowl! From $12.95 ($9.95 vegetarian), choose from three rice bases and seven different poke bowls! Rollie Olie separates itself from the rest with its unique tea-infused rice that perfectly complements the fresh poke and vegetables! The savoury taste of the rice base is finished with slight hints of earl grey that keeps you coming back for seconds.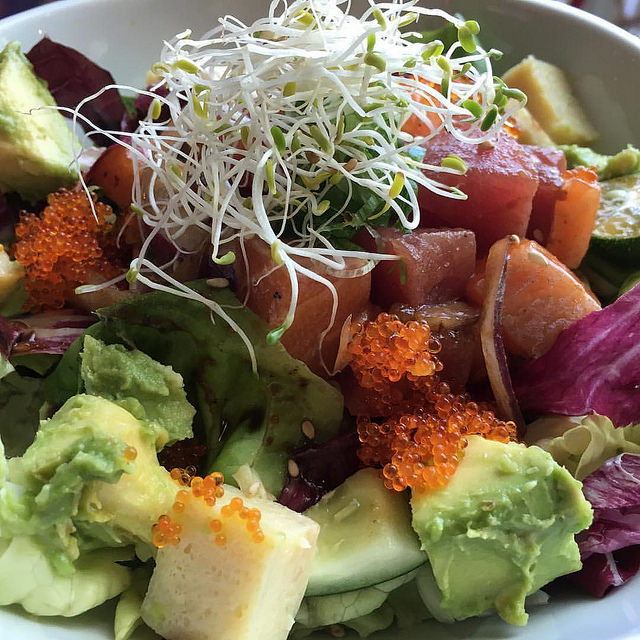 PasarBella Address: Suntec City Mall, North Wing, #01-K42, 3 Temasek Boulevard, S(038983)
Opening Hours: Daily, 11:30am – 10pm

Star Vista Address: 1 Vista Exchange Green, #02-05 The Star Vista, S(138617)
Opening Hours:
Monday – Saturday: 11:30am – 10pm
Sunday: 11am – 10pm

SBF Centre Address: SBF Center, #01-03, 160 Robinson Road, S(068914)
Opening Hours:
Monday – Friday: 8am – 9pm
8. Salmon Samurai
A first for poke bowls in Singapore, treat yourself to fresh fatty salmon as Salmon Samurai generously serves up salmon in every dish. Crafted by the minds behind Standing Sushi Bar and Tanuki Raw, Salmon Samurai is an outlet that specialises in everything salmon. From Salmon Mentaiko to Garlic Shoyu Salmon, salmon lovers can rejoice because of the sheer variety and value from paying only $9.90. For the adventurous, Salmon Samurai has a secret item from its previous Shinkansen menu. Priced at $15.90, the Omega Samurai combines salmon poke and sashimi with onsen egg, mentaiko roe and nuts to create an explosion of flavour and texture in your mouth!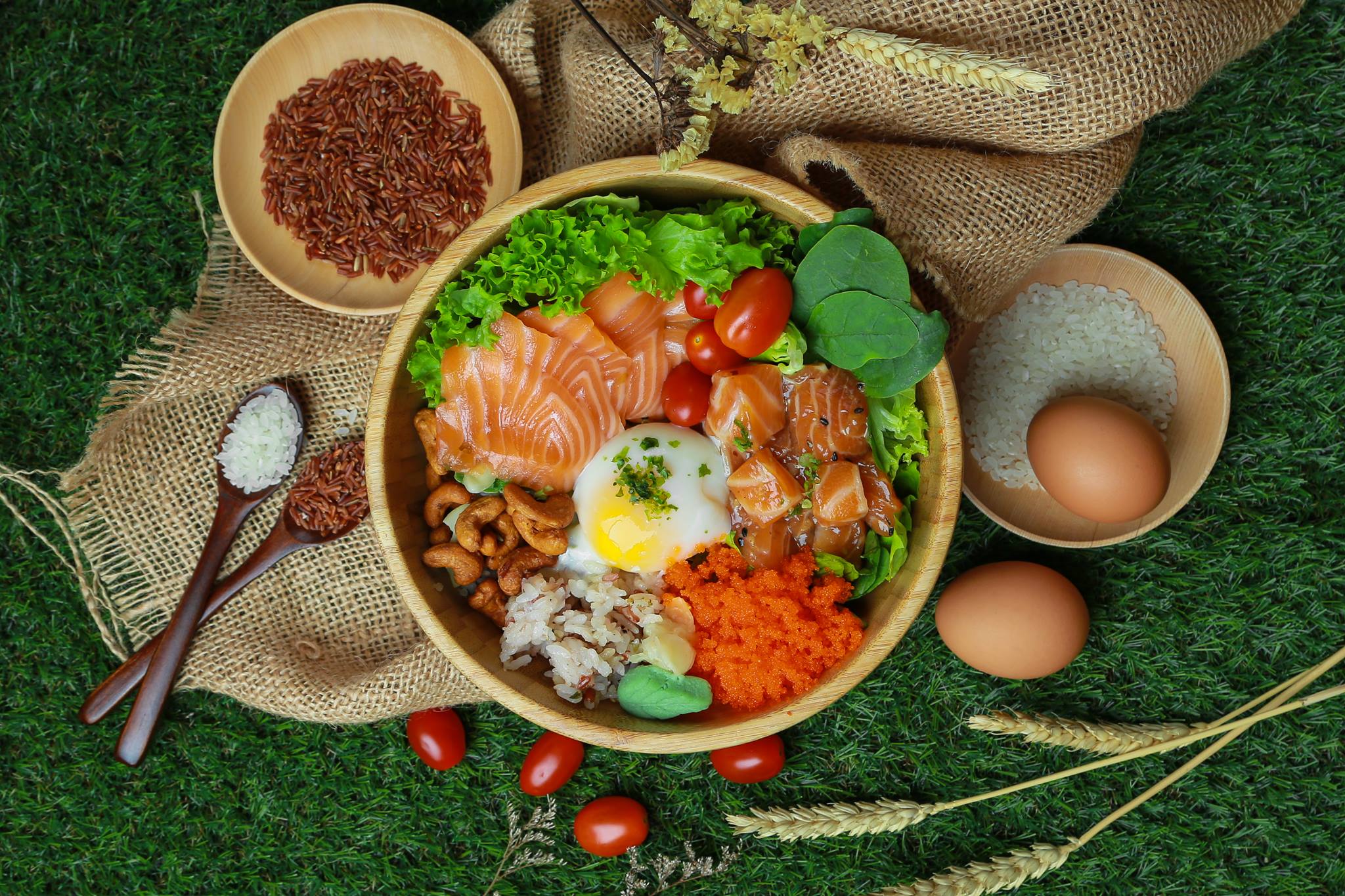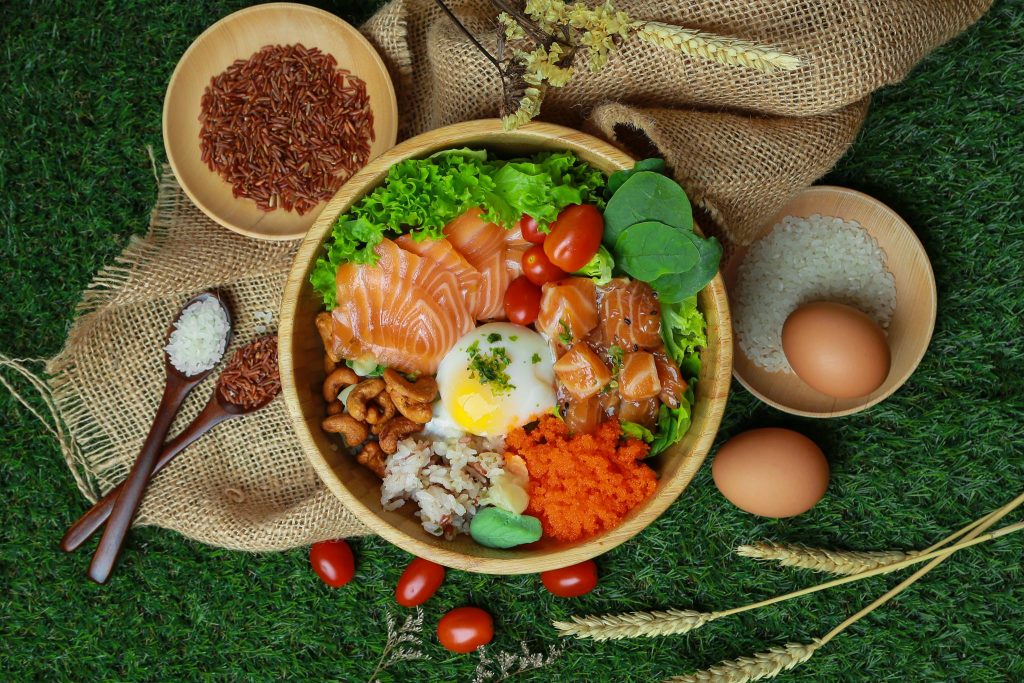 Tanjong Pagar Address: 100 Tras Street, #01-11, S(079027)
Opening Hours: Daily, 11am – 11pm

Ocean Financial Centre Address: 10 Collyer Quay, #B1-08, S(049315)
Opening Hours:
Monday – Friday: 11am – 8pm
Get your fix for poke bowls in Singapore without breaking the bank! With our range of Chope vouchers, you can make instant reservations and gain access to numerous restaurant offers today.
Not feeling the raw fish wave? Why not check out our list of best supper places for those late night hunger pangs. If you're feeling more daring with flavours, why not read up on our must-try instant noodle flavours list for options like purple wheat noodles!