Singapore's tropical weather means plenty of chances to pull on a cute summer outfit any time of the year! From cute prints to elegant sundresses, we've curated several stylish summer outfit ideas for women. Still not sure which style suits you best? Read to the end to take our quiz and find out! 
1. Cute summer outfits for women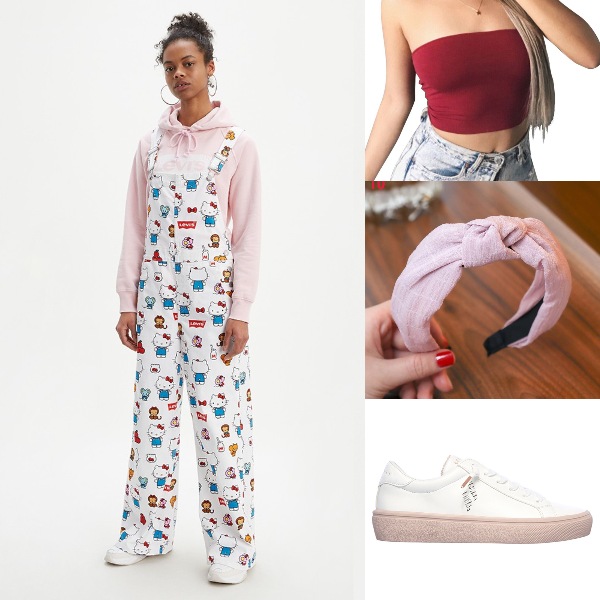 Summertime is the best time to whip out outfits with adorable prints! Go all out with this Levi's x Hello Kitty women's baggy overalls (available on Levi's Singapore Official Store) that's peppered with our favourite Sanrio characters! To keep yourself cool amidst the summer heat, we suggest pairing the overalls with a tube top (available on Up Up Fashion Shop). Complete this cute summer outfit for women with a simple plaid bandana hairband (available on levao.sg). Slide into a pair of Skechers women goldie 2.0 (available on Skechers Singapore Official Store) for a comfortable and youthful look!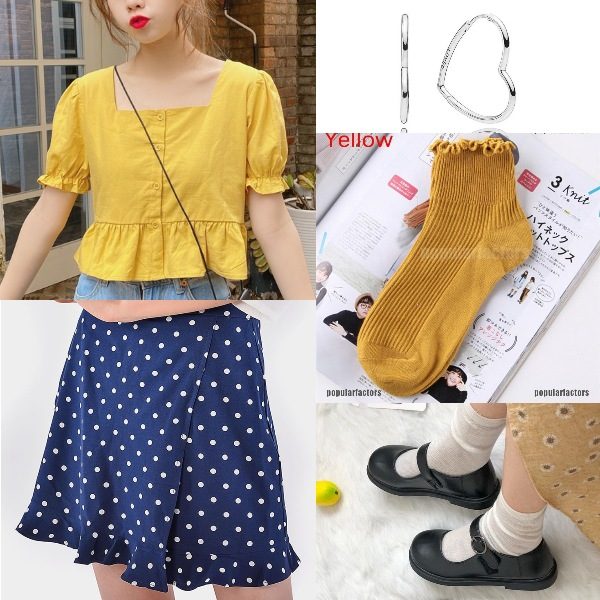 If you're not a fan of overalls, opt for this Dear Lyla gracey polka dot skorts (available on Dear Lyla Official Store) instead. It's lined with inner shorts for extra protection! Keep to the cheery summer theme and pair the skirt with a bright yellow Korean square collar puff sleeve top (available on XiaoZhaiNv Women's clothing). The unique collar design will accentuate your collarbones. Plus, the playful puff sleeves add to the cutesy vibes. Check out other ways to wear puff sleeve tops this summer! 
In addition, don't forget to accessorise with a pair of silver heart hoop earrings (available on silverring.sg). Ditch sandals and go for these British style women's leather shoes (available on nauang.sg) paired with some frilly socks (available on popularfactors.sg). The perfect balance between sweet and preppy!
2. Sexy summer outfits for women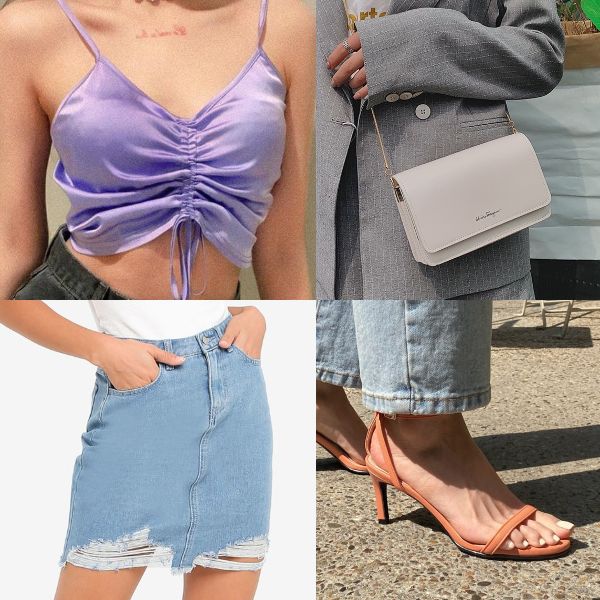 Get ready to turn up the heat with this alluring summer outfit for women! Flaunt your assets in the sexy ruched drawstring V-neck top (available on Dressingup). The gorgeous lilac colour is all the rage in the fashion world this year! Throw on the Something Borrowed ripped denim skirt (available on Zalia & Lubna Official Store) which will subtly draw attention to your gorgeous curves. 
Keep all your knick-knacks in this simple yet versatile Korean PU chain sling bag (available on Ladies Century). If you're about to reach for your boring ol' black heels, hold up! Instead, opt for more funky heel colours such as orange or red to add a pop to your summer style. These SAPPUN putnin maryjane high heel sandals (available on SAPPUN OFFICIAL) are one of the hottest fashion items in Korea this year. Available in a myriad of colours that will have you spoilt for choice!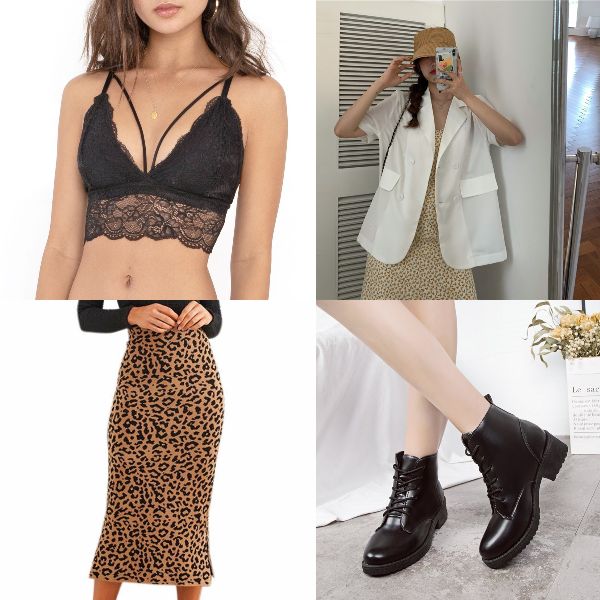 The trick to looking sexy with an edge? Daring to be wild with animal prints. You won't go wrong with this leopard print pencil skirt (available on Coobuy Flagship Store) which wraps snugly around your curvy silhouette. Feeling bold? Wear the OBClassic monochrome midi bralette (available on Our Bralette Club Official Store) as a cropped top! We especially adore the strap details in the front that draws attention to all the right places.
Layer on a short-sleeved Korean blazer (available on XiaoZhaiNv Women's clothing), pull on a pair of low heel boots (available on Leogena Women's Shoes Shop) and you're ready to hit the road!
3. Elegant summer outfits for women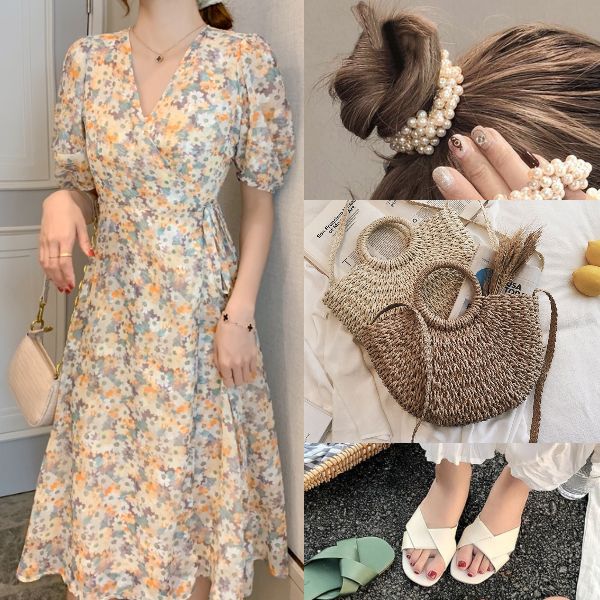 Just because it's sweltering hot doesn't mean you can't look classy with the right summer outfit! This French floral chiffon dress (available on shrimp.fashionshop.sg) is designed with a stunning A-line cut to flatter all body shapes. The fun floral design is toned down by the neutral tones in this dress for a demure look. 
Keep the look casual and fun with a rattan semicircle shoulder bag (available on Leadbon World) and a pair of criss-cross summer slippers (available on infinite). You'll have a summer outfit for women perfect for a relaxing picnic in the park! Additionally, bun you hair up with the Korean pearl hair tie (available on RealTWshop Affordable Daily Goods) which doubles as a pretty arm candy when not in use!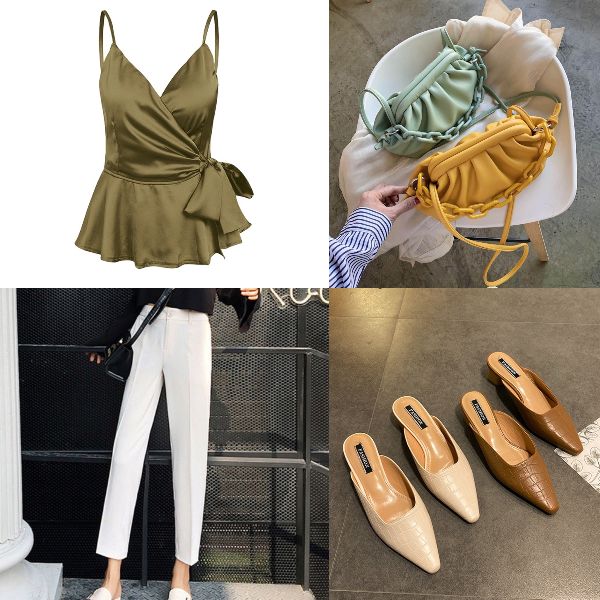 Looking for a summer outfit for women that's suitable for the workplace? Check out this satin V-neck peplum top (available on yeahnow) in a unique wash of army green hue. Thanks to its silky fabric, this top glisters with every move you make! 
Complete the look with white high waist pants (available on Yrd Fashion Shop) and a pair of low heel pointed mules (available on zhuri2.sg). Mules are loved by OLS as they are easy to slip in and out of in the office. Add a dumpling acrylic chain bag (available on JASMIN NOIR Official Store), one of the hottest hit items on the fashion scene and make this your go-to dress-down Fridays outfit!
4. Athleisure summer outfits for women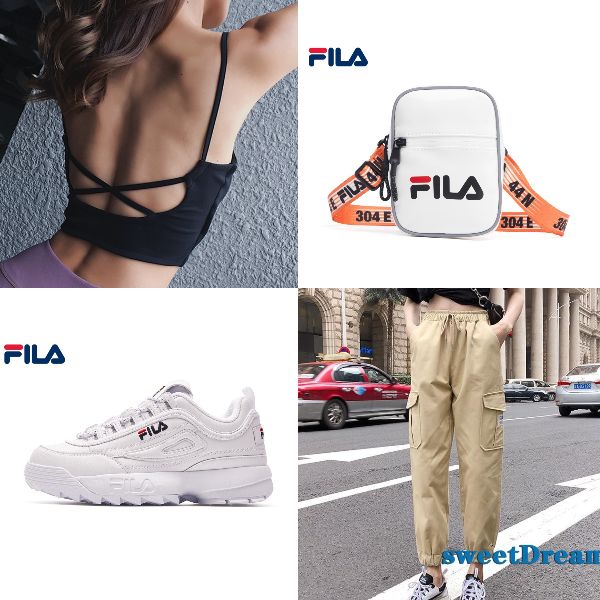 Fitness junkies, show off your hard work in the gym with these stylish athleisure summer outfits for women! The Moving Peach crisscrossed sports bra (available on Moving Peach Official Store) is your best friend in the gym. It provides the support you need when you're pumping the iron. But most importantly, it can also be worn as a fashionable crop top on regular days! 
Bare your lean midriff by pairing the sports bra with the women's high waist cargo pants (available on sweetdream1) for extra swag. Channel your inner hype-beast with the FILA disruptors II chunky sneakers and sling on the FILA fusion unisex patent leather texture crossbody bag (both available on FILA Official Store). The neon orange straps will stand out against your black top!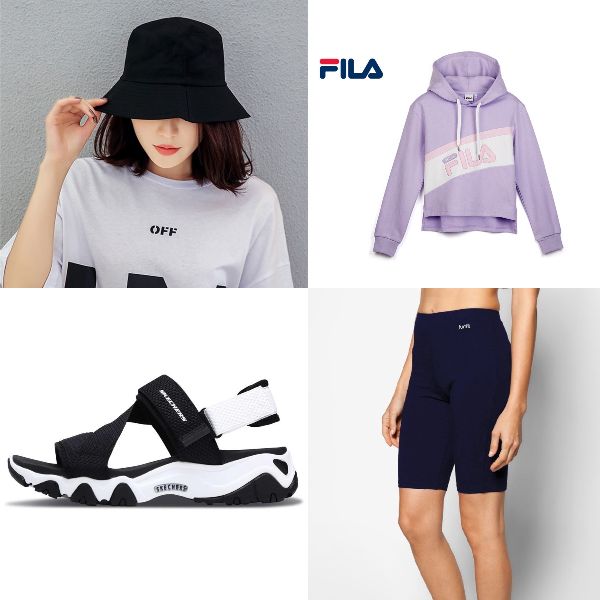 Hate wearing long pants during summer? We get you. Go light with these stretchy basic bike shorts (available on Funfit Outlet Official Store). Roll up the sleeves on the FILA Korea collection logo women's hoodie (available on FILA Official Store) for a snug yet breathable summer look! 
Meanwhile, consider ditching the sports shoes. Instead, go casual with a pair of sporty-looking strappy sandals such as the Skechers Dlites 2.0 (available on Skechers Singapore Official Store). Also, protect your face from harmful UV rays with a stylish Korean retro hip hop hat (available on K-Mall Women's Fashion Capital)! 
5. Chic summer outfits for women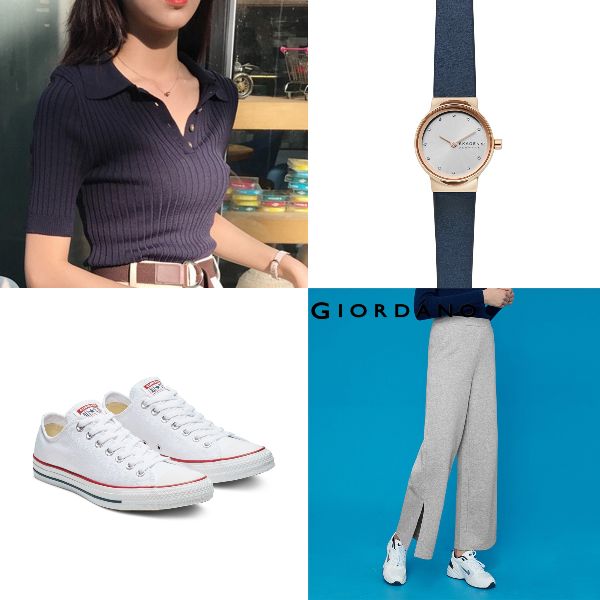 We often hear the term 'chic' used in fashion, but what does it mean? For us, a chic summer outfit for women is a casual yet smart-looking getup that exudes charisma and elegance. 
Achieve this unique style by wearing a ribbed polo collar top (available on njkingyi.sg) with the GIORDANO high rise wide leg knitted pants (available on Giordano Official Store). The wide-legged pants design helps wearers appear tall and slender. To up the chic level of this outfit, we suggest pairing it with the Converse Chuck Taylor all style ox optical white sneakers (available on Converse Official Store). Don't leave your wrists bare! Accessorise with the dainty Skagen freja watch (available on Skagen Singapore Official Store) which is delicate and classy.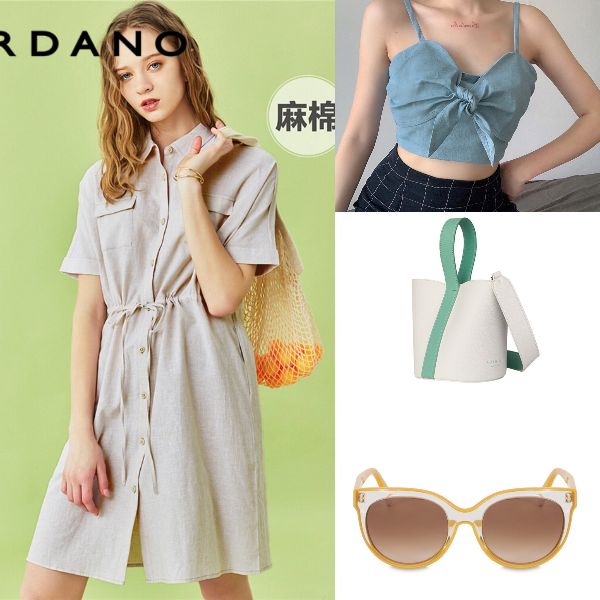 You can also create a chic outfit with a simple dress like the GIORDANO linen cotton cargo dress (available on Giordano Official Store). This linen dress is lightweight and cooling, and will be your go-to summer outfit!
If the dress appears too plain for your liking, layer on a denim bowknot sleeveless crop top (available on Eirene's Clothes Store) to spice it up! Add some colour with the MARHEN. J amber macaron white mint bucket bag (available on Marhen J Official Store). It can be worn as a handbag, shoulder or cross-body bag — how versatile! Pop on a pair of Furla invisible occh. donna col.07EZ in Giallo (available on Furla Official Store) to protect your peepers!
6. Bad-ass summer outfits for women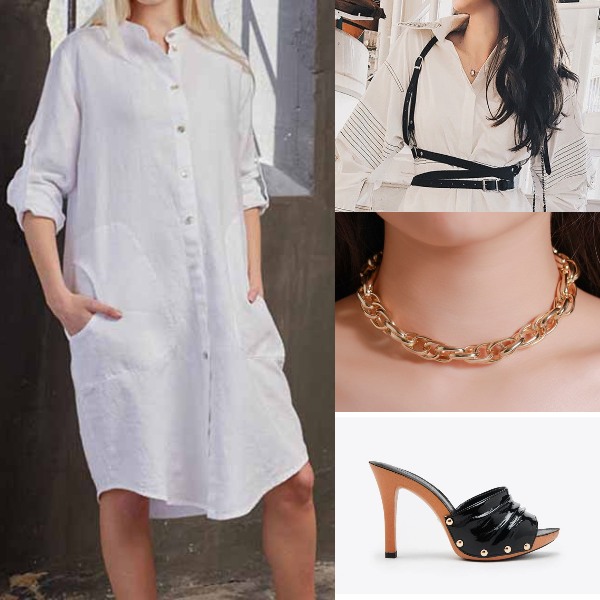 Who said looking badass means you've got to fill your summer wardrobe with tons of dark coloured apparels? Rock the same vibe with a white shirt dress (available on Yoins) and punk it up with a faux leather cage vest belt (available on fashionofficelady) wrapped securely around your waist. This transforms the dress's baggy silhouette into one that hugs your curves and flatters your figure. 
Does your neck feel empty? Yes, it does! Complement this summer outfit for women with a chunky chain choker necklace (available on Styleplus Studio). In addition, if you choose to wear heels, we suggest going for the PAZZION black studded mid stiletto sandals (available on PAZZION Official Store). The studded details go perfectly well with this outfit theme!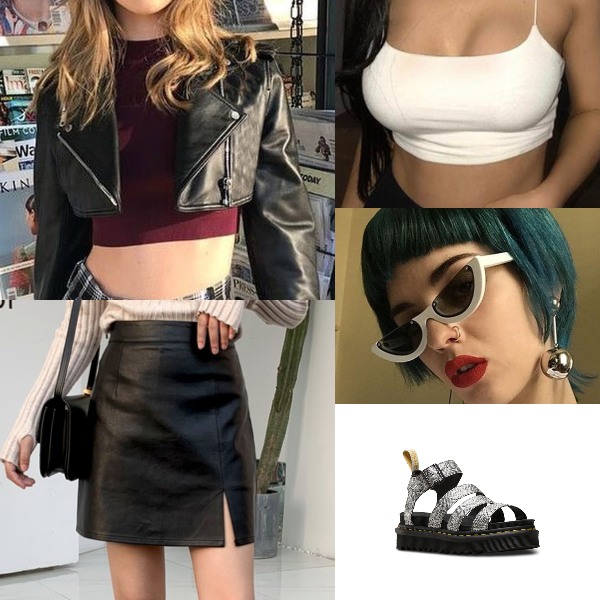 A leather jacket isn't just outerwear — it's an attitude. Put forward your cool and tough front with a women's long sleeve motorcycle cropped leather jacket (available on Angel Living Shop). Additionally, wear a casual crop tank top (available on fashionofficelady) underneath so you can remove the jacket anytime the heat gets to you. 
Leather on leather is a timeless style in the fashion world. Hence, don't be afraid to wear your leather jacket with a high waist PU leather skirt (available on CC Boutique). Extend this monochromatic look up to your eyewear with these cool half-frame cat-eye sunglasses (available on lkteamor.sg). Then, draw attention to your feet with the eye-catching Dr Martens V Blaire silver metallic snake sandals (available on Dr. Martens Singapore Official Store). No one will dare to mess with you with this rebellious getup!
The right outfit will take you places this summer
Undecided what your summer style is? Take out quiz to find out which outfit suits your personality best!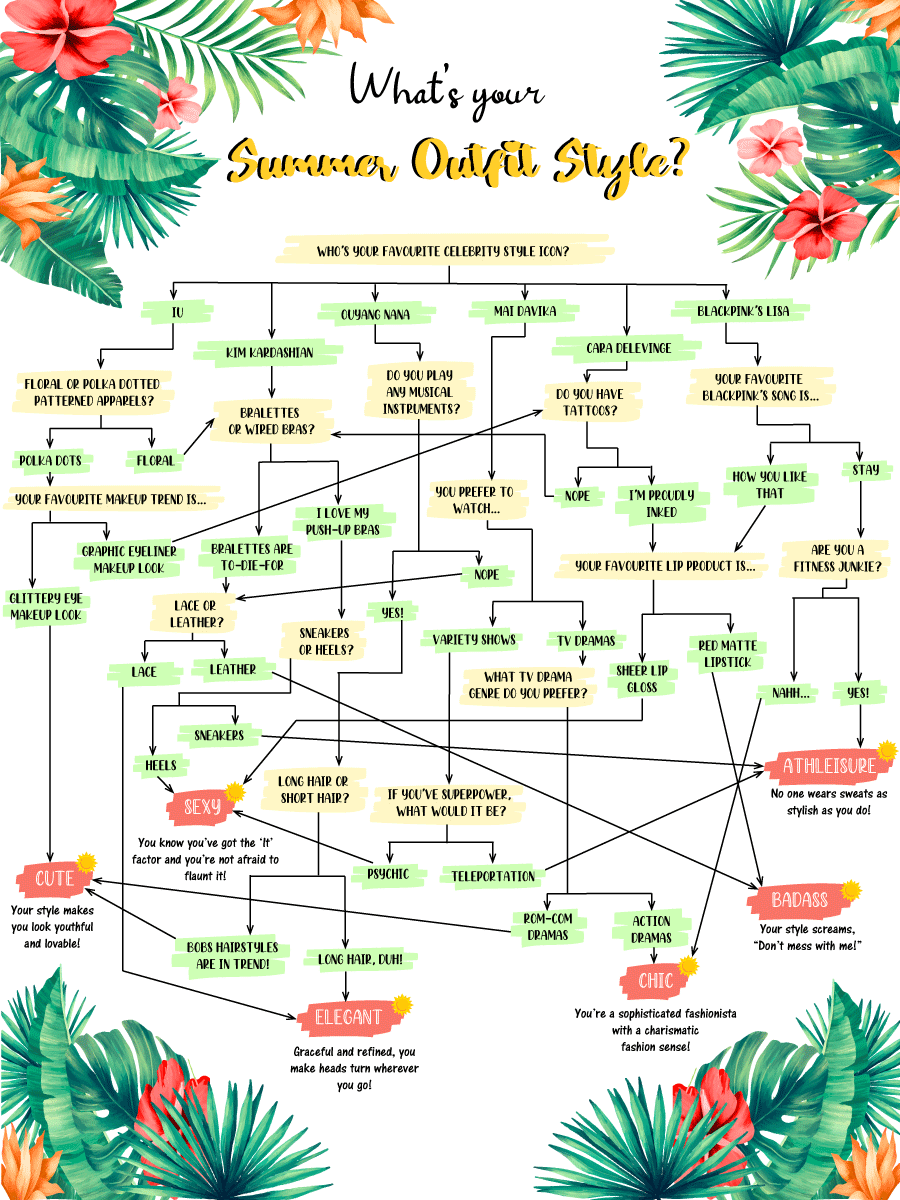 Now that you've got your outfits ironed out, it's time for some summer-inspired makeup looks! Check out this guide to the hottest graphic eyeliner looks and summer eyeshadow looks for Asian eyes to pair with  the summer outfits for women listed above. Additionally, you can get an effortless sunkissed glow with some beauty tips for summer glowing skin. Regardless of your summer outfit style, feeling confident in your own skin is the most important. So, go forth and conquer the remaining summer days in style!