Back to school calls for a few new supplies including new stationery for the kids! Don't we all agree that stationery is something that we, even as adults, can never have enough of? Pass your love down for stationery to your school-going kids, nieces or nephews! We've collated nine cute stationery items in Singapore to ready your kids for the new school year in 2021. From cat-themed stationery to pretty Korean stationery, curate a pencil case that will motivate your child and make him or her the envy of their new classmates!
1. Mechanical pencils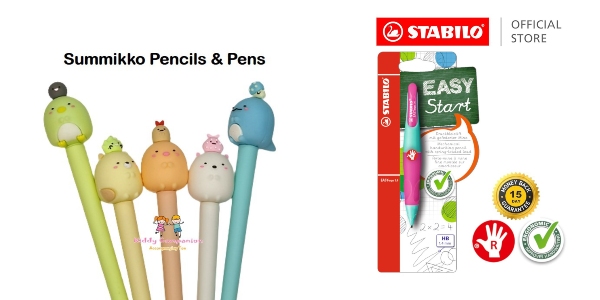 Cute stationery in Singapore isn't hard to come by if you know where to look! These Sumikko Mechanical Pencils And Pens (available on Kiddy Companion LLP) are the perfect school stationery to hand your kids for the new year. Each pencil and pen is topped with a different Sumikko character which might just be the motivation they need to complete a piece of work! Has your child just started using mechanical pencils? We couldn't leave out this STABILO EASYergo Ergonomic Mechanical Pencil (available on Schwan-STABILO Singapore Official Store). It's specially designed for kids new to mechanical pencils with a soft rubber grip and cushioned tip so only a small amount of pressure is required when using it.
2. Gel ink pens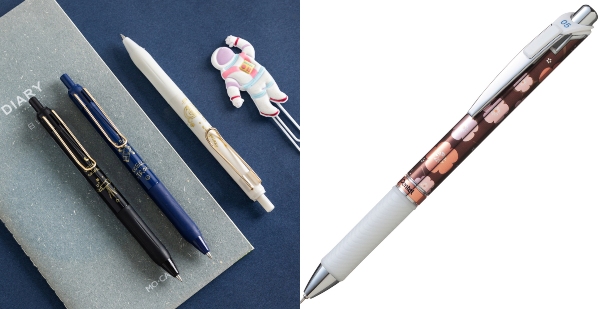 Let your kids experience the best of gel ink pens with cute designs. This PENTEL Energel Kawaii+ BLN75KW Refillable Gel Roller Pen (available on Pentel Singapore Official Store) comes in several floral prints — perfect for your princess. It's also super smooth to write with and boasts a quick-drying gel ink. Are your little ones obsessed with planets and all things space? They'll be delighted with this Winzige Space Astronaut Black Retractable Gel Pen (available on winzige.sg) then!
3. Erasers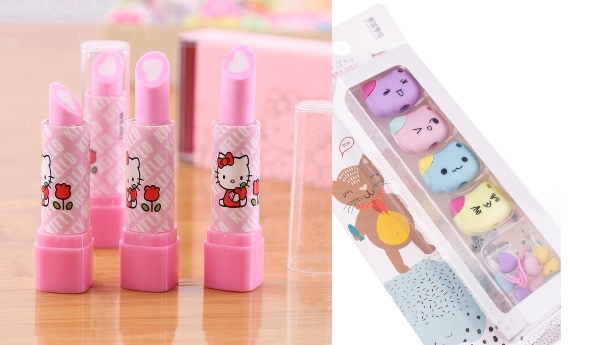 Nobody likes to erase their work but with cute erasers, it won't seem like a chore anymore! Find your daughter exploring your vanity table often? Then she'll adore her own mini lipstick albeit in an eraser form. This innovative Hello Kitty Lipstick Eraser (available on kittyq6.sg) comes in bubblegum pink, twist-up lipstick casing for easy use! There's no dearth of cute stationery in Singapore for feline lovers. Slip these YUBISO 3D Shaped Cute Kitty Erasers (available on YUBISO_OFFICIAL) into your child's pencil case for a surprise on their first day back at school!
4. Highlighters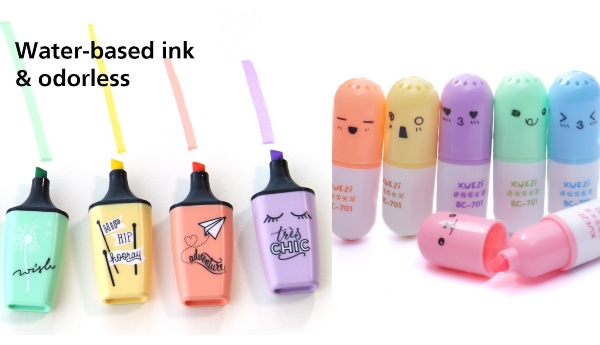 A highlighter may just be the coolest school stationery you can give your child. I remember how important I felt, highlighting text in a book and — although I did tend to over highlight at some points in time. In all honesty, highlighters can be very useful for subjects like Math. Your child will have a better idea of the problem by colour-coding important sections of the questions. Hand your kids their first highlighter like this STABILO BOSS MINI Pastellove Highlighter (available on Schwan-STABILO Singapore Official Store) with funky designs or this uber-cute Korean Marker Highlighter (available on wangstore) that's small and easy to handle.
5. Correction tapes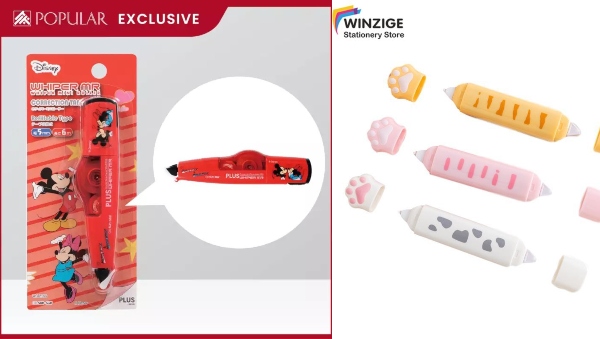 Is your child a Disney fan? Then they'll be stoked to receive any Disney school stationery like this [Bundle Pack] PLUS CORRECTION TAPE REFILL SET MICKEY+ MR 20P 5MM (available on POPULAR Official Store) with a refill set. Correction tools may not be the most popular school stationery on the list but they're incredibly useful and a neat tool to have. Alternatively, 'erase' your mistakes with this super cute Winzige Cat Claw Correction Tape (available on winzige.sg) that comes with a double-sided adhesive tape set. It comes in three colours; white, pink and white and with a cat paw designed end. Not only is this a cute school stationery in Singapore but will also make for a great gift for cat lovers too!
6. Files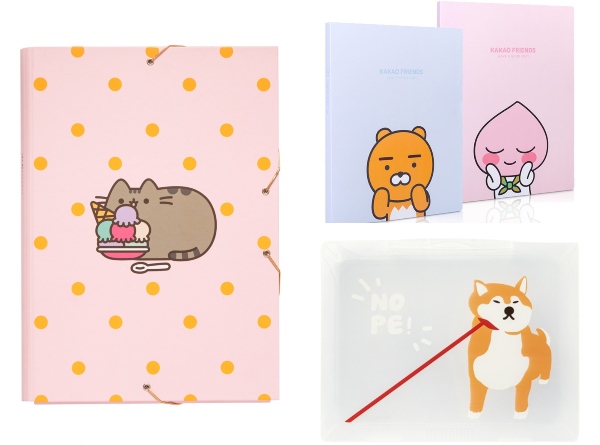 It can be difficult to get your kids to organise their worksheets into files and folders. But your child will not be able to say no to organising especially when they have some cute files in hand! Do you and your little one like to explore dessert spots together? This Pusheen Ice-cream Bowl Folder (available on Natures Collection Soft Toys & Gift) will be the perfect file for your ice-cream loving kids. It even comes with handy flaps and a band to keep papers together.

Are you on team clear folders? Then this adorable [Bundle] Deli Kakao Friends Clear Folder (available on Deli Official Store) with 40 pockets will not only keep the worksheets neat but also allow you to check their work with one glance. Alternatively, if your child is a fan of all things doggos, then this [ARTBOX] Document file Shiba General (available on ARTBOXMALL) will surely appeal to them.
7. Pencil cases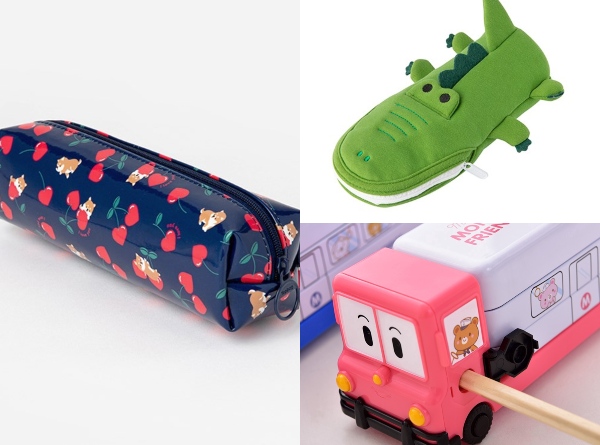 Let your child express themselves through the pencil case they carry, after all, it'll be the first thing they pull out of their bags! This sweet [ARTBOX] Navy Ciba Cherry Enamel Pencil Case (available on ARTBOXMALL) will be perfect for the girls who want a pretty and compact pencil case. It's enamel exterior also means it's dust and waterproof.

Have a little one who just loves reptiles? Then you can't go wrong with this [ARTBOX] Crocodile Zipper Pencil Case (available on ARTBOXMALL). Zip open the mouth and you'll find enough space to store all the school stationery. We couldn't also ignore this Deli Multi-Function Metal Pencil Case Built-in Pencil Sharpener (available on Deli Official Store). If your little ones are obsessed with vehicles, then this is the best cute stationery in Singapore you can get!
8. Geometry Sets/ Rulers
Has your little one started on measurements and using geometry sets? Make math less intimidating with this Deli Stationery Student Set (available on Deli Official Store) that comes with a ruler, two set squares and a protractor. However, if your little ones are just learning how to use a ruler, then make it even more fun for them with these Giraffe Rulers (available on HE DAO_Office Supplies.sg) which comes in a set of four colourful rulers. This cute stationery in Singapore will help them power through math classes with a little bit of colour thrown in!
9. Bonus: Colour pencils, pencils and erasers set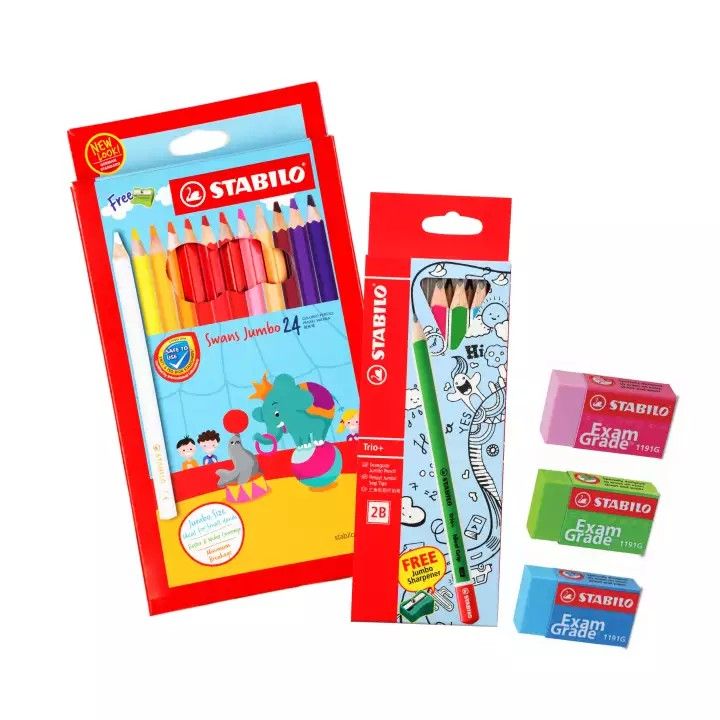 Although not exactly cute we couldn't leave this value-deal out of this roundup. This [Bundle Set] STABILO Jumbo Range (available on POPULAR Official Store) includes a pack of coloured pencils, 2B pencils, erasers and a sharpener all going at an affordable price point! You can save some of the stress with this all-in-one bundle instead of having to buy individual school stationery items.
Stock up on cute stationery in Singapore before the new school year begins!
Has this list of cute stationery in Singapore for kids inspired you? We hope it did! Be sure you nail your child's study room design to create a conducive studying environment at home. But for now, make the most of the school holidays with your kids by signing the family up at one of the best art jamming studios in Singapore or try these fun science experiments with kids at home!
---
This article was updated on 29 December 2020. Additional research done by Jamantha Lim. 
New to Shopee? Get $7 (min. Spend $15) with code*: BACK2SCHOOL
*TNC applies. Valid for new users from 1 Jan to 8 Jan 2021 only.