<![CDATA[Dads often get the short end of the stick. They're frequently type-casted as workaholics who prioritise bread-winning over spending time with family. They're regularly narrated as leaving all the difficult work of raising kids to their wives, who may have had to give up their successful careers to make up for their husbands' pursuits, just so that someone is available for the children. But are these stereotypes true and really telling of a father's heart? I caught up with four fathers, who each spoke about his family, career and experiences with being present for both. Happy Father's Day to all working dads in our midst!
Kavan Sito, Regional Operations
[caption id="attachment_16312" align="alignnone" width="614"]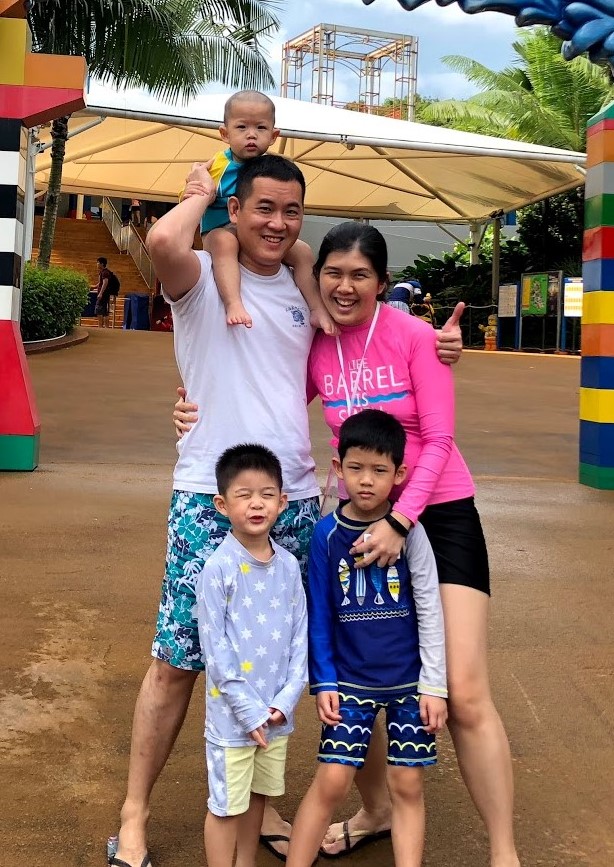 Kavan and his family after a day of fun at Legoland Malaysia[/caption]
This photo was taken… just a couple of weeks ago at Legoland Malaysia. The childcare centre we send our kids to was closed for a couple of days, so we had to take care of them on our own. My wife and I thought going to Legoland would be a great idea, since the kids love it there. Guess what we came back to Singapore with? A Legoland Annual Pass for the family!
Having both family and work means…
I have to compartmentalize. Weekdays are for work, and weekends are exclusively for my family. I've found this to be the best way since it's difficult for me to head home early on the weekdays. With this system, I discipline myself to spend enough time on both work and family. There are times where my work and family commitments have clashed, and I've had to be in two places at at the same time (yes, it happens!). In such cases, I've needed my colleagues and extended family to help me mitigate the respective needs – they've gone above and beyond, and I'm so grateful for that.
It's all worth it when… I see my kids (aged 2, 4, 6) happy. Also when they learn something and hit a learning milestone. My wife and I do what we can to give them opportunities and help – both to help them explore their interests and to support them in realizing their potentials.
I love going home to… 
My kids greeting me by hugging my legs the moment I step into my home.
Kids are simple like that, and their smallest gestures actually say a lot about their thoughts and feelings. It's heart-warming seeing them show their love for me so expressively.
If you're a working dad…
Accept that having many commitments will naturally cause constraints to surface. Family, career and personal interests all demand your (full) attention. One thing we can do is to understand our priorities of the season, and find the optimal method to balance them. Another thing we can do is to seek help from others. There's really no shame in asking for help. 
Joel Seah, Learning & Development
[caption id="attachment_16343" align="alignnone" width="2048"]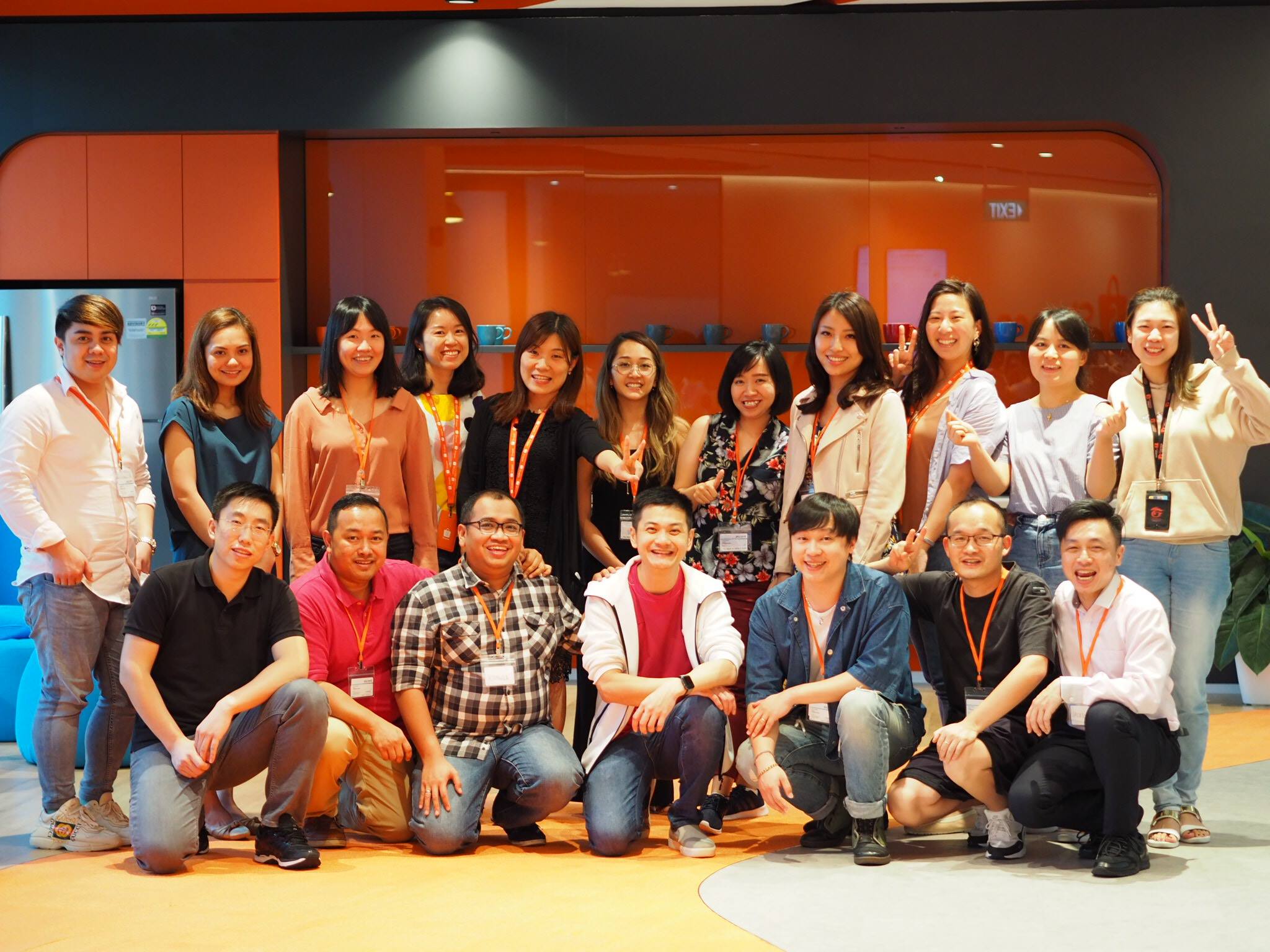 A glimpse into Joel's work life before he returns home to be with his family[/caption]
This photo was taken…
right at the end of our monthly Regional New Hire Onboarding, which is usually a 3-day affair. I got my trainees acquainted with the fundamental pillars of the business, and focused on Regional Operations, Product Management and Business Intelligence. It seemed like my trainees had the most fun answering real customer tickets live!
I chose work over family…
the day after my wife delivered our baby. I had been scheduled to deliver a training class, and I chose to show up for that. Yes, I know that's an unorthodox decision, seeing as my wife had just been in labor for a couple hours ('a couple' is an understatement to say the least). But we both understood that whilst my schedule-based job allows me the flexibility of planning in advance to be with my family, it also comes with shortcomings. In this case, it was the inability to reschedule my training class as my changes would've affected an upward of 20 people. Thankfully, I have a patient wife and an understanding family that acts as extra pairs of hands in my absence. They're all extremely supportive. I'm a lucky man.
The greatest trade-off of my job is…
 not being able to give my family the together time that they want and need. I travel very frequently, covering all grounds in the region and training audiences from other countries. This aspect is very exciting, and I do enjoy the depth that it adds to my career. However, my time spent overseas is directly proportionate to the time lost with my family. I'm still trying to find that balance, which is a very fluid concept if you think about it, since people and priorities are always changing.
It's all worth it when… 
the job I do daily is one that I like. It's obviously important to secure a job that pays the bills and provides your family the option of excess. Yet, I'm inclined to say that's not all. Given the trade-offs, it makes the most sense to like what you do, which really helps to mitigate the opportunity costs. Again, I'm most fortunate to be in a position where I can do what I enjoy. Plus, it makes my sacrifice worthwhile when trainees come forward to express how much they got out of the sessions. People may not think much of their affirmation, but it's enormously satisfying to me as a training professional.
I'd like to remind all working dads (and moms) to… 
make time for themselves too. We tend to want everything and to do everything. We want to spend time with our family, and we also want to be dedicated to our workplace responsibilities. Yet, it's important to care for ourselves too, since we're the vessels through which our families and work are taken care of. It'll do more good if we deliberately make pockets of time to play football or have a beer with friends. Spouses, support each other – let your other half take the occasional evening off and you make up for it by taking care of the kids alone. At the end of the day, we all need some form of balance to keep ourselves going strong.
Andrew Kwek, People & Facilities
[caption id="attachment_16313" align="alignnone" width="972"]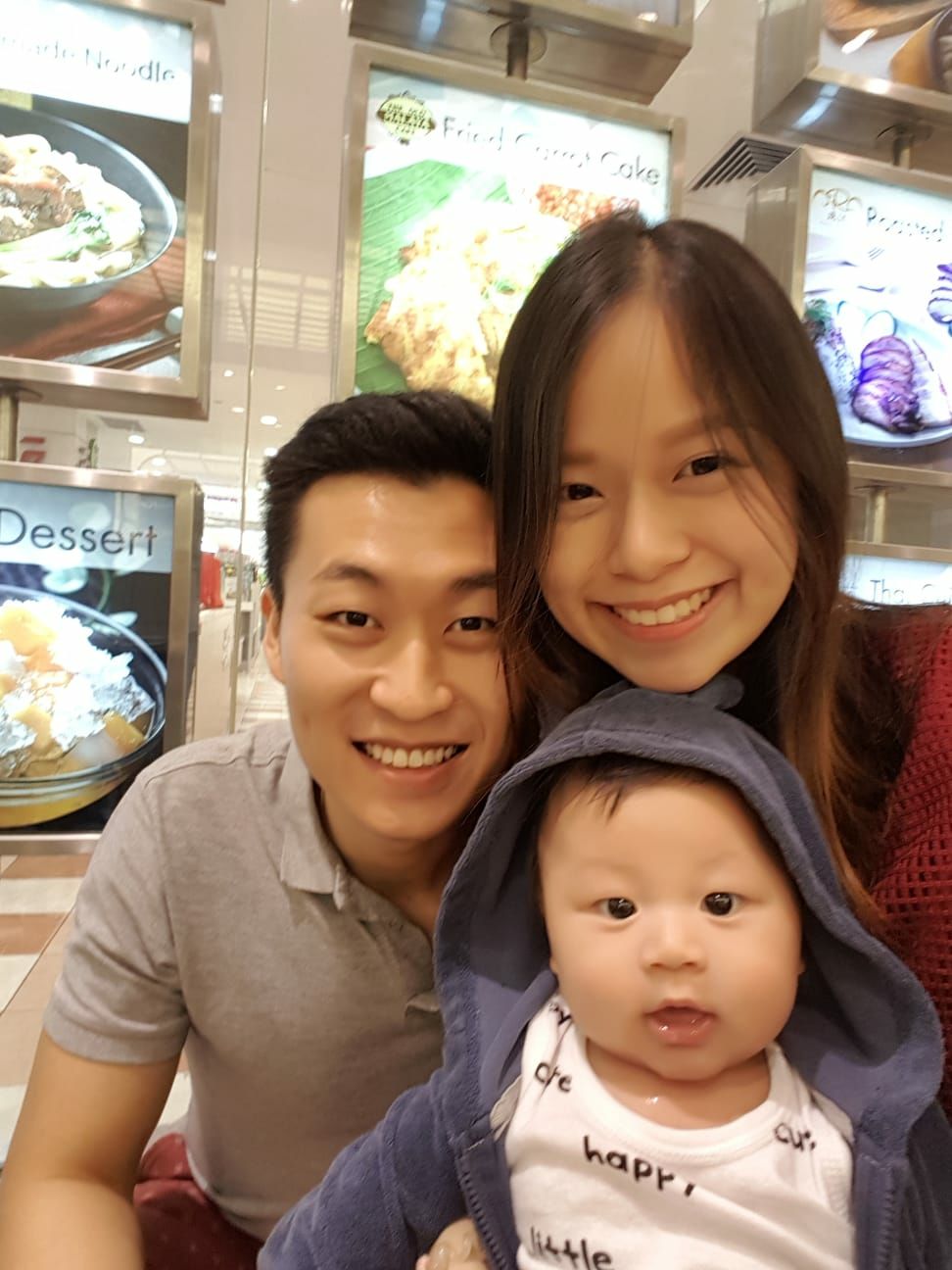 Andrew and his family having dinner at Takashimaya Singapore[/caption]
This photo was taken… 
at Takashimaya. It was a regular weekend and my son was wearing a cute outfit – no deep backstory here! (laughs)
At work, I have to…
be my most productive. My work involves maintaining the daily operations of the office; there are urgent, sudden requests I have to tend to throughout the day apart from routine work, so it's necessary to constantly be alert. Productivity is crucial to me – it means I get to complete my work by the end of the day, thereby allowing me to be fully present with my family at home.
It's all worth it when…
I get to see my wife and my son after a long day, or any day for that matter. I can't even begin to tell you how much they mean to me. My wife is an amazing person – she's generous, wise with expenditure, kind and gentle. She spurs me on to be a better husband and dad. Speaking of which, fatherhood seems to have made me a better person – both at work and at home. I find myself being more patient and perceptive in general. I've begun to pay more attention to my health too, because I want to be around when my kids grow old. And yes, I said 'kids' – I want more than one!
I believe raising a child is…
a shared responsibility. Wives often do much more than their husbands (except perhaps for couples in the Netherlands), though it shouldn't have to be that way. My son belongs to both my wife and I, which means we're both equally responsible for his ever-changing needs and growth. I'm busy at work, but my wife is too. I can't assume that my commitments matter more than hers – that would be selfish and I don't want to do this to my wife. She's very dear to me, and I want our son to be close to both of us too.
Always be…
 aware that work cannot be an excuse for doing less at home. Always do what you can to be your most productive and efficient at work, so that you'll have enough time for your wife and kids at the end of the day.
TY Lim, Operations & People
[caption id="attachment_16342" align="alignnone" width="2592"]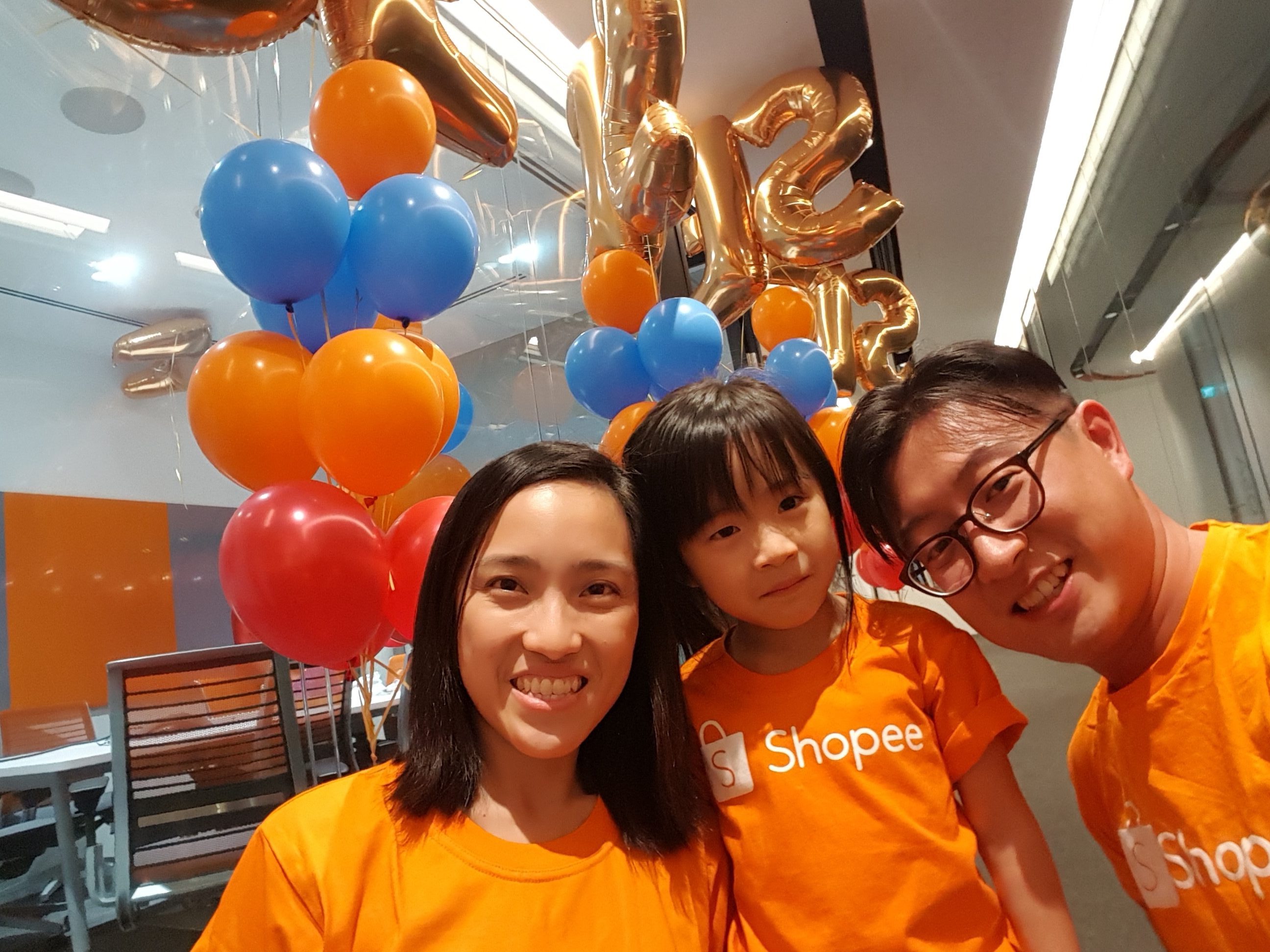 TY's family supporting him at a company event[/caption]
This photo was taken… 
at a company event. Our office regularly welcomes visitors, and sometimes, we're encouraged to bring our families to join in the fun and tour our workplace. My wife and daughter came to be with me – it makes me happy to know how supportive my family is.
Finding the right balance between family and career
is… 
challenging. It was especially so in the initial phases when I first became a dad. My family is everything to me, but there were times when I've had to leave (temporarily) to attend to work. I've actually missed quite a number of important milestones due to my extensive traveling schedule. For instance, I wasn't around when my daughter said her first word and did her first walk. Not only did my inability to be physically present cause me to miss out on joyous moments, it also separated me from my family in their times of need. One time, my daughter caught the Hand, Foot & Mouth Disease. She really needed me to be around, but I was on a work trip and couldn't abandon my assignment. Thankfully, I have an accepting wife who is also independent and strong. She took care of our child, and was always there to ease her discomfort.
It's all worth it when…
I get to see my daughter's smile at the end of each work day. She's very lovable, and does hilarious things that fascinate me all the time. She's recently picked up spelling words backwards – who knows where from – and she's becoming pretty good at it too! Her learning style certainly is unusual. Seeing how much fun she's having with learning makes me wonder how I can replicate that in myself at work and in my teams too.
I'm thankful for…
 my extremely understanding wife. She's the absolute best and there's no one like her. I'm also thankful for the supportive teams I have at work, who render aid whenever I require their time and attention. I wouldn't have been able to build Shopee on my own, so thank you for shaping this company with me!
---
Thank you for sharing, fathers. Have yourself a Happy Father's Day!
]]>