Home-based bakeries are true gems in Singapore and are often more affordable than branded ones. With their own creations of sweet delights such as pineapple tarts, kueh bangkit and love letters every Chinese New Year, it is no wonder that many Singaporeans turn to home bakers to get their annual CNY goodies. To usher in the Year of the Tiger, we've come up with a list of the best home bakers in Singapore. Get ready to get your hands on some of the best CNY cookies and delicious goodies. Read on for our recommendations! 
What is a home-based bakery?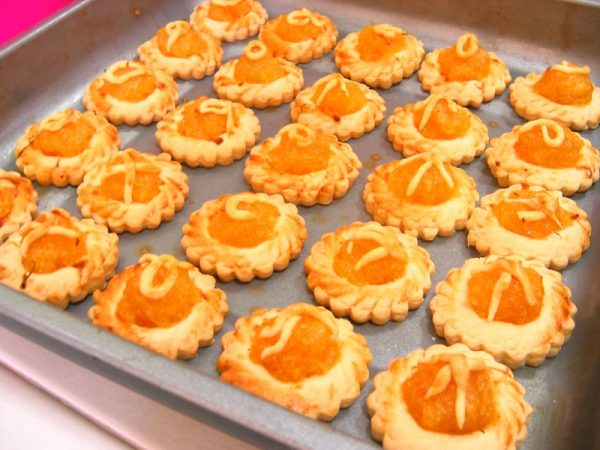 As its name suggests, a home-based bakery is one where an individual (or small team of individuals) sells baked goods that are freshly made in their own homes. These can range anything from birthday cakes to tarts and pastries. During festive periods like Christmas and CNY, there are usually seasonal goods on offer as well. Home-based bakeries are usually smaller in scale than retail or wholesale bakeries, and do not have a physical store. Hence, their baked goods come in smaller batches. Most of these home-based bakeries in Singapore have online websites and tap on social media channels like Instagram to market their products. 
Are home-based bakeries legal in Singapore?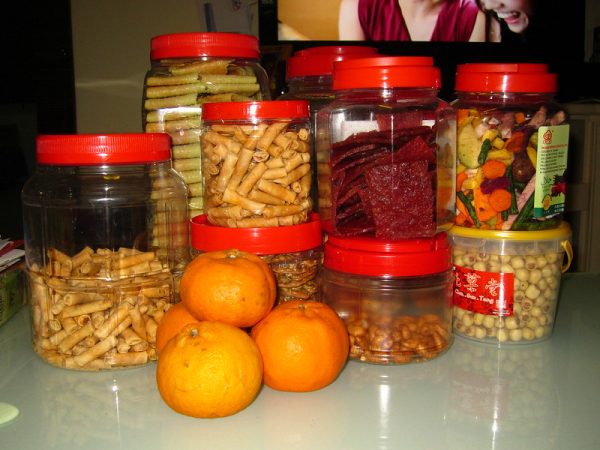 According to the Singapore Food Agency (SFA), home bakeries are legal in Singapore and these food businesses are allowed to operate from Housing Board flats and private homes. However, operators have to adhere to the SFA's guidelines for food hygiene practices. Business owners are to ensure that the food they sell is safe for consumption and are also encouraged to attend a food safety course at an approved training provider. It is to note that these home-based bakeries in Singapore do not need to be licensed given the small quantities of food they sell. 
Best home bakers in Singapore for CNY goodies
1. Ah Bear Bakery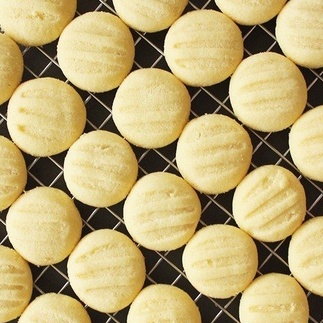 Who says that the best CNY cookies in Singapore can't come from home-based bakeries? At Ah Bear Bakery SG, there is a wide variety of cookies you can choose from that is so good you can't stop munching on. For instance, the Sugee Cookies (available on Ah Bear Bakery SG) releases an intense buttery flavor which literally melts in your mouth, giving it a lovely aftertaste. The Double Chocolate Chip Cookies and Macadamia Nuts Cookies (both available on Ah Bear Bakery SG) are also great cruncy alternatives!
2. Ninja's Snacks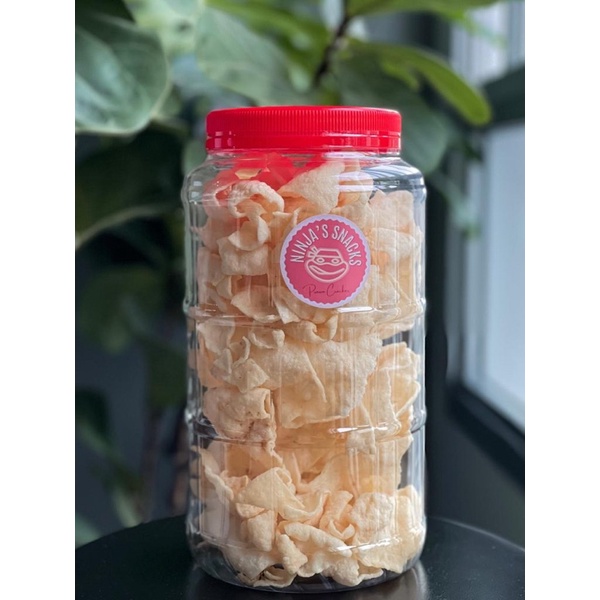 If there's any CNY goodie that will make you neglect your calorie count, it's gotta be Ninja's Snacks' Keropok Prawn Crackers (available on Ninja's Snacks) that are oh-so-addictive! As one of the best home bakers in Singapore, Ninja's Snacks ensures that their prawn crackers are made from fresh prawns and have no preservatives. Additionally, the ingredients used do not contain pork, lard and alcohol.
3. Crispy Crab Sticks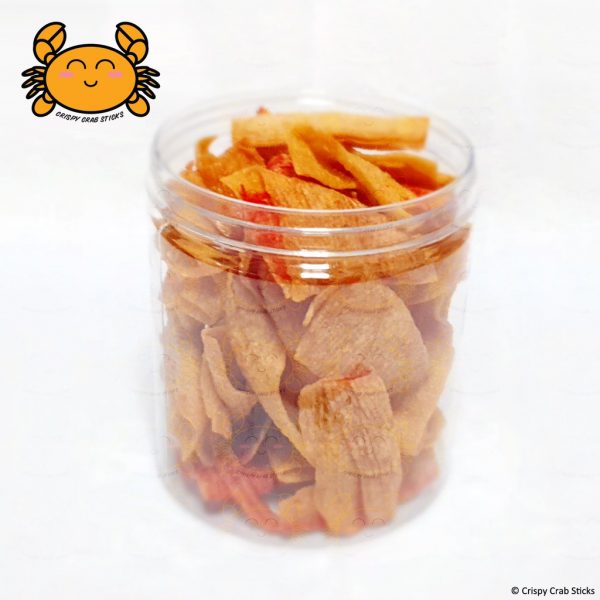 Looking for the perfect CNY snack to gift your loved ones? Then Fried Crab Sticks (available on Crispy Crab Sticks) from Crispy Crab Sticks should be right up your alley! After all, they do specialise in crab sticks which you can order in bulk as well. What's more, you can customize your own logo or message which works well if you're giving this out as a gift to your loved ones this lunar new year. Other mouth-watering flavours you can try include Sweet Onion Crab Sticks, Mala Crab Sticks and Garlic Crab Sticks (all available on Crispy Crab Sticks) that will sure to make your CNY a lot more finger-licking! 
4. Cookielicious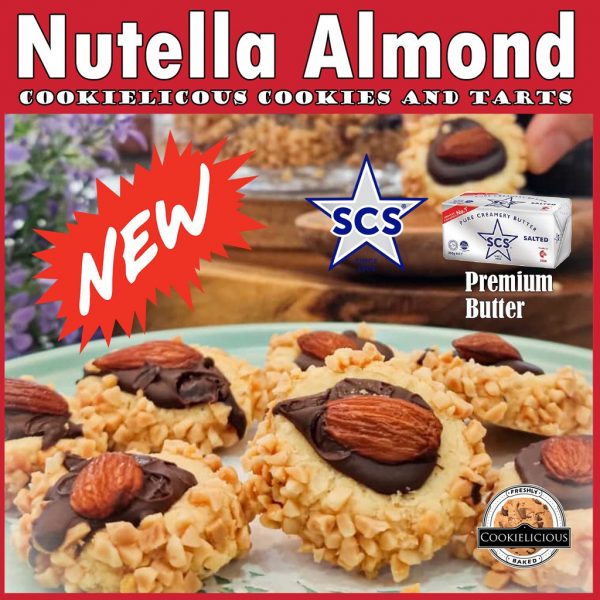 Fretting over where to find the best CNY cookies in Singapore? Then consider these Nutella Almond Cookies and Coconut Cashew Cookies (both available on Cookielicious) which are so yummy you'll be reaching for another piece before you can say Huat! Additionally, Cookielicious' cookies are made of premium butter and ingredients with no preservatives or additives, so they remain a healthy choice this festive season.
5. Grocer Cat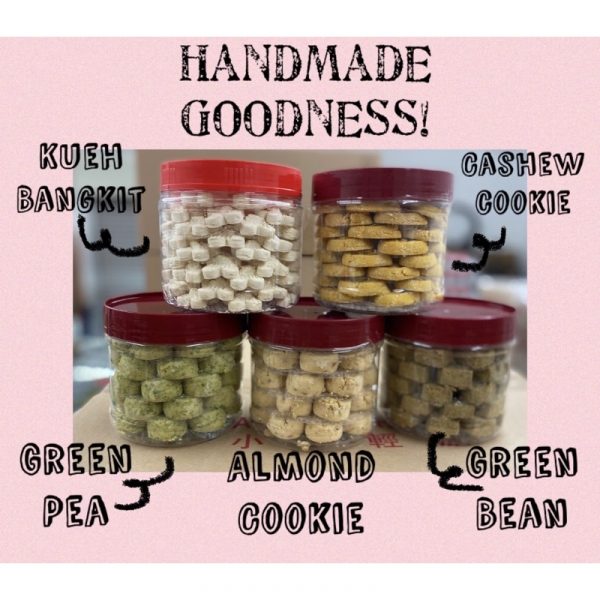 These Handmade Cookies (available on Grocer Cat) from Grocer Cat also make for some of the best CNY cookies in Singapore thanks to its extensive range of options. Want something nutty? Try the Cashew cookie. Need something a bit more melt in your mouth? Then the green pea or kueh bangkit might appeal to you more. Alternatively, try out their Love Letter Folds and Rolls (available on Grocer Cat) that come in a fragrant smokey pandan flavour.
6. Crius Bake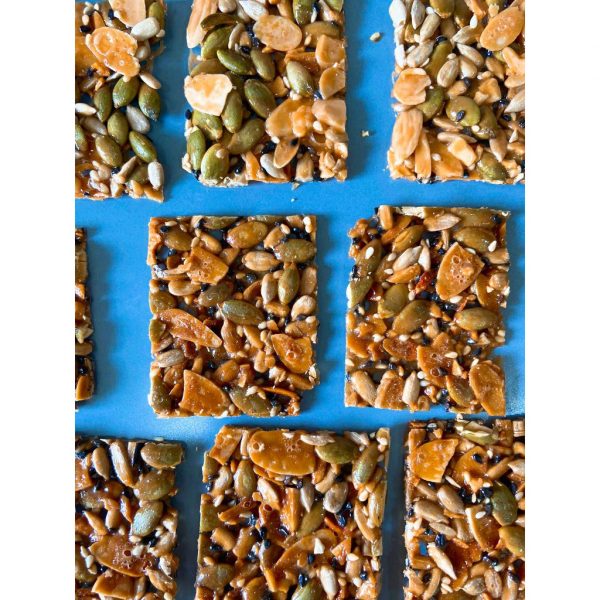 Who says that cookies have to be round? These Multigrain Cookies (available on Crius Bake Official Store) are rectangular-shaped but definitely something you'll want to munch on this CNY. Taste-wise, they are fragrant and crispy so your taste buds won't feel overwhelmed. It is paired well together with any tea and can also go along with your high tea session. For more yummy bakes, you can also give their savoury Country Sourdough and fluffy Custard Cream Puffs (both available on Crius Bake Official Store) a try!
7. Sweet Scent Kitchen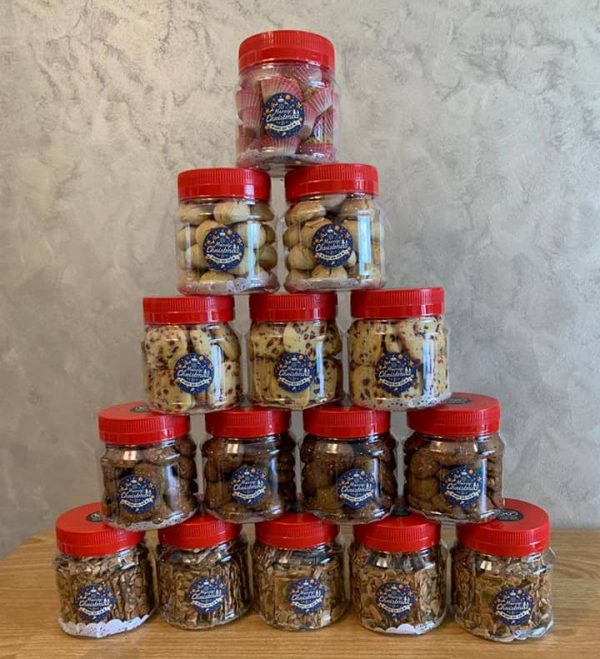 Sweet Scent Kitchen is another frontrunner on our list of best home bakers in Singapore. Packaged into handy containers, you'll love how easy it is to gift these baked goods to your loved ones. This CNY, their seasonal pineapple tarts are making a comeback which will be a delight to share amongst your family and friends. You can also try out their mini cornflakes cups and almond cookies to complete your CNY goodies collection. They are so crispy and crunchy that they live up to their name as one of the best CNY cookies in Singapore! 
8. Kitchen Culture Online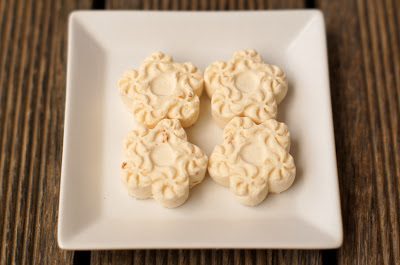 Having been around since 2007, Muslim-owned Kitchen Culture Online is definitely one of the most popular home-based bakeries in Singapore. During the CNY period, their festive baked goods such as Cheese Bangkits and pineapple tarts are popular amongst Singaporeans both young and old. Their bestseller Nutella tarts also packs a punch with its melt-in-the-mouth taste and a cookie that never fails to disappoint any chocolate lover. Delicious! 
9. Fedufat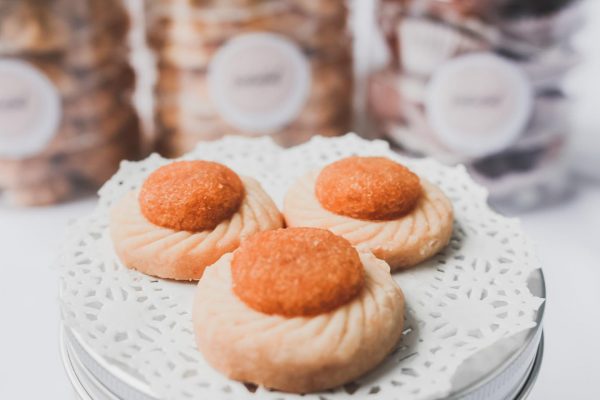 Add a homemade touch to your CNY celebrations when you get your seasonal goodies from Fedufat! As one of the best home bakers in Singapore, Fedufat specialises in sinful delights such as their burnt cheesecakes and lavender pound cakes. Specifically, we love their pineapple tarts which are made of a buttery crust and slow cooked pineapple fillings – perfect for those who prefer something less sweet! There are also CNY bundle deals so you can order them all in one package without much hassle. 
10. No.29 Bakehouse
If you're not much of a pineapple tart person, here are some CNY cookies that will appeal to your taste buds more. No.29 Bakehouse is offering four cookie variations for the lunar new year including the Coffee Butter Cookies and Orange Butter Cookies. As one of the best CNY cookies you can find in Singapore, you can be assured that their cookies have no added preservatives and are less sweet – great for the elderly! No. 29 Bakehouse also specialises in pound cakes and decadent Nutella brownies. 
11. Sweet Dyels SG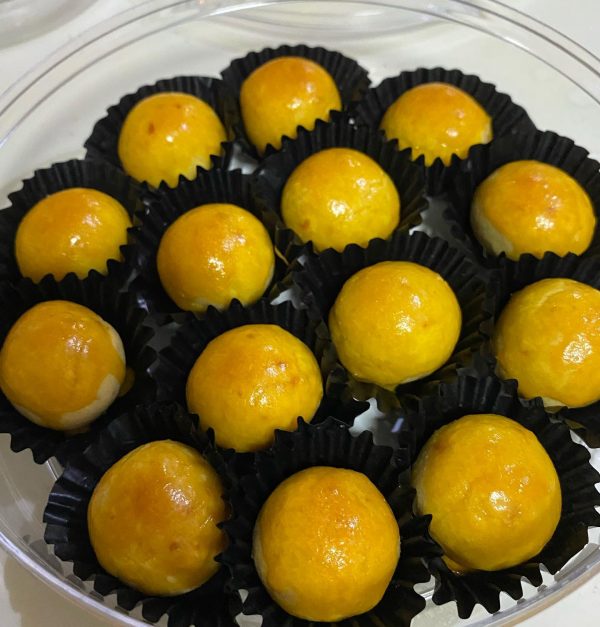 If you're looking for a home baker that specialises in CNY food hampers, then Sweet Dyels SG might just be up your alley! As one of the best home bakers in Singapore, it offers affordable yet high quality bakes, containing only halal and premium ingredients. This means that Muslim friends can also join in on the feasting and celebrations. We are madly in love with their Sweet & Savoury desserts boxes and festive cookie jars which  will surely impress your loved ones both in terms of taste and appearance! 
12. Elijah Pies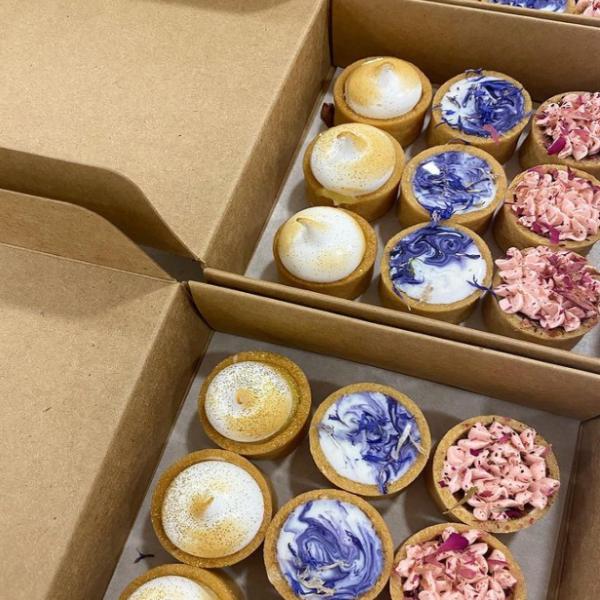 As one of the best home bakers in Singapore, Elijah Pies has definitely made its mark in the local baking scene with its Instagram-ready mini tarts. For a festive treat, the Mini Pineapple Mandarin Pies are a great choice this CNY. It is made from a pineapple-mandarin crémeux recipe consisting of homemade marmalade topped with fresh buttercream flowers and orange essence – yummy! 
Best home bakers in Singapore for other yummy bakes
13. The Baker Bok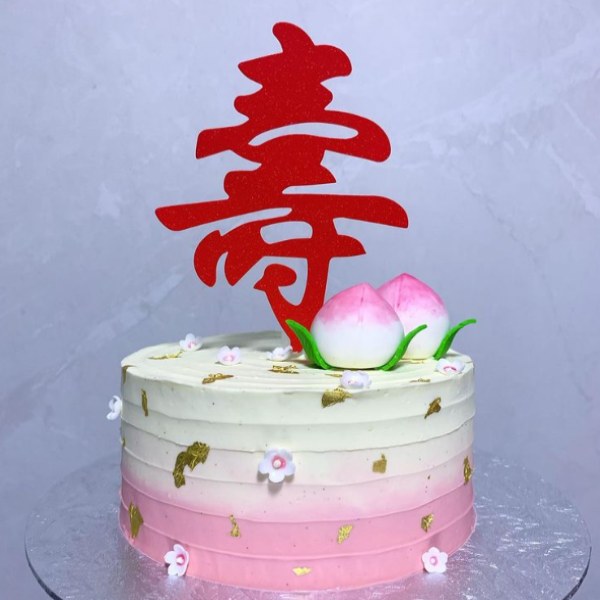 With their pretty-looking customisable cakes taking Instagram by storm, it is no wonder that The Baker Bok is one of the best home bakers in Singapore. While it mainly gets orders for birthday cakes, you can customise one to share with your loved ones this CNY! Some popular recommendations include longevity cakes that feature designs of Cai Shen Ye or mahjong tiles. Huat ah! 
14. Madam Chiffon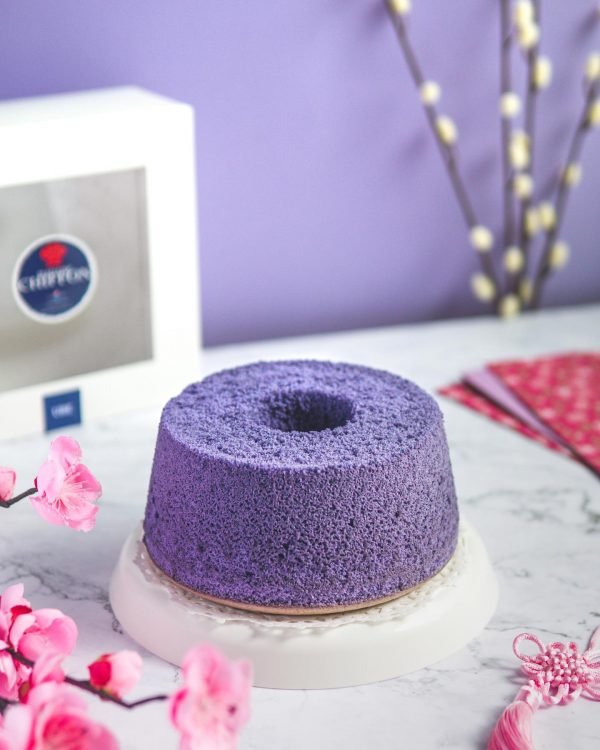 Home-based bakery Madame Chiffon puts a spin to the traditional chiffon cake. This best home bakery in Singapore uses high-quality ingredients without any preservatives, alcohol, pork or gelatin to create delicious and healthy cakes. In particular, we think you should try their signature Ube flavoured chiffon which comes in an iconic purple hue. Other flavours such as Gula, Black Gold and Pandan are also worth a shot! 
15. Batteroffbaking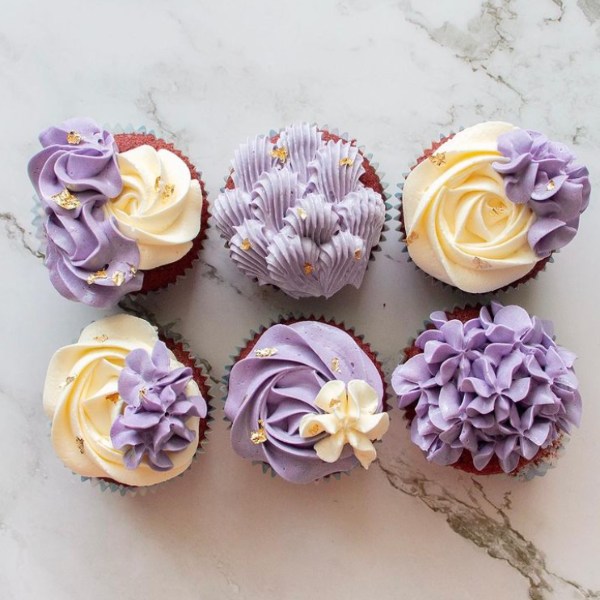 Calling all cupcake lovers! Indulge in many quirky flavours of cupcakes this CNY from home-based bakery batteroffbaking. With a delectable pie crust bottom, mascarpone and cream cheese frosting, these cupcakes are baked to perfection and guaranteed to satisfy palates of all ages. That's a true mark of one the best home bakers in Singapore! Psst,  We especially love the red velvet sponge and pastel rainbow buttercream!
16. Yum Yum Bite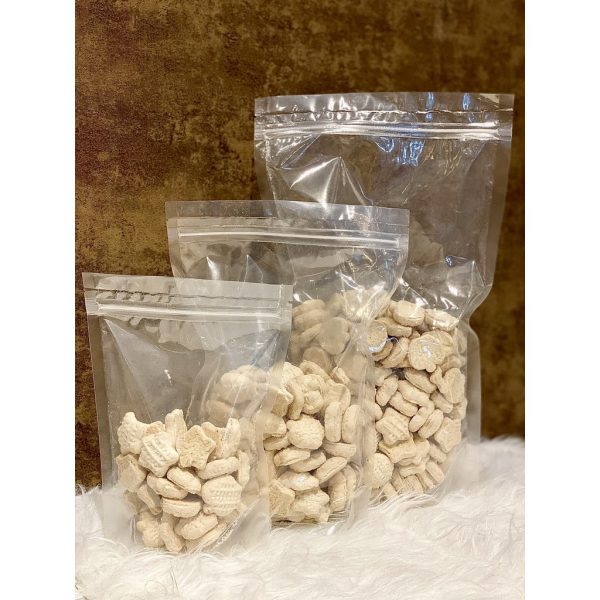 Kueh Bangkits (available on Yumyumbite) are a must-have at every CNY party and the ones from Yumyumbite are a good place to start. As one of the best home bakers in Singapore, you can expect crunchy and sweet kueh bangkits. Those who enjoy childhood snacks will also be glad to know that there's Ice Gem Biscuits and Baby Balls (both available on Yumyumbite) which are well-loved by both the young and old.
17. Botak Bites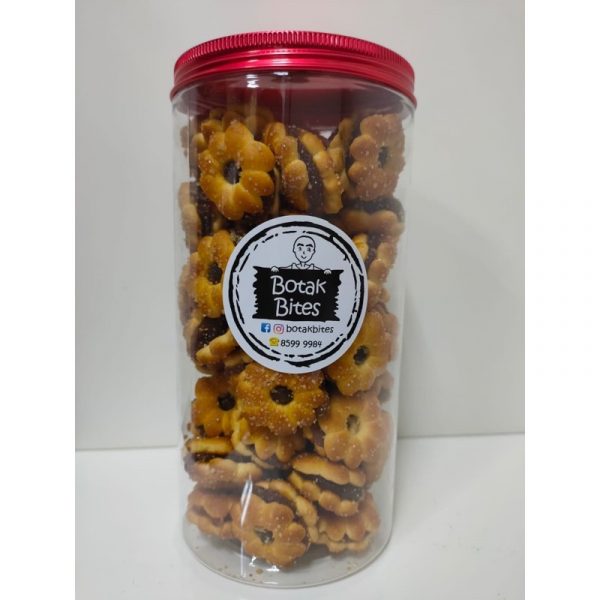 As one of the best Halal-certified home bakers in Singapore, Botak Bites is a good place to get goodies for your Muslim friends. Specifically, we love their Mini Pineapple Biscuits (available on Botak Bites) which deliver in both quality and quantity. Those with a sweet tooth will also fall in love with their Choco Chip Cookies (available on Botak Bites) that are some of the best CNY cookies in Singapore given its perfect balance of chocolate filling and cookie dough.
18. Our Mini Posh House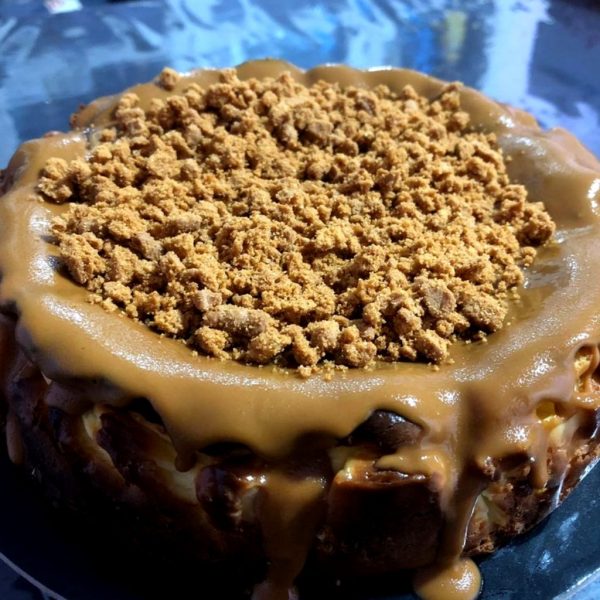 Burnt cheesecakes are all the rage in the US now, and it seems like the trend has made its way to our sunny shores too. A good start would be the Basque Burnt Cheesecake (available on Ourminiposhhouse) by Our Mini Posh House which makes the crustless delight perfectly with a beautiful burnt exterior and a super creamy interior. As one of the best home bakers in Singapore, they are also generous with their servings – topping the cheesecake with a large amount of Speculoos and caramelised biscuits. Boy, we're hungry already!
19. Yours Sincerely Bakery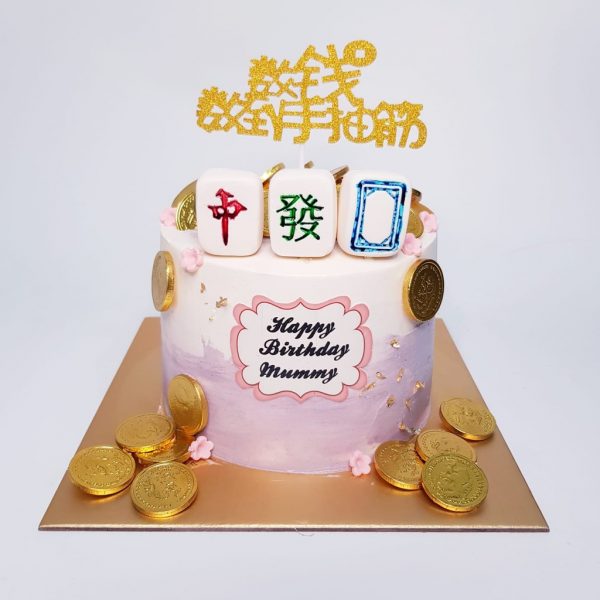 If you've ever thought about getting a birthday cake from a home-based bakery in Singapore, then Yours Sincerely Bakery should be a place you consider. They specialize in beautiful cakes that can be customized for almost any occasion. For the CNY celebrations, you can order a Mahjong Money Pulling Cake or Peach Blossom Longevity Cake (available on Yours Sincerely Bakery) for more huat!
Get your CNY goodies from the best home bakers in Singapore
We hope this guide has given you an idea of which home-based bakeries in Singapore you should get your CNY goodies from this year. Alternatively, you can also pay a visit to these best bakeries in Singapore that serve up delicious pastries. For other CNY food options, try out some of the best pen cai and best bak kwa which you can get from our Shopee CNY Sale at great festive deals. Don't forget to toss some of the best yusheng during lo hei to usher in the new year too!